Escape (safely) to Baltimore's luxurious Ivy Hotel
A sumptuous stay and unforgettable meal await in Charm City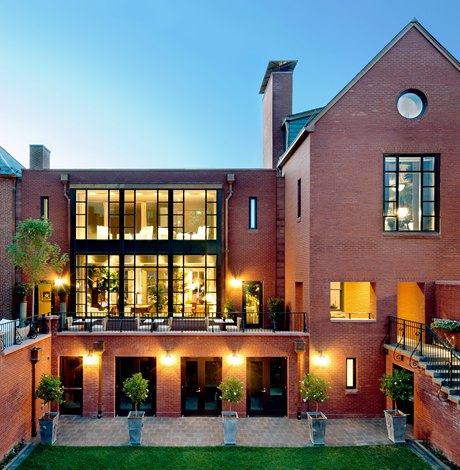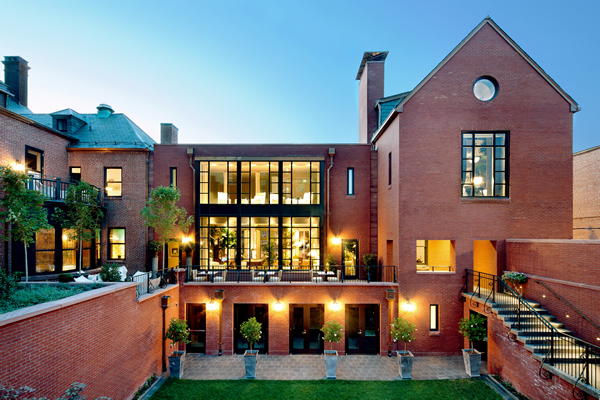 After months in quarantine, canceled summer vacations, and renewed COVID-related restrictions on entertainment, we're all suffering from cabin fever and dreading the pending winter.
Although a Caribbean trip or European jaunt won't be in the cards this year, there are some escapes closer to home that can be safe in these uncertain and stressful times.
One such getaway is just 30 miles north of D.C. at the Ivy Hotel in Baltimore.
To describe the Ivy as a "hotel" is something of a misnomer. It feels more like you're going to visit your wealthy aunt at her mansion in the city. After all, there's no noisy registration desk or crowded lobby scene to navigate. Instead, guests are greeted outside as the valet parks your car. A short elevator ride later and a friendly staffer is welcoming you by name with a glass of Champagne in front of a roaring fire.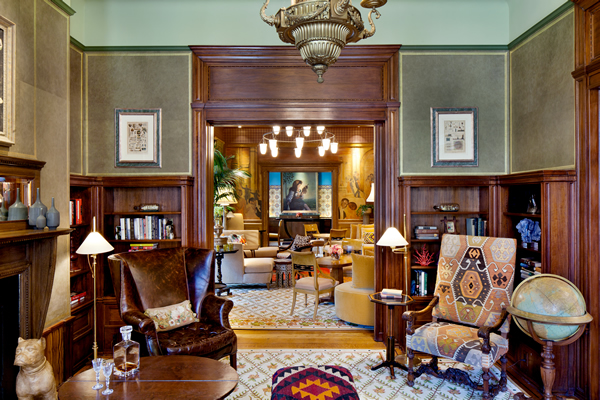 A pleasant chat with the concierge is all that approximates the usual crude check-in process at a larger hotel. While sipping that glass of Champagne, you stroll the main floor of the Ivy and its multiple formal rooms. There's a well-stocked library, a billiards room, the piano, a quiet courtyard, and, of course, the bar, which is open noon to midnight — fully stocked, self-serve, and complimentary. A gorgeous wood-paneled formal dining room is available for private parties, whenever larger gatherings are again permitted.
The mansion that is now the Ivy is located at the corner of Biddle and North Calvert Streets and was commissioned in 1889 by John Gilman, a wealthy banker and industrialist, according to the hotel. Gilman died before construction was complete and the mansion changed hands several times until it was gifted to the Baltimore Parks and Recreation Department. After sitting vacant for years, the mansion came back to life in the 1980s, when iconic Baltimore Mayor William Donald Schaefer used it to host dignitaries. Today, the Ivy has undergone a complete renovation, restoring it to its grand origins with leaded glass windows, 23 fireplaces, green marble, and a soaring staircase.
There are just 18 rooms in the hotel so the experience is intimate and familiar. Unpack quickly, because afternoon tea starts at 2 p.m. We took our tea outside on an unusually warm fall afternoon overlooking the courtyard. An impressive selection of teas is offered along with small sandwiches and fresh scones served with honey butter and preserves.
After that indulgence, we decided to walk off some calories and took a stroll to Baltimore's Harbor East neighborhood, about two miles south near the Inner Harbor. We stop for a quick drink overlooking the water before calling for the Ivy's car service to pick us up. The service is a free perk for guests for rides within a three-mile radius of the hotel. The driver politely declines our tip as the Ivy is a non-tipping property, except for the restaurant.
Back inside our room (the original master bedroom of the mansion) there's a bottle of pinot noir and two red wine glasses on a table at the foot of the bed. Inside a cabinet are more snacks, all complimentary, including a selection of savory and sweet nibbles, waters, and even Kombucha. But we forgo the snacking as dinner awaits at the acclaimed Magdalena just downstairs. We dress early for our reservation to allow a little time downstairs for a game of pool.
The restaurant recently transformed its menu, offering bistro-style fare inspired by French and English dishes but infused with a distinctly local sensibility. Ingredients are locally sourced with many selections from the Chesapeake Bay. The tables are safely spaced and everyone's in a mask, of course. To start, try the souffle suissesse with gruyere and toasted hazelnuts or a dozen fresh oysters. The new menu from award-winning chef Mark Levy is revamped and approachable with an Eastern Shore lump crab cake, seared Maine scallops, and an autumn pork chop with grilled apples and bacon dressing. Entrees run $23-35, a steal given the quality of the ingredients and the refined ambience.
The Ivy also boasts an inviting spa with all the treatments you'd expect — massages (including in-room), facials, and a menu of body treatments like the lemon verbena body polish ($200 for 60 minutes).
The Ivy has taken extreme measures to ensure guest safety during the pandemic after closing in late March and reopening in October. A fully refundable cancellation policy within 48 hours of your reservation is in effect until Dec. 31. An exhaustive list of COVID safety protocols is found on the Ivy website. Local businesses like the Ivy need customer support and rest assured that you can enjoy a safe stay here.
The Ivy is offering a holiday special through Jan. 31; one-night stay with a spiked hot cocoa for two with afternoon tea, a hot toddy foot ritual for two in the spa, and $150 toward dinner at Magdalena. Rates start at $1,074.66
If you're looking for a little pampering and a splurge, consider a night or weekend at the Ivy and dinner at Magdalena. Not only will you feel a world away from home, you'll be contributing to the local economy and supporting a local small business. No activity these days is 100 percent safe, but a stay at the Ivy makes for a restful, memorable respite. Visit theivybaltimore.com for more information and to make a reservation.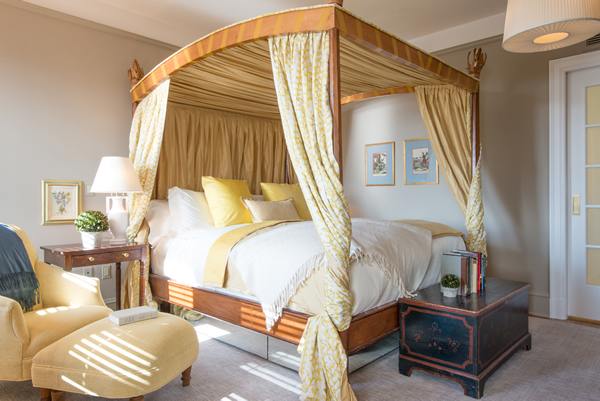 Rehoboth Beach 2021: plan now for fun, safe return to normal
Business owners excited for summer season after lost year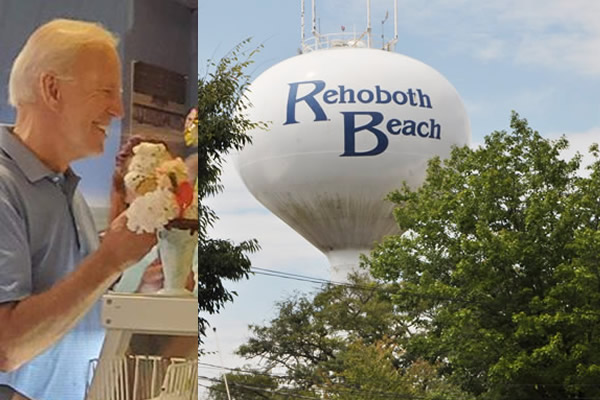 As you plan your return to Rehoboth Beach for the 2021 spring and summer season you should know what to expect as the town prepares to bounce back from last year's pandemic closures and restrictions.
Rehoboth Beach is all of one square mile in the middle of Sussex County, Del, which for decades has been a destination for the LGBTQ community. One of the reasons for that is the work over many years of CAMP Rehoboth, the LGBTQ community center. Its executive director, David Mariner, said, "CAMP Rehoboth remains optimistic and excited about summer 2021 in Rehoboth Beach. Many new restaurants and businesses are opening around us, coupled with fun events and happenings. The CAMP Rehoboth staff and volunteers are busy planning for the community. Sure, we can't predict when large gatherings will return or the pandemic will end, but that doesn't mean there isn't good, clean, safely distanced fun to be had for all."
It is anticipated this will be a very different experience from the 2020 season when the pandemic was just beginning. While the pandemic isn't over and we still must be careful, wearing masks and washing hands, the business community at the beach is ready and prepared for the crowds to return. They have been working hard over the past year to make sure this summer is safe and exciting. And the town recently restored the barriers allowing many restaurants to expand outdoor service to sidewalks and parking spaces.
The Blade spoke to a number of business owners who see this as a chance to make up for what many consider a lost year. Joe Mack, who owns Double Dippers on 1st Street, said, "I will be opening for my 23rd season March 26. I am the original owner — Tom Gile, my business partner, passed in 2015 — and look forward to a huge season as people get their lives back." It's good old-fashioned ice cream served with a smile. He even shared, "It's Joe Biden's favorite ice cream parlor and his favorite is chocolate chip in a waffle cone."
Speaking of President Biden, many expect to see him at his home at the beach. He has always been a Rehoboth booster. He and first lady Jill Biden love grabbing lunch from Lori's Oy Veh Café in the CAMP courtyard. Proprietor Lori Kline said she thinks "summer of 2021 is going to be great! I believe folks are ready and hopeful for vaccines and we are in a much better and positive place." Her chicken salad is still to die for.
Bob Suppies, co-owner of the The Pines and Aqua Grill, which weather permitting plans to reopen on April 9, wants everyone to know, "This summer will be an amazing time to visit Rehoboth Beach. Although I believe some state mandates will still be in place, we have learned over the past year how to safely offer food and drinks and continue with entertainment."
Former Rehoboth Beach Commissioner Lisa Schlosser wants visitors to know "Rehoboth is open for an exciting season. The sun is shining, our favorite shops and restaurants are open with lots of new outdoor dining. We can't wait to see the community come back together for fun at the beach."
It is not only restaurant owners and politicians who are signaling Rehoboth is ready for business. Lee Ann Wilkinson, Realtor and CEO of The Lee Ann Wilkinson Group, said, "All beach businesses, including our real estate offices, have worked throughout the winter to welcome people back to the beach safely. Real estate hasn't slowed down since last year, and we anticipate and look forward to a very busy summer season."
One of the great places ready to welcome people back is The Purple Parrot, according to owners Hugh Fuller and Troy Roberts. Fuller said, "This coming season is like no other and so many hopes ride on this year as if it is the first season for all of us. 2021 has brought us so much hope already and the energy in the air is already bringing promises of more good things to come. This summer will be one for the record books not just financially, but emotionally.
Here is to 2021 and to new beginnings."
Many more of the town's best restaurants are anticipating the new season, including the always great Eden Restaurant and its more casual cousin Jam, both on the beach block of Baltimore Avenue. Also returning for the 2021 season is the veteran Back Porch, and Meghan Kee's award-winning La Fable, Houston White, and her new offering, the Italian spot Delmata. Then there's Port 251 with its popular Sunday drag brunch right on Rehoboth Avenue; and the grand dame of dining in Rehoboth, the Blue Moon. Cafe Azafran and Goolees Grill are also ready to welcome visitors. The Coffee Mill is ready and Mel Demascena said the café is celebrating its 30th anniversary.
Brashhh on 1st Street celebrates its eighth season. Demascena said "Bob and I are opening another place The Mill Creamery. It will serve local farm fresh ice cream and milk shakes, fresh squeezed juices and desserts, right across from the Coffee Mill in our very happy courtyard."
Longtime Rehoboth businessman Steve Fallon, who owns Gidget's Gadgets and now a second place selling vinyl records, Extendedplay, said, "With a new president and the roll out of more vaccinations daily, I would call this the summer of hope. The clouds are opening to bluer skies and our tears for our loved ones who passed will hopefully turn into laughter and new beginnings. Stay safe and see you at the end of the rainbow."
Then there is Rick and Dave's Coho's Market and Grill on Rehoboth Avenue. They took a chance when they opened right in the middle of the pandemic so this will be their first full season. Then there's Elegant Slumming and Philip Morton Gallery, mainstays on Baltimore Avenue.
There are two new places on 1st Street, giving it a nice upgrade, with the opening of the Square One Grill by the owners of the popular Diego's Bar and Nightclub. It's a great spot for the perfectly crafted martini. Also highly anticipated is the opening of Freddie's Beach Bar by Freddie Lutz in the old Pond space (it moved out to the highway with a reopening planned for April 5).
Don't forget to make your animals happy and stop into Critter Beach on Rehoboth Avenue. Then partake in the culture of Rehoboth Beach and buy a ticket to a show at the amazing Clear Space Theatre. Their productions over the years have been top-notch and if the small group of residents who are trying to force them out of town finally loses their fight, then Clear Space will have a beautiful new theater in the near future. They are a town treasure.
This will be a summer not to be missed at the beach. So mask up and make your plans early as hotels and home rentals are booking fast.
VIDEOS: Wilton Manors during a pandemic
Bars, restaurants and clubs open with some COVID restrictions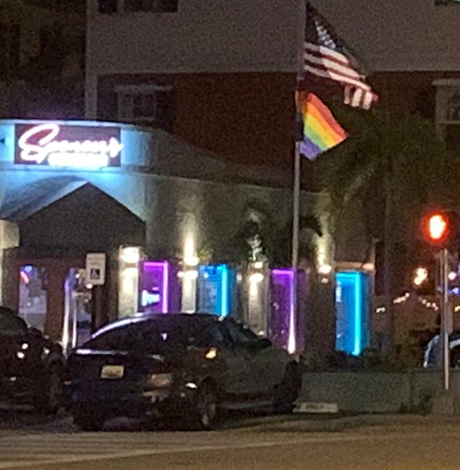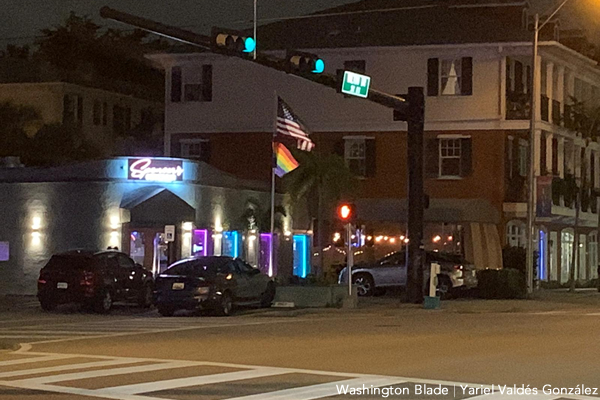 WILTON MANORS, Fla. — Bars, clubs and restaurants in the Florida city of Wilton Manors are open, but with some pandemic restrictions still in place.
Georgie's Alibi Monkey Bar, a bar and restaurant on Wilton Drive, on March 6 had socially distant tables inside and outside.
Bartenders and servers wore masks, but a go-go dancer who was dancing on a platform near the dance floor did not wear one.
Small groups of patrons who were standing on the dance floor were also not wearing masks.
A drag queen who greeted patrons inside Georgie's Alibi Monkey Bar was wearing a mask and a face shield. Windows were also open to provide additional ventilation.
Several dozen people at Hunters, a nightclub in the same strip mall where Georgie's Alibi Monkey Bar is located, on the same night were crowded onto an outside patio as they were drinking. Lit, a bar a few blocks away on Wilton Drive, had cornhole and other games set up in the parking lot.
Other bars and restaurants along Wilton Drive had tables placed along the sidewalk. Indoor dining was also available, but at limited capacity in order to adhere to social distancing rules.
Broward County as of last Oct. 16 has allowed businesses to serve food and alcohol to remain open until midnight, and offer dine-in service until midnight.
"Social distancing and facial covering requirements, restaurant capacity limits, and sanitation and safety requirements to prevent the spread of the Coronavirus (COVID-19) remain in effect," reads the city of Wilton Manors' website.
The website notes businesses "licensed to serve food may operate at up to 100 percent of indoor capacity if a distance of six feet is maintained between tables, and no more than six people at a table." Bars that "only serve alcohol, and are not licensed to serve food, must operate at no more than 50 percent of their indoor capacity."
VIDEO: Bourbon Street in the French Quarter
Coronavirus restrictions remain in place in New Orleans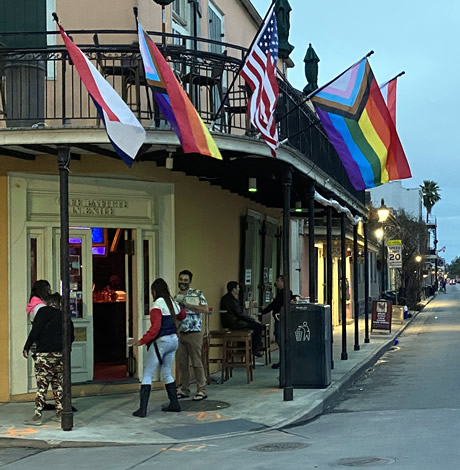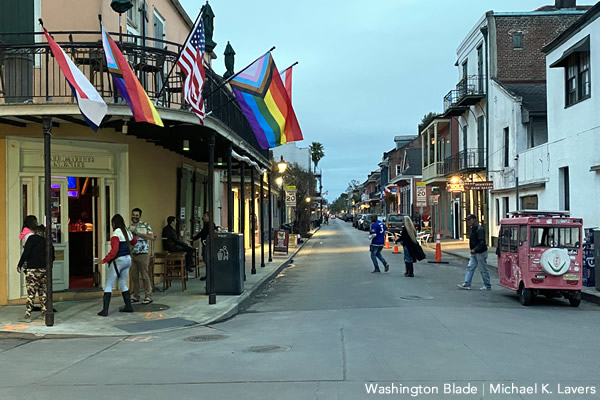 NEW ORLEANS — Bars in New Orleans continue to operate at limited capacity because of the coronavirus.
Café Lafitte in Exile, a gay bar on Bourbon Street in the French Quarter, on March 1 allowed groups of up to six people to sit at indoor tables on both of its floors. The bar is open every day from 11 a.m. to 11 p.m., but it requires patrons to wear masks when they enter.
A handful of people were drinking on the sidewalk in front of Café Lafitte in Exile at around 6 p.m. on March 1 when the Washington Blade drove down Bourbon Street. Oz, a gay dance club across the street, was closed.
Several other bars on Bourbon Street were also open, but only a handful of people were inside them.
Bars in the French Quarter were closed last July when the Blade reported from New Orleans.