Escape to Indy for a weekend getaway
Monon Trail, new street malls, Cole Porter exhibit, and more await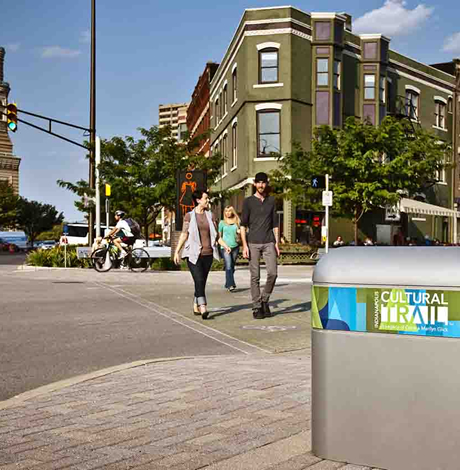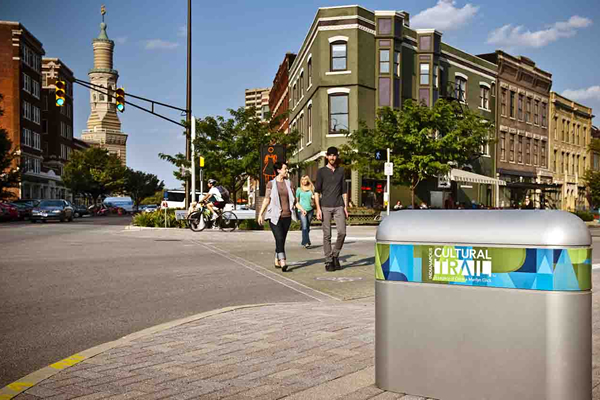 The diverse and friendly Indianapolis scene makes for a perfect weekend getaway. It is a three-hour drive from Chicago. There is so much to do. The city features a compact, walkable downtown plus no less than three cute villages within the city: Mass Avenue, Broad Ripple, and Fountain Square. Bring your bike helmet and ride the Monon Trail, a 30-mile or so rail trail that runs from downtown to points north including Broad Ripple Village.
WHAT TO DO
Take a walk along the downtown canal and enjoy the State Museum and History Center along the way. The Indianapolis History Center (450 W. Ohio) enables you to enjoy interactive Hoosier history featuring live actors singing the songs of Cole Porter as you request them off the song menu. Porter was an Indiana native and led a colorful life. My favorite Porter hit, "Anything Goes," was performed live at my request. Also at the center, learn about Madam C.J. Walker in The Empowering Women Exhibit. Details at indianahistory.org.
Rent a bike at the bike share station, ride around the Cultural Trail downtown, and then head north to Broad Ripple on the Monon Trail. Broad Ripple is a cute, walkable village just seven miles north of downtown with a pedestrian mall to enjoy your favorite restaurant or bar outdoors. Enjoy the farmer's market Saturday mornings behind Glendale Mall just east of Broad Ripple. Have lunch on the patio at Bazbeaux Pizza. Pick up a gourmet bakery treat at Rene's Bakery just across the trail. Try the vegan delights and fresh juices at Ezras. Enjoy great Mexican food at LaPiedad. Then grab an ice cream cone at BRICs and walk along Broad Ripple Avenue, which is currently closed to autos. Enjoy the Indianapolis Art Center and gardens. Plan your Broad Ripple outing at broadrippleindy.org. You can also reach Broad Ripple by the new Red Line rapid transit bus line. Details at indygo.net.
Head up to Newfields (formerly the Indianapolis Museum of Art) and enjoy the paintings and outdoor gardens. Do not miss the new exhibit, "Edward Hopper and the American Hotel." Have a cocktail at the pop up Hotel Bar. Enjoy the outdoor gardens.
Also visit the Indianapolis Zoo, which is downtown in the White River State Park.
Just south of downtown is the urban hipster hangout, Fountain Square. Try the coffee at Fletcher Place Coffee.
NIGHTLIFE
You will find several bars on Massachusetts Avenue, which is blocked off to cars for the summer to enhance outdoor dining and drinking. Metro (707 Mass Avenue) is a nightclub and restaurant. Next door is Tini, which has a great outdoor patio bar Forty Five has great food and drinks and is at 45 Mass Avenue (corner of College Avenue).
A bit farther from downtown, stop by Gregs, on 231 16th Street. The Sunday afternoon show tunes always draws a crowd. Downtown Olly's (822 N. Illinois) features food and libations. Check out the piano bar on Tuesdays. There is always something going on at this neighborhood hangout. You will find them on Illinois Street just west of downtown.
English Ivy's is a gay friendly neighborhood pub, which features food and drinks. You will find them at 944 N. Alabama just north of Mass. Avenue and downtown. Enjoy a pork tenderloin sandwich, a Hoosier favorite.
WHERE TO STAY
Downtown hotels include the Courtyard on the Canal as well as the Residence Inn on the Canal. The Sheraton is always an affordable option. The JW Marriott is also very nice. The Hotel Broad Ripple is a charmer and right on the Monon Trail. You can walk to the bars and restaurants of Broad Ripple.
GETTING TO INDY
Indianapolis is a three-hour drive from Chicago. It is also serviced by Amtrak three days a week (and with a Thruway Bus the other days) with a station just steps from downtown hotels. Book your ticket at Amtrak.com.
The award-winning Indianapolis International Airport (#1 in the nation for 2020 according to both Travel and Leisure as well as Conde Nast) is another option for travelers. Take the Green Line or #8 bus to downtown from IND. I recommend Southwest, which serves Indy from Midway and other airports around the nation.
SHOPPING
Freshen your wardrobe at Heritage Clothier and Home (1134 E. 54th Street). Great deals and the latest styles including my favorite, Penguin. Ask for the cologne. Pick up some sexy underwear or supplies at Toolbox at 750 N. College.
COVID IMPACTS
The city features outdoor dining and limited indoor dining due to COVID. Masks are required when indoors at all facilities including bars and restaurants. The museums are also now again open to the public. Capacity restrictions are in effect. Check before you go to them as rules change frequently as does what is and what is not open. Bring your mask.
FOR MORE INFORMATION
VisitIndy has both daily deals and a LGBTQ guide:
Indy's Daily Deals
LGBTQ Guide
You will not run out of things to do in this surprisingly friendly and fun Midwestern metro of two million folks. We look forward to your visit to my hometown.

Bill Malcolm is the only nationwide syndicated LGBTQ value travel writer. He is based in Indianapolis. His column is or has been carried in LGBTQ publications around the country. His opinions are his own. Thanks to Visit Indy for the help with this column. All or parts of this material may appear in other publications.
4 fabulous brunch options in Palm Springs
Good food, plentiful cocktails, and high style to start the day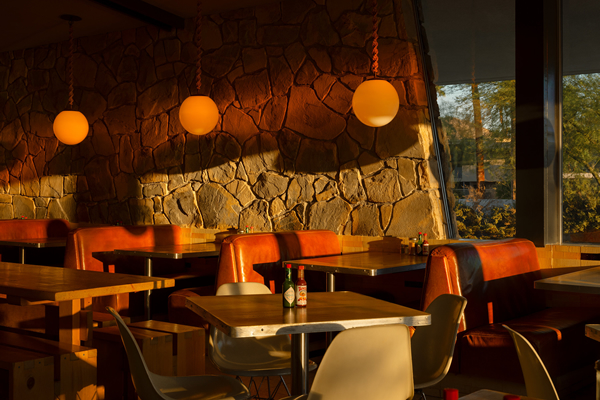 Brunch — that all-day weekend affair — is where days can begin, and end. In a town that already wakes up early, brunch has a special place among meals. With the cooler weather, there's no better time to head to Palm Springs for a taste of the brunch festivities it has to offer. Below, four distinctive – and distinct – brunch options.
Jake's: Helmed by industry veterans (and gay men) Chris Malm and Bruce Bloch, Jake's is an institution, as much a destination as it is a spot for locals. The goal of Jake's, says Malm, is to make it "a hip, fun dinner party with good friends."
At brunch time, plan to spend some time with other new besties, Mary and Rita. Jake's offers one of the most extensive and diverse brunch cocktail lists in Palm Springs: 10 Bloody Marys, six mimosas, six margaritas, seven "refreshers," several other cocktails, and of course, rosé. It's no surprise that the bartender has collected awards.
The shaded, cozy patio is also a hit. Lined with soaring, 20-foot Ficus trees, locals refer to it as "The Ivy" of Palm Springs. In the winter, there's space for heaters; summertime brings in misters.
As for the dishes, it's the crab cake benedict that repeat customers dive in for. There's also a tempura softshell crab BLT that's a menu mainstay. Malm points out that the tater tots, infused with truffle, "are incredibly popular."
Finally, if you're especially lucky, you'll meet Jackson: a West Highland Terrier who serves as mascot (though he won't serve your mimosa).
Oscar's: Located in the heart of Palm Springs, Oscar's is the town's epicenter for full-octane energy. While the party rarely stops at Oscar's, Sunday brunch turns it up to an 11.
The restaurant didn't hold back by christening its Sunday event as the "Bitchiest Brunch." It doesn't hold back. The show's drag queen star is Anita Rose; she's supported by a rotating cast, bringing distinctive attitude and style to brunch. Soon after pandemic restrictions were lifted, Oscar's restarted the brunch party, taking advantage of one of its biggest selling points: a patio that can seat up to 120.
Dan Gore, the owner and a gay man, said that the restaurant quickly outgrew one showtime. They quickly added a second. There's now a full three seatings (9 a.m., 11 a.m., and 1 p.m.); two outside and one inside.
One of the reasons that this brunch has been wildly popular is that Oscar's can draw "different kinds of families and feel welcome and accepted. It's not just entertainment by fabulous performers, but also a loving, safe space. It's an all-ages event."
Of course, Oscar's serves bottomless mimosas; there are also super-size (16-ounce) Bloody Marys.
To dine, it's a classic egg-focused menu, with omelets and eggs Benedicts. Pancakes, French toast, breakfast tacos, and bagels and lox round out the menu.
After brunch concludes, adult diners tend to hang out for another of Oscar's mainstays: afternoon tea dance.
Parker: As quintessential Palm Springs as it gets: Parker is an upscale resort designed by Jonathan Adler. Its restaurant, Norma's, distills that chic styling into brunch. Norma's serves breakfast all day and all night, but brunch is the time to see and be seen. The extensive patio and wraparound orange banquette allow for both people-watching and nature-watching. Inside, white stone and wooden accents keep things cool.
A Parker representative notes that "the concept of breakfast at Norma's can be a no-holds-barred extravaganza of decadent proportions," something that certainly extends to brunch time.
Diners can start off minimalist with an egg white omelet – or go maximalist with the "zillion dollar lobster frittata," on which diners can toss an ounce of Sevruga caviar. There's a slew of traditional carb-heavy diner items, like blueberry pancakes and chocolate French toast. Gluten-free, vegan, and vegetarian options abound.
In terms of cocktails, there's a short list of classics (Bloody Mary, mimosa), plus French and Californian roses, as well as glasses (or bottles) of Dom Perignon and Veuve.
King's Highway: Infused with the desert spirit, King's Highway brings chic to cactus country. Snug inside the Ace Hotel & Swim Club, King's is a roadside diner with retro nods (it used to be a Denny's) and handsome saddle leather banquettes. Khuong Phan, food & beverage communications director at the hotel, notes that "we've kept that same diner vibe and spirit… but we've completely made it Southern California contemporary."
Beveled mirrors slope above the bar for some surreptitious people-watching; the outdoor patio is just as welcoming, situated as it is next to the popular pool.
Beyond coffee and pastries, substantive and diner-forward entrees include Belgian waffles, bagel sandwiches, and biscuits and gravy built on pork sausage. East Coast visitors will feel comfortable with the salmon lox plate; locals dig in to the homey and filling King's Highway Breakfast of eggs, potatoes, and sausage. Additional salads, sandwiches, and burgers are available after 11 a.m.
To drink, detoxers may wish to choose the Sunrise (orange, coconut water, lemon, ginger, turmeric). The date shake is concocted with local dates, plus oat milk and vanilla ice cream. Naturally, there's a Bloody Mary, using housemade mix. Another tropical-style drink is the Pina Antigua: pineapple rum, rye, and creme de banana. A popular local bottle shop, Dead or Alive, curates the wine list.
LGBTQ travelers show how to explore safely this fall
More destinations enacting COVID safety protocols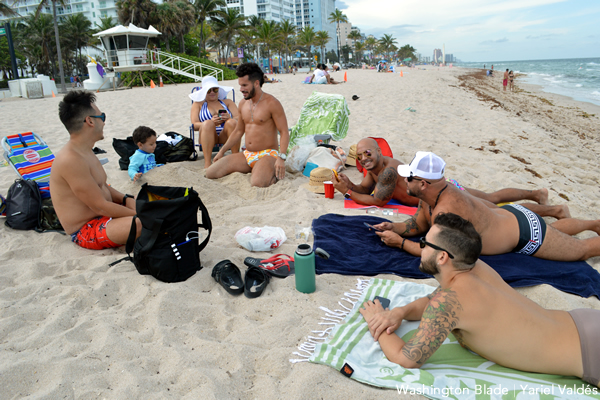 Just when we thought it was safe to hit the road, we were walloped by the Delta variant, the latest plot twist in the 18-month-and-counting pandemic story. The surprising data that fully vaccinated people could transmit the virus came shockingly from Provincetown with a 90% vaccination rate. Ptown quickly tightened restrictions requiring masking at all indoor locations and proof of vaccine at all entertainment venues — interventions that worked. As of press time, the positivity rate there is much lower than much of the rest of the U.S. and it remains one of our top recommendations this fall and beyond. Ptown demonstrated a successful response — stressing safety yet continuing to deliver a deeply satisfying experience.
Read on for our favorite queer-friendly destinations striving to create a safe space for you and strategies for navigating the increasingly complex world of pandemic travel. Safe, beautiful and fun LGBTQ-friendly destinations, experiences and accommodations beckon whether you seek to recharge your batteries, deplete them or a little of both.
Queer and safe destinations
• Provincetown, Mass. is our very own home beyond the rainbow as suggested by this year's Carnival theme. Book far ahead for popular weeks (July 4; Bear Week; and Carnival) but we recommend visiting outside of the most popular times for a less frantic more enjoyable stay. There are diverse LGBTQ-oriented events almost every weekend through New Year's Eve. Information: Provincetown Business Guild and Provincetown for Women.
• Fort Lauderdale and Miami remain the beating heart of LGBTQ-friendly Florida despite the barbaric state-level response causing the Sunshine State to be among the worst hit in the U.S. by the pandemic. Fort Lauderdale has been world renowned for its authentic and inclusive vibe for all visitors since 1996. More than 1,000 local businesses have taken the Safe & Clean Pledge. Likewise, Miami has implemented the Greater Miami Travel Guidelines and Destination Pledge accessible from the destination's homepage outlining how safety measures are being implemented throughout the community.
• Puerto Rico is the undisputed LGBTQ capital of the Caribbean enticing visitors with reliably warm, sunny weather and a sincere outreach to queer travelers. Despite unfortunate, highly publicized attacks on local transgender people, Puerto Rico boasts a visible and vibrant trans community, and nightlife options that specifically cater to queer and non-binary folx. This helps create a safer and more comfortable environment than other warm-weather destinations in the Caribbean or Mexico, which lack venues for a trans community that mostly lives in hiding. Information: Discover Puerto Rico.
• Philadelphia makes for a fun urban getaway. Once the kids are back in school and the lines at the Liberty Bell disappear, you'll find a warm, walkable and LGBTQ-welcoming city. Find LGBTQ restaurants, safe nightlife, engaging events and recommendations galore at Visit Philly. Pro tip: Try to schedule a half day at the Barnes Foundation art collection.
• Cedar Rapids, Iowa. Wait, what? Yep, this charming midwestern town is our top unexpected recommendation. You'll find historic cultural venues, a walkable entertainment district with plenty of topnotch live music and theatrical performances, a delectable culinary scene and a truly warm welcome. Find trip-planning recommendations at the destination's website.
Queer cruises and land vacations
Cruises are coming back, and it may be surprising to hear that they are probably the safest vacation you can take. According to Randle Roper, CEO at VACAYA, an LGBT+ vacation company, "With cruise lines soon to mandate that all guests and crew members must be vaccinated, cruise ships will be among the very safest locations on the planet – with the entire population vaccinated. Making sensible choices like masking and social distancing while ashore, cruisers can avoid infection altogether." Resort vacations are also safe with similar universal vaccinations and plenty of room for guests to spread out. Remember with no children during LGBTQ weeks at mainstream resorts, they offer much more space per adult guest. VACAYA's big 2021 fall events include an all-inclusive Mexico resort vacation (Oct. 30-Nov. 6) and a New Orleans Cruise (Nov. 14-22). In 2022, there are only two trips that still have rooms available: the Caribbean Cruise (Jan. 10-17) and the all-inclusive Costa Rica Resort (June 5-12). Information and booking at MyVACAYA.com.
Not only will queer tour companies get you there and back safely, but "they also can ensure your money is being spent with other welcoming, progressive and even queer businesses and individuals around the world," according to Robert Sharp, founder of Out Adventures. "This is even more important," he continues, "when planning travel to countries that are known to be less than queer welcoming." Visit their site to read about their New Year's Eve trips to Thailand and Cuba and in 2022, their Iceland winter trip, and four back-to-back Croatia small group cruises, which are starting to sell out.
R Family Vacations is one of our top recommendations for planning an incredibly fun and satisfying tour or cruise (big ship and river cruises) in the company of other queer travelers and allies. You don't even have to have children to join their trips. In 2022, R Family offers land tours in Thailand and Ireland; an LGBTQ group on board a cruise in Alaska; and a magical all-queer full-ship-charter Uniworld river cruise in Northern Italy among other trips. Information: R Family Vacation, rfamilyvacations.com.
Even in this uncertain time, you can enjoy enriching and joyful travel opportunities in LGBTQ-friendly environments in a way that maximizes safety and minimizes risk. You just have to plan a little more. We highly recommend using an LGBTQ expert travel adviser who keeps up to date on LGBTQ-friendly tour, cruise, and safari providers, as well as destinations and hotels and that understand innately the needs and concerns of LGBTQ travelers. They dedicate themselves to both LGBTQ travel safety and keeping up with the latest, ever-shifting pandemic-era guidance, health protocols, openings, and closings. They know how to get the best value for your time and money, and, thanks to their global connections, they can often score VIP upgrades for you at hotels, on cruise lines, on tours, and more. They are also your most important advocate when trips are cancelled or rescheduled. Best of all clients use travel advisers, like our top picks here, for no additional fees:
Kelli Carpenter, who also co-owns R Family Vacations; [email protected]
Jonathan Alder, Travelstore USA; [email protected]; and
Sandie Anders; Bursch Travel; [email protected]
Giuseppe Giulio; Gay Friendly Italy; [email protected]
We've heard far too many stories of queer guests receiving a frosty welcome (or worse) when checking into a hotel or AirBnB. These are our top choices for LGBTQ-friendly resources for accommodations where you can truly relax and be your authentic selves:
MisterBnB includes one million LGBTQ-friendly listings in 200 countries and is primarily geared towards gay men.
FabStayz proudly offers accommodations inclusive of all the letters of our ever-growing acronym.
Orbitz Pride lists LGBTQ-friendly accommodations; and
Booking.com is rolling out an LGBTQ certification program, including live training and ancillary materials, for their hotel partners over the next year. Look for the "Proud Hospitality" label on listings.
NYC-based Ed Salvato is a freelance travel writer, instructor at NYU and the University of Texas at Austin's NYC Center, and an LGBTQ tourism marketing specialist. This article is courtesy of the National LGBT Media Association.
Saugatuck/Douglas is the art coast of Michigan
Beaches and peaches abound in this LGBTQ-friendly escape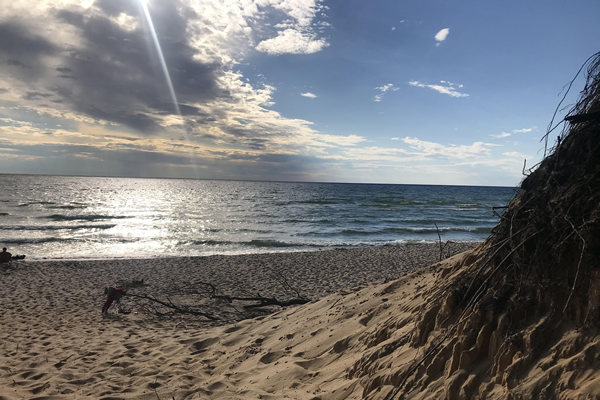 The Saugatuck-Douglas villages in Southwest Michigan are the only LGBTQ-focused vacation areas between Provincetown and the Russian River in California. Nestled with sandy beaches along Lake Michigan (and fresh, shark-free waters), the area is not only an artist colony but now features a plethora of wineries and microbreweries and is a fruit basket (blueberries, peaches, apples, and more are all grown here). With two LGBTQ+ resorts (Dunes Resort and CampIt), there is something for everyone and for every budget. Don't forget to take home some blueberries and peaches.
WHAT TO DO
Oval Beach in Saugatuck is an award winner. The sunsets are incredible. You can hike for miles in the nearby dunes or walk along the beach. You can also climb to the top of nearby Mount Baldhead, a high sand dune on the west side of the river. 
Take a tour of the Kalamazoo River out to Lake Michigan on an authentic stern wheel paddleboat. I loved the sunset cruise. Snacks and drinks available (cash only). You will find them at 716 Water St. in Saugatuck (saugatuckboatcruises.com). Check out the new 1860s era fish shanty and Fish Market next door. It features posters telling about the colorful fishing history of Saugatuck. 
Take a hike to the beach at the Wau-Ke-Na Nature Preserve at 116th St. just south of West Side County Park. Further north you will find the historic Pier Cove Beach (2290 Lakeshore Dr., Fennville).
North of Saugatuck you can take a hike up the dunes and down at Laketown Beach. It's free but parking is limited.
Take a walk around historic downtown Douglass, which even has a park honoring the Dunes Resort founders who turned the area into an LGBTQ destination. Enjoy "Unmasked: Photographic Portraits After 2020" at the new Douglas Library.
The Saugatuck Center for the Arts has shows all summer including "Dixie's Tupperware Party" and "Just Too Big: Songs from Broadway Blockbusters." Details and tickets at sc4a.org.
Pick blueberries at Blue Star Farms or just grab a pint to go. (bluestarblueberries.com)
Take a hike through the sand dunes and forest down to the beach at Saugatuck Dunes State Park.
WHERE TO STAY
The Dunes Resort in Douglas (333 Blue Star Highway) offers cabins and motel rooms that are affordable at the weekday special rate (Monday-Wednesday). Don't miss the bar scene, the outdoor bar and dance floor, and the many special events. The T Dance on Sundays includes a barbeque. The pool scene includes cocktails and food to order as well as cabanas. It's another must and is great for people watching.
Upcoming events include:
Aug. 6-8 Mardi Gras Weekend
Aug. 20-21 White Party Weekend
For more information, go to dunesresort.com.
Other nearby motels include The Blue Star Motel next to the Dunes or the AmericInn just down the road, both in Douglas. The Northern Lights Condos also are an option.
Down in Fennville, stay at the Camp It Resort, located at 6635 118th Ave. in Fennville (campitresort.com). This Michigan LGBTQ resort welcomes everyone. They just had their first trans week. Camping, cabins, bunk house, and other lodging options make this a place your affordable option. The Biggie Food Truck is perfect for a meal or snack. The pool scene is a lot of fun and they often have shows. Set on 33 acres, there store has everything you need and is open late on weekends. They too have a lot going on this season including:
July 23-25 Christmas in July
Sept. 17-19 Wine and Dine Weekend includes a tour of nearby wineries
Oct. 8-10 includes a tour of 3 new nearby microbreweries
WHERE TO EAT
The new women-owned Guardian Brewery and restaurant has a great Sunday Brunch. Their micro brews are very good. They are just off exit 41 off I-196 in Saugatuck.
The Farmhouse Deli (100 Blue Star Highway, Douglas) features farm to table deli sandwiches, soups, and fresh squeezed juices. They are at 100 Blue Star Highway in Douglas. Try the carrot blend, Zing, fresh juice creation.
The new Isabel's Market and Eatery (across from the Dunes Resort at 310 Blue Star Highway) features local products and has an Italian theme. Try the pastrami sandwich. You can even take a cooking class.
Don't miss the pizza and subs at Lakeshore Convenience and Pizza, 155 Blue Star Highway in Douglas.
The Uncommon Coffee Roasters in downtown Saugatuck is perfect for a coffee. Pick up some beans to go.
The What Not in Fennville is another local favorite. Don't miss the fish fry on Fridays.
GETTING THERE
The area is about two hours from Chicago and three hours from Detroit. You can also fly into Grand Rapids or take Amtrak to Holland. If you stay at the Dunes, you might be able to get away with no car. Otherwise you need one although they do have an on-demand bus and bike rentals in downtown Saugatuck.
FOR MORE INFORMATION
Stop by the Saugatuck Douglas Visitors Information Center in Douglas (95 Blue Star Highway) or visit their website, Saugatuck.com.
Bill Malcolm is the nation's only LGBTQ+ value travel columnist. Based in Indianapolis, his columns have appeared in publications across the country. His opinions are his own. Special thanks to Oval Beach, the Saugatuck Douglas Area Convention and Visitors Bureau, Douglas Dunes Resort, and Camp It Resort.