Escape to Indy for a weekend getaway
Monon Trail, new street malls, Cole Porter exhibit, and more await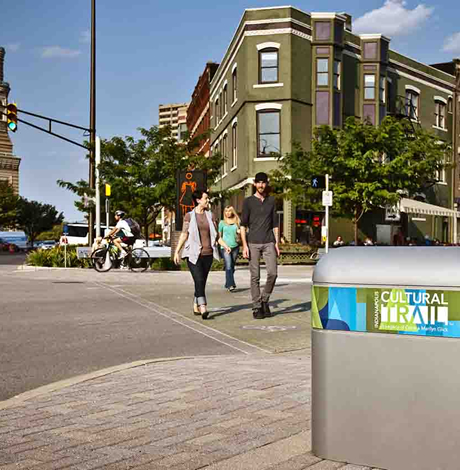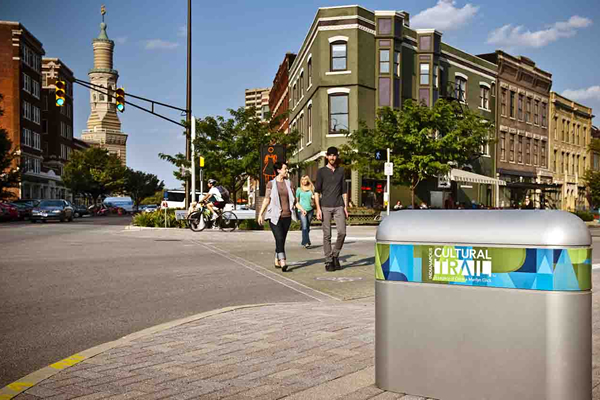 The diverse and friendly Indianapolis scene makes for a perfect weekend getaway. It is a three-hour drive from Chicago. There is so much to do. The city features a compact, walkable downtown plus no less than three cute villages within the city: Mass Avenue, Broad Ripple, and Fountain Square. Bring your bike helmet and ride the Monon Trail, a 30-mile or so rail trail that runs from downtown to points north including Broad Ripple Village.
WHAT TO DO
Take a walk along the downtown canal and enjoy the State Museum and History Center along the way. The Indianapolis History Center (450 W. Ohio) enables you to enjoy interactive Hoosier history featuring live actors singing the songs of Cole Porter as you request them off the song menu. Porter was an Indiana native and led a colorful life. My favorite Porter hit, "Anything Goes," was performed live at my request. Also at the center, learn about Madam C.J. Walker in The Empowering Women Exhibit. Details at indianahistory.org.
Rent a bike at the bike share station, ride around the Cultural Trail downtown, and then head north to Broad Ripple on the Monon Trail. Broad Ripple is a cute, walkable village just seven miles north of downtown with a pedestrian mall to enjoy your favorite restaurant or bar outdoors. Enjoy the farmer's market Saturday mornings behind Glendale Mall just east of Broad Ripple. Have lunch on the patio at Bazbeaux Pizza. Pick up a gourmet bakery treat at Rene's Bakery just across the trail. Try the vegan delights and fresh juices at Ezras. Enjoy great Mexican food at LaPiedad. Then grab an ice cream cone at BRICs and walk along Broad Ripple Avenue, which is currently closed to autos. Enjoy the Indianapolis Art Center and gardens. Plan your Broad Ripple outing at broadrippleindy.org. You can also reach Broad Ripple by the new Red Line rapid transit bus line. Details at indygo.net.
Head up to Newfields (formerly the Indianapolis Museum of Art) and enjoy the paintings and outdoor gardens. Do not miss the new exhibit, "Edward Hopper and the American Hotel." Have a cocktail at the pop up Hotel Bar. Enjoy the outdoor gardens.
Also visit the Indianapolis Zoo, which is downtown in the White River State Park.
Just south of downtown is the urban hipster hangout, Fountain Square. Try the coffee at Fletcher Place Coffee.
NIGHTLIFE
You will find several bars on Massachusetts Avenue, which is blocked off to cars for the summer to enhance outdoor dining and drinking. Metro (707 Mass Avenue) is a nightclub and restaurant. Next door is Tini, which has a great outdoor patio bar Forty Five has great food and drinks and is at 45 Mass Avenue (corner of College Avenue).
A bit farther from downtown, stop by Gregs, on 231 16th Street. The Sunday afternoon show tunes always draws a crowd. Downtown Olly's (822 N. Illinois) features food and libations. Check out the piano bar on Tuesdays. There is always something going on at this neighborhood hangout. You will find them on Illinois Street just west of downtown.
English Ivy's is a gay friendly neighborhood pub, which features food and drinks. You will find them at 944 N. Alabama just north of Mass. Avenue and downtown. Enjoy a pork tenderloin sandwich, a Hoosier favorite.
WHERE TO STAY
Downtown hotels include the Courtyard on the Canal as well as the Residence Inn on the Canal. The Sheraton is always an affordable option. The JW Marriott is also very nice. The Hotel Broad Ripple is a charmer and right on the Monon Trail. You can walk to the bars and restaurants of Broad Ripple.
GETTING TO INDY
Indianapolis is a three-hour drive from Chicago. It is also serviced by Amtrak three days a week (and with a Thruway Bus the other days) with a station just steps from downtown hotels. Book your ticket at Amtrak.com.
The award-winning Indianapolis International Airport (#1 in the nation for 2020 according to both Travel and Leisure as well as Conde Nast) is another option for travelers. Take the Green Line or #8 bus to downtown from IND. I recommend Southwest, which serves Indy from Midway and other airports around the nation.
SHOPPING
Freshen your wardrobe at Heritage Clothier and Home (1134 E. 54th Street). Great deals and the latest styles including my favorite, Penguin. Ask for the cologne. Pick up some sexy underwear or supplies at Toolbox at 750 N. College.
COVID IMPACTS
The city features outdoor dining and limited indoor dining due to COVID. Masks are required when indoors at all facilities including bars and restaurants. The museums are also now again open to the public. Capacity restrictions are in effect. Check before you go to them as rules change frequently as does what is and what is not open. Bring your mask.
FOR MORE INFORMATION
VisitIndy has both daily deals and a LGBTQ guide:
Indy's Daily Deals
LGBTQ Guide
You will not run out of things to do in this surprisingly friendly and fun Midwestern metro of two million folks. We look forward to your visit to my hometown.

Bill Malcolm is the only nationwide syndicated LGBTQ value travel writer. He is based in Indianapolis. His column is or has been carried in LGBTQ publications around the country. His opinions are his own. Thanks to Visit Indy for the help with this column. All or parts of this material may appear in other publications.
A voyage to Iceland, Greenland, Denmark and beyond
Cruise of a lifetime to unforgettable ports of call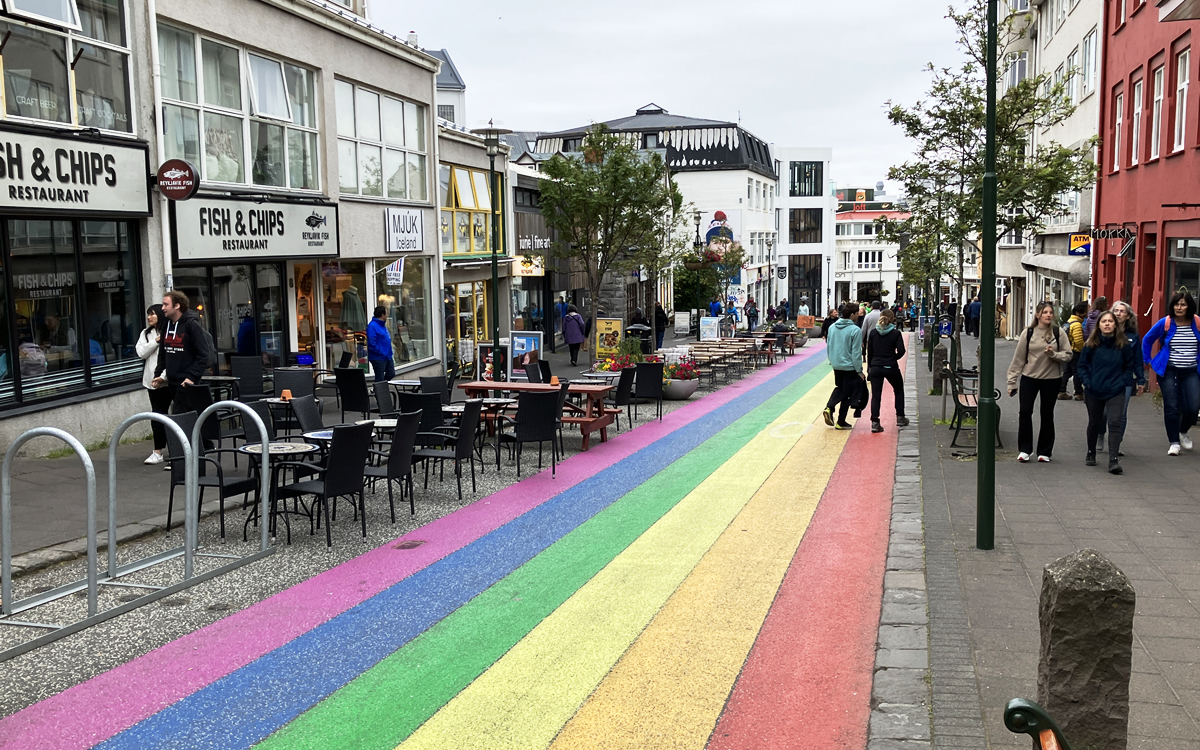 (Mark Segal is publisher of the Philadelphia Gay News. This story is courtesy of the National LGBTQ Media Association.)
LGBTQ people like to travel, and like many people they take cruises to see the world or just to relax. It used to be when taking something as personal as a cruise, where you'll be with people in close quarters and where conversations can be easily overheard, you might have felt uncomfortable to be yourself. Today there are numerous LGBTQ cruises for almost every segment of the LGBTQ community where you can be your fabulous self and party until dawn or more. Among those companies are Atlantis adventures, primarily for men, and Olivia cruises for women. But those companies still comprise only a fraction of available cruise sailings. So, how welcoming are non-LGBTQ cruises?
My husband Jason and I have been on numerous cruises on many LGBTQ and non-LGBTQ cruise lines. For our current trip we booked a cruise on Oceania, a line known for its food (they claim the best food at sea), exceptional attention to detail, and out of the ordinary shore excursions. We chose Oceania once before, and it was above most of the other cruises we've done. Another advantage of Oceania is that they do exotic itineraries. Our July cruise started in Reykjavik, Iceland and then proceeded to Greenland, the Shetland Islands, Denmark, and Sweden before ending in Oslo, Norway after a whopping 15 days. We traveled with another gay couple, our friends Klay and Val, who are out and proud like us.
And that really is the heart of the question: How out and proud can LGBTQ people be on a traditional cruise?
On the first night of the cruise, the ship promoted an "LGBTQQIA+ Get Together" in their daily schedule printout. The 4 of us attended along with 3 other couples, though we weren't the only LGBTQ people on board. Throughout the trip, we met many other LGBTQ people, mostly couples, who also had other cruise experiences. I asked many of them why they picked this cruise over an LGBTQ cruise, as well as how comfortable they felt being out on this cruise.
The overwhelming answer was that people on a cruise, like the general population, gravitate to like minded people, and since everyone's on vacation it's easier to get along. Most of them were comfortable being open about their sexuality. Jason and I felt comfortable enough to show our emotions at times and hold hands or put an arm around each other, just like non-LGBTQ couples. It made a larger point for me. Could we have done that a decade ago? The answer is: probably not. So in that regard, traditional cruises pass the comfort level for LGBTQ people. But what about the more nuanced reality of being an LGBTQ person on a cruise with 97% non-LGBTQ people?
Like any cruise, we found ourselves finding our own friends who turned out to be a fascinating lot. One of those was a couple who work at a small college and are developing new ways to be inclusive to LGBTQ students. Another was a retired couple from Seattle, another from Dallas. That's the secret sauce in cruising, finding the people you get along with and having a nice time.
For all of us, the two factors that led us to this cruise were the itinerary and the reputation of Oceania. Let's start with the cruise stops.
Reykjavik, Iceland
The departing port of the cruise, Reykjavik, deserves a few days to tour since it has some of the greatest landscapes and wonders on Earth, and if you're lucky as we were, you will be met by an active volcano. We had arranged 3 days of touring with an LGBTQ tour company called Pink Iceland. There not only is a sizable LGBTQ population in Iceland, but it seems everywhere you go there are rainbows. The country even has had a lesbian Prime minister. It's one of the most LGBTQ-friendly places on earth.
Our first day we traveled to the south shore and marveled at the raw natural landscape, which looks like something from the moon but is actually dried lava with moss growing atop. The volcanoes and glaciers are everywhere, and with an abundance of volcanoes, you'll see steam coming up from the ground in certain places. This has translated to natural geothermal power that powers the country, as well as natural glacier water (which tastes better than any bottled water) in every home. Later that day we went to the black beach at Reynisfjara with its basalt rock formation from eruptions thousands of years ago. We also visited and walked behind several waterfalls, and the sunshine meant that rainbows were aplenty. It was wet, magical, and romantic.
Our second day began with an adventurous ATV ride on that moonscape with a stop at a dormant volcano's top ridge. With me driving, Jason held on for dear life. Afterwards, we spent the afternoon in the world famous Blue Lagoon spa, where there are pools of volcanic minerals and silica that are a color of blue you'll see no other place on earth. As you soak you can apply those minerals as a face mask. Even though it was around 50 degrees outside, by the time we finished, we were all pleasantly overheated.
Our third day we toured the capital city, which is easily walkable and features a giant rainbow street, and then attended a get-together organized by Eva and Birna, the owners of Pink Iceland, with some local LGBTQ community members, including a member of parliament and a playwright who was the first to come out in his village in western Iceland. The audience was among the most engaged I've ever spoken to, and they asked insightful questions and were delightful to engage with. Iceland is a country built on stories (called the Sagas), so the people are keen to learn the stories of others.
After our three days in Reykjavik, we went onto our ship, the Oceania Riviera.
The ship had recently come out of dry dock with a total renovation. The cabin was the most beautiful we've ever seen at sea and had ample closet space and a bathroom with a rainfall shower. Our home away from home would be comfy.
Our friends Klay and Val opted for a larger room with butler service. The room had more closet space than some New York apartments, and the amenities were above average. But their butler, as they learned, seemed to have had no understanding of his role and often overcomplicated things.
Isafjordur, Iceland
Iceland is still developing its infrastructure for tourism. Our ship had provided 10 shore excursions, but all were completely sold before we even boarded the ship, including the one we wanted most, whale watching. The fact that shore excursions sell out months before the trip was not fully communicated to us. When we attempted to book 6 weeks before the trip, many ports had no available excursions. Nevertheless, in this small fishing village, left to our own devices we discovered one of the treasures of Iceland, The Tjoruhusid Restaurant. Known to be the most traditional Icelandic food in the country, you still needed a reservation since locals and tourists come from all over for its cuisine. But in true Icelandic hospitality, the staff found room and were kind enough to seat us, and I must admit that while I'm not a seafood eater it was amazing. The buffet meal included a fish soup, five types of fish entrees, including fish throat, which I didn't know existed, various vegetable combinations, and coffee, biscuits, and chocolate.
After the meal, we took a stroll through the village and discovered that among the fishing boats, fjords, and homes, the town square had a giant rainbow painted down the center. That's two for two cities in Iceland with rainbow streets.
Paamiut, Greenland
Our second stop was a small village of about 1300 whose complete economy was fishing and seal hunting. Very few cruise ships have ever stopped there, and for good reason. While there are very few facilities and the infrastructure is sparse, the main problem was that as we approached, the seas were somewhat choppy and we found ourselves in a sea of Icebergs. Before I could suggest to everyone that we all break out into a chorus of "My Heart Will Go On," the captain stated the obvious: he canceled the adventure in Paamiut. It was not safe to take the tender boats to shore (there was nowhere to dock in a port that small). However, a consolation prize was being treated to a sea of majestic icebergs as we sailed away.
That evening the entertainment and information system in all the staterooms went down. No television, no stateroom information, no map. Not only was the television system down, but the ship's entire network went down as well. The casinos were out of service, and bartenders and shop staff had to write down stateroom numbers on paper receipts. Getting information about the problem was met with what would become a common complaint on this trip: a lack of communications skills from the staff.
But we moved on to the next port of call, which turned out to be one of the highlights of the trip.
Nuuk, Greenland
The capital of Greenland, Nuuk, held its Pride celebration the week before we arrived. Discovering small cities with Pride events astonishes me even to this day. We had tried to find a Nuuk Pride T-shirt but since the city is so small (17,000 people) the organizers told me they didn't have the funds to create merch.
For our excursion for the day, we chose the Fjord Boat Tour, which was majestic. Our boat driver dodged icebergs like a taxi weaving in and out of traffic. When we stopped for a few minutes, the calmness and solitude, being surrounded by ice and mountains, was otherworldly.
Sadly, our driver said that ten years ago, none of the ice in the water was there, and that it has been a result of climate change and melting ice. I shudder to think what the area will be like in another ten years. There might be so much ice that boats can't get anywhere.
Qaqortoq, Greenland
In Qaqortoq, a 1,500-person city south of Nuuk, the excursion we chose was the "Kaffemik," basically enjoying coffee and traditional Greenland cakes in a private house. We walked up the hills and passed by colorful homes to get to the residence of our host, an 80 year old widow with Swedish ancestry who was charming and explained Greenlandic culture. One of her children was there to help translate, while her other children live in Denmark, which Greenland is a territory of. During the pandemic, Greenland received ample funds from Denmark to make up for the loss of income in industry.
After we wrapped up our sightseeing, that evening, while walking around the ship, we came across a portrait of a woman who is the godmother of the ship, Cat Cora, the famous Iron Chef. She and her wife and children were also among the guests on board with us. We went to see her give a talk the following evening. We figured since there was no working casino or state room entertainment, that meeting an Iron Chef would be entertainment worth seeing. During her presentation she introduced her family, and afterwards we got a chance to chat. When I asked her about how it felt introducing her wife, she said "that's what we need as a community, we need to be more visible." That was music to our ears.
Torshavn (Faroe Islands), Denmark
This charming capital of the Faroe Islands is a wonder of old architecture and homes with grass roofs. The town's Library had several LGBTQ books on display in the window due to the previous week's Pride celebration. This trip, after learning about Pride in Nuuk, Greenland and also the Faroe Islands, proved to me what I've always believed, that Pride is one of the best exports America has ever given to the world. I thought of my friend Ellen Broidy who helped write the resolution that created Pride, and all of us who marched in that first Pride in 1970 in New York.
Lerwick (Shetlands Islands), Scotland
Believe it or not, it was actually stated in the ship's excursion brochure "encounters with Shetland ponies is not guaranteed" which gave me a chuckle. The tour we were on in Lerwick included going to the town's museum to learn about the Shetland Bus, where people ferried people and supplies back and forth between Norway during WWII, as well as, thankfully, a stop at a Shetland Pony farm. Seeing the ponies and the beautiful green hills full of sheep was the highlight of this stop. One surprise was that while the Shetlands are part of Scotland, the citizens feel culturally closer to Norway, and there are lots of Viking motifs.
Haugesund, Norway
While there were excursions available to see the Norwegian fjords, by this point in the trip we needed a little bit of a break, so we simply walked around the town's main square, bought a magnet as a souvenir, and enjoyed the warm sunshine, the first day above 50 degrees we'd had in two weeks. One of the LGBTQ couples did go on a fjord tour, and they said it was beautiful despite spending three hours in a bus to get to them.
Skagen, Denmark
Skagen is the picture-perfect Danish seaside town. I'd recommend not doing any guided tours and just walking around the city's downtown area on your own. There are museums, art galleries, shopping, and plenty of outdoor cafes and bistros. There are also top notch garden shops and plenty of greenery for those who have a green thumb.
Gothenburg, Sweden
Sweden's second largest city has a population of 579,000 and is a model of a beautiful European city with second empire buildings and a very large central shopping area. We stumbled upon some fun shops, including one dedicated to Pippi Longstocking, as well as the largest cinnamon rolls and cookies we've ever seen. We took some time to sit in a city park and enjoy the surroundings.
On the final night of the cruise, we enjoyed a performance by Tiano, the tenor and piano duo of Shimi Goodman and Chris Hamilton. They dedicated one of the love songs to Val and Klay, who were celebrating their 25th anniversary. The duo will soon embark on a North American tour, and we're looking forward to seeing them again. They're also a couple, and they mentioned that they were glad to meet other LGBTQ people on the ship.
Oslo, Norway
The cruise ended in Oslo, Norway, and many passengers planned a couple day layover before heading home. But others, like Jason and I, decided to head to the airport the morning of disembarkation, and we purchased tickets from the ship that would transfer us and our luggage to the airport. The luggage was put in a truck, and we were ushered into buses. The process was confusing, and there was no ship representative at the airport to direct us where our luggage was. Ultimately, the truck with the luggage arrived about 15 minutes after we did, and everyone was reunited with their bags.
Compared to the other Oceania cruise we did, this one failed to meet expectations. While it had what seemed like the best cabin at sea and a wonderful itinerary, the staff, while helpful, seemed to be learning on the job. The other major disappointment was the food. Oceania no longer has the best food at sea. Other than the specialty restaurants, the food was similar to any other cruise at best, and at times some of the food was severely disappointing. Also disappointing were the ships lack of available shore excursions, and lack of communications skills. The lack of information, especially from the cruise director and excursion staff, was subpar compared to many other cruises we've been on. And while the cruise did go to ports that have little infrastructure, there are ways to mitigate that which the cruise staff did not do.
While the cruise did not meet Oceania's reputation, it still afforded us the delight in the people we met and the destinations we saw along the way. That's what we'll remember most. A private party with some of the LGBTQ guests we met; Tiano on that final night; the maitre'd in the dining room who seemed to know the name of every passenger on the ship. Each evening we had the delight of sharing our experience with our friends over dinner.
To sum up the reason for this trip, as an LGBTQ couple, we felt comfortable being ourselves on a non-LGBTQ cruise, and the other LGBTQ people we spoke with didn't seem to have any issues either. As for whether we'd take Oceania again, we sadly would not unless the itinerary was completely unique. Oceania seemed to have lost the sparkle that made it one of the best cruise companies around.
But despite the ship's faults, seeing Iceland, Greenland, and so many other places was an experience of a lifetime. We can't wait to go back to Reykjavik someday and see more of the country and meet more of the people, and we're forever grateful to have seen Greenland, a place of unparalleled beauty and where few others have ever been. It's a reminder that the planet has existed long before humans, and that we are but a small part of the wide wonder of nature
Loving the Land Down Under
Australia offers LGBTQ travelers a welcoming and diverse culture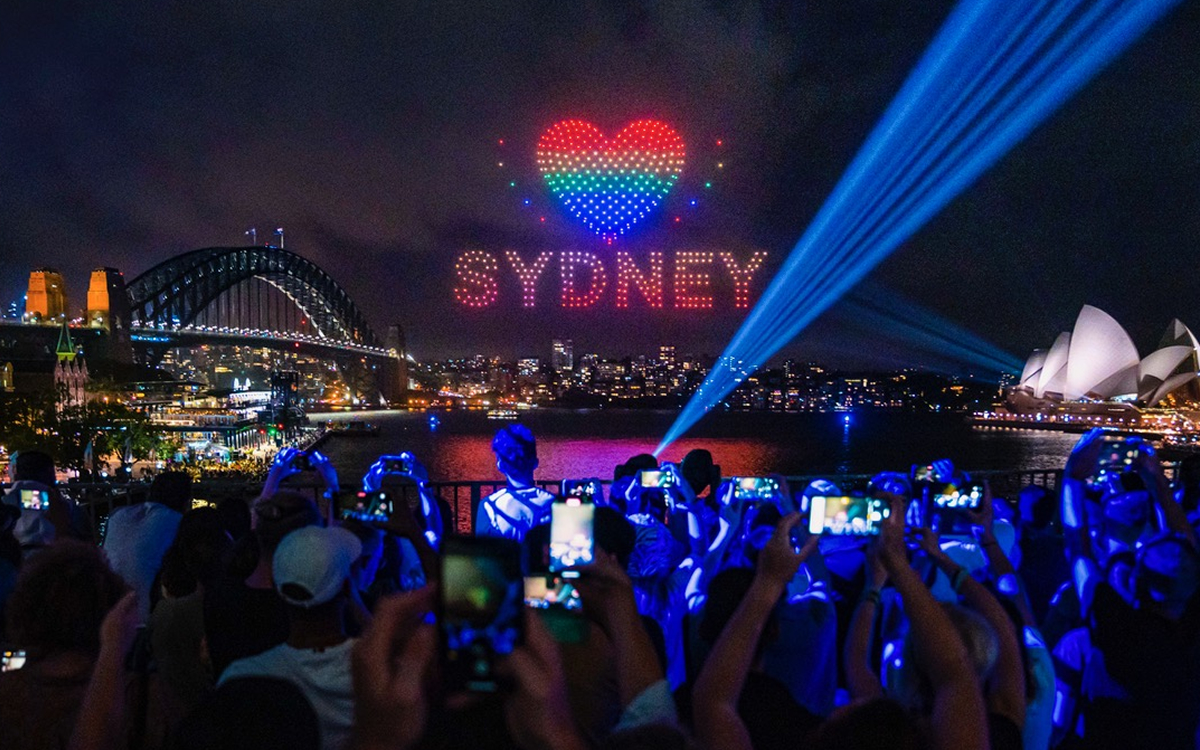 Having grown up in Kansas, in the middle of the United States, I've always longed to see more than the flat, flyover states that are the Midwest.
When I was a kid, my dad was a huge Olivia Newton John fan. She was his Australian heartthrob. Many a school day, I would come home to her music blaring or one of her live concerts in the VCR. And as a young gay boy, I was mesmerized by her as well. She was pretty, sang beautifully, and was from this great land far, far away.
I wondered how this pop chanteuse from Down Under got into my living room. And I always wondered what her homeland of Australia was like. Was it filled with dangerous animals as everyone suggested? Was there something at every turn that could kill me?
To me, it sounded exciting! I've always tried to live my life by a Helen Keller quote I heard while in high school: "Lift is either a daring adventure or nothing at all." And it was with that mindset firmly in place that I packed my bags this past spring to visit that mystical Land Down Under.
Australia is one of the most LGBTQ-friendly countries in the world, with a progressive culture that embraces diversity and inclusivity. Australia decriminalized homosexuality in the 1970s and legally recognized same-sex marriage in 2017. The country has a very vibrant and dynamic LGBTQ community, and it is a popular destination for LGBTQ+ travelers.
Sydney, the largest city in Australia, is often considered the LGBTQ capital of the country. The city hosts the famous Sydney Gay and Lesbian Mardi Gras, an annual festival and parade that attracts more than 300,000 visitors from around the world. The festival, with colorful floats, music, and performances, has become a symbol of Australia's commitment to LGBTQ rights and is a must-visit for anyone traveling to Australia.
The parade, beginning with the roar of hundreds of "dykes on bikes," is truly a sight to behold. The whole country comes to SLAY at this parade! Everyone puts on their brightest colors and outfits for this over-the-top event. It was one of the best (and longest) Pride parades I've ever been to in my life.
In 2023, Sydney was home to the 2023 WorldPride festival, and the city rolled out the rainbow carpet for the estimated 1 million-plus people, staging more than 400 events. And when I tell you that this city went over the top — well, that's a complete understatement. EVERYWHERE I went, EVERYTHING was covered in rainbows — from the city sidewalks to the lighting on buildings, to every employee I saw in every shop with their rainbow pins and buttons. It was like gay was the norm and straight was the minority; it was weirdly fabulous!
Melbourne
Melbourne is another great city for LGBTQ travelers to visit. Aside from being the current home to my favorite pop star, Troye Sivan, the city is known for its vibrant arts and culture scene and is home to a thriving LGBTQ community. The annual Midsumma Festival, a three-week celebration of queer arts and culture, is held in Melbourne and features a range of exhibitions, performances, parties, and other events.
If shopping is your thing, check out the 145-year-old Queen Victoria Market. This open-air market is home to more than 600 small businesses where you can buy everything from Australian fruits and veggies to gourmet food, clothing, and souvenirs. There is literally something for everyone.
Wild Australia
What initially drew me Down Under were the lush landscapes and wild animals I saw on TV growing up. The country is home to some of the world's most stunning natural wonders, including the Great Barrier Reef, the Outback, and the Blue Mountains. LGBTQ travelers can explore these natural wonders through a range of activities, including hiking, snorkeling and even zip lines and hot air balloon rides.
One stop for me was the breathtaking Heron Island, a stunning coral cay located on the southern Great Barrier Reef off the coast of Queensland. It is accessible only by catamaran or helicopter and offers a secluded and pristine escape for travelers looking for a uniquely tranquil experience.
The island boasts world-class snorkeling and scuba diving opportunities, giving visitors the chance to swim among vibrant coral reefs and an abundance of marine life including sea turtles, manta rays and reef sharks, while its sandy beaches provide a picturesque setting for sunbathing and leisurely walks. The island is an also breeding ground for several species of seabirds, including the endangered black noddy tern and the wedge-tailed shearwater, making it perfect for birding enthusiasts.
I spent three glorious days on this piece of paradise and have never felt so relaxed in my life. I got up close with nature — every kind of wildlife you could imagine birds — in a way that I've never experienced before and will never forget.
Accommodation options on Heron Island range from eco-friendly tents to luxurious suites, with all rooms offering stunning views of the reef and the island's lush vegetation. Facilities include a restaurant and bar and well as guided nature walks and reef talks.
If you need a chance for some peaceful rest and rejuvenation, especially after all the excitement of Sydney and Melbourne, Heron Island is the perfect destination. Its remote location and unparalleled natural beauty make it a must-visit destination.
Bondi Beach
Australia has several LGBTQ-friendly beaches, including the popular Bondi Beach in Sydney. The beach is home to the Bondi Gay and Lesbian Beach Picnic, which is held on the first Sunday of every month and is a great way to meet other LGBTQ travelers.
Food and wine
Australia's food and wine culture is yet another draw for LGBTQ travelers, offering a range of culinary delights from fresh seafood to world-class wines and unique indigenous cuisine. I know I came back to the states 10 pounds heavier! The cities of Melbourne and Sydney are particularly known for their food and wine scenes, with a range of LGBTQ-friendly restaurants and bars.
Overall, I spent a little more than two weeks in The Land Down Under. I loved it so much that I've decided I will definitely be going back to vacation there again, and I might even move there some day. The welcome I felt from the people there is something I will never forget.
Aussies care about their country and the people in it. From the moment I touched down until the minute that I left, I never felt unwelcome anywhere I went.
The country's progressive culture, natural beauty, and diverse cities make it an ideal vacation spot for LGBTQ individuals and couples. Whether you're looking to attend a Pride parade, explore the great outdoors or simply relax on a beautiful beach, Australia has something to offer everyone.
So, pack your bags and come and say G'day; you won't regret it. For more info on traveling to Australia, visit www.australia.com
 Chad Mantooth is a writer for the Dallas Voice. This story is courtesy of the National LGBT Media Association.
Fabulous San Diego beckons with array of attractions
Torrey Pines Reserve, Liberty Station Public Market, Hillcrest among highlights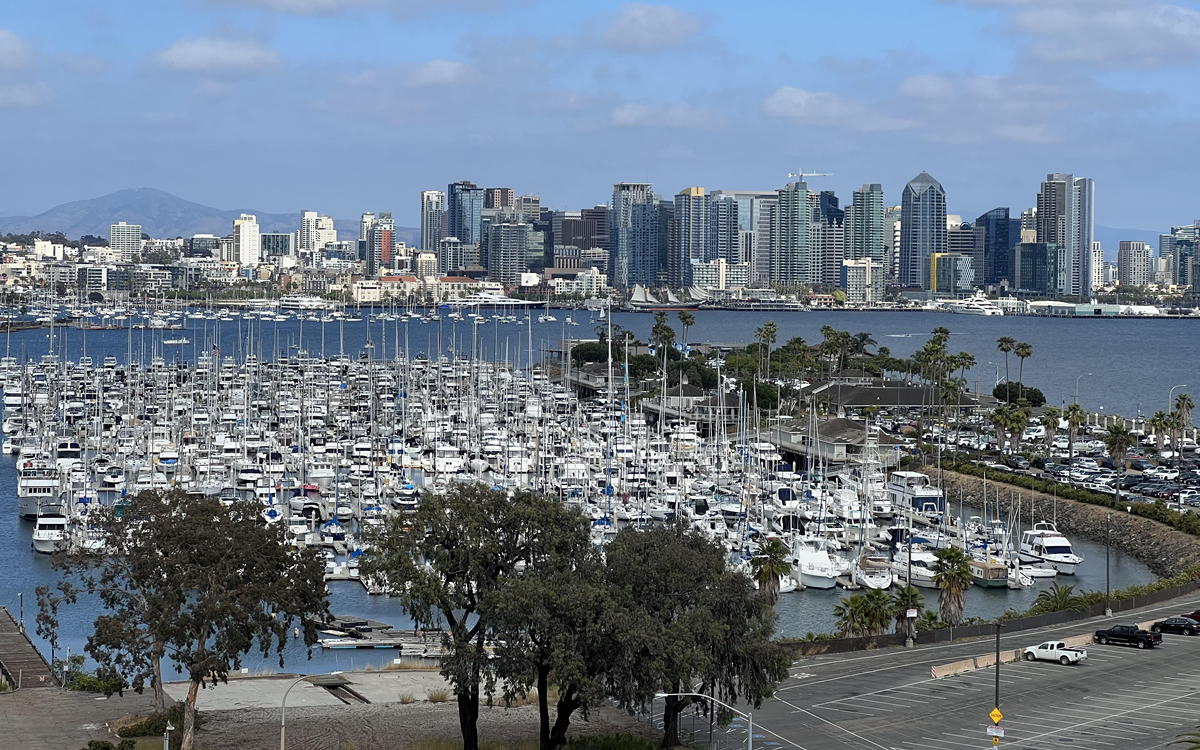 You cannot beat a vacation in San Diego and there is always something fun and new going on in the city, including the vibrant Hillcrest gayborhood (fabuloushillcrest.com). The city of 1.4 million borders Mexico and is built on mesas surrounded by canyons on the Pacific Ocean. Interesting neighborhoods and parks will keep you busy. The climate is mild, so any month is perfect for a visit given the climate. The city combines the best of Southern California combined with a strong Mexican influence given the proximity to Tijuana.
WHAT TO DO
Don't miss the Farmers Market Sundays in Hillcrest Sundays from 9 a.m.-2 p.m. Enjoy the Southern California strawberries and dates. I had salmon for lunch. There are lots of local vendors. You will find them on Normal Avenue between Lincoln and University Avenue near the rainbow flag.
On Saturdays, the city's other large farmers market in Little Italy is also very popular. Little Italy is a cute neighborhood near downtown with lots of trendy restaurants and shops. (Details at littleitalysd.com).
Hike up Maple Canyon and enjoy the native vegetation on Bankers Hill.
See the rarest pine in the world, the Torrey Pine, and enjoy the wildflowers and views from bluffs overlooking the Pacific Ocean at the Torrey Pine Natural Reserve just north of La Jolla. You will also see the beaver tail prickly pear cacti, yuccas, cholla cactus, manzanitas, and native wildflowers. To get there without a car (and to avoid the $25 parking charge), take the Blue Line MTS trolley (light rail) to La Jolla (Noble Drive Station) and then catch the 110 North County Coaster bus to Torrey Pines Beach. The bus ride goes through the UCSD campus and is interesting. (See SDMTS.com)
Once at the beach, walk up the hill going south into the preserve and enjoy the Guy Fleming loop trail, which features stunning views of the ocean and the rare and unusual Torrey pines, which are found only here and on Catalina Island. These rare and endangered pines are found nowhere else on Earth except these two small locations. Plan your trip at torreypines.org.
Then enjoy the Torrey Pines or Blacks beaches. Then catch the 101 bus back to La Jolla and enjoy fish tacos at Rubio's Coastal Grill (Nobel and La Jolla Drive) and a fresh carrot juice at the Nektre Juice Bar (8855 Villa La Jolla Drive).
Walk along the bay at the trails on Harbor Island near the Sheraton. It's just over a mile to the Liberty Public Market, a new food hall that had been a Navy Mess Hall at the former Navy training facility. It also features museums and an Arts District. Try the craft beer at Bottlecraft or craft cocktails at Mess Hall. There are local clothing, soap, and jewelry vendors as well. Pick up some homemade soap at the Old Town Soap Company. You will find Liberty Station at 2820 Historic Decatur Rd. (libertypublicmarketsd.com). They are celebrating 100 years. On the way back, stop at Spanish Landing, the site where California was discovered in the 1500s by Cabrillo, a Spanish explorer.
Visit the North Park neighborhood. Take in a drag and dinner show at Lips on El Cajon Boulevard. Stop by the Eagle Bar.
Balboa Park includes museums as well the San Diego Zoo. It is a must for first-time visitors.
For more ideas, visit the Metropolitan Transit System website. Enjoy a car free, carefree stay.
NIGHTLIFE
You cannot beat the selection of bars, restaurants, and shops in Hillcrest, one of the best gayborhoods in the world.
I stumbled on a fun Saturday night show featuring drag, strippers, and burlesque at Urban Mos in Hillcrest. The strippers and bottomless Mimosas on Sunday were a hit. They also have great food. I loved the fries.
Richs is always fun as is Flicks, the latter of which has an all-day happy hour on Tuesday. Number One has a DJ on Sunday afternoons. You can dance on the patio. The Loft is a fun neighborhood bar.
WHERE TO STAY
This was my second stay at the Sheraton Hotel and Suites on the marina near the airport on Harbor Island. It's a quick Uber to Hillcrest or take the 922 MTS Bus downtown, Union Station, and the attractions. Get a room in the main tower facing downtown and the bay. Check Trip Advisor for other hotel ideas. However, there are few lodging options in the Hillcrest.
GETTING THERE
I took the Southwest nonstop from Indianapolis. You don't need a rental car as San Diego has great transit. MTS runs the trolley system (aka light rail). Plus you can walk everywhere in this fairly compact city if you stay around Hillcrest, Downton, Old Town, and the Gas light District.
USEFUL TRAVEL TIPS
Visit San Diego listed all the new attractions, hotels, and happenings for summer in San Diego. As for Hillcrest, San Diego will be celebrating with the San Diego Pride Parade, one of the largest in the country, with over 300,000 attendees July 8-16.
OTHER INFORMATION
San Diego has a bad homeless problem, and many are mentally ill. I was attacked at 8th Avenue and Hillcrest while walking down the sidewalk at 5 p.m. on a Sunday. The psychotic looking shirtless man tried to steal my day pack and then pulled me. Fortunately, Mayor Todd Garcia pushed through a new ordinance banning public camping by the homeless to deal with the problem.
San Diego has prohibitive costs including hotel rates. Book your hotel before you book your air. You may want to avoid the peak summer season where folks from Phoenix flee here to escape the summer heat. And beware of annoying resort fees.
Although you are close to Tijuana, Mexico, it is unsafe to visit at this time.
There are four publications you can find at the bars or online to help you plan your trip:
• LGBTQ San Diego County News (LGBTQSD.news) is a newspaper covering the community.
• RAGE Monthly covers all of San Diego. (rage.lgbtq)
• GedMag.com (GED Magazine) is a Palm Springs magazine distributed in San Diego.
• Metro Magazine is a New York publication that publishes a Los Angeles edition.
You cannot beat a trip to San Diego, with a perfect climate and set on mesas above canyons. There is always something new to do. And it has something for everyone.
Bill Malcolm is a syndicated LGBTQ value travel columnist. His column is now carried in LGBTQ publications in Toronto, Seattle, Chicago, Washington, D.C., and Dallas.