August 15, 2020 at 12:32 pm EDT | by Bill Malcolm
Saugatuck-Douglas is open and better than ever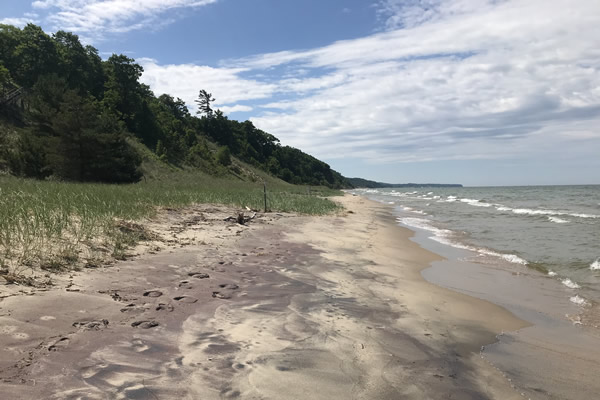 The Midwest's gay resort area, Saugatuck-Douglas, Mich., is open and better than ever. The sandy beaches, two gay resorts, sand dunes, and blueberries beckon the LGBTQ traveler. The Southwest Michigan area is easily accessible by car from many cities and flying into Grand Rapids is another option.
Safety is a priority in the area and COVID-19 protection plans are in place and include: employees wearing masks at bars, restaurants, and stores; restaurants have spaced out tables and are operating at reduced capacity; the number of campsites has been reduced at CampIt; reduced capacity and spread out bar area at the Dunes Resort; masks are required to enter grocery stores; and more. Check state websites for the latest travel restrictions before booking any trips.
The area features two great LGBTQ resorts. The Dunes Resort features many lodging options (motel, cabins, and more), a pool with bar (never a cover or admission fee), a great indoor bar, two dance floors, and more. It is the Midwest's largest gay resort.
Weekly events include piano bar Monday, karaoke on Thursdays, go-go boys from Perfect 10 Men Fridays, and a T-dance (with barbeque) Sunday afternoons. The Dunes Divas also appear with shows on the Tea Deck weekend nights. There is something special going on every weekend including:
Aug. 13-16 White Party Weekend
Aug. 20-23 Furball Weekend
Aug. 27-30 End of Summer Blues
Book your stay or get more information at dunesresort.com. They also handle bookings for the Northern Lights condominiums across the street.
Value-oriented travelers will especially like the camping and other options like small cabins and a bunkhouse over at Camp It Resort, Saugatuck's outdoor resort in Fennville just south of Saugatuck. They have a great pool scene, too. Upcoming events include:
Aug. 14-16 Wild West weekend
Aug. 21-23 Mardi Gras (complete with parade)—this is always a sell out
Aug. 28-30 Wine and dine weekend
D.C. DJ Steve Henderson spins the tunes by the pool. The resort has been going strong since 1982. I love that you can camp for just $20 a night on the weekends. It's a friendly crowd and they even have a food truck (opening soon) for those that don't like to cook.
Book your stay and get more information at campitresort.com or call 269-543-4435.
Make your first stop beautiful Oval Beach on Lake Michigan. One of the best shorelines around. However, they do charge $10 until 8 p.m. so save money and just go for the sunset. Other beaches (which are free) include the Laketown Beach and West Side County Park. My favorite is the Wau-Ke-Na Preserve, which features great hiking and a wonderful (and free beach) less affected by this year's high Lake Michigan water levels.
Take a hike to the beach at Saugatuck Dunes State Park. You walk though a beech/maple forest to the dunes and then down to the beach, although the high water levels leave little beach left right now. The non-resident fee is $9. The huge forest covered dunes are amazing.
Explore the arts community in downtown Saugatuck with its shops and restaurants. Uncommon Ground is the LGBTQ oriented coffee shop. It is a very walkable small town. Rent a bike at Big Lake Outfitters and ride on the new Blue Star bike and hike trail.
Pick or just buy the local grown blueberries at Blue Star farms. The peaches grown in the area are also very good. Go wine tasting at the Fenn Valley Vineyards.
There is so much to do in this beautiful area on the shores of Lake Michigan.
The What Not in Fennville is open at 50 percent capacity. The salmon, perch, and taco salad are all excellent plus it is very LGBTQ friendly. You will find the restaurant just south of Douglas on Blue Star Highway.
Enjoy fresh made juices, sandwiches, and salads with local ingredients at The Farmhouse Deli (100 Blue Star Highway). Try the carrot or beet juice blends.
Have a slice of pizza or homemade sandwich at Lakeshore Convenience, 655 Blue Star Highway.
Grab a coffee drink at Uncommon Coffee in Saugatuck. It's the LGBTQ friendly hang out in town with micro roasted coffee beans to take home.
You will not run out of things to do in the Saugatuck area. However, hurry, the season ends just after Labor Day.
For more information, visit Saugatuck.com, dunesresort.com, or campit.com.
Bill Malcolm is America's only syndicated LGBTQ value travel columnist. He is based in Indianapolis.