May 5, 2011 at 5:17 pm EDT | by Terri Schlichenmeyer
Encountering Judy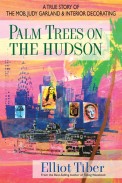 Elliot Teichberg was 8 when he first saw Judy Garland.
Now known as Elliot Tiber, he recalls the life-altering events that led to it. He describes them as both the best and worst of times in his new book, "Palm Trees on the Hudson: a True Story of the Mob, Judy Garland and Interior Decorating," another memoir from the gay author present at such pivotal culture-defining moments as Woodstock and Stonewall.
Garland was singing to him that first time, and he wished he could join her in Oz. He was "spellbound" by her voice and by the "longing and hope she expressed." He never forgot that afternoon.
Movies were always important to young Elliot while he was growing up in Brooklyn. They were equally important to his mother, who took the free dishes the theater handed out and resold them at her store.
To say that Mrs. Teichberg was thrifty is to make an understatement. Born in Russia and nearly killed while fleeing Cossack soldiers, she spent her life focused on money. While that bought the American Dream, it didn't endear her to her only son.
It didn't help that she repeatedly told Elliot that he was "worthless."
As soon as he could escape his family, Elliot did. With meager possessions and big dreams, he left home via subway to Manhattan, changed his surname to Tiber and rented a filthy "artist studio" in the Village. There, he hoped to find love, acceptance as a gay man and a career as an artist.
But painting wasn't Tiber's only talent; he had an aptitude for display and quickly found work as a window dresser. A natural networker, he maneuvered his way into better jobs with richer clients, opened his own interior decorating business and branched out into party planning.
It was at one of those parties – lavish, opulent, over-the-top and planned for a club-owning, gay-hating Mobster who just happened to know Judy — that Tiber had his best/worst situation…
"Palm Trees on the Hudson" is kind of a hidden gem. It will probably never end up on a fancy display. You'll never find it on the bestseller list, but you'll enjoy it as much as if it was.
A prequel to a prior memoir, this book starts with author Elliot Tiber's childhood and meanders forth to a highlight that's funnier now than I'm sure it was 40-odd years ago. Tiber, who once dabbled in stand-up comedy, tells a good story and his recollections of Manhattan society and being gay in the 1960s are priceless.
"Palm Trees on the Hudson" may be a bit of a challenge to find, but it's very much worth the look.