Celebrating the work of feminist Kate Swift
Writer who died this month blazed trail via language
In 1976, I had the chance to meet the late Mary Travers (of Peter, Paul and Mary).  I'd just seen her perform, but instead of telling Travers how awesome she was to me and generations of fans, I (a newly minted lesbian feminist, impolite and tone-deaf) seized the moment to critique her work. "'Blowin' in The Wind' [written by Bob Dylan] is a good song," I informed Travers, "but it has the word 'man' in it. That's sexist!'"
Travers was unfazed by the callowness of youth. "You have a point," she said calmly, "but if we changed the lyrics we would ruin a wonderful musical moment."
Yes, sometimes feminism can be carried too far.  But, would we want to go back to the time (as recent as 40 years ago) when people spoke of "stewardesses" and "firemen"?  Joan, Peggy, and Betty – the ladies of the TV show "Mad Men" (set in the 1960's) — are hot; but would women wish to go back to the era when we weren't able to buy a house on our own or (in some places) wear pants?
Kate Swift, a queer writer and editor, who was instrumental in bringing women out of this oppressive era, died on May 7 at age 87. Swift and her partner (the late) Casey Miller wrote two groundbreaking books  "Words and Women" and "The Handbook of Nonsexist Writing" that highlighted sexism in language.
Through their pioneering work, Swift and Casey (both of whom were writers) showed that while visuals are eye-catching, words matter (perhaps even more). When we grow up hearing only that "all men are created equal," of "the land where our fathers died," their work argued, it's hard to believe that women are as significant or have the same rights as men.
"Everything we read, heard on the radio and television, or worked on professionally confirmed our new awareness that the way English is used to make the simplest points can either acknowledge women's full humanity or relegate the female half of the species to secondary status," Swift and Casey wrote in "Words and Women" (published in 1976 and reissued by Iunivers in 2001).
The idea that we could take part in our liberation by working to take sexism out of language was eye-opening to queer and hetero women in the 1970s. My friend Shannon heard Swift and Casey speak at Yale Divinity School in 1977. "I thought they were neat," she wrote me in an e-mail, "It was the first time I had heard an actual lecture on inclusive language. I had studied linguistics in college and had a master's degree, but my timing [prior to hearing Swift and Casey] was pre-women's movement."
Thanks to Swift and Casey, today, we're all more aware of sexism in language. Many people now say "flight attendant" and "firefighter," use "Ms." instead of "miss" or "Mrs."
But old habits die hard. A few years ago, a gay male poet friend of mine, appearing on a radio show, used the pronoun "he" to describe what was involved in being a slam poet. Though his intent wasn't to exclude female poets, he didn't understand why the use of the male pronoun bothered some women listeners.
Most of the gay men I know identify with the struggle of women for equality. Yet, though I love my queer brothers, sexism still exists in the LGBT community.
Many queer women have less income than gay men and feminism itself is still too much of a white, middle-class, able-bodied movement.
In the face of these difficulties, Swift leaves us a legacy of hope. Including women in the language we use is a key step toward achieving our equality.
National Gay & Lesbian Chamber of Commerce Certifies Brown, Naff, Pitts Omnimedia, Inc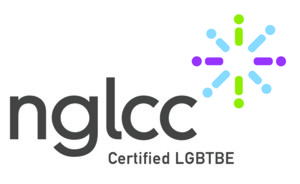 Washington, D.C. — Brown, Naff, Pitts Omnimedia, Inc, the parent company of the Washington Blade and Azer Creative, announced today it has been certified by the National Gay and Lesbian Chamber of Commerce (NGLCC) as an LGBT Business Enterprise. The NGLCC supports and advocates for diversity and inclusion for LGBT-owned businesses. With this certification the Blade's parent company joins more than 510 business and 134 corporate partners of the NGLCC.
Brown, Naff, Pitts Omnimedia, Inc. owns and operates the Washington Blade, the oldest and most acclaimed LGBT newspaper in the country. In 2012, the company launched Azer Creative, a full-service design firm. The company employs more than a dozen full-time LGBT staff.
"We are excited to become one of the 500 LGBT businesses across the country certified by NGLCC," said Lynne Brown, the Blade's publisher and a co-owner of the company. "The LGBT community has been part of our company from the beginning and we look forward to continue that for many years to come."
The Washington Blade was founded in 1969 and is known as the "newspaper of record" for the LGBT community both locally and nationally. Visit washingtonblade.com for more information. Azer Creative is a full-service graphic design firm based in Washington, D.C. Visit azercreative.com for more information. 
Vote now for the 2013 Best of Gay DC!
Choose in dozens of categories among hundreds of nominees, and make your voice heard!
Nominate the 'Best of Gay D.C.' now!
Dozens of categories cover all the best for LGBT Washington. Who deserves the prize this year?