Chaz teaches us a lesson in humanity
Optimism for a 21st century shift toward understanding
Last week was a big week for Chaz Bono. The only child of Sonny and Cher released a new book, appeared on Oprah and debuted a new documentary, "Becoming Chaz." It was all Chaz, all week.
Unless you've had your head in the sand for the past 30 years as his supernova mother has ruled the tabloids, won an Oscar and become a Las Vegas legend, Chaz, of course, was born Chastity, came out as a lesbian in her 20s and recently transitioned to a man. At 42, his book and documentary media-blitz, I imagine, serves a dual purpose: to reveal his gender identity struggles growing up, while educating an increasingly curious public that seems open to being more enlightened. I am one of them.
I read the book release and online news coverage and watched the interview snippets available on YouTube. I surveyed the comments on Facebook and Twitter. I am fascinated. As I digest all the Chaz news, I find myself digging deeper into my own curiosity to discern what exactly it is about Chaz's story that transfixes me, equally validating my understanding of the intensity and range of human experience and challenging my perceptions.
I am gay and while being gay is surely a twist on gender roles and identity, I have never felt trapped in the wrong body. But I am part of the LGBT minority like Chaz. I too have addiction and recovery experience. I've had body issues, been depressed, lost a partner, and felt different than as well. Chaz's story affirms that life is really hard sometimes. Growing up "was complicated," he told Oprah. But it also validates life's blessings. His mother "adores" him, he said, and so did his father. In many ways Chaz's story is no different than mine, maybe even yours, except for the transgender part. Therein lies an element that keeps tripping me.
I can't stop juxtaposing Chaz's current appearance with the image of little Chastity: the adorable little blonde girl who often appeared at the end of her parents' show, The Sonny and Cher Comedy Show (1971-74), as they dutifully intoned their sing-along hit, "I Got You Babe." Once, during a particularly famous show closing, when Chastity was about two or three, she is wearing a white and green striped sundress with pigtails in her hair. Sonny is holding her in his arms and asks her to say good night. "Good night," Chastity whimpers, "And God bless everyone."
As a kid, I loved that show and the image of little Chastity.
When she was Chasity, I thought she was good-looking. As Chaz I feel the same. More honestly, I'm struck by what a physically appealing man he makes. So "normal," I wouldn't look twice if I passed him on the street. But physically appealing, good-looking and normal are labels, preconceived and limited by words learned and images accepted as traditional. They fuel prejudices of what we think people should look, sound and act like.
Chaz knows this conundrum all too well. That's partly the reason he wrote the book and made the documentary. He told Oprah and states upfront in his book, "Transition: The Story of How I Became a Man," that although the world still holds dear the image of him as this "cherubic little girl" on his parents' TV show, he has little memory of the experience. More to the point, as an adult, he says, he does not identify with the image or the little-girl label.
Chaz's story about gender transition infuses hope. Its public reception symbolizes optimism for a 21st century shift toward more social progressiveness and understanding. In today's highly charged political rhetoric, Chaz's story, however, is not about politics or values. It's about humanity, common respect, tolerance and acceptance. If life is really about the spiritual, our bodies are merely short-term vessels any way. The physical is not what's important. Who cares about the labels and images?
So I'm setting the old image of little Chastity free. Welcome enlightenment. Curiosity triumphs.
David R. Gately is a D.C.-based freelance writer. Reach him via writerdavid.wordpress.com.
National Gay & Lesbian Chamber of Commerce Certifies Brown, Naff, Pitts Omnimedia, Inc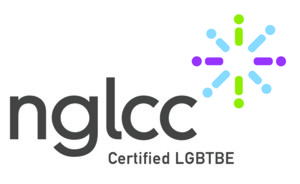 Washington, D.C. — Brown, Naff, Pitts Omnimedia, Inc, the parent company of the Washington Blade and Azer Creative, announced today it has been certified by the National Gay and Lesbian Chamber of Commerce (NGLCC) as an LGBT Business Enterprise. The NGLCC supports and advocates for diversity and inclusion for LGBT-owned businesses. With this certification the Blade's parent company joins more than 510 business and 134 corporate partners of the NGLCC.
Brown, Naff, Pitts Omnimedia, Inc. owns and operates the Washington Blade, the oldest and most acclaimed LGBT newspaper in the country. In 2012, the company launched Azer Creative, a full-service design firm. The company employs more than a dozen full-time LGBT staff.
"We are excited to become one of the 500 LGBT businesses across the country certified by NGLCC," said Lynne Brown, the Blade's publisher and a co-owner of the company. "The LGBT community has been part of our company from the beginning and we look forward to continue that for many years to come."
The Washington Blade was founded in 1969 and is known as the "newspaper of record" for the LGBT community both locally and nationally. Visit washingtonblade.com for more information. Azer Creative is a full-service graphic design firm based in Washington, D.C. Visit azercreative.com for more information. 
Vote now for the 2013 Best of Gay DC!
Choose in dozens of categories among hundreds of nominees, and make your voice heard!
Nominate the 'Best of Gay D.C.' now!
Dozens of categories cover all the best for LGBT Washington. Who deserves the prize this year?