Thousands brave heat for pride parade, festival
Mayor, ten Council members march in parade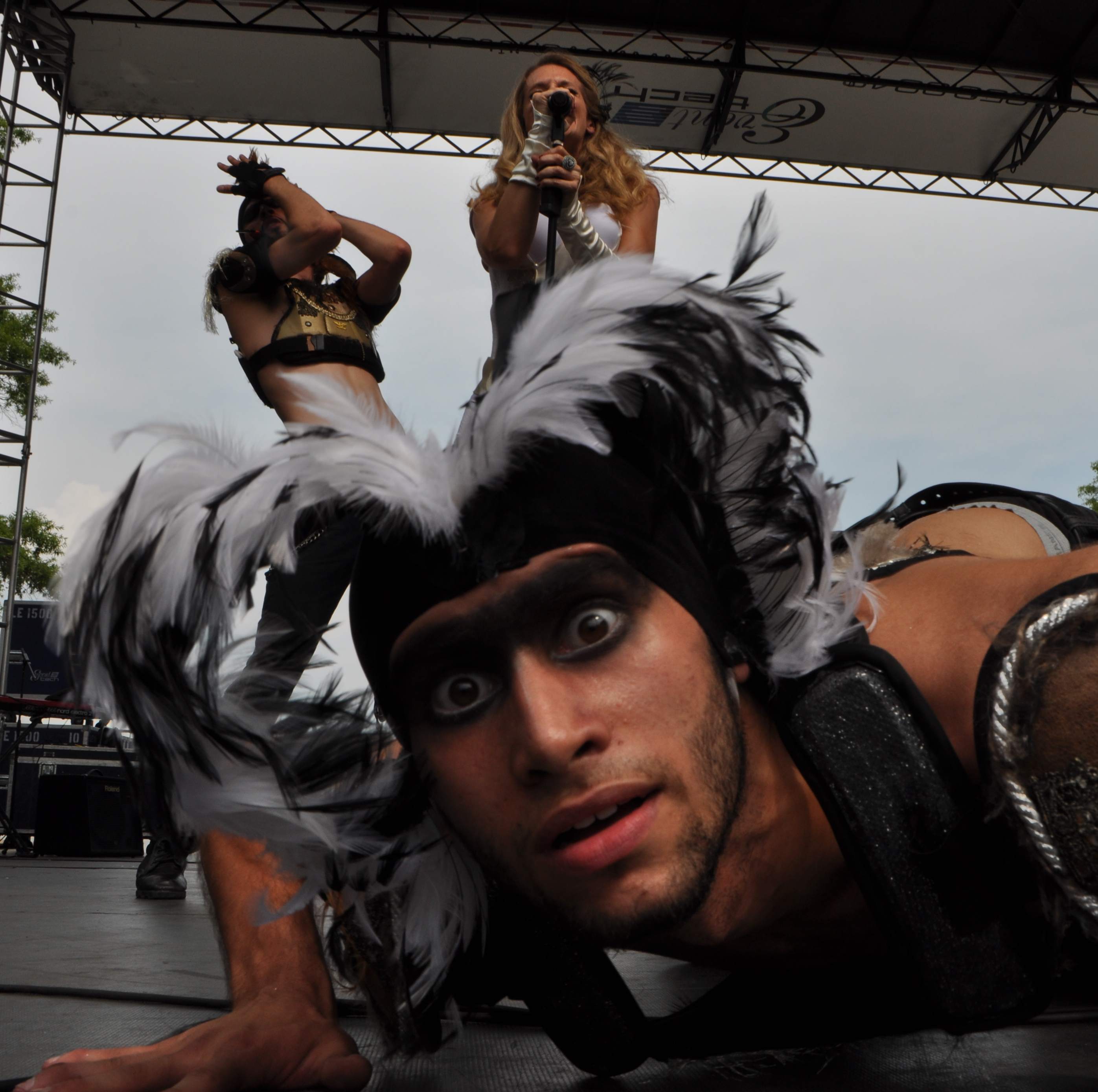 With the U.S. Capitol as a dramatic backdrop, tens of thousands of LGBT people and their friends and families jammed Pennsylvania Avenue on Sunday for the District of Columbia's 36th annual Capital Pride festival.
One day earlier, D.C. Mayor Vincent Gray and ten members of the 13-member D.C. City Council joined dozens of LGBT groups, colorful floats, marching bands, and thousands of individual marchers in the annual Capital Pride Parade, which snaked its way along city streets lined with thousands of spectators.
Gray also spoke at Sunday's festival before introducing the day's lead entertainer, Broadway actress and singer Jennifer Holliday, who debuted her new single "Magic," marking the song's word premiere.
Although city officials and police no longer provide official crowd estimates for large-scale events, Capital Pride organizers said they believe between 200,000 and 250,000 people turned out for the parade and festival.
"Everything was absolutely fantastic," said Capital Pride spokesperson Scott Lusk. "All of our community partners and volunteers and attendees showed up in great numbers and with great enthusiasm. It was an absolute fantastic weekend."
Eighteen-year-old Tiffany Johnson from Southeast D.C., who stood with a group of friends near the festival's main stage just before Holliday began her performance, said this year's festival represented the first time she had ever attended Capital Pride.
"It's just awesome," she said. "It's just so great to be able to come out to something like this."
Angelo Jimenez, 54, a resident of Richmond, Va., said this year's festival marked the 31st consecutive year he has traveled to D.C. to attend the city's Pride festival.
"I came for the first time in 1980 and haven't missed a single year," he said. "That tells you how much this means to me."
Other festival attendees who approached the Blade's booth identified themselves as residents of states up and down the mid Atlantic region as well as from the D.C. metropolitan area.
Gray and a contingent of city officials, including gay activist Jeffrey Richardson, director of the city's Office of GLBT Affairs, walked along Saturday the entire parade route, which began at 22nd and P Streets, N.W., near Dupont Circle, and ended nearly two miles later at 14th and N Streets, N.W., near Thomas Circle.
Most of the Council members, including gay Council members David Catania (I-At-Large) and Jim Graham (D-Ward 1), also walked or rode in cars along the full parade route.
The other Council members participating in the parade included Council Chair Kwame Brown (D-At-Large) and Council members Phil Mendelson (D-At-Large), Michael Brown (I-At-Large), Vincent Orange (D-At-Large), Jack Evans (D-Ward 2), Mary Cheh (D-Ward 3), Muriel Bowser (D-Ward 4), and Tommy Wells (D-Ward 6).
Gray had invited the Council members to join his contingent, which he named the "D.C. 41," in recognition of the 41 city officials and activists, including Gray and six Council members, who were arrested in April outside a Senate office building near the Capitol in a protest against congressional intrusion in D.C. affairs.
But most of the Council members chose to march or ride in their own contingents just behind the mayor's contingent.
Following closely behind the D.C. elected officials' contingents was Adam Ebbin, the openly gay member of the Virginia House of Delegates from Alexandria, who is running for a seat in the Virginia Senate.
The parade was led by an escort of D.C. police cars staffed by members of the department's Gay and Lesbian Liaison Unit.
Following closely behind the police escort was a contingent of leaders and supporters of the Trevor Project, a nationally recognized organization that works to prevent LGBT teen suicide. Capital Pride selected the Trevor Project contingent as the parade's grand marshal.
A D.C. Public Schools contingent was among the parade contingents that attracted considerable attention and drew loud applause throughout the parade route. It included teachers, parents, and elementary school kids, with some waving rainbow flags.
Similar to past years, D.C.'s Different Drummers, the city's LGBT marching band, and the Lesbian and Gay Big Apple Corps Marching Band of New York City marched and performed in the parade.
Capital Pride organizers said they were especially pleased with the wide diversity of groups and vendors that participated in both the parade in festival. In addition to a large number of national and local LGBT organizations, such as the Human Rights Campaign, the National Gay & Lesbian Task Force, the Gertrude Stein Democratic Club, and the Gay & Lesbian Activists Alliance, LGBT oriented religious, sports, and social groups participated in both event, organizers said.
A number of the city's gay bars and nightclubs also had colorful floats in the parade. Bathing suit clad men danced to music blaring from a float from Nellie's Sport Bar. Drag performers and male go-go dancers in bathing suites also danced to music broadcast from loud speakers atop two large flatbed trucks that made up the float for Ziegfeld's-Secrets, the gay club in Southwest D.C. that features drag shows and male strippers.
A number of new commercial and corporate venders participated in this year at the festival, according to Capital Pride officials. Among them were the Saab automobile company and Macy's department stores. Both were among this year's Capital Pride corporate sponsors.
Among some of the others displaying their information at festival booths were the Goddard Space Flight Center Gay, Lesbian, Bisexual and Transgender Advisory Committee; the Corcoran Gallery of Art and College of Art; the Gay-Straight Alliance of Montgomery Blair High School in Montgomery County, Md.; the Embassy of Sweden; Amtrak; the Capital Cat Clinic; the D.C. Office of Human Rights and D.C. Child and Family Services Agency.
Capital Pride board president Michael Lutz said this year's festival included expanded family related activities, with a special family section that provided children's games and children's entertainment.
The Washington Nationals Baseball Team also had a presence at the festival, with at least one of its "racing presidents," actors dressed as past U.S. president with oversized puppet-like heads, walking through the festival grounds.
The Nationals are hosting the annual LGBT "Night Out at the Nationals" game on June 21, which is sponsored by the local LGBT sports group Team D.C.
Capital Pride officials have said it costs about $500,000 to put on the annual D.C. pride events, including the parade and festival. Lutz said contributions from corporate sponsors, at least 25 local and national LGBT and LGBT-supportive organizations who sign on as Pride Community Partners, and fundraising events generate the funds needed to pay for Capital Pride.
"We're in great shape financially," said Lutz, who noted that a full accounting of the group's finances is released each year after an independent accountant completes the bookkeeping process.
Four Olympics, 13 years, and now a Gold Medal for Tom Daley
"I hope any young LGBT person out there can see that no matter how alone you feel right now, you are not alone. You can achieve anything."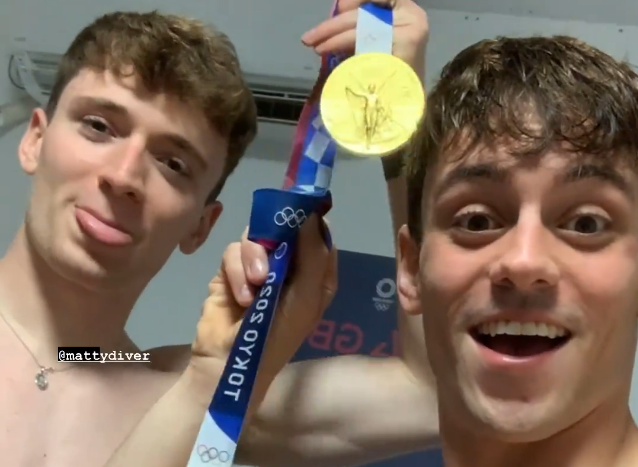 TOKYO – Standing there on the podium with tears forming in his eyes, a masked for Covid-19 British Olympic diver Tom Daley saw his dreams of Olympic Gold finally come true Monday. Watching a live-stream of the event intently, at the moment Daley secured his victory, Tom's husband, writer Lance Black and Tom's mother took in the results and jumped up screaming in joy.
Daley along with his British teammate diving partner Matty Lee won the gold with a score of 471.81 in the men's synchronized diving on Monday at Tokyo 2020 narrowly besting the defending champions, China's Cao Yuan and Chen Aisen by just 1.23 points.
"I still can't honestly believe what is happening," Daley told BBC Sport. "That moment, being about to be announced as Olympic champions, I was gone. I was blubbering."
😢

Mission accomplished.#TeamGB | @TomDaley1994 pic.twitter.com/ClyyTIm1ZP

— Team GB (@TeamGB) July 26, 2021
Daley tells young LGBTQ people: "You can achieve anything"
Later at a press conference, Daley, an openly gay athlete talked about the experience of being gay and at the games;
"In terms of out athletes, there are more openly out athletes at these Olympic Games than any Olympic Games previously. I came out in 2013 and when I was younger I always felt like the one that was alone and different and didn't fit. There was something about me that was never going to be as good as what society wanted me to be. I hope that any young LGBT person out there can see that no matter how alone you feel right now, you are not alone. You can achieve anything."
"I feel incredibly proud to say I am a gay man and also an Olympic champion."

Gold medal winner Tom Daley says he hopes his performance will inspire young LGBT people to realise "you can achieve anything".

Read more: https://t.co/9b5sr5kcZe pic.twitter.com/XCFyZR5S7A

— LBC (@LBC) July 26, 2021
They've done it!#GBR's Tom Daley and Matty Lee win the men's synchronised 10m platform final – a career first gold medal for four-time Olympian Daley!#Diving @TeamGB @fina1908 pic.twitter.com/iiwW5u4JTJ

— Olympics (@Olympics) July 26, 2021
Drew Pisarra's 'dangerously funny and queerly inventive brain'
'You're Pretty Gay' shatters expectations and social mores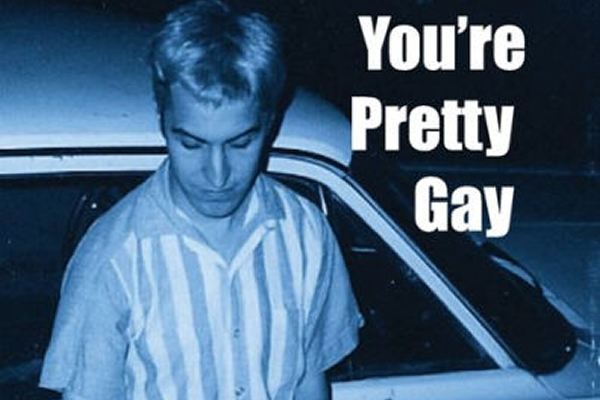 Is there anything more absurd than this, wondered gay poet and writer Drew Pisarra. Pisarra, then, was an assistant to a paralegal at a toothpaste company.
Fiercely protective of the pattern on its toothpaste, they wrote letters to rivals who, they felt, were infringing on their copyright.
Even when their competitors were in countries in the middle of a civil war, "They would write back, 'we can't respond now, we're in a war,'" Pisarra said.
But that didn't soften the heart of the toothpaste company. They'd insist that "this most important matter be dealt with as soon as the war ends," Pisarra said.
If you think that authors don't encounter the absurdity and grit of everyday life or that all writers do is drink coffee (or sip stronger libations) while looking at the sunset, you haven't met Pisarra.
Pisarra, 56, whose new short story collection "You're Pretty Gay" is just out from Chaffinch Press, has worked at everything from ventriloquism to domestic work.
The word "unique" is so hackneyed that it's a cliche to say it's a cliche. But there's no other way to describe "You're Pretty Gay."
This collection "is a prime example of Drew Pisarra's dangerously funny and queerly inventive brain," said Kevin Sampsell, author of "This Is Between Us." "Each story is its own performance, its own shattering of expectations and social mores."
Pisarra, who lives in Manhattan, gives readers a mosaic of wit, surrealism, sex, queerness, memory, mortality and self-discovery.
In "You're Pretty Gay," there are gay bars in New York and New Orleans.
You'll find everything from adolescent bullies fighting over a rare caterpillar to a character taking an AIDS test and, later, meeting up with Mrs. Claus.
"Mrs. Claus I didn't even know you were alive," says the narrator of "Arctic Chill." "I didn't even know you were real. I haven't received a gift from you or your husband in ten years."
Another of Pisarra's tales revolves around a trip to hell. "I love traveling," says the narrator of "The Hat from Hell, "I got this hat when I was in Hell back in 1992."
In "Granny," siblings gather after their mother's death. "All anyone could remember of her was that chair, how she sat in it for the last 40 years," Pisarra writes, "immobile as 'Jeopardy' and the 'Wheel of Fortune' glared at her night after night."
Pisarra's characters yearn to find love, sex, and who they really are.
"In my quest to bed mankind, I tended to avoid perfection's rejection," says the narrator of "Every Man for Myself."
Pisarra, whose first short story collection "Publick Spanking" was published in 1996, was born in Orange, N.J. When he was in the third grade, he moved to Maryland. There, except for living in Oxon Hill for a year, he grew up in Silver Spring.
When Pisarra was growing up, being gay wasn't even remotely on the horizon. "There was such denial in the culture then," Pisarra said.
From early on, he had feelings for men. "I had a crush on a boy in kindergarten," Pisarra said.
He consulted books and a priest, which wasn't helpful. They said he'd grow out of it.
"As a teenager, I recognized that I hadn't outgrown it," Pisarra said.
Pisarra was a college freshman when he came out. "I sobbed the night I came out," he said.
He was out in college, Pisarra said, "but I wasn't getting laid." That changed when he moved to New Orleans after college.
Pisarra graduated from Hofstra University in 1987 with a bachelor's degree in theater.
In college, a professor had the students sit in a circle. Then, the teacher told them how she thought they'd be cast.
"She told me, 'you're a grotesque,'"Pisarra said, "'You won't work until you're in your fifties. Because your face and body don't match.'"
Pisarra was relieved to hear this. His sense of relief was related to being a young gay man in the late 1980s.
"I wasn't interested in being closeted," Pisarra said, "I wrote. I wanted to perform. I wasn't interested in conforming."
Since then, Pisarra has been creating – performing and writing his own material. Some of the stories in "You're Pretty Gay" were originally created for the stage.
"I don't write that often," Pisarra said, "I started writing the stories in 'You're Pretty Gay' 20 years ago."
A prodigious reader, Pisarra has always "written to some degree," he said.
Pisarra got turned on to writing poetry when he went to a meeting of a gay and lesbian writers group.
"There were, like, 10 people in this apartment," Pisarra said, "there was a terrible woman sitting next to me."
He would have dropped out of the group, if he hadn't met writer Mare Davis, now his close friend.
"I said to her, 'I never want to see any of these people again except you,'" Pisarra said, "She inspired me to get into poetry."
Davis wrote the introduction to Pisarra's poetry collection "Infinity Standing Up" (Capturing Fire Press).
Released in 2019, the volume of sexy, playful sonnets received glowing reviews from the Washington Post, the Blade and other outlets.
"Devour me! Think me not some crazy nut!," Pisarra writes in one of his sonnets.
With lines like these, he gives Shakespeare a run for his money.
Pisarra has held a variety of jobs – many of which have involved the arts. He has helped homeless people with mental health issues to find housing.
"I ran a writers group for them," Pisarra said, "I encouraged a super-talented woman to send her work out."
The woman and Pisarra submitted their work to the same magazine. "Her work was accepted. Mine wasn't," he said, "I was thrilled!"
In an unusual career twist, Pisarra, who received a literary grant from the Café Royal Cultural Foundation, toured a ventriloquist act entitled "Singularly Grotesque." He created the act after the Portland Institute for Contemporary Art commissioned him to develop a new solo piece.
"I was wandering around the library aisles and I found two (self-help) pamphlets on talking with 'multiple' selves,'" Pisarra said, "and I thought this is ventriloquism in a nutshell."
Pisarra hadn't watched much TV. But that didn't keep him from interviewing with AMC to be its director of digital media.
"I thought why not," Pisarra said, "it would be a chance to see what else is out there in the world."
He worked on the websites for "Mad Men" and "Breaking Bad." "It was a pleasure to be part of the online team for these cultural phenomena!" Pisarra said.
With Molly Gross, Pisarra co-founded Saint Flashlight. In this project, he and Gross find inventive ways to get poetry into public spaces.
One of the project's most innovative efforts has been putting haiku on movie marquees. It's fun to see people, looking up, counting the syllables, Pisarra said. You sweat when you put the letters up on the marquee, he added.
"It's part of the fun! It makes you feel like you're making something matter," Pisarra said.
He doesn't want poetry to be confined to "The New Yorker." "It should push the envelope," Pisarra said, "It's not just for the upper crust."
Calendar: July 23-29
Events in the week to come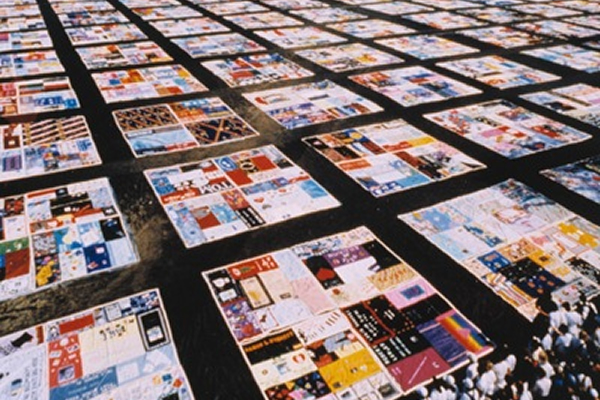 Friday, July 23
Friday Tea Time and social for older LGBTQ adults will be at 2 p.m. on Zoom. You are welcome to bring your own beverage. For access to the Zoom link, email [email protected].
"Trans Support Group" will be hosted on Zoom at 7 p.m. This event is intended to provide emotionally and physically safe space for transgender people and those who may be questioning their gender identity/expression to join in community and learn from one another. All who identify under the trans umbrella or are unsure, and seek to continually reinforce principles of respect, acceptance, and protection through ongoing input from our attendees are welcome.
Saturday, July 24
The "Gay District Meeting" will be at 8 p.m. via Zoom. Gay District is a community-based organization focused on building understanding of gay culture and personal identity, awareness of community events and civil rights for gay, bi, trans, queer, questioning and inter-sexed men between the ages of 18 and 35 in the D.C. metropolitan area. For more information, visit gaydistrict.org. 
Join the DC Center in volunteering at Food & Friends from 9 a.m. to 12 p.m. at 219 Riggs Road, N.E. Food and Friends prepares and delivers meals and groceries to people living with HIV, cancer, and other life challenging illnesses. Up to five volunteers are needed every month. If you need a ride from the Fort Totten Metro, call the Food and Friends shuttle at 202- 669-6437.
Sunday, July 25
"Crafternoons with Shop Made in DC!" will be at 12 p.m. at 1353 Wisconsin Ave., N.W. Guests are encouraged to bring a project or come and make one at Shop Made in DC's classroom table. There will be various art supplies available. For more information, visit Eventbrite.
Monday, July 26
The Center Aging Coffee Drop-in will be at 10 a.m. at the DC Center. LGBT Older Adults and friends are invited for friendly conversations and current issues that you might be dealing with. For more information visit Center Aging's Facebook or website.
Tuesday, July 27
Join Center Faith for Intersectional Faith Forums at 7 p.m. online. In this Forum, attendees will hear from panelists who participated in the LGBT history event "Stepping OUT on Faith" in 2014. These pioneers will speak about their interfaith spiritual experiences of the AIDS Memorial Quilt of the Names Project Foundation displayed on the National Mall 1987 that led to establishing Center Faith. For more information, visit Center Faith's Facebook page.
Genderqueer DC support group will be on Zoom at 7 p.m. All those who identify as bigender, agender, genderfluid, or are not 100% cisgender are welcome to attend. For more information visit genderqueerdc.org or Genderqueer DC's Facebook. 
Wednesday, July 28
Join the DC Center for its virtual job club, a weekly job support program to help job entrants and seekers, including the long-term unemployed, improve self-confidence, motivation, resilience and productivity for effective job searches and networking. The event begins on Zoom at 6 p.m. For more information, email [email protected]. 
Friendship Place's LGBTQ+ will host the final session of a free webinar series titled "Advocacy, Resistance, and LGBTQ+ Resilience" at 12 p.m. This event will be a panel conversation focused on the vital work of advocacy and resistance to ensure access and rights for the LGBTQ+ community. The panel will also touch on the importance of self-care in the work of advocacy and resilience that comes from community. For more information, visit capitalpride.org.
Thursday, July 29
"Queer Book Club" will be at 7 p.m. via Skype. This month's book discussion will be "Black Boy Out of Time" by Hari Ziyad. If you are interested in participating, please email [email protected]. 
The Mayor's Office will host a "Veterans Roundtable" on Thursday, July 29 at 12 p.m. This event aims to connect the District's veterans with information, resources, and organizations that may be beneficial to a successful military transition.
It will be an informal discussion that revolves around varying topics including housing, employment, healthcare, and legal services. Upon conclusion of the discussion, all resource providers in attendance offer feedback on any topics discussed or how they can assist the veteran or their family in a positive capacity.
The event will be hosted in person and will highlight BIPOC Veteran Mental Health Awareness with speakers from the DC VA Medical Center. For more information, visit Eventbrite.