UPDATED: GLAAD's communication breakdown; Barrios voted out
Media watchdog group dogged by allegations of dishonesty, incompetence

UPDATE: According to Politico, the Executive committee of GLAAD's Board of Directors has voted to remove Jarrett Barrios as President of the organization.
UPDATE 2: According to both Michelangelo Signorile and the Bilerico Project, Rich Ferraro is confirming that Jarrett Barrios has stepped down as GLAAD's President.
The Gay & Lesbian Alliance Against Defamation raised eyebrows last week when the media watchdog group released a statement supporting the merger of telecom giants AT&T and T-Mobile. It marked the second time the organization, which was founded in 1985 as a grassroots action network, had weighed in on major business news. The prior statement had been released a year earlier objecting to the NBC-Comcast merger, due to concerns about negative portrayals of LGBT characters in the media.
The AT&T statement was curious, but attracted little media attention.
That changed on Tuesday, when former GLAAD board of directors co-chair Laurie Perper appeared on Michelangelo Signorile's Sirius-XM OutQ show to sound the alarm on other alleged improprieties at the organization and questions facing its leader, Jarrett Barrios.
Since then, Barrios — who has been at the helm of GLAAD for 23 months — has granted a flurry of interviews to counter Perper's claims. His responses, however, have only served to attract more scrutiny of the organization.
While speaking with Perper, Signorile pressed about why she left her position as board chair early. "You stepped down because you just thought he was not qualified. Obviously, as the months went on, others agreed with that assessment," Signorile summarized. "I believe that over 14 board members have left, [since Barrios took over]," Perper relayed to the radio host.
Signorile continued, "Is it fair to say that most of these people stepped down because of the direction the organization was going, because of Jarrett Barrios?"
"Absolutely," Perper said.
Reached by phone last week along with GLAAD director of communications Richard Ferraro and GLAAD board member and Florida PR consultant Gary Bitner, Barrios insisted that his short time working with Perper — only five weeks — was marked by a positive working relationship, and was focused on solving the organization's financial problems.
"It's perplexing and disappointing, considering that she worked for many years to help build this organization, but this happens sometimes," Barrios told the Blade. "We form in our movement a circular firing squad, and we for whatever reason feel it's necessary to hurt somebody else in the movement. [Laurie Perper and I] worked well together. Frankly the time we interacted was the time I was getting my feet wet, learning that the org at the time was running a rather large deficit."
After booking Perper on the Signorile show, the producers reached out and arranged to have Barrios on the following day to respond to the statements that had been made. However, when GLAAD later attempted to arrange to have Bitner join him on the Signorile show, the show's producers refused and the GLAAD team pulled out of the arrangement, opting to contact other media outlets and bloggers instead.
Barrios insists that the financial figures that Perper presented on the Signorile show were inaccurate and misleading, including a quote about a $14 million discrepancy after 2008, which Barrios says is the result of an IRS reporting requirement of a major multi-million dollar bequest by the late Ric Weiland of Microsoft that was dispersed over seven years. GLAAD insists that it has righted its financial footing thanks to cuts made early in Barrios' term, though Ferraro also disputes Perper's claim that six senior staff members left the organization since Jarrett's start. GLAAD insists it was only three, with another just having left a few months ago.
"In 2009, there was a substantial deficit — I think it was like $1.2 million," Barrios said.  "Last year, we cut the operating deficit to $300,000 — shrunk it by about $900,000 — and this year, I'm happy to say, we're running ahead of budget … most notably, our national presenting sponsor has already renewed for next year. That typically doesn't happen until January. It's already happened for next year. We're very pleased. Our corporate revenues this year are substantially higher than last year, which were higher than the year before."
Perper's main purpose for appearing on Signorile's show, however, was to question the reasoning behind GLAAD's unexpected statement voicing support for the AT&T/T-Mobile merger. GLAAD joined unions, advocacy organizations and other LGBT-specific organizations like the National Gay and Lesbian Chamber of Commerce and Out At Work in supporting the merger. These three organizations joined the NAACP, and the National Education Association in pushing the FCC for the merger.
Perper points to this as evidence that AT&T may have "bought influence with these" non-profits to advocate for the merger with the FCC.
Hours after his conversation with the Blade, Barrios appeared on Chicago's "Feast of Fun" podcast with Marc Felion and Fausto Fernos. The issue of GLAAD's curious support of the AT&T/T-Mobile merger and Perper's statements regarding that merger soon came up, and Barrios seemed to change his story on a long-forgotten episode from more than a year ago when GLAAD released two letters regarding the principles of "net-neutrality" and expressed support for expanding Internet access. The second letter was later retracted.
At the time, Barrios wrote the FCC asking the letter to be removed from the public record, stating that he'd not given his permission for the letter to be submitted and that the signature is "not in my hand." However, while speaking with "Feast of Fun," his story seemed to change.
"It was like January of 2010. And it, it sort of supported the telecom industry's position on net neutrality, which was not GLAAD's position," Barrios said. "In fact, GLAAD, at the time and still, doesn't endorse bills and doesn't endorse regulatory actions. So, it would have been impossible for us to do that."
When reached by phone last week, Richard Ferraro explained why GLAAD cannot take a position on net neutrality.
"As a 501(c)3 there's a question about whether or not we can," Ferraro told the Blade. "It's obvious where we stand [on universal access] … mergers are different."
On "Feast of Fun," Barrios shifted his story about the letter's submission, after taking the position a year earlier that the organization had no knowledge of the letter prior to its submission.
"After an investigation, we determined that it was an administrative error, internally at GLAAD, and I'll own that, and we withdrew the letter. At the time we withdrew the letter, we didn't know that, so I was — you can imagine reading a letter in a public submission with your name on it that you had never seen, and it wasn't your signature — after we did an internal investigation, we realized it was an internal error, an administrative error."
"[The letter] was pulled, one, because it's an anti-net-neutrality letter," Ferraro clarified for the Blade. "Two, because at that point and currently, GLAAD does not take positions on legislation or regulation."
In January, when the letter had been submitted and subsequently retracted, the narrative that emerged was that the letter had been forged. However, after the Feast of Fun statements, Bil Browning of Bilerico Project sought a clearer explanation about the letter.
In an interview last week with Browning, Barrios revealed his personal assistant — a woman Bilerico identified as Jeanne Christiano who has worked for Barrios consistently for seven years, and goes back to his days as a Massachusetts state senator — had called him while he was on the road, and in a hurry, he gave the letter his approval thinking that the two were discussing the previous letter with language Barrios had approved.
"We made a mistake. I authorized my assistant over the phone to sign and submit a letter that I understood to be a re-filing of the October letter in support of broadband proliferation," Barrios told Browning. "When I realized she had inadvertently submitted an anti-net neutrality letter, I withdrew it … at the time, I had never seen the letter that was filed, and did not recognize the signature."
Last week, after the story broke of the retracted letter to the FCC supporting the telecom's position on net-neutrality, the Blade again spoke with Ferraro, this time about the new information emerging about the FCC letter.
"There's an October letter that Jarrett wrote to the FCC that's on the FCC site," Ferraro told the Blade, "that very broadly talks about broadband proliferation, and speaks to our statement Friday about net-neutrality, which is that we don't currently have a position, but we support universal access … we support the ideas behind, the principles behind net-neutrality – that we can do."
According to Ferraro, GLAAD board member and communications law professor at American University, Anthony Varona, noticed the subtle pro-telecom messages in the letter after having served as a lawyer at the FCC in the past and immediately contacted the organization's leadership asking why GLAAD was supporting the telecom industry's anti-net-neutrality stance.
"When Tony Verona — who speaks FCC language — read this," Ferraro explained, "he said 'Why the heck did you send in a letter anti-net-neutrality?' Jarrett of course said, 'I never read that letter, I never said I'm against net-neutrality.'"
According to Ferraro, the suggested language is believed to have come directly from AT&T, and was copied verbatim by Barrios' assistant, Jeanne Christiano.
Ferraro explained, "He was traveling, as he still does [a lot] … she's more than an assistant — they've worked together for seven years. … I was not on the call, so can't speak with certainty, but he said she called him and said something along the lines of 'so I have the letter on broadband. They want the letter, do you want me to go forward with it?' and he said, 'yeah yeah,' thinking it was the October letter."
Ferraro agreed there must have been a major communication breakdown at GLAAD.
"He never saw the letter, and he said, 'yeah, send it in.' And obviously he didn't mean to send it in, because as soon as the board member [questioned the letter], he said, 'huh? I never saw that letter. I didn't sign that letter. That's not my signature.' and he didn't authorize it. The thing that he's been trying to do is he doesn't want to throw her under the bus. This was his mistake. He should have read the letter — he didn't."
The controversy raises the question: will GLAAD start weighting in on other FCC-related matters if a business has any ties to the LGBT community?
"One thing that has happened since Jarrett came on board, is that we've been more engaged with the FCC, which is a government agency that needs to hear more from the LGBT community … since then, you did hear us weigh in on the NBC merger, you did hear us weigh in on AT&T and we did file an FCC complaint about 'Jose Luis Sin Censura,' which is the most anti-gay program on television today," Ferraro said.
Some activists argue there are larger issues at play than GLAAD's support of the AT&T merger, or whether or not GLAAD can take a position on net-neutrality. Some leaders in the community are wondering if GLAAD is ready to unravel. Laurie Perper herself called for the dissolution of GLAAD, and discussed it with Signorile when she appeared on his show.
When the Blade asked Perper if GLAAD could survive this controversy, she said it would require a massive change in personnel and makeup of the board.
"One of the things that has come forward is GLAAD's brand name has been heavily tied to the media awards and people feel that GLAAD is owned by the broadcasters," Perper said. "The word transparency gets thrown around a lot and unfortunately I found in trying to manage Jarrett that he was far from transparent. So I was actually there for five months with him, and that was long enough for me to see that he was going to make decisions against the board, without consulting the board, the co-chairs and against their will."
Perper also believes a narrower focus would help GLAAD recover.
"I think that they've expanded their programmatic work too much and therefore don't have a solid impact in any one area, so I think they need to retract a little bit in this difficult economy, decide where they want to make an impact, and truly come out with thoughtful statements, rather than the flip-flopping I've seen them do with Adam Lambert, with the AT&T situation. … So they just need a consistent message and vision that they can put forth, that people can understand, and then they need to act on it as hard as they can."
She continued, "I've had a lot of discussions with people who happen to be aware of a lot of the situation that's going on with GLAAD and a lot of the controversy," she continued, "and they all feel very strongly about the GLAAD brand name and that it still has tremendous value in the marketplace. So when I talk about the dissolution of it, I do it with a really heavy heart, not 'how do you ever rebuild a brand name like that,' but thinking 'how do you get rid of a president and half of the board members who have helped enable him to bring such tarnish to the name?'"
Barrios, however, sees the organization heading in the right direction.
"We've enjoyed some of our highest profile victories ever in the last 18 months," said Barrios. "So where we're going is down that path … we've had some major victories with the 'Today' show, the marriage contest last year. A number of victories with our 'no two sides' campaign last year … Mostly that work is happening behind the scenes."
When members of the media continued to pursue answers to the questions left unanswered at the onset of last weekend, GLAAD tried to shift attention to the Tracy Morgan scandal on Friday. GLAAD backed off from a promise to have Barrios chat on the phone with the Blade in regard to the new confusion brought about by the Friday morning Bilerico report and the Thursday morning Feast of Fun interview.
What's still unclear is how the suggested language ended up in an official letter on GLAAD letterhead. GLAAD would not comment on whom from AT&T delivered the suggested language, noting only that "AT&T is the source." However, with a former AT&T lobbyist on the board of directors, who now consults for telecom companies including AT&T, some wonder if Troupe Coronado was the conduit for this "suggested language" that turned GLAAD into an anti-net-neutrality advocate for the telecom industry.
Also unanswered is how unauthorized language was allowed to be submitted by an assistant to a government agency. If this specific language was not approved, why was there no protocol in place to prevent a scenario where an employee of the organization can sign the president's name to an official document and send it as an agent of the entire group?
There are also nagging questions about Troupe Coronado's influence and role in the controversy. In January 2006, the Washington Post's Jeffrey H. Birnbaum and Thomas B. Edsall investigated Coronado for allegedly exceeding the gift-giving limits on lobbyists when schmoozing lawmakers. He was still with BellSouth at the time. BellSouth is now part of AT&T. In addition, OpenSecrets.org lists him as a "revolving door personnel," someone who has bounced from industry lobbying jobs, to government jobs and back again.
Coronado's connections to the telecom industry and GLAAD's subsequent misfires in the field of telecom regulation and corporate dealings is troubling for many activists, even if those connections are tenuous and possibly only coincidental.
NCAA adopts new policy amid fervor over transgender athletes
Sport-by-sport approach requires certain levels of testosterone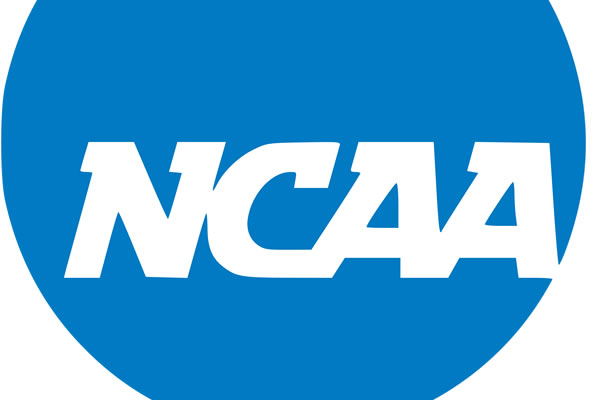 The National Collegiate Athletic Association has announced it has adopted new procedures on competition of transgender athletes, creating a "sport-by-sport" approach that also requires documentation of testosterone levels across the board amid a fervor of recently transitioned swimmers breaking records in women's athletics.
The NCAA said in a statement its board of governors voted on Wednesday in support of the "sport-by-sport" approach, which the organization says "preserves opportunity for transgender student-athletes while balancing fairness, inclusion and safety for all who compete."
Although the policy defers to the national governing bodies for individual sports, it also requires transgender athletes to document sport-specific testosterone levels beginning four weeks before their sport's championship selections. The new policy, which consistent with rules for the U.S. Olympics, is effective 2022, although implementation is set to begin with the 2023-24 academic year, the organization says.
John DeGioia, chair of the NCAA board and Georgetown president, said in a statement the organization is "steadfast in our support of transgender student-athletes and the fostering of fairness across college sports."
"It is important that NCAA member schools, conferences and college athletes compete in an inclusive, fair, safe and respectful environment and can move forward with a clear understanding of the new policy," DeGioia said.
More specifically, starting with the 2022-23 academic year, transgender athletes will need to document sport-specific testosterone levels beginning four weeks before their sport's championship selections, the organizational. These athletes, according to the NCAA, are also required to document testosterone levels four weeks before championship selections.
In terms of jurisdiction, the national governing bodies for individual sports are charged determines policies, which would be under ongoing review and recommendation by the NCAA, the organizational says. If there is no policy for a sport, that sport's international federation policy or previously established International Olympics Committee policy criteria would be followed.
The NCAA adopts the policy amid controversy over University of Pennsylvania swimmer Lia Thomas smashing records in women's swimming. Thomas, which once competed as a man, smashed two national records and in the 1,650-yard freestyle placed 38 seconds ahead of closest competition. The new NCAA policy appears effectively to sideline Thomas, who has recently transitioned and unable to show consistent levels of testosterone.
Prior to the NCAA announcement, a coalition of 16 LGBTQ groups, including the Human Rights Campaign and Athlete Ally, this week sent to a letter to the collegiate organization, urging the organizations strengthen non-discrimination protections as opposed to weakening them. The new policy, however, appears to head in other direction, which the LGBTQ groups rejected in the letter.
"While decentralizing the NCAA and giving power to conferences and schools has its benefits, we are concerned that leaving the enforcement of non-discrimination protections to schools will create a patchwork of protections rather than a comprehensive policy that would protect all athletes, no matter where they play," the letter says. "This would be similar to the patchwork of non-discrimination policies in states, where marginalized groups in some states or cities are protected while others are left behind by localities that opt not to enact inclusive policies."
JoDee Winterhof, vice president of policy and political affairs for the Human Rights Campaign, said in a statement after the NCAA announcement the new policy was effectively passing the buck.
"If the NCAA is committed to ensuring an environment of competition that is safe, healthy, and free from discrimination, they cannot dodge the question of how to ensure transgender athletes can participate safely," Winterhof said. "That is precisely why we and a number of organizations across a wide spectrum of advocates are urging them to readopt and strengthen non-discrimination language in their constitution to ensure the Association is committed to enforcing the level playing field and inclusive policies they say their values require. Any policy language is only as effective as it is enforceable, and with states passing anti-transgender sports bans, any inclusive policy is under immediate threat. We are still reviewing the NCAA's new policy on transgender inclusion and how it will impact each and every transgender athlete."
Transgender rights group's Los Angeles office receives bomb threat
[email protected] Coalition evacuated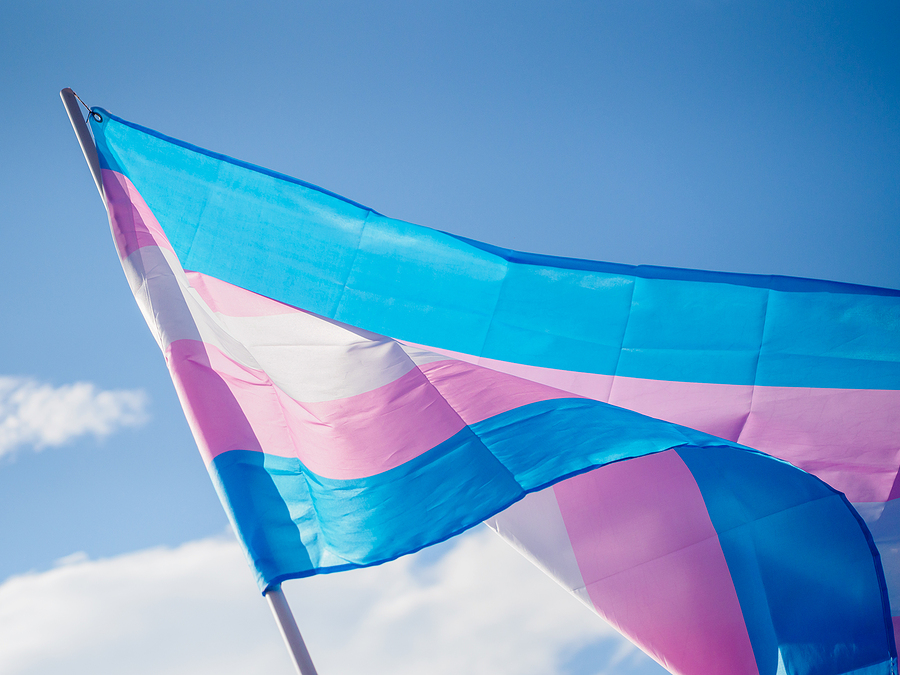 A bomb threat was phoned in Wednesday afternoon to the Wilshire Boulevard Koreatown offices of the [email protected] Coalition, Bamby Salcedo, the president and CEO of the non-profit organization told the Los Angeles Blade.
According to Salcedo, an unidentified male caller told the staff person who answered at approximately 3 p.m., while delivering the threat said; "You're all going to die." The staff immediately evacuated everyone from their offices and then contacted the Los Angeles Police Department for assistance.
Officers, specialists and detectives from the Rampart Division of the LAPD responded and swept the building. A spokesperson for the LAPD confirmed that the incident is under active investigation but would make no further comment.
On a Facebook post immediately after the incident the non-profit wrote; "To ensure the safety of our clients and staff members, we ask that you please NOT come to our office."
In a follow-up post, Salcedo notified the organization and its clientele that the LAPD had given the all-clear and that their offices would resume normal operations Thursday at 9:00 a.m. PT.
"Thank you for your messages and concern for our staff and community," Salcedo said.
"No amount of threats can stop us from our commitment to the TGI community," she added.
The [email protected] Coalition was founded in 2009 by a group of transgender and gender non-conforming and intersex (TGI) immigrant women in Los Angeles as a grassroots response to address the specific needs of TGI Latino immigrants who live in the U.S.
Since then, the agency has become a nationally recognized organization with representation in 10 different states across the U.S. and provides direct services to TGI individuals in Los Angeles.
In 2015, the [email protected] Coalition identified the urgent need to provide direct services to empower TGI people in response to structural, institutional, and interpersonal violence, and the Center for Violence Prevention and Transgender Wellness was born.
Since then, the organization has secured funding from the state and local government sources as well as several private foundations and organizations to provide direct services to all TGI individuals in Los Angeles County.
The [email protected] Coalition's primary focus is to change the landscape of access to services for TGI people and provide access to comprehensive resource and services that will improve the quality of life of TGI people.
Jim Obergefell announces bid for seat in Ohio state legislature
Marriage plaintiff moves on to new endeavor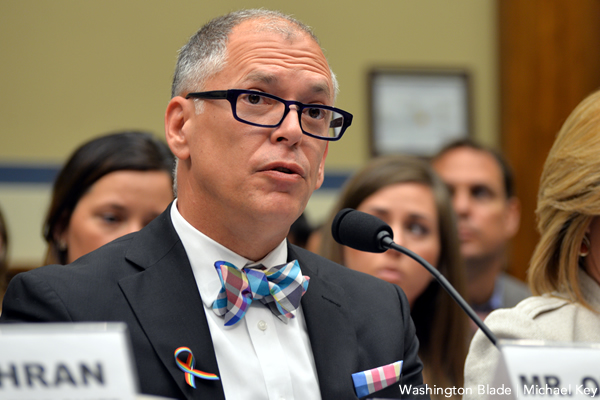 Jim Obergefell, the lead plaintiff in the litigation that ensured same-sex couples have the right to marry nationwide, announced on Tuesday he'd pursue a new endeavor and run for a seat in the state legislature in his home state of Ohio.
"You deserve a representative who does the right thing, no matter what. You deserve a representative who fights to make things better for everyone," Obergefell said. "I've been part of a national civil rights case that made life better for millions of Americans. Simply put, I fight for what's right and just."
Obergefell, who claims residency in Sandusky, Ohio, is seeking a seat to represent 89th Ohio District, which comprises Erie and Ottawa Counties. A key portion of his announcement was devoted to vowing to protect the Great Lakes adjacent to Ohio.
"We need to invest in our Great Lake, protect our Great Lake, and make the nation envious that Ohio has smartly invested in one of the greatest freshwater assets in the world," Obergefell said.
Obergefell was the named plaintiff in the consolidated litigation of plaintiffs seeking marriage rights that led the U.S. Supreme Court to rule in 2015 for same-sex marriage nationwide. Obergefell was widower to John Arthur, who died of amyotrophic lateral sclerosis, and was seeking the right to be recognized as his spouse on his death certificate. The ruling in the consolidated cases ensured same-sex couples would enjoy the full benefits and responsibilities of marriage.
"We should all be able to participate fully in society and the economy, living in strong communities with great public schools, access to quality healthcare, and with well-paying jobs that allow us to stay in the community we love, with the family we care about," Obergefell said in a statement on his candidacy.