'Today' show anchors to visit Rehoboth
Popular "Today" show anchors Hoda Kotb and Kathie Lee Gifford are scheduled to visit Rehoboth Beach on July 23 to take part in a special day honoring Kotb.

REHOBOTH BEACH, Del. — Popular "Today" show anchors Hoda Kotb and Kathie Lee Gifford are scheduled to visit Rehoboth Beach on July 23 to take part in a special day honoring Kotb.
Browseabout Books on Rehoboth Avenue is promoting "Rehoda Beach Day" and in addition to both Gifford and Kotb signing copies of their respective books, other local businesses will be offering special gifts.
Steve Crane, owner of Browseabout, which has been a staple at the gay-popular beach resort for more than three decades, said, "there will be lots of surprises that day including a Kathie deLeecious Ice Cream treat, prepared by a local ice cream emporium. The day will likely include a visit to a favorite spot of Hoda's, The Coffee Mill.
The "Today" show featured the gay-owned Rehoboth coffee shop on its show on June 13. Mel Damascena, an owner of the Coffee Mill, presented coffee to Kotb and Gifford during a segment in which Kotb identified her favorite places.
The Coffee Mill is the longest continually operated gay-owned coffee shop in Rehoboth Beach, having served coffee at its current location in Rehoboth Mews since 1992.
Damascena and his partner Bob Cartwright purchased it from two lesbian couples in November 2009, and now sell more than 100 varieties of organic coffees.
Damascena said Kotb's mother, a regular summer visitor to Rehoboth Beach, is a long-time customer of the Coffee Mill and introduced her daughter to it.
"Hoda loves this place so much that she is known to spend hours talking to customers and generally enjoying the ambiance," he said.
D.C.'s Capital Pride to resume 'large-scale' outdoor events
Organizers say one of the largest ever parades and festivals set for June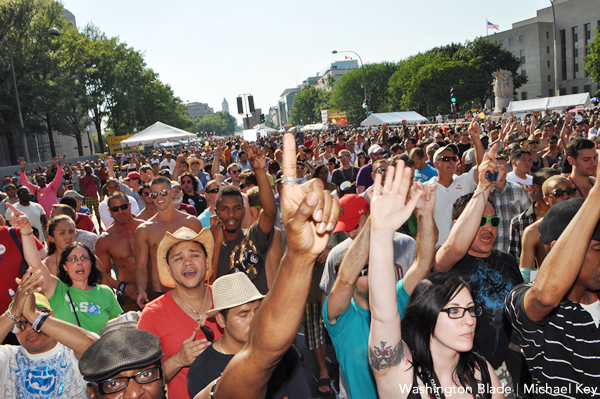 Capital Pride Alliance, the group that organizes D.C.'s annual LGBTQ Pride events, has announced on its website that it plans to resume the city's Pride Parade and Festival in June 2022 that traditionally has attracted tens of thousands of participants after canceling the two events in 2020 and 2021 due to the COVID pandemic.
"The Capital Pride Alliance is excited to announce the highly anticipated return of our annual large-scale outdoor Pride Celebration in June 2022!" the group says on its website. "Registration for the Capital Pride Parade on June 11, 2022, and the Capital Pride Festival on June 12, 2022, will be open soon," the website message says.
Ryan Bos, the Capital Pride Alliance executive director, told the Washington Blade the group met with D.C. government officials on Monday to coordinate plans for the upcoming outdoor events in June. He said an updated announcement with more details of the events would be released later this week or early next week.
The Capital Pride website message focuses on the parade and festival.
"Join the LGBTQ+ community for the return of the historic Capital Pride Parade," the website message says. "In 2022, a modified route will honor our history and acknowledge the evolution of the LGBTQ+ neighborhoods in Washington, DC, while respecting the origins and importance of taking to the streets in our fight for equality," it says.
"Be prepared to experience one of the largest Pride Parades to ever take place in the United States Capital," the message adds.
The message says the Pride Festival will resume at its traditional location on Pennsylvania Avenue, N.W. near the U.S. Capitol that it refers to as America's Mainstreet.
"Enjoy a full day of entertainment on three stages, food, drink and advocacy with over 300 exhibitors," the website message says. "The Festival is the largest annual event in the national capital region," the message continues, adding that the Capital Pride Concert will also return this year at its usual locations at the site of the festival.
"You will experience entertainment on three stages, from international headliners to our best local regional LGBTQ+ talent," according to the Capital Pride website message. It says concert performances will take place from 12-10 p.m. And a "Capitol" Sunset Dance Party will take place at the festival site from 8-10 p.m.
"The concert may end but the dancing will continue," the message says. "Enjoy the electronica sounds of an international DJ sensation while you dance in the middle of America's Main Street on Pennsylvania Avenue, with the sun setting on the U.S. Capitol."
D.C. Mayor Muriel Bowser and the city's public health officials ended the city's COVID-related restrictions on the number of people allowed to attend outdoor events as well as indoor entertainment events last May as the number of COVID infections began to decline.
But as the number of Omicron variant cases of the COVID virus increased dramatically in the fall of 2021, the mayor resumed the requirement of the use of face masks in all indoor public places.
Also put in place earlier this month by the city was a requirement that restaurants, bars, nightclubs, and other entertainment establishments require customers to show proof of vaccination as a condition for admission to the establishments. Bowser, however, has said the city was not considering resuming restrictions on the number of people allowed in establishments such as restaurants and bars or outdoor stadiums.
Capital Pride Alliance has not said whether it will put in place a vaccination requirement for admission to the Pride festival and parade as well as some of its planned indoor events. With the number of Omicron related COVID cases beginning to drop in the past two weeks in D.C. and the surrounding suburbs, the prospect of a resumption in restrictions on the number of people allowed to assemble at outdoor events like the Pride Parade and Festival appears to be less likely.
Man who killed one in 2000 Roanoke gay bar shooting dies in prison
One of the worst bias attacks targeting LGBTQ community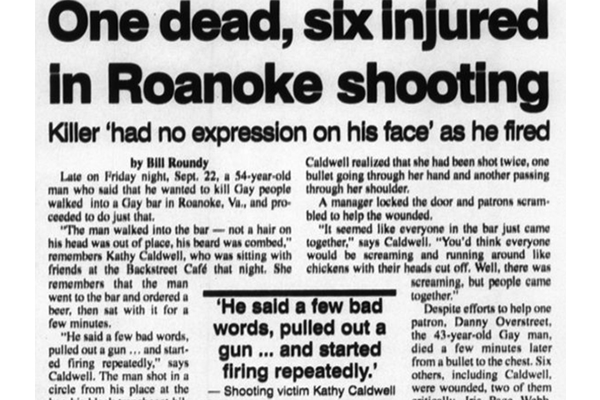 A man sentenced to four consecutive life terms in prison for the September 2000 shooting at a gay bar in Roanoke, Va., in which one man lost his life and six others were wounded, died of natural causes on Jan. 15, according to the Virginia Department of Corrections.
A spokesperson for the Department of Corrections told WSLA 10 TV News that Ronald Edward Gay died while being treated at a hospital near the Deerfield Correctional Center, a state prison where he had been living as an inmate. He was 75.
Witnesses and law enforcement officials reported at the time of the shooting that a middle-aged man later identified as Gay arrived alone at Roanoke's Backstreet Café, a popular gay bar, on the night of Sept. 22, 2000.
According to an account by an eyewitness to the incident who spoke last week with the Roanoke Times newspaper, after ordering a beer and standing next to the bar for a short time, Gay reached into the long trench coat he was wearing, pulled out a 9mm pistol, and fired a round "straight into the chest of 43-year-old Danny Overstreet, before opening fire on the rest of the bar."
Overstreet, a beloved regular patron at the Backstreet Café, died at the scene of the shooting. Six others, who were wounded by bullets fired by Gay, later recovered, but they and many others who were present and witnessed the shooting were left emotionally scarred, the Roanoke Times reported.
In the weeks following the shooting, news media outlets, including the Washington Blade and the Washington Post, reported findings of an investigation by local police that Gay told police he went to Backstreet specifically to target gay people because he became bitter after years of being taunted and teased for his last name of "Gay."
The Roanoke Times reported that, among other things, Gay told police "God told him to do it" and that he once wrote that there was an evil inside of him telling him "to shoot or have no rest."
Gay later pleaded guilty to multiple charges against him, including murder. On July 23, 2001, he was sentenced to four consecutive life sentences in prison for the shooting incident and the murder of Overstreet.
The Backstreet incident in Roanoke was considered by LGBTQ rights advocates and others to be one of the worst incidents in which LGBTQ people were targeted for a shooting until the June 2016 shooting at the Pulse gay nightclub in Orlando, Fla., in which 49 people died and 53 more were wounded in a mass shooting by 29-year-old Omar Mateen.
Mateen, who was shot and killed by Orlando police after a three-hour standoff, told police in a phone call from inside the nightclub after the shooting began that he swore allegiance to the leader of the Islamic State in Iraq and Syria and his attack against the gay nightclub was motivated by the U.S. military intervention in Iraq and Syria. The FBI later classified the incident as a terrorist attack.
The Roanoke Times reported that the shooting incident at Backstreet Café prompted LGBTQ residents and allies to gather in the days and weeks after the incident for vigils and marches. About 1,000 people walked through the streets of downtown Roanoke to honor the life of Overstreet and to urge Congress to pass federal hate crimes legislation, the newspaper reported.
Va. senator introduces anti-transgender student athlete bill
Democrats have vowed to thwart anti-LGBTQ measures in state Senate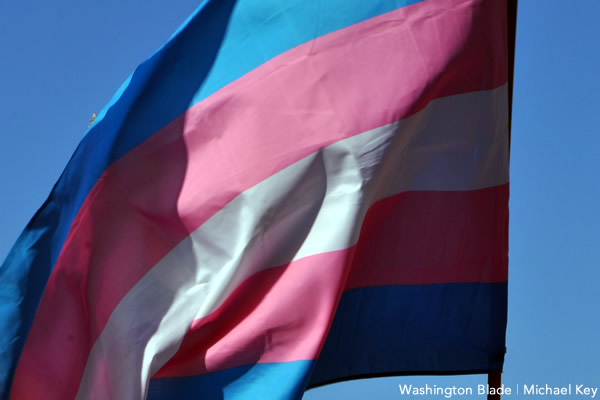 A Virginia lawmaker has introduced a bill that would ban transgender students from joining school sports teams that are consistent with their gender identity.
Senate Bill 766, which state Sen. Jennifer Kiggans (R-Virginia Beach) introduced on Friday, would require "each elementary or secondary school or a private school that competes in sponsored athletic events against such public schools to designate athletic teams, whether a school athletic team or an intramural team sponsored by such school, based on biological sex as follows: (i) 'males,' 'men,' or 'boys'; (ii) 'females,' 'women,' or 'girls'; or (iii) 'coed' or 'mixed.'"
"Under the bill, male students are not permitted to participate on any school athletic team or squad designated for 'females,' 'women,' or 'girls'; however, this provision does not apply to physical education classes at schools," adds the bill. "The bill provides civil penalties for students and schools that suffer harm as a result of a violation of the bill. Such civil actions are required to be initiated within two years after the harm occurred."
Kiggans introduced her bill less than a week after Republican Gov. Glenn Youngkin took office.
Youngkin during his campaign said he does not support allowing trans children to play on sports teams that are consistent with their gender identity. Elizabeth Schultz, an anti-LGBTQ former member of the Fairfax County School Board, has been named the Virginia Department of Education's Assistant Superintendent of Public Instruction.
The General Assembly's 2022 legislative session began on Jan. 12 with Republicans in control of the state House of Delegates. Democrats still control the state Senate, and they have pledged to thwart any anti-LGBTQ bills.
"Let's be clear: This is part of an ongoing, nationwide effort to exclude trans people from enjoying the benefits of sports like their cisgender peers," tweeted the American Civil Liberties Union of Virginia on Friday after Kiggans introduced SB 766. "We won't tolerate this."
🚨ATTN: SB 766 to ban trans kids in Virginia from participating in sports has just dropped.

Let's be clear: This is part of an ongoing, nationwide effort to exclude trans people from enjoying the benefits of sports like their cisgender peers. We won't tolerate this. pic.twitter.com/oSDMvyewge

— ACLU of Virginia (@ACLUVA) January 21, 2022