5 lesbians attacked; police refuse to take report
Suspect released as cops threatened to arrest victims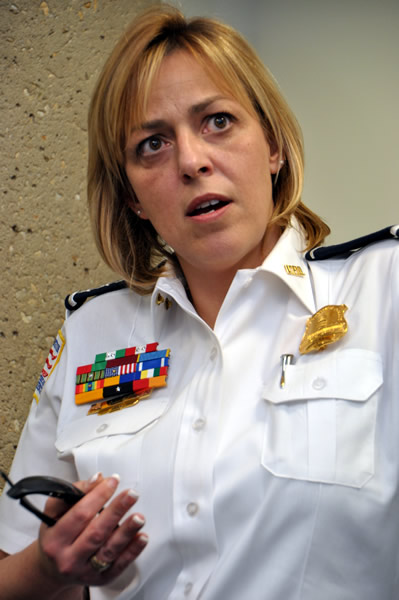 UPDATE: Police Chief Lanier has responded to this incident and announced there could be terminations; read more here.
A man who shouted the words "dyke" and "bitches" as he and another man assaulted five lesbians outside the Columbia Heights Metro station at 3 a.m. on July 30 was released by D.C. police officers after they apprehended him on the scene, according to two of the victims.
A third man who accompanied the two attackers used his cell phone to make a video recording of the attack and continued to record the unfolding drama after the police arrived, said Yazzmen Morse, 21, who suffered a black eye and a swollen face from the assault.
According to Morse and the other victim, six or seven officers arrived on the scene in four police cars after responding to an apparent 911 call from a bystander. The two women said the officers, who are assigned to the Third District police station, refused to take a report of the incident, ignoring the women's repeated requests to make a report.
"The police grabbed one of the attackers and restrained him," Morse told the Blade. "Then they let him go. And then they said they didn't want to hear our stories."
An officer assigned to the D.C. police Gay & Lesbian Liaison Unit did make a report of the incident three days later, on Aug. 2. Morse said the GLLU became involved after her mother called police to complain about the refusal of the officers on the scene to report the attack.
The GLLU report lists the incident as an anti-gay hate crime.
Morse and the victim, who spoke on condition that she not be identified, said all five women are pleased with the thoroughness of GLLU Officer Joseph Morquecho, who interviewed Morse at her place of work and the other four by phone.
But the two said they are outraged that the officers on the scene refused to take a report and declined to arrest one of the two suspects. They said the second suspect fled as police arrived.
Morse and the other victim said they do not know the identities of any of the officers on the scene.
The two also said the man who recorded the incident on video with his cell phone appeared to be enjoying the spectacle and continued to record after police arrived.
"We're all wondering if this is going to be on YouTube," said the woman who asked not to be identified. She said the officers on the scene made no effort to stop the man from recording the incident or to take his cell phone to observe the recording as possible evidence in the case.
Although the GLLU filed the police report, Third District officers and detectives are responsible for investigating the incident since the crime took place within that district.
D.C. Police Chief Cathy Lanier released a statement on Friday saying she learned about the incident Thursday night.
"I was appalled when I heard about the incident and the conduct of the officers," Lanier said. "Obviously, this is not the kind of service that the Metropolitan Police Department provides. I have spoken with victims in this case and I want to assure them and the public that the incident and the conduct of the officers are being investigated thoroughly," she said.
"I have received an update on this case and I am confident that we will be making arrests," she said.
A.J. Singletary, chair of the D.C. group Gays and Lesbians Opposing Violence, said GLOV would urge police officials to investigate the conduct of the officers on the scene and take disciplinary action if the account of the incident by the victims is confirmed.
"This is just unacceptable," he said.
Singletary said GLOV members were scheduled to meet with Lanier on Friday over the group's ongoing concern that the GLLU wasn't getting sufficient support from police officials, including Lanier. He said he and other GLOV members would raise the issue of the police handling of the July 30 attack on the five lesbians.
The victim, who asked that her name be withheld, said she, Morse and the other three women targeted by the two men were horrified when the man that police released began to laugh and taunt the women as he walked away.
"He walked across the street laughing," she said. "And I will never forget his face – he was just smiling. And we are five people who are in tears and he is just laughing at us."
The police report made by the GLLU says the incident began when the two male suspects approached the five women as they were walking along the 3100 block of 14th Street, N.W. The block is in the heart of the shopping and entertainment area of the city's Columbia Heights neighborhood.
The report says the two suspects began to "flirt" with two of the women. It says one of the women responded by telling the men she wasn't interested and she was with her girlfriend.
"Suspect 1 became enraged and stated, "You fucking dyke bitches, I will kick that bitch's ass," the report says. "I will take that dyke bitch into the alley and kick her ass," the report quotes suspect 1 as saying.
According to the two women who spoke to the Blade, the suspect was referring to Morse, who is the girlfriend of one of the two women that the two suspects approached. Morse said she walked over to the men to find out what was going on.
The police report, which lists Morse as Complainant 1, says suspect 1 punched her in the left eye. "Complainant 1 staggered back and Suspect 1 punched C-1 twice more with a closed fist. It says that when the other women tried to assist C-1, they were hit by both suspects.
The suspects punched each of the women in the head and face, the report says.
The report describes suspect 1 as a black male between the ages of 20 and 25; 5-feet-seven inches to 5-feet-eight-inches tall, weighing between 150-160 pounds, with a dark complexion and athletic build.
It describes suspect 2 as a black male, between 20 and 25 years old, between 5-feet-eight and five-feet-nine inches tall, weighing between 150 and 160 pounds, having a medium brown complexion and medium or average build. It says suspect 2 had a mustache and both suspects wore blue pants and a white shirt.
The report lists all five victims as black females.
The victim who asked not to be identified said the officers on the scene gave no explanation for refusing to take a report. But she said some of the officers told them they were too agitated.
"They were telling us if you guys don't calm down we're going to lock you guys up," the woman said. "One officer said I'm not talking to you because you guys don't know how to act," she said.
"And yes, we were panicking. Yes, we were crying. Yes, we were going off," she said. "But the fact is these men had just hit us."
The attack on the five lesbians comes less than two weeks after a D.C. transgender woman was shot to death in Northeast D.C. and one day after a second transgender woman was targeted by a suspect who fired a gun at her but missed hitting her just one block from where the first victim was killed.
GLOV joined transgender activists in criticizing police for not adequately releasing information to the LGBT community and public about the July 20 shooting near the 6100 block of Dix Street, N.E., that left transgender woman Lashai Mclean dead. Both cases remain open, with police looking into anti-transgender hatred as a possible motive.
Va. students warn against 'don't say gay' policies
New law requires parental notification of 'sexually explicit content' in classroom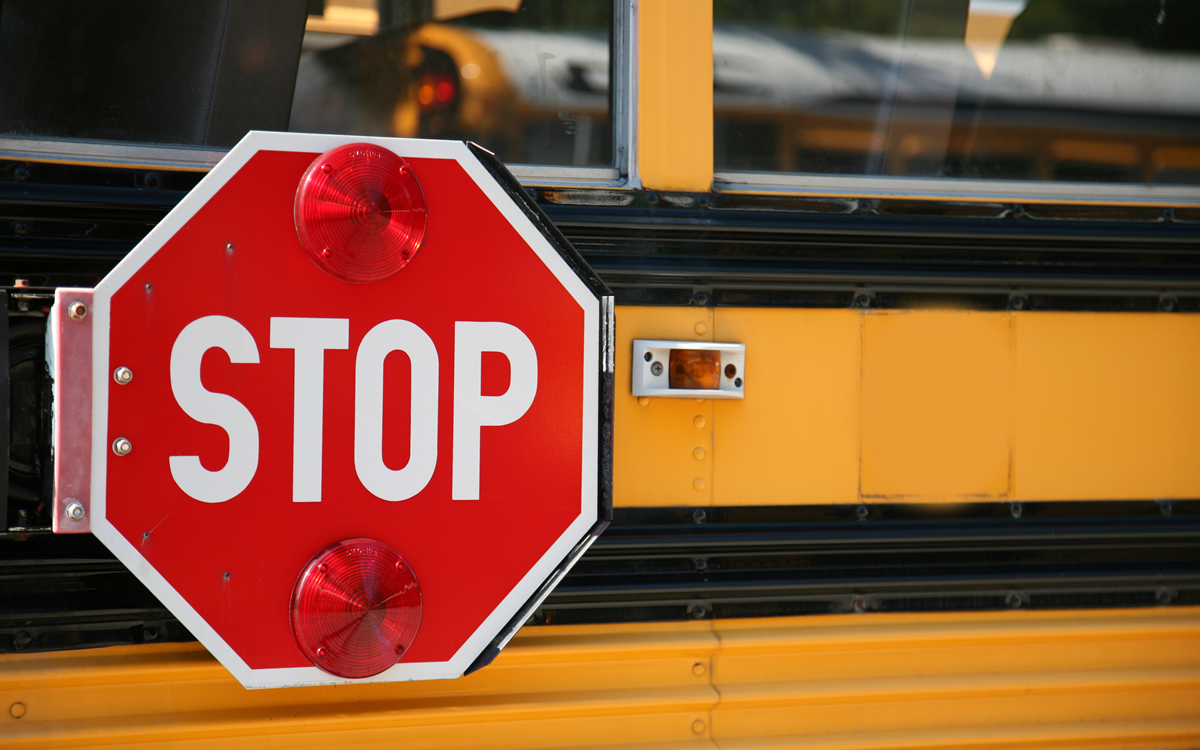 More than 600 students from across Virginia signed a letter from the Pride Liberation Project that calls for the Virginia Department of Education to clarify that teaching students about LGBTQ people and events is not "sexually explicit."
Senate Bill 656, which Republican Gov. Glenn Youngkin signed earlier this year, requires parents be notified when instructional materials contain "sexually explicit content" — without any input from students.
Current Virginia law defines "sexual conduct" as "masturbation, homosexuality, sexual intercourse, or physical contact in an act of apparent sexual stimulation or gratification."
Because SB 656 does not itself specify what constitutes "sexually explicit content," LGBTQ students and activists are concerned that the bill will rest on Virginia's pre-existing definition of sexual conduct.
In their full letter, signees argued that "In effect, SB 656 can potentially be interpreted to define all references to people in same-sex relationships as inherently sexual."
"Consequently, all references to LGBTQIA+ people in K-12 schools, including Supreme Court cases, historical events impacting LGBTQIA+ people, and discussions about queer authors, may be deemed as sexually explicit content under SB 656, effectively erasing LGBTQIA+ representation in our school curriculum," reads the Pride Liberation Project's press release.
Representation has been shown to positively increase academic performance, and LGBTQ youth already face exacerbated risks of suicide and mental health crisis. In Virginia specifically, the vast majority of LGBTQ students reported hearing anti-LGBTQ remarks at school, and 26 percent of LGBTQ students reported being "disciplined for public displays of affection (PDA) that did not result in similar action for non-LGBTQ students."
"Most of my LGBTQIA+ friends are already struggling with their mental health," said one Loudoun County student in the Pride Liberation Project press release. "I'm scared about the message these guidelines could send and losing the already limited affirming representation in my class."
Another student from Richmond said that they "didn't want to see their friends who are from homes that aren't accepting not see themselves reflected at school."
SMYAL announces new executive director
Erin Whelan to start Sept. 1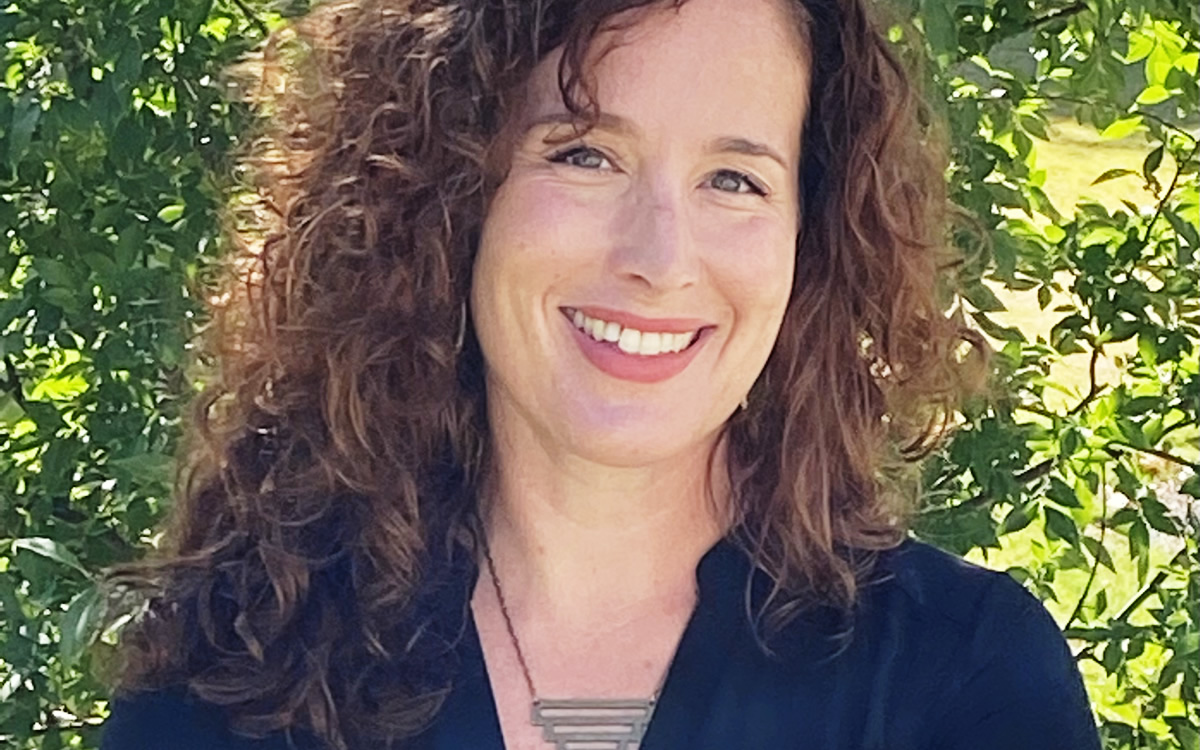 SMYAL on Thursday announced Erin Whelan will become the organization's new executive director on Sept. 1.
SMYAL's mission is to support and empower LGBTQ youth ages 6-24.
A press release that announces Whelan's appointment notes the organization over the last five years has grown "exponentially." Its services include affirming programs, housing support, leadership training and mental health services, designed to help LGBTQ youth develop advocacy skills and an educated, welcoming community.   
Whelan most recently served as the director of housing and homeless services at LifeWorks, an Austin, Texas,-based nonprofit that provides youth with housing and services. She has worked in nonprofit management for almost 20 years, and SMYAL's press release highlighted her commitment to antiracism, equity and the LGBTQ community.
"Erin Whelan is a compassionate and strong leader who I am confident is the right person to lead SMYAL," board chair Rob Cogorno said. "I could not be more proud of the tremendous growth in services for our LGBTQ youth and of the SMYAL staff's hard work that made that growth possible. Erin's extensive experience in service to youth in need and her passion for that work will help guide SMYAL in continuing its excellent work in this challenging time for LGBTQ youth in our region and across the country."
Whelan in the press release shared her enthusiasm for stepping into leadership with this driving purpose.
"I am beyond excited and honored to join SMYAL as the new executive director. My work has been committed to understanding and seeing the world through the lens of the most marginalized youth and young adults and being a fierce advocate for LGBTQ youth," Whelan said. "I believe all LGBTQ youth deserve an opportunity to build a life they love and a chance to feel celebrated and affirmed for exactly who they are and strive to be. From the moment I stepped into the SMYAL community, it felt like exactly where I wanted to be. SMYAL creates a community for queer and trans youth where they can feel radically accepted and safe to step into their true selves."
Judge: West Virginia Medicaid must cover transgender care
Fain v. Crouch is litigation challenging blanket exclusions of coverage for gender-confirming care in West Virginia's state health plans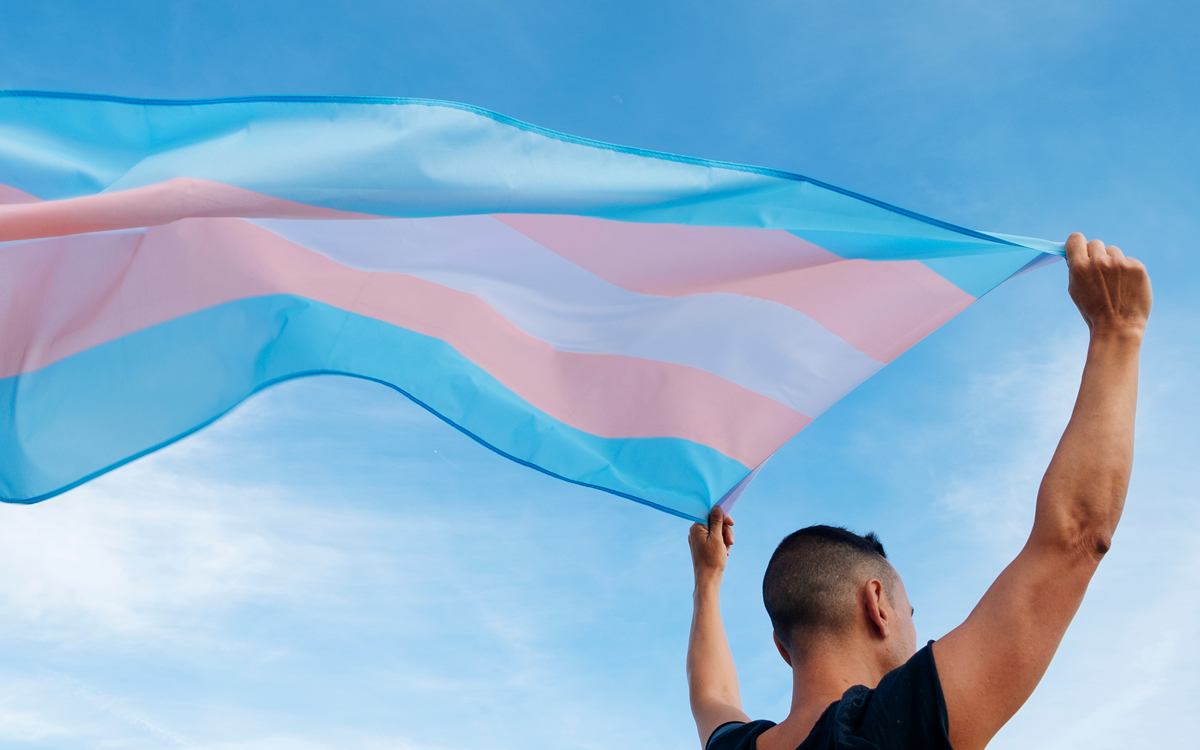 A U.S. District Court judge ruled Tuesday that West Virginia's Medicaid program could no longer discriminate by excluding coverage for gender-confirming surgical care for transgender West Virginia Medicaid participants.
U.S. District Court Judge Robert C. Chambers also certified the lawsuit as a class action, covering all transgender West Virginians who participate in Medicaid. In the lawsuit brought in November of 2020 by Lambda Legal, Nichols Kaster, and The Employment Law Center, the plantiffs challenged the state's ban on gender-confirming care in West Virginia's Medicaid and state employee health plans.
"We applaud Judge Chamber's decision to remove the discriminatory barrier to accessing medically necessary, gender-confirming surgical care for all transgender West Virginia Medicaid participants. Protecting and advancing health care for transgender people is vital, sound, and just. Transgender West Virginia Medicaid participants deserve to have equal access to the same coverage for medically necessary healthcare that cisgender Medicaid participants receive as a matter of course," said Avatara Smith-Carrington, Staff Attorney at Lambda Legal.
Fain v. Crouch is a class action litigation challenging blanket exclusions of coverage for gender-confirming care in West Virginia's state health plans. The blanket exclusions of coverage for care are stated expressly in the health plans offered to Medicaid participants and to state employees. West Virginia's state health plans serve approximately 564,000 Medicaid participants and15,000 state employees.
"I am excited to finally have access to the healthcare I deserve. The exclusion negatively affects my health and wellbeing as well as the health and wellbeing of other transgender Medicaid participants in our community. Gender-confirming care is healthcare, and it is lifesaving," said plaintiff Shauntae Anderson, West Virginia Medicaid participant.
"This is a victory not only for me but for other transgender Medicaid participants across West Virginia. This decision is validating, confirming that after years of fighting to prove that gender-confirming care is medically necessary, we should have access to the same services that West Virginia Medicaid already provides to cisgender participants. Transgender West Virginians should never feel as if our lives are worth less than others," said plaintiff Christopher Fain, West Virginia Medicaid participant.