August 11, 2011 at 11:03 am EDT | by Lou Chibbaro Jr.
Lesbian files bias complaint against Silver Spring diner
A lesbian from Laurel, Md., has filed a complaint with the Montgomery County Office of Human Rights accusing the Tastee Diner in Silver Spring, Md., of discrimination for allegedly asking her to leave the establishment because of her sexual orientation.
The complaint filed by Angel Cox comes two years after a lesbian couple filed a similar complaint against Tastee Diner, saying a manager asked them to leave because they were displaying too much affection for a family-oriented restaurant.
The two women, Aiyi'nah Ford and Torian Brown, said they were merely leaning against one another and displayed much less physical affection than heterosexual couples at the diner who were not asked to leave. Ford noted that the dispute occurred about 2 a.m. on a weekend evening.
Cox's complaint, which was accepted by the Human Rights Office on Aug. 2, says several of the diner's managers entered the dining room and began to stare at Cox and her female partner as the two women sat at a table at Tastee Diner on July 16.
"I asked one of the other waitresses why the managers were starring at us and she said, "They don't like our kind here,'" Cox says in her complaint.
Cox states that her partner, who works at the diner, left the table to begin her shift and Cox ordered more food before moving to a different location to use one of the slot machines at the diner.
"After finishing desert, I played poker on the slot machine again," she said. "The manager of the restaurant, a man named Romanee, came over to me and asked me to leave the restaurant. I was not told why I was asked to leave," she wrote in her complaint. "I believe that it was because of my sexual orientation."
John Littleton, general manager of Tastee Diner, told the Blade on Wednesday that the diner had not been contacted by the Montgomery County Human Rights Office about the complaint.
When asked about Cox's allegation, Littleton said his manager named Romanee told him that Romanee noticed that Cox had been sitting at the counter for about two hours socializing with her partner Kisha while Kisha was performing her duties as a counter waitress.
"He said he called Kisha to the back and said 'Kisha, I'm sorry, you've been talking for two hours now and I need you to get to work and pay better attention to the customers,'" Littleton told the Blade. "He said he told Kisha she needs to ask [Cox] to leave or, if she'd like, she can sit in the dining room if she wants to be a customer," Littleton said.
According to Littleton, Romanee never spoke directly to Cox. He said the management considers Kisha a good employee and the diner is happy to have her as a waitress.
"I clearly state that we don't discriminate against anybody in any way," Littleton said. "She's welcome to come down here and talk to myself or Romanee, and I'm looking into the situation," he said.
When asked to respond, Cox acknowledged that Romanee never talked to her directly, saying he asked her through Kisha to leave the diner or move to a table.
"That's their alibi," Cox said. "They know I was not distracting Kisha. I was sitting there as a customer, ordering food and playing the slot machine. And I will request that they turn over their video that they have from their camera to prove that I wasn't distracting Kisha. They did this out of prejudice."
Esther Greene, the intake officer at the Office of Human Rights, who signed a copy of Cox's complaint, said the office would send the diner a copy of the complaint as soon as Cox completes the final paperwork for the document.
Lou Chibbaro Jr. has reported on the LGBT civil rights movement and the LGBT community for more than 30 years, beginning as a freelance writer and later as a staff reporter and currently as Senior News Reporter for the Washington Blade. He has chronicled LGBT-related developments as they have touched on a wide range of social, religious, and governmental institutions, including the White House, Congress, the U.S. Supreme Court, the military, local and national law enforcement agencies and the Catholic Church. Chibbaro has reported on LGBT issues and LGBT participation in local and national elections since 1976. He has covered the AIDS epidemic since it first surfaced in the early 1980s. Follow Lou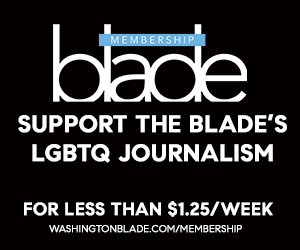 Sign Up for Blade eBlasts