'Fit to Serve'
First openly gay U.S. ambassador recalls life in politics, activism in new memoir

When James Hormel decided to write his memoirs, he turned to an unlikely source for aid — his tennis partner.
Hormel, heir to the Geo. A. Hormel & Co. meatpacking business (famous for bringing SPAM to the world), had been interested for several years in sharing his compelling story of becoming the first openly gay U.S. ambassador when President Bill Clinton named him ambassador to Luxembourg in 1999 with a controversial recess appointment. Erin Martin, a former journalist whom Hormel knew from her work on the September 11th Fund, worked with him off and on for four years to bring the new book "Fit to Serve" (Skyhorse Publishing) to fruition.
"When I was actually serving in Luxembourg and after recognizing what it took to get there and how extremely receptive the country was and how welcoming, I thought there may be some material here that would be worth writing about," Hormel says during a phone interview from New York where the long-time San Francisco resident is visiting on a book tour (he was in Washington this week for a signing). "I'd thought about it for several years and kind of realized I could go on thinking about it forever without actually doing anything, so Erin and I started."
Hormel, now 78, has enjoyed a rather epic American life. Born into wealth, he writes evocatively of his Minnesota childhood and the sights, smells and sounds he shared with his two older brothers, Geordie and Thomas; his many years of trying to live the straight and narrow life with ex-wife Alice and their five children; his years of finding himself and settling in San Francisco in 1977; his work in Democratic politics and helping to start the Human Rights Campaign in the early '80s while many around him were dying of AIDS; and, of course, his work not only in Luxembourg but even more interestingly, the convoluted and bitterly fought battle he waged to get there, opposed at every turn by Republican senators and conservative groups like Family Research Council that painted him as a pedophile.
Influential colleagues are saying Hormel's story is an important one.
"[It] reminds us that it wasn't so long ago that being gay meant you could not serve in high government positions," says Richard Socarides, the White House LGBT liaison in the Clinton administration. "With Bill Clinton's help, Jim took on this fight for all of us and won."
Longtime Hormel pal Nancy Pelosi, whom Hormel went out on a limb to support in her 1987 bid for Congress against gay candidate Harry Britt, is also raving about the book.
"Jim Hormel's spirited story is a refreshing reminder of the power of the individual in America," she said in a press release for the tome. "This book documents that a person driven by the courage of his or her convictions can still push the world to become a fairer, more equal place."
Hormel says revisiting years gone by brought unexpected emotions, both good and bad.
"The burden I created for myself by the deception that occurred through the marriage and not being able to reveal sexual feelings outside of our relationship, that failure of communication, that was maybe the most painful for me to look at because I was totally responsible for it," he says.
Though long on friendly terms with his ex-wife Alice, who has supported him for decades and read early drafts of the book, it was still a painful topic to revisit. He expects to see her next week for Thanksgiving.
"There were enormous feelings of guilt that came back to me in a wave," he says.
Hormel also writes poignantly of his current relationship with Michael Nguyen, a dancer and musician he met in 2006 who's five decades his junior. Hormel says they enjoy a bond he didn't have with former partners Larry Soule and Tim Wu.
"[Michael] has given me an unconditional love that has been a discovery for me," Hormel says. "It was new to me so this relationship has been special and unique."
Hormel's five now-adult children have welcomed Michael, he says, but mostly long distance. Only his son James lives near him in San Francisco.
Hormel met Clinton in March 1992 when the eventual president was campaigning. Hormel, long out by then and active in the Democratic Party in both California and nationally, had appreciated a reference Clinton made about the unacceptability of discrimination based on sexual orientation at a speech Hormel attended. He noticed something different in Clinton and was soon supporting him. Just before Clinton was elected that November, friends started floating the idea to Hormel that he should seek a presidential appointment.
"While [the] suggestion intrigued me, I didn't take it all that seriously," Hormel writes in the book. "It didn't seem realistic: I had contributed, but I didn't go to any great lengths to stump for Clinton. I couldn't imagine that I was very high on the totem pole."
Hormel considered the idea and eventually started actively pursuing it, but it was anger and disappointment, ironically, that lit a fire within him to pursue it full on. The still-controversial 1996 Defense of Marriage Act (DOMA), a Clinton-signed law that defined marriage as between a man and woman, was the fuel for Hormel's effort.
"While nothing short of repeal could make up for DOMA, I and others wanted a clear sign that Clinton had not abandoned our constituency," Hormel writes. "My anger propelled me into a non-stop, night-and-day effort to secure an ambassadorial nomination. Short of cheating and stealing, I was going to do whatever it took. Nothing was more important to me in that moment."
Hormel is slightly more understanding in hindsight. He says it's important to consider the context of when DOMA and "Don't Ask, Don't Tell" were enacted but neither does he fully buy Hillary Clinton's 2008 assertions that DOMA was the lesser evil compared to a proposed constitutional amendment.
"It's hard to take it all out of the context of 1996 or with 'Don't Ask, Don't Tell,' out of 1993," Hormel says. "With DOMA, the president was in a reelection campaign. There were three candidates. We forget that Clinton was never elected by a majority and you know the political climate was very negative at the time. The Republicans had experienced two years of running both the Senate and the House and they hadn't done that in 40 years. They were out to get Clinton no matter what so it was probably a defensive aspect of his with DOMA. I think it's one of the worst pieces of legislation that I'm aware of. It's blatantly unconstitutional. There are so many bad things about it."
Hormel faced opponents on two main fronts — late former Sen. Jesse Helms, a notoriously anti-gay politician Hormel calls a "hatemonger" who was chair of the Senate Committee on Foreign Relations who stood between Hormel and the post he wanted, and an avalanche of misconstrued press from the Traditional Values Coalition, an organization that had sent a rep to the James C. Hormel Gay & Lesbian Center at the San Francisco Public Library and copied controversial material housed there for archival purposes that the Coalition said Hormel espoused.
Hormel, dejected when a 1999 "700 Club" segment about his status as an ambassadorial nominee and supposed pedophile aired, found unexpected inspiration from memories of his father and grandfather, larger-than-life figures who'd played huge roles in shaping and inspiring him.
"I felt nauseous," Hormel writes of seeing the "700 Club" segment. "Partly from my disgust over the willful fabrication, partly out of fear that the televangelist [Pat Robertson] had succeeded in taking away from me what, by then, I most desired."
A photo of his father, Jay Hormel, who died in 1954, gave him inspiration.
"He seemed to look right back at me, chiding, 'Jimmy, why are you letting them get to you,'" Hormel writes.
He says any opinions of what his father and grandfather would think of his accomplishments today are "very speculative" but he's hopeful their progressive-for-their-eras attitudes and business practices, covered at length in the book, provide clues.
"I think they would be supportive," Hormel says. "They spoke of kindness and of caring and wanting to make things better for other people and they did things in their lifetimes that reflected that. My father's crowning business achievement was to create a program of guaranteed annual wages and a profit sharing plan that he put in place in the depths of the Depression and it kept a lot of people working in the community."
And though his brief period of service in Luxembourg — much less intense than the path that led to it — is long over, Hormel has stayed active in politics and has a few thoughts on current gay issues.
Of Obama, Hormel says, "By and large, he has a wonderful record for us and has done more than every other president put together and we're edging toward the time when we'll have an actual member of the Cabinet who's gay. Who could have dreamed of that a few years ago? On the other hand, he's taken a position on DOMA that is very confusing. It confuses me and it confuses a lot of people and he really doesn't seem to want to take the step of saying, 'This is wrong,' and I feel that's unfortunate because this law is so blatantly wrong."
Hormel says HRC has changed dramatically since its early years and says part of the criticism often directed at it is inevitable because of the work it does.
"When you have an organization that is dominating and addressing these kinds of issues, you're never going to please everyone," he says. "Also people by and large don't understand what it's like to make laws. They say there are two things you should never see being made — laws and sausage, because it's a messy process and people outside the process don't fully understand what it takes to get things accomplished. That's a PR problem that HRC faces. I think they've done an admiral job and as they've continued to grow, I think they are continually getting better focused. On the other hand, when one is based in Washington and encompassed every day in Washington surroundings, which today are so horrendous, I think one tends to become a little jaded and perhaps less in touch with broad constituencies. I think that happens to member of Congress. They lose touch and it happens for other organizations as well."
Hormel closes the book with a poignant chapter on the inspiration for his political work, which he says is rooted in having summoned the courage in the '60s to come out. It helped form his altruistic and activist tendencies.
"My progress on this earth was stymied until the time in my life when I chose to follow my heartfelt instincts and desires and live openly as a gay man," he writes. "I had to clear away truckloads of psychic garbage in order to free the real me from a self-imposed prison. Only then was I able to see that my genuine interest was in finding a way to help build a better world."
Become a Blade Member Today
Your financial contribution will make vital LGBTQ journalism possible at a time when clear, concise news is needed more than ever.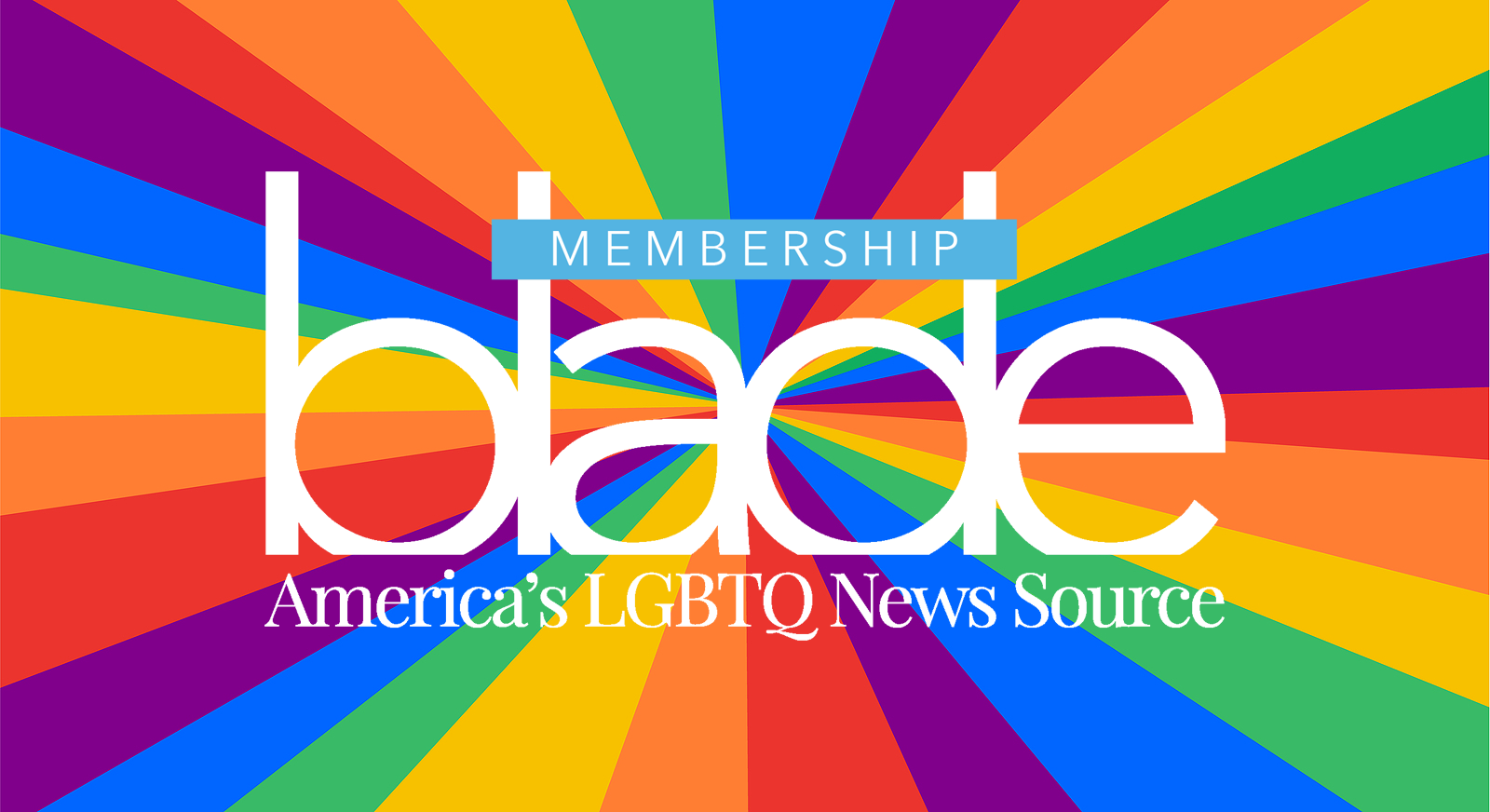 APRIL FOOLS!
But you can support LGBTQ Journalism by becoming a Blade Member today!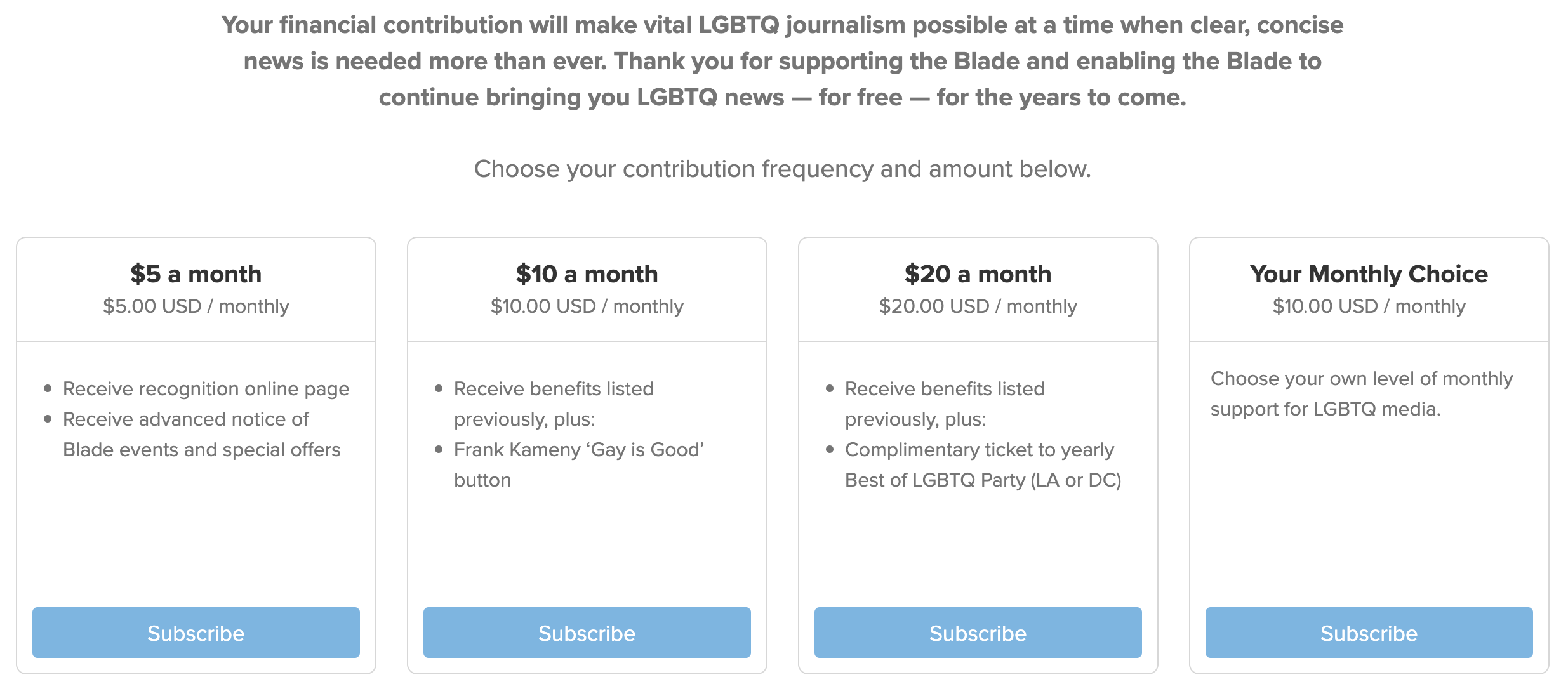 Beyonce vs. Rihanna dance party
Music provided by DJ Just Different at Union Stage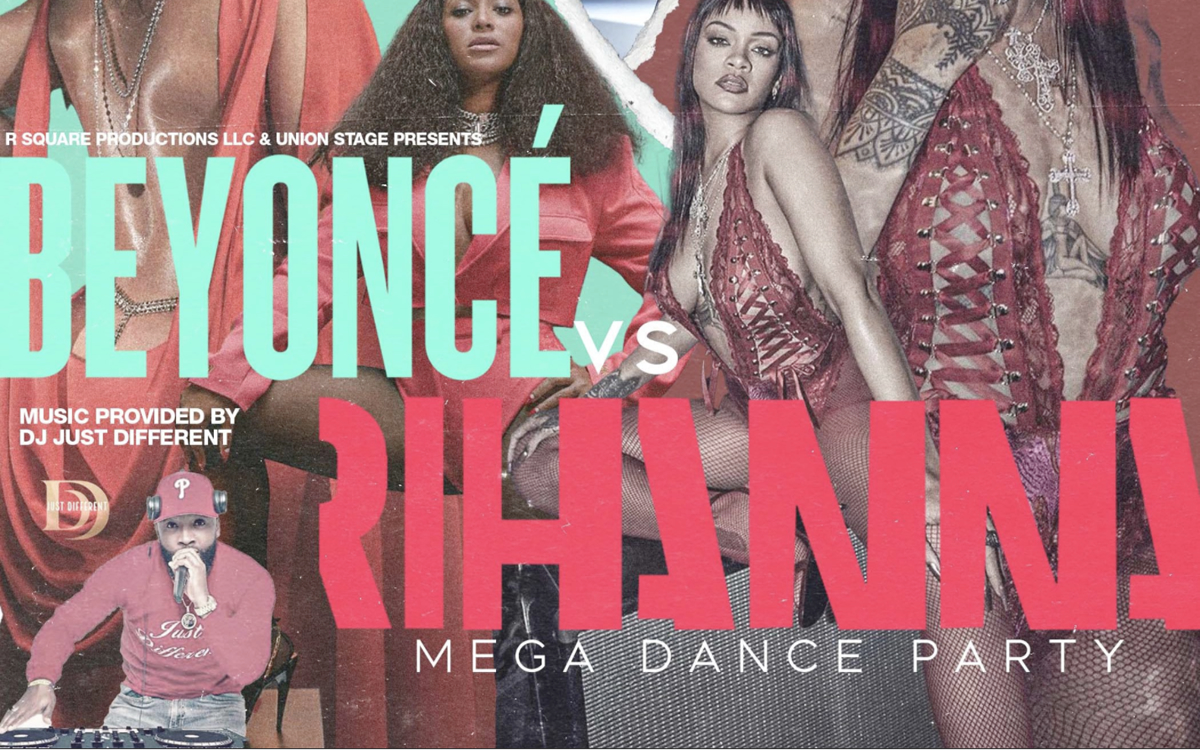 R² Productions LLC and Union Stage are teaming up to host R² Productions' inaugural "MEGA Dance Party" on Thursday, Feb. 24 at 7 p.m. at Union Stage at The Wharf.
The event will be a night full of dancing to music by pop stars Beyonce and Rihanna. DJ Just Different will be performing at the event.
General Admission tickets cost $25 and Premier Plus tickets cost $35. For more information about ticket purchases, visit Union Stage's website.
The evolution of the open house
The more sophisticated the advertising, the more the events flourished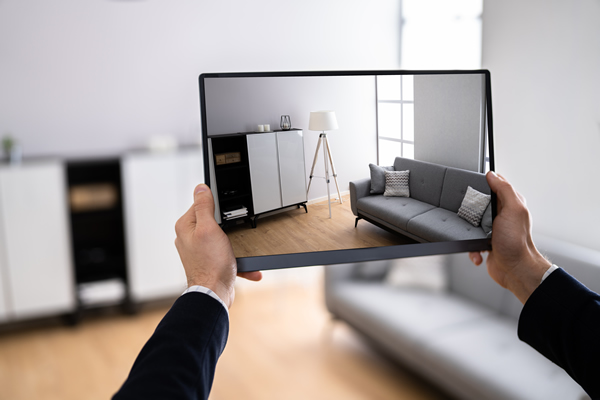 In the early 20th century, there were no exclusive agreements between a seller and a real estate agent. Any broker who knew of someone wanting to sell could participate in an "open listing" by planting his sign in the yard of that person and competing with agents from other brokerages who did the same. To the victor who obtained a buyer went the spoils of commission.
The rules began to change in 1919, when being a real estate broker now required a license. An agent might handle only one property at a time exclusively, but an "open for inspection" period could be used to introduce a model home or new community to the buying population.
According to the National Association of Realtors, Dallas homebuilder, Howdy Howard, hosted one of the most successful open houses of all time in the 1950s. During the first 12 days of the event, an estimated 100,000 people attended, drawn by free sodas and the ultimate prize for the buyer – a new Cadillac.
Soon, brokers began hiring additional agents who could handle multiple properties. Unlike Howard's marathon open house, agents would now host them for a few hours at a time, usually on a Sunday, to whet the appetite of the buyer pool.
Classified advertisements with a description of a property would be placed in a local newspaper and potential buyers would review them with their morning coffee to decide which houses to visit later in the day.
Marketing in newspapers went from a few lines of black and white text to a photo of a home's exterior, to a multi-page spread that included both photos of houses and the agents who represented them.
The more sophisticated the advertising became, the more the open house flourished as a marketing tool, not only for the home itself, but also for the agent and the brokerage. It allowed agents to prospect for buyers for that home and others, and converse with neighbors who might want to sell their homes as well.
Soon, the sign-in sheet was born, used by the agent to capture the contact information of a potential client or customer and to let the seller know who had visited his home. While sign-in sheets or cards are still used, some agents have gravitated to electronic applications, using a tablet computer instead of paper for the same purpose.
Fast forward to the early 2000s in D.C., when open houses became the primary source of showing property. An agent would enter a property into the multiple listing service (MLS) on a Thursday, entertain no showings until Saturday, host an open house on Sunday afternoon, and call for offers either Sunday night or Monday. The open house allowed agents to send their buyers rather than accompany them and serve multiple clients at once.
The delayed showing day strategy referenced above has since been supplanted by the MLS's Coming Soon status. Agents can now email or text links to upcoming properties to their clients in advance of showing availability and the clients can view photos, read property descriptions and disclosures, and schedule future visits accordingly.
Enter COVID-19. Due to the proliferation of the virus and the subsequent lockdown, the real estate world had to accommodate new public health requirements.
One of the first things to go was the open house. Even agent showings were constrained, with visitors limited to an agent plus two people and additional requirements for wearing masks and disposable shoe covers and gloves.
Overlapping appointments were not allowed, showings were limited to 15 to 30 minutes, and bottles of hand sanitizer sprung up on kitchen counters everywhere.
Ultimately, technology and ingenuity provided new marketing avenues for agents that included 3-D virtual open houses, Facetime and Duo viewings, videos, property websites and QR codes. Many of these marketing techniques remain, even though traditional open houses are coming back post-lockdown.
But are they really necessary? Certainly not for all types of properties.
I believe the days of using a public open house to procure a buyer are limited. Agent security has become a concern and the desire for in-person viewings during a specific day or time has waned.
On the other hand, Internet marketing and social media have a much wider reach, so much so that some people now feel comfortable buying a home – probably the most expensive item they will ever purchase – without even stepping into it until after closing.
After all, if we can work in sweatpants or pajamas while Zooming corporate meetings, how can naked virtual reality house hunting be far behind?
Valerie M. Blake is a licensed Associate Broker in D.C., Maryland, and Virginia with RLAH Real Estate. Call or text her at 202-246-8602, email her via DCHomeQuest.com, or follow her on Facebook at TheRealst8ofAffairs.