Candlelight vigil to mark World AIDS Day in D.C.
A list of local World AIDS Day events

Whitman-Walker Health is observing World AIDS Day in D.C. with its annual candlelight vigil in Dupont Circle at 6 p.m. Thursday, Dec. 1.
"This year, the world marked three decades of the HIV/AIDS epidemic," said Don Blanchon, Whitman-Walker's executive director.
"It has been a year to reflect on what 30 years of HIV/AIDS has cost us, to remember loved ones no longer with us, and, for many who are too young to remember, to learn about what the darkest days of the epidemic were like," Blanchon said.
He said the candlelight vigil would also reflect on an "increasingly bright future" due to recent medical advances that give hope for new and improved treatment options for people with HIV/AIDS.
Whitman-Walker announced it would be offering free confidential HIV testing on World AIDS Day at its Elizabeth Taylor Medical Center at 1701 14th St., N.W., between 9 a.m. and 5 p.m. and at its Max Robinson Center at 2301 Martin Luther King Jr. Ave., S.E., between 9 a.m. and 4:30 p.m. Free and confidential HIV tests were also scheduled to be offered from Whitman-Walker's mobile testing vehicle at Dupont Circle during the Dec. 1 vigil.
These additional World AIDS Day events were scheduled to take place in the D.C. area:
A performance of the comedic play "The Infection Monologues," which is about the personal stories of five HIV-positive men. Gay activist and actor Michael Sainte-Andress is among the five-person cast; Sponsored by D.C. LGBT Community Center—Wednesday, Nov. 30 at 8 p.m.; Thurgood Marshall Center Gymnasium, 1816 12th St., N.W.; $5 suggested donation.
"Red Hot Night" cocktail party to benefit Whitman-Walker Health; sponsored by Kimpton Hotels of Washington, D.C.; Wednesday, Nov. 30, 6-8 p.m.; Urbana Restaurant & Wine Bar, 2121 P St., N.W. $10 admission.
"A Taste of Virginia's Own" wine tasting event to benefit the Northern Virginia AIDS Ministry (NOVAM); Wednesday, Nov. 30, 6:30-8:30 p.m., sponsored by Kimpton's Palomar Arlington, 1121 N. 19th St., Arlington, VA; $30 admission in advance, $35 at door.
D.C. LGBT Community Center's monthly Open Mic Night featuring poet and writer J.T. Bullock; "will have an HIV/AIDS theme in honor of World AIDS Day;" Friday, Dec. 2, 8 p.m., D.C. LGBT Center, 1318 U St., N.W.
Remembering World AIDS Day Gospel Music Concert featuring Julia McGirt Nixon and the McGirt Singers with David Yivisaker; sponsored by Faith Temple Church, an LGBT-supportive congregation; Sunday, Dec. 4, 4:30 p.m., 1313 New York Ave., N.W.; $15 admission.
D.C. ends funding for Casa Ruby LGBTQ homeless shelter
Group scrambles to raise private donations to prevent Oct. 1 shutdown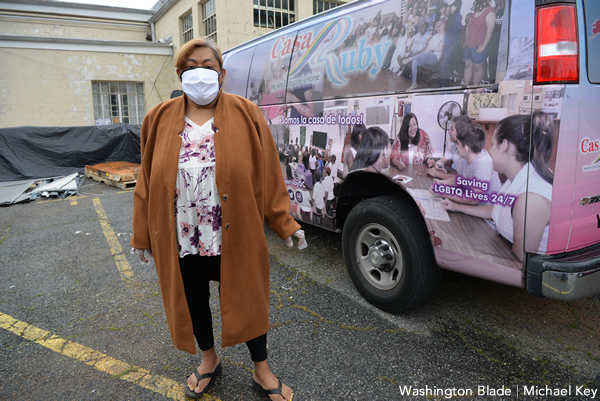 The D.C. Department of Human Services on Sept. 24 informed the LGBTQ community services center Casa Ruby that it will not renew its annual $850,000 grant that, among other things, funds Casa Ruby's emergency "low-barrier" shelter for homeless LGBTQ youth and adults.
Casa Ruby founder and CEO Ruby Corado said DHS informed her of its decision to discontinue the grant less than a week before the end of the current fiscal year when the funding is set to expire, which could result in the shutdown of the shelter on Oct. 1.
Corado has since launched a GoFundMe appeal seeking help from the community so that the 50-bed shelter and 24-hour drop-in space located at the Casa Ruby headquarters at 7530 Georgia Ave., N.W. might continue to serve LGBTQ people in need of emergency housing.
"After 9 years of serving thousands of homeless LGBTQ youth & adults, we are forced to close the doors to our most important program @Casa Ruby (Our Low Barrier Housing) on October 1st, 2021," Corado states in her GoFundMe appeal.
"This is also a terrible loss of 30 jobs that will impact the lives of Trans & Gender Non-Binary & other employees who now may face homelessness themselves – A HORRIBLE TRAGEDY," the GoFundMe appeal states.
Corado told the Washington Blade on Monday that she and the Casa Ruby staff were hopeful but uncertain whether emergency contributions from members of the community might be able to prevent a complete shutdown of the shelter.
"We appreciate the work that Casa Ruby has done to serve homeless youth in the District of Columbia," said DHS Interim Deputy Administrator Sheila Strain Clark in a Sept. 24 letter informing Corado of the decision to discontinue the funding.
"Under Article VI. A. of Grant Agreement #DHS-FSA-HYRA-006-18 LGBTQ Homeless Youth Low-Barrier Beds (Grant Agreement), DHS at its discretion, and subject to the availability of funding, may extend the Grant Agreement for additional terms," Strain Clark says in her letter. "At this time, DHS has decided not to extend the Grant Agreement for Fiscal Year (FY) 2022," she wrote.
Strain Clark didn't provide a specific reason for the DHS decision to discontinue the funds in her letter to Corado. In response to a request from the Blade for the reason why the grant was terminated, a DHS spokesperson sent the Blade a statement from DHS Director Laura Zeilinger commenting on the DHS decision, but that also did not provide a specific reason for the funding cutoff.
"DHS is committed to the safety and well-being of youth, including LGBTQ+ youth, who we know disproportionately experience homelessness," Zeilinger says in the statement. "We are not decreasing funding for LGBTQ+ youth services which will continue to be offered through the Continuum of Care," the statement says.
"Covenant House Washington and True Colors will now provide LGBTQ+ specific services for youth in the Deanwood community of Ward 7. These are new services in this community," the statement continues.
"Grant renewal decisions are based on ensuring accountability and continuity of quality services and the safety of our residents," the statement says. "We value the community organizations who deliver these services and honor the contribution of Casa Ruby."
The decision by DHS to discontinue the Casa Ruby homeless shelter grant came just under six months after Casa Ruby filed an administrative complaint against DHS, charging the D.C. government agency with ignoring and failing to stop one of its high-level officials from allegedly engaging in anti-transgender discrimination and retaliation against Casa Ruby.
The six-page complaint, which was prepared by Casa Ruby's attorneys and signed by Corado, says the DHS official in question, whose name is redacted from the publicly released copy of the complaint, had acted in an abusive and discriminatory way toward Corado and other Casa Ruby employees. It says the targeted employees were overseeing three DHS grants awarded to Casa Ruby that funded shelters providing emergency housing for homeless LGBTQ people.
DHS has declined to comment on the complaint, saying it was investigating its allegation.
Corado told the Blade at the time Casa Ruby announced it had filed the complaint that the DHS official named in the complaint appeared to be retaliating against Casa Ruby, among other reasons, for a decision by Corado to decline a request by DHS that Casa Ruby move its main homeless shelter to a site on Division Avenue in Northeast D.C. Corado said she believed the location would be unsafe for Casa Ruby's transgender clients.
Corado points out that the location to which the DHS official wanted the Casa Ruby shelter to move was near the site on Division Avenue where transgender woman Deeniquia "Dee Dee" Dodds, 22, was shot to death during a July 4, 2006, armed robbery in which D.C. police said a group of male suspects were targeting transgender women.
Corado said that as of Tuesday, members of the community and supporters had contributed about $75,000 through the GoFundMe appeal, raising hope that an immediate shutdown of the shelter could be averted.
Comings & Goings
Umana named associate with Gustafson Guthrie Nichol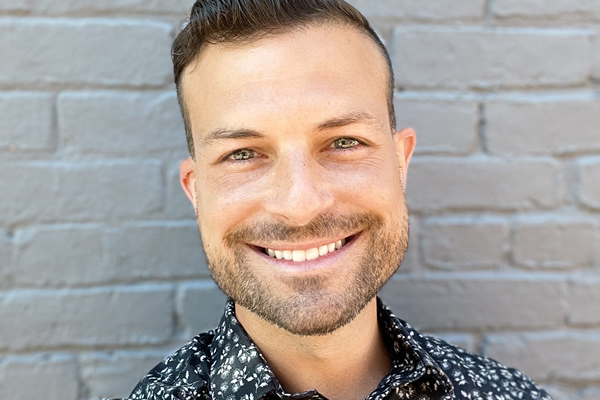 The Comings & Goings column is about sharing the professional successes of our community. We want to recognize those landing new jobs, new clients for their business, joining boards of organizations and other achievements. Please share your successes with us at: [email protected]. 
Congratulations to Wolfgang Umana on being named an associate with Gustafson Guthrie Nichol (GGN). He has been with them for more than five years and is currently its D.C. studio's office manager.
"I am honored to become GGN's newest Associate," Umana said. "I have the glorious privilege of supporting GGN's continuing dedication to progress, inclusion, social justice, sustainability, and beautification of the world we live in."
Umana also works with NBR Computer Consulting as an LLC Computer Technician consultant. He has experience in social media, communications, outreach, and technical services, and provides a dynamic approach to the fast-changing world of technology. NBR Computer Consulting, LLC is a gay-owned business. 
Umana has also served as D.C. Army National Guard Director of Environmental Affairs and with EMS Consultation Services.
He has his bachelor's in Environmental Science & Public Policy, Human and Ecosystem Response to Climate Change, from George Mason University.
Capital Pride bids for D.C. to host World Pride 2025
International event draws thousands of visitors
The Capital Pride Alliance, the group that organizes D.C.'s annual LGBTQ Pride events, announced on Sept. 21 that it has submitted a bid to host 2025 World Pride, the international Pride event that draws thousands of participants from throughout the world to the host city.
The announcement by Capital Pride says its bid to host the event in D.C. notes that the event, among other things, would commemorate the 50th anniversary of D.C.'s first LGBTQ Pride event in 1975, which began as a block party near Dupont Circle.
World Pride is licensed and administered by the international LGBTQ organization InterPride. The World Pride events themselves, which usually take place every other year, are organized by InterPride's member organizations such as Capital Pride Alliance.
The Capital Pride announcement notes that World Pride "promotes visibility and awareness of lesbian, gay, bisexual, transgender, intersex and queer (LGBTIQ+) issues on a global level." The announcement adds, "World Pride events include parades, marches, festivals and other cultural activities often enjoyed at Pride celebrations, along with other components such as a human rights conference and large-scale opening and closing ceremonies."
The InterPride website says the deadline for submitting a bid for the 2025 World Pride has passed. It says D.C.'s Capital Pride and Kaohsiung Pride, located in the large Taiwan port city of Kaohsiung, are the only two remaining cities in competition for hosting the 2025 World Pride.
Ryan Bos, Capital Pride's executive director, said InterPride was expected to make its decision on which of the two cities to select sometime in November of this year.
"A recent study conducted by Booz Allen Hamilton revealed that the annual Capital Pride Celebrations, during normal years, result in approximately $371 million in positive economic impacts to the region, a number that may be doubled if the organization is awarded the prestigious event," the Capital Pride statement says.
The 2021 World Pride took place earlier this year in Copenhagen, Denmark. The 2019 World Pride was held in New York City to commemorate the 50th anniversary of New York's Stonewall riots, which many activists consider the start of the modern LGBTQ rights movement.
InterPride says the 2023 World Pride will take place in Sydney, Australia.