March 1, 2012 at 1:17 pm EST | by David Bediz
An early spring for the real estate market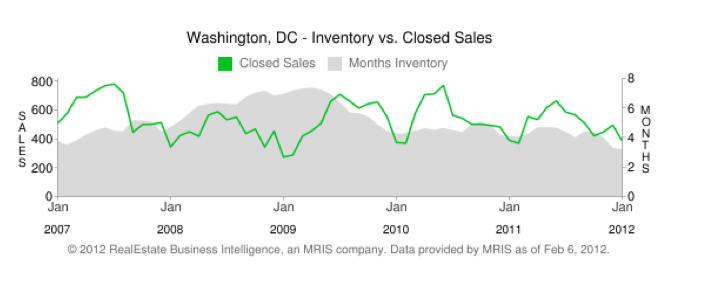 As anyone wearing shorts and T-shirts last week would tell you, it seems spring has sprung early in D.C. this year. Daffodils are already wide open, and the National Cherry Blossom Festival may be late for the party if the trees actually go into bloom as early as predicted. Along with the spring temperatures, spring buyers are coming early too — but, unfortunately, not so many spring listings have sprung up to meet them.
Dwight and I have had a flurry of activity on our listings and in our buyer pool in the past two weeks, but we're finding that the same D.C. problem of low inventory seems even worse now. That is certainly due to our record-low interest rates — currently hovering around 3.75 percent — resulting in more buyer activity. There are also fewer listings hitting the market, which is most likely due to sellers not wishing to sell without realizing a profit (many of our sellers bought in peak years between 2005 and 2008, and may sell their homes only at roughly the same price at which they bought).
The chart shown here displays the problem as clear as a sunny spring day: Inventory, calculated using the number of active listings and the demonstrated speed of sales, is even lower than it was in the peak years of 2007 to 2008. Closed sales, while down month over month, are still strong and are down primarily due to a normal slowdown in January as shown in the graph.
What does this mean to buyers and sellers? Buyers should get a move on — don't wait for spring to really hit before you start your loan pre-approval process. Talk to an experienced agent to find out your options and hit the Internet to start your own research. Sellers, take advantage of the lopsided numbers and use the scarcity of available inventory to help drive more buyers your way. Make sure you market the property well, however, and don't overprice it: as strong a market as it is, it is not the seller's market of the mid-2000s that seemed to simply print money for sellers, no matter the property.
For more information about rates, housing inventory and more, visit websites like bankrate.com, mris.com, and our own website DwightandDavid.com.
Whether buying or selling, enjoy the weather and good luck.