March 8, 2012 at 12:21 pm EDT | by Terri Schlichenmeyer
Call of the wolves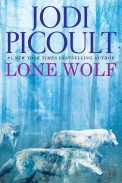 Luke Warren never really wanted fame.
As a biologist, he never thought he'd write a book or become a TV star. Reticent, almost hermit-like, what Luke really wanted was for his research to help people understand that real wolves aren't like the ones in fairy tales. Wolves have their own culture, an explicit way of communicating and family is everything. They're also more afraid of humans than humans are of them.
Luke knew that because he lived for two years in the Canadian wilderness with a pack of wolves, as we learn in "Lone Wolf," a new novel by Jodi Picoult.
Luke's son Edward remembered those years without a father; how his mother, Georgie, cried and how his little sister, Cara, missed her daddy. Edward was 15 then and Luke had burdened him with a man-of-the-house talk before he left, handing Edward the financial reins and making him sign a scrap of paper which gave the boy medical power of attorney.
Wanting neither, Edward did his best. But shortly after his father returned from Canada, shortly after he told his mother he was gay, Edward left home, angry, vowing never to return.
Cara Warren barely remembered Luke's absence, but it didn't matter anymore.
After her parents divorced, Cara lived with her mother but favored her father. Everything she knew, she learned from him. Compassionate, smart, wise and patient, he adored her and he adored his wolves.
But that was before the accident. Before doctors said that Luke would never regain consciousness, before Georgie called Edward home. Before Edward decided it was time to let his father go peacefully.
Filled with well-rounded characters you come to feel as though you know personally, "Lone Wolf" is comfortingly typical of author Jodi Picoult's other works. Each person is allowed to tell his or her own story — though some in unexpected ways — and there's a pivotal issue around which they all revolve and a tantalizing, hidden "hook" you know is there but hate to see.
It's a fast-moving, satisfying read sure to satisfy Picoult's legion of fans.