More pressure on Obama to bar workplace discrimination
House Democrats call on president to issue executive order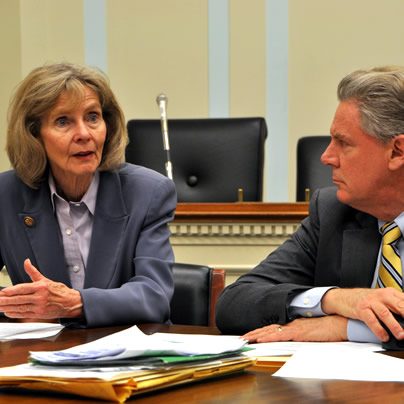 Supporters of an executive order barring discrimination against LGBT federal workers were buoyed this week by the results of a new poll showing that 73 percent of Americans support such a measure.
Brian Moulton, legal director for the Human Rights Campaign, talked about the polling unveiled earlier this week by his organization during a briefing for staffers Thursday on Capitol Hill, saying support for the order comes from a diverse array of demographic groups — including conservatives.
"Rarely do we have support from this range of groups of people," Moulton said. "The lowest support, which was 60 percent of support for the executive order, was among self-identified conservatives."
Support came from 61 percent of Republicans, 72 percent of people 65 and older, 80 percent among black Americans, 72 percent among Hispanics, 77 percent of Catholics and 64 percent of born-again Christians.
"I think the data both on the executive order specifically, but the long-standing public polling we've had on the issue of non-discrimination over the years, shows that this is something that very much the American people support, and I think that's also reflected in the fact that we have such strong support in corporate America," Moulton said.
Other data, Moulton said, reveals that most people think federal workplace non-discrimination protections for LGBT people already exist. According to the poll, 87 percent think it's illegal to discriminate against LGBT people in the workplace — even though no such law exists.
The survey of 800 likely voters nationwide was conducted for HRC by Greenberg Quinlan Rosner Research from Nov. 9 to Nov. 13, 2011. Even though the poll was conducted in November, the findings were published just this week.
Moulton was among five LGBT rights supporters who spoke on the panel, which was staged by the LGBT Equality Caucus and geared toward encouraging President Obama to issue an executive order requiring companies doing business with the U.S. government to have non-discrimination policies inclusive of sexual orientation and gender identity.
Because the measure is similar in its goal to the Employment Non-Discrimination Act, the directive has sometimes been referred to as the "ENDA" executive order, although the order would be more limited in scope because it only affects federal contractors.
Multiple sources, speaking on condition of anonymity, have told the Blade the Labor and Justice Departments have cleared such a measure. The White House hasn't said whether it will issue the executive order.
Joining supporters during the briefing were Reps. Frank Pallone (D-N.J.) and Lois Capps (D-Calif.), who are circulating a letter among House Democrats calling for President Obama to issue the executive order.
Pallone said the executive order is needed to address the lack of workplace protections for LGBT workers.
The lawmaker said the ultimate goal is passage of ENDA, but the scenario is unlikely given the current leadership of the House.
"I think it's fair to say it has probably no chance of passage whatsoever with the Republicans in control of the House," Pallone said. "With the federal contractors, this is something we think we can do in the interim to set a precedent and help a lot of people, knowing full well that what we'd really like to see is ENDA."
Capps said issuing the executive order would be in line with Obama's decision to issue executive orders to facilitate job opportunities while most legislation remains deadlocked in a divided Congress.
"He's calling it 'We Can't Wait,'" Capps said. "This is one more step he can take toward the agenda of clearly that's something in the interest of the American public."
Pallone and Capps are the initial signers of the letter they are circulating among colleagues — along with retiring Rep. Barney Frank (D-Mass.). They've set the deadline for signing the letter on Friday in anticipation of publication next week. An informed source told the Washington Blade the letter has attracted about 50 signatures as of Thursday.
Others on the panel presented different cases for why Obama should have no problem issuing the executive order and the extent to which it would facilitate non-discrimination in the workplace.
Tico Almeida, president of Freedom to Work, said companies that lack LGBT-inclusive non-discrimination policies can institute them easily and that most companies that haven't done so have yet to make the change out of "laziness."
"With President Obama's order, I predict 100 percent compliance; I don't think a single company is going to put at risk its livelihood in order to keep discriminating," Almeida said.
Citing instances of workplace discrimination in which having the executive order already in place would be helpful, Almeida said the directive would allow the Obama administration to search actively for workplace discrimination without having to wait for individuals to file complaints.
"In a certain limited sense, the executive order is better than a civil rights act," Almeida said. "Under the Civil Rights Act, an investigation can only start if the affected person files a complaint. Under the executive order, the Department of Labor can be proactive, go out and do investigations, find discrimination without the person filing — and that happens a lot."
Almeida also articulated a sense of urgency in issuing the executive order, saying it would take at least six months for implementation of the policy. That process could be disrupted if a Republican defeats Obama in the upcoming election.
"There will after that be a process of no less than six months — six months is really optimistic — in which the Department of Labor will research and draft those rules implementing the executive order, and those rules will include all the minutiae with a host of different issues that we often hear as excuses not to do ENDA," Almeida said.
The process involves a 90-day comment period where concerned parties — such as businesses and LGBT groups — can weigh in, followed by revisions based on the comments and the final rule being published in the Federal Register, Almeida said.
Deborah Vagins, American Civil Liberties Union's senior legislative counsel for civil rights, talked about the history of other non-discrimination orders issued by earlier presidents — noting that President Franklin Roosevelt issued the first such directive based on race, creed, color or national origin for defense contractors.
"In 1941, some of our earlier civil rights leaders were preparing for a march on Washington to integrate the armed forces," Vagins said. "Unfortunately, while full integration of the armed forces was not achieved at that time, during meetings between the administration and leaders of the march, Roosevelt agreed to sign this landmark EO prohibiting discrimination in federal defense contracting."
The directive has been expanded by later presidents — most recently President Lyndon Johnson — to include all federal contractors and more categories of workers.
Nan Hunter, a lesbian law professor at Georgetown University and legal scholarship director at the Williams Institute of the University of California, Los Angles, said the authority for Obama to issue the executive order is sound under the Federal Property & Administrative Services Act, or the Procurement Act.
"There has never been a court decision that has struck down any of the anti-discrimination provisions in a federal executive order on the grounds that they did not advance the economy and efficiency of government operations," Hunter said.
Jeff Krehely, vice president for LGBT programs at the Center for American Progress, presented findings from the institute published in November on the impact that ENDA would have on small businesses.
According to the findings, most small businesses already have non-discrimination protections. Seven out of 10 small businesses already prohibit discrimination against gay employees, and six out of 10 prohibit discrimination against transgender employees.
"It's really a good news story out of the small business community because it shows that they are of a fair mindset when it comes to workplace equality," Krehely said. "They recognize the fact that in today's economy and today's world the more inclusive and open you are, the better it is for your business, and this really translates into better recruitment and retention practices, less turnover — all the things that can disrupt a business of any size really."
For small business that didn't have the protections, Krehely said the response was that these companies didn't think to institute them or didn't think they had LGBT employees.
Biden, Harris, deliver remarks for White House Office of Gun Violence Prevention
Pulse survivor Brandon Wolf among those who spoke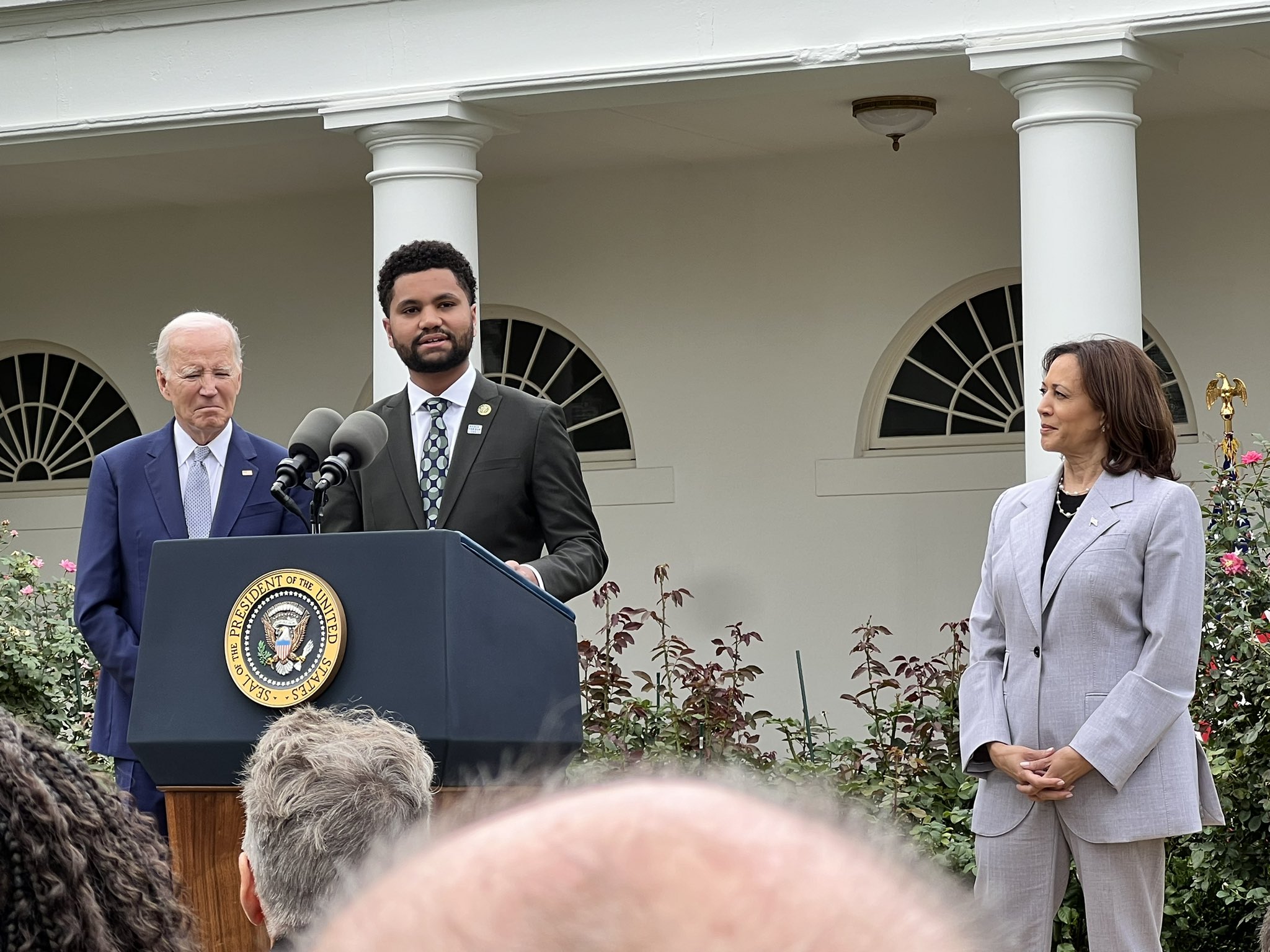 President Joe Biden, Vice President Kamala Harris, and U.S. Rep. Maxwell Frost (D-Fla.) addressed an audience from the Rose Garden of the White House on Friday to honor the establishment of a first-ever White House Office of Gun Violence Prevention.
In a press release Thursday announcing the move, the administration said its aim is to implement and expand the provisions of last year's Bipartisan Safer Communities Act along with those contained in the president's executive orders targeting issues of gun violence.
Additionally, Biden explained in his remarks, the office will coordinate more support for survivors, families and communities, including mental health services and financial aid; identify new avenues for executive action; and "expand our coalition of partners in states and cities across America" given the need for legislative solutions on the local and state level.
Harris, who will oversee the office, pledged to "use the full power of the federal government to strengthen the coalition of survivors and advocates and students and teachers and elected leaders to save lives and fight for the right of all people to be safe from fear and to be able to live a life where they understand that they are supported in that desire and that right."
The vice president noted her close experiences with the devastating consequences of gun violence in her work as a federal prosecutor, San Francisco district attorney, California attorney general and in her current role.
Biden's comments also included highlights of his administration's accomplishments combatting gun violence and a call to action for Congress to do more. "It's time again to ban assault weapons and high capacity magazines," he told lawmakers.
The president also credited the the work of advocates including those who were gathered at the White House on Friday: "all of you here today, all across the country, survivors, families, advocates — especially young people who demand our nation do better to protect all; who protested, organized, voted, and ran for office, and, yes, marched for their lives."
Taking the stage before introducing Biden, Frost noted that "Right before I was elected to Congress, I served as the national organizing director for March for Our Lives, a movement that inspired young people across the nation to demand safe communities."
"The president understands that this issue especially for young people, especially for marginalized communities, is a matter of survival," the congressman said. And the formation of this office, "comes from Pulse to Parkland," he said, adding, "we fight because we love."
Human Rights Campaign National Press Secretary Brandon Wolf, a survivor of the 2016 Pulse nightclub shooting, which was America's second deadliest mass shooting and the deadliest against the LGBTQ community, shared a comment with the Washington Blade after Friday's ceremony:
"Seven years ago, when my best friends and 47 others were murdered at our safe place — Pulse Nightclub — we promised to honor them with action. This is what that looks like. This deep investment in the fight to end gun violence matters, and I cannot wait to see Vice President Harris lead these efforts. We can blaze the path toward a future free of gun violence. And today marked an important step in that direction."
Federal judge: drag is 'vulgar and lewd,' 'sexualized conduct'
Ruling 'bristles with hostility toward LGBTQ people'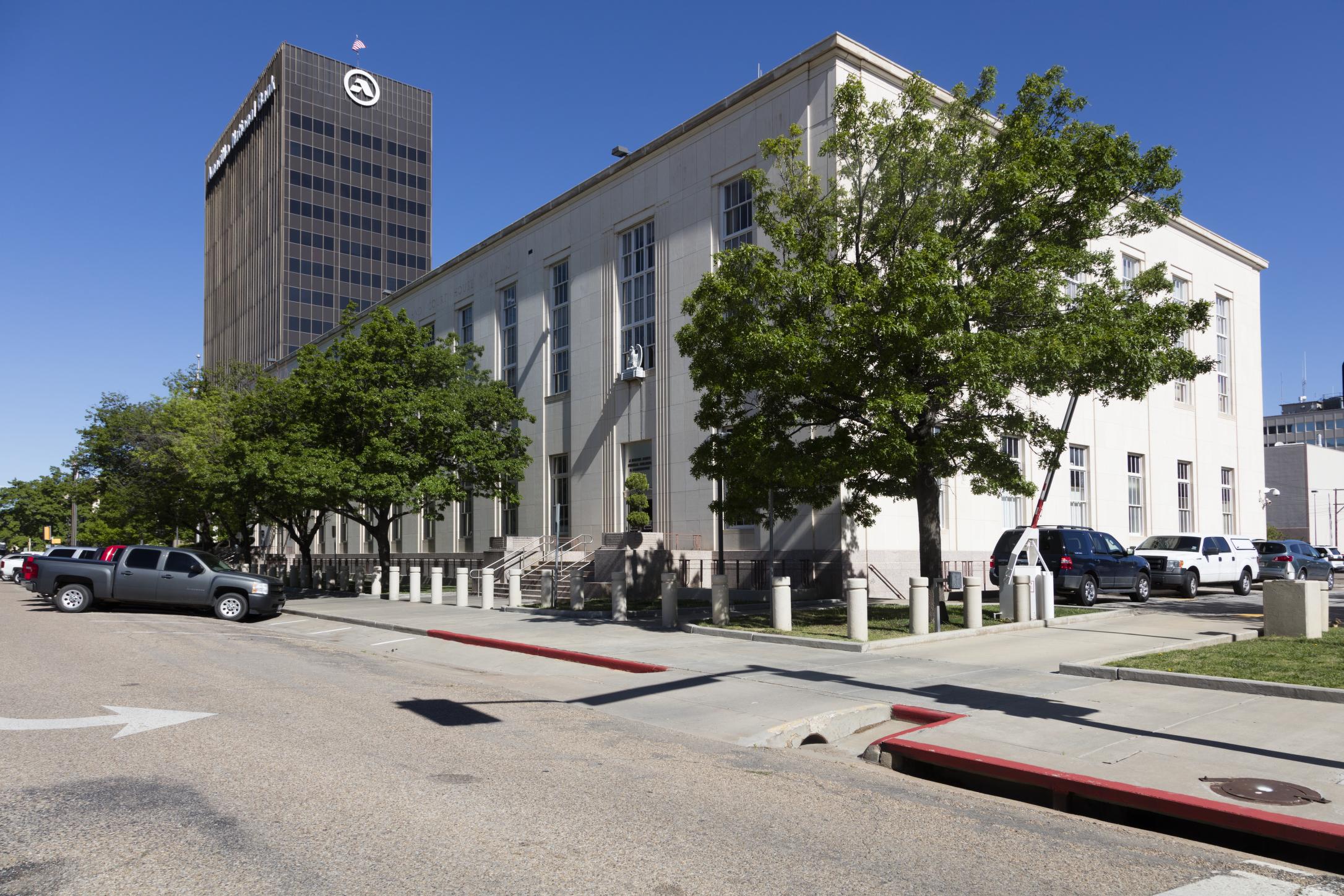 Judge Matthew Kacsmaryk of the U.S. District Court for the Northern District of Texas issued a ruling Thursday denying relief to a group of university students who sought to host a drag show over the objections of their school's president.
A Trump appointed jurist with deep ties to anti-LGBTQ and anti-abortion conservative legal activists, Kacsmaryk argued that drag performances probably do not constitute speech protected by the First Amendment.
As Slate Senior Writer Mark Joseph Stern wrote on X, this conclusion "conflicts with decisions from Texas, Florida, Tennessee and Montana which held that drag is constitutionally protected expression."
"It also bristles with undisguised hostility toward LGBTQ people," he added.
Kacsmaryk's 26-page decision describes drag performances as lewd and licentious, obscene and sexually prurient, despite arguments the plaintiffs had presented about the social, political, and artistic merit of this art form.
Judge Matthew Kacsmaryk refuses to grant relief to Texas college students who may be punished for hosting a drag show.

His condemns drag as "vulgar and lewd" "sexualized conduct" that harms children and is likely unprotected by the First Amendment. https://t.co/UPeolMfGON

— Mark Joseph Stern (@mjs_DC) September 22, 2023
As the Human Rights Campaign recently wrote, "drag artists and the spaces that host their performances have long served as a communal environment for queer expression."
The group added, "It is a form of art and entertainment, but, historically, the performances haven't only served to entertain, but also to truly advance the empowerment and visibility of LGBTQ+ people."
Nevertheless, anti-LGBTQ conservative activists and organizations have perpetuated conspiracy theories about members of the community targeting children for sexual abuse including by bringing them to drag performances.
Among these is a group with ties to the Proud Boys that was cited by Kacsmaryk in his ruling: Gays Against Groomers, an anti-LGBTQ and anti-transgender extremist group, according to the Anti-Defamation League and Southern Poverty Law Center.
Harris to oversee White House Office of Gun Violence Prevention
Goal is to implement and expand upon legislation, executive actions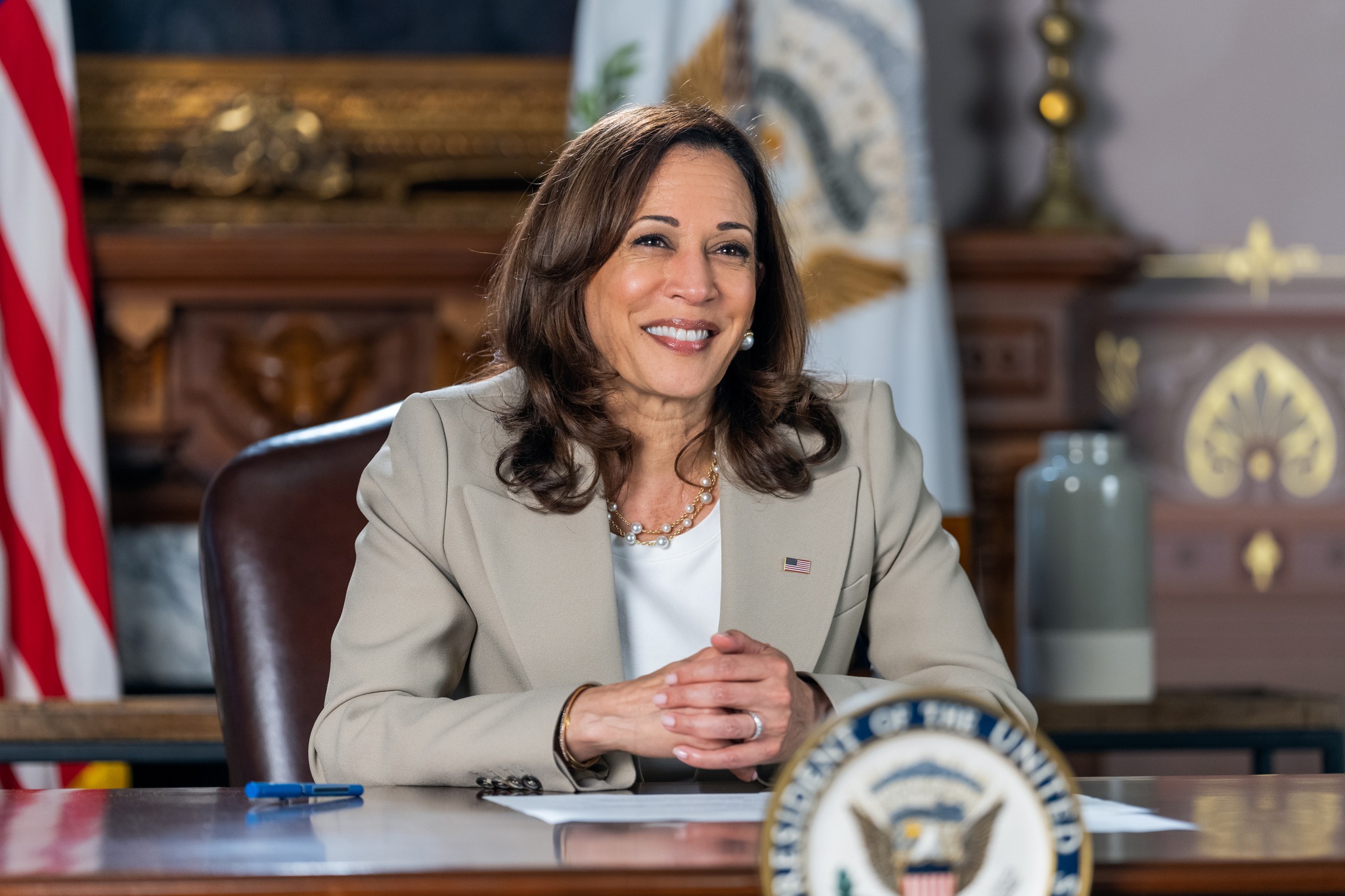 The White House announced Thursday evening that President Joe Biden on Friday will establish the first-ever White House Office of Gun Violence Prevention, to be overseen by Vice President Kamala Harris.
The office will focus on implementing and expanding upon executive and legislative actions, including the Bipartisan Safer Communities Act, "to reduce gun violence, which has ravaged communities across the country."
Serving under Harris will be Stefanie Feldman, "a longtime policy advisor to President Biden on gun violence prevention," and "leading gun violence prevention advocates Greg Jackson and Rob Wilcox."
"Every time I've met with families impacted by gun violence as they mourn their loved ones, and I've met with so many throughout the country, they all have the same message for their elected officials: 'do something,'" Biden said in a statement.
The president noted his signing of last year's bipartisan gun violence prevention law, a flagship legislative accomplishment for the administration, along with his issuance of more executive actions than any president in history to address this problem.
Calling these "just the first steps," Biden said the establishment of the White House Office on Gun Violence Prevention will "build upon these measures and keep Americans safe."
He also urged Congress to do more by passing legislation requiring universal background checks, and baning assault weapons and high capacity magazines.
In a statement, Harris said, "This epidemic of gun violence requires urgent leadership to end the fear and trauma that Americans experience every day."
"The new Office of Gun Violence Prevention will play a critical role in implementing President Biden's and my efforts to reduce violence to the fullest extent under the law," she said, "while also engaging and encouraging Congressional leaders, state and local leaders, and advocates to come together to build upon the meaningful progress that we have made to save lives."
"Our promise to the American people is this: we will not stop working to end the epidemic of gun violence in every community, because we do not have a moment, nor a life to spare," the vice president said.