April 20, 2012 at 10:09 am EDT | by Steve Charing
PFLAG chapter takes on bullying
The Howard County chapter of PFLAG on April 10 presented a panel on school bullying with an emphasis on the procedures that are in place to prevent it.  The event was titled, "Howard County Public Schools: Making School Safe for Our LGBT Youth."
Speaking before an audience of more than 50 people were: Pam Blackwell, director of Student Services, Howard County Public Schools; Susan Garner, school psychologist, Howard County Schools; Catherine Hyde, transgender coordinator for the PFLAG chapter; Anne Swartz, principal, Forest Ridge Elementary School; and Sarah McClanahan, a PFLAG intern and senior at Hammond High School.
Blackwell spoke about, among other initiatives, the anti-bullying task force goals and accomplishments, the use of Safe School kits, and training of school psychologists and administrators.
Statistics from GLSEN show that LGB kids are up to three times more likely to commit suicide, and half of transgender children attempt suicide. In addition, 90 percent of LGBT kids experience verbal harassment in school while 25 percent experience physical harassment and assault in school and 65 percent of those never report it.
On a related note, two nights later, Gov. Martin O'Malley and Katie O'Malley attended the premiere screening of the film "Bully" that was followed by a town hall meeting on the impact of bullying in Maryland. The event took place at the Harbor East Landmark Theater in Baltimore.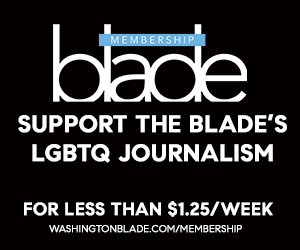 Sign Up for Blade eBlasts