White House Pride reception set for June 15
Event marks fourth time White House has held celebration

The White House intends a hold a reception to celebrate the month of Pride on June 15, according to a White House official.
The gatherings are an annual event at the White House and have taken place during each of the three previous years of the Obama administration.
At each of the events so far, President Obama has appeared with first lady Michelle Obama to address attendees, who have largely been made up of leaders in the LGBT community. Last year, Obama announced his intent to certify the end of "Don't Ask, Don't Tell" in a matter of "weeks, not months."
The event this year will take place more one month after Obama declared his support for marriage equality, which has been praised by LGBT people, and two months after the White House announced Obama won't issue at this time an executive order barring federal contractors from discriminating against LGBT people, a move that has been met with disappointment.
House passes resolution that calls for Brittney Griner's immediate release
Detained WNBA star's trial to begin on July 1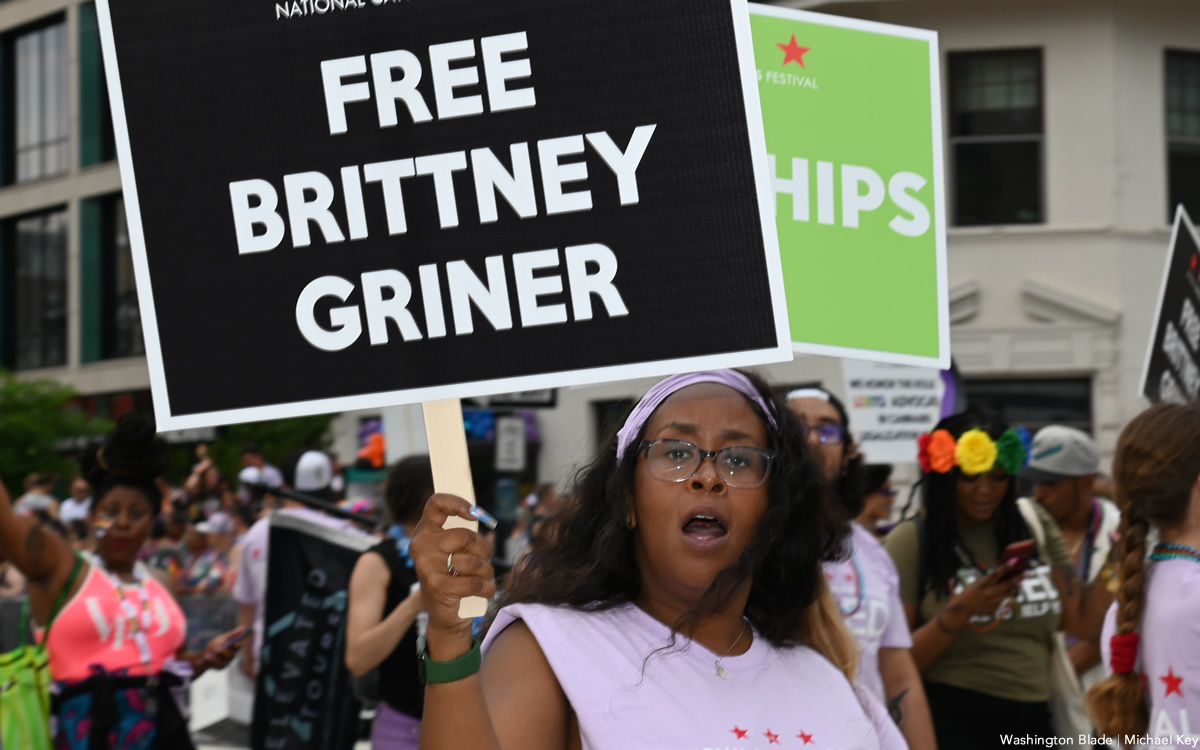 In a resolution passed on June 24 by the U.S. House of Representatives, lawmakers called on Russia to immediately release detained WNBA star Brittney Griner. 
Griner was first arrested in Russia in the days leading up to its invasion in Ukraine. Authorities have charged her with drug trafficking after claiming that she attempted to pass through Moscow's Sheremetyevo Airport while in possession of cannabis oil.
The House's resolution, introduced in May by U.S. Reps. Greg Stanton (D-Ariz.), Sheila Jackson Lee (D-Tex.) and Colin Allred (D-Texas), made multiple demands of Russia, including that the country "immediately release Brittney Griner," provide her with consular access and humane treatment and that the U.S. "raise the case of Brittney Griner and to press for her release" in all its dealings with the Russian government.
"This legislation insists on our embassy personnel having access to Ms. Griner and restates our commitment to freeing her now," Lee said in a statement after introducing the resolution. "We continue to pray for her family and we will continue to work together as three members of Congress, along with others, to spread the message that she is held wrongfully and must be freed now."
The resolution also expressed support for both Griner's family and for "all prisoners unjustly imprisoned in the Russian Federation."
Allred, a member of the House Foreign Affairs Committee, took to Twitter following the passage of the resolution.
"I'm proud the House has spoken in passing our resolution and calling for Brittney Griner's swift release," Allred wrote. "Every day an American is held abroad is a lifetime, and I will keep working with @POTUS to do all we can to bring home every American detained abroad."
Griner's WNBA team, the Phoenix Mercury, welcomed the House's passage of the resolution this past weekend.
"[Rep.] Stanton and many others are continuing to work with the White House, State Department and Brittney's family to secure her safe return home," the team wrote on Twitter.
The resolution comes after reporting revealed missteps on the part of the U.S. government in handling communication related to Griner's detention.
According to past reporting, the U.S. Embassy in Moscow failed to connect Griner with outside phone calls permitted by the Russian government when Griner's wife, Cherelle Griner, attempted to call her. Cherelle Griner reportedly called 11 times on June 18 on the couple's fourth anniversary but was unable to reach her wife due to what the State Department claimed to be a "logistical error."
While the resolution is being heralded by its supporters, it contains no provisions intended to enforce the House's demands for the release and humane treatment of Griner and others held by Russia. With less than one percent of criminal defendants in Russia being acquitted, it is unclear whether the resolution will do anything to persuade the country's courts to permit Griner's release.
Griner appeared in Russian court on Monday for a preliminary hearing prior to her trial that has now been scheduled to begin on July 1. It was also confirmed by Griner's attorney on Monday that her detention had been extended for six months pending her trial. 
If convicted, she could face up to 10 years in prison.
"We must keep Brittney's case on the forefront and make clear to the White House that her release should be one of the highest priorities for our government," Cherelle Griner said in May.
Protests, revelry mark NYC Pride
Tens of thousands protested Roe ruling on Friday night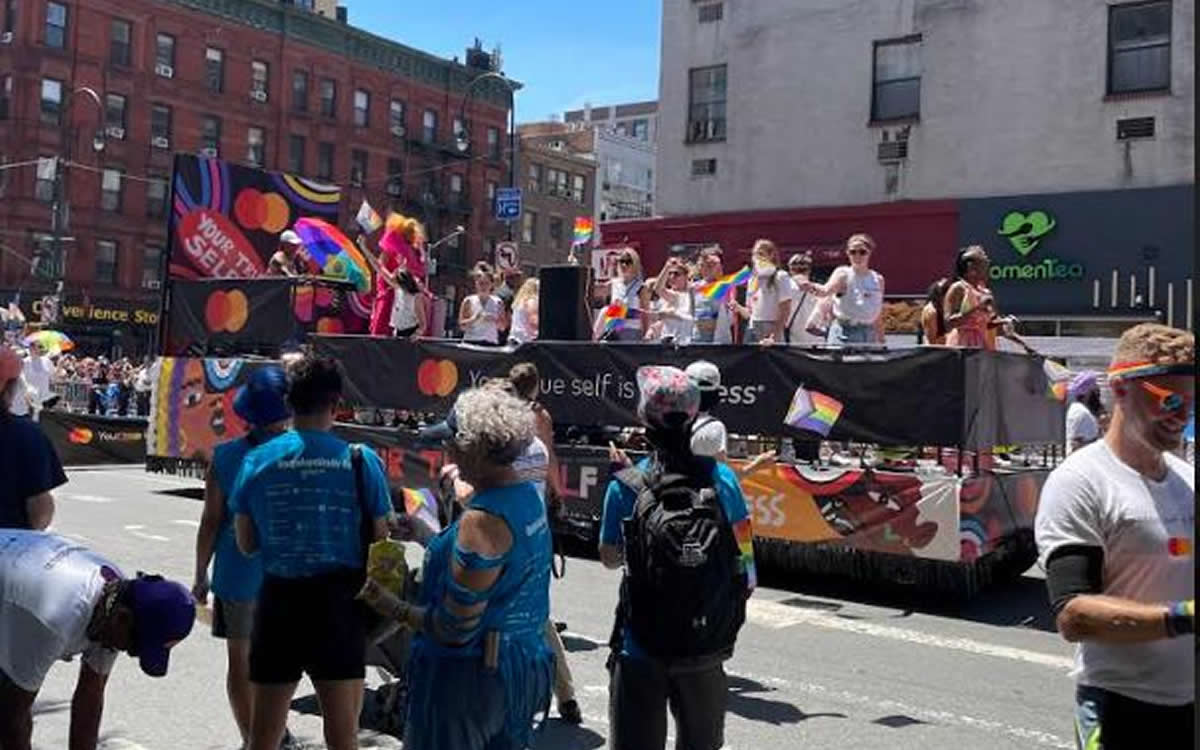 New York City Pride, one of the largest Pride celebrations in the world, rang in the weekend with equal parts celebration and protest.
Although the annual Pride march was on Sunday, the entire weekend was filled with an outpouring of public anger in the wake of the U.S. Supreme Court's decision to overturn Roe v. Wade. 
Protesters took to the streets of Manhattan on Friday with an estimated 17,000 people gathering to protest the ruling, which made abortion imminently illegal in roughly half of states. At least 25 people were arrested at the Friday night protests, which spread from Washington Square Park through Midtown to Bryant Park. 
In light of the Supreme Court's landmark decision — which advocates say will harm members of the LGBTQ community — NYC Pride announced that Planned Parenthood would kick off Sunday's Pride march as the first group to walk. In their statement, NYC Pride said that "[The Supreme Court's] dangerous decision puts millions in harm's way, gives government control over our individual freedom to choose, and sets a disturbing precedent that puts many other constitutional rights and freedoms in jeopardy." 
"As millions gather for LGBTQIA+ Pride this weekend in New York City and cities across the country, our voices will be heard — for the LGBTQ people impacted and the millions with whom we stand in solidarity," read the statement. "Pride was born of protest and will always be a space to fight injustice and discrimination. Join us as we advocate for bodily autonomy at this year's NYC Pride March."
In addition to the march; NYC Pride had a full slate of Pride programming during the week leading up to it, including Pride Island at Governor's Island, Youth Pride and a human rights conference. Queer clubs and bars throughout the city hosted various Pride-themed events throughout the weekend.
NYC Pride was not the only organization mobilizing this weekend.
Reclaim Pride NYC hosted a "Queer Liberation March for Trans and BIPOC Freedom, Reproductive Justice, and Bodily Autonomy," in partnership with pro-choice groups and community organizations.
"The [Queer Liberation March] is the annual people's protest march without corporate funding; corporate floats; politicians' grandstanding; or police control or involvement," said the Reclaim Pride Coalition.
Although Pride originated from a moment of violent tension between police and LGBTQ people at the Stonewall Inn, officers on Sunday carefully patrolled the entire NYC Pride march route. When the apparent sound of gunshots nearly sparked a stampede in Washington Square Park during the parade, the New York Police Department said there were "no shots fired," later confirming that the sounds were due to fireworks being set off at the park. 
The Washington Post noted fears of violence against the queer community circulated at Pride celebrations across the country.
Police also responded to reports of a shooting at San Francisco Pride, although no suspects or witnesses were found. In light of the epidemic of gun violence — from last month's elementary school shooting in Uvalde, Texas, to the massacre at the Pulse nightclub in Orlando, Fla., in 2016 that left 49 people dead — a fear of active shooters and widespread public anger at the prospect of less rights characterized Pride's usually jubilant atmosphere.
'Gay marriage, gay sex are going to fall like fucking dominoes'
Anger, fear as protesters decry Supreme Court ruling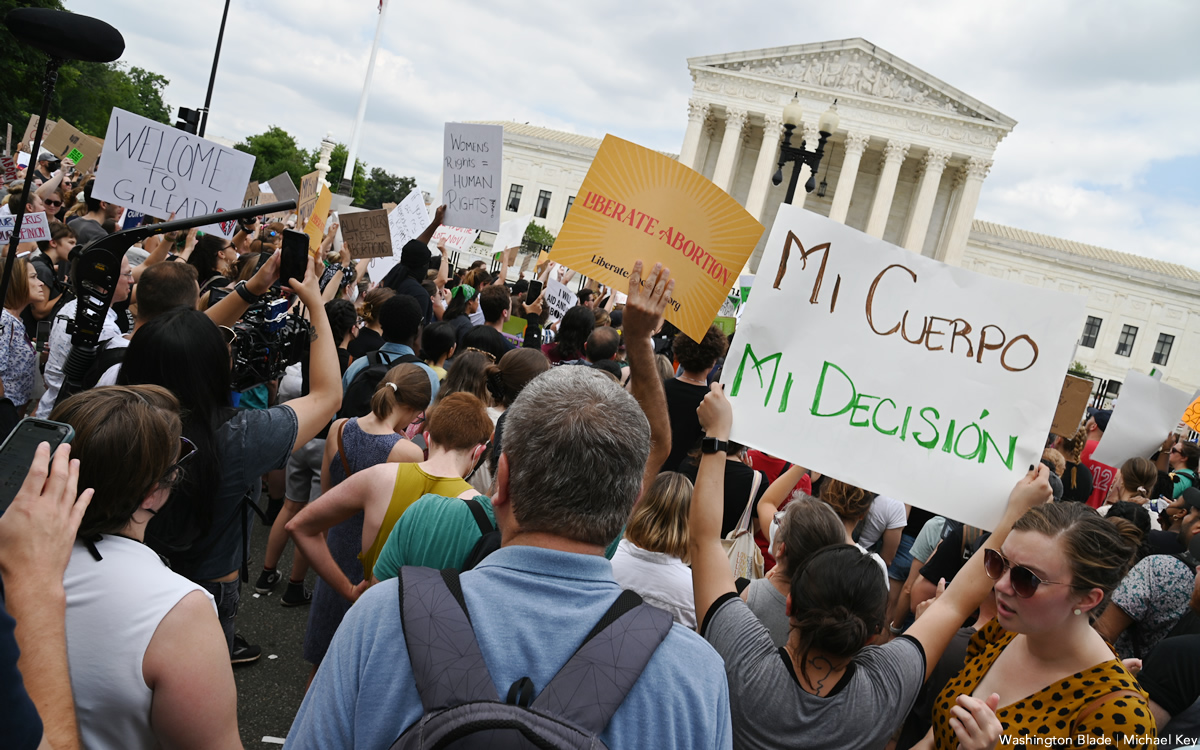 Just moments after the U.S. Supreme Court delivered its decision on Friday overturning its landmark ruling in Roe v. Wade that had legalized abortion nationwide for 49 years, hundreds gathered outside the court to both protest and celebrate the ruling.
In a 6-3 decision in Dobbs v. Jackson Women's Health Organization, the court found that access to abortion was not a right guaranteed under the language of the Constitution. The ruling effectively reversed the court's 1973 decision that mandated states to allow the procedure in most instances throughout the first two trimesters of pregnancy.
Immediately following the decision, a group of those welcoming the decision quickly gathered in front of the court.
Anna Lulis, a member of Students for Life of America, welcomed the decision as long overdue.
"I think it is a huge victory for human rights," Lulis said. "For far too long, since 1973, human rights have been infringed upon at an egregious level."
Beside Lulis, Olivia Cowin, a member of Survivors LA, shared a similar reason for gathering outside the court.
"This is a celebratory day to show our support of the unborn and of women and support both simultaneously," Cowin said.
But across the way from the court's west side, Virginia resident Alysia Dempsey feared what the verdict in Dobbs could mean for women's rights – including those of her four daughters.
"I believe in women's rights, and I think that our country needs to be able to start listening to each of our stories and to have empathy for them in so many different aspects," Dempsey said. "I feel like we're sort of going back in time with regard to so many rights."
Hailing from Arizona, a state under Republican legislative leadership where Planned Parenthood has already halted all abortion services pending legal clarity from the state, Hannah Waldrip cast doubt on the sincerity of anti-abortion rationale.
"For a country about personal rights and personal freedom, we're doing an awful lot right now to limit women's or people with uterus' ability to do what they want with their body," Waldrip said.
Stark divisions between the groups arose as ideological lines could be seen physically emerging between the crowds.
And as the day progressed, those protesting the ruling quickly began to outnumber its supporters.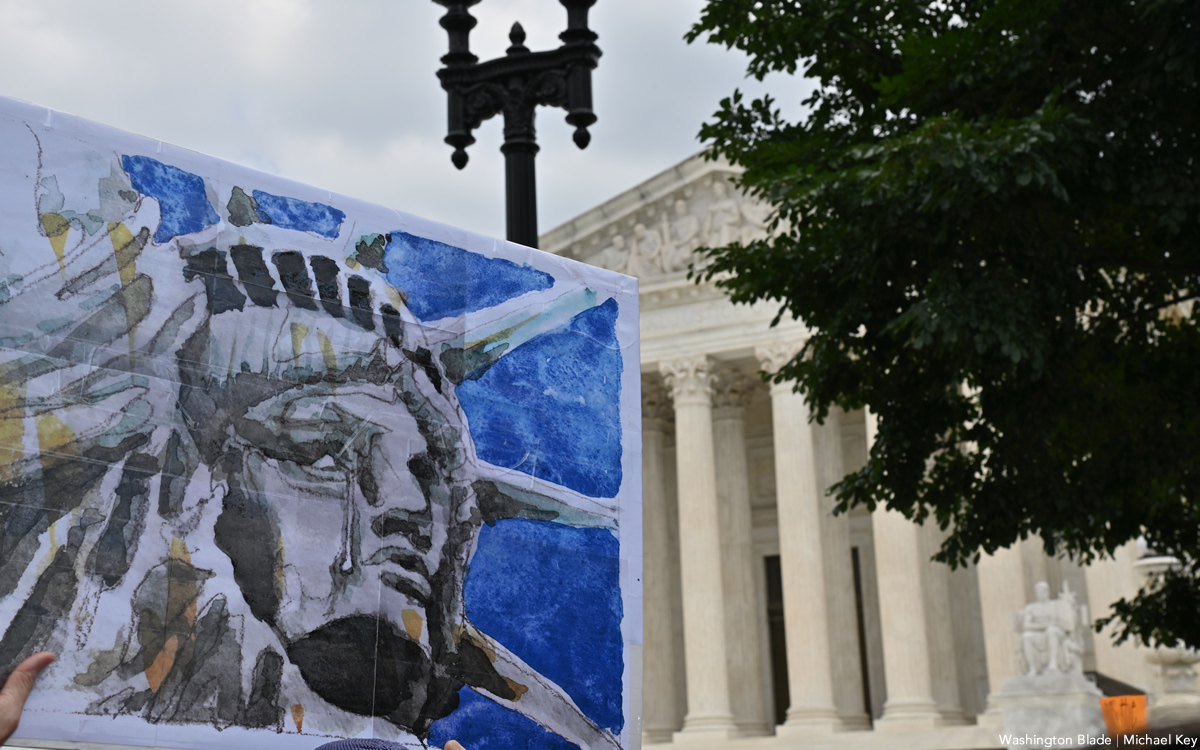 Among the protesters, the color green – a symbol for abortion rights activists borne out of similar movements in Argentina and elsewhere in Latin America – could be seen lining the street on scarves, shirts, stickers, and elsewhere.
As the crowd grew and green began to eclipse the simmering pavement beneath the protesters, several speakers emerged at the center of the crowd.
One of those speakers was Elizabeth Paige White, a civil rights lawyer working under nationally renowned attorney Ben Crump.
In connecting Friday's decision to the United States' history of patriarchal structure, White called into focus the disproportionate effect the repeal of nationwide abortion access is widely expected to have on minorities and communities of color with fewer resources to travel to abortion-friendly states.
"As Black, brown, and all these women out here know, we've been fighting for our rights since the inception of this country," White said. "We have been fighting to have rights over our own bodies since the inception of this country."
With the repeal of Roe, decisions on whether to legalize or outlaw abortion will now be left to each state. As of Friday's ruling, 13 states are set to make almost all abortions illegal, having passed "trigger bans" designed to take effect in the immediate aftermath of Roe's demise or within the next month.
However, many abortion rights supporters, activists, and lawmakers still fear that the curtailing of reproductive rights won't end with the court's decision.
Sen. Catherine Cortez-Masto (D-Nev.) addressed the crowd with a message of urgency and revelation.
"At the end of the day, let me just say, here's what's next," Cortez-Masto said. "I've got some of my Republican colleagues based on this decision who are already drafting legislation to restrict abortion in this country. If they win this election, they will pass that legislation and it will preempt all of the state laws we have protecting women in this country when it comes to our right to choose."
Beyond a nationwide restriction on abortion, some fear even more privacy restrictions are coming.
Such privacy rights have been established in other Supreme Court rulings based on the same Due Process and Equal Protection clauses of the 14th Amendment that justices used to interpret nationwide abortion rights nearly half a century ago. These cases have included those that established access in all states to contraception, same-sex marriage, interracial marriage, and the right to same-sex relations in the privacy of one's home.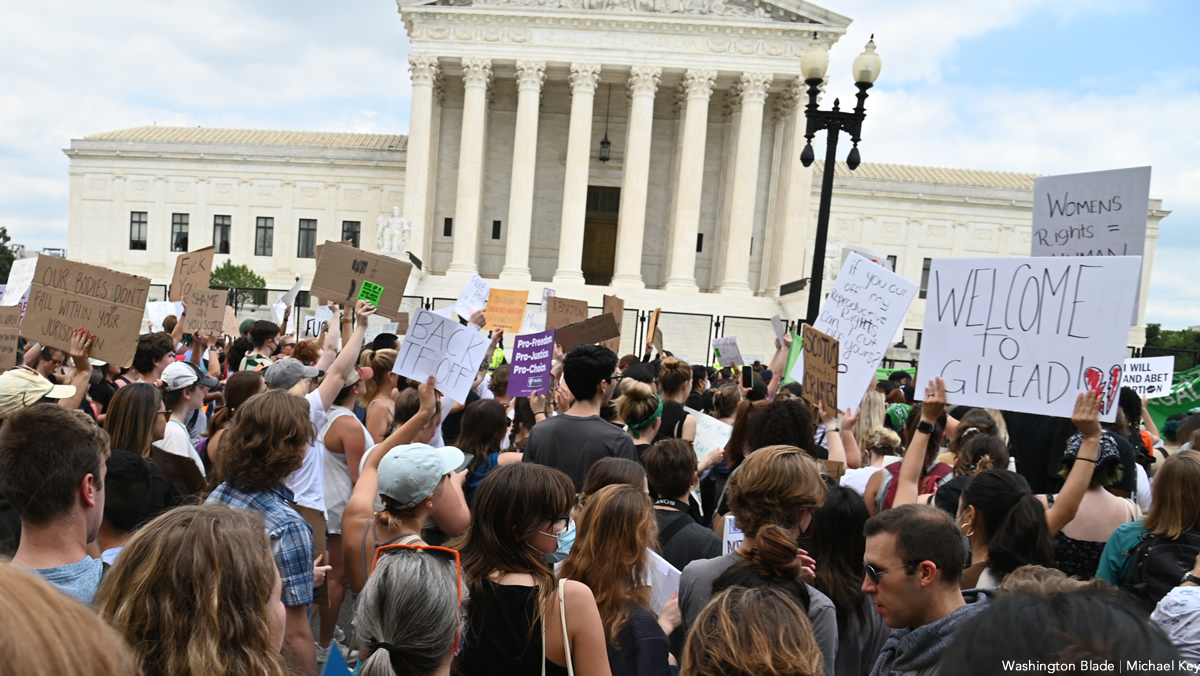 Among the crowd gathered on Friday, such was a sobering outlook for many.
"Gay marriage, interracial marriage, gay sex are going to fall like fucking dominoes if we let them," one speaker outside the court said.
Anger and fear could be felt permeating the crowd. Activists, however, were determined to turn their compatriots' fears into action and change.
"We must get out in the streets," the speaker said. "We need millions of people all around the country because this affects every single living, breathing person in this country whether they realize it yet or not."
Among protesters' trepidation regarding the future of women's rights and privacy rights in America, many clung to a message of hope as speakers and activists pledged to continue fighting.
"They have worked to keep us down, they worked to keep us enslaved, they worked to keep us out of the polls, they worked to keep us out of political offices, they've worked to keep us in the home," White said. "But we know, as we fought for centuries, that this will not stand."