A heroic effort
SLDN co-founder declined Army money to come out, help others serve openly
Most students are eager to take any scholarship money they can get their hands on, but for Michelle Benecke, this was not her greatest concern.
The former Army officer and co-founder of Servicemembers Legal Defense Network (SLDN), the leading group behind the repeal of "Don't Ask, Don't Tell," forfeited an Army-funded fellowship to law school because it would have required her to stay in the closet. It may have required her to turn on fellow gay service members.
"I would have to lie about who I was," Benecke says. "I could not fathom coming back and having to prosecute other gay people [as an Army lawyer]."
Benecke is one of five local LGBT activists being honored as a Capital Pride Hero this year. The other four are Andrew Barnett, executive director of the Sexual Minority Youth Assistance League; Eboné Bell, founder of B.O.I. Marketing and Promotions; Kevin Platte, founder of the D.C. Cowboys Dance Company; and Justin B. Terry-Smith, blogger of "Justin's HIV Journal."
"It's wonderful to have one's contributions recognized by one's own community, and I feel especially honored to be in the company of the other honorees," Benecke says.
The recipients of the 37th annual Capital Pride Heroes award will be honored at the Capital Pride Heroes Gala and Silent Auction. The event is Wednesday, from 6:30-9:30 p.m. at LivingSocial (918 F St. NW). Tickets are $50 and are limited to 200 guests. The Gala will include an open bar, hors d'oeuvres and live entertainment. Business or cocktail attire is required. Tickets can be purchased online through capitalpride.org.
Long before she was recognized as a Pride Hero, Benecke began her career as a commissioned officer in the U.S. Army. She excelled, but was highly critical of the military's policies toward gays.
"When I served, witch hunts were the way that the military implemented its gay ban," she says. "While I was serving, I vowed to myself that I would form an organization that would get rid of the gay ban."
Benecke was recognized by the military for her excellent leadership, and was selected for the prestigious fellowship to law school that she then forfeited. She enrolled in Harvard Law School in 1989, and began her fight against the military's gay ban before graduating. She published law journal articles about the issue and testified in various panels on behalf of gay service members.
The day after President Clinton announced "Don't Ask, Don't Tell," Benecke co-founded SLDN with Dixon Osburn.
"We felt that if something wasn't done, the plight of military members would be pushed under the rug," Benecke says. SLDN was pivotal in the effort to repeal the policy. The organization provided legal assistance to thousands of military members, fostered a national movement against it, secured numerous military reforms and has been Capitol Hill's go-to source for information about the issue.
SLDN continues to provide legal services to gay service members and veterans as America transitions to a post-"Don't Ask" military and advocates against the exclusion of transgender people in the military.Although she is no longer SLDN's CEO, Benecke continues to advise activists and military officials on how to shift to a policy of inclusivity in the military. She currently is a civil servant for the federal government, but is unable to reveal her position.
"I do see and have always seen the military as the linchpin to our freedom," Benecke says. "In our country, the history has been that when exclusions hold in the military, it also sums up the other civil freedoms."
"These award winners have demonstrated an extensive breadth and depth of experience and commitment to the LGBT community and beyond," says Bernie Delia, board president of Capital Pride. "Michelle Benecke, in particular, is being honored this year for her work as a co-founder of the Servicemembers Legal Defense Network in light of all that she has done in this area and in particular because of the successful repeal of DADT."
10 LGBTQ events this week
A Gaga afterparty and a cardboard boat regatta among attractions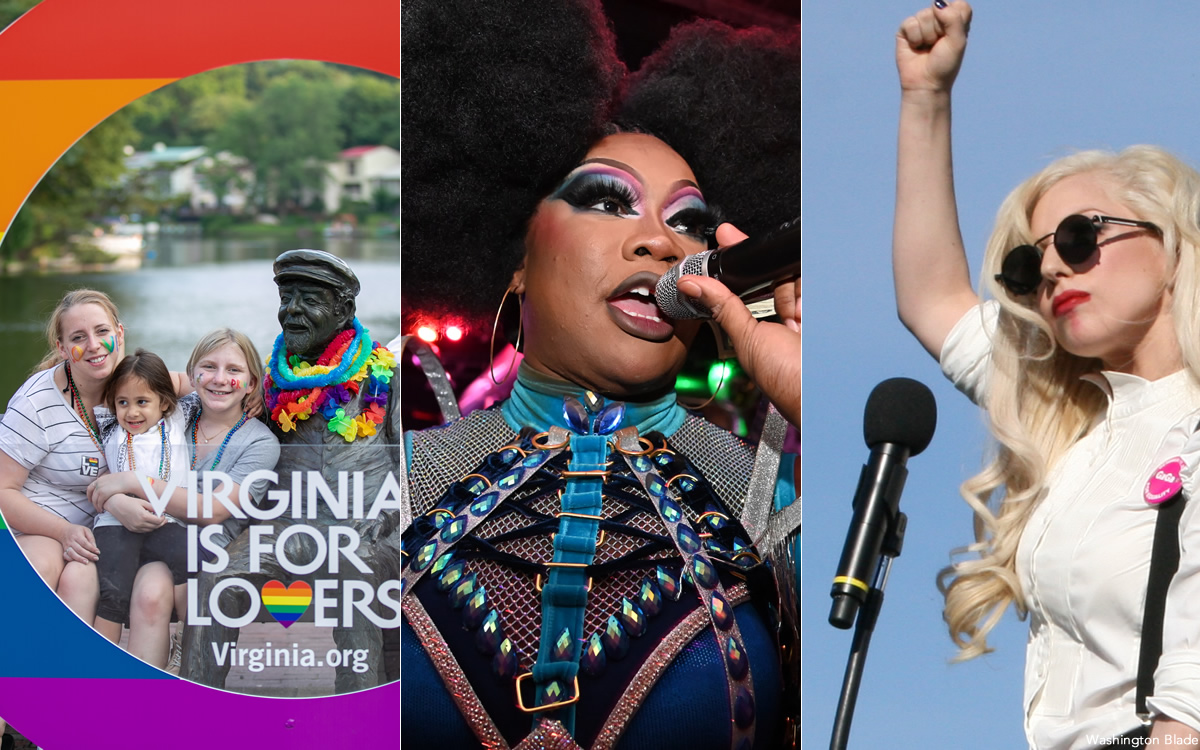 Below are our picks for some of the most fun and creative things to do this week in the DMV that are of special interest to the LGBTQ community.
---
Reign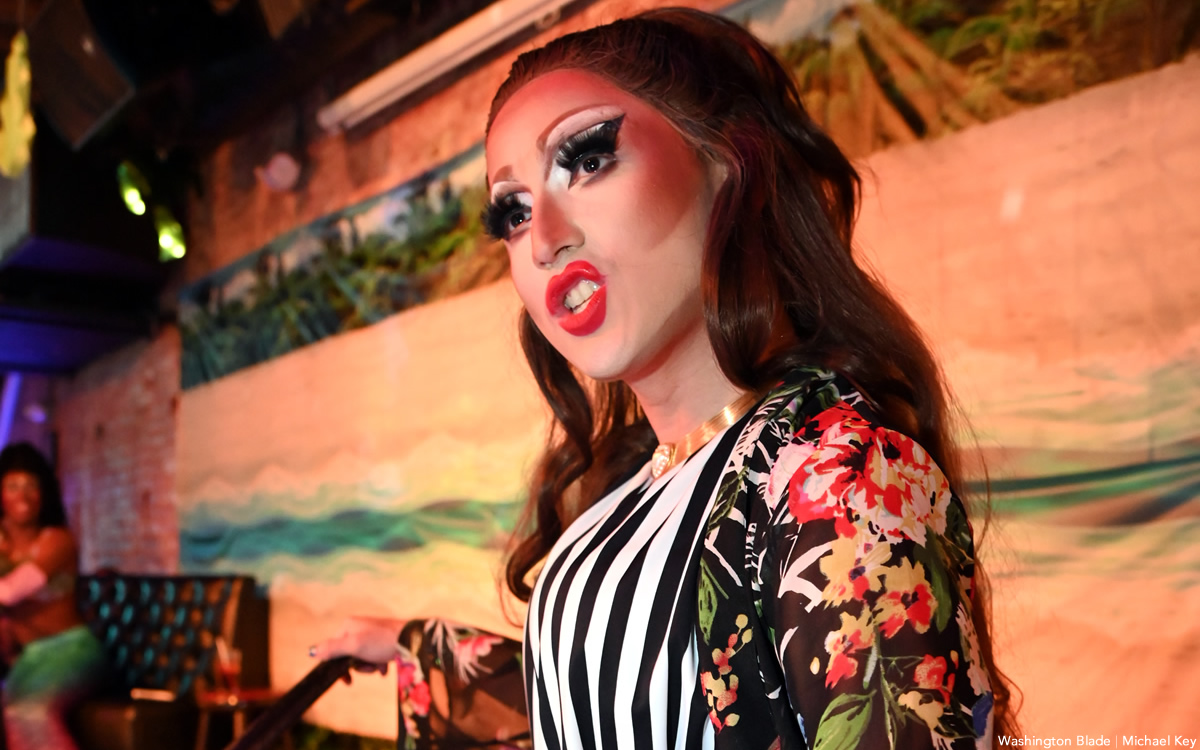 Monday, August 8
8-11 p.m.
DIK Bar
1637 17th Street, N.W. (second floor)
Facebook
Join Logan Stone, Dabatha Christie and Hennessey for a fun-filled drag show at Dupont Italian Kitchen Bar tonight at 8.
---
OMGaga Afterparty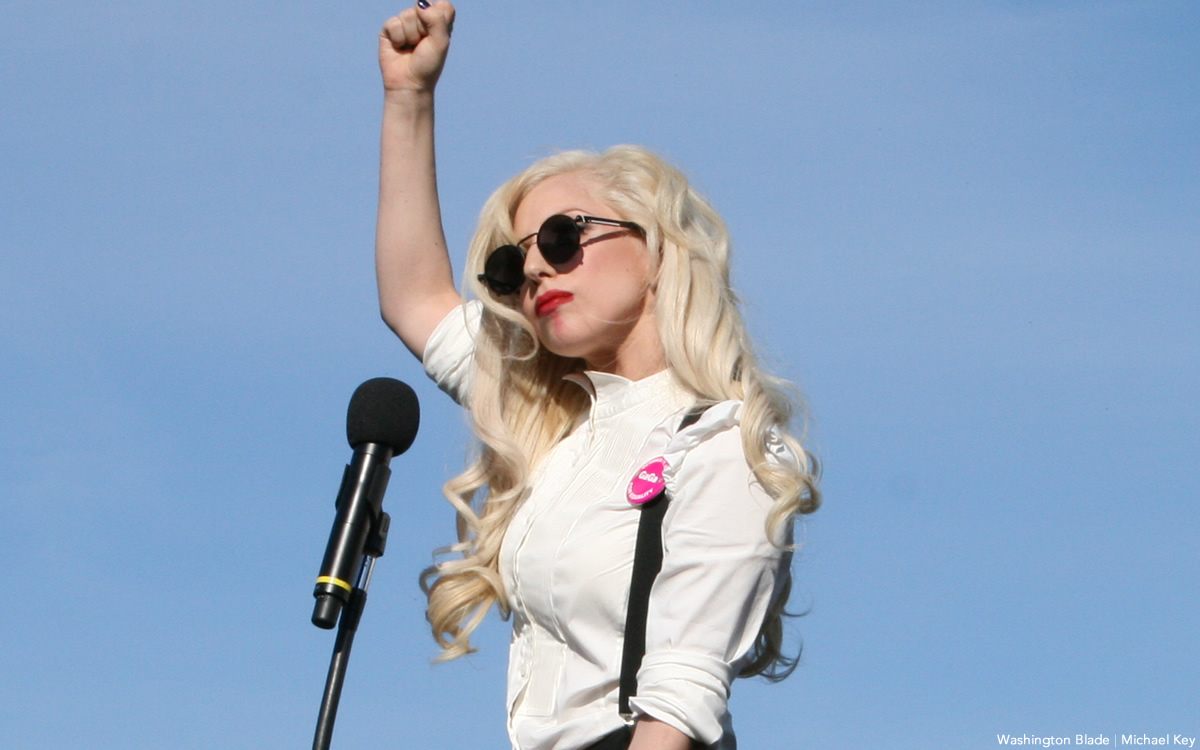 Monday, August 8
10 p.m.
Green Lantern
1335 Green Court, N.W.
Facebook
Did you catch the Gaga concert tonight? Whether you did or not, join the afterparty at Green Lantern. Show your ticket stub from the concert for a free drink on the dance floor.
---
Drag Bingo with Desiree Dik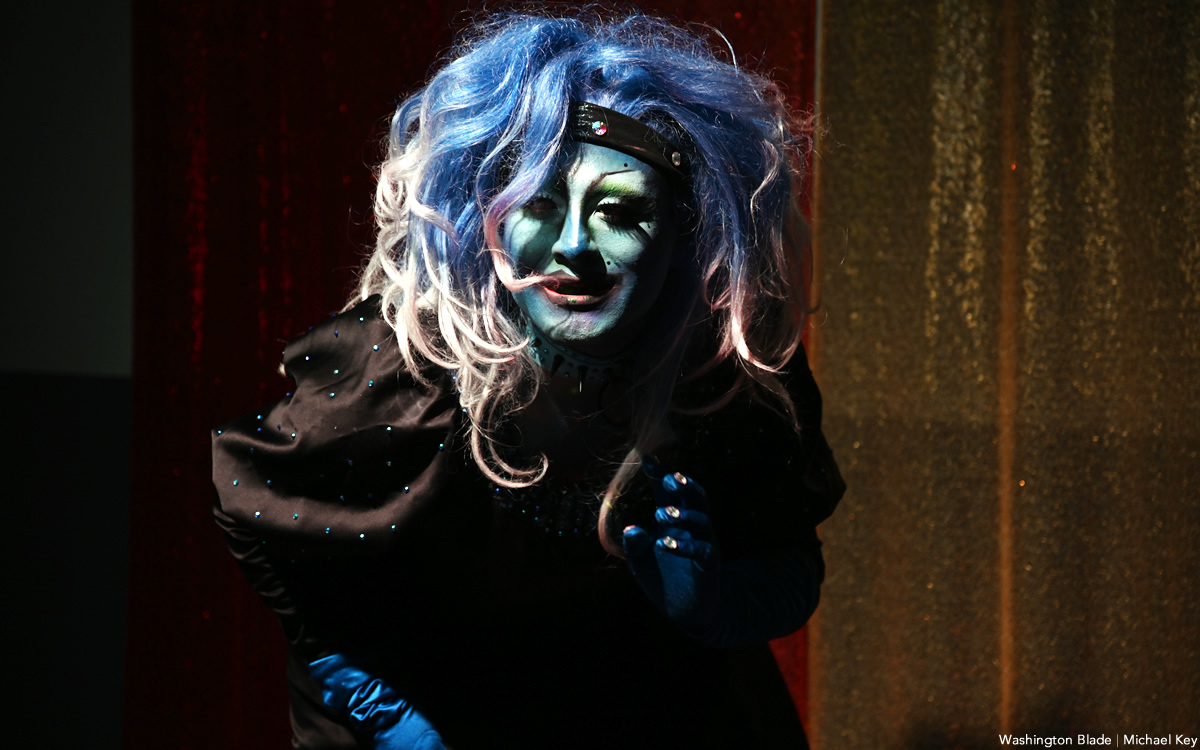 Tuesday, August 9
7-9 p.m.
Red Bear Brewing Co.
209 M Street, N.E.
Facebook
Join Desiree Dik for a game of bingo at Red Bear Brewing Co. on Tuesday. Free to play.
---
Queer Trivia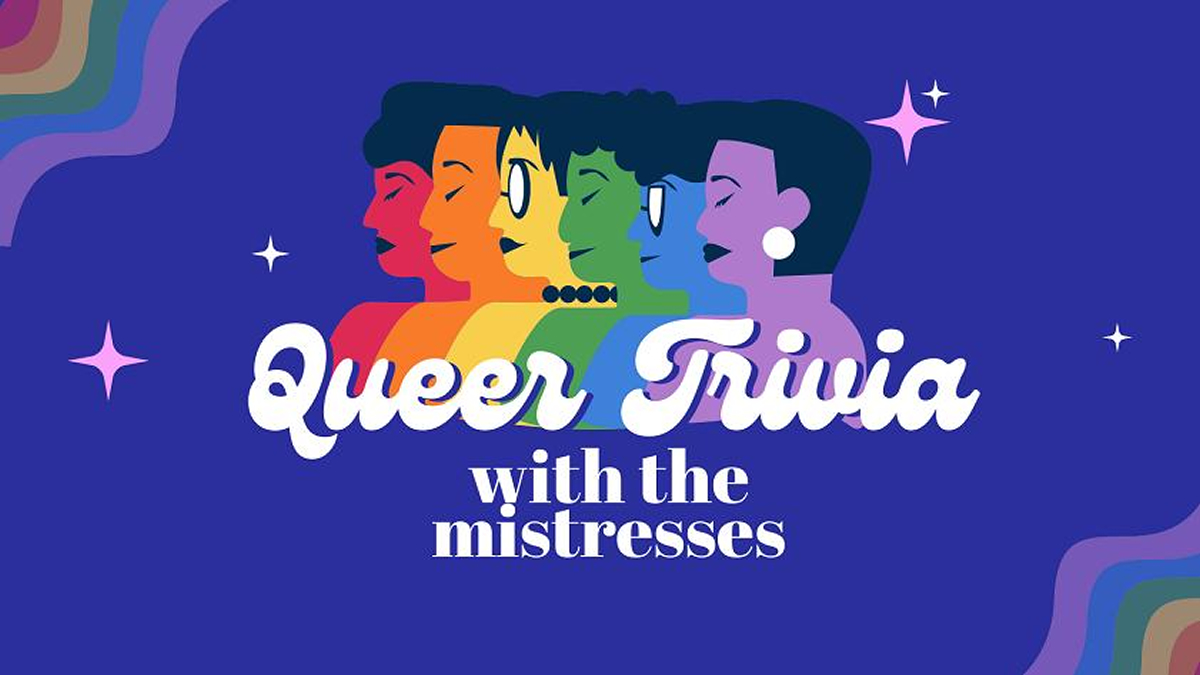 Wednesday, August 10
7-9 p.m.
Dew Drop Inn
2801 8th Street, N.E.
Facebook
The Mistresses lead a night of Queer Trivia on all things gay at the Dew Drop Inn on Wednesday.
---
Thirst Trap Thursdays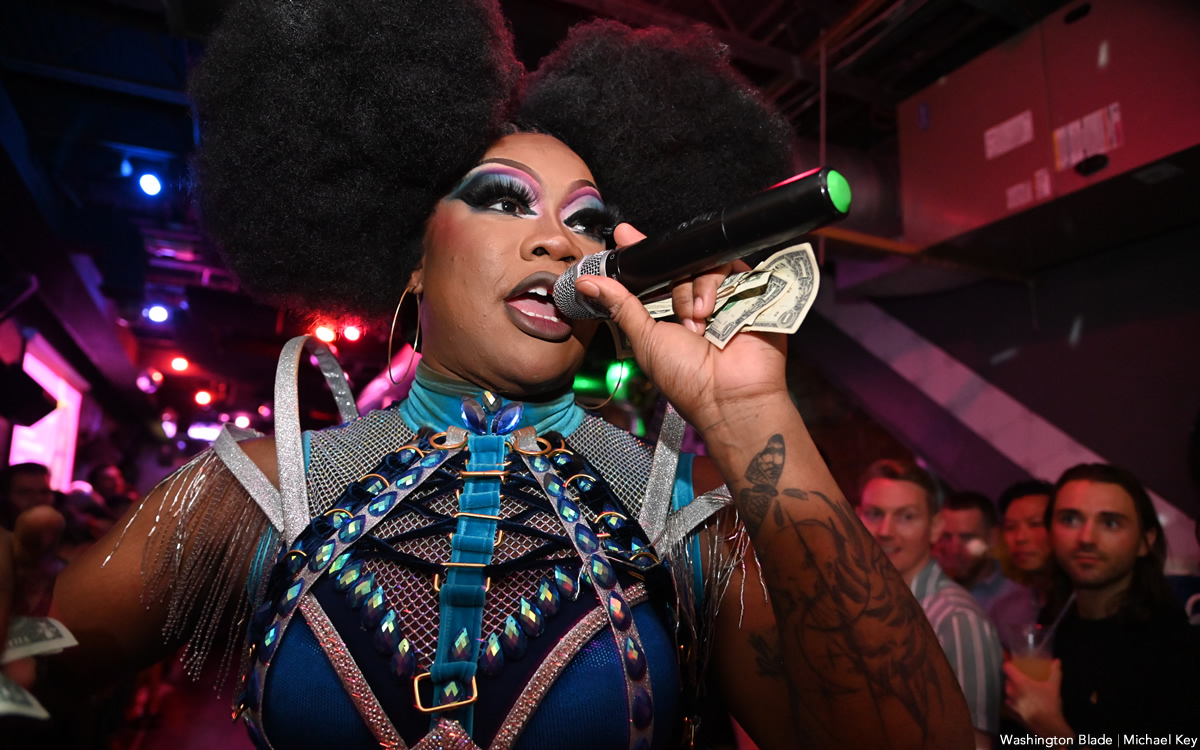 Thursday, August 11
10 p.m.
Pitchers DC/A League of Her Own
2317 18th Street, N.W.
Facebook
Venus Valhalla and Cake host the Thirsty Thursdays drag show at Pitchers/ALOHO on Aug. 11.
---
LGBTQ Social at Wild Days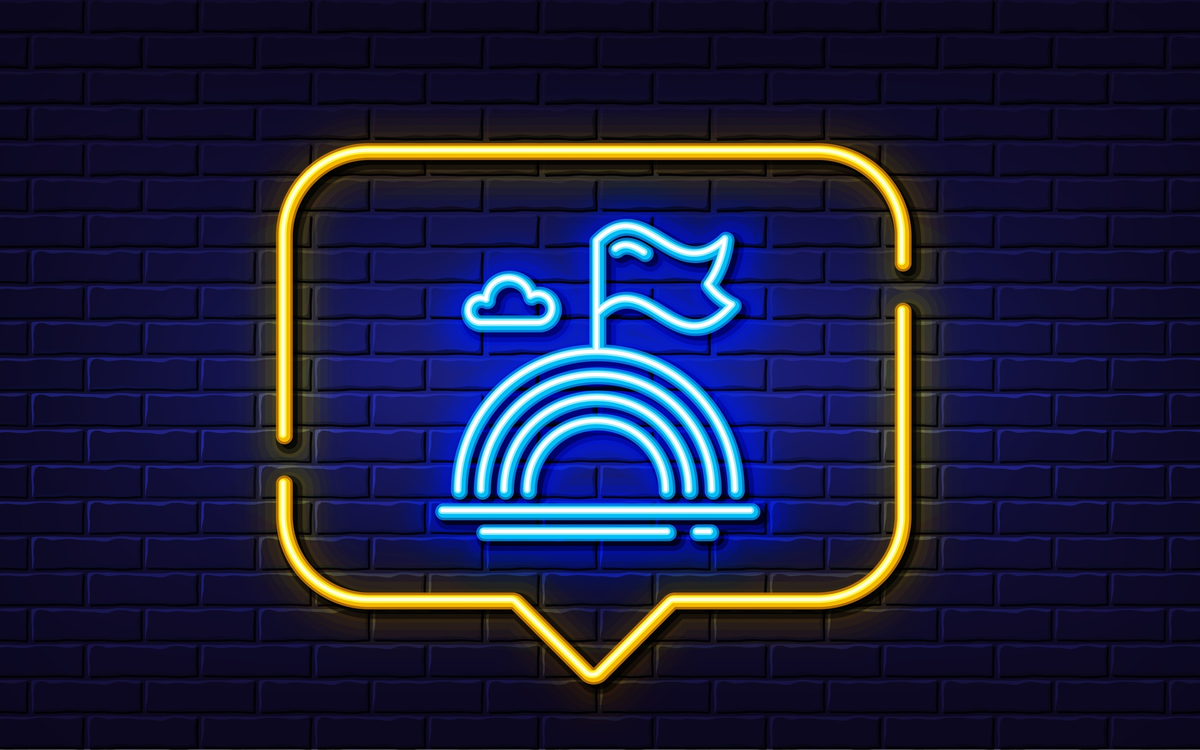 Friday, August 12
7-9 p.m.
Wild Days Rooftop Bar at the Eaton Hotel
1201 K Street, N.W.
21+
Eventbrite
Have some casual conversations with new friends in the LGBTQ community over drinks in a relaxed atmosphere. Hosted by Go Gay DC.
---
A Love Letter to RENT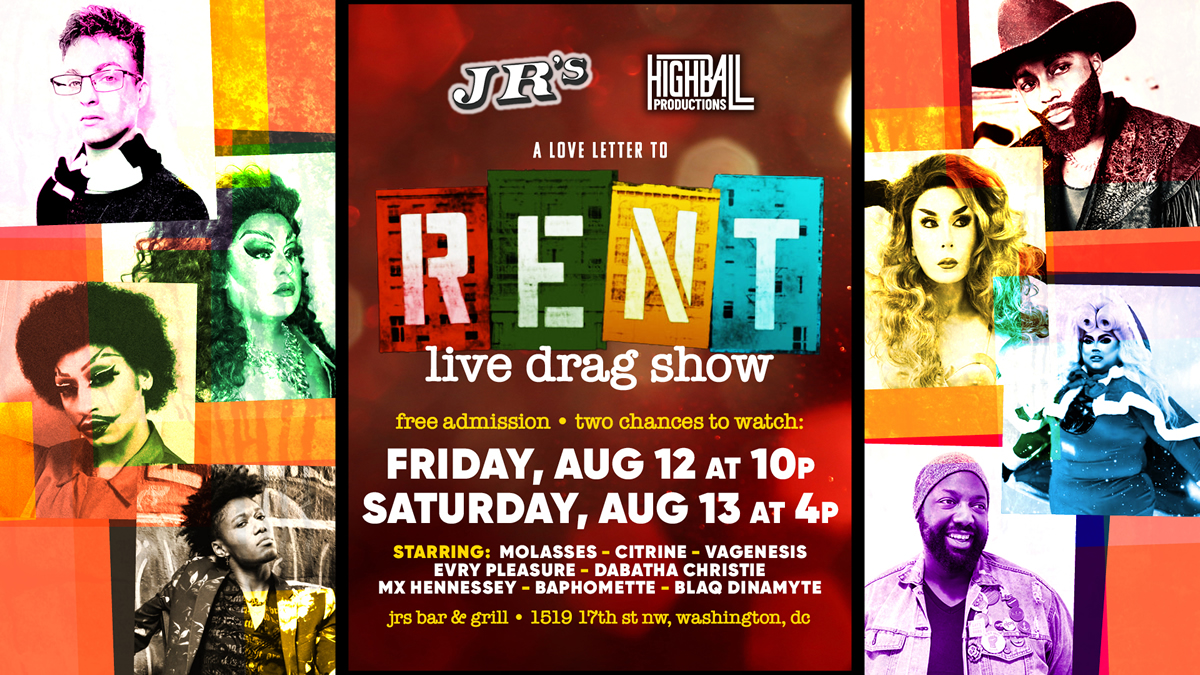 Friday, August 12
10 p.m.
JR.'s Bar
1519 17th Street, N.W.
Free admission
Facebook
Watch a drag show dedicated to the hit musical RENT. If you miss the first show on Friday, come by on Saturday at 4 p.m. for an encore performance.
---
Lights On, Barks Out! Disco Heat Drag Brunch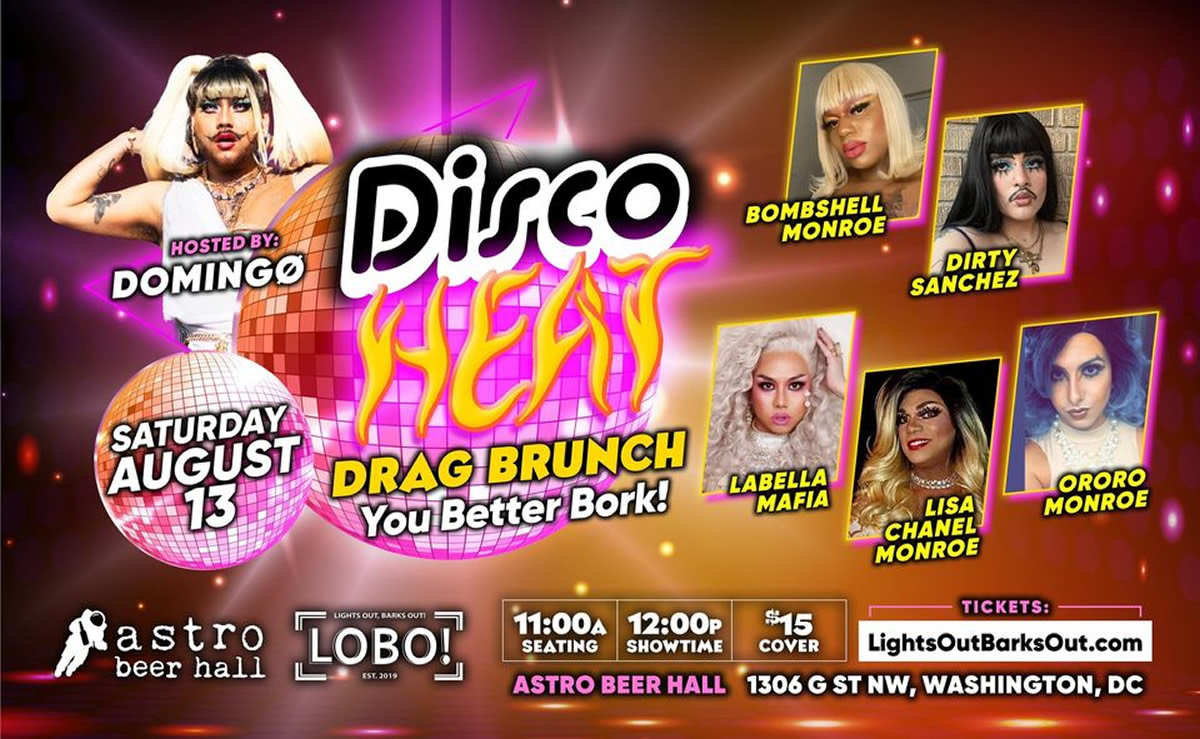 Saturday, August 13
Seating 11 a.m./show 12 p.m.
Astro Beer Hall
1306 G Street, N.W.
$15 cover
Facebook
Join host Doming0 for the Disco Heat Drag Brunch on Saturday at Astro Beer Hall.
---
Lake Anne Cardboard Boat Regatta
Saturday, August 13
2 p.m.
Lake Anne Plaza
1609 Washington Plaza
Reston, Va.
Facebook | Website
Watch a cardboard regatta race along Lake Anne in Reston, Va. Or, you could even participate (rules here)!
---
Mister & Miss AGLA Scholarship Fundraiser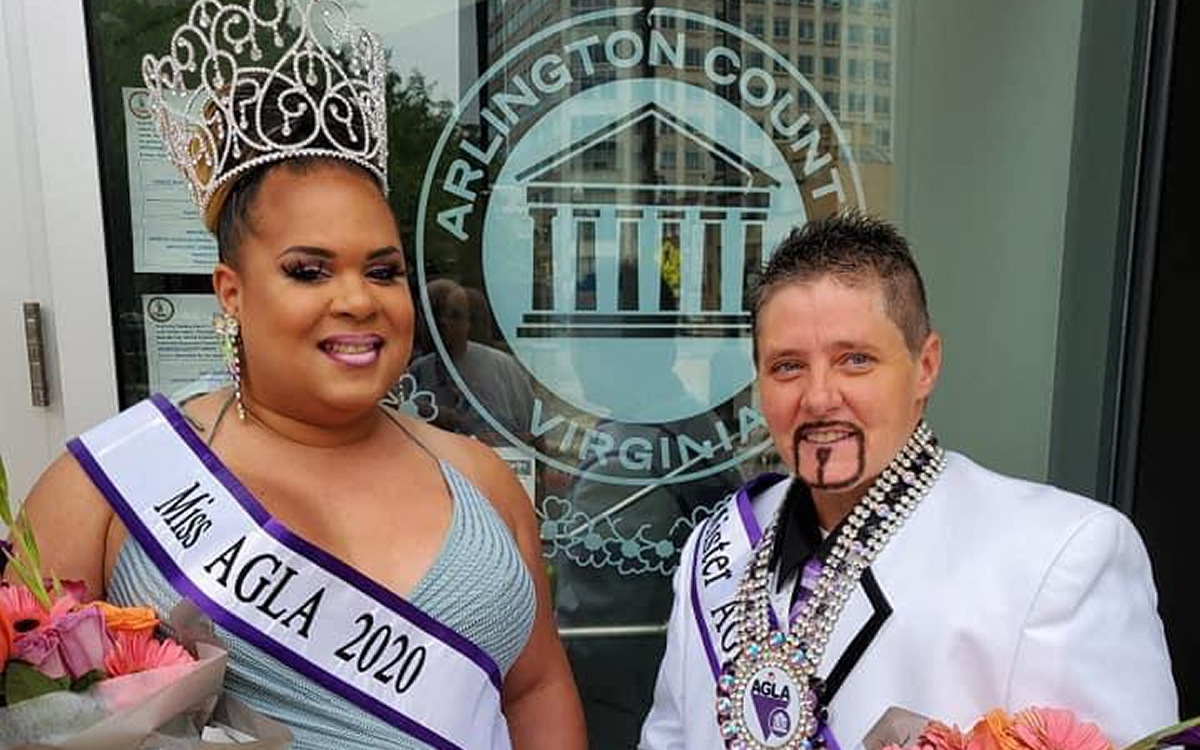 Sunday, August 14
7-9 p.m.
Freddie's Beach Bar & Grill
555 23rd Street S
Arlington, Va.
$10 donation requested
Facebook
Join a fundraiser for a good cause: a college scholarship for an outstanding Arlington County Public High School senior. Also, the 2022 Mr. and Miss AGLA will be crowned.
---
PHOTOS: United Night OUT
Team DC and Federal Triangles honored at halftime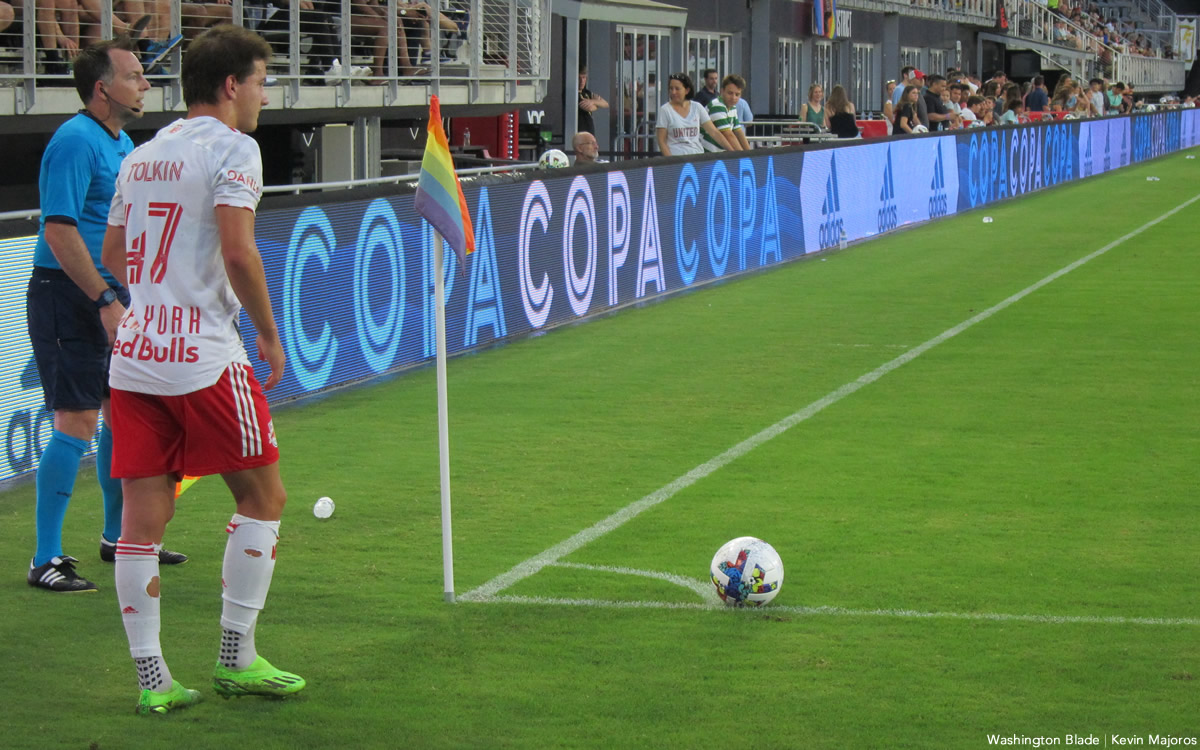 United Night OUT 2022 was held on August 6 at Audi Field with DC United taking on their Atlantic Cup rivals, the New York Red Bulls. The two teams battled to a 0-0 scoreless draw in their 99th meeting. The LGBTQ community event was co-hosted by Team DC and the Federal Triangles Soccer club who were both honored at halftime.
(Washington Blade photos by Kevin Majoros)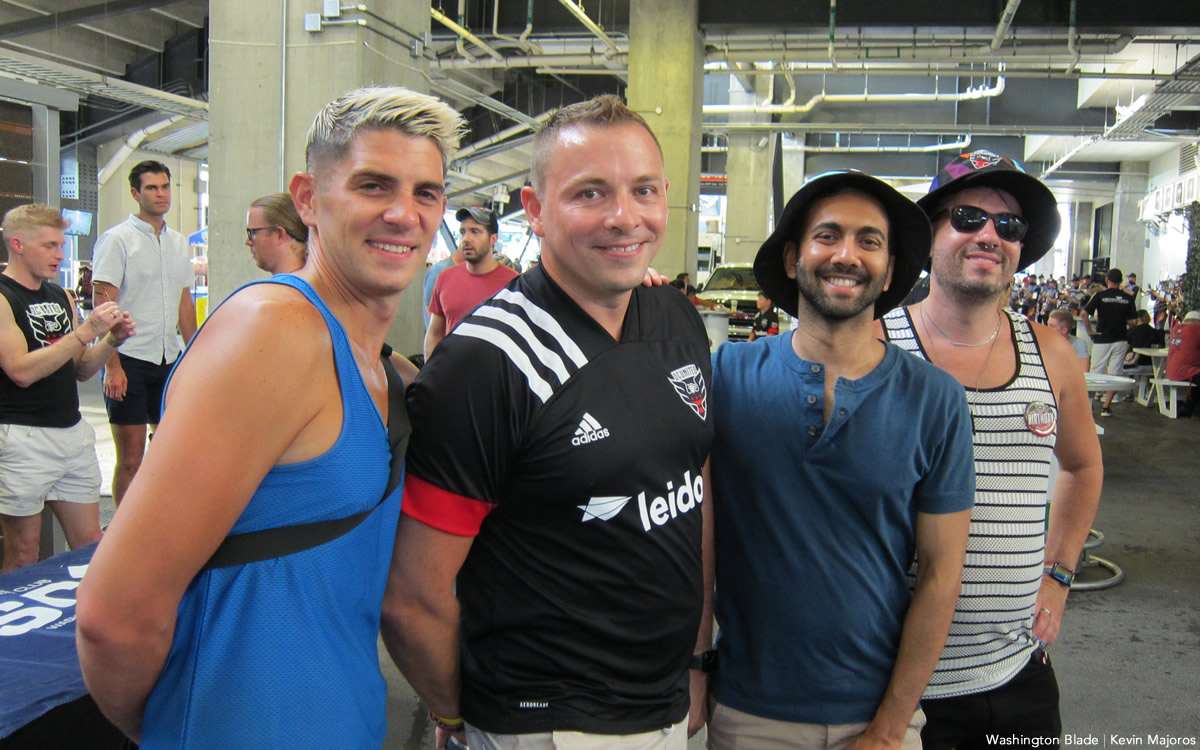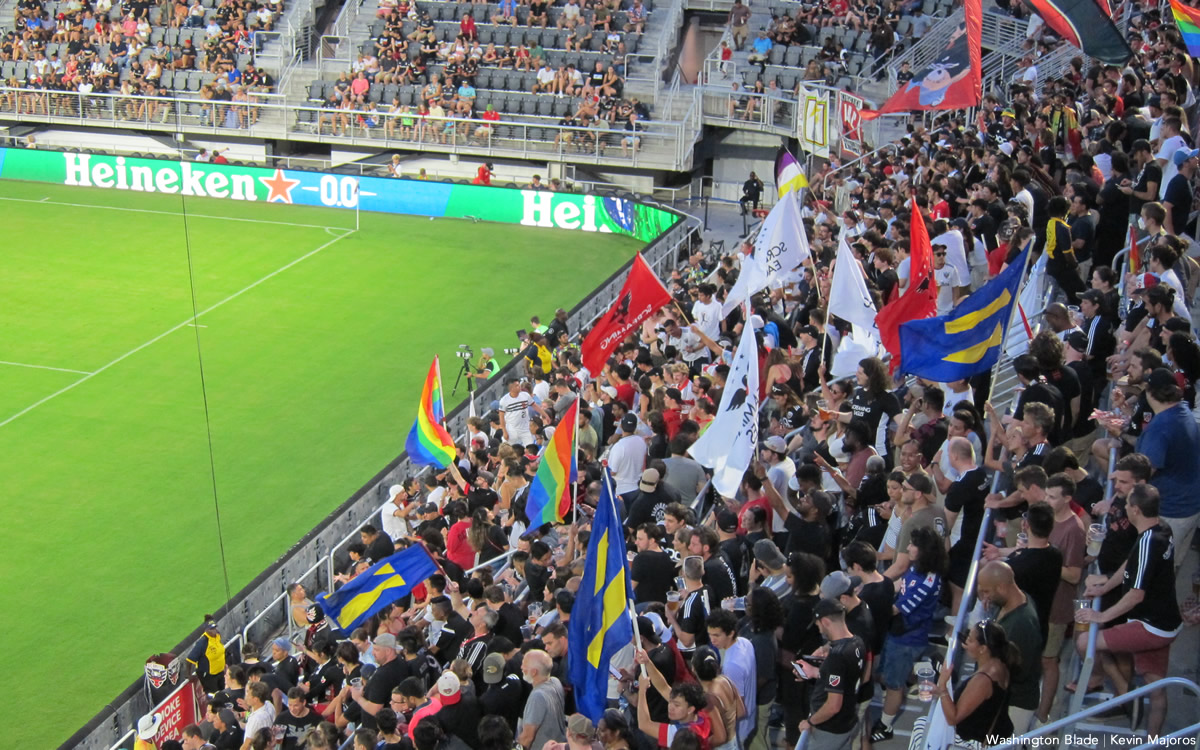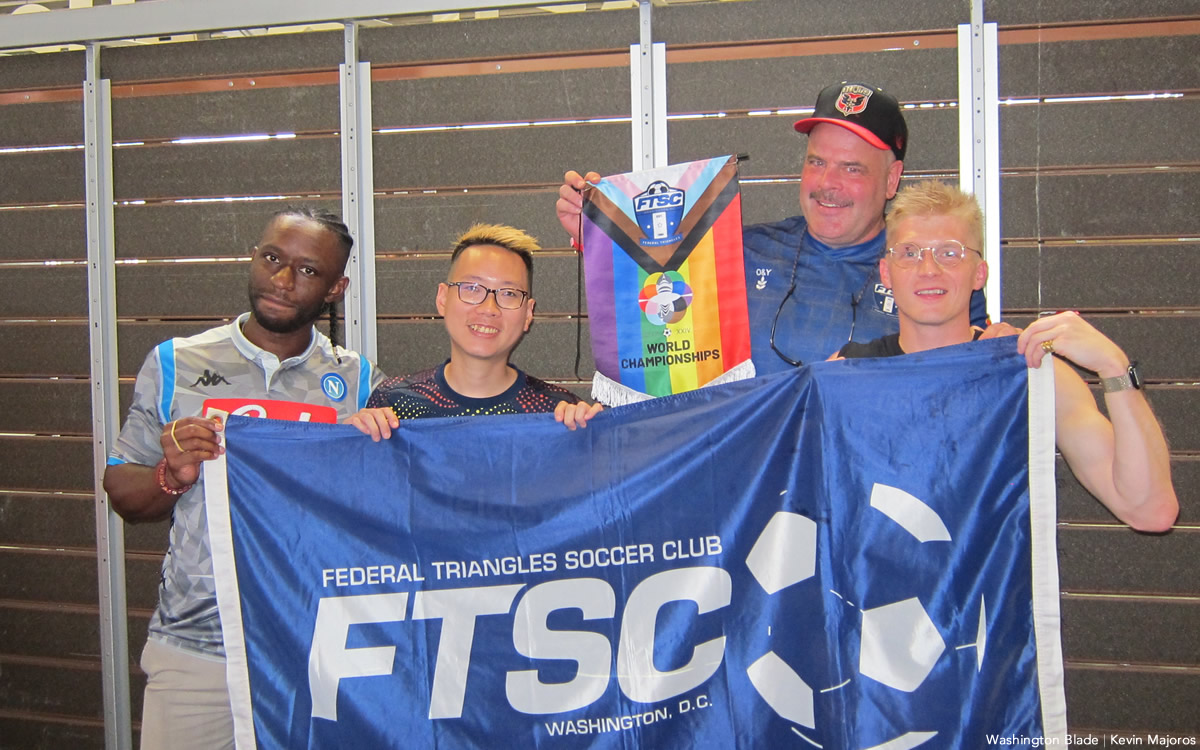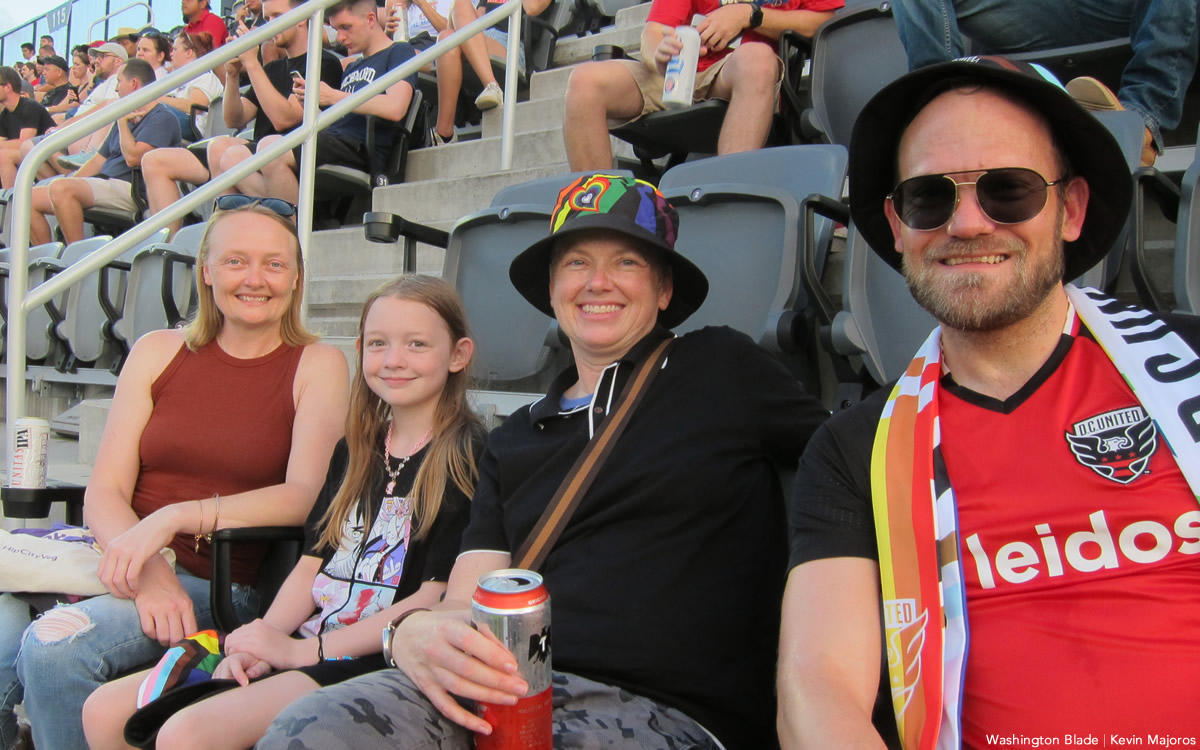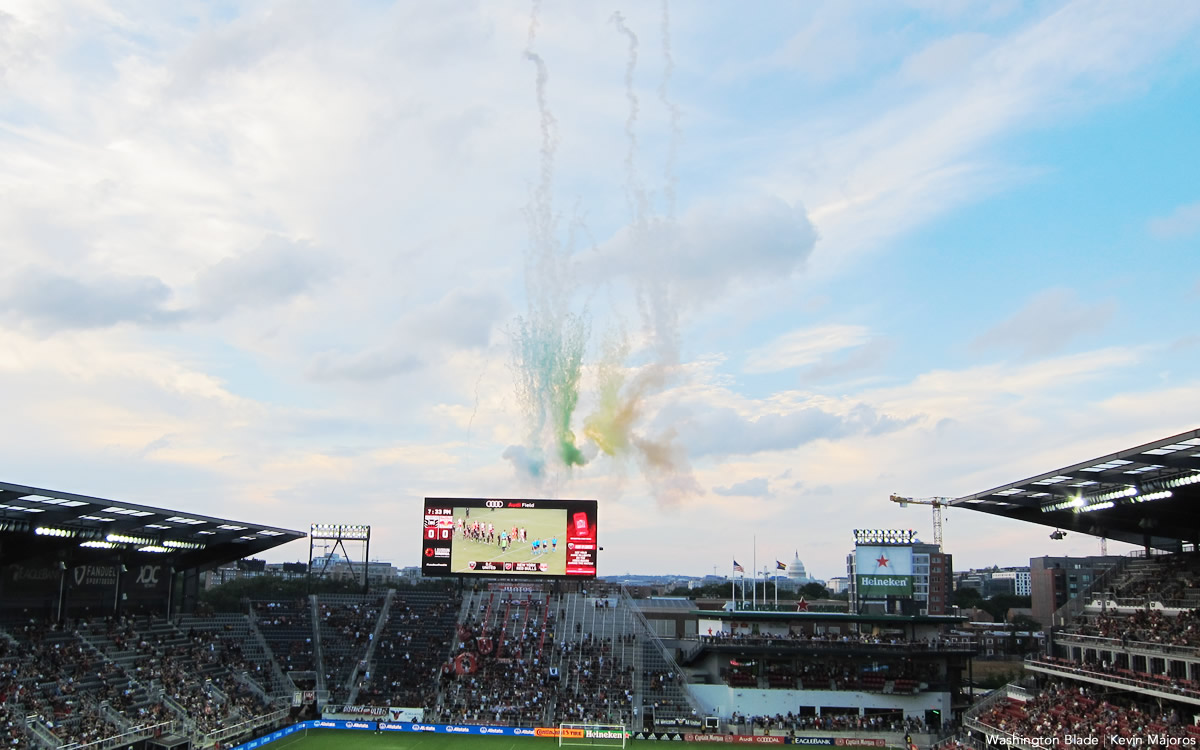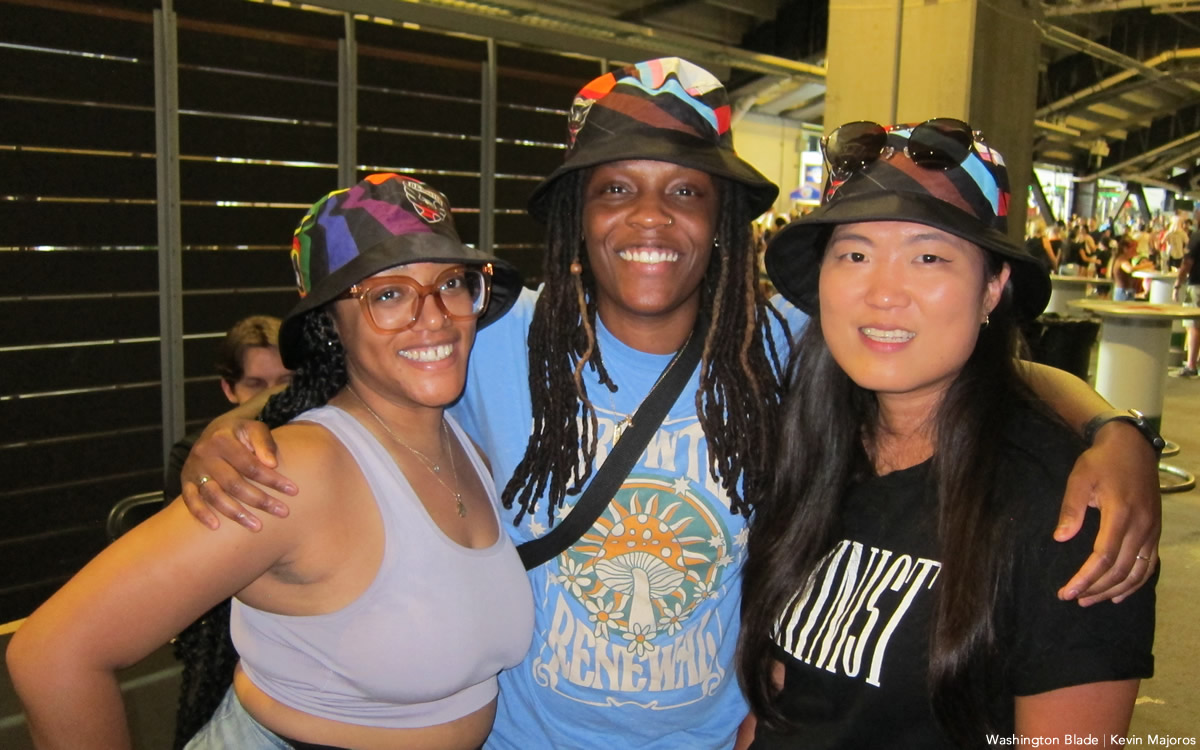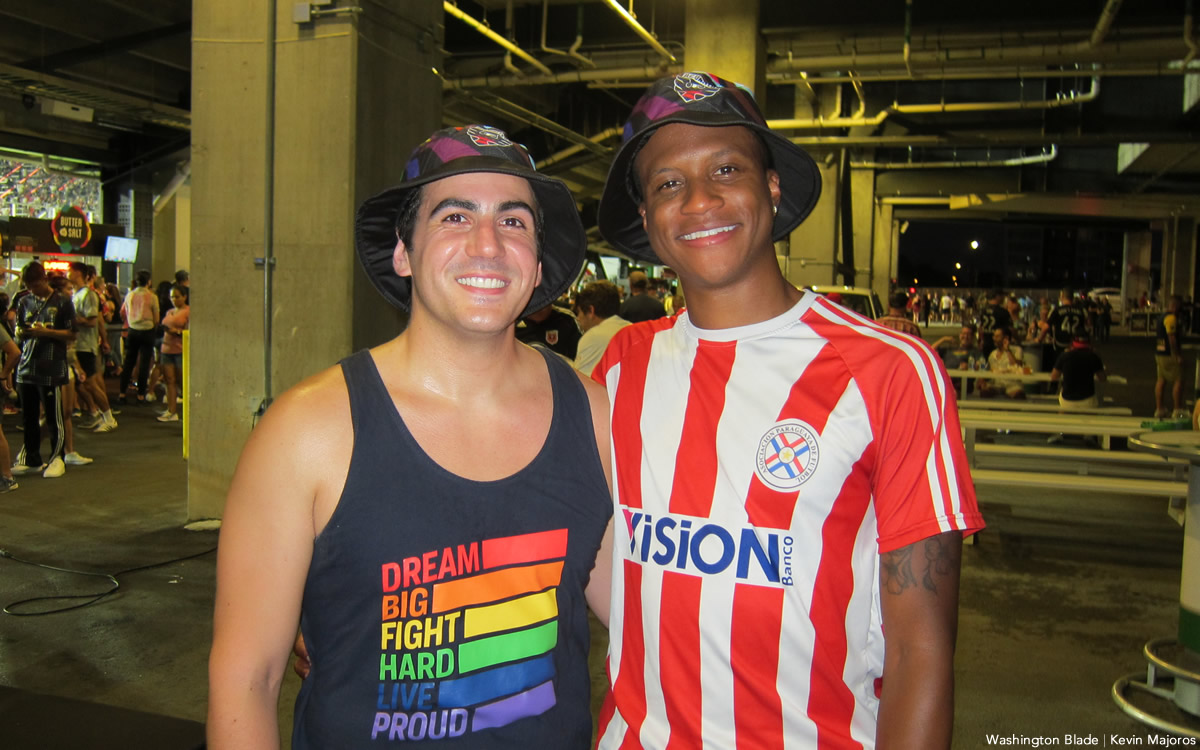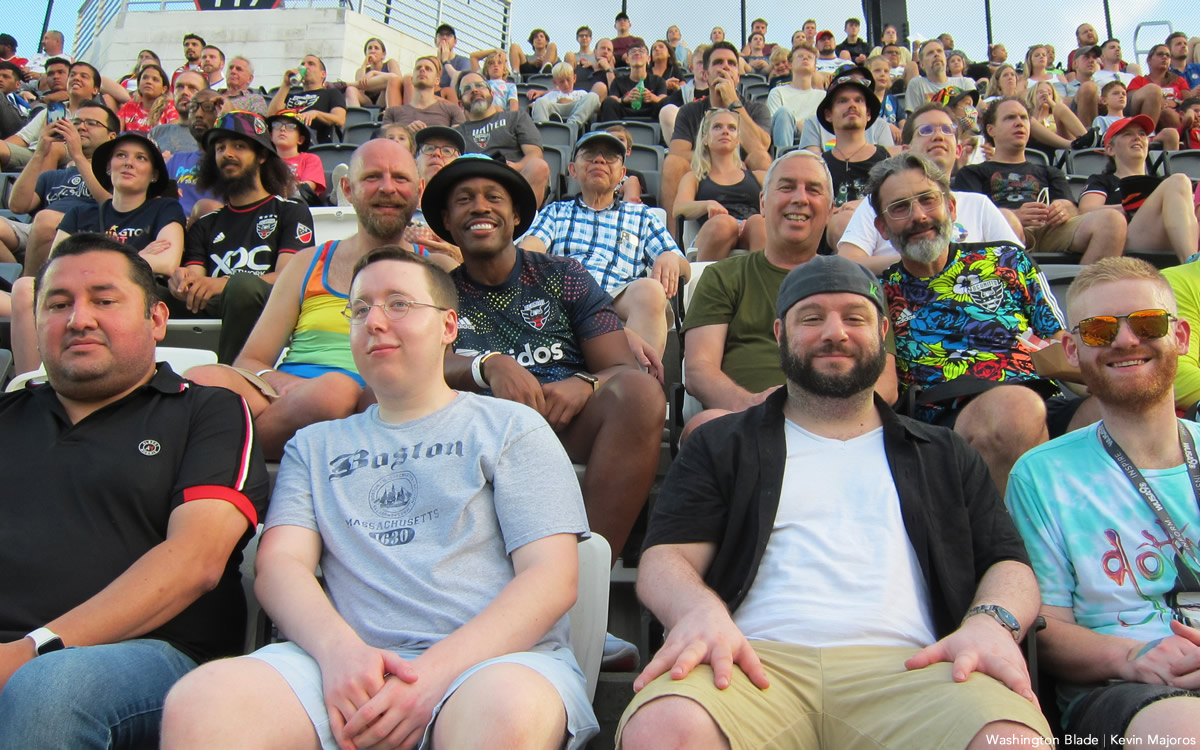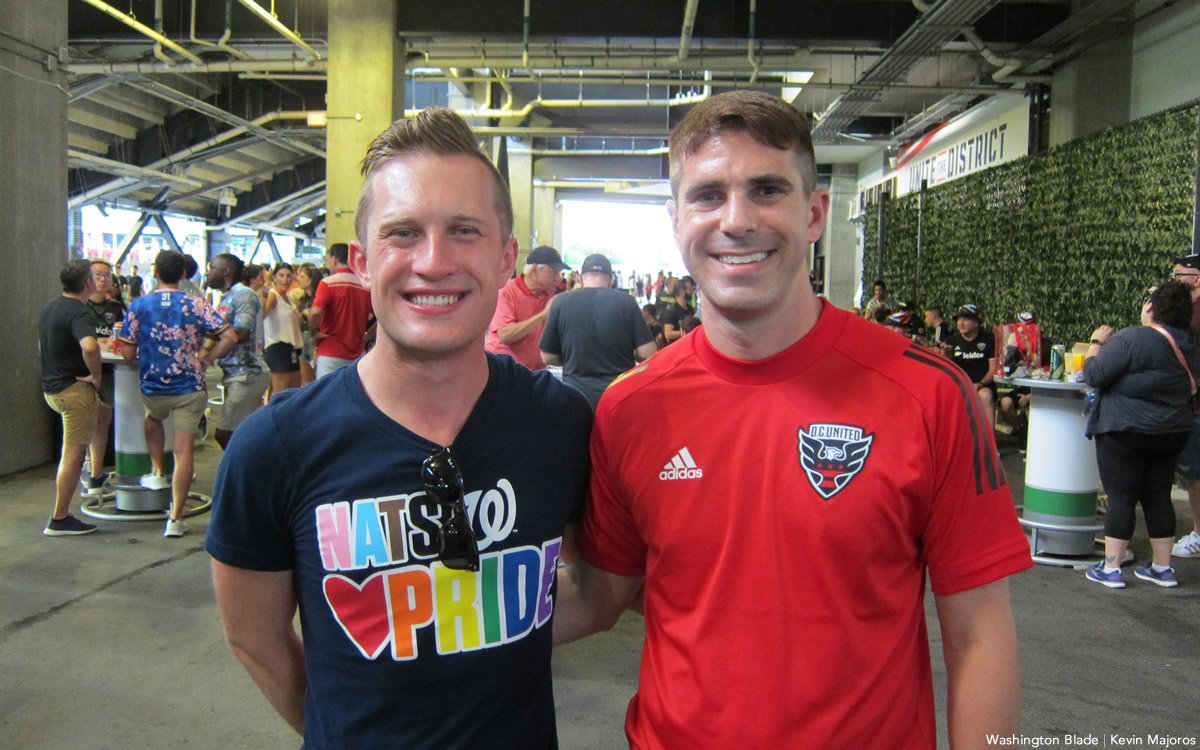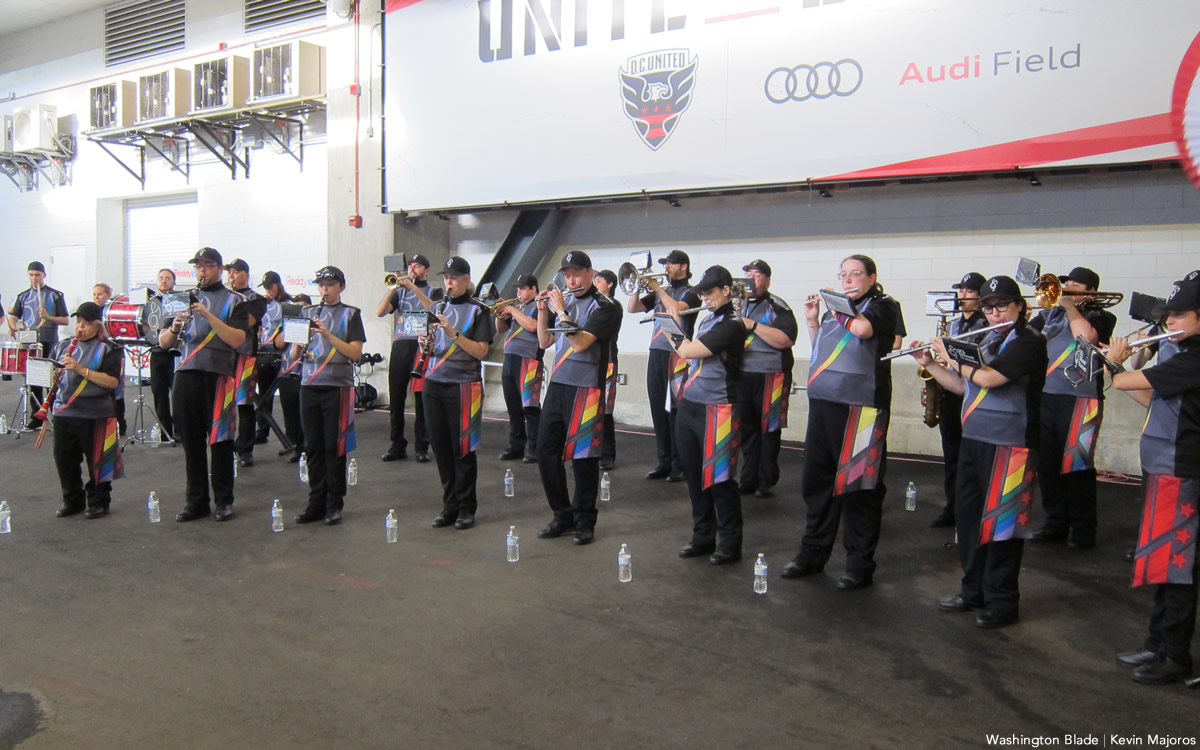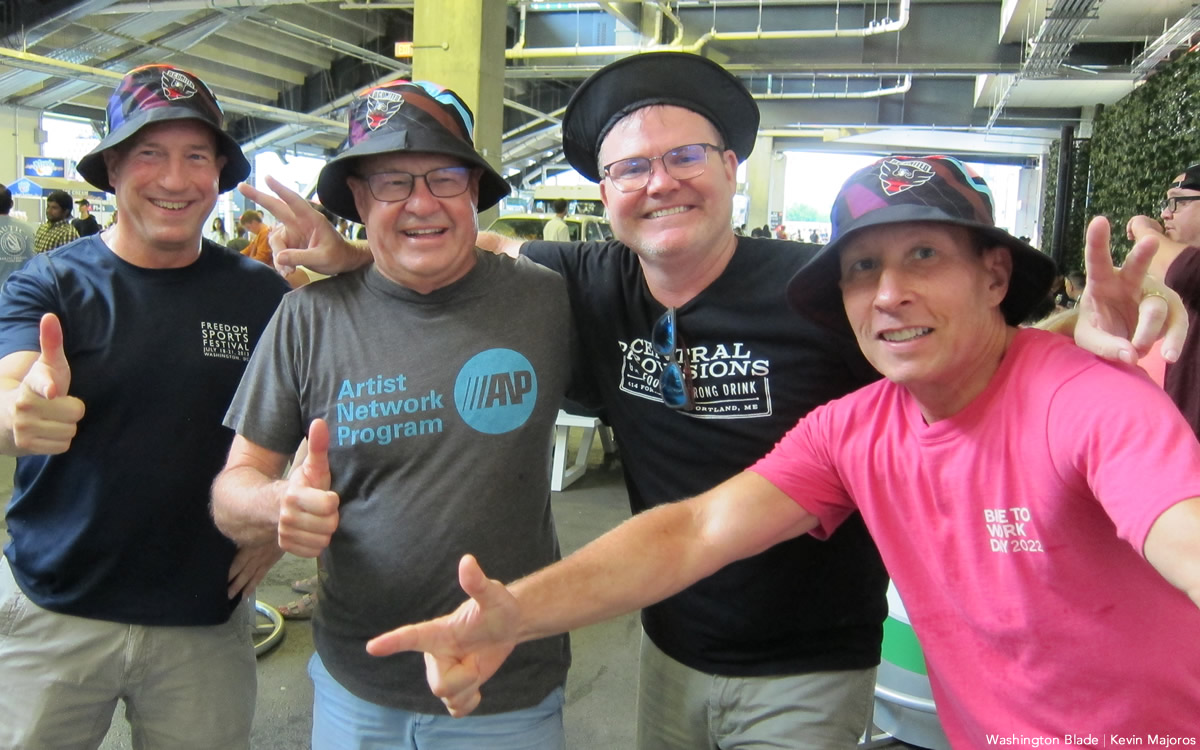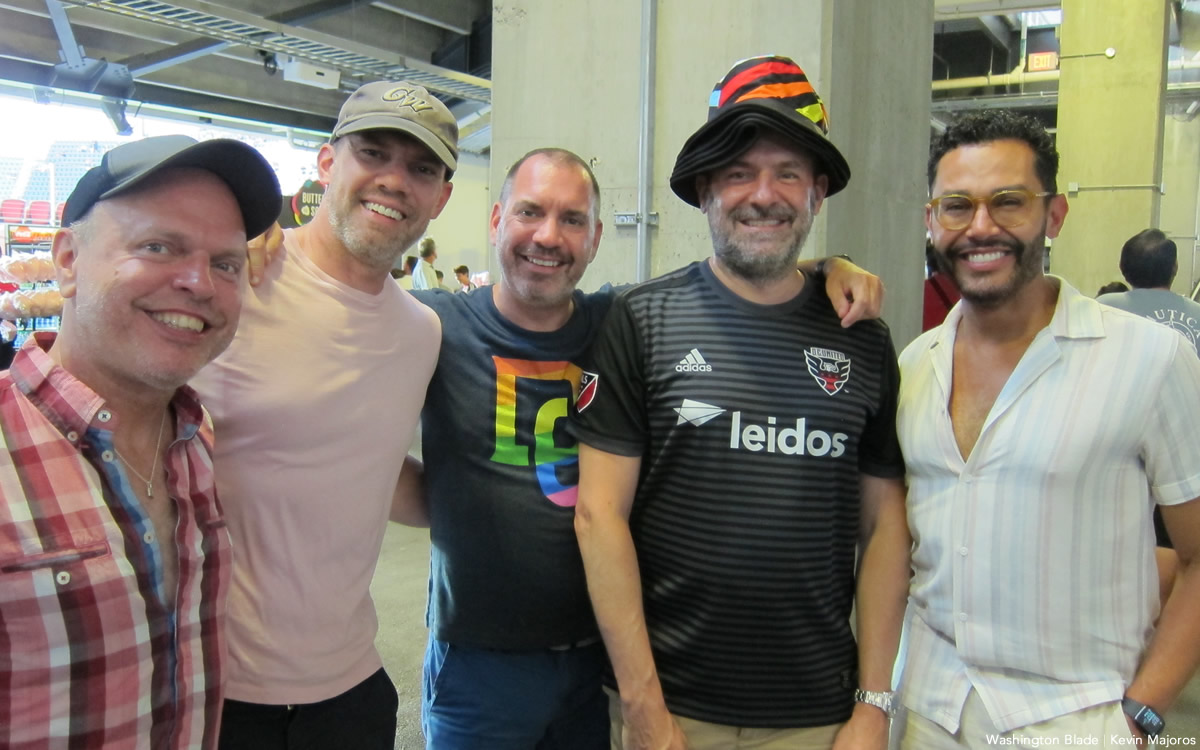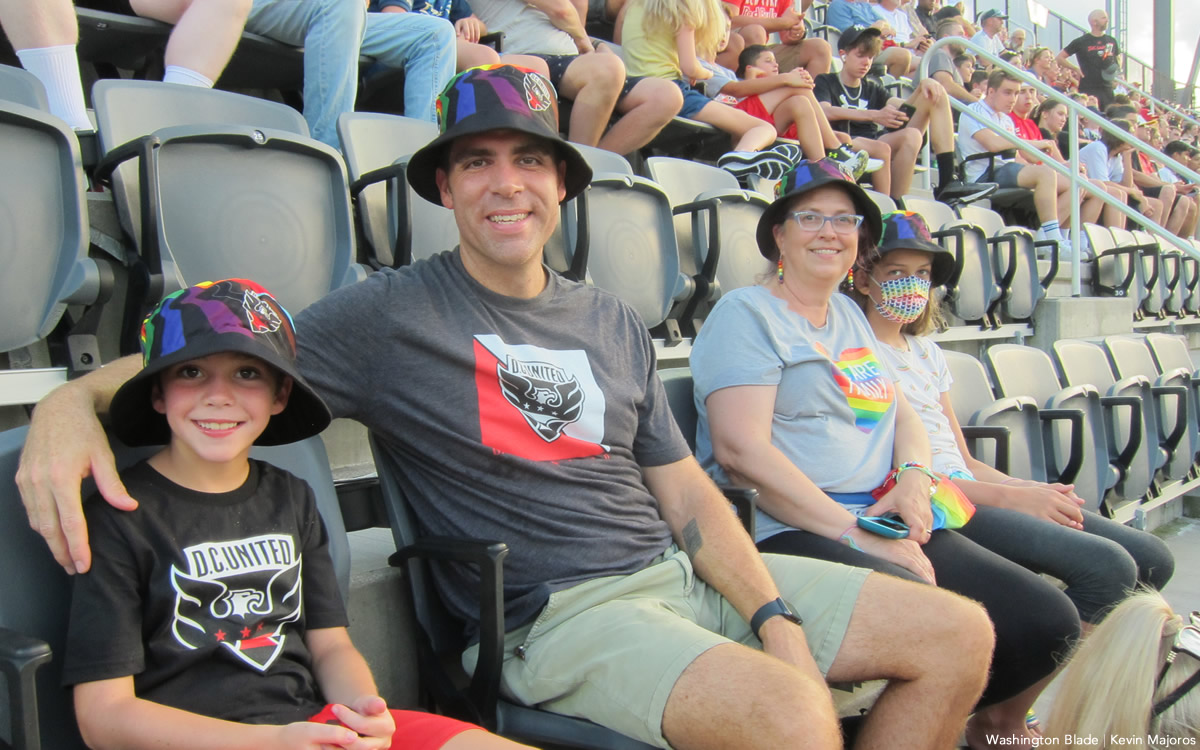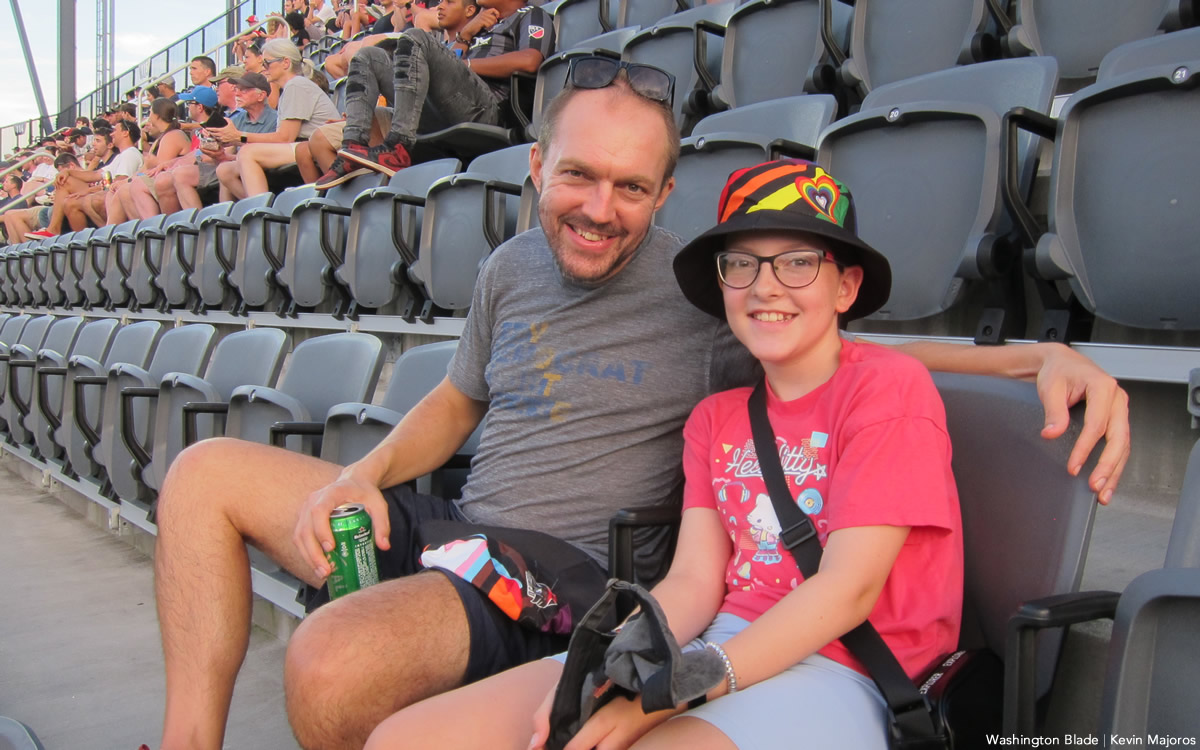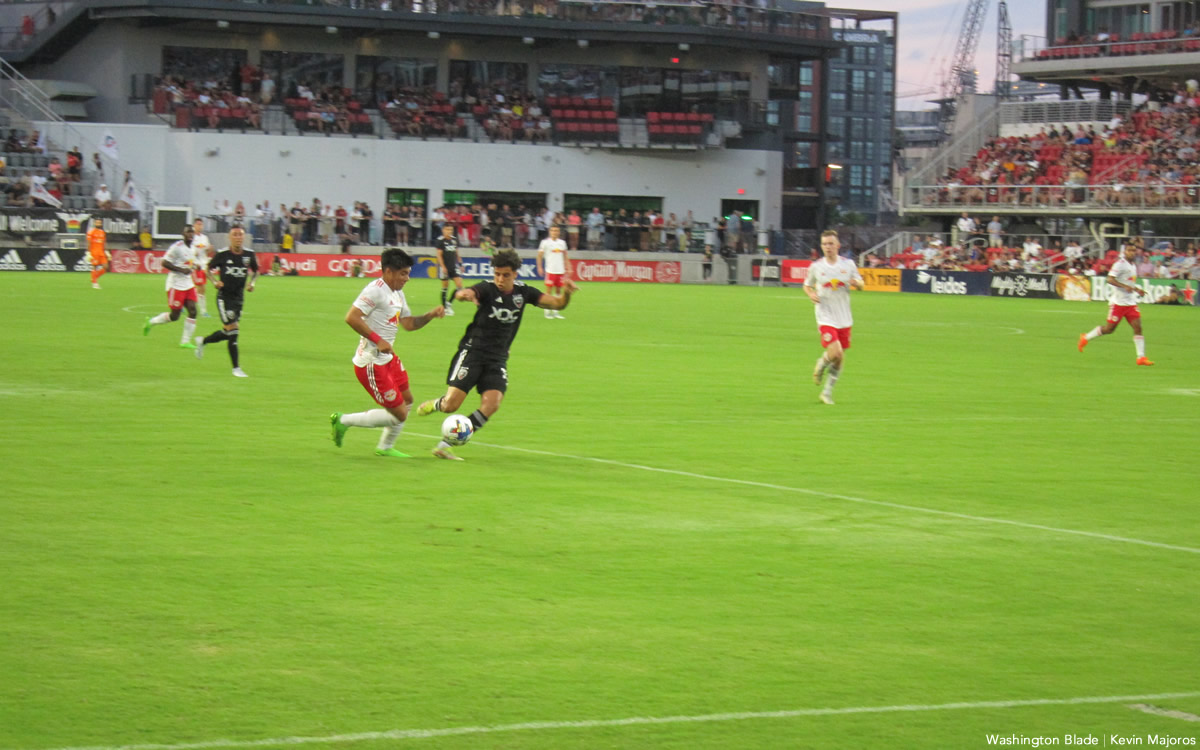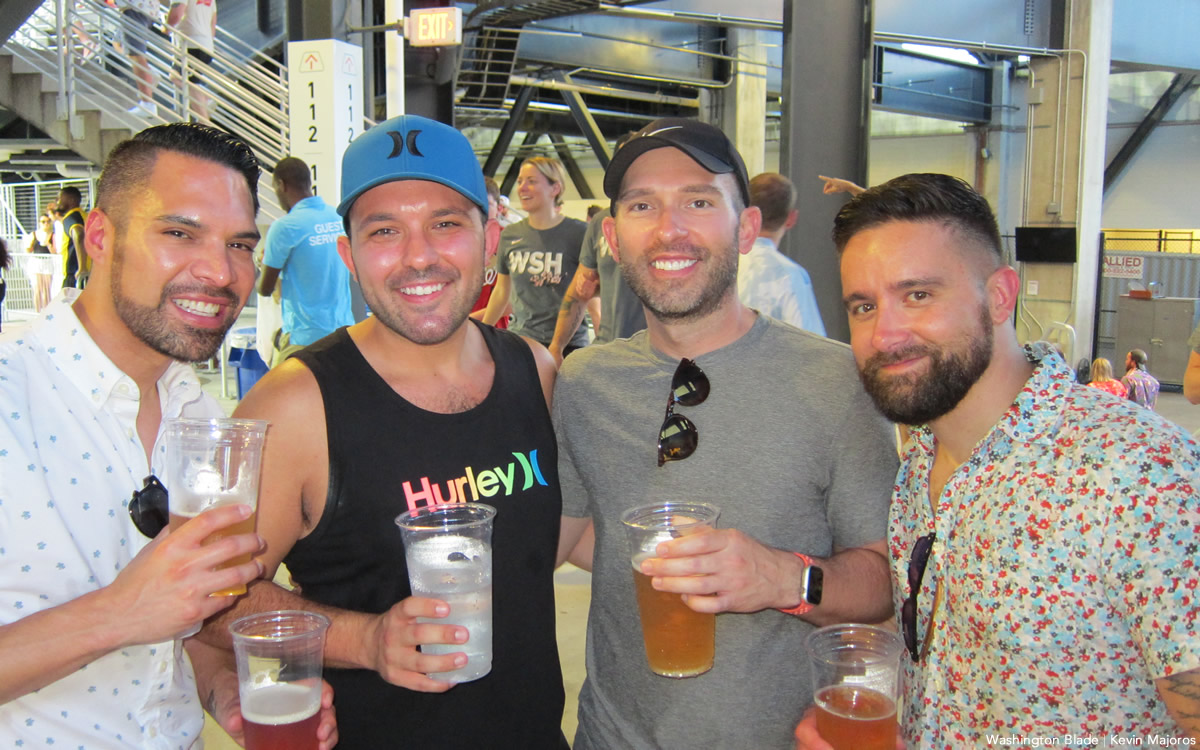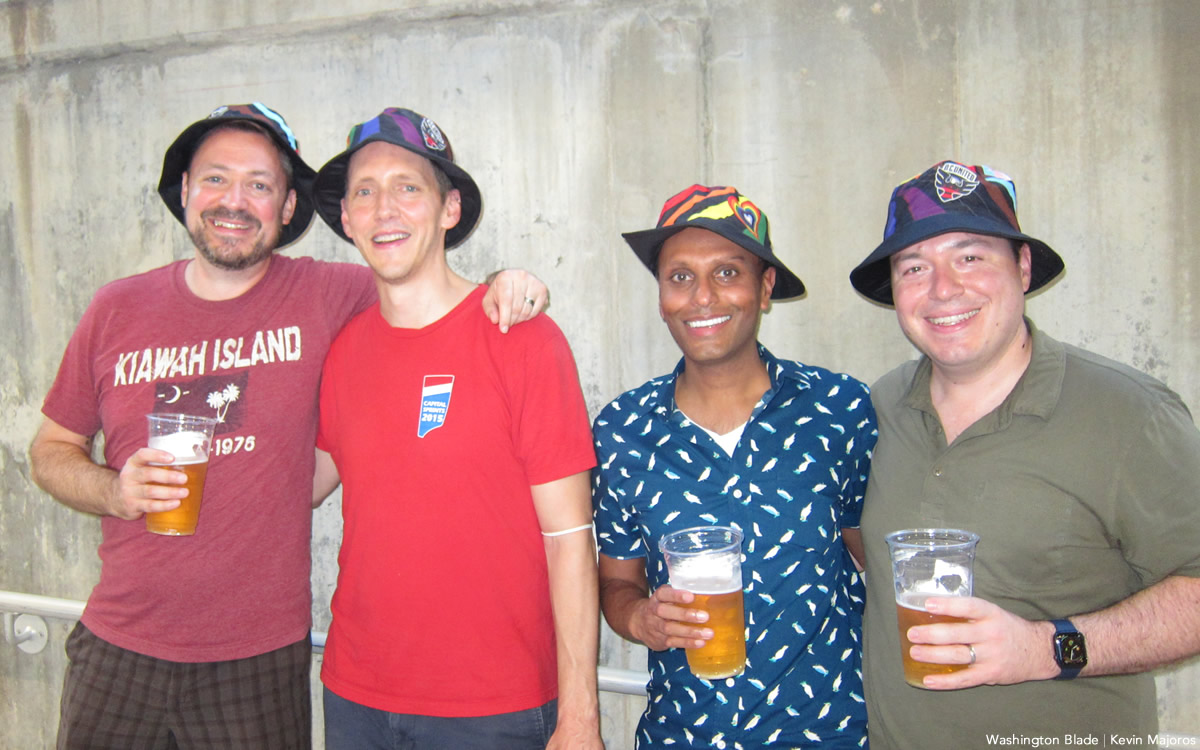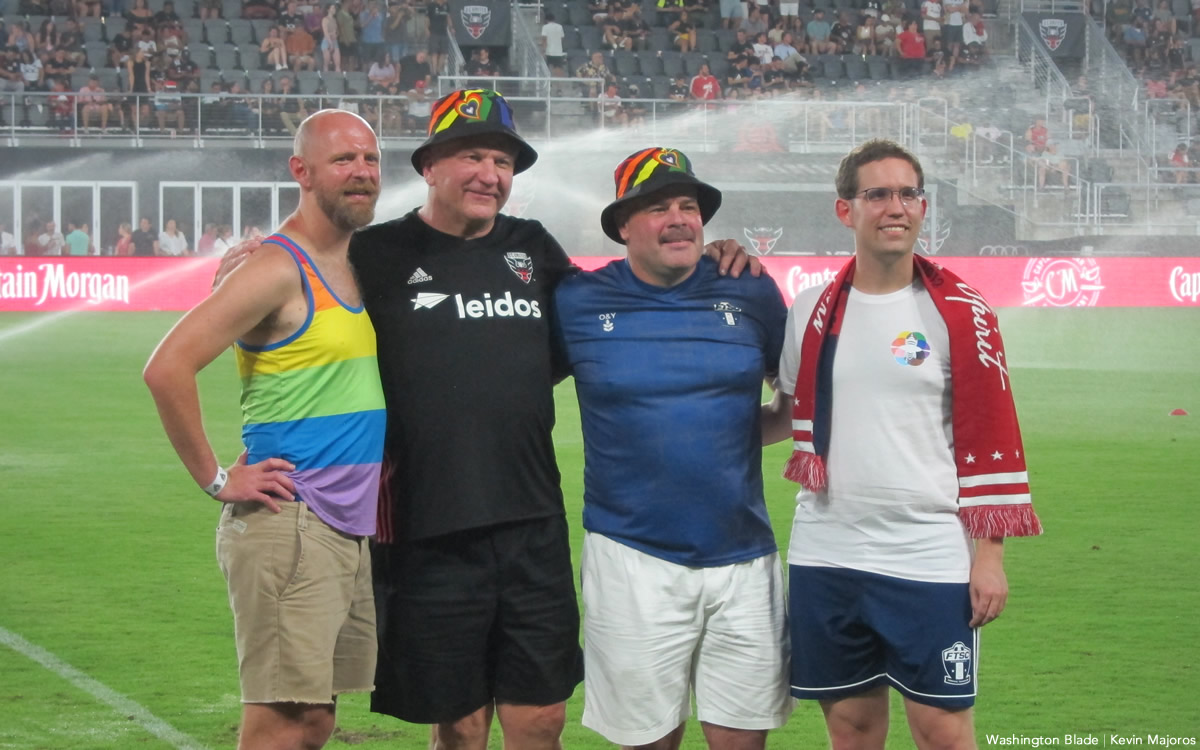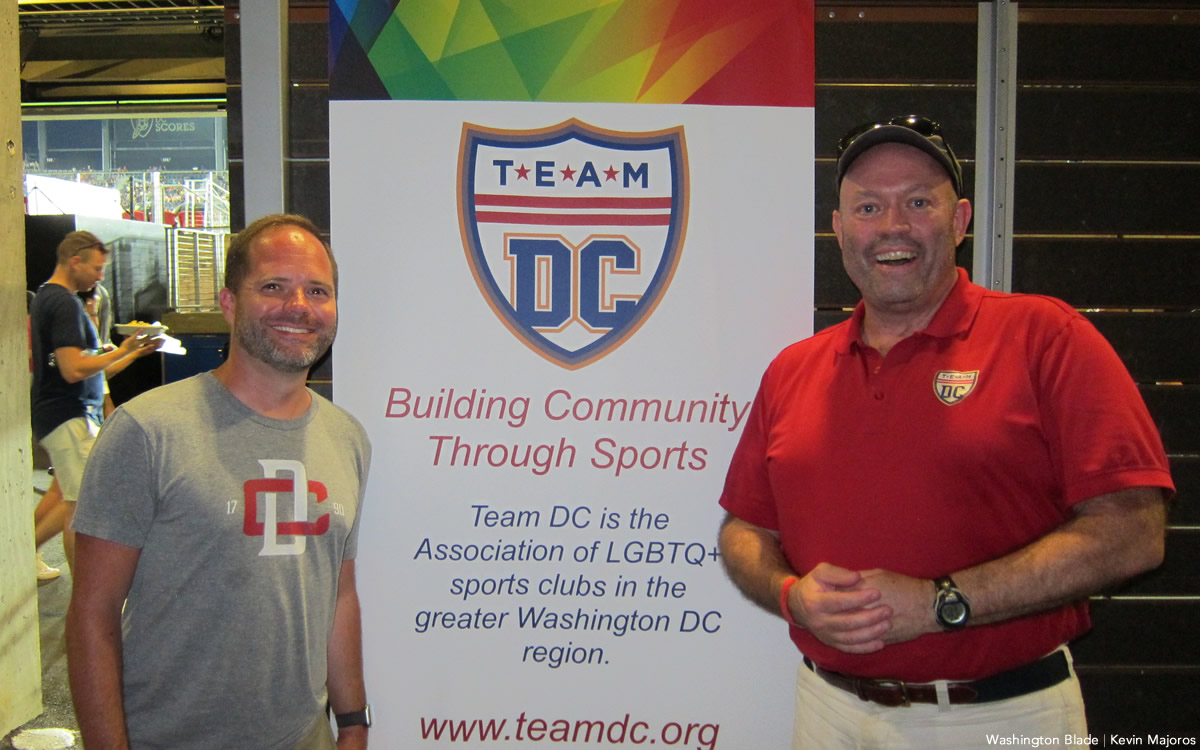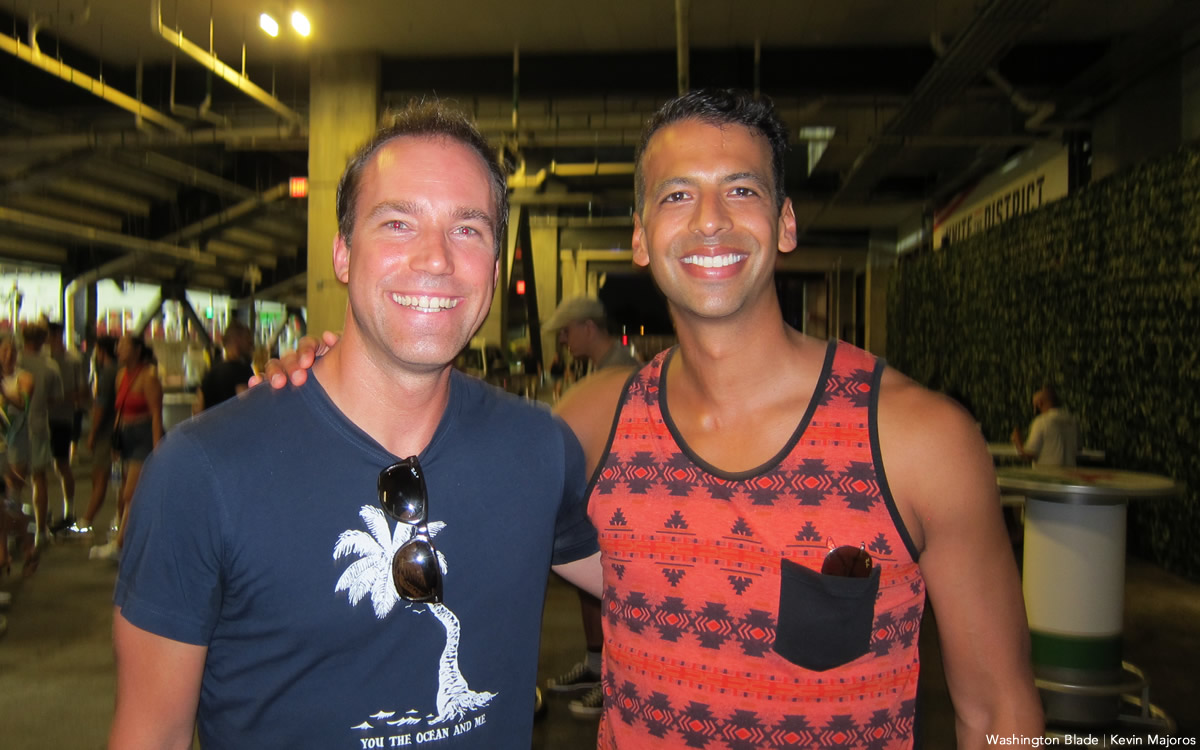 Abbi Jacobson engaged to her girlfriend Jodi Balfour
Last week, Jacobson and Balfour made their first red carpet debut at the Los Angeles premiere of A League of Their Own.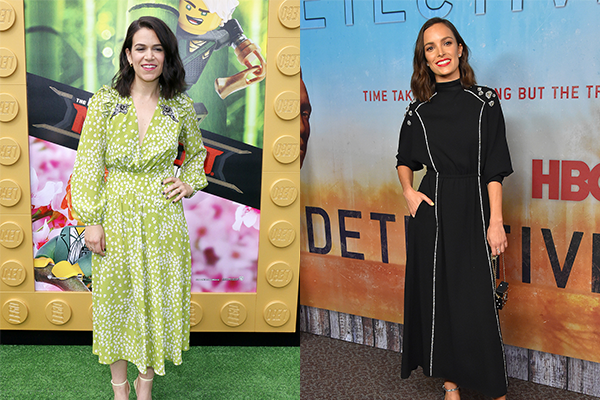 Abbi Jacobson, the Emmy Award nominee, is engaged to her girlfriend Jodi Balfour. She confirmed the news to People as she celebrated with her costars in the upcoming Amazon Video series A League of Their Own.
D'Arcy Carden, the costar and Jacobson's friend of 15 years, said, "It's out. It's great. We're so happy. We love [Jodi]."
"Abbi's engaged! Abbi's engaged! Abbi's engaged!" Chanté Adams, also a costar in the upcoming series, followed, "We've had to hide it for … No, I'm kidding."
"No, you have not. You have not had to hide it." Jacobson responded, blushing, "That was not a thing. It was not a secret."
Last week, Jacobson and Balfour made their first red carpet debut at the Los Angeles premiere of A League of Their Own.
The couple started dating in 2020 and celebrated their first anniversary last October. Jacobson shared some selfies of them on instagram: "One year with this incredible human. Don't know how I got so lucky ❤️."
Likewise, Balfour wrote in the caption: "365 days of the best surprise of my life 💚."
Jacobson officially came out as a bisexual in the interview with Vanity Fair. "I date men and women," she said, adding as long as the person is "funny" and is "doing something they love."
Balfour, a South African actress, is known for her performances on For All Mankind, Supernatural, The Crown and True Detective.
Jacobson is both cast and co-creator of A League of Their Own, in which she would tell the stories of these LGBTQ women in the 1940s. She also talked about Maybelle Blair, a consultant of the show as well as a former All-American Girls Professional Baseball League player who came out at 95.
"But Maybelle's point of view, specifically on the All-American Girls Professional Baseball League experience, what that was like to play baseball at the time, what it was like to be a queer woman in the league, was pretty important for some of the stories we were telling. But at Tribeca, she had not come out publicly and that was so incredible. And don't you feel like it's like, '95!' I'm like, 'This show needs to come out.' She came out because we made this show."
The first episode of A League of Their Own will be released on August 12.