A new era begins for HRC under Chad Griffin
Immediate challenges include ballot measures, re-electing Obama

After seven years leading the Human Rights Campaign, Joe Solmonese steps down next week, bringing change to the nation's largest LGBT rights organization just five months before a critical presidential election.
On Monday, Chad Griffin will officially take over as president of HRC, which, with an annual budget of $40 million and about 150 full-time employees, is often seen as the political and cultural lead for the LGBT community. Griffin was named HRC's new leader in March and replaces Solmonese, who has headed the organization since March 2005.
Solmonese saw many historic and positive changes for the LGBT community in his seven years at the helm. Among them are the defeat of the Federal Marriage Amendment during the Bush years, the fight to repeal "Don't Ask, Don't Tell" and, most recently, the first sitting U.S. president coming out in support of same-sex marriage.
Major challenges await Griffin, including the effort to re-elect President Obama, who has already won HRC's endorsement. Also ahead, fights over marriage on the ballot in Minnesota, Maine, Maryland and Washington State as well as pursuing long-awaited federal employment non-discrimination protections for LGBT people.
Will Griffin take HRC in a new direction or bring a different style of leadership? The organization has often been criticized in the blogosphere for being too timid in taking on the Democratic establishment and not representing the "queer" faction of the LGBT community. Will the new leadership foster a new perception of the organization?
Griffin is best known for his work as board chair of the American Foundation for Equal Rights and its federal lawsuit challenging California's Proposition 8, but he's also had an extensive career fighting for progressive causes. According to his bio on AFER's website, Griffin is founding partner of political and communications strategy firm Griffin-Schake, and taken on the tobacco and oil industries while advocating for issues such as clean energy, universal health care, stem cell research and early childhood education.
Another open question sparking plenty of speculation concerns HRC's staffing. Will Griffin bring in his own people as he takes the helm? Some staffers — including David Smith, HRC's vice president of programs — have been working in the LGBT rights movement since the early 1990s. It's possible other HRC staffers may take Solmonese's exit as a cue to make their own departure.
Both Solmonese and Griffin were unavailable for interviews for this article. LGBT rights advocates had different takes on their predictions for the leadership style of Griffin compared to Solmonese.
Winnie Stachelberg, vice president of external affairs at the Center for American Progress, called Griffin a "stupendous choice" and a "passionate advocate … for the range of issues that confront our community," but characterized the new leadership as a continuation of the work seen under Solmonese.
"We're not pivoting," Stachelberg said. "It's not as if we've moved from a leadership style of Joe Solmonese and we're moving to the leadership style of Chad Griffin. What I think is encouraging about the shift from Joe to Chad is just the leadership that both of them have, the respect that both of them have — not only in the LGBT community, but in the progressive community more broadly."
Michael Petrelis, a gay San Francisco-based blogger who has criticized HRC, was skeptical of any change and remained critical of HRC, calling the organization "an elitist social network known more for opening LGBT checkbooks for Democrats" than being interested in engaging with the larger LGBT community.
Among the goals that Petrelis called on Griffin to pursue at HRC were his plan for regional town halls, transparency over board of directors meetings and decisions, greater engagement with grassroots activists and ordinary LGBT people as well as a "commitment to members of the community who don't want to get married or join the military."
"The DNA of HRC is not wired to allow one man to change the institutional culture and I've heard nothing from Chad indicating that he wants to reform the organization," Petrelis said. "All I expect of HRC regardless of who the executive leadership team comprises, is fealty to the Democratic Party and a commitment to keep the community from getting too pushy and uppity in demanding fierce advocacy and lasting change from our friends."
But Stachelberg, formerly HRC's political director, disputed the notion that HRC had been reluctant to criticize the Obama administration or Democratic leadership when the need arose.
"They've criticized the administration when they've seemed the most strategic, and they've worked with the administration and the Democratic establishment, as you call it, in lots of key ways," Stachelberg said. "They don't always agree with the Democratic leadership in the House and the Senate, and they make that clear. They don't always agree with how a Democrat in a state operates, and I think they've made that clear."
Steve Elmendorf, a gay Democratic lobbyist, said he hopes HRC will focus on the presidential election and making sure President Obama stays in the White House.
"We have a presidential campaign, with, I think, the clearest difference we've ever seen between two candidates," Elmendorf said. "I think there are obviously other priorities in the House and the Senate and the ballot initiatives, but I think that the community — and I don't speak for HRC — but I hope that its No. 1 goal between now and Election Day is to make sure that Barack Obama wins."
In the long term, Elmendorf said the LGBT rights movement must reach out to public officials who've been on the fence about LGBT support — especially Republicans.
"I think that a lot of politicians, particularly on the Republican side, are behind where the voters are," Elmendorf said. "I think Barack Obama and gay marriage was hugely important and symbolic. We have to grow that on the other side, though. We have to get some Republicans to step out and show that it's OK to be on the correct side on our issues, and you can do that and get re-elected."
Elmendorf said he's been a fan of HRC under the leadership of Solmonese and doesn't think anything is wrong with the organization,  but acknowledged that "all organizations need to periodically change leadership and look internally at themselves and see how they can do a better job."
"The world is changing on our issues and I think every year or two years organizations need to look at how the world is changing and figure out how we can do a better job," he said.
Griffin has already taken a more aggressive stance in pushing public officials to support marriage equality even before he's officially assumed his duties. Last month, after Vice President Joe Biden said on NBC's "Meet the Press" that he's "absolutely comfortable" with married gay couples having the "same exact rights" as straight couples — which many media outlets reported as support for marriage equality — Solmonese issued a statement saying he's "encouraged" by Biden's comments without explicitly calling it an endorsement.
But Griffin went a step further, telling media outlets that without a doubt Biden's remarks were an endorsement of marriage equality. In an interview with the Washington Post, Griffin said "only in Washington and only in politics could someone parse the words of what the vice president said" and Biden was "very clear and very direct when asked if he was comfortable with gay marriage."
Obama came out for same-sex marriage days later and Biden's remarks have since been interpreted as an endorsement of marriage rights for gay couples (prompting Biden reportedly to apologize to the president for stepping out ahead of the president). Following Obama's endorsement of marriage, Griffin issued another statement through HRC calling on members of Congress to follow the president's lead.
"The American public has expressed interest in where their elected officials stand on the issue of marriage for gay and lesbian couples," Griffin said. "The president has had the courage and integrity to speak out for marriage equality. Now is the time for members of Congress to do so too."
Shortly thereafter, some public officials followed suit, including House Democratic Whip Steny Hoyer (D-Md.), Assistant Minority Leader Jim Clyburn (D-S.C.) and Illinois Gov. Pat Quinn (D).
John Aravosis, editor of AMERICAblog, said Griffin has already demonstrated considerable skill as an activist, but said keeping up his effectiveness will be challenging after he officially assumes his new duties.
"Chad has proven himself an effective activist with proven political smarts," Aravosis said. "The challenge for Chad will be maintaining his scrappy effectiveness while at the helm of a large organization not always known for being nimble and edgy. I think it can be done, but he'll have his work cut out for him."
Mixed views among U.S. adults on trans issues: Pew
Most back non-discrimination, but divided on other issues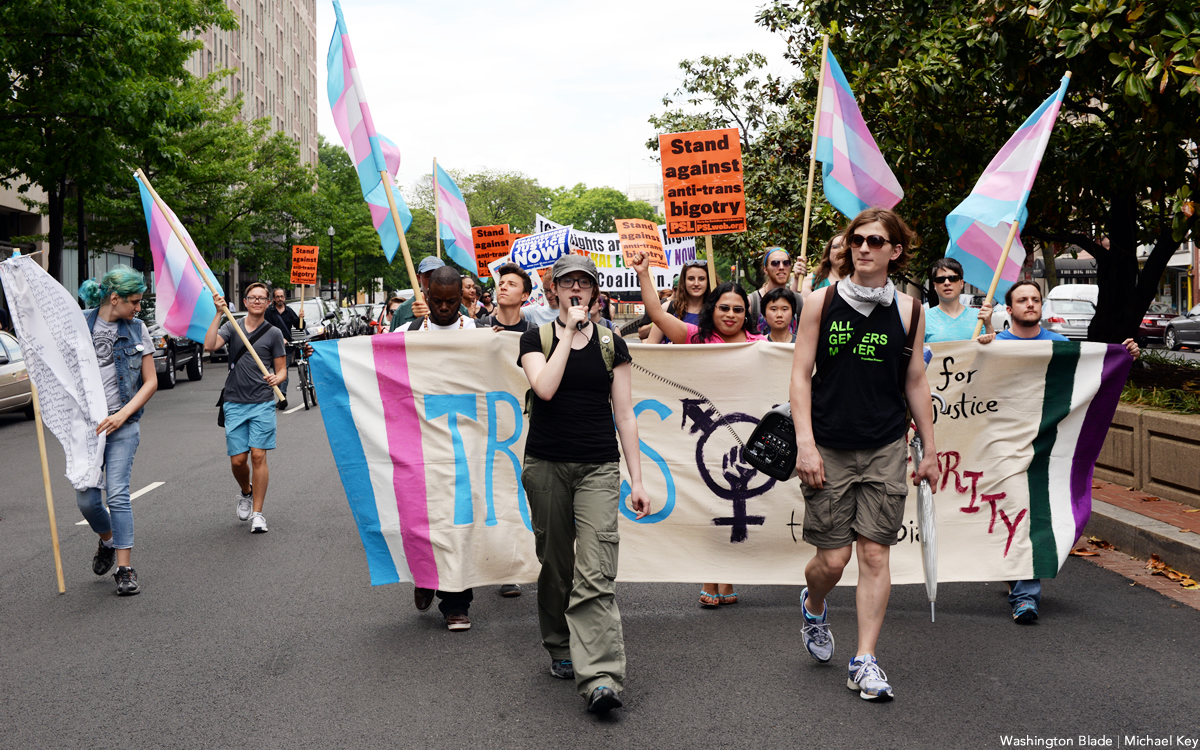 A new survey from a leading non-partisan research center reveals Americans have mixed views on transgender issues at a time when states are moving forward with measures against transgender youth, with strong majorities favoring non-discrimination protections but weaker support for access to transition-related care among minors and participation in school sports.
The Pew Research Center issued the findings on Tuesday as part of the results of its ongoing study to better understand Americans' views about gender identity and people who are transgender or non-binary. The findings are based on a survey of 10,188 U.S. adults from data collected as part of a larger survey conducted May 16-22.
A majority of respondents by wide margins favor non-discrimination protections for transgender people. A full 64 percent back laws or policies that would protect transgender people from discrimination in jobs, housing, and public spaces, while roughly 8-in-10 acknowledge transgender people face at least some discrimination in our society.
Additionally, nearly one half of Americans say it's extremely important to use a transgender person's new name after they undergo a transition, while an additional 22 percent say that is somewhat important. A smaller percentage, 34 percent, say using a transgender person's pronouns is extremely important, and 21 percent say it is somewhat important.
But other findings were less supportive:
60 percent say a person's gender is determined by sex assigned at birth, reflecting an increase from 56 percent in 2021 and 54 percent in 2017, compared to 38 percent who say gender can be different from sex assigned at birth.
54 percent say society has either gone too far or been about right in terms of acceptance, underscoring an ambivalence around transgender issues even among those who see at least some discrimination against transgender people.
About six-in-ten adults, or 58 precent, favor proposals that would require transgender athletes to compete on teams that match the sex they were assigned at birth as opposed to teams consistent with their gender identity, compared to 17 percent who oppose that and 24 percent neither favor nor oppose it.
46 percent favor making it illegal for health care professionals to provide transition-related care, such as hormones or gender reassignment surgery, to someone younger than 18, compared to 31 percent who oppose it.
Americans are more evenly split when it comes to making it illegal for public school districts to teach about gender identity in elementary schools (which is favored by 41 percent, and opposed by 38 percent) and investigating parents for child abuse if they help someone younger than 18 obtain transition-related care (37 percent are in favor and 36 percent oppose it).
Young adults took the lead in terms of supporting change and acceptance. Half of adults ages 18 to 29 say someone can be a man or a woman even if that differs from the sex they were assigned at birth, compared to about four-in-10 of those ages 30 to 49 and about one-third of respondents 50 and older.
Predictably, stark differences could be found along party lines. Democrats by 59 precent say society hasn't gone far enough in accepting people who are transgender, while 15 percent say it has gone too far and 24 percent say it's been about right. For Republicans, 10 percent say society hasn't gone far enough, while 66 percent say it's gone too far and 22 percent say it's been about right.
Read the full report here.
House passes resolution that calls for Brittney Griner's immediate release
Detained WNBA star's trial to begin on July 1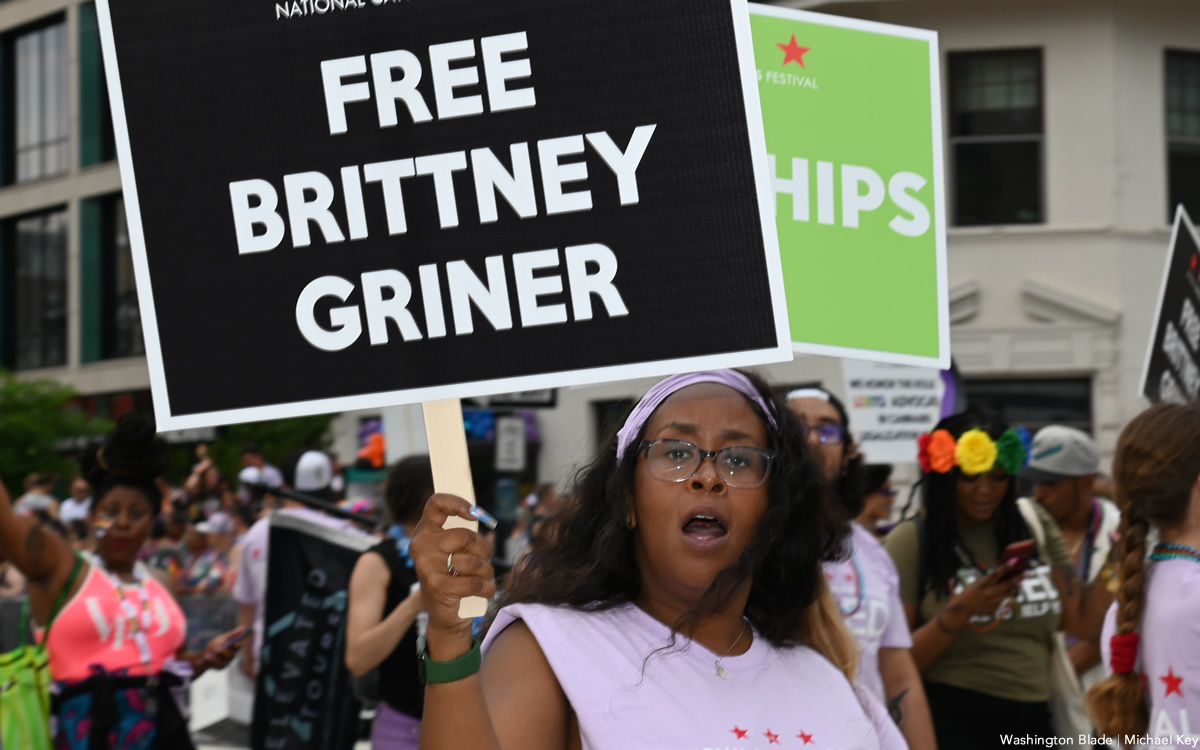 In a resolution passed on June 24 by the U.S. House of Representatives, lawmakers called on Russia to immediately release detained WNBA star Brittney Griner. 
Griner was first arrested in Russia in the days leading up to its invasion in Ukraine. Authorities have charged her with drug trafficking after claiming that she attempted to pass through Moscow's Sheremetyevo Airport while in possession of cannabis oil.
The House's resolution, introduced in May by U.S. Reps. Greg Stanton (D-Ariz.), Sheila Jackson Lee (D-Tex.) and Colin Allred (D-Texas), made multiple demands of Russia, including that the country "immediately release Brittney Griner," provide her with consular access and humane treatment and that the U.S. "raise the case of Brittney Griner and to press for her release" in all its dealings with the Russian government.
"This legislation insists on our embassy personnel having access to Ms. Griner and restates our commitment to freeing her now," Lee said in a statement after introducing the resolution. "We continue to pray for her family and we will continue to work together as three members of Congress, along with others, to spread the message that she is held wrongfully and must be freed now."
The resolution also expressed support for both Griner's family and for "all prisoners unjustly imprisoned in the Russian Federation."
Allred, a member of the House Foreign Affairs Committee, took to Twitter following the passage of the resolution.
"I'm proud the House has spoken in passing our resolution and calling for Brittney Griner's swift release," Allred wrote. "Every day an American is held abroad is a lifetime, and I will keep working with @POTUS to do all we can to bring home every American detained abroad."
Griner's WNBA team, the Phoenix Mercury, welcomed the House's passage of the resolution this past weekend.
"[Rep.] Stanton and many others are continuing to work with the White House, State Department and Brittney's family to secure her safe return home," the team wrote on Twitter.
The resolution comes after reporting revealed missteps on the part of the U.S. government in handling communication related to Griner's detention.
According to past reporting, the U.S. Embassy in Moscow failed to connect Griner with outside phone calls permitted by the Russian government when Griner's wife, Cherelle Griner, attempted to call her. Cherelle Griner reportedly called 11 times on June 18 on the couple's fourth anniversary but was unable to reach her wife due to what the State Department claimed to be a "logistical error."
While the resolution is being heralded by its supporters, it contains no provisions intended to enforce the House's demands for the release and humane treatment of Griner and others held by Russia. With less than one percent of criminal defendants in Russia being acquitted, it is unclear whether the resolution will do anything to persuade the country's courts to permit Griner's release.
Griner appeared in Russian court on Monday for a preliminary hearing prior to her trial that has now been scheduled to begin on July 1. It was also confirmed by Griner's attorney on Monday that her detention had been extended for six months pending her trial. 
If convicted, she could face up to 10 years in prison.
"We must keep Brittney's case on the forefront and make clear to the White House that her release should be one of the highest priorities for our government," Cherelle Griner said in May.
Protests, revelry mark NYC Pride
Tens of thousands protested Roe ruling on Friday night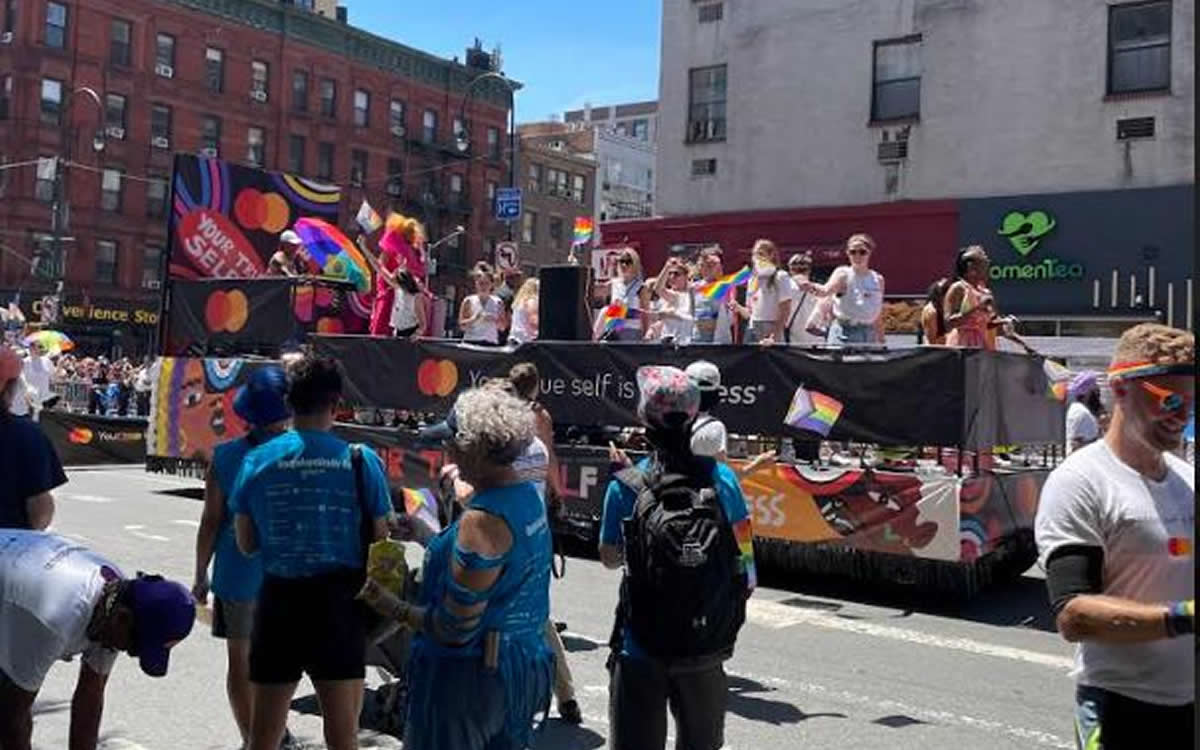 New York City Pride, one of the largest Pride celebrations in the world, rang in the weekend with equal parts celebration and protest.
Although the annual Pride march was on Sunday, the entire weekend was filled with an outpouring of public anger in the wake of the U.S. Supreme Court's decision to overturn Roe v. Wade. 
Protesters took to the streets of Manhattan on Friday with an estimated 17,000 people gathering to protest the ruling, which made abortion imminently illegal in roughly half of states. At least 25 people were arrested at the Friday night protests, which spread from Washington Square Park through Midtown to Bryant Park. 
In light of the Supreme Court's landmark decision — which advocates say will harm members of the LGBTQ community — NYC Pride announced that Planned Parenthood would kick off Sunday's Pride march as the first group to walk. In their statement, NYC Pride said that "[The Supreme Court's] dangerous decision puts millions in harm's way, gives government control over our individual freedom to choose, and sets a disturbing precedent that puts many other constitutional rights and freedoms in jeopardy." 
"As millions gather for LGBTQIA+ Pride this weekend in New York City and cities across the country, our voices will be heard — for the LGBTQ people impacted and the millions with whom we stand in solidarity," read the statement. "Pride was born of protest and will always be a space to fight injustice and discrimination. Join us as we advocate for bodily autonomy at this year's NYC Pride March."
In addition to the march; NYC Pride had a full slate of Pride programming during the week leading up to it, including Pride Island at Governor's Island, Youth Pride and a human rights conference. Queer clubs and bars throughout the city hosted various Pride-themed events throughout the weekend.
NYC Pride was not the only organization mobilizing this weekend.
Reclaim Pride NYC hosted a "Queer Liberation March for Trans and BIPOC Freedom, Reproductive Justice, and Bodily Autonomy," in partnership with pro-choice groups and community organizations.
"The [Queer Liberation March] is the annual people's protest march without corporate funding; corporate floats; politicians' grandstanding; or police control or involvement," said the Reclaim Pride Coalition.
Although Pride originated from a moment of violent tension between police and LGBTQ people at the Stonewall Inn, officers on Sunday carefully patrolled the entire NYC Pride march route. When the apparent sound of gunshots nearly sparked a stampede in Washington Square Park during the parade, the New York Police Department said there were "no shots fired," later confirming that the sounds were due to fireworks being set off at the park. 
The Washington Post noted fears of violence against the queer community circulated at Pride celebrations across the country.
Police also responded to reports of a shooting at San Francisco Pride, although no suspects or witnesses were found. In light of the epidemic of gun violence — from last month's elementary school shooting in Uvalde, Texas, to the massacre at the Pulse nightclub in Orlando, Fla., in 2016 that left 49 people dead — a fear of active shooters and widespread public anger at the prospect of less rights characterized Pride's usually jubilant atmosphere.