AIDS 2012: 13 HIV/AIDS protesters arrested in front of White House
Arrests took place after thousands march to Lafayette Square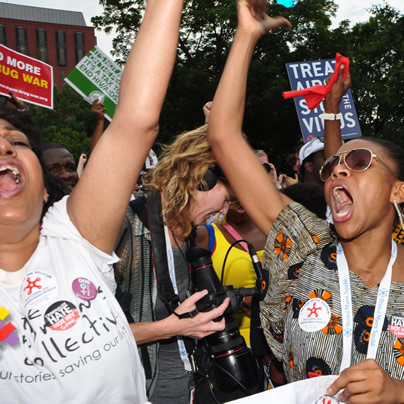 U.S. Park Police on Tuesday arrested 13 protesters who gathered in front of the White House.
Sergeant Paul Brooks, spokesperson for the U.S. Park Police, told the Blade that those taken into custody failed to obey officers who told them not to stand on the sidewalk in front of the White House on Pennsylvania Avenue, N.W. Housing Works President Charles King, members of ACT UP Philadelphia, the Prevention Justice Alliance and Health Gap were among those arrested as they tried to tie red ribbons with condoms, syringes and other items to the White House fence.
The arrests took place after thousands took part in the "We Can End AIDS" march from the Walter E. Washington Convention Center and other parts of downtown Washington to Lafayette Park. Participants urged President Obama, members of Congress and other lawmakers around the world to provide more resources to fight HIV/AIDS and protect human rights for those living with the virus.
"The march was really to remind those in power that AIDS has been around since the 80s and we're still arguing about the same things," Housing Works spokesperson Sunny Bjerk told the Blade, specifically referring to the ban on federal funding for needle exchange programs and abstinence-only sexual education curricula. "We need to work together. It's going to take a collective effort."
Amanda Lugg of ACT UP New York noted during the Lafayette Square rally that members of her organization threw the ashes of their loved ones who had passed away from AIDS onto the White House lawn to protest what they described as the federal government's inadequate response to the epidemic.
"Activists, including people who are here today, took on the right wing policies that labeled people of AIDS, LGBT people, people of color and people from the Global South as unworthy — unworthy of action, unworthy of services, unworthy of life-saving prevention and treatment," she said. "We confronted that government inaction and today with allies across the U.S. and networks across the world; we the community, we the people bring a political tidal wave. Today we stand here looking at the results of our political action. The science of 25 years ago was nowhere — now [it] has literally shown that the end of AIDS is possible. We can end AIDS."
South African marcher Prudence Mabele has lived with HIV for 22 years. She told the Blade that she marched in support of sex workers who were not able to enter the country to attend the International AIDS Conference.
"We need them to be part of these conferences so that we can resolve the problems we have," said Mabele. "We want to end AIDS. And because we want to end AIDS, we have to do it the proper way. The women who are taking drugs must also be here. We need to put all our rights in the front and be what we are preaching because to end AIDS we need everybody — men, women, gay men, sex workers, any marginalized."
AIDS 2012 delegate Eric Hill from North Carolina said he decided to march to show his support for women's rights. "Women should be treated as equal to men as well as treatment when it comes to HIV/AIDS prevention," he stressed.
Leah Hasezi of the New York City-based Queerocracy told the Blade that roughly 100 members of her New York City-based organization traveled to the nation's capital on three buses to participate in the march. She pointed to HIV decriminalization and the so-called Robin Hood Tax on banks and other Wall Street companies that supporters maintain would generate billions of dollars annually to support HIV/AIDS prevention programs and other social services as two of her organization's top priorities.
"We have the science, we have the money, we have a way to get the money if we tax the people who have been cheating the rest of the nation," said Hasezi, referring to a cure for HIV/AIDS. "We just need the political power to do it. The president and Secretary [of State Hillary] Clinton both promised an AIDS-free generation so they need to make good on that promise."
(Washington Blade photo gallery of the We Can End AIDS march and rally by Michael Key)

No one would have expected me to attempt suicide
Successful career, busy social life hid reality of depression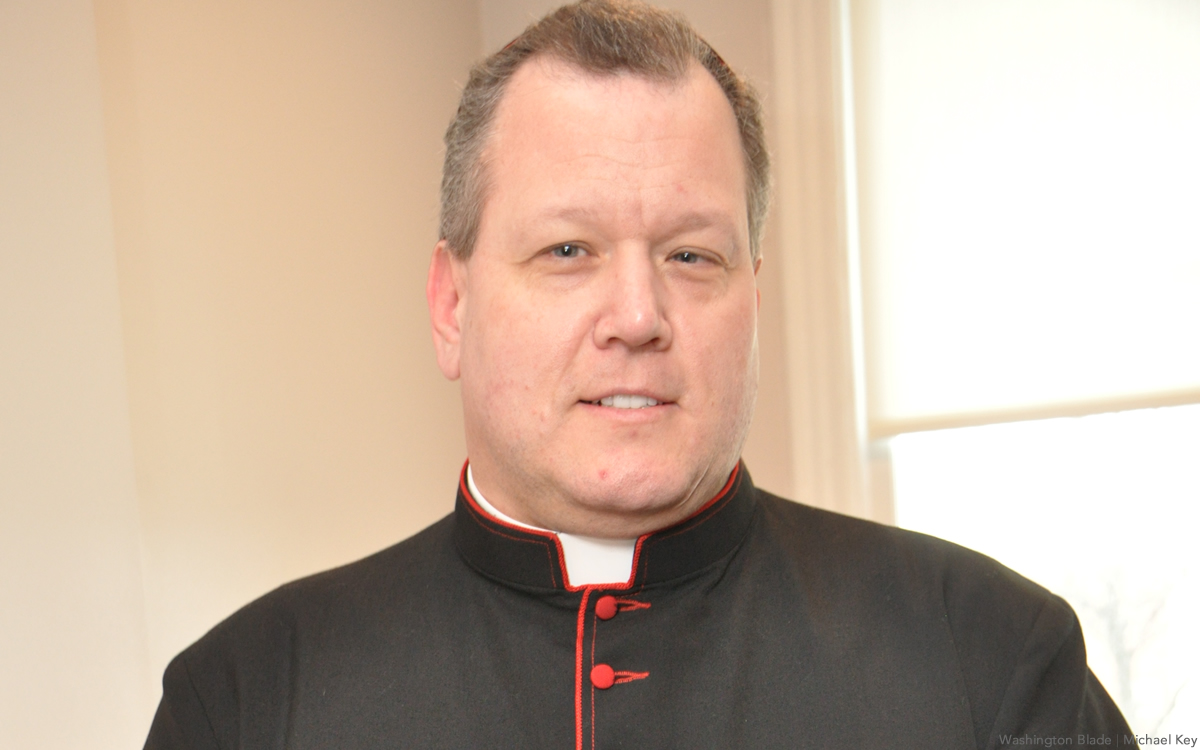 Editor's note: The Blade has covered several suicides in our community in recent months. Sadly, the holidays are a time of increased anxiety, isolation, and depression for many. The following is a first-person account of surviving suicide along with resources and information on where to get help if you are in crisis. There is an abundance of resources addressing the unique needs of the LGBTQ community. If you have a personal story you'd like to share with Blade readers about overcoming suicidal ideation, depression, addiction, or isolation, please email us at [email protected].

In late winter 2015 it would have seemed that I had everything going for me — a successful drag career (hosting at Town Friday and Saturday nights), and an extremely busy priesthood that consumed my time, especially with preparation for the upcoming holidays. My family life contained the usual stressors. I have plenty of friends, acquaintances, and a handful of very close friends, and dare I say a few fans.
Looking from the outside, my life seemed normal (normal for me). No one would have ever expected me to consider suicide. More and more, depression continually rolled over me like a tidal wave and I found myself with no purpose or defense. I had experienced depression before, but never to this magnitude. It became unbearable; a feeling of worthlessness and sheer sadness with anxiety that consumed me. My days were filled with pain and my nights with unrelenting insomnia, one right after the other.
Being a person of faith required that I make peace with my decision and my creator. I believed that a God who so loves me would not want me to suffer under such a crushing weight of depression. The Lord is a God of mercy, and how could a merciful God show anything but mercy? I realized that suicide was my best option, despite the many resources available to me, such as The National Suicide Prevention hotline (1-800-273-8255), the various suicide prevention organizations (The Trevor Project, A.F.S.P., Outreach by the DC Center), and now the newly established 988 number.
I availed myself of none. I reached out to no one. I believed no one would understand my situation. I was embarrassed that I could not handle my own life and therefore concluded that taking my own life would cause little fuss.
So, on Dec. 6, 2015, I Googled "What are the least painful ways to kill yourself?" No. 2 in the search was "shoot yourself in the heart." The page promised it would be quick and painless. So, I devised a plan, the first thing I needed to do was pick a day. I picked Dec. 11, 2015. I made a list of all the other things I needed or wanted to get accomplished before the day. Chores as simple as getting my hair cut and setting out the clothes I wanted to be buried in. I decided on a last meal. A very simple shrimp salad from Cameron's on 16th Street. The writing of 12 individual handwritten letters (which were to serve as my suicide notes). I wrote a special letter to the boys who were going to take care of my everything, my French Bulldog Christian, He would stay with me until the end, and then he would be someone else's love.
If anything, during this period my depression and hopelessness had grown even deeper. It was a bitter cold day on the 11th of December. At 2:55 p.m., I took a 38-caliber revolver, placed it over my heart and pulled the trigger. The loud noise and smell are what I remember first. It was so loud my ears were ringing and the smell of gunpowder filled the area I was standing in (not a pleasant odor). It is nothing like we see in the movies or on television. First and foremost what I found shocking to me was that I did not fall down, but instead I was walking around for 8-10 minutes before the bullet had done enough damage causing me to lie down and eventually pass out.
I thought I must have done it wrong. After all, why was I still upright and moving around? Then the pain started to set in. Oh, the pain! The greatest pain I have ever felt in my life. I would later reflect that it was the pain that caused me to eventually pass out, that is how severe it was. I passed out before the ambulance arrived. I was lucky enough to have a friend call for emergency services. Once I arrived at MedStar I underwent a 21-hour surgery. The bullet missed my heart by three centimeters; further proof that Americans are awful at the metric system. I was put in a medically induced coma for 10 days. I would later have three additional surgeries to correct various issues. The bullet nicked a rib and traveled downward. I spent a month and three weeks in the hospital. The surgeons removed a portion of my liver, and completely removed my gallbladder, spleen, a portion of my lower intestine and appendix. Likewise, they repaired some major damage done to my stomach.
Waking up with my wrists bound and a breathing tube down my throat was horrific (I would rather have died). At first, I was angry that I had not succeeded. I could not believe where I found myself — it was not supposed to be like this! Once the breathing tube was removed my recovery began and, with it, a whole new story. During recovery I had to avail myself of counseling and was diagnosed with severe depression and acute anxiety. I was started on numerous medications and therapy.
Throughout all of this, I was fortunate enough to have many visitors from the community — friends, family, and some folks I had only known from interacting socially at the club. Perhaps one of the more profound lessons I learned through this process is that my death would have caused pain for so may people.
I keep up with my counseling and medications to minimize suicidal thoughts. To someone who is suicidal and it seems like it is the only option out, you are wrong. It requires courage to reach out. Depression is worn inwards and it can weigh a ton at times. But no one has to go through this alone. There are plenty of groups that specialize in helping those who are suicidal especially in OUR LGBT community.
CRISIS RESOURCES
988. The new 988 suicide and crisis lifeline is available 24 hours/day and offers telephone and online chat.
The Trevor Project: 866-488-7386. The Trevor Project is the leading national organization providing crisis intervention and suicide prevention services to LGBTQ young people ages 13-24.
National Suicide Prevention Lifeline: 800-273-8255 (online chat available).The National Suicide Prevention Lifeline is a national network of local crisis centers that provides free and confidential support to people in suicidal crisis 24/7.
Crisis Text Line: Text START to 741-741, a free, 24/7 support for those in crisis.
The Gay, Lesbian, Bisexual and Transgender National Hotline: 888-843-4564. Provides telephone, online private one-to-one chat and email peer-support, as well as information and local resources across the United States.
Trans Lifeline: 877-565-8860. Trans Lifeline is a trans-led organization that connects trans people to the community, support, and resources
The True Colors United, 212-461-4401. The True Colors Fund works to end homelessness among LGBTQ youth.
Self Abuse Finally Ends (S.A.F.E). Addresses individuals coping with non-suicidal self-injury, including locally based information, support and therapy referrals.
U.S. National Domestic Violence Hotline: 800-799-7233. Operating around the clock, seven days a week, confidential and free, the National Domestic Violence Hotline provides lifesaving tools and immediate support to enable victims to find safety and live lives free of abuse.
Rape Abuse and Incest National Network (RAINN): 800-656-HOPE/800-810-7440 (TTY). The nation's largest organization fighting sexual violence, RAINN also carries out programs to prevent sexual violence, help victims and ensure that rapists are brought to justice.
SMYAL, smyal.org. D.C.-based organization advocating for LGBTQ youth.
D.C. Department of Mental Health Access Helpline, 888-7WE-HELP.
Wanda Alston Foundation (202-733-3643) in D.C. provides transitional living and support services to homeless and at-risk LGBTQ youth ages 18-24.
(This list was compiled by PFLAG and Blade staff )
Managing sobriety and stress over the holidays
Have a backup plan when attending parties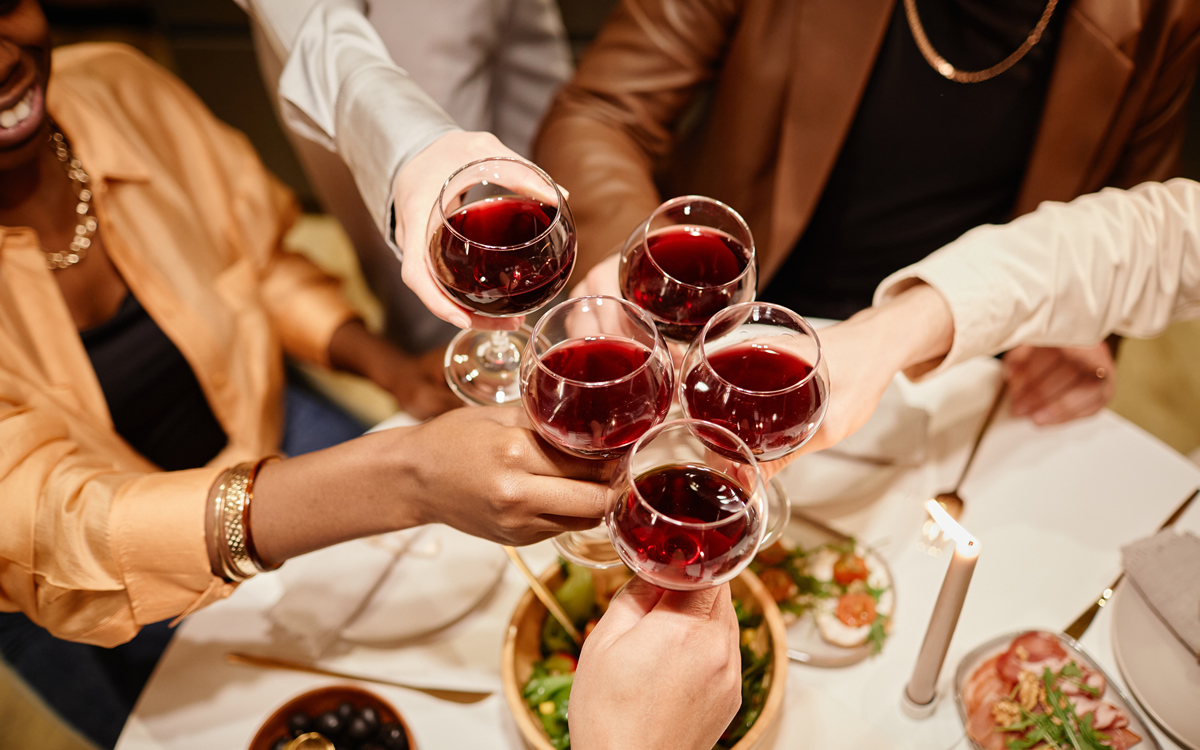 Staying sober over the holidays can be a challenge. It has the potential to be a stressful time of year, especially for members of the LGBTQ community. The holiday season can exacerbate stress, anxiety, and depression, particularly when returning home.
Unfortunately, many of these emotional triggers often cause people to turn to drugs or alcohol as a means of coping. Research has suggested that LGTBQ individuals are three times more likely to experience these mental health conditions.
Avoiding the temptation to drink in excess takes work, but it is not impossible. Whether you are in recovery or not, there are practical ways to manage sobriety and stress over the holidays.
Make sure basic needs are met during the holidays. H.A.L.T. (Hungry, Angry, Lonely, Tired) is an excellent way to remember to meet basic needs. These are often four things that contribute to stress and relapse. Make it a point to eat regularly, exercise, stay connected with other people, and get plenty of sleep.
When attending holiday parties, have a backup plan. If you find yourself in a situation where there is a strong urge to drink or do drugs, have an escape plan. The people around you who know you are working on sobriety or are choosing holiday sobriety will understand. It is OK to leave holiday parties early or turn down invitations. Do not feel obligated to put yourself in risky situations.

Consider non-alcoholic drinks or holiday mocktails. Bring your own beverages to holiday parties or encourage hosts to offer holiday mocktails. "Holiday mocktails are becoming increasingly popular at holiday parties because it removes the risk of drinking and driving and provides options for someone who wants a holiday drink, but without the alcohol," said Marcel Gemme of Addicted.org.
Don't go it alone and have some support. Have a sober friend or family member attend holiday parties with you. Ask for help from family and friends or participate in local support groups. More importantly, give thanks and foster an attitude of gratitude. Write down what you are grateful for and why sobriety is important this holiday season.
Excessive alcohol use is dangerous during the holiday season as more people travel on the roads. Unfortunately, drinking and driving is an all too common occurrence. In 2019, in Washington State, 33.1% of all driving fatalities were alcohol-impaired driving fatalities.
It is essential to be careful over the holiday season and your limits. Whether you are in recovery or want to maintain sobriety over the holidays, be aware of the triggers and the risks.
Finally, remember the true meaning of the holiday season, love, joy, compassion, kindness, and gratitude. Share in new experiences or create new traditions and enjoy the time spent with those close to you. If someone is struggling, reach out and help, there are excellent resources to help people who are battling addiction.
Michael Leach has spent most of his career as a healthcare professional specializing in Substance Use Disorder and addiction recovery. He is a Certified Clinical Medical Assistant, and contributor to the healthcare website Recovery Begins.
A reporter's observations on the Brazilian, U.S. elections
Polls in both countries proved inaccurate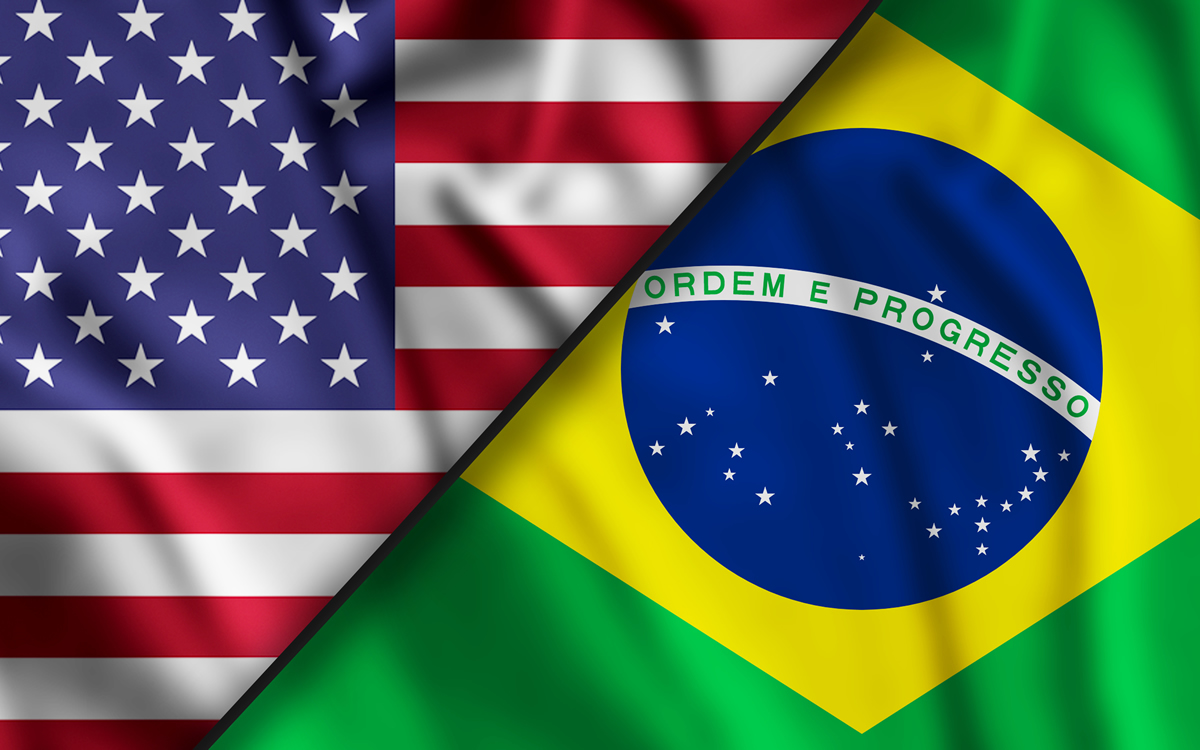 BRASÍLIA, Brazil / STEVENSVILLE, Md. — I was sitting in my hotel room in Brasília, the Brazilian capital, at 5 p.m. on Oct. 2 when the polls closed. The area around my hotel was quiet as the Supreme Electoral Tribunal began to post the election results on their website. Brazilian television stations continued their live coverage of the election that largely focused on whether former President Luiz Inácio Lula da Silva would defeat incumbent President Jair Bolsonaro. I was nibbling on KIND Dark Chocolate Whole Grain Clusters that I had bought at Dulles two days earlier before I flew to Brazil and sipping a glass of Brahma beer that I had poured for myself while refreshing the Supreme Electoral Tribunal's website and listening to the reporters talk about the results. I was nervous because Bolsonaro was ahead.
I left my room at around 7 p.m. to get some dinner at a nearby mall. I ordered sushi from a restaurant in the food court. Bolsonaro was still ahead of Da Silva when I returned to my room at around 7:45 p.m., but the margin between the two men had narrowed. Da Silva soon took the lead, but it soon became clear that he and Bolsonaro would face each other in a runoff because neither of them had received at least 50 percent of the vote.
Da Silva defeated Bolsonaro in the second round of the presidential election that took place on Oct. 30. The U.S. midterm elections took place nine days later.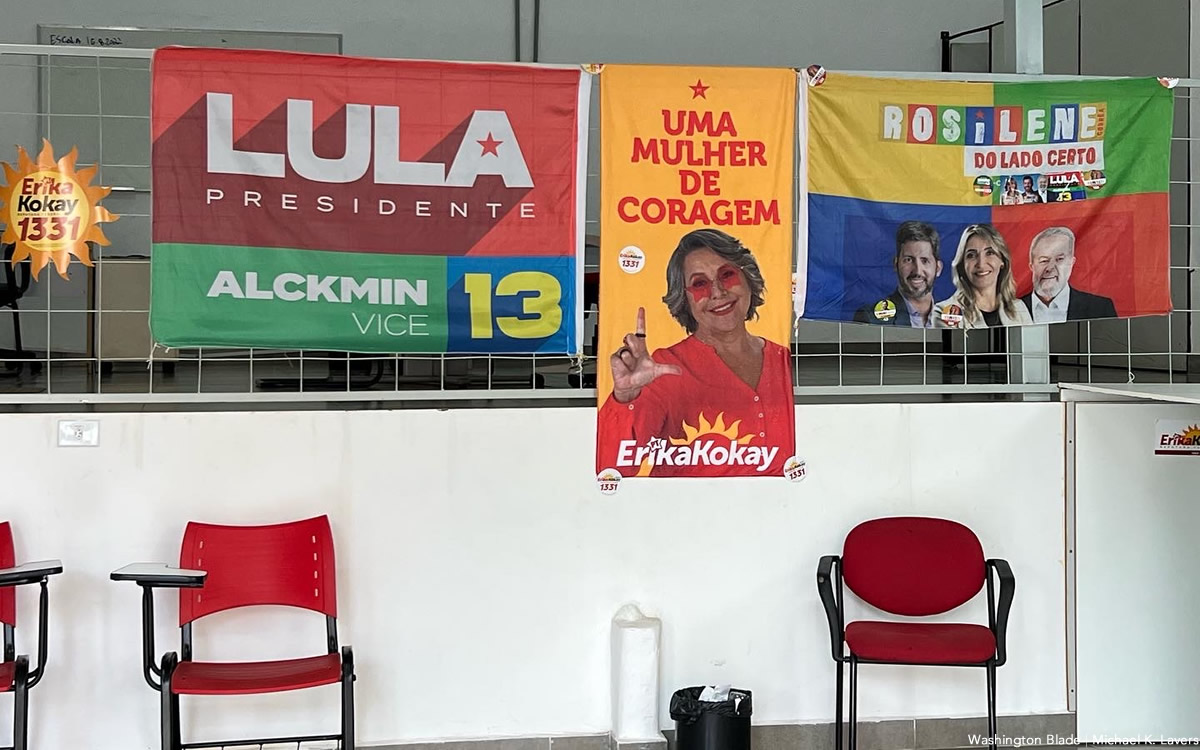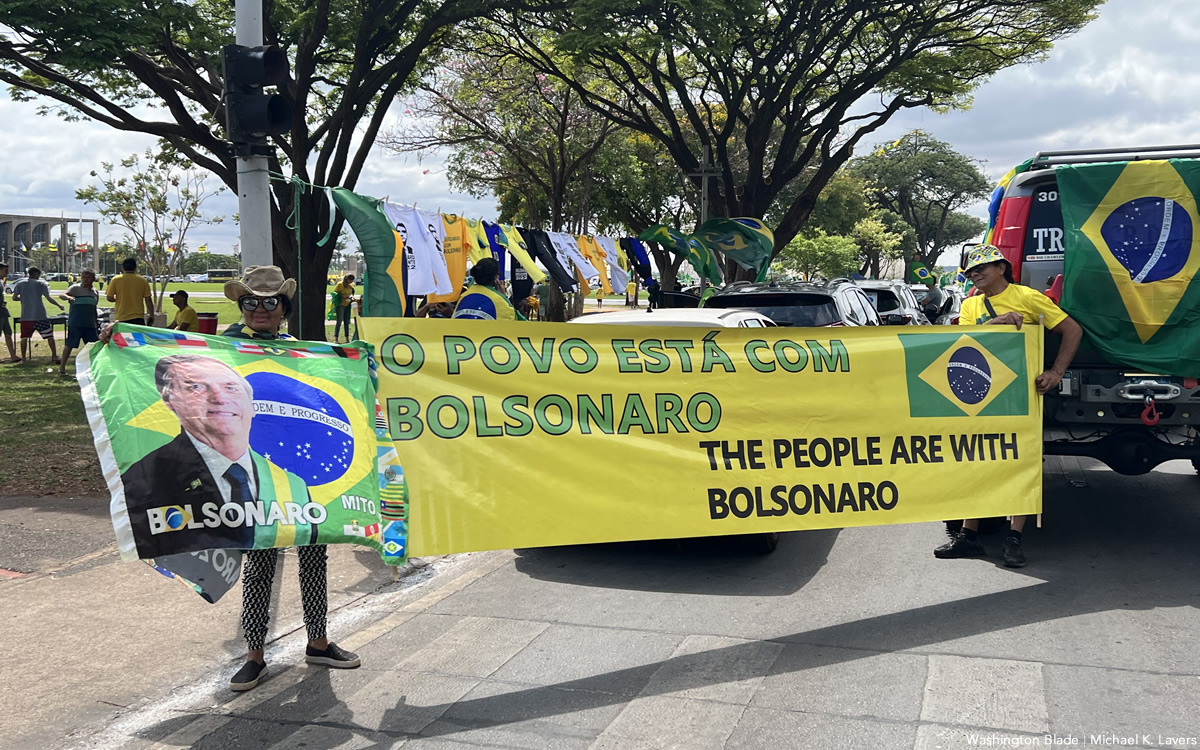 I arrived at Heather Mizeur's election night party at the Kent Island Resort in Stevensville, Md., shortly before polls in Maryland closed at 8 p.m. Mizeur less than three hours later told her supporters that her bid to unseat Republican Congressman Andy Harris had come up short. The so-called red wave that so many pundits and polls predicted would elect Republicans across the country also failed to materialize.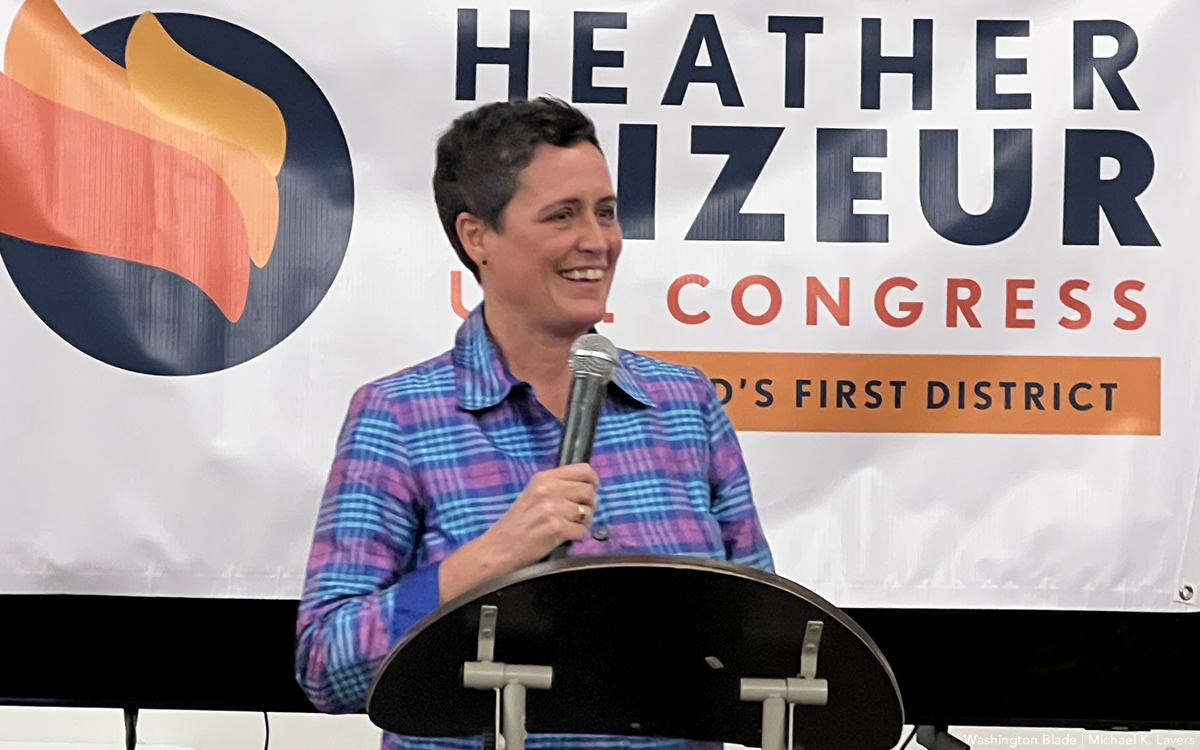 Each country is different and the way they conduct their elections is difficult. I cannot, however, help but compare the Brazilian election and the U.S. midterms. Here are a few observations from a reporter who covered them both.
• Polls ahead of the first round of Brazil's presidential election predicted Da Silva would defeat Bolsonaro in the first round. Polls and pundits ahead of the U.S. midterms, as previously noted, predicted Republicans would defeat Democrats across the country. Both scenarios did not happen.
• Bolsonaro ahead of Brazil's presidential election sought to discredit the country's electoral system. Bolsonaro did not concede to Da Silva after he lost. Former President Donald Trump continues to insist he won the 2020 presidential election. Trump also instigated the deadly Jan. 6 insurrection that took place as lawmakers were beginning to certify the Electoral College results.
• Cláudio Nascimento, president of Grupo Arco-Íris de Cidadania LGBT, an LGBTQ and intersex rights group in Rio de Janeiro, on Oct. 9 told me during an interview at his office that Bolsonaro would "destroy democracy"in Brazil if he were reelected. Mizeur in July described Harris as a "traitor to our nation" after the Jan. 6 committee disclosed he attended a meeting with Trump that focused on how he could remain in office after he lost to now President Joe Biden.
• Voters in São Paulo and Belo Horizonte on Oct. 2 elected two transgender women — Erika Hilton and Duda Salabert respectively — to the Brazilian Congress. Openly gay Rio Grande do Sul Gov. Eduardo Leite on Oct. 30 won re-election when he defeated former Bolsonaro Chief-of-Staff Onyx Lorenzoni in a runoff. LGBTQ Victory Fund President Annise Parker in a Nov. 10 statement noted 436 openly LGBTQ candidates across the country won their races. (One of them, openly gay New Hampshire Congressman Chris Pappas, who represents my mother, defeated Republican Karoline Leavitt in the state's 1st Congressional District by a 54-46 percent margin.)
Brazil and the U.S. are different countries, but they both have democracies that must be defended. Brazilians and Americans did just that through their votes.