Who paid for Task Force mailer on gambling?
LGBT group wades into Md. gaming debate, triggering reports of links to casinos and GOP strategists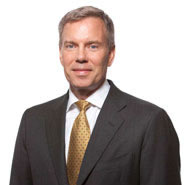 As the dust settles over the Maryland General Assembly's approval on Aug. 15 of a controversial bill to increase the number of casinos operating in the state, some political insiders say the National Gay and Lesbian Task Force appears to have taken the unusual step of accepting money from gambling interests to campaign against the bill.
The Task Force last month announced it opposed taking up the bill this year, noting it would trigger a voter referendum on gambling that likely would motivate more conservative, religious voters to turn out to vote against both gambling and the state's same-sex marriage law, which is also on the November ballot in a referendum.
Earlier this month, the National Gay & Lesbian Task Force Action Fund mailed an expensive tri-fold flier to thousands of Maryland households asking residents to urge their state representatives to vote "no" on the gambling bill. The mailer was likely part of the first round of an expected fierce campaign in which gambling and marriage equality may become entangled, sources familiar with the two issues told the Blade.
The sources, who spoke on condition that they not be identified, said the Task Force Action Fund mailer raised eyebrows among many political observers in Maryland, including officials in the administration of Gov. Martin O'Malley, who introduced the gambling bill. Sources estimated the mailer cost well over $100,000.
"I know for a fact that the Task Force didn't pay for it — a single, anonymous contributor paid for it," said one of the sources.
Others familiar with the situation say they believe one or more of the five casinos already authorized to operate in the state and that stand to lose business from a sixth casino that the bill authorizes most likely paid for the mailer.
These sources note that Monique Hall, a member of the Task Force Action Fund board of directors, is a vice president for the DCI Group, a Republican-leaning political consulting firm that the sources say has been retained by one of the Maryland casinos to campaign against the gambling bill.
The sources believe one of the casinos paid for the mailing directly or reimbursed the DCI Group, which in turn paid the Task Force Action Fund for the mailing.
One of the sources said the Cordish Company, a national conglomerate that operates casinos in Las Vegas and throughout the country, including a casino located just south of Baltimore, is a client of DCI Group and may have been the source of the money used to pay for the mailer. The Blade could not independently confirm that Cordish is a DCI client. There are other gaming companies operating in Maryland that oppose the expansion, including Penn National Gaming, which owns 20 casinos throughout the nation, including Hollywood Casino of Perryville, Md.
The Task Force has declined to disclose the source of the money used to prepare and pay for the mailer.
"We do not have a position on gambling, but rather on marriage equality," said Task Force Deputy Executive Director Darlene Nipper in a statement.
"The purpose of the marriage equality mailer, funded by the Task Force Action Fund, which like other nonprofits includes many donors, some named and some who are not, is to get marriage equality over the finish line," Nipper said. "It was sent to a portion of registered Democratic households in Maryland."
The mailer states, "If the gaming bill is on the ballot, opponents are likely to spend millions identifying and turning out voters who don't like gambling…and who also don't like Marriage Equality! So all the 'no' votes on gaming could also be 'no' votes for us."
The mailer added, "The best thing that can happen – to give us a fair shot at winning on the ballot in November – is for the legislature to put gaming aside till next year and let the marriage issue proceed without complications." The Task Force Action Fund is a 501c(4) nonprofit and contributions made to it are not tax deductible.
The Task Force did not directly answer when asked if it has made financial contributions to the Maryland referendum fight, but two knowledgeable sources said the Task Force has not made cash donations to the effort.
"We have provided staff resources specifically to advance marriage equality in Maryland," said Nipper in an emailed statement. She also noted that the Task Force held its annual Creating Change conference in Baltimore earlier this year and that O'Malley spoke to attendees. Task Force executive director Rea Carey is on sabbatical and unavailable for comment.
Speculation over who could have paid for the Task Force Action Fund mailer has centered on Tom Synhorst, a gay Republican strategist and founder and chair of the DCI Group, which bills itself on its website as a public affairs company that "helps corporations navigate their most challenging political, legislative and regulatory problems anywhere in the world."
Monique Hall, the DCI Group vice president and the Task Force Action Fund board member, did not respond to Blade inquires. A receptionist at DCI initially refused to take a message for Synhorst on Aug. 17 and declined to transfer a Blade reporter's call into Synhorst's voicemail. Another receptionist did take a message when the Blade called back on Monday, but Synhorst did not immediately respond.
DCI doesn't disclose its client list on its website, but two sources with knowledge of the Task Force mailer said DCI has gaming clients, including possibly the Cordish Company.
Carmen Gonzales, a spokesperson for Maryland Live! Casino said Cordish has no immediate comment on any of the issues surrounding the approval of a sixth casino for Prince George's County, including the Task Force mailer, except for this statement:
"Maryland Live! is, and will continue to be, the premier casino entertainment destination in the region. In the next few months, Live! will open new world-class dining and entertainment amenities, including the Prime Rib and Rams Head Center Stage."
One political observer familiar with Maryland gambling rivalries, speaking on condition of anonymity, speculates that the existing casinos in the state that oppose the opening of a new casino "will create new or use existing faith-based organizations to front their campaign, arguing that gambling is morally wrong."
Other observers familiar with Synhorst and the DCI Group say DCI has a history of creating front groups to wage battles in political campaigns.
Synhorst has a long record of working for Republican political candidates, including former Sen. Robert Dole (R-Kan.), former Gov. Mike Huckabee (R-Ark.), and former Presidents George Walker Bush and George W. Bush.
DCI has been involved with "the creation of several front groups for the Bush administration and telecommunications, pharmaceutical and computer industries," according to SourceWatch, which is published by the Center for Media and Democracy.
SourceWatch noted that the Associated Press reported in June 2001 that Synhorst "has been linked to South Carolina 'push polls' in the 2000 Republic primary that attacked candidate John McCain as 'a cheat, a liar and a fraud,' according to the Democratic Senatorial Campaign Committee."
The Center for Media and Democracy added, "DCI and its affiliates offer 'direct contact' that bypasses the media entirely. The client's message is directly delivered via phone banks, regular mail and/or the internet. Direct contact provides the campaigns with complete control over the message. Freed from the filters created by news outlets, they can be as biased and inflammatory as the message shaper deems necessary."
Will gaming push derail marriage?
On Aug. 15, the General Assembly passed the gambling bill, with the House of Delegates approving it by a vote of 71-58 and the State Senate approving by a margin of 32-14.
Six of the eight openly gay or lesbian members of the General Assembly voted for the bill, citing arguments by proponents, including O'Malley, that the measure would generate an additional $174 million a year in revenue for the state. O'Malley said most of the revenue would be used to fund state education programs.
The gambling measure was drafted to include a provision requiring that it must come up before voters in the November election if the General Assembly passes it.
Meanwhile, earlier in the year, opponents of same-sex marriage obtained the required number of petition signatures needed to place on the November ballot a same-sex marriage law that the General Assembly passed and O'Malley signed in February.
Same-sex marriage advocates have expressed conflicting views over whether a gambling referendum would hurt chances for upholding the same-sex marriage law if both referenda were on the ballot at the same time. The marriage law has been on hold pending the outcome of the November referendum.
The Task Force, among other LGBT advocates, says a gambling referendum is likely to encourage a greater number of conservative, religious-oriented voters to go to the polls who oppose both gambling and marriage equality.
Other advocates, including Josh Levin, campaign manager of Marylanders for Marriage Equality, the organization leading the campaign to uphold the same-sex marriage law, say a gambling referendum would have no impact on the marriage equality vote.
"We've been looking at this carefully for a long time and we have yet to see any data that suggests there are any voters who would come out in the election because of the gaming initiative who were not already going to be out for a presidential election or to vote on the question of marriage equality," Levin told the Blade.
Levin said he bases his assertion on private polls and focus groups commissioned by Marylanders for Marriage Equality.
At least one pollster sympathetic to LGBT equality, who asked not to be identified, said Levin's assessment may not be correct.
"I don't think a gambling ballot measure by itself will generate a greater turnout," the pollster said. "But the Cordish Company is likely to spend millions to bring out anti-gambling voters … You are injecting a huge unknown factor if you put gambling on the ballot."
The bill authorizes the state to expand the number of casinos allowed to operate in Maryland from five to six, with the sixth site to be located in Prince George's County, most likely in the county's National Harbor complex located near D.C.
O'Malley says the expansion would result in an additional $174 million a year in revenue when all six casinos are fully operational in 2017.
The five existing casinos approved for other locations in the state raised strong objections to O'Malley's proposal, saying another casino in P.G. County would draw away patrons from the other five casinos.
Among the strongest opponents of the O'Malley proposal is the Cordish Companies. Cordish just opened its Maryland Live! Casino and entertainment complex at Arundel Mills just south of Baltimore. Observers say the Maryland Live! Casino would be impacted the most by a P.G. County casino because it's the closest among the five casinos approved to operate in Maryland to the P.G. site.
Lessons from Ohio fight
Gambling industry observers say a furious battle between rival casinos in a 2008 Ohio voter referendum on whether a new casino should be allowed in the state might be a predictor of things to come in Maryland this year.
Known as Ballot Issue 6, Ohio voters were asked to decide whether Lakes Entertainment, a large casino owner, should be allowed to open a new casino in Ohio located 30 miles from an existing casino in Indiana owned by rival Penn National Gaming. Penn National reportedly put up $38 million to fund the "No on 6" committee compared to at least $26 million spent by Lakes Entertainment for the campaign in support of the casino.
Ohio voters ultimately defeated the proposal to build the new casino, with large numbers of conservative voters believed to have turned out to vote no.
The Task Force mailer included quotes from three commentaries critical of O'Malley's push to expand gambling in the state published by the Washington Post, the Washington Blade, and the blog Care2.com. The Post piece was written by gay commentator Jonathan Capehart; the Blade's was written by editor Kevin Naff.
The gay and lesbian legislators voting for the gambling bill were Sen. Rich Madaleno (D-Montgomery County) and Delegates Luke Clippinger (D-Baltimore City), Bonnie Cullison (D-Montgomery County), Anne Kaiser (D-Montgomery County), Maggie McIntosh (D-Baltimore City) and Mary Washington (D-Baltimore City). The gay and lesbian delegates voting against the bill were Peter Murphy (D-Charles County) and Heather Mizeur (D-Montgomery County).
Inaugural Uptown Pride to take place June 10
Festival to feature drag storytime, makers' market, DJs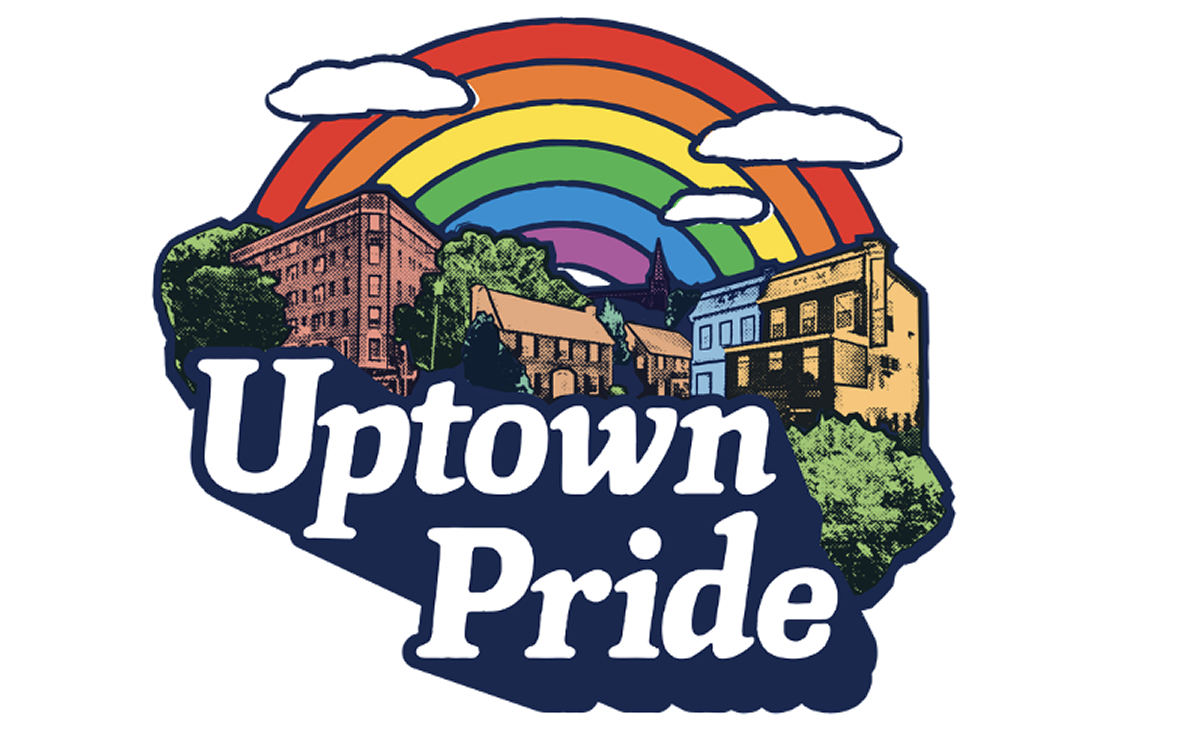 A new Pride festival is coming to D.C.
The inaugural Uptown Pride will be hosted in Sixteenth Street Heights on June 10 with Pride celebrations for Washingtonians of all ages.
The festival, hosted at the intersection of 14th Street, Colorado Avenue and Kennedy Street, NW, will feature a drag storytime, a makers' market, DJs and more. There will also be a raffle for various prizes, with all proceeds going to the Trevor Project, which provides suicide prevention services for LGBTQ teens.
The festival will be from 2-7 p.m. and is partnering with local businesses like Moreland's Tavern, Captain Cookie and Lighthouse Yoga Center for activities and refreshments.
Justin Noble, one of the organizers of the festival, said that the inspiration for the event came out of wanting a Pride experience tailored to the residents of the Sixteenth Street Heights, Petworth and Brightwood neighborhoods.
"It can be a hassle to get to downtown," Noble said. "There needs to be something in our community that supports LGBTQ+ people and the culture and all of that because we're everywhere, right? We are everywhere."
Organizer Max Davis said that the inclusion of children's events like a drag storytime was purposeful, and helps make the event more accessible to LGBTQ families and youth.
"Kids I feel are the most important in as far as just showing them, just visibly showing them that you can live out and you can be queer," Davis said. "There is no more dangerous time than now to be queer, questioning youth … So who better to welcome into the fold than kids who might be questioning their sexuality."
Davis said that a big part of wanting to bring Pride celebrations uptown was to have a physical representation of support for the LGBTQ community.
"I felt like because there wasn't anything going on in Sixteenth Street Heights — the clientele that we were serving up at Moreland's absolutely is supportive, and I never felt that it wasn't a supportive environment — but if you don't have something to actively support that I feel that your support is just words," Davis said. "If our community had someplace to attend even for one day to just be like, 'Hey, I stand with you,' … that is something that every community should have available to them to actively support the LGBTQ community."
Capital Pride announces 2023 honorees, grand marshals
Assistant Secretary of Health Levine among picks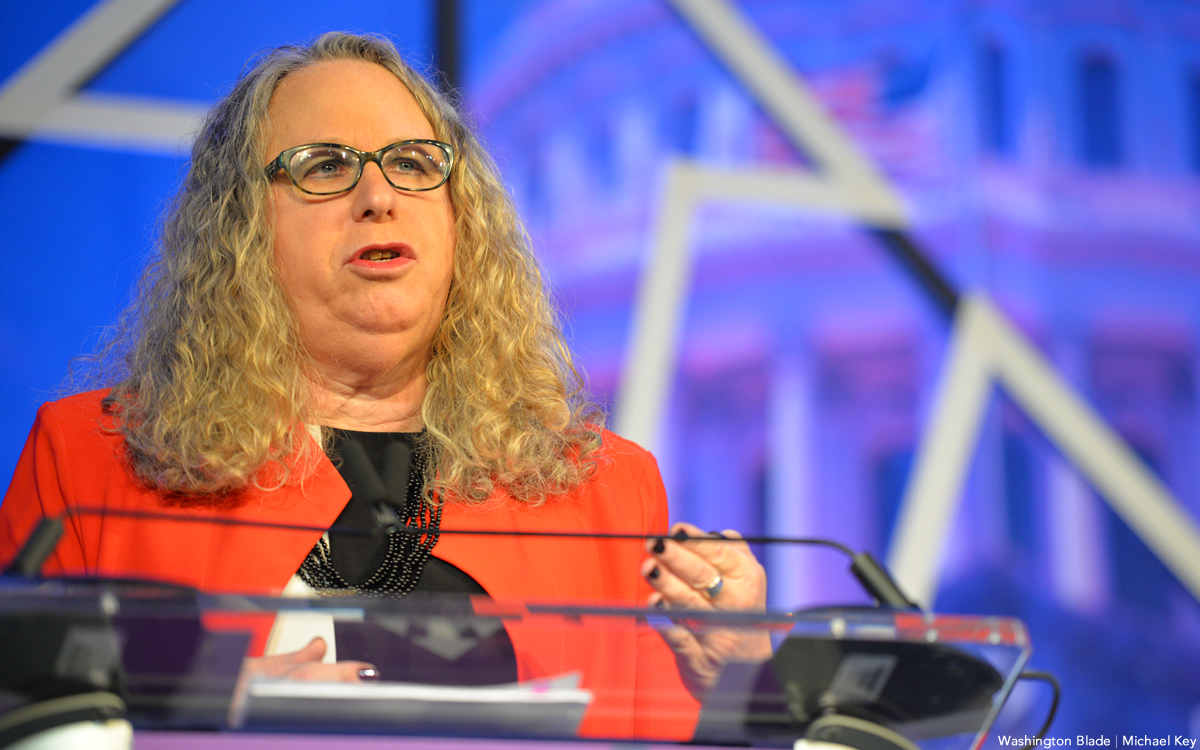 Assistant U.S. Secretary of Health Admiral Dr. Rachel Levine and acclaimed longtime D.C. LGBTQ and transgender rights advocate Earline Budd are among nine prominent LGBTQ community leaders named on Wednesday by the Capital Pride Alliance as its 2023 Capital Pride honorees.
Capital Pride Alliance, which organizes D.C.'s annual Capital Pride parade, festival, and related events, announced in a May 24 statement that it will present the honoree awards to each of the recipients at a ceremony scheduled for 7 p.m. on Friday, June 2, at the Penn Social event and catering hall at 801 E St., N.W.
"The recipients are nominated each year by members of the community," the Capital Pride statement says. "They represent individuals who and organizations that have advanced the causes of LGBTQ+ rights," it says.
The statement says Levine was selected for the Capital Pride Paving the Way Award, which "acknowledges an individual or organization that has provided exemplary contributions, support, and/or advocacy that has positively impacted the LGBTQ+ community, and whose leadership has inspired continued progress."
Levine, who was appointed by President Biden in 2021 as Assistant Secretary of Health, is a longtime pediatrician who also serves as an admiral in the U.S. Public Health Service Commissioned Corps. She became the first openly transgender person to hold the admiralty position.
Capital Pride named Earline Budd as recipient of the Capital Pride Super Hero Award, which "recognizes additional significant and important contributions to the LGBTQ+ community in the national capital region."
The statement announcing the honorees says Levine and Budd will also serve as grand marshals for the June 10 Capital Pride Parade. It says each of the other honorees will serve as parade marshals.
The announcement says the following four people have been named as recipients of the Capital Pride Hero Award:
• Shi-Queeta Lee, the D.C.-based nationally acclaimed drag performer
• Benjamin Rosenbaum, longtime congressional staffer, LGBTQ rights advocate, and LGBTQ Jewish community advocate
• Nancy Canas, president of D.C. Latinx History Project and advocate for the LGBTQ Latinx community
• Abdur-Rahim Briggs, longtime leader of the D.C.-based Project Briggs, which provides philanthropic support for LGBTQ causes.
The following two organizations were named as recipients of the Capital Pride Breaking Barriers Community Impact Award, which recognizes individuals or organizations that have "demonstrated a significant impact to the LGBTQ+ community at either the local or national level and who helped eliminate barriers for social, personal, or professional growth of the LGBTQ+ community:
• Drag Story Hour DMV
• National LGBTQ Task Force
The Bill Miles Award for Outstanding Volunteer Services, which acknowledges "exemplary contributions to the Capital Pride Alliance, its programs, initiatives, or other Pride sponsored activities," is being given to Brandon Bayton, Jr., a longtime Capital Pride volunteer, consultant, and organ transplant advocate, and LGBTQ rights advocate.
"We are fortunate to have such a vibrant honoree selection process, with so many outstanding individuals who were nominated," said Ashley Smith, president of the Capital Pride Alliance Board of Directors. "We are very pleased to celebrate these individuals at the 2023 Capital Pride Honors," Smith said in the CPA statement.
Blade names recipients of two summer fellowships
Kravis, Lev-Tov join LGBTQ news team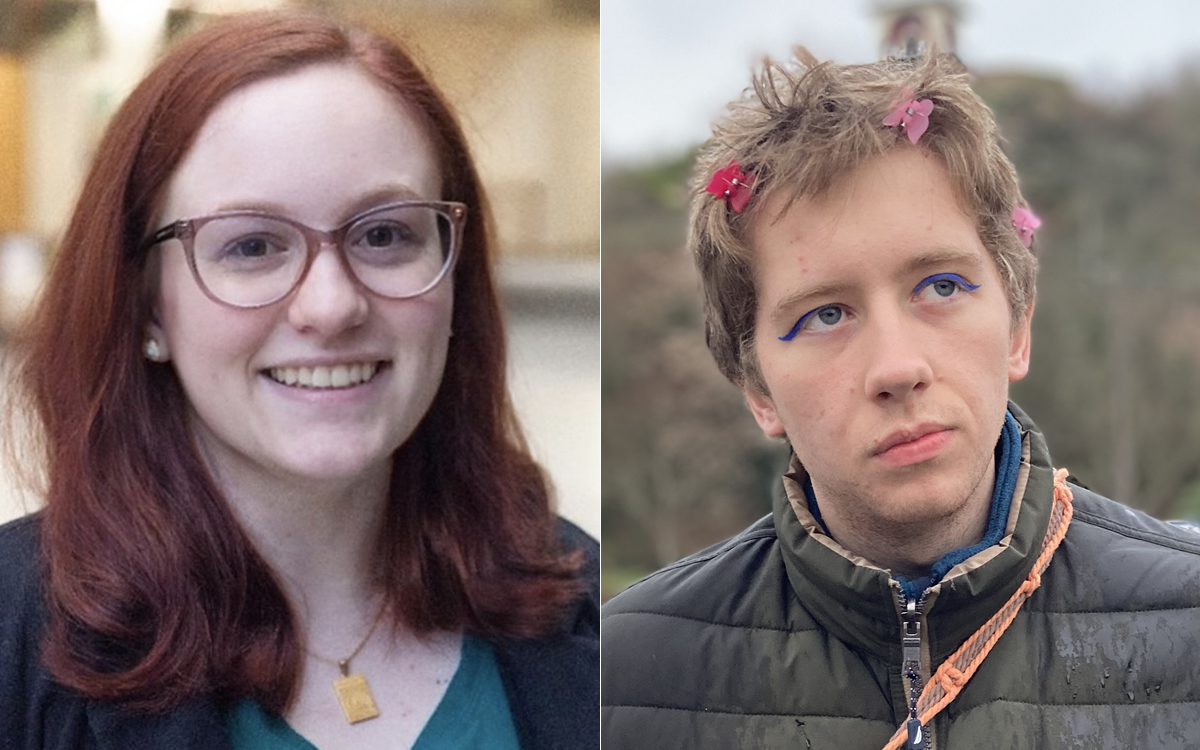 The Blade Foundation this week announced the recipients of its 2023 summer fellowship program.
Isabelle Kravis (she/they) is a senior at American University studying journalism and women's, gender, and sexuality studies. She will focus on covering LGBTQ issues in the local D.C. area for 12 weeks starting this week. The fellowship is made possible by a generous donation from the DC Front Runners Pride Run 5K event.
"I've been reading the Blade since I first moved to D.C. for my freshman year and I'm so excited to be able to contribute to such a historic paper," Kravis said. "I love covering the LGBTQ community because of the diversity of experiences that each queer person has and the joy that queer people bring to everything they do. I'm incredibly lucky to have this opportunity to be able to cover both the city and community that I love."
Joel Lev-Tov (they/them) is a senior at the University of Maryland College Park studying journalism. Lev-Tov also serves as president of the Association of LGBTQ Journalists at College Park. Lev-Tov is the sixth recipient of the Steve Elkins Memorial Journalism Fellowship, which honors the co-founder of CAMP Rehoboth. The fellow covers issues of interest to the LGBTQ community in Delaware, also for 12 weeks. The fellowship is funded by donations from the Rehoboth Beach community.
"I'm extremely excited to start reporting about my community for my community," Lev-Tov said. "The Blade is offering me a special opportunity that I'm very grateful for. I can't wait to start reporting!"
Kevin Naff, editor of the Blade, welcomed Kravis and Lev-Tov to work this week.
"We're all excited to work with Isabelle and Joel this summer," Naff said. "There's never been more news to cover and they will add an important, fresh perspective to our work. Thank you to our donors and to the Front Runners for making this program possible."
For more information on the fellowship program or to donate, visit bladefoundation.org.