Will casino push impact Md. marriage referendum?
Polls suggest gaming will have little impact, but others say it's a 'crap shoot'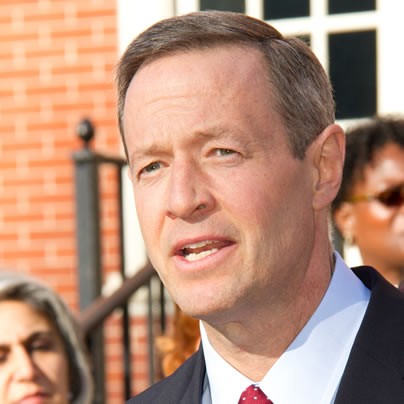 As Maryland lawmakers prepare to debate the proposed expansion of gambling in the state, same-sex marriage supporters are divided over whether the issue will influence the outcome of the November referendum.
Josh Levin, campaign director of Marylanders for Marriage Equality, pointed to a Maryland pollster who said in an undated memo that a referendum, no matter "how controversial," would not "by itself drive up turnout among 'reluctant' voters in a presidential year." The memo specifically notes that 2,631,434 Marylanders voted in the 2008 presidential election, compared to only 2,525,424 who cast votes in the gaming referendum that allowed five casinos with slot machines and table games on video screens to open in the state. (Voters approved Question 2 by a 58.6 to 41.4 percent margin.)
The Washington Post last month noted that a second poll of 700 Maryland voters that the Mellman Group conducted on behalf of MGM Resorts International between June 28 and July 7 found 63 percent of gambling proponents support same-sex marriage. The survey found that only 34 percent of those who oppose gaming are against nuptials for gays and lesbians. MGM is seeking rights to build a proposed National Harbor casino.
"Both issues are going to motivate voters to get out on both of the issues," said Levin, referring to the Mellman Group survey. He spoke to the Blade hours after Gov. Martin O'Malley, who signed the same-sex marriage law in March, announced a special legislative session to decide the fate of the proposed National Harbor casino in Prince George's County that will start on Aug. 9. "Where we have the momentum, we don't see it affecting turnout in ways that will be harmful to us."
A Public Policy Polling survey in May found that 57 percent of the state's voters would vote for the same-sex marriage law in the referendum. The same PPP poll also noted that 55 percent of black Marylanders back nuptials for gays and lesbians.
Neither O'Malley's office nor the Maryland Family Alliance, the group that backs the November same-sex marriage referendum, returned the Blade's requests for comment.
Some LGBT advocates fear that the group of existing Maryland casino operators will target conservative blacks and white evangelicals who traditionally oppose gambling — and same-sex marriage — in a well-funded campaign against the proposed National Harbor complex. A separate referendum on the Maryland Dream Act that would extend tuition to undocumented immigrants further complicates the electoral landscape.
"It's a tricky question because gambling and marriage have never been on the ballot together in Maryland," said Jeff Krehely, vice president of LGBT programs at the Center for American Progress. "Knowing there could be a morality argument against gambling, I feel like having any kind of gambling effort on the ballot is going to increase those with a more conservative perspective on the world to come out to the ballot referendum."
A Gonzalez Research and Marketing poll in January found the economy,  jobs, education and taxes — and not same-sex marriage — were the top issues among Maryland voters. Less than one percent of respondents identified nuptials for gays and lesbians as their biggest concern.
Only 19 percent of those who took part in the annual Conservative Political Action Committee straw poll in D.C. in February described "traditional values" as their top issue going into this year's election cycle. Only 1 percent of those who voted in the 2011 CPAC straw poll cited stopping same-sex marriage as their primary concern.
In spite of these numbers, some Maryland LGBT activists are not ready to discount the impact a gambling referendum could have on efforts to defend the state's same-sex marriage law.
"At this point it's a crap shoot," the Rev. Meredith Moise, co-chair of Baltimore Black Pride, told the Blade. "I do know some of the pastors are organizing against the gambling pieces for good reason — focus on gaming is taking away from a lot of important issues and just the money drain it will bring to the community is unfathomable. Anytime you have something that can motivate and organize anti-gay constituencies could spell trouble for us."
Moise noted that churches that both support and oppose nuptials for same-sex couples have joined anti-gaming efforts. She stressed that she feels these congregations "have agreed to disagree about gay marriage for the sake of their coalitions."
Moise added that activists have found that those whom she described as allies and potential allies remain unaware of the November referendum.
"We are still educating people and having conversations about marriage equality," she said. "LGBT folks and community activists are having conversations about marriage equality. What we are hearing and experiencing is that people know the bill passed but don't know that it will be on the ballot in November."
Capital Stonewall Democrats backs Robert White over Bowser
LGBTQ group endorses Erin Palmer over incumbent Mendelson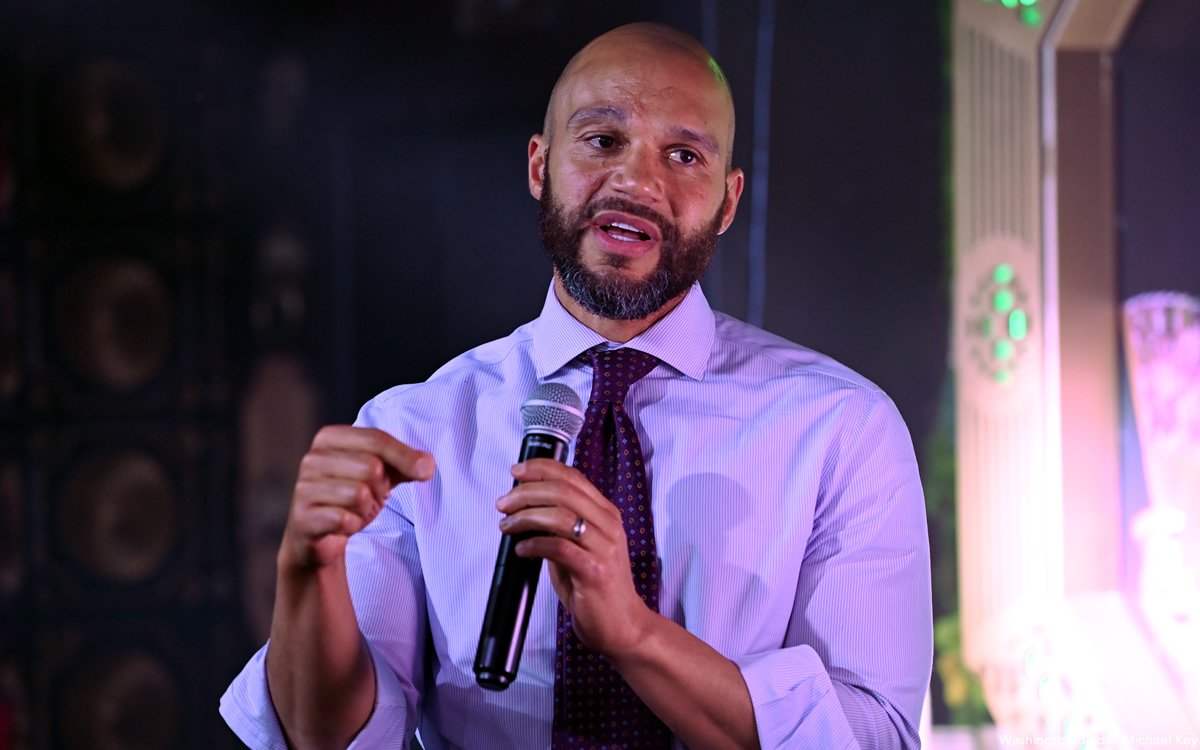 The Capital Stonewall Democrats, the city's largest local LGBTQ political group, announced on May 17 that it has selected D.C. Council member Robert White (D-At-Large) over incumbent Mayor Muriel Bowser and political newcomer Erin Palmer over D.C. Council Chair Phil Mendelson as its endorsed candidates in the city's June 21 Democratic primary.
With Bowser and Mendelson as well as White having longstanding records of support for LGBTQ rights and Palmer expressing strong support for the LGBTQ community, local observers say the LGBTQ Democratic group's 163 voting members appear to have based their endorsement decisions on other pressing issues facing the city rather than only LGBTQ specific issues.
In other races, Capital Stonewall Democrats, formerly known as the Gertrude Stein Democratic Club, which was founded in 1976, voted to endorse incumbent Ward 1 Council member Brianne Nadeau over gay former D.C. police officer Salah Czapary and community activist Sabel Harris who are running against Nadeau.
In the Ward 5 Council race, the group has endorsed gay D.C. Board of Education member Zachary Parker in a five-candidate contest for the seat being vacated by incumbent Council member Kenyan McDuffie, who ran unsuccessfully for the office of D.C. Attorney General.
The group has also endorsed Council member Charles Allen (D-Ward 6), who is running unopposed in the primary; D.C. Congressional Del. Eleanor Holmes Norton (D), who's favored to win re-election against two lesser-known opponents; and D.C. shadow U.S. Rep. Oye Owolewa, who's also favored over a lesser known opponent.
Capital Stonewall Democrats announced it did not make an endorsement in the Ward 3 and At-Large D.C. Council races and in the D.C. Attorney General race because no candidate received a required 60 percent of the vote under the group's longstanding rules for endorsements.
By not endorsing in the At-Large race, the group passed over incumbent At-Large Council member Anita Bonds, a longtime supporter of LGBTQ issues. Bonds is being challenged by Advisory Neighborhood Commissioner Lisa Gore, former D.C. shadow House member Nate Fleming, and former D.C. Council staffer Dexter Williams.
In the hotly contested Ward 3 Council race, nine candidates are competing for the seat being vacated by incumbent Mary Cheh, another longtime LGBTQ rights supporter.
In the race for attorney general, three prominent local attorneys — Brian Schwalb, Ryan Jones, and Bruce Spiva — are competing for the AG position being vacated by incumbent Karl Racine, who chose not to run for re-election.
Capital Stonewall Democrats' endorsements follow a series of five LGBTQ candidate forums the group held virtually in which most of the candidates running in the various races attended.
In the group's mayoral form, Bowser was the only one of the four mayoral contenders that did not attend. Her supporters said she had a conflicting event organized by gay Democratic activist Kurt Vorndran that prevented her from attending the Stonewall event.
Those who attended the mayoral forum were Robert White, D.C. Council member and mayoral candidate Trayon White (D-Ward 8), and former attorney and community activist James Butler.
A detailed vote tally released by Capital Stonewall Democrats shows the vote count for each of the endorsed candidates as well as candidates in the races for which the group did not make an endorsement.
In the mayoral race, Robert White received 120 votes, or 74.5 percent. Bowser came in second place with 37 votes or 23.0 percent; Trayon White received just two votes or 1.2 percent, with Butler receiving just 1 vote at 0.6 percent. One vote was cast for no endorsement.
In the D.C. Council Chair race, Palmer received 89 votes or 60.1 percent, just surpassing the 60 percent threshold needed for an endorsement. Mendelson received 48 votes or 32.4 percent. Eleven votes were cast for no endorsement.
In the Ward 1 Council race, Nadeau received 100 votes or 69.4 percent compared to gay candidate Czapary, who came in second place with 23 votes or 16.0 percent. Candidate Sabel Harris came in third place with 9 votes or 6.3 percent, with a no endorsement selection receiving 12 votes or 8.3 percent.
In the Ward 5 contest, gay school board member Parker received 91 votes or 64.5 percent. Candidate Faith Hubbard came in second with 31 votes or 22.0 percent. The remaining candidates received fewer than 10 votes each, including former At-Large and former Ward 5 Council member Vincent Orange, who received 5 votes or 3.5 percent.
"Since Capital Stonewall Democrats has only 221 members, and only 163 bothered to vote, this is clearly not representative of the LGBTQ+ community in the District," said gay Democratic activist Peter Rosenstein, who is supporting Bowser for mayor.
But longtime D.C. LGBTQ rights advocate A. Billy S. Jones-Hennin is among the local activists who view the Capital Stonewall Democrats' endorsement of lesser-known challengers – most of whom have progressive, left-leaning views – as a reflection of changes in the demographics of the LGBTQ community and the Stonewall group's members.
"At the forefront for voters is who they feel can address core problems like crime, open drug transactions, and increased homeless populations," Jones-Hennin told the Blade. "Just asking voters for support based on their support of the LGBTQ+ community in the past does not cut it," he said. "We are multi-faceted voters looking for new, more progressive and aggressive leadership."
The Capital Stonewall Democrats list of endorsements as well as races with no endorsement can be viewed below:
• Mayor: Robert White, with 74.5% of the round one vote
• DC Attorney General: No Endorsement
• DC Council Chair: Erin Palmer, with 60.1% of the round one vote
• Ward 1 Council: Brianne K. Nadeau, with 69.4% of the round one vote
• Ward 3 Council: No Endorsement
• Ward 5 Council: Zachary Parker, with 64.5% of the round one vote
• Ward 6 Council: Charles Allen, with 83.2% of the round one vote
• At-Large Council: No Endorsement
• Delegate to U.S. House of Representatives: Eleanor Holmes Norton, with 69.7% of the round one vote
• U.S. Representative: Oye Owolewa, with 66.1% of the round one vote
Pannell resigns in protest from Ward 8 Council member's LGBT Commission
Says Trayon White has no out member of his staff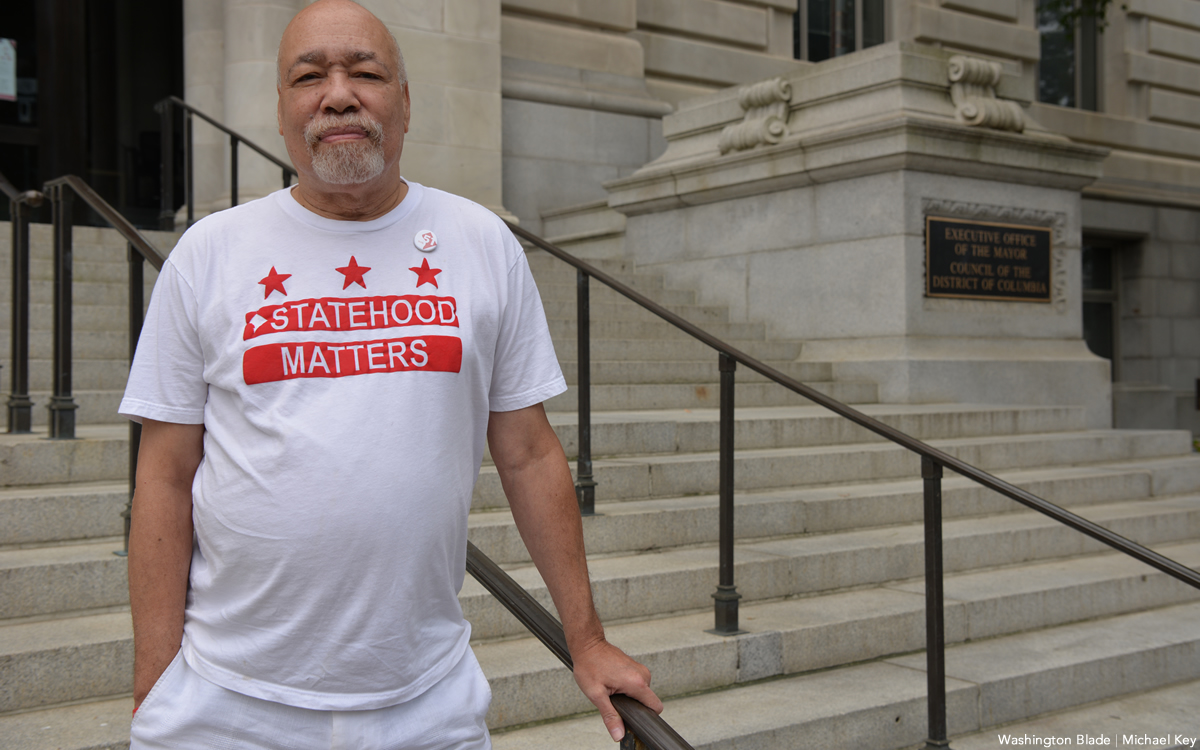 Longtime D.C. LGBTQ rights activist Phil Pannell announced on May 6 that he has resigned as a member of the Ward 8 LGBT Commission created by D.C. Council member Trayon White (D-Ward 8) on grounds that White does not have an LGBTQ person on his Council staff.
White's office has said the Council member created the commission to "focus on the specific needs of this community" in his role as a supporter of LGBTQ equality.
"For me, this is a major issue of inclusion, affirmative action and diversity," Pannell said in an email message announcing his resignation. "I as a Black Gay man cannot in good conscience continue to be a member of my Councilmember's LGBT Commission when he has no one from my community on his staff," Pannell's announcement message continues.
"This is hypocritical at best and structurally homophobic at worst," he said. "I deeply resent and refuse to be used as anyone's homosexual prop for any purposes. Therefore, I resign from the commission effective immediately."
In response to a request by the Washington Blade for comment on Pannell's resignation, Julia Jessie, White's director of communications, said White's Council office "follows all legal HR procedures and hires based on experience and skillset." Jessie added, "As an employer, we do not discriminate or consider a person's race, color, religion, or sex, including sexual orientation or gender identity, when making decisions about employment qualifications."
According to Jessie, "We do, however, harvest a safe and inclusionary work environment where employees who wish to voluntarily disclose their sexual orientation of gender identity feel comfortable doing so."
White's office released a statement from the Ward 8 LGBT Commission's chair, Marvin 'Rahim' Briggs, saying the commission "regretfully accepts" Pannell's resignation.
"The Commission will continue to focus on and address issues affecting Ward 8 LGBTQ," Briggs says in the statement. "We'll continue to organize to promote acceptance of LGBTQ community diversity and to foster respect and appreciation for each member of the community residing in Ward 8."
Two gay candidates disqualified from D.C. primary ballot
Republican, Libertarian activists withdraw from races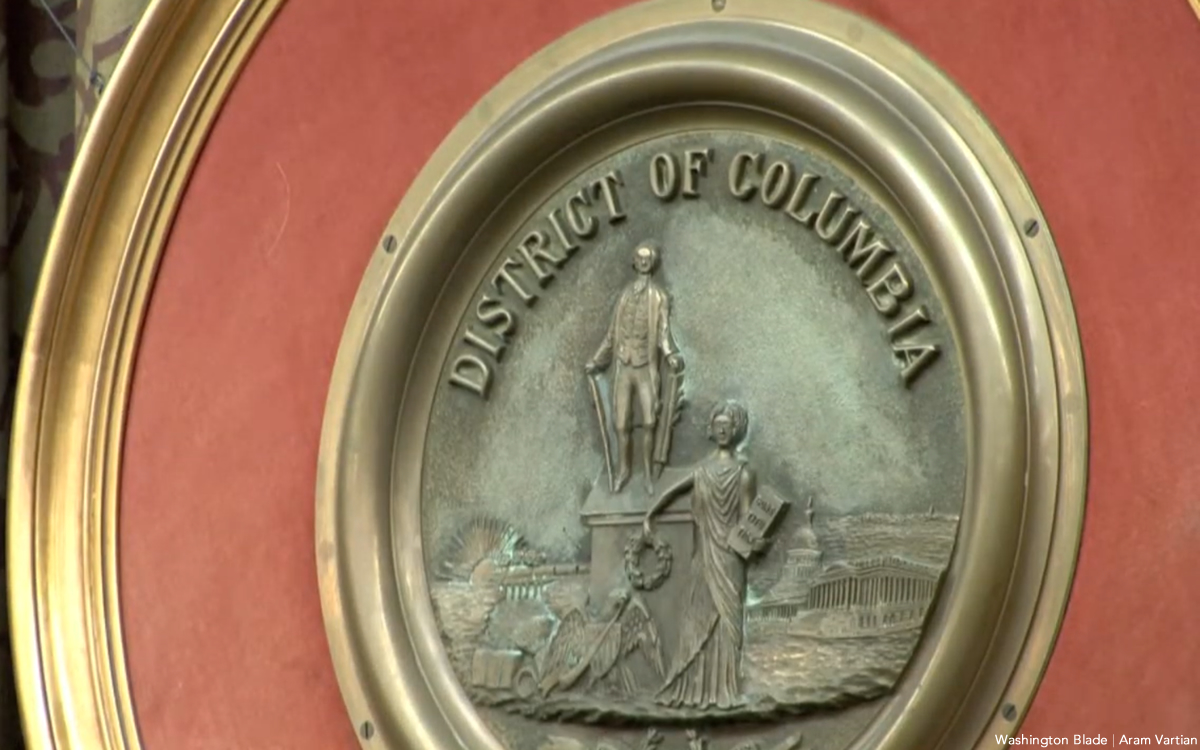 A member of the Capital Stonewall Democrats, D.C.'s largest LGBTQ local political group, mounted a successful challenge before the D.C. Board of Elections earlier this month that resulted in a gay Republican and a gay Libertarian Party activist withdrawing as candidates for public office in the city's June 21 primary.
James Harnett, 24, a member of the Ward 2 Democratic Committee and a member of the staff of U.S. Sen. Sherrod Brown (D-Ohio), filed challenges to the candidacy of gay Libertarian Party activist Bruce Majors, who was running unopposed in the June 21 primary for the office of both D.C. Delegate to the U.S. House and chair of the Libertarian Party of D.C.
The Board of Elections upheld Harnett's challenge claiming that Majors failed to obtain a sufficient number of valid petition signatures needed to be placed on the ballot for both offices, according to elections board spokesperson Nicholas Jacobs. Majors withdrew his candidacy for both offices rather than contest the challenge.
The Board of Elections also upheld a challenge filed by Harnett against the candidacy of gay Republican and D.C. Log Cabin Republicans organization member Andrew Desser, who was running unopposed in the primary for the position of Ward 1 Chairperson of the D.C. Republican Committee.
Desser told the Blade he acknowledged that he fell short in obtaining the needed number of valid petition signatures and would not contest the challenge.
Harnett, who appeared to be acting on his own behalf and not representing the Capital Stonewall Democrats in his challenges to Majors and Desser before the election board, did not respond to the Blade's request for comment.
Board of Elections records showed that he also successfully challenged six other candidates seeking ballot placement in the June 21 primary, one of whom, Lori Furstenberg, was running for mayor as a Republican and another, Corren Brown, was running for mayor as a Statehood-Green Party member.
The others Harnett mounted a successful challenge against were GOP candidates running for the Ward 2, Ward 4, and Ward 7 GOP Chairperson positions; and Leniqua 'Dominique' Jenkins, a Democrat running for the at-large D.C. Council seat, who was the only Democrat challenged by Harnett.
Harnett, a former ANC commissioner in the Foggy Bottom neighborhood, ran unsuccessfully in 2020 for the nonpartisan office of D.C. Board of Education for Ward 2. Among the candidates he ran against was gay education advocate Allister Chang, who won that race.