Activists rally for gay minister facing eviction
Faith Temple pastor opened home of 24 years for Bible study, church events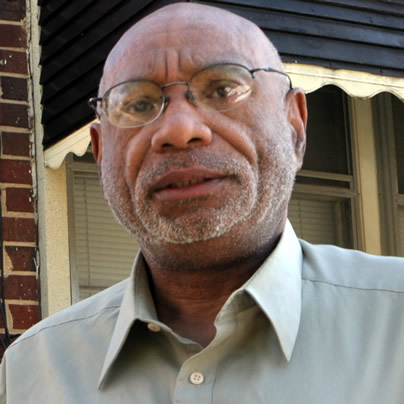 Rev. Robert Michael Vanzant, 59, the outreach pastor for D.C.'s Faith Temple, a Christian church with a special outreach to the African-American LGBT community, says he's doing his "very best" to keep his spirits up at a time of need.
His Northeast Washington home of 24 years is in foreclosure and the Bank of America, which holds the mortgage, is taking steps to have him evicted.
"I've spent my entire life serving God and my community," Vanzant said in an open letter to the bank that he released last week. "When I became disabled and my income dropped, I reached out and asked for a modification so that I could continue to pay my mortgage. You denied my request and set me up for foreclosure and eviction."
Last week, friends and associates at Faith Temple joined the D.C. anti-foreclosure group Occupy Our Homes in staging a protest demonstration on his behalf outside the Bank of America's loan office on U Street, N.W., just off 14th Street.
The protest organizers say Bank of America appears to have violated a city law that requires lenders to enter into a mediation process with borrowers who have fallen behind on their mortgage.
An official with the city agency that administers the mediation program said its intent is to determine whether a borrower is qualified for one of nearly a dozen federal programs that encourage and in some cases pay lenders to modify the terms of a mortgage to lower the monthly payments and enable a mortgage holder to keep the home.
Vanzant has served as a pastor at Faith Temple since the church was founded in 1982. He said he moved into his house on the 5500 block of 5th Street, N.E., in 1988 as a tenant before buying the semi-detached townhouse in 2003 from his landlord.
Isaiah Poole, a longtime member of the church and friend of Vanzant's, said Vanzant has long opened his house for church functions, including Bible study classes. Poole said Vanzant also has opened his home as a shelter for people in need.
Vanzant told the Blade his problems began in 2008 when he became disabled due to illness and was later approved for disability status. He said that although he was no longer able to keep his full-time day job with the Metro transit agency, for the next year and a half he managed to continue making his mortgage payments through a disability insurance policy he had and later through Social Security disability benefits.
"I called the bank in early 2009 and said my income was going to change soon and I needed to talk about streamlining my mortgage," he said. According to Vanzant, bank officials told him there were no mortgage assistance programs available for people who were current on their payments.
He said he next contacted several mortgage counseling organizations that promoted themselves as experts in helping people at risk for foreclosure. One of the organizations advised him to withhold his mortgage payments and place the money in a savings or escrow account, with the intent of working out a mortgage modification plan with the bank at a later date.
"And so that's what I did," he said.
But by early 2010, Bank of America began foreclosure proceedings and refused to discuss any mortgage adjustment options that had been widely publicized in the media and by the Obama administration.
"I received something from the law office that was representing the bank that they were foreclosing," he said. "At the same time I received a notice from the Landlord-Tenant Court from the bank's lawyer about an eviction."
Added Vanzant, "That's when she [the bank's lawyer] told me, 'They don't want to talk to you. They won't have anything to do with you. They don't have anything to say to you.'"
Mike Haack, an organizer for Occupy Our Homes and one of the leaders of the protest demonstration last week, said the group plans further protests if Bank of America doesn't demonstrate a good faith effort to work out a way for Vanzant to save his home.
"We feel the bank can take steps to allow him to keep his house," Haack said. "The Reverend is an asset to the community."
Vanzant, who was being treated at Howard University Hospital at the time of the Sept. 6 protest, said a representative of the bank called him at the hospital that same day, leading him to believe that the protest may have "alerted" the bank to his plight.
"I told them I couldn't talk to them at that time because I was under medical treatment," he told the Blade. "I said I would like to talk to them the next week."
He said the bank's representative called again last Friday and he arranged to speak with the representative this week.
"I'm trying to arrange for some legal representation before I talk to them," he said. "I've made mistakes in the past and have had what my friends say was some bad advice" by organizations he paid to help during the past two years.
Brian Sullivan, a spokesperson for the U.S. Department of Housing and Urban Development, which administers the federal government's mortgage assistance programs, said HUD strongly urges consumers not to pay anyone for so-called mortgage assistance services. He said HUD has a long list of HUD-approved mortgage counseling organizations and all of them offer their services for free.
He said Vanzant would likely qualify for a mortgage modification program, but a final determination on his qualifications would depend on the specific status of his mortgage, such as whether it is associated with federally linked agencies like Fannie Mae and Freddie Mac or the Federal Housing Administration (FHA).
"He has to provide all of this information to whoever he selects to help him get through this process," Sullivan said.
Sheila Alexander-Reid to step down as director of D.C. LGBTQ Affairs Office
Veteran community activist to take new job workplace bias consultant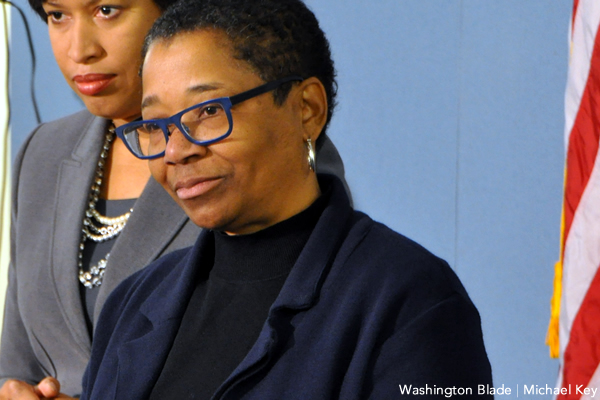 Longtime LGBTQ community advocate Sheila Alexander-Reid, who has served since 2015 as director of Mayor Muriel Bowser's Office of Lesbian, Gay, Bisexual, Transgender, and Questioning Affairs, is stepping down from her city job in mid-July.
Alexander-Reid told the Washington Blade she will take a few weeks of accumulated leave beginning June 15 to recuperate from follow-up knee surgery before officially leaving her current job to take on a new role as a private sector consultant in the area of workplace bias and diversity training.
She said will announce the name of the private sector company she will be joining as a senior vice president when she begins her new job in mid-July.
Among her duties at the Mayor's LGBTQ Affairs Office has been to lead the office's staff in providing LGBTQ related diversity or competency training for D.C. government employees at all city agencies.
According to the office's website, other activities it carries out include connecting LGBTQ residents with city services they may need, advocating on behalf of programs and policies that benefit the lives of LGBTQ residents, providing grants to community-based organizations that serve the LGBTQ community and LGBTQ homeless youth; and host events that "enrich, promote, and bring together" the LGBTQ community in D.C.
"That work is always going to be part of who I am," Alexander-Reid said. "But now I will be expanding on that work to look at racial equity and gender bias as well as LGBTQ bias," she said. "I feel like I will be doing the same work but in a different format."
Prior to starting her job at the mayor's office, Alexander Reid served as Vice President of Strategic Initiatives at the Washington Blade, Director of Strategic Engagement at the Washington City Paper, and Founder and Executive Director of the D.C. based Women in the Life Association. She has also served as host of Inside Out, a local FM LGBTQ radio show.
Alexander-Reid noted that when she began work at the LGBTQ Affairs Office in late January 2015, less than a month after Bowser took office as mayor, the office consisted of two full-time employees, including her, with a budget of $209,000. In the current fiscal year 2021, the office now has four full-time employees and two additional detailed employees, from the Department of Health and Department of Human Services. The mayor is proposing a budget of $561,000 for the office for fiscal year 2022.
"I would be remiss if I didn't say what a pleasure it has been to work for Mayor Bowser," said Alexander-Reid. "I was excited to work for her and I don't regret it for one second. "It's been an amazing journey and I appreciate her having faith in me."
She said she expects an interim director to be named to run the office in mid-July while a search is conducted for a permanent director.
Attack on trans woman in D.C. laundromat captured in video
Police seek help from community in identifying suspects.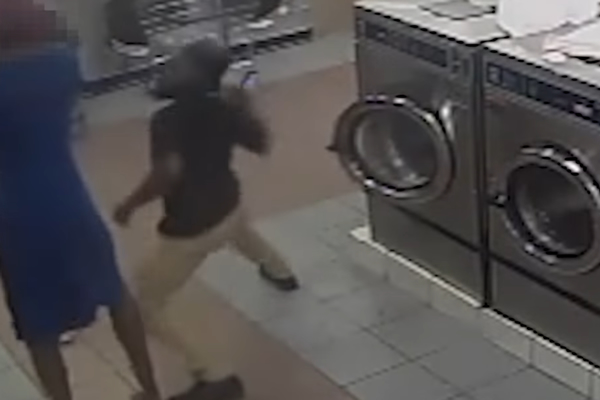 D.C. police on Thursday night released a dramatic video taken from a surveillance camera showing two women and a man repeatedly punching and shoving a transgender woman at a laundromat on Benning Road in Northeast Washington in an incident in which the victim was stabbed in the head.
Police, who have listed the Sunday, June 6, incident as a suspected anti-LGBTQ hate crime, are appealing to the community for help in identifying the three suspects, who are shown in the video attacking the trans woman before escaping in a black SUV while carrying laundry bags.
Detectives from the Metropolitan Police Department's Sixth District obtained the video from a surveillance camera at the Capital Laundry Mat at 1653 Benning Road, N.E., according to a police report and a police statement released Thursday night.
The video shows that the suspects were accompanied by two young children. It shows one of the adult female suspects appearing to be dancing by herself in front of a row of washing machines seconds before the three suspects lunged at the victim and began punching her.
"One of the suspects brandished a knife and stabbed the victim," the police statement says. "The suspects fled the scene in a vehicle. The victim was transported to a local hospital for treatment of non-life-threatening injuries," the statement says.
"Anyone who can identify these individuals, or vehicle, or has knowledge of this incident should take no action but call police at 202-727-9099 or text your tip to the Department's TEXT TIP LINE at 50411," the statement adds. It says the department's Crime Solvers program offers a reward of up to $1,000 to anyone who provides information leading to the arrest and indictment of a person or persons responsible for a crime committed in D.C.
Police spokesperson Alaina Gertz told the Washington Blade that because the investigation is ongoing, police could not immediately disclose whether they know if the victim knew one or more of the attackers before the incident took place or what, if anything, prompted the suspects to attack the victim other than due to her status as a transgender person.
The video released by D.C. police can be accessed here: https://youtu.be/7v8lthvUPcg
Trans woman attacked, stabbed at D.C. laundromat
Police seeking three suspects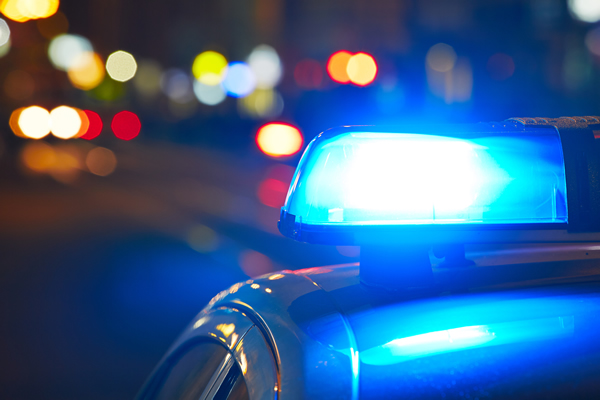 D.C. police are investigating a June 6 assault and stabbing of a transgender woman at a laundromat on Benning Road in Northeast Washington that a police incident report lists as a suspected anti-LGBT hate crime.
"On Sunday, June 6, 2021, MPD officers responded to a radio assignment for a stabbing at 1653 Benning Road, N.E.," the report says. "Officers arrived on the scene with Victim 1 bleeding," the report continues. "Victim 1 stated that they were stabbed in the head and assaulted by Suspect 1, Suspect 2, and Suspect 3," according to the report.
The report, which lists the incident as an assault with a dangerous weapon, says officers provided first aid to the victim until an ambulance arrived and took the victim to a local hospital for medical treatment. The report does not disclose the victim's gender identity or sexual orientation.
But D.C. transgender activists Earline Budd, an official with the LGBTQ supportive group HIPS, and Ruby Corado, founder and CEO of the LGBTQ community services center Casa Ruby, each said they learned that the victim is a transgender woman.
Corado said she has heard that the victim was recovering from her injuries and may have been released from the hospital where she was treated.
D.C.'s Fox 5 News reported details of the incident that were not in the police report obtained by the Washington Blade. According to Fox 5, the victim told D.C. police the assailants used anti-LGBTQ slurs during the attack and the assailants consisted of a man and two women who "beat her and stabbed her in the head."
The police report obtained by the Blade from the police public information office does provide a description of the three suspects and does not state whether or not the victim knew them prior to the attack.