Gay is 'The New Normal'
Same-sex couple explores parenthood in new Ryan Murphy sitcom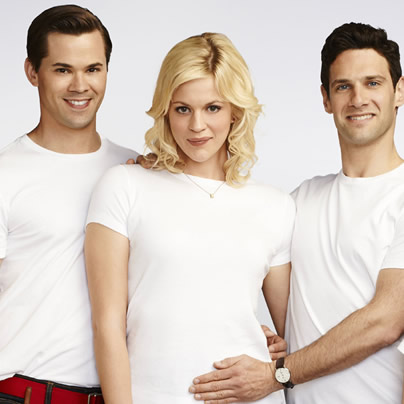 'The New Normal'
NBC
Tuesdays at 9:30 p.m.
Now that "The New Normal" is off and running — an online pilot teased the series while its first two regular broadcasts were Monday and Tuesday this week before settling into its regular Tuesday night time slot — most TV fans know the premise.
This latest creation from gay TV mastermind Ryan Murphy ("Glee," "Nip/Tuck," "American Horror Story"), it tells of a happy young gay Los Angeles couple, Bryan (Andrew Rannells) and David (Justin Bartha), who convince new-in-town Goldie (Georgia King) to be a surrogate so they can start a family.
The show's off to a decent-enough start. Monday night's network debut found it winning its time slot drawing about 6.9 million viewers, though about 45 percent of those who'd tuned in for lead-in hit "The Voice," cut out for "Normal." Some critics are calling the performances a "triumph over content."
Entertainment Weekly's Ken Tucker calls Rannells — best known for his Broadway turn in "The Book of Mormon" — "one of the hottest young talents around and he does as much as he can with a role that co-creators Murphy and Ali Adler seem to have conceived as a cross between Charles Nelson Reilly and Rip Taylor; all Bryan is missing is a bag of confetti to throw at his costars after deliving a punchline. It's to Rannells' credit that he made the premiere's attempts at heart tugging, wuch as a home video made for the future baby professing 'how desperately you are wanted,' seem heartfelt."
The San Francisco Chronicle praised its "humor, solid performances" and "snappily written script." The Los Angeles Times said the pilot "felt flat or programmatic … but much was likable as well, especially the nonchalant tenderness between the male leads."
During a conference call last week, Rannells, Bartha and King fielded questions on everything from where the show is headed, to working with Murphy to what they think about the controversy the show has generated (Salt Lake City, Utah-based NBC affiliate KSL has refused to air the show though it claimed it was more for the "sexually explicit content, demeaning dialogue and inciting stereotypes" than its "gay characters or LGBT families; Two Utah pro-gay groups in a partnership with GLAAD are screening the show for Utah residents).
"I actually do hope people are offended by it," Bartha says. "I think hopefully it will get conversations started in family homes and that families who love it will love it for what it is, a compassionate and loving family with many positive aspects. And the ones who are offended by it or find that it strikes them as offensive, hopefully they will maybe realize that they're bigots and they're ignorant and possibly our show can usher in a little more acceptance. I don't expect it to change anyone's life, but I do think one of the wonderful things about television is its ability to start a conversation, to inspire people to have those watercooler chats maybe the next day. It starts that discourse."
King, a British actress with extensive film and TV credits, says realizing the show was drawing controversy was "the biggest thrill."
"It's bringing up topics and questions and ideas that maybe people haven't had to consider before," she says. "It's a privilege to be doing something that's starting a great conversation."
But if the show takes off, where could it possibly go once the pregnancy storyline is played out? Some have questioned whether there's enough meat to the setting to warrant a long-running series.
Rannells says all early signs are great as far as he's concerned.
"We're shooting the fifth episode so far and we've read six scripts so far and I have to say, the shows just keep getting better and better. If you're asking what the second season, the third season and so on will look like, we don't think of it that way. The main reason we all signed up was because of Ryan and Ali and I think when you see the rest of these episodes, you'll see that it's not only a great set up, but in the following episodes, it really does explore the depth of each character and make them each indelible."
"Ryan's just been extraordinary," King says. "He's got such a wonderful reputation for not being too kind of plucky and fake. He's very to the point and personally, I absolutely love that. He's so candid and so clear in his ideas in what he wants and I'm very happy to be there when he's directing."
And though he hasn't said much about his personal life, Bartha admits playing gay with Rannells has been easy.
"From the first time I looked into Andrew's eyes, I knew I could fall in love," Bartha says. "I have such a respect for him as an actor and as a person that it was immediately apparent to me that this could work. I just thought he was a funny, good looking, talented guy and he's easy to be around, so that was the basis of it. … I really wanted to play it as a real couple who love each other and have struggles just like everyone else. Ryan keeps reminding us of that all the time. He's always saying, 'Let's keep this as real as possible.' It's funny, but it's also very, very real. It's not a sitcom in the classic sense."
And while it's ultimately meant to be light hearted and comical, the cast says they hope viewers will take away something deeper.
"What we're ultimately saying is that what we're creating is perhaps no different from your family," Rannells says. "All families basically start as unlikely folks coming together to create this family. Initially it might seem like this is awfully different, but the story we're telling is really universal."
Mayor's office to host Pride tie-dye party
Guests to make colorful shirts for 'PEACE. LOVE. REVOLUTION' theme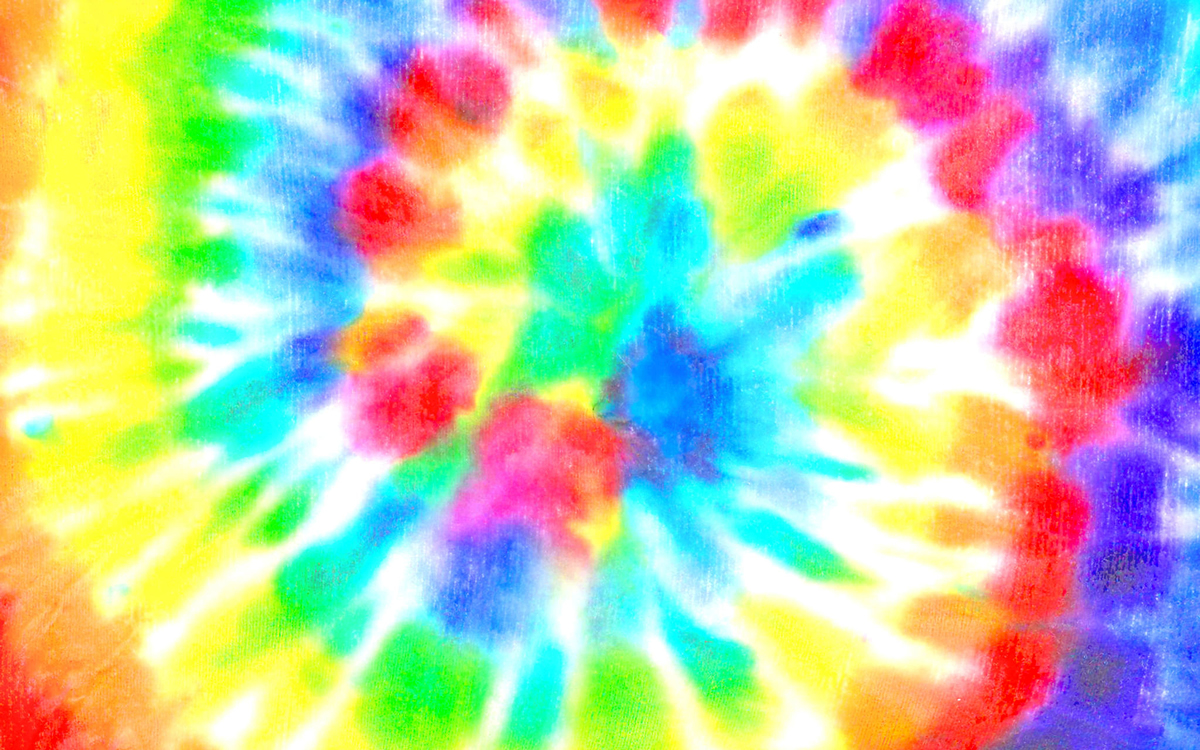 The Mayor's Office for LGBTQ Affairs will host "Love Out Loud: Tie Dye Party for Pride" on Wednesday, June 7 at 5 p.m. at the Frank D. Reeves Center of Municipal Affairs.
The event, hosted along with the DC Center for the LGBT Community and Capital Pride Alliance, will be an afternoon for community and artistry. Guests are encouraged to bring their creativity to make some colorful tie-dye shirts in line with this year's Pride theme, "PEACE. LOVE. REVOLUTION."
This event is free to attend and more details are available on Eventbrite. 
D.C. to celebrate LGBTQ poetry
Pride Poem-a-Day presents second installation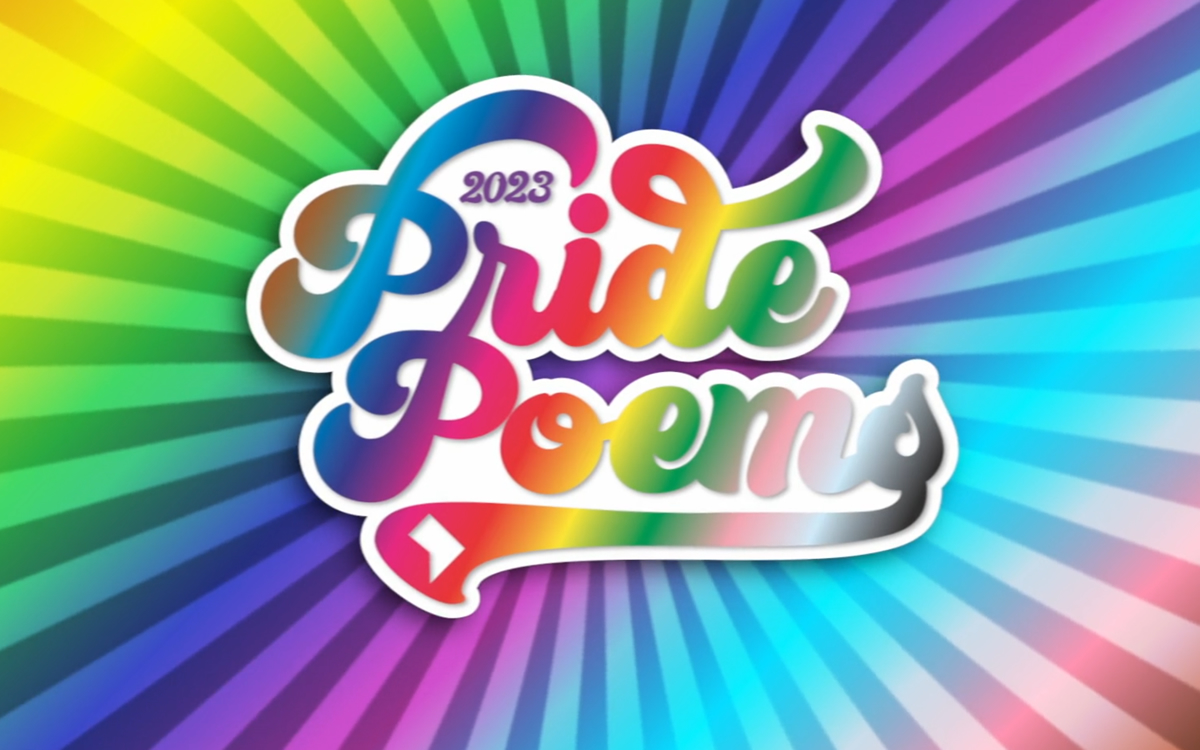 DC Pride Poem-a-Day will present its second installation of short videos featuring LGBTQ poetry from the Washington, D.C. area to celebrate Pride month.
A new video will be released each day in June and will feature different poets reading an original poem on the theme of "heritage."
The videos highlight LGBTQ poets from a variety of backgrounds, ethnicities, races, and countries of origin, and also poets from minority religions, multi-lingual, and disabled. 
To access the poetry, visit DC Pride Poems' website.
Calendar: June 2-8
LGBTQ events in the days to come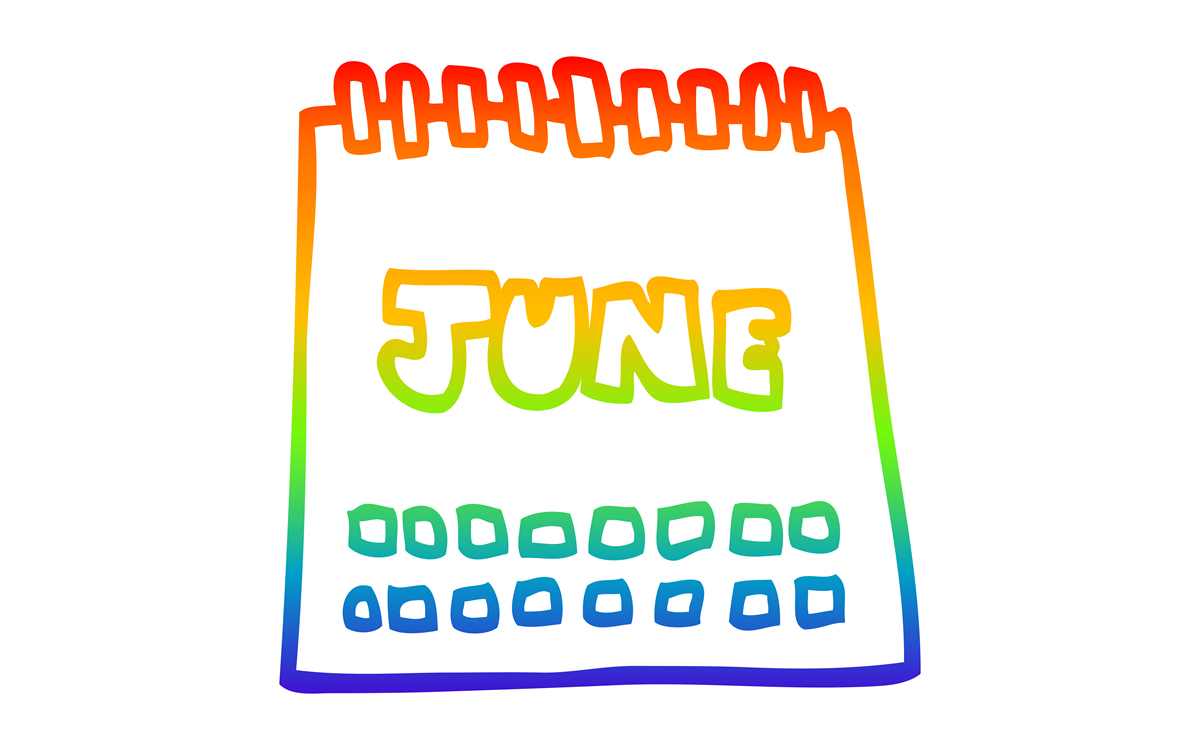 Friday, June 2
Center Aging: Friday Tea Time will be at 2 p.m. on Zoom. This event is a social hour for older LGBTQ+ adults. Guests can bring a beverage of choice. For more information, contact [email protected].
Go Gay DC will host "LGBTQ+ Pride Kickoff Social" at 7 p.m. at The Commentary. This event is ideal to make new friends in the LGBTQ community and enjoy the bottomless happy hour specials at Puro Gusto. Admission is free and more details are available on Eventbrite.
Saturday, June 3
Virtual Yoga Class with Jesse Z. will be at 12 p.m. online. This is a weekly class focusing on yoga, breath work, and meditation. Guests are encouraged to RSVP on the DC Center's website, providing your name, email address, and zip code, along with any questions you may have. A link to the event will be sent at 6 pm the day before.
LGBTQ People of Color Support Group will be at 1 p.m. on Zoom. LGBTQ People of Color can come together and talk about anything affecting them in a space that strives to be safe and judgment free. There are all sorts of activities like watching movies, poetry events, storytelling, and just hanging out with others. For more details, visit thedccenter.org/poc or facebook.com/centerpoc.
Project DC Events will host "DC Pride Crawl" at 2 p.m. at Dupont Circle's best bars. Guests are encouraged to put on their brightest and most colorful outfit, grab friends, and enjoy a day of drinks and celebration. Tickets start at $20 and can be purchased on Eventbrite. 
Sunday, June 4
AfroCode DC will be at 4 p.m. at Decades DC. This event will be an experience of non-stop music, dancing, and good vibes and a crossover of genres and a fusion of cultures. Tickets cost $40 and can be purchased on Eventbrite.
"Largest LGBTQIA+ Singles Flamingle" will be at 7 p.m. at THRoW Social DC. Guests can enjoy signature cocktail and wine specials, food, games, and live music while mingling with single people in the local LGBTQ community. This event is free and more details are available on Eventbrite.
Monday, June 5
Center Aging Monday Coffee and Conversation will be at 10 a.m. on Zoom. LGBT Older Adults — and friends — are invited to enjoy friendly conversations and to discuss any issues you might be dealing with. For more information, visit the Center Aging's Facebook or Twitter.
Capital Pride Interfaith Service Planning Meeting will be at 6 p.m. on Zoom. The Capital Pride Interfaith Service is an "integrated service" respectfully demonstrating the breadth, depth, and sincerity of our faith, exposing the lie that anti-gay fundamentalists have a monopoly on faith and religion. For more details, [email protected]. 
Tuesday, June 6
Go Gay DC will host "LGBTQ+ Pride Reception" at 5 p.m. at Turkish Coffee Lady. This event is to foster cross-cultural connectedness and make friends in the LGBTQ+ and allied community. Attendance is free and more details are available on Eventbrite.
Pride on the Patio Events will host "LGBTQ+ Social Mixer" at 5:30 p.m. at Showroom. Dress is casual, fancy, or comfortable and guests are encouraged to bring the most authentic you to chat, laugh, and get a little crazy. This event is free and more details are available on Eventbrite. 
Wednesday, June 7
Job Club will be at 6 p.m. on Zoom. This is a weekly job support program to help job entrants and seekers, including the long-term unemployed, improve self-confidence, motivation, resilience and productivity for effective job searches and networking — allowing participants to move away from being merely "applicants" toward being "candidates." For more information, email [email protected] or visit thedccenter.org/careers.
Center Aging Women's Social & Discussion Group will be at 6:00p.m. on Zoom. This group is a place where older LGBTQ+ women can meet and socialize with one another. To register, visit the DC Center's website. 
Thursday, June 8
KINETIC Presents will host "KINETIC Pride 2023 DC Weekend Pass" at 10 p.m. at four D.C. venues. This partnership with Capital Pride Alliance will feature a performance by global pop star Betty Who at Echostage, stunning visuals, and top talent. Tickets start at $149 and can be purchased on Eventbrite.