'You're so Square, Baby I Don't Care'
D.C. Lambda Squares celebrating 30th anniversary this weekend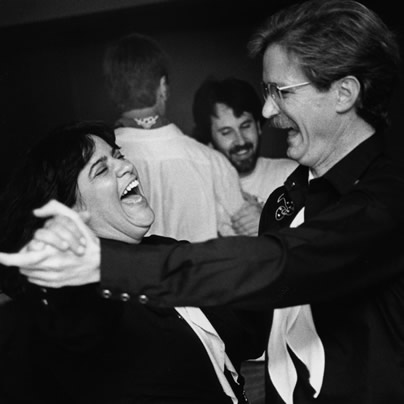 On any given Thursday night, a group of about 65 people from the LGBT community gather in the music suite of National City Christian Church to square dance with their friends.
But don't expect to see cowboy hats, prairie skirts or couples doing the "Dosey Doe." These square dancers dress casually, have no couple requirements, allow all-positioning dancing and the caller is using a Lady Gaga song.
One thing's for sure: This is not your grandparents' square dancing.
Since 1982, the D.C. Lambda Squares have been bringing a level of excitement and energy to the dance floor that was once unheard of in the square dance community.
"It was founded by a group of gay men and lesbians who wanted to square dance but at the time, straight clubs were non-accepting of same-sex couples square dancing, or people dancing other than in their traditional position," says Joe Harr, president of the D.C. Lambda Squares. "They formed this club so they could dance the way they wanted to."
Today, the club is open to young and old, singles or couples and beginners or advanced dancers. Anyone interested can visit the group online.
"My favorite part is the people involved are very welcoming and open and it's just a relaxed atmosphere," Harr says. "There are various gay square dance clubs throughout the U.S., and an international association and many people take part in other weekend dances."
In addition to D.C. Lambda Squares' regular Thursday-night get-together, which meets from 7:30 to 9:30 p.m. in D.C. at National City Christian Church (5 Thomas Circle, NW), eight times a year, the club holds a community dance at Francis Scott Key Middle School (910 Schindler Dr.) in Silver Spring, Md.
In honor of the organization's 30th anniversary, the Lambda Squares are holding a party Saturday at Francis Scott Key Middle School with Doren McBroom set to call.
"A 30th anniversary is the pearl anniversary, so we are telling everyone to wear pearls for this event," Harr says. "Our last community dance was a beach theme so people came in their bathing suits. We expect everyone to have a great time."
Other regular callers are Dayle Hodge and club members Kent Forester and Brian Jarvis.
John Burlison, a former club president who has been a member since 2000, has watched the club's membership ebb and flow over the last dozen years and is happy that interest is on the upswing.
"The people I learned with was the largest class for many years but we went through a time when it was very difficult to find new members," Burlison says. "That appears to be slowly changing, as in recent years people have rediscovered square dancing as a fun activity and a great way to meet people."
Membership coordinator Joe Branch learned of the group from seeing them perform at a Pride festival three years ago and has helped spearhead bringing the group to other events around the area, such as Gay Day at the Hillwood Museum this past year.
"What we try to do is perform at Pride and try to find other venues to do demos, hold open houses and try to perform at different community events to get people interested in square dancing," Branch says. "Square dancing is a delightful activity full of wonderful people. I think the D.C. Lambda Squares is the friendliest group of people I have ever met."
Many of the members have been with the group for at least 10 years, and this is designated with a special bar that they put on their membership badge. This past year, the group had to order some 20-year bars to commemorate those that have been involved since the early '90s.
"Those who were here at the beginning did wear traditional western wear, and that has been the biggest change, since we wear what we are comfortable in," Harr says. "For us, it's not about living up to a certain square dancing cliché, we are all about having fun."
Cindy Scharf has been going to Lambda Squares since 1997, learning about the group from a friend.
"I got involved initially to get some exercise and to meet some women in the LGBT community, and I ended up meeting a lot of good friends," she says. "After a hard day of work, to come in and see so many smiling faces is really uplifting."
Not only did Scharf make lots of new friends, but her going had a monumental impact on her life.
"I met my wife Olivia there," she says. "It's an organization that is open to singles and you don't need a partner to dance. People are willing to dance with you. It's not partnered up in the way the straight dancing is. A lot of people have met the people they are with through square dancing."
One of her favorite things about the club is that the music isn't what you would normally think of when you hear the term "square dancing." That's another of the positive changes through the years.
"I think there is a misconception that people who square dance tend to dance only to country-western music," she says, "but the callers have a variety of music from different genres and some relatively modern things."
Scharf and her wife also use their involvement in square dancing to help them decide on vacations.
"One of the things that we both enjoy about it is that we travel around a lot," she says. "Every year there's an annual convention and we use that as an excuse to travel to different places that we might not otherwise had in our sights to go to."
Both Scharf and Burlison have fond memories of the 20th anniversary party and are looking forward to the fun night that the 30th promises, as well.
"We're expecting to have some old friends and members who haven't been here for a while come out for the night," Harr says. "Remember, before the Internet, people had to actually go out of their houses to meet people and have fun. Square dancing is a great thing for people who love to dance to blow off steam, interact with other members and visit with their friends."
Civil rights film fest celebrates transmasculine activist
March on Washington Film Festival runs Sept. 30-Oct. 4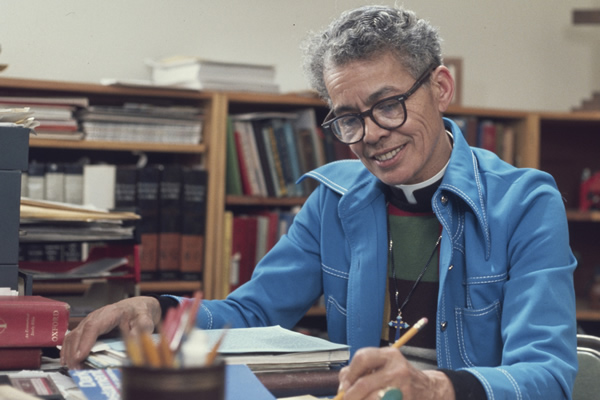 "I chose as my senior paper, 'Should Plessy vs. Ferguson be Overruled?' My little argument went to the Supreme Court," said influential queer civil rights activist Rev. Dr. Pauli Murray in a powerful documentary featured in the 2021 March on Washington Film Festival.
The annual D.C. film festival runs Sept. 30 to Oct. 4 and features both in-person and virtual events, including a commemoration of Murray, a transmasculine activist often overlooked in history textbooks.
"Our mission is to tell the mistold and untold stories of the people who motivated and moved the civil rights movement," said Artistic Director Isisara Bey, a longtime LGBTQ ally who has been with the film festival for eight of its nine years.
Murray was a poet, activist and legal scholar whose writings were the underpinnings of decisions by late Supreme Court Justices Ruth Bader Ginsberg and Thurgood Marshall.
"A film festival like this is extremely important because none of us leads lives outside of a historical, cultural, political and spiritual framework," Bey said, noting Murray was the first African-American woman ordained as an Episcopal priest.
The film festival, founded in 2013 in Washington, D.C., to commemorate the 50th anniversary of the March on Washington for Jobs and Freedom, uses film screenings and panel discussions to educate audiences about civil rights pioneers and raise awareness on pressing current issues, such as environmental justice.
This year's festival commemorates Murray's legacy at an in-person event at the Eaton Hotel (1201 K St., N.W.) on Oct. 4 at 7 p.m., which includes presentations and a dramatic reading of Murray's speech to the National Council of Negro Women on Nov. 13, 1963.
Virtually, more than 20 films will be available on demand beginning Sept. 24, including "Flint: The Poisoning of an American City" about the city's water crisis; "End of the Line: The Women of Standing Rock" documenting the indigenous women who fought against construction of the Dakota Access Pipeline; and "To the Plate," a short film about a lesbian restauranteur and her girlfriend who struggle to keep their business open in the face of anti-Asian hate.
Robert Raben, the festival's gay co-founder, told the Washington Blade the LGBTQ community should come out and support the festival because the civil rights and gay liberation movements were "intertwined."
"The gay civil rights movement relied enormously on the methods of the African-American civil rights movement," he said. "You can't have a gay liberation movement without a civil rights movement. And the number of gay people involved in the civil rights movement was pretty high."
Raben told the Blade this "lost" history, including that of Murray, is empowering to learn, particularly for LGBTQ youth of color.
"Stories of gay people need to be focused on history because it inspires our young to make change in an intersectional way."
Raben called the festival, which also includes panel discussions, music, art and dance, an "uncensored" platform for sharing an "honest picture" of historical events.
"Textbooks have never told the truth with regard to Asian Americans, Native Americans, Latinos and African Americans," he said. "Attacks on 'critical race theory' is just a latest effort to restrict what we learn about history. The strength of the festival is we're giving people stories that they suspected were out there."
Ticket prices include an all-access pass for $149, a virtual film pass for $79, a discounted pass for students and educators at $19, and an option to pay what you can to attend virtual festival events.
Attendees for in-person events must present proof of vaccination at check-in, wear masks during events and utilize socially distant seating.
PHOTOS: DC Frontrunners 40th anniversary
Awards ceremony and party held at Jack Rose Dining Saloon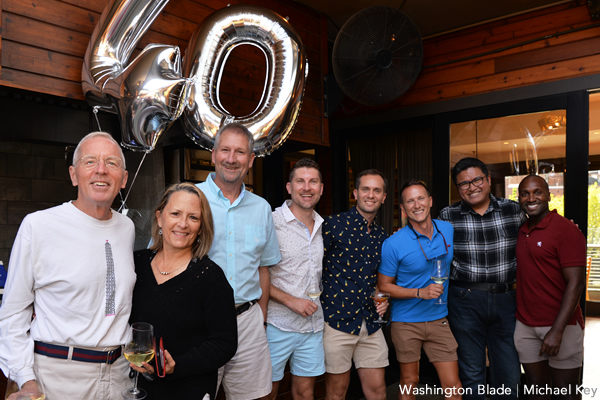 The LGBTQ+ and allies running, walking, and social club DC Frontrunners held its 40th anniversary celebration and awards ceremony at Jack Rose Dining Saloon on Saturday.
(Washington Blade photos by Michael Key)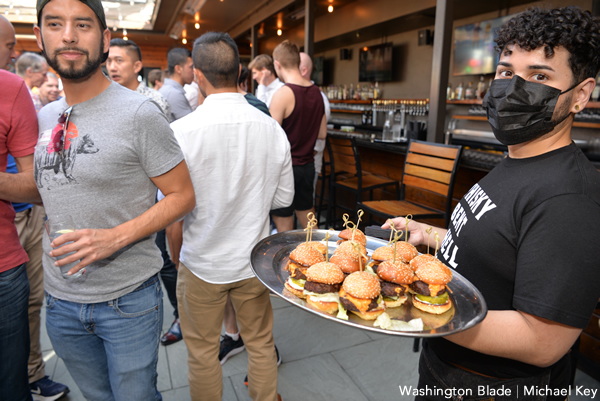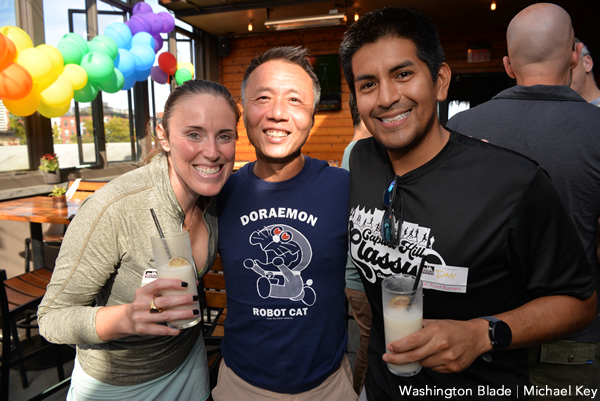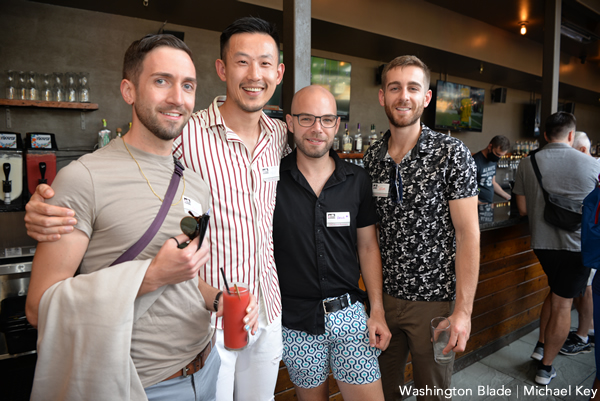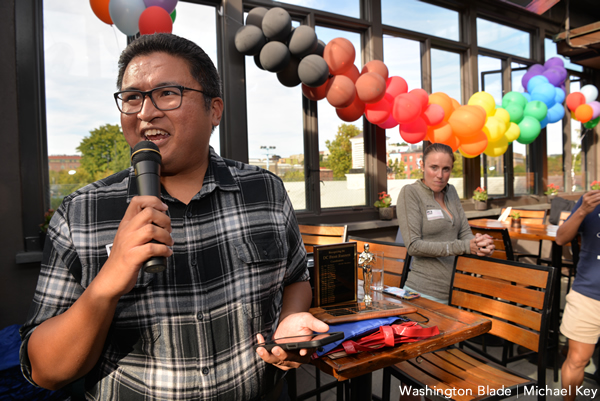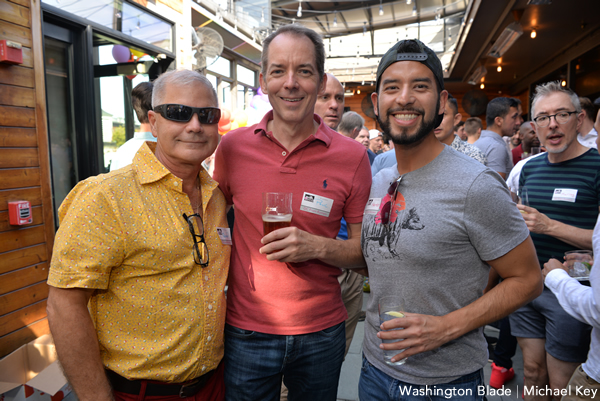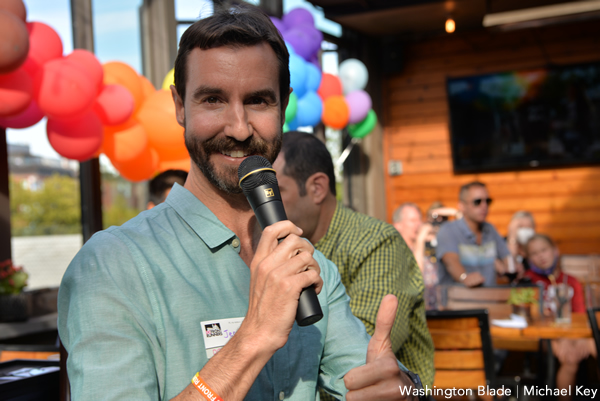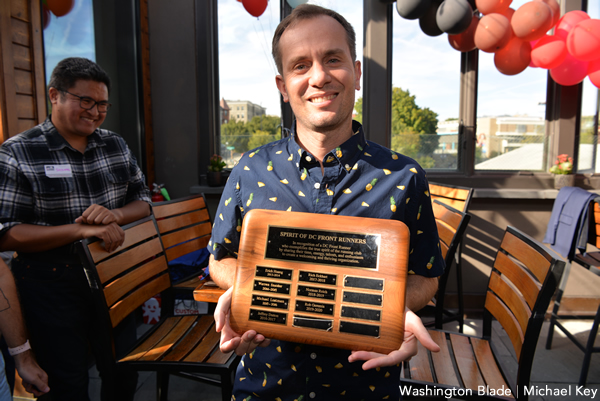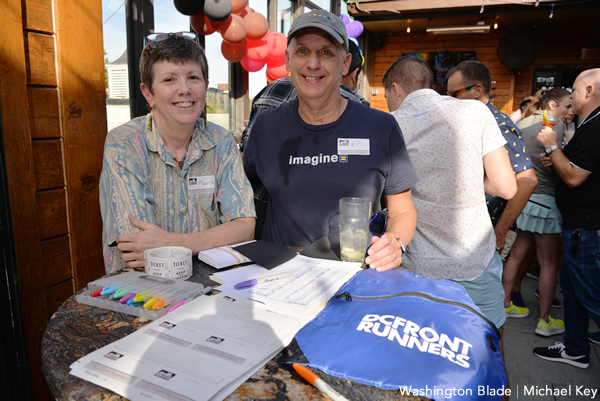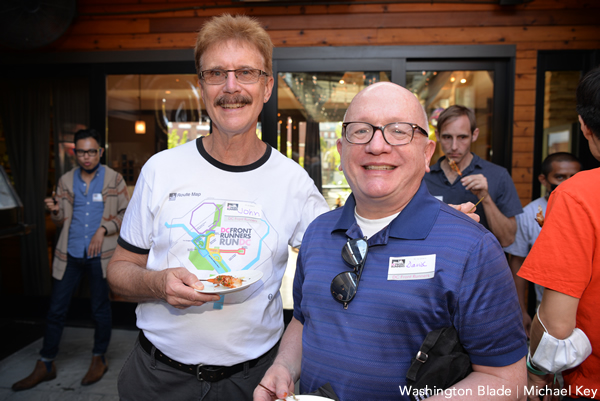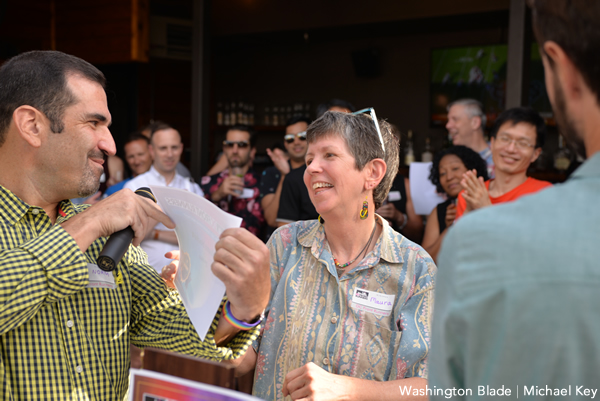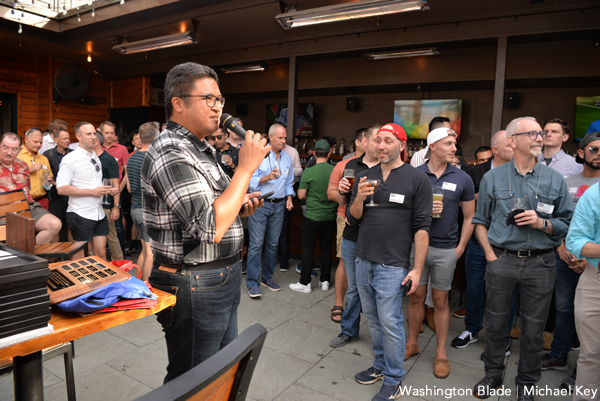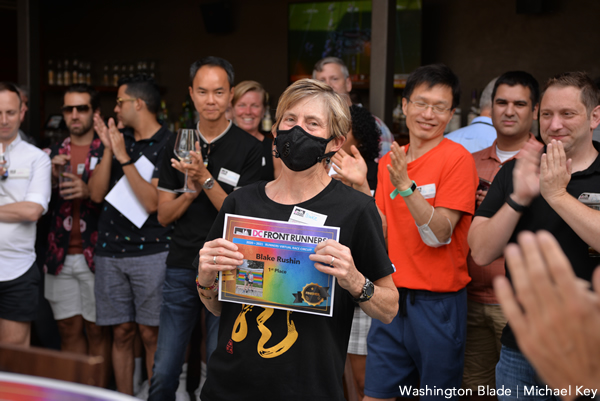 'Doña Rosita' marks reunion of three Spaniards at GALA
An excellent cast and dynamic staging elevate stellar production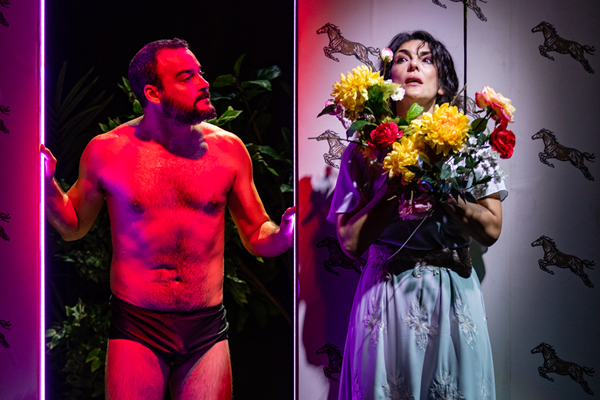 Doña Rosita la soltera
Through Oct. 3
GALA Hispanic Theatre
3333 14th Street, NW
$35-$48
galatheatre.org
In the 1930s, Federico García Lorca, 20th century Spain's greatest poet and dramatist, was writing plays about a woman's place in the world. In fact, Lorca, who was gay, was exploring women's souls in an unprecedented way for Spain, or anywhere really. His insight is frequently credited, in part, to his sexuality.
Now at GALA Hispanic Theatre, Lorca's "Doña Rosita la soltera (Doña Rosita the Spinster)" tells the story of Rosita, an unmarried woman who subsists on definite hopes of marrying a long-distance fiancé. Whether it's to keep the populace at bay or to feed a romantic fantasy, isn't completely clear, but years — decades, in fact — pass, and very little changes.
Set in the conservative world of middle-class Granada (Lorca's native province), the 100-minute play, performed in Spanish with English surtitles, spans the 1880s through the early 1900s, constrictive years for women in Spain. When Lorca wrote "Doña Rosita" in 1935, on the eve of the Spanish Civil War, he appreciated the recent gains made surrounding women's rights and foresaw further, imminent progress. Then, just a year later at age 38 and at the top of his game, Lorca was unlawfully arrested and murdered by Franco's rightwing thugs. All was lost.
Adapted by out writer Nando López, GALA's offering strays from Lorca's original in various ways: there are fewer characters, and the older Rosita serves more as a narrator, interacting with her younger self. Lorca's glorious poetry remains mostly intact.
Still, the title character's tale is clear: Orphaned as a child, Rosita (Mabel del Pozo) goes to live with her devoted aunt (Luz Nicolás) and uncle (Ariel Texidó), an avid gardener. As a young woman, she falls in love with her first cousin (also played by Texidó), and they're engaged. Despite the fiancé leaving Spain to join his aging parents on their sizeable farm in Tucumán, Argentina, the young lovers remain betrothed.
Domestic life goes on. With the support of relations, and the family's devoted but skeptical housekeeper (Laura Alemán), Rosita assembles a first-rate trousseau, and the affianced pair continue to exchange heartfelt letters. At one point, there's talk of marriage by proxy – an idea scoffed at by some of the household and neighbors.
The sameness of the unchanging household is offset by out director José Luis Arellano's dynamic staging, an excellent cast, actors nimbly changing characters onstage with the help of a hat or cravat fished out of a chest of drawers, Jesús Díaz Cortés' vibrant lighting, and incidental music from David Peralto and Alberto Granados. Alemán, so good as the shrewd housekeeper from the country (a place Lorca respected) also assays a spinster who comes to tea. And Catherine Nunez characterizes feminine youth, scornful of Rosita's unattached status. Delbis Cardona is versatile as the worker and Don Martin, a teacher charged with educating the ungrateful offspring of Granada's rich.
After a rare outdoor excursion to the circus, Rosita wrongly claims to have seen her would-be groom working with the troupe, but the housekeeper is quick to point out that the well-built puppeteer is by no means her stoop-shouldered barefoot fiancé, adding that more and more Rosita is seeing her faraway love in the face of the men about Granada. Swiftly, the aunt reminds the housekeeper to know her place – she's allowed to speak, but not bark.
Visually, the passage of time is indicated by the hemline and cut of Rosita's dresses (designed by Silvia de Marta), and the mid-play dismantling of the set (also de Marta), opening the family's rooms and garden to what lies beyond.
After intermission, six more years have passed and the narrative is more straightforward and patently compelling. Rosita's aunt, now a pissed-off, generally miserable widow in reduced circumstances, is packing up to move. It's been hard running a house, she says. And it's harder scrubbing the floors, replies the faithful housekeeper.
And it's here that del Pozo shines with Rosita's revelatory monologue, a searingly true, passionately delivered speech worth the price of a ticket.
"Doña Rosita" marks a collaborative reunion of three Spaniards – writer López, director Arellano, and actor del Pozo – who all worked on GALA's 2015, multi-Helen Hayes Award-winning production of Lorca's politically controversial "Yerma," the story of another complicated Spanish woman.