Best of Gay D.C. 2012: Community
Readers pick the winners in 11th annual poll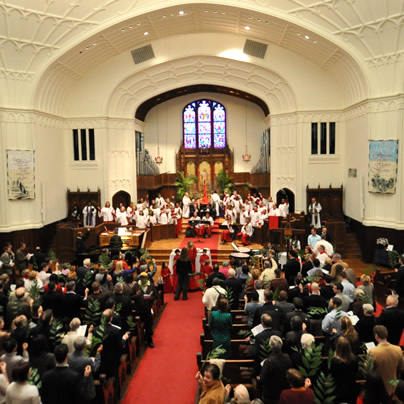 Best House of Worship: Foundry United Methodist Church
1500 16th Street, NW
Best Spa/Salon: Bang Salon/Aura Spa
1519 15th Street, NW
Aura Spa/Bang Salon Metropole
1517 15th Street, NW
auraspa.net
Best Men's Clothing Store: Universal Gear
1529 14th Street, NW
202-319-0136
Best Gym: Vida Fitness
Various locations
Best Theater: Arena Stage
1101 6th Street, SW
202-488-3300
Best LGBT-owned Business: Hank's Oyster Bar
Various locations
Best LGBT Social Group: Burgundy Crescent Volunteers
Best Sports Team: Just the Tip Stonewall Kickball
Just the Tip is one of many hilariously named teams in the Stonewall Kickball league.
Stonewall Kickball, led by Martin Espinoza and Mark Gustafson, gives about 470 participants a chance to play and raise money for the D.C. Center for the LGBT Community. The league was started after Espinoza and Gustafson were turned off by other leagues because of their competitiveness and homophobia.
Games are played on Sunday afternoons in Stead Park with drinks before at JR.'s (1519 17th St., N.W.), and afterward at Cobalt (1639 R St., N.W.). Wednesday nights are devoted to Open Bar and Penny Wars, a fund-raising competition between teams.
Stonewall Kickball is holding an All-Starts Game on Saturday at 2:30 p.m. between JR.'s Bar and Cobalt. The teams' rosters are posted on the Facebook event page. One of the refs will be from Just the Tip and JR.'s will feature two Just the Tip players.
For more information on Stonewall Kickball, visit the league's page, stonewallsports.com/kickball or their Facebook group. (JE)
Best Art Gallery: Phillips Collection
Originally called the Phillips Memorial Art Gallery, The Phillips Collection was opened to the public in 1921 by Duncan Phillips and his mother Eliza, in memory of his father and brother.
Phillips served as the museum's director until he died in 1966. His wife, Marjorie, an artist herself, took over as director after his death and their son, Laughlin, succeeded her.
The museum's permanent collection features more than 3,000 works ranging from masterpieces of French impressionism and American modernism to contemporary art from artists such as Edgar Degas, Henri Matisse and Georgia O'Keeffe. The Phillips has the world's largest, most significant collection of works by Arthur Dove and the largest American collection of works by Pierre Bonnard. (JE)
Phillips Collection
1600 21st Street, N.W.
Best Comedy Club: D.C. Improv
D.C. Improv hasn't changed a lot since it opened its doors 20 years ago. And that's not necessarily a bad thing. It's the place you go if you're looking for the old school comedy club experience. The venue is tight, the bar food is unremarkable and the drinks are fine. Luckily the talent can be amazing. Of course, there's always the chance that a comic will bomb. But that's part of the fun, right?
Located on Connecticut Avenue below Dupont Circle, D.C. Improv has drawn big names over the years (Ellen DeGeneres, Dave Chappelle), and continues to book established and emerging comics. Upcoming acts include Chris Coccia and Ari Shaffir.  It also consistently promotes gay acts and gay-themed shows.
Note to the bashful: The place is small, so sit as far from the stage as possible. These comics will make you part of their act (reporter speaks from experience). (PF)
D.C. Improv
1140 Connecticut Ave. NW
Best Home Furnishings: Miss Pixie's
Pixie Windsor opened Miss Pixie's in Adams Morgan in 1997; in 2005 she settled into the current location and just finished a renovation after signing a new five-year lease.
The renovation, among other things, opened up the sightlines in the store allowing customers to more easily see and shop the treasures she brings into the store.
"The back room no longer looks like a place to put the tables, instead it is welcoming and encourages the customer to continue shopping," she says.
The one thing that hasn't changed is the bright pink storefront. And while the contents of the store always change, it will always be filled with off-the-beaten-path items that appeal to 20-40 something Washingtonians who don't necessarily want the same old same old in every room of the house.
Windsor recommends keeping an eye on the Miss Pixie's website (misspixies.com) for fun and exciting things, like design seminars, a chance to decorate the store bathroom and she may have let it slip that HGTV may have emailed recently. (JH)
Miss Pixie's
1626 14th Street NW
202-232- 8171
Best Second-Hand Shop: Buffalo Exchange
Buffalo Exchange offers a distinctly New Age slant to the traditional used clothing store.
Buyers and sellers get a fair price for a wide variety of vintage and contemporary fashions. But founders Kerstin and Rebecca Block also emphasize the environmental advantages of the resale fashion industry. Buffalo Exchange promotes itself as a sustainable business that protects the environment by reusing and recycling clothing.
LGBT customers also value Buffalo Exchange for its sense of fun and are staggering to the store to be part of the Celebrity Zombie Invasion now underway at the store. (BTC)
Buffalo Exchange
1318 14th Street Northwest
202-299-9148
Best Nonprofit: Whitman-Walker Health
Since 1973, Whitman-Walker Health has been providing high-quality and culturally sensitive care to Washington's LGBT and HIV/AIDS community. It began operations as an offshoot of the Washington Free Clinic and offered services in the basement of the Georgetown Lutheran Church. Today, it offers medical and legal services to thousands of clients from state-of-the-art medical facilities in the District.
The clinic gets its name from two queer Civil War-era health activists — celebrated gay 19th century poet Walt Whitman who came to Washington in December 1862 to care for his wounded brother George and remained for several years to tend to injured soldiers and veterans and Dr. Mary Edwards Walker who graduated from Syracuse Medical College in 1855, the only woman in her class. Denied an officer's commission because of her gender, Walker volunteered her services as a surgeon and worked in a variety of Army hospitals. She wore a modified military uniform that included trousers, a man's coat and two pistols. (BTC)
Whitman-Walker Health
1701 14th St., NW
202-745-7000
Best Rehoboth Business: Proud Bookstore
Opening and operating a small business is never easy — especially in recent years with the economic downturn — so congratulations to all of this year's nominees in this category: Annie's Bananies, Frogg Pond, Royal Treat and Stingray Sushi.
And hats off to winner Jacques LeClair, owner of Rehoboth's Proud Bookstore, for opening a gay bookstore and not only surviving the recession, but thriving. Not long after opening, the store moved into a larger space and is filled with LGBT-themed books, gifts, cards, T-shirts and more. Jacques himself is usually behind the counter ready with a friendly welcome for visitors and locals alike. The store has quickly become a gathering place for locals to grab a newspaper and catch up on the latest happenings. (KN)
Proud Bookstore
149 Rehoboth Ave.
Rehoboth Beach, DE 19971
Best Local Blog: DCist
Everybody loves DCist.com. Or so it seems. The local blog has won readers' favorite from Washington City Paper, the Washingtonian and now the Blade.
"Generally speaking, I'm incredibly flattered," says DCist editor-in-chief Martin Austermuhle. "As simple as it sounds, I like it when people read what we do and enjoy it. It's very nice coming from the Blade too — it's a paper I've always liked a lot."
Around since 2005, DCist gets about 50,000 unique hits a day. With two full-time employees and about 30 contributors, the blog covers everything from news to food to the arts. Its staff supported same-sex marriage in D.C.
"As much as D.C. is seen as a center of influence, at heart it's a small town," says Austermuele. "That said, there's never a day that we're not learning something about a city that we're convinced we've already figured out. (PF)
Best Hotel: Donovan House
Located on Thomas Circle, Donovan House projects sophistication and urban panache in a sea of more style-challenged accommodations.
But Donovan House is more than a pretty face. As a Kimpton Hotel, the gay-friendly Donovan House enjoys a longstanding relationship with the LGBT community, and can boast a 100 percent score on the Human Rights Campaign Equality Index for the last 10 years.
Founded in San Francisco in 1981 at the height of the gay Mecca's AIDS crisis, Kimpton Hotels lost a lot of employees to the disease, prompting the company to support LGBT organizations prior to other corporations, says Donovan House General Manager Mark Jennings. Kimpton Hotels regularly partners with the Red Ribbon Campaign in raising money to help nonprofit groups nationwide promote HIV awareness and prevention. (PF)
Donovan House
1155 14th Street, NW
202-737-1200
Best Theater Production: 'The Normal Heart'
"The Normal Heart" by playwright-cum-activist Larry Kramer came to Arena Stage this summer. To see a faultless production of Kramer's very political account of the harrowing early days of the AIDS crisis performed so close to the Capital building was thrilling.
Staged by New York director George C. Wolfe, it featured inspired performances by Patrick Breen as Ned Weeks (a slightly less angry onstage version of Kramer) and handsome Luke Macfarlane as Felix, Ned's beatific dying lover. TV's Patricia Wettig was frustration incarnate as the dying men's doctor, furious with the establishment's refusal to fund those on the front line. Chris Dinolfo, a local actor who is gay, made an impact as young David, the first character in the play to die from AIDS.
Almost three decades after its premiere, Kramer's beautiful protest/memorial conjures up the terror and devastation surrounding the onset of what was then informally called the gay plague. Today Kramer's play feels less angry. Mostly it's heartbreakingly sad. (PF)
Best Yoga Studio: Yoga District
Whether you're looking to do the downward dog for the first time or hone already considerable yogi skills, there's something for you at Yoga District. With numerous classes focusing on everything from toning to alignment to flexibility, Yoga District promises practices that are relevant to your needs whatever your experience level.
Founded by Jasmine Chehrazi, Yoga District is a local cooperative of yoga studios located in Dupont Circle; H Street, NE; Bloomingdale; 14th Street Corridor and downtown. The studios are famously no frills and their classes respect both the needs of the individuals as well as the group.
Popular with vast swathes of yoga loving locals, Yoga District offers affordable and by-donation classes in community-run yoga centers committed to eco-friendly practices led by knowledgeable instructors. Since its inception, Yoga District's mission has been that every being deserves the holistic benefits of yoga as a practical tool of empowerment, health and physical fitness. (PF)
Yoga District
1635 Connecticut Ave., NW
(and other locations)
202-265-9642
Best Women's Clothing Store: Proud Threads
Misty Branch says she and her girlfriend, Sarah Moecker, saw a need for high-quality, non-rainbow-themed LGBT clothing.
"So we decided to do something about it," the owner of online women's clothing store Proud Threads says.
For now, Proud Threads primarily sells T-shirts mostly for gay women online and at Pride festivals. Their website (proudthreads.com) shows a selection of cute T-shirts and baseball shirts featuring clever slogans and graphics, playfully celebrating LGBT pride in a hip, quirky way.
Up and running since May, Proud Threads is still in its early days. Branch says getting started has had its bumps. "We began with a lot of designs that we'll never, never show anyone. Sarah is the designer and I'm her ruthless critic. At first she didn't like it but later she stopped taking it personally and the product has improved." (PF)
Helpful tips for homebuyers in seller's market
2021 has been a great year for home sales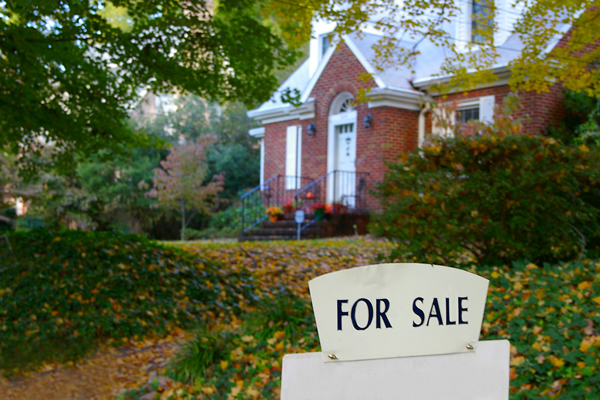 Without question, 2021 was a great year for home sales. Sellers across the country, in many cases, found themselves listing their homes and quickly having not just one, but multiple offers, many of which were at asking price or above. With limited inventory and high demand, it has been an ideal year to sell—and conversely, often a difficult year to buy. Buyers who are interested in a particular home, or even in a specific neighborhood, often find themselves facing stiff competition to have offers accepted.
Fortunately, this doesn't mean that many buyers haven't had successful and rewarding home buying experiences—just that doing so often means making an extra effort and taking helpful steps to make an offer the most competitive that it can be. With that in mind, let's take a look at a few helpful tips for buyers in a seller's market:
Plan ahead with mortgage pre-approval: While there are certainly a wide variety of strategies that real estate agents and financial advisors may recommend, and while those strategies might vary depending upon the buyer and the circumstances of a particular market, one thing almost all experts agree on is that obtaining a mortgage preapproval is a smart decision. A mortgage preapproval is an ideal way to reassure sellers that a reputable lender has verified your credit and approved your buying power up to a certain limit. If you're caught in a bidding war with another potential buyer, having preapproval establishing that you are ready, willing, and able to buy just might give you the advantage you need in a competitive market.
Be willing to look under budget so you can bid higher: In this highly competitive market, many home buyers find themselves in a situation where they are in a bidding war with another—or even several other—buyers. In that situation, you may find yourself having to make an offer at, or even in many cases, above, the asking price. This means that you may want to adjust your budget—and bidding—accordingly. Choosing to make an offer on a home that has an asking price that is already at the top of your budget may mean that you simply don't have much wiggle room when it comes to making an offer over that price. Choosing a home slightly under the top of your budget means you'll have more flexibility to make a bid that is more competitive and likely to be accepted.
Consider offering non-price-oriented incentives: Without question, making a highly competitive offer is going to be the key to increasing your chances of having that offer accepted. It's important to remember that there is more to an offer than just price, however. Buyers may want to consider increasing the appeal of an offer by supplementing it with other incentives beyond just the dollar amount itself. Examples of such incentives might include things like foregoing the seller-paid home warranty that is often offered as part of the process, offering a shorter closing period, not making the purchase contingent upon the sale of a currently-owned home, or other such incentives. Doing so may give you the edge you need to have your offer selected over other competitive bids.
Retain the right real estate agent: Often, for LGBTQ buyers, especially in a competitive market, this piece of the puzzle is particularly important. In many, although certainly not all, cases LGBTQ buyers are drawn to specific areas of a city or community where other LGBTQ individuals live. That means that in a market where inventory is already limited and going quickly, there can be even fewer homes available upon which to bid. When that is the case, you will need a real estate agent who knows the community that you're interested in, and who can quickly help you identify and take action toward making offers on homes that fit your needs. Having the right agent can make all the difference between a smooth and successful home-buying experience, and a stressful one
Jeff Hammerberg (he/him/his) is the Founding CEO of Hammerberg & Associates, Inc. Reach him at 303-378-5526, [email protected] or GayRealEstate.com
Jane Jane brings throwback joy to busy 14th Street
Cocktail bar characterized by warm Southern hospitality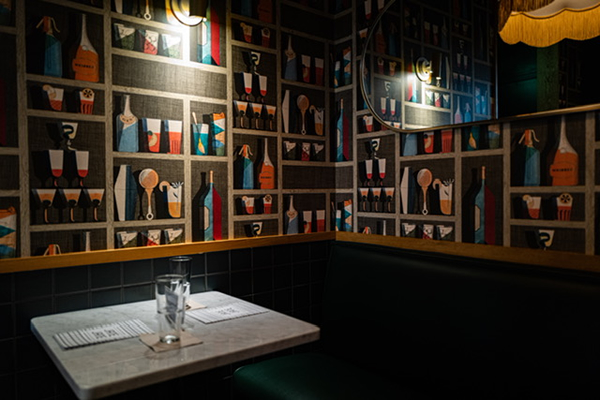 There is no standing at Jane Jane, the new classic cocktail bar in the heart of 14th Street. Its 850 square feet is for sitting and savoring, drinking in the relaxed retro vibe and the thoughtful craft cocktails.
At the foot of the mixed-use Liz development where Whitman-Walker is the major tenant, Jane Jane's creative use of a shoebox-sized space brings throwback joy to a busy thoroughfare.
In the pre-COVID days of 2019, Whitman-Walker approached the Jane Jane owners, hospitality veterans Jean Paul (JP) Sabatier, Ralph Brabham and Drew Porterfield, all gay men, to make good use of the vacant parcel, and ensure it would be run by LGBTQ entrepreneurs. "It required some gymnastics because of the layout," says Brabham, "but we came up with this cozy classic cocktail concept."
The hangout spot is an effort by the trio to "celebrate hospitality. We want everyone who walks into the space to feel like friends of ours we are having over for drinks or a bite. Its a cocktail party in our home," he says. They felt connected to the idea of a tiny bar—a space where they would want to have a drink.
Named for Brabham's mother, Jane Jane is as alluring and lively as it is intimate, each detail in the experience characterized by warm Southern hospitality—right from the bowl of spiced nuts that swiftly appear at each table at the beginning of service.
Sabatier, who has held stints at D.C. institutions like Rappahannock Oyster Bar, Maydan, and Compass Rose, oversees the bar and cocktail program, organized by spirit. (For their part, Brabham and Porterfield, romantic partners, also act as co-owners of Beau Thai and BKK Cookshop; Porterfield is also the current Curator and Director of Long View Gallery in Shaw.)
Sabatier has presented classic cocktails with a few noteworthy nods to current zeitgeist, as imagined by his lengthy experience behind the bar. The booklet-like menu includes a broad selection of familiar favorites like a Negroni, Manhattan, martini, but also features Sabatier's handpicked favorite classics like the Boulevardier (a whiskey Negroni), Last Word (gin married to herbaceous green chartreuse) and Air Mail (rum, honey and cava). Drinks fall in the $13-$16 range; a "Golden Hour" runs daily until 7 p.m. featuring beer and wine specials and a punch of the day.
Sabatier's creative juices flow on the first page through cocktails like the vividly named Tears at an Orgy, with brandy, orange and maraschino, as well as the best-selling, highly Instagrammable Crop Top, a gin cocktail with a red-wine floater—and a name that matches the look of the bi-color drink. "It's fun, delicious, and speaks to the space," says Sabatier. He notes that their vodka of choice comes from Civic, a local, women- and LGBTQ-owned distillery.
Sabatier, a classically trained chef and Culinary Institute of America graduate, also oversees the small selection of bar bites (the space has no kitchen, part of the required "gymnastics" to make it functional.)
Beyond the complimentary vessel of rosemary-flecked mixed nuts, other bar snacks run from pickled vegetables to a Southern-style Pimento cheese dip and an onion dip creamy enough to make your grandmother blush. The "Jane's Caviar" dish is a spread of trout roe and crème fraiche and comes with a towering mound of shatteringly crisp chips. A weekend brunch is in the works, which will serve goodies from local bakeries.
The retro-style interior recalls both California and the South, with only 32 seats inside and a 14-seat patio. Cozy booths done up in a hunter green as warm and inviting as a cool aunt are slung below walnut-wood walls and bar. Bright patterned tiles run the length of the floor; the back wall has playful cocktail wallpaper. A charming needlepoint by the restrooms kindly requests of guests, "please don't do coke in the bathroom."
The owners note that while Jane Jane is not explicitly a gay bar, its location in a traditionally gay-welcoming institution means that it has LGBTQ in its bones.
"Supporting LGBTQ people, businesses, and causes has been in Jane Jane's ownership's DNA at every establishment at which they have been involved," they say, having supported local LGBTQ+ organizations like Casa Ruby, Victory Fund, SMYAL and the Human Rights Campaign, among others.
Porterfield says that they were surprised that, given the locale, people assumed Jane Jane was a gay bar. "It's not a gay or straight bar, just a fantastic cocktail bar that welcomes anyone to hang out with us," he says.
Nevertheless, the owners have taken into consideration the significance of being in the Liz development, as both gay men and as part of the hospitality industry. "It highlights the lack of representation as gay owners in this bar and restaurant world," says Porterfield. They note the lack of women, LGBTQ and BIPOC representation.
"It's very special to us that we opened in this space," says Porterfield, "so we want to show that we have opened a place that is all about inclusivity."
One lean, mean green machine
New Ford Mustang Mach-E is electrifying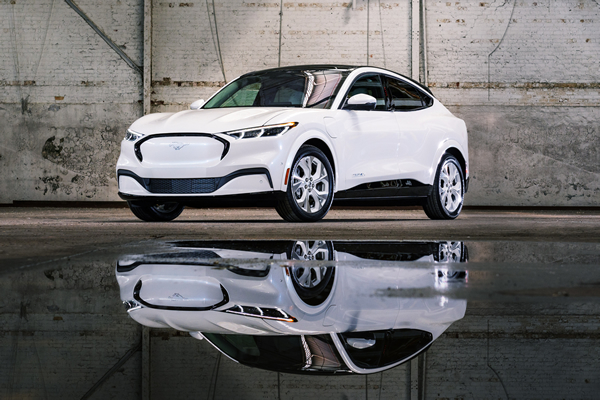 Here's a shocker: Electric vehicles have been around for over 180 years. By the time of the first Hershey bar in 1900, EVs had hit their own sweet spot—surging to almost 30 percent of all vehicles sold in the U.S. But when Henry Ford began to produce cars on his moving assembly line in 1913, the popularity of the gas-powered Model T soon short-circuited EV sales. Cue to a century later, when the debut of the all-electric Nissan Leaf in 2010 sent a jolt through the auto industry. Yet it would take another decade to get drivers charged up about anything other than gas-powered rides. Today, it's hard to keep track of all the EVs out there, along with other green machines like hybrids. While the current microchip shortage has slowed or stopped production on many cars for now, I was lucky enough to drive the all-new, all-electric Ford Mustang Mach-E. The experience was, well, truly electrifying.
Ford Mustang Mach-E
$47,000
Range: up to 305 miles
0 to 60 mph: 4.2 seconds
When the Ford Mustang Mach-E was first announced, many auto aficionados were left scratching their heads. After all, a Mustang is one of the most iconic muscle cars ever created, and the Mach-E designation sounds suspiciously like the "Mach-1" branding used on flashy high-performance Stangs. Yet this new Mustang is a crossover SUV—and an electric one to boot. While the initial designs were captivating, plenty of skeptics remained. Luckily, they needn't have worried. I was mesmerized the moment the Mach-E arrived, eager to run my hand along its sinewy side panels and strapping rear end. To keep the design as aerodynamic as possible, there are no traditional door handles. Instead, you use the key fob, your smartphone or a push button on the window frame to pop open the door.
On the inside, there's a small latch in the armrest versus the typical door handle. Such design elements are not only aesthetically pleasing, they also save space and reduce weight. Other novelties: This is the first Ford vehicle to use recycled animal-free fabrics, as well as a vegan steering wheel that's as durable as leather. On the space-age dashboard, the premium Bang & Olufsen speakers are concealed beneath fabric covers that mimic the look of pricey home-theater speakers. And the unique design of the quiet cabin allows for a subwoofer that is 50 percent lighter than usual, yet still retains a deep rich clarity. As for the gigantic 15.5-inch vertical touchscreen in the center of the dash, it resembles a sort of funky oversized iPad from "The Orville." Along with large climate controls for easier viewing, the touchscreen has interactive maps to locate the nearest charging stations. Those maps came in handy during two weekend trips, as did the heavily bolstered seats that helped prevent driver fatigue but also were easy on the tush. In total, there are five Mach-E trim levels, each with differing configurations for power and range (the distance you can travel on a full charge).
While even the base-model Mach-E is fast and lively, it's the high-test GT version that strikes like a thunder bolt. Rocketing from 0 to 60 seconds in just 3.8 seconds, the Mach-E GT is quicker than a Toyota Supra super coupe. And thanks to lower-than-expected ground clearance and a superb suspension, the Mach-E is just as agile. Those grippy regenerative brakes help, of course, allowing you to speed up or slow down using only the accelerator pedal.
It's worth noting there are other EVs in the Ford stable, including the electric F-150 Lightning full-size pickup, the E-Transit commercial van and various green machines on the way. By 2030, Ford is aiming for 40 percent of its global sales to be EVs. That's a great goal for a company that once helped pull the plug on the "electric horseless carriage" but today is leading the charge with its own cutting-edge EVs.