O'Malley: We're going to win in Md.
Governor spoke at HRC's "Chefs for Equality" fundraiser in D.C. for the Maryland same-sex marriage campaign.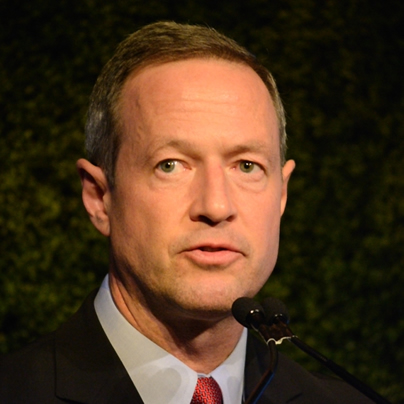 Maryland Gov. Martin O'Malley said on Wednesday he remains optimistic voters will support his state's same-sex marriage law on Election Day.
"We're going to win in Maryland," he said during the Human Rights Campaign's "Chefs for Equality" fundraiser at the Ritz-Carlton in Foggy Bottom that raised money for pro-Question 6 efforts.
O'Malley, who signed the state's same-sex marriage law in March, stressed the campaign is $500,000 short of "securing marriage equality in Maryland at the ballot" on Nov. 6. This figure comes nearly two weeks after Marylanders for Marriage Equality reported in its campaign finance report that it had raised nearly $3.3 million.
Josh Levin, the group's campaign director, told the Washington Blade on Oct. 12 "this is a $5 million-plus campaign and [we] hope to meet that goal as we enter the final stretch."
"Never before have the people of one state affirmed the dignity of every individual, the importance of protecting under the law equally every child's home until this upcoming election," said O'Malley to those who attended the fundraiser that Tim Gunn of "Project Runway" emceed. "Your presence here tonight can be the difference of whether we succeed or whether we fail. We have raised a lot of dollars and now we are running ahead, but we have seen this before."
HRC President Chad Griffin urged those who attended the fundraiser not to become complacent in the final days leading up to the Nov. 6 referendum.
"I come here from California. I lived through Proposition 8 where we saw our numbers evaporate at the end," he said. "Because of what the opposition does — they come in late and they come in with their millions and it's where they use their funds: to pour advertising dollars on television and mail into your mail into your mailbox and calls onto your voice mail. They're irritating as hell. They're lies, and they're scare tactics, but it's too late for us to counter it. Well this time we're ready for it, but we can't slow down. We can't let up. In these next 13 days, we have got to contribute and raise everything we can. We've got to make every phone call we can and we've got to knock on every single door we can and not rest until the last vote is counted in Maryland."
The amount of money raised during the fundraiser that featured food, cocktails and desserts from dozens of local chefs and bartenders was not immediately available. HRC has given more than $1 million in cash and in-kind donations to the pro-Question 6 campaign, including two $150,000 contributions made to Marylanders for Marriage Equality and the NAACP Maryland Marriage PAC on Oct. 15.
A Washington Post poll published on Oct. 18 found 52 percent of Maryland voters support Question 6, compared to 42 percent who said they oppose it.
Chevy Chase resident Susie Gelman and her husband hosted a Marylanders for Marriage Equality fundraiser at their home in July that raised $250,000. She said the issue of marriage rights for same-sex couples became personal when her son could not marry his partner in Maryland last summer.
"I realized that I needed to do my part to make sure that no other son or daughter of Maryland could be denied a basic civil right," said Gelman.
Gunn, who grew up in D.C. and attended the Corcoran College of Art and Design, told the Blade during the fundraiser he feels same-sex couples should have the ability to marry in every state.
"I profoundly believe it should be a Supreme Court issue, but it's not yet. And hopefully it would be," he said. "For me there's something of a metaphor about marriage equality in Maryland being on the ballot with these two polarities of presidential candidates. And we know what we need to do."
Gunn added he remains somewhat hopeful Question 6 will pass.
"I almost get tearful about this: I'd like to be very optimistic. I just hope people come out and vote," he said. "I think there's a lot of — I wouldn't even call it complacency. There's a feeling of well so-and-so will do this. So-and-so will vote. You have to show up and shine and do your civic responsibility. It's part of navigating this world and being a citizen of this nation. It's so critically important."
Student activists picket Loudoun Co. School Board
Members of the Pride Liberation Project call for 'trans rights now'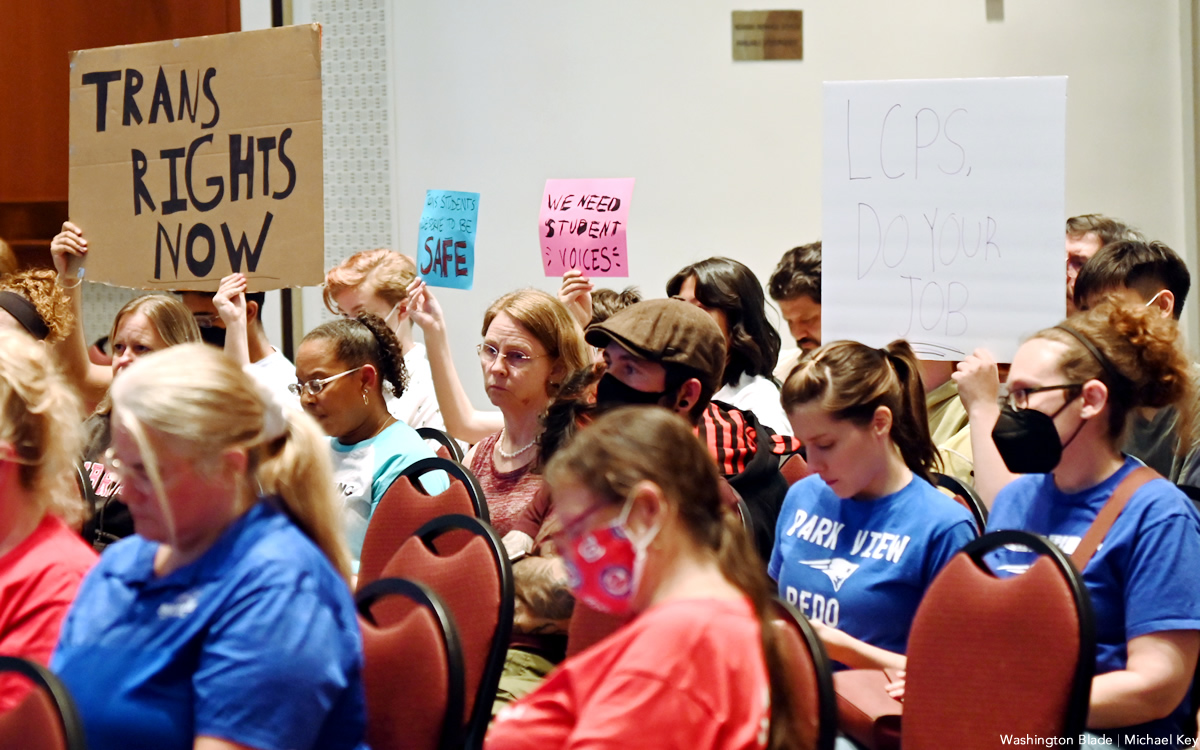 A group of student activists from the Pride Liberation Project picketed in front of the Loudoun County School Board meeting on Tuesday, Aug. 9 in Ashburn, Va. Members of the group chanted, "trans rights now" in front of the administrative building at the start of the session.
Loudoun County Public Schools student activist Daniel Tanedjaja told the Blade, "I am here in solidarity and support for our trans and gender non-conforming students here. In actuality, a lot of our trans and gender non-conforming kids at Loudoun County Schools don't know that there is a gender neutral bathroom option and I would like the school to make it more accessible to them."
Activists were seated during the community input portion of the school board meeting. Some of the protesters held up signs supporting trans rights during anti-LGBTQ public comments at the podium by conservative community activists.
The Pride Liberation Project is a Northern Virginia-based student-led organization that advocates for LGBTQ rights.
Gay couple assaulted on D.C. street by attackers shouting 'monkeypox faggots'
Police list Aug. 7 incident in Shaw as suspected hate crime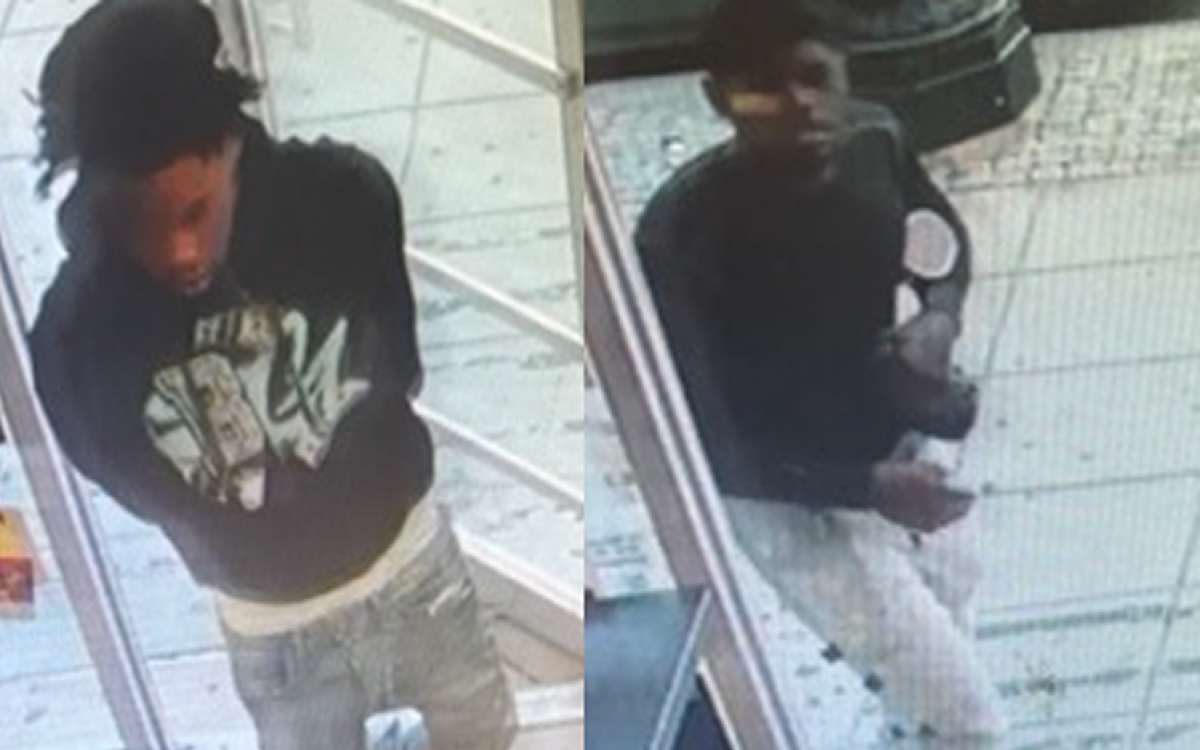 Two young men appearing in their late teens shouted the words "monkeypox faggots" at a gay male couple walking along 7th Street, N.W. in the city's Shaw neighborhood on Sunday, Aug. 7, before punching the two men in the face and head in an incident that D.C. police have called a suspected hate crime.
The gay men were treated and released at Howard University Hospital for head and facial bruises, with one of the two receiving stitches for a deep cut on his upper lip, according to one of the victims who spoke to the Washington Blade.
The victim, an Alexandria resident who asked that he and his partner, a D.C. resident, not be identified by name, said the attackers were part of a group of four or five young men appearing to be between 17 and 19 years old and two young women accompanying them. He said the group crossed paths with the gay couple around 5:40 p.m. in front of a store on the 1700 block of 7th Street, N.W., as the couple was walking to a nearby bus stop on Rhode Island Avenue.
The victim who spoke to the Blade said a nearby witness called D.C. police, who arrived within a few minutes as the two attackers and the other young men with them fled the scene. He said although an ambulance arrived on the scene, one of the police officers drove the couple to nearby Howard University Hospital, where they spent about six hours in the emergency room.
The couple had spent part of that 90+ degree day at the city's Banneker Pool and later stopped at the Kiki gay bar on U Street, N.W. before taking what the victim who spoke to the Blade said was a leisurely walk from Kiki via 7th Street on their way to the bus stop, where they planned to take the bus to his boyfriend's Northeast D.C. house.
As the couple walked south on 7th Street about a block from their destination on Rhode Island Avenue they crossed paths with the group of teenagers in front of a store that a D.C. police report says was at 1731 7th St., N.W.
"They were about 17 to 19 years old," the victim who spoke to the Blade said. "And one of them started saying stuff like, hey, look at these monkeypox faggots and some not so nice stuff like that," he said.
"We turned around to walk away and one of them came up behind me and got my attention and then sucker punched me and then hit me again and then hit my boyfriend in the face," the victim said. "And another person hit him in the face as well," he said. "And then someone across the street called the cops. And then the cops came, and they scattered off."
To the couple's surprise, the two young women remained on the scene and apologized for the actions by the guys they were with.
"So, I said something like thanks for the apology, but this is the kind of people you hang out with," the victim recounted. "And one of them said their dad was gay, and they kind of walked away before the cops got there," he said. "It was nice of them to apologize I guess for the other people."
The D.C. police report lists the incident as having two offenses, a simple assault against the two men and a misdemeanor destruction of property related to the destruction of a pair of sunglasses worn by one of the two men that were damaged in the assault against him.
The report also lists the incident as a suspected "Sexual orientation – Anti-Gay" hate crime.
As in all incidents of violent crime, D.C. police call on members of the public to contact the police with information about an incident like this to call police at 202-727-9099 or text a tip to the department's TEXT TIP LINE at 50411.
Lesbian activist assaulted with barstool at D.C. lounge
Police say victim's claim of anti-gay hate crime under investigation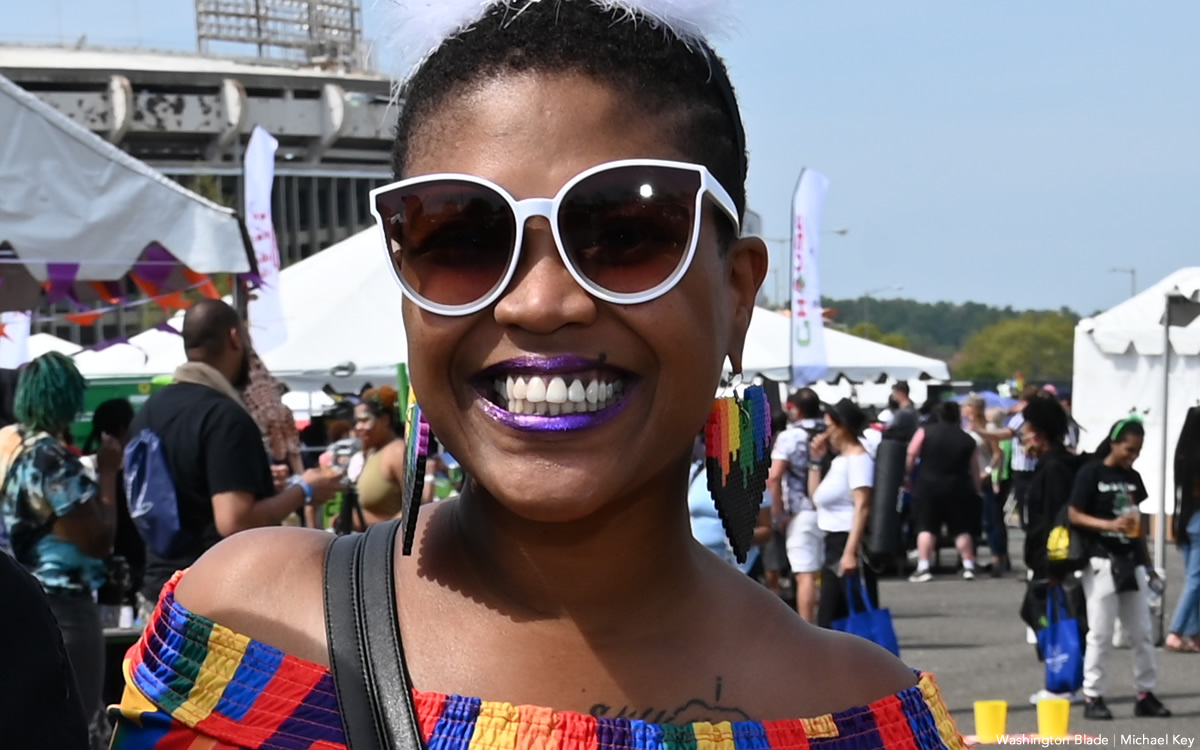 D.C. police say they are actively investigating an Aug. 3 incident in which lesbian activist and Ward 8 community leader Aiyi'nah Ford says she was hit three times in the head with the metal legs of a barstool swung by a man yelling anti-gay names at her.
A police report says the incident took place at the Player's Lounge, a restaurant and bar at 2737 Martin Luther King Jr. Ave., S.E., in the city's Congress Heights neighborhood shortly before and after midnight on Aug. 3 and 4.
Ford, who witnesses say was covered in blood when she stepped outside the restaurant after other patrons intervened, was taken by ambulance to George Washington University Hospital for treatment of a head and scalp injury that required multiple stitches.
Ford and an employee at Player's Lounge said the man who allegedly committed the assault is a regular customer at the restaurant but is known to people only by his nickname of Black. A police spokesperson said that as of Monday no arrest had been made in the case but that it remains under "active investigation" by a detective with the department's Seventh District in Southeast.
A police report obtained by the Blade lists the incident as an assault with a dangerous weapon, but it does not classify the incident as a hate crime.
"There is no indication at this time that this incident was motivated by hate/bias," said D.C. police spokesperson Alaina Gertz in response to a question by the Blade about the police report. "Should further interviews with the complainant reveal information that suggests that this should be a hate crime, the report can be amended with the new information," Gertz said.
"Anyone who has knowledge of this incident should take no action but call police at 202-727-9099 or text your tip to the Department's TEXT TIP LINE at 50411," Gertz said in an email message. "The Metropolitan Police Department currently offers a reward of up to $10,000 to anyone who provides information that leads to the arrest and conviction of the person or persons responsible for a violent crime committed in the District of Columbia," she said.
Ford told the Blade she believes she made it clear to the police officers who spoke with her at the scene of the incident that the man who assaulted her called her anti-gay names, including "dyke bitch." In a video of herself talking about the incident that she posted on Facebook Ford refers to the assault against her as a "gay-bashing."
The police report says officers arrived on the scene while Ford was being treated by paramedics with the D.C. Fire and Emergency Medical Services Department.
"Victim 1 stated that she was talking to a friend of hers at the location when another person who frequents the location interjected himself and began to curse at Victim 1," the police reports states. "The verbal altercation escalated, and Victim 1 stated Suspect 1 began to assault her with a bar stool," the police report continues. "Other patrons at the bar broke up the altercation and Suspect 1 fled," according to the report.
It adds, "Witness 1 corroborated Victim 1's story and stated that Suspect 1 frequents the area but doesn't know his name, only his nickname."
Ford told the Blade the incident began while she and three or four Player's Lounge customers were engaged in a conversation about local community issues, including the city's violence interruption program. Ford said that, among other things, she expressed her strongly held opinion that the violence interruption program was not working and was a "joke."
It was around that time, she said, that the man who assaulted her approached the group and interjected himself into the conversation and indicated that he was interested in possibly becoming one of the violence interrupter program volunteers or participants. Ford said the man, who appeared to be over six feet tall, began referring to women as "bitches" and hurled other curse words.
"So, we're all going like, what?" Ford said of her and the others' reaction to the man's comments. At that point, most of those she was speaking with left the restaurant because it was close to its 11 p.m. closing time.
"And I'm like, who are you talking to?" Ford said she recalls asking the man. According to Ford, he responded by repeatedly reciting the words "dyke bitch" in a hostile way.
"At that point I immediately knew he was talking to me because I'm the only openly lesbian person in that space that frequents there regularly and who was in that room," Ford told the Blade.
She said she questioned the man's motives, including whether he could become a violence interrupter, and the two began to argue back and forth until, according to Ford, he walked up to her and stood almost shoulder to shoulder next to her.
"He continues to call me all kinds of homophobic slurs," Ford said. "He calls me all kinds of bitches and continues to encourage the bar staff to get me to shut up before he shoots me and whatever else he will do to bring my death," Ford said.
"Before I know it, he has picked up this barstool and hit me in the head," said Ford. "He takes a second barstool and proceeds to hit me again," she said, adding that he hit her a third time in the head with one of the barstools, each time with the metal legs of the stool.
Ford said she has learned that the man who assaulted her has told people she spit on him, which he considered to be an assault by her against him. Ford called that allegation a lie, saying she absolutely did not spit on the man.
When the Blade contacted Player's Lounge for comment, a man who answered the phone arranged for Teresa "Auntie" Smith, one of the longtime employees who was present at the time of the incident, to speak with the Blade. Smith said while she was getting ready to close the restaurant she saw and heard what sounded like a heated argument between Ford and the man known as Black, but she said she was busy doing something in another part of the room and did not see the assault take place.
But she said both Ford and Black, whom she has known for a long time from their role as regular customers, were each saying "very mean things" that she had not heard either of them say before. Among other things, she said she heard Ford say to Black that he engaged in "oral sex with other men."
When asked about Smith's claim that she raised the issue of oral sex with Black, Ford said, "Yes, after he called me a dyke bitch I most certainly did." Ford added, "It sounds like she's saying that I deserved to be hit with a barstool. Nothing a woman says to a man that is yelling and encroaching on her personal space justifies hitting her in the head three times with a weapon," Ford said.
"We at Players had a very sad incident on Wednesday night," the restaurant said in an Aug. 5 post on its Facebook page about the assault case. "We are mostly family here and we look out for each other. We are so sorry for what happened and hope she will be ok," the message says. "We are still trying to sort out the details of what happened, but we know that no one here would support gay bashing or any type of violence."
Phil Pannell, a longtime D.C. LGBTQ rights and Ward 8 community activist, said he has organized LGBTQ community events at Player's Lounge, saying it has the reputation of being an LGBTQ-friendly establishment for many years. He told the Blade that he was surprised upon learning of the assault against Ford because he was unaware of that type of incident ever having occurred at Player's Lounge.
Ford, among other things, serves as executive director of the Future Foundation, a Ward 8-based community organization that provides services to local teenagers and their families. The organization's website says one of its programs, called LGBTQ+ You, has provided a "safe space" drop-in facility for LGBTQ youth living in the city's east of the Anacostia River neighborhoods.