LGBT vote could be factor in D.C. Council race
Pannell wins key endorsements in Ward 8 school board campaign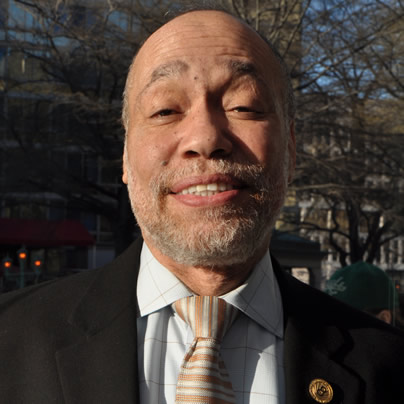 The LGBT vote could be an important factor in the hotly contested race for at least one of the two at-large seats on the D.C. City Council in the Nov. 6 city election, according to political observers.
Council member Michael Brown (I-At-Large) and independent challenger David Grosso, along with Democratic incumbent Vincent Orange (D-At-Large) are competing in a seven-candidate race for the two seats in which only one Democrat is eligible to win under the city's election law.
Most political insiders say the at-large race is likely to be the only Council race this year in which the incumbent isn't expected to breeze to re-election on Tuesday.
Similar to most recent D.C. elections, nearly all of the candidates running for seven seats on the Council, five seats on the D.C. school board, and the city's non-voting seat in Congress – currently held by Democrat Eleanor Holmes Norton — are either supportive or highly supportive on LGBT issues.
Some LGBT activists say that because the city government's long record of support on LGBT issues isn't in jeopardy, LGBT voters are likely to select candidates based on non-LGBT issues.
"It's a luxury to have to choose among friends," gay activist Rick Rosendall told the Blade earlier this year. "We should remember how lucky we are."
In other Council races, Acting Council Chair Phil Mendelson (D-At-Large) is considered the strong favorite to win election to the full Council Chair position. The seat became vacant following the resignation earlier this year of Council Chair Kwame Brown, who was indicted on corruption related charges. Mendelson is a strong supporter of LGBT rights.
Incumbent Council members Jack Evans (D-Ward 2) and Muriel Bowser (D-Ward 4), who are running unopposed, are also strong, longtime supporters on LGBT issues.
One city race considered highly competitive is the contest for the Ward 8 seat on the city's State Board of Education in which longtime Ward 8 community leader and gay activist Phil Pannell is challenging incumbent Trayon "Tray" White.
Pannell lost to White in a special election last year by just over 200 votes in a five candidate race. This year, Pannell is running as White's only challenger and the other three candidates for the seat last year have endorsed Pannell. Among them are longtime Ward 8 community leaders Eugene Kinlow, Sandra Williams, and Anthony Muhammad.
Muhammad, a leader in the local branch of the Nation of Islam religious organization, is backing Pannell because of Pannell's long record of being a public schools advocate and community leader in the ward, according to Natalie Williams, Pannell's campaign manager.
"That speaks volumes on how people in the community feel about Phil," she said.
Pannell has also received endorsements from the Washington Post, D.C. Council member Tommy Wells (D-Ward 6), the Gertrude Stein Democratic Club, and the D.C. local for the American Federation of Municipal Employees union or AFME among other endorsements.
However, Barry, who is considered highly influential in Ward 8, has endorsed White, a 28-year-old political newcomer who has been praised for organizing efforts to persuade young people in the ward to finish school rather than drop out in a ward with the city's highest school drop-out rate.
Pannell, who is one of three out gays running in the city election this year, is the only one in a competitive race.
Gay Dupont Circle Advisory Neighborhood Commissioner Jack Jacobson is running unopposed for the Ward 2 school board seat. And gay Libertarian Party activist Bruce Majors is running against Norton for the city's congressional delegate seat.
Majors, a real estate agent and longtime gay activist, says he's running to provide voters with a choice on through his "individual rights" platform and to expand support for the Libertarian Party in D.C. Norton, considered one of the strongest allies of the LGBT community in Congress, is considered the odds-on favorite to win re-election.
As many as 30 LGBT candidates are said to be running for one of the 296 Advisory Neighborhood Commission seats located throughout the city. The Blade has identified 19 out gay incumbents or challengers running this year for an ANC post.
The Gay and Lesbian Victory Fund, a national organization that raises money for out LGBT candidates, has endorsed four ANC candidates this year: Marc Morgan, who's running unopposed for ANC single member district 1B01 in Ward 1; Martin Espinoza, who's running against two challengers for an open seat in district 2B04; Chris Linn, who's running unopposed in district 2F03 in the Logan Circle area; and Matt Raymond, who's also running unopposed in district 2F07, also in Logan Circle.
Rosendall, who serves as vice president of the Gay and Lesbian Activists Alliance, has joined other activists in noting that two incumbent Council members who have received support from the LGBT community in the past have lost that support to a large degree because of their 2009 vote against the city's same-sex marriage law.
Council members Marion Barry (D-Ward 8) and Yvette Alexander (D-Ward 7) each received a -3.5 rating from GLAA on LGBT issues based on a rating scale of -10 to +10.
The Gertrude Stein Democratic Club, the city's largest LGBT political group, voted last month against making an endorsement in the Ward 7 and Ward 8 Council races, breaking from its decision in the past to endorse Alexander and Barry.
Following is a list of local candidates on the D.C. ballot on Nov. 6 along with information about endorsements from the Stein Club, the D.C. Log Cabin Republicans, and the rating assigned to the candidates by GLAA. GLAA doesn't rate candidate for the school board, the congressional delegate seat, or for the shadow House and Senate seats. Also below are known gay candidates running for ANC seats:
Council Chair: Phil Mendelson (D), GLAA +10, Stein Club endorsement; -Calvin Gurley (D), GLAA rating +1.
At-Large Council seat: Vincent Orange (D)-incumbent, GLAA +0.5, Stein Club endorsement; Michael A. Brown (I-At-Large)-incumbent, GLAA +7.5; David Grosso (I), GLAA +9; A.J. Cooper (I), GLAA +4; Leon Swain Jr. (I), GLAA +4; Ann Wilcox (Statehood Green Party), GLAA +0.5; Mary Brooks Beaty (R), GLAA '0', Log Cabin endorsement.
Ward 2 Council seat: Jack Evans (D)-incumbent, GLAA +8.5, Stein Club endorsement.
Ward 4 Council seat: Muriel Bowser (D)-incumbent, GLAA +6.5, Stein Club endorsement.
Ward 7 Council seat: Yvette Alexander (D)-incumbent, GLAA -3.5; Ron Moten (R), GLAA +1.5, Log Cabin endorsement.
Ward 8 Council seat: Marion Barry (D)-incumbent, GLAA -3.5.
Delegate to U.S. House of Representatives: Eleanor Holmes Norton (D)-incumbent, Stein Club endorsement; Bruce Majors (Libertarian), GOProud endorsement; Natale Lino Stracuzzi (Statehood Green).
At-Large State Board of Education: Mary Lord, Stein Club endorsement; Marvin Tucker.
Ward 2 State Board of Education: Jack Jacobson, Stein Club endorsement.
Ward 4 State Board of Education: D. Kamili Anderson.
Ward 7 State Board of Education: Robert Matthews, Karen Williams, Stein Club endorsement; Villareal "VJ" Johnson; Dorothy Douglas.
Ward 8 State Board of Education: Trayon "Tray" White (incumbent); Philip Pannell, Stein Club endorsement.
U.S. (Shadow) Senator: Michael D. Brown (D), Stein Club endorsement; David Schwartzman (Statehood Green); Nelson Rimensnyder (R), Log Cabin endorsement.
U.S. (Shadow) Representative: Nate Bennett-Fleming (D), Stein Club endorsement; G. Lee Aikin (Statehood Green).
Following are openly gay ANC candidates the Blade has identified this year. The number that precedes the letter in the ANC district indicates the ward in which the district is located:
Marc Morgan—1B01 (unopposed)
Erling (Erl) Bailey—1B12
Jimmy R. Rock—1C08 (unopposed)
Mike Feldstein—2B01 (unopposed)
Martin Espinoza—2B04
Victor Wexler—2B05 (unopposed)
Mike Silverstein—2B06 (unopposed)
Walt Cain—2F02
Chris Linn—2F03 (unopposed)
John Fanning—2F04
Matt Raymond—2F07 (unopposed)
Lee Brian Reba—3C01 (unopposed)
Bob Summersgill—3F07 (unopposed)
Chad Hrdina—5E06
Andy Litsky—6D04 (unopposed)
Roger Moffatt—6D05
Alexander "Alex" Padro—6E01
Martin Moulton—6E02
Kevin Chapple—6E02
Anthony Lorenzo—8B04
Prince George's County library system launches banned book club
First discussion to take place in Hyattsville on June 14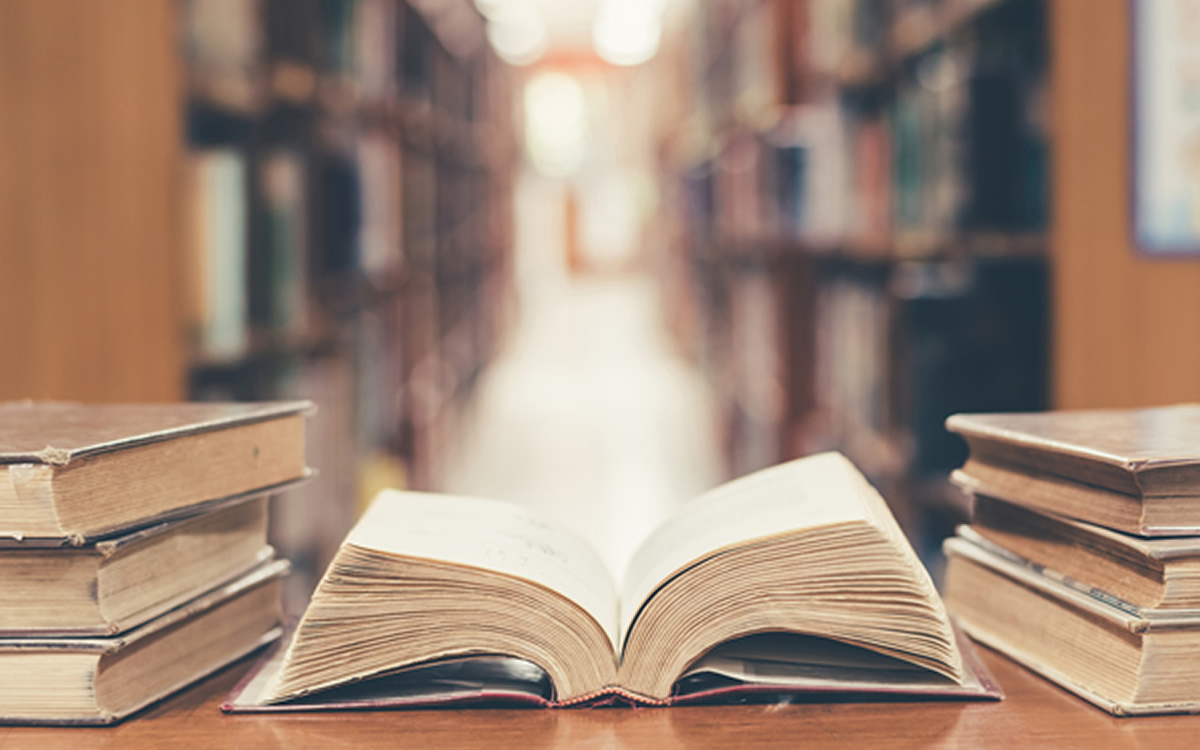 The Prince George's County Memorial Library System has launched its Rock Banned Book Club.
The club will feature monthly discussions of the 13 top banned books from 2022, most of which focus on LGBTQ-specific themes.
The club's first discussion, which will take place at the Hyattsville Branch Library on June 14, will be on "Gender Queer: A Memoir" by Maia Kobabe.
Kobabe's memoir won the 2020 American Library Association Alex Award and recounts Kobabe's exploration of gender identity and sexuality through adolescence and adulthood. According to the American Library Association, the book faced the most censorship challenges of any novel at 151.
"We're seeing nationally the highest rate of challenges to books in libraries since the data has been collected by the American Library Association," Nicholas Brown, acting co-chief executive officer of the library, said. "I think what happens with all of the discourse around book banning is that, oftentimes, not everyone participating in that discourse is actually taking the time to read the full works and discuss them and understand where the author might be coming from and whose stories are being reflected in these books."
Along with the book club, the library system is hosting a Pride celebration at the Hyattsville branch on Saturday from 12 – 4 p.m. It will feature a panel discussion, vogue and runway workshops, free HIV testing and more.
The library system will host its second annual Rainbow Festival on June 24 from 11 a.m. to 2 p.m. at the Bowie Branch Library with family-friendly events like craft stations, story time and a live DJ. In April, the library system won a Top Innovator Award from the Urban Libraries Council for its banned books campaign.
"I think a lot of folks don't always realize that your local public library is kind of the front line of democracy and we always have been," Brown said. "Public libraries across the country are very united on this and if the right to read continues to be under threat like it's been, it is not a good time for the state of our democracy."
Bowser: No credible threats to D.C. Pride events
Mayor spoke with the Blade after flag-raising ceremony at the Wilson Building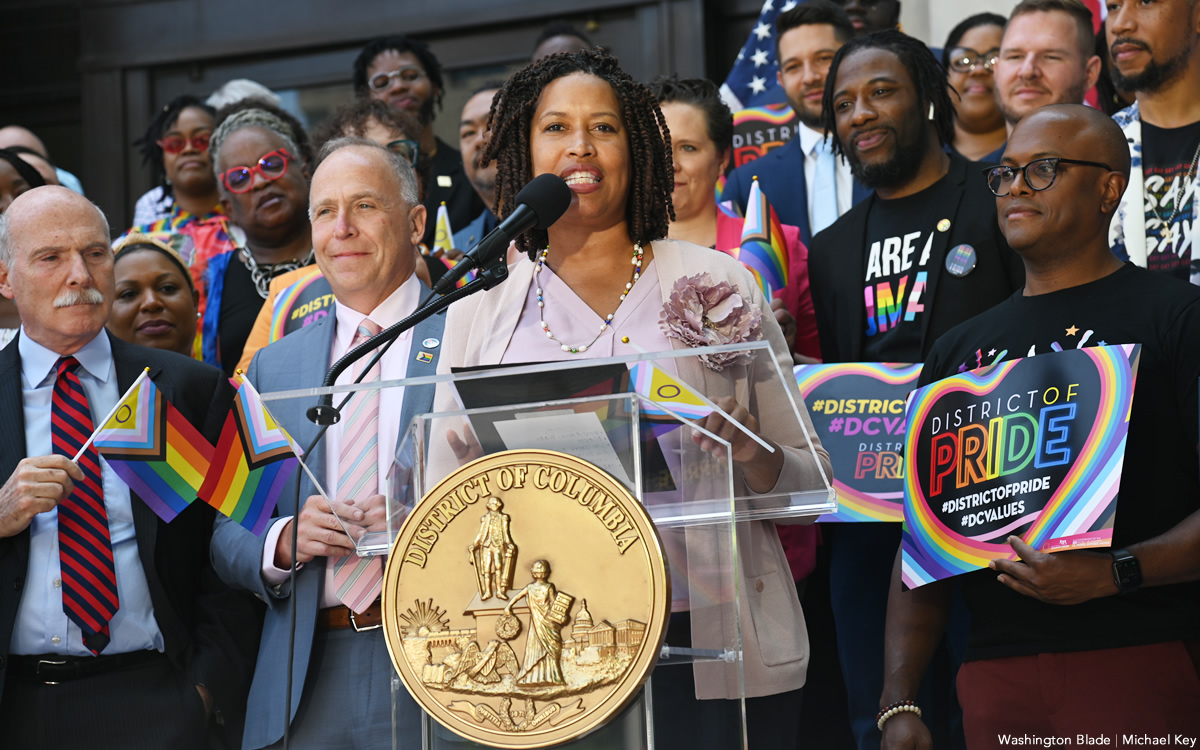 D.C. Mayor Muriel Bowser on Thursday said authorities have not received any credible threats to upcoming Pride events.
"We don't have any to report," she told the Washington Blade.
"MPD is constantly working with all of our agencies to make sure we have safe special events and we're going to keep going with our planning, like we do every year," added Bowser. "There's always a scan for any threats to the District."
Bowser spoke with the Blade after she joined D.C. Council Chair Phil Mendelson, Council members Anita Bonds, Charles Allen, Kenyon McDuffie and Zachary Parker, D.C. Attorney General Brian Schwalb, D.C. Mayor's LGBTQ Affairs Office Director Japer Bowles and other officials and activists in raising the Progress Pride flag in front of the Wilson Building.
The Blade last month reported D.C. police are investigating a bomb threat a Twitter user made against the annual District Pride concert that will take place at the Lincoln Theater on June 29. Bowles in a May 19 statement said his office reported the tweet, but further stressed that "no credible threat at this time has been made."
Moore issues Pride month proclamation
Governor on May 3 signed Trans Health Equity Act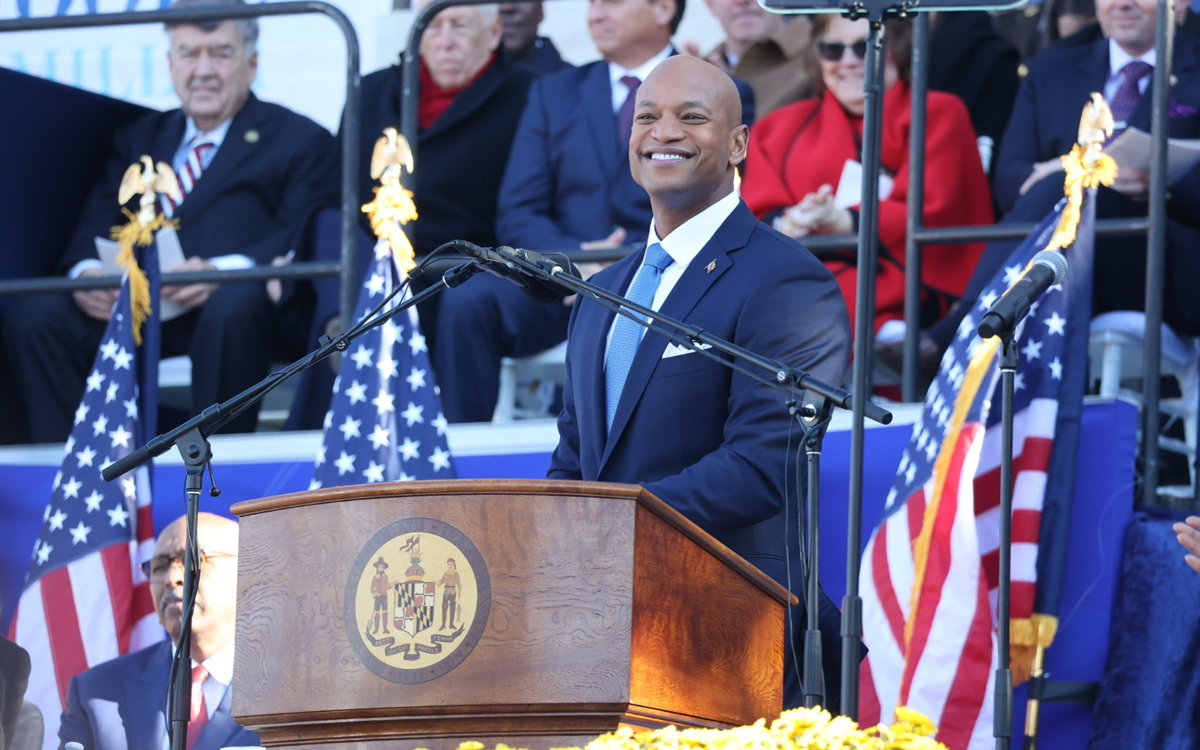 Maryland Gov. Wes Moore on Thursday proclaimed June as Pride month in recognition of "the contributions, resilience, courage and joy of LGBTQIA+ Marylanders," according to a press release.
"In Maryland, we lead with love and inclusion. I want everyone in our LGBTQIA+ community to know that they deserve to be seen for who they are, and our administration will stand with them in the fight for equality and equity," Moore said. "We need to elevate the stories, embrace the courage, and celebrate the humanity of our LGBTQIA+ community — and as long as I am governor, we will take the steps forward to protect and celebrate all Marylanders."
Moore on March 31 became the first governor in Maryland history to recognize the Transgender Day of Visibility and last month he signed into law the Trans Health Equity Act into law, which requires Maryland Medicaid to provide coverage for gender-affirming care beginning next year.
"This month is a celebration of the beauty and uniqueness of the queer community, but it's also a time to reaffirm our commitment to uplifting LGBTQIA+ Marylanders and continuing to fight against hatred, discrimination, and bigotry," Lt. Gov. Aruna Miller said in the same press release that Moore's office released. "LGBTQIA+ Marylanders deserve to be who they are, to live their pride — without fear or having to hide. This administration will always stand alongside and protect the rights of all Marylanders."