November 7, 2012 at 2:01 pm EST | by Michael K. Lavers
4 marriage ballot fights and 4 big wins
Advocacy groups across the country on Tuesday celebrated the passage of two state same-sex marriage referenda and the defeat of a proposed constitutional amendment that would have banned nuptials for gays and lesbians in another.
Maryland voters supported Question 6 by a 52-48 percent margin, while Maine's Question 1 that will allow gays and lesbians to legally marry in the state passed with 52 percent of the vote. Washington's Referendum 74 that would uphold the state's same-sex marriage law remains ahead by a 52-48 percent margin with what Washington United for Marriage estimates as 60 percent of the ballots counted as of deadline.
Minnesotans narrowly defeated a proposed state constitutional amendment that would have defined marriage as between a man and a woman by a 51-48 percent margin.
"Years from now we'll remember this Election Day as the most important and the most historic in the history of the LGBT movement," said Chad Griffin, president of the Human Rights Campaign, in a video message. He noted HRC contributed $20 million over the last two years to the four statewide same-sex marriage campaigns. "We've won a landslide victory at the ballot box. We've secured the first ever electoral victory for marriage equality in Maine, Maryland and Minnesota. And we're optimistic about the results still to come in Washington state."
Freedom to Marry gave $4.6 million to the four statewide same-sex marriage campaigns. It helped raise another $2.4 million to support public education campaigns in Maine, Maryland, Minnesota and Washington.
Evan Wolfson, president of Freedom to Marry, categorized the election results to the Washington Blade as "irrefutable momentum in favor of the freedom to marry" that will give "enormous confidence" to lawmakers and others to support nuptials for gays and lesbians. Casey Pick of Log Cabin Republicans further described the election results as a "turning point."
"It is something the nation will take notice of," she told the Blade from Maine where she had been working with Mainers United for Marriage in support of Question 1 for the last two weeks. "Never again will opponents of marriage equality be able to say that every time the people vote on the issue they favor marriage as one man and one woman because that's no longer true."
LGBT advocates in other states where voters did not consider same-sex marriage ballot measures also noted the historic results.
"For all of the families in Maine and Maryland, where voters upheld the rights of same-sex couples to wed, MassEquality is pleased that they will soon experience what we have celebrated for eight years now in Massachusetts: families that are stronger and communities that are healthier because LGBTQ individuals and their families are treated with dignity and fairness," said Kara Suffredini, executive director of MassEquality, in a statement. She noted nearly 20,000 gay and lesbian couples have married in Massachusetts since the commonwealth's same-sex marriage law took effect in May 2004. "Our rights should never be determined by a majority vote. But the wins in Maine and Maryland, as well as the defeat of a proposed anti-marriage Constitutional amendment in Minnesota, are definitive proof that there is a growing majority in America that supports our rights, and that equality wins, including at the ballot box."
Equality Illinois CEO Bernard Cherkasov also noted the historic election results after Maine's Question 1 passed.
"The ballot box victory is the latest evidence that the tide has turned and that momentum is on the side of full LGBT equality," he said. "We now have a president who ran on support for marriage equality, a Democratic Party that included a marriage plank in the party platform, seven states, including Maine, and also the District of Columbia where same-sex couples can marry."
Minneapolis resident Kirsten Olson and her partner of 18 years, Karen Hogan, a librarian at Quatrefoil Library in nearby St. Paul, waited for the Amendment 1 results at home. She awoke both Hogan and their 11-year-old daughter around 1:45 a.m. when she finally heard the proposal had failed.
"Public radio went to the victory speech that I didn't think I would hear uttered," said Olson as she became emotional. "It was just completely surreal and then on Minnesota Public Radio they were also talking about how the Minnesota House and the Minnesota Senate have both gone Democratic and that our governor, Mark Dayton, had on his agenda to legalize same-sex marriage. So in the span of 12 hours we went from the very real possibility of a constitutional amendment to a very real possibility of legalization."
An ABC News/Washington Post poll conducted after President Obama endorsed marriage rights for same-sex couples in May found 53 percent of Americans supported nuptials for gays and lesbians, compared to only 36 percent in 2006. Even among social conservatives, the issue seems to have less resonance.
Only 19 percent of those who took part in a straw poll at the annual Conservative Political Action Committee conference in D.C. in February cited the promotion of "traditional values" as the most important issue going into the election. Only one percent who took part in the 2011 CPAC straw poll said stopping same-sex marriage was their top priority.
"Obviously we are very disappointed in losing four tough election battles by narrow margins," said National Organization for Marriage President Brian Brown in a statement.
NOM contributed more than $5.5 million to oppose same-sex marriage referenda in Maine, Maryland and Washington and support Minnesota's proposed constitutional amendment to ban nuptials for gays and lesbians. Brown conceded supporters and opponents of these respective ballot measures outspent those who opposed marriage rights for same-sex couples by at least a four-to-one margin.
He also downplayed the idea the election results are what he described as a "changing point in how Americans view gay marriage."
"Though we are disappointed over these losses, we remain faithful to our mission and committed to the cause of preserving marriage as God designed it," said Brown. "Marriage is a true and just cause, and we will never abandon the field of battle just because we experienced a setback. There is much work to do, and we begin that process now."
Wolfson dismissed the remarks.
"It's been clear for some time that they lost the argument," he told the Blade. "All they have is scare tactics, diversions and some raw power in being able to throw money and mobilize some people — a dwindling number. They're going to keep at it. That's where their livelihood is. They know they're losing. They know they're on the wrong side of history. The opposition will continue, but we are winning."
Pick said she feels the election results send a message to GOP lawmakers who continue to oppose marriage rights for same-sex couples.
"Log Cabin Republicans have been saying for a long time that the tide is turning on this issue," she said. "For our party it is incumbent upon us to recognize that inclusion is the way of the future. And to be victorious and to win future elections with voters who are taking their place as the majority of the populace today, marriage equality has to be a part of that formula."
Back in Maryland, there was a palpable sense among those awaiting the Question 6 results at a Baltimore concert hall the Free State was about to make history as the first state to approve same-sex marriage at the ballot.
Lesbian state Del. Heather Mizeur told the Blade before Marylanders for Marriage Equality announced the referendum had passed she feels Obama's support of same-sex marriage had a tremendous impact in Maryland.
"While we already felt very confident where we were headed in this campaign, he stood up and did something no president has ever done for our community and help make it okay for all of our allies to be comfortable with being public about what their position was about equality," she said. "We started to see the numbers very strongly in our direction after he came out in favor of it. And that's why we're hoping for a double win tonight and celebrating our marriage equality and also sending this courageous president back for another four year term."
Olson said most of her friends, family and neighbors understand Minnesota voters made history by striking down the proposed amendment.
"People totally understand that, totally feel that," she said. "There are obviously 49 percent of the population — or 48 percent I guess is what it finally came out to be who think otherwise, but they're not 50 percent plus one.
Shaun Knittel, executive director of the pro-Referendum 74 group Social Outreach Seattle, told the Blade he feels this sense of history prompted a lot of young first-time voters to go to the polls and support the law.
"Nov. 6, 2012, is going to be a historic day for the gay community, the LGBTQ community because this is the time we stopped the bigots," he said. "It's the first time it has happened in this way and it was such a big statement. It wasn't just one state or one group that just seemingly got lucky. It was four states involved in this."
Michael K. Lavers is the international news editor of the Washington Blade. Follow Michael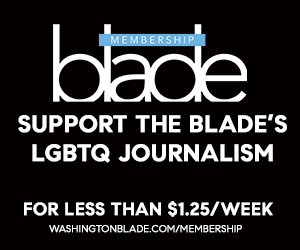 Sign Up for Blade eBlasts