Gray, Ellerbe attend Transgender Day of Remembrance event
D.C. fire chief apologized for EMS' refusal to treat Tyra Hunter after 1995 car accident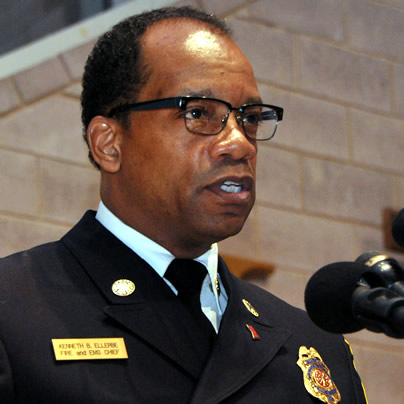 Hundreds of people gathered at the Metropolitan Community Church in Northwest Washington on Tuesday to commemorate the annual Transgender Day of Remembrance.
"It is a special day today that we think about our transgender brothers and sisters, those that are no longer on this planet and those who remain in this room who stand on the front lines fighting every day," said Rev. Abena McCray of Unity Fellowship Church D.C. "We honor you."
Brian Watson of Transgender Health Empowerment honored Mayor Vincent Gray and Lisa Mallory, director of the D.C. Department of Employment Services, for their work on behalf of trans Washingtonians. He specifically applauded the Gray administration for nominating Earline Budd and Alexandra Beninda to the city's Human Rights Commission, launching the country's first publicly-funded campaign to combat anti-trans discrimination and implementing the Project Empowerment employment initiative for trans Washingtonians.
More than 70 people have graduated from the program since it began in Sept. 2011.
"It is the right thing to do," said Gray after he and Mallory accepted their awards. "This symbolizes too that it is time, it is time for us to make sure if we're going to call ourselves one city, than everybody in the District of Columbia will have a place to be able to enjoy life in one city in the District of Columbia."
Gwendolyn Ann Smith organized the first Transgender Day of Remembrance as a way to honor Rita Hester, a trans woman murdered inside her Boston apartment in Nov. 1998.
The D.C. event was one of dozens of Transgender Day of Remembrance commemorations, candlelight vigils and other gatherings held across the United States and around the world.
A group of trans activists gathered at the White House earlier in the day to discuss what Budd described as "the crisis and issues of discrimination facing the transgender community." Gray also declared Nov. 20, 2012, as Transgender Day of Remembrance in D.C.
"We come to remember and honor the life and love of those loved ones and friends and family that we've lost," said Jeffrey Richardson, director of the Mayor's Office of GLBT Affairs. "The sorrow's still with us. The pain stays with us, but we also must celebrate the resilience, the connectedness, the love that exists within our community. We continue to get up and rise over and over and over and over again despite the challenges and circumstances that so many in our community and all of us collectively face."
Metropolitan Police Department statistics indicate there have been nine reported bias-related crimes based on gender identity and expression in D.C. from January through October, compared to seven during the same period in 2011.
A jury late last month convicted off-duty D.C. police officer Kenneth Furr of assault with a dangerous weapon and solicitation for prostitution after prosecutors contend he shot at three trans women and their two male friends while they were sitting in a car. The D.C. Superior Court panel acquitted him with assault with intent to kill while armed and five other charges in connection with the Aug. 2011 incident.
A Human Rights Watch report in July criticized D.C. police for confiscating condoms from trans prostitutes and other sex workers.
Those who gathered at Metropolitan Community Church also paid tribute to Deoni Jones, who was stabbed to death at a Northeast Metro bus stop in February. Her mother, Jadean Jones, noted she became a receptionist at a Southeast D.C. hair salon after graduating from Project Empowerment.
"That was his title, but JaParker (Deoni Jones' birth name) always did their hair and make-up," said Jadean Jones. "I'm going to support y'all all the way to the end because I knew what my son stood for and what he meant."
D.C. Fire Chief Kenneth Ellerbe used the Transgender Day of Remembrance commemoration to apologize on behalf of the department for the emergency medical personnel who declined to treat Tyra Hunter after a 1995 car accident once they discovered she was trans. Hunter subsequently died from her injuries.
"I want to say on behalf of the department, I'm truly sorry for what happened," said Ellerbe. "Tyra Hunter's case forced us to take a serious look at how we view and address this city's very diverse population. Under Mayor Gray's leadership, the District of Columbia continues to grow and flourish. And before this message gets lost in the words, I want to say again on behalf of the entire Fire and EMS Department I'm sorry for what happened and we are committed to doing better for this community throughout the city."
Trans activist Geri Hughes said Hunter's case has "always bothered me" as she introduced Ellerbe.
"He's here tonight because he is a responsible man and he's a good man," she said. "He wants to take responsibility and apologize on behalf of the fire and emergency medical services for that lapse in service."
The mother and siblings of NaNa Boo Mack, who stabbed to death in 2009, also attended the Transgender Day of Remembrance commemoration. Co-organizer Xion Lopez placed Mack's ashes onto a table on the stage at the beginning of the event.
Large crowds expected at Capital Pride parade, festival
Bowser says there are no credible threats to events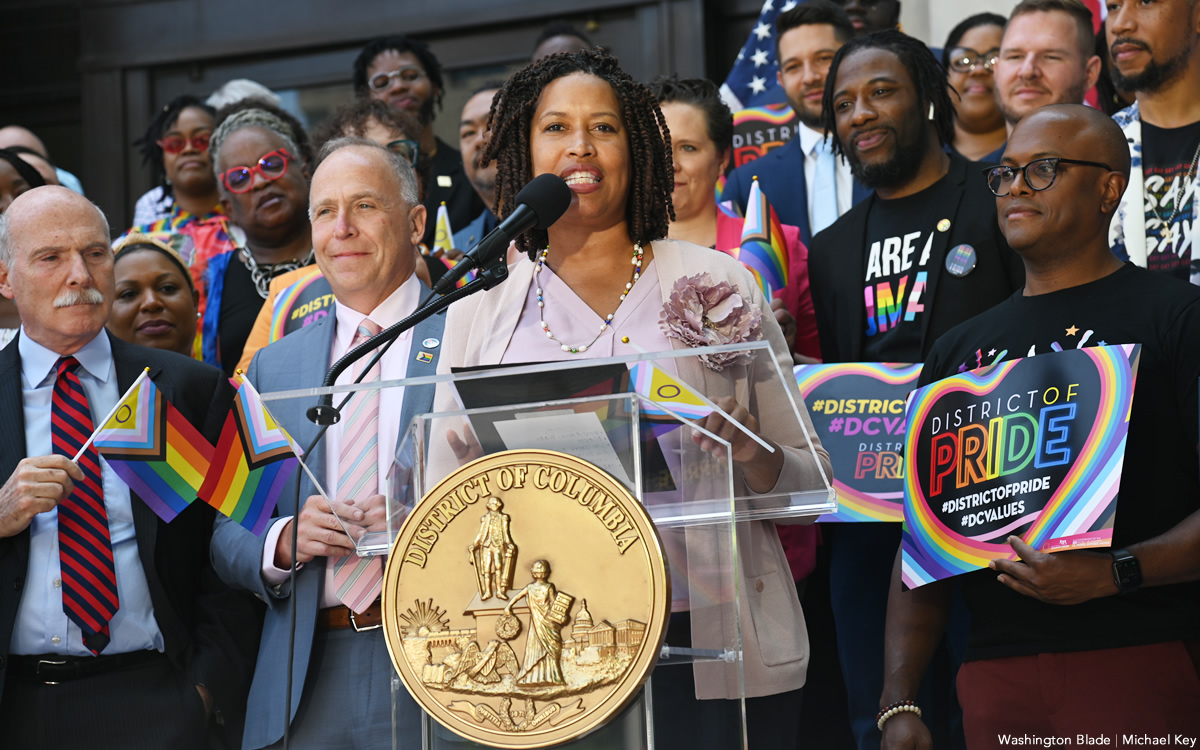 Hundreds of thousands of people are expected to attend the Capital Pride Parade on Saturday.
The parade will follow a 1.5-mile route that will step off on 14th Street at T Street, N.W., and finish on P Street at 21st Street, N.W. A map of the expected parade route can be found on the Capital Pride website. 
The Capital Block Party will take place at the intersection of Q and 17th Streets, N.W., during the parade. The party will feature local vendors, food trucks and a 21+ beverage garden and it will also have a designated viewing area for families with children to watch the parade, along with other children's activities.
The fourth annual Pride on the Pier will take place at the Wharf during the parade. The event, hosted by the Washington Blade, LURe DC and the Wharf, will have a fireworks show, a DJ and more.
The parade will be followed by the Capital Pride Festival on June 11. Taking place on Pennsylvania Avenue, N.W., the festival will feature more than 300 booths with local vendors, businesses and organizations. From 12-8 p.m., the Capital Pride Concert will host acts such as Broadway actress Idina Menzel and "RuPaul's Drag Race" winner Monét X Change.
D.C. Mayor Muriel Bowser last Thursday told the Washington Blade after she helped to raise the Progress Pride flag at the Wilson Building that there have been no credible threats to any upcoming Pride events in D.C. amid a rise in violence against the LGBTQ community. 
"MPD is constantly working with all of our agencies to make sure we have safe special events and we're going to keep going with our planning, like we do every year," Bowser said. "There's always a scan for any threats to the District."
The Metropolitan Police Department is investigating a bomb threat made on Twitter for the annual District Pride concert scheduled for June 29 at the Lincoln Theatre.
Temperatures are forecast to reach the mid-80s on Saturday and the low-90s on Sunday. Precipitation chances on both days are low.
With recent air quality issues, Alert DC is advising those with respiratory issues to wear masks, avoid strenuous activities and reduce time spent outdoors.
Further details and a full calendar of events can be found on the Capital Pride website.
Moore signs executive order to protect gender-affirming health care in Md.
Ceremony took place during Pride month reception at Government House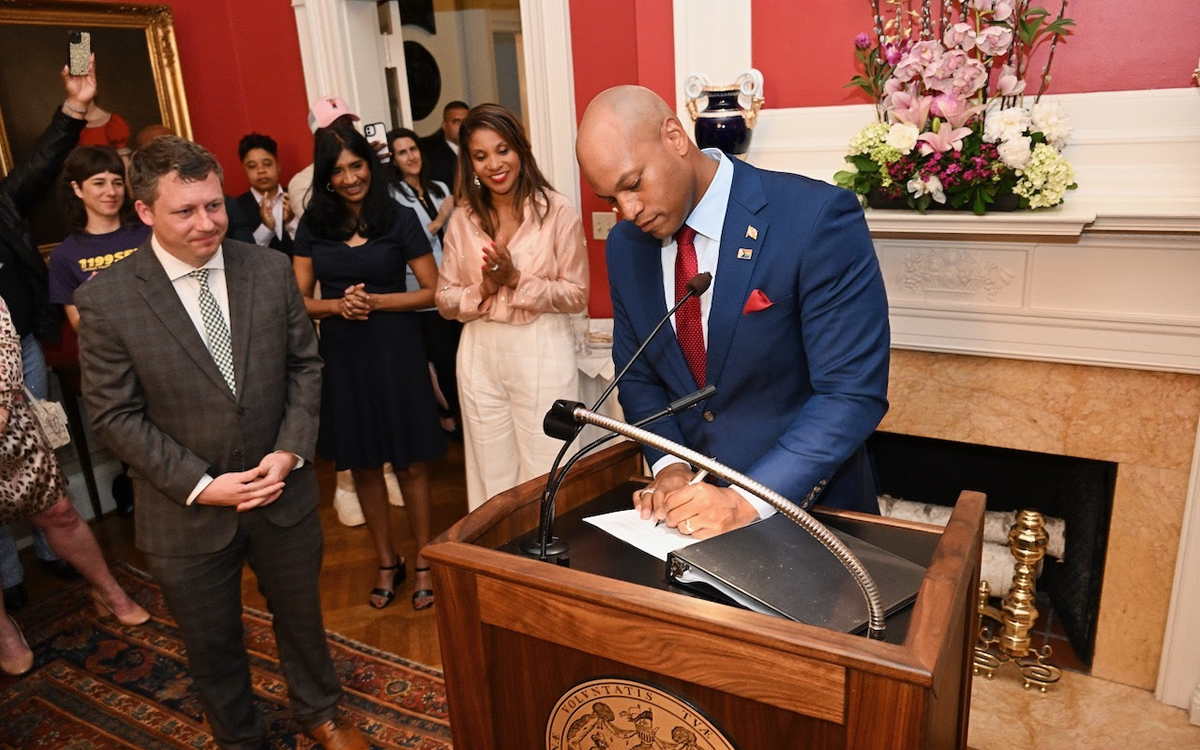 Maryland Gov. Wes Moore on Monday signed an executive order that protects gender-affirming health care in the state.
Moore signed the directive during a Pride month reception at Government House in Annapolis.
"In the state of Maryland, nobody should have to justify their own humanity," said Moore. "This order is focused on ensuring Maryland is a safe place for gender affirming care, especially as other states take misguided and hateful steps to make gender affirming care cause for legal retribution. In Maryland, we are going to lead on this issue."
"In signing this executive order, this administration is saying to all LGBTQIA+ Marylanders: You deserve to be your authentic selves — during Pride month and every month," added Lieutenant Gov. Aruna Miller. "You deserve to live safely, openly and freely; and receive the gender-affirming care you need."
Moore last month signed the Trans Health Equity Act, which requires Maryland's Medicaid program to cover gender-affirming care. Moore on March 31 signed a proclamation that proclaimed the day as the International Transgender Day of Visibility in Maryland.
22 ways to celebrate Pride month in Delaware
From Wilmington to Rehoboth, there's something for everyone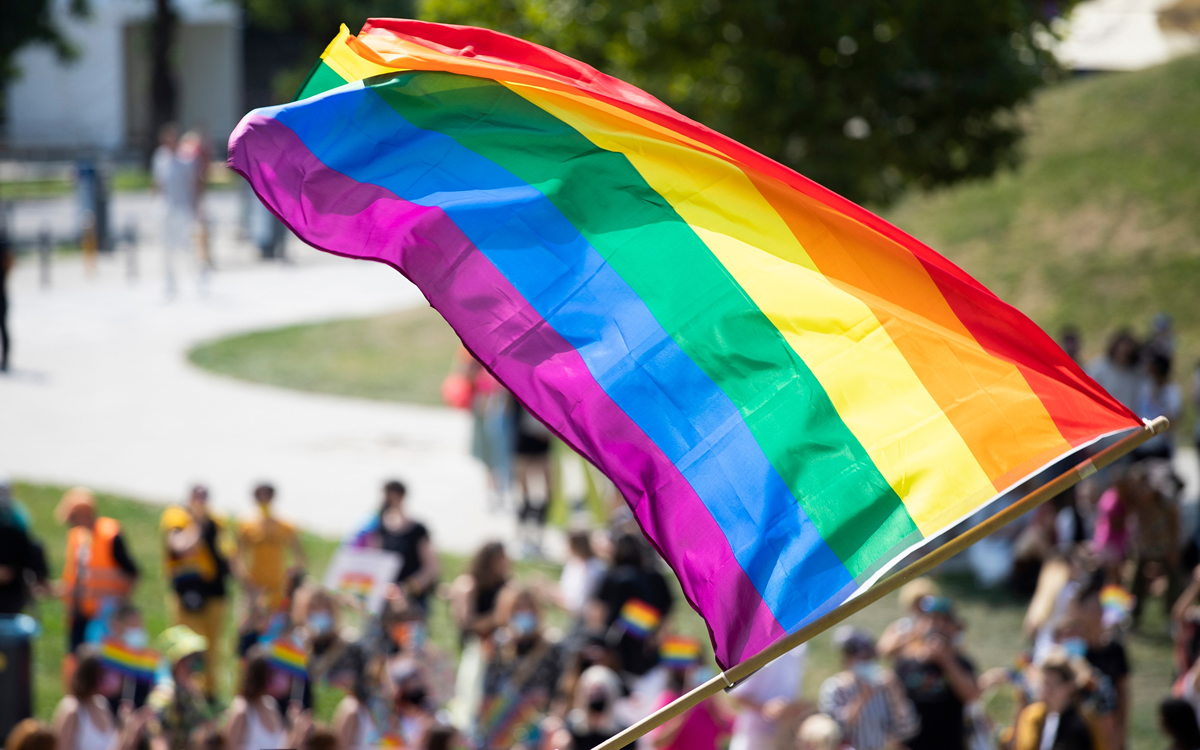 FRIDAY, JUNE 9
QUEER FILM: The Rehoboth Beach Film Society and CAMP Rehoboth kick off the three-day Pride Film Festival featuring 12 movies, ranging from "The Rocky Horror Picture Show" to "Going to Mars: The Nikki Giovanni Project," which explores author Giovanni's life and six decades of work. The schedule has not been announced yet as of publication of this guide. The films will be shown at Cinema Art Theatre at 17701 Dartmouth Rd. #2 in Lewes. $12 per film.
A HISTORY LESSON: Delaware LGBTQ history researcher Carolanne Deal explores the queer history of Sussex County and a new exhibition with parts of Delaware's queer history in the Zwannendael Park by the museum with the same name. 5 p.m. at 102 Kings Highway in Lewes. Free.
SATURDAY, JUNE 10
PRIDE FESTIVAL: Delaware Pride is putting on its annual Pride festival, with more than 100 vendors and many entertainers making up the single largest LGBTA gathering in Delaware, the organization says. Seventeen entertainers are listed on Delaware Pride's Facebook page, including "American Idol" contestant Alisabeth Von Presley – "Lady Gaga meets Pat Benatar with a dash of Michael Jackson," Little Village Magazine writes; Aunt Mary Pat, the drag queen and singer; Jenna Tall, who's won five Miss titles; The Manhattan Prairie Dogs, a dance group that's legal to watch despite prairie dogs being illegal to keep as a pet in New York; and Ryan Cassata, a singer and public speaker on trans issues. That's not even mentioning 83 vendors that are scheduled to attend. 10 a.m.-5 p.m. at 411 Legislative Ave. in Dover. Free.
PRIDE AFTER-PARTY: Double D's Taphouse is hosting an after-party throughout Saturday night for adults 21 and over, hosted by Scarlett Masters (who's also hosting the drag bingo above). 6-10 p.m. at 137 Jerome Drive in Dover. $15.
COUNTRY DANCING: Get yir boots on and saddle up, gays! Atlantic Sands Hotel & Conference Center is hosting a country dance party for gay men and women in Rehoboth. 7 p.m. at 1 Baltimore Ave. on the Boardwalk in Rehoboth. $10.
BRING YOUR GAY ASS OVER HERE: Flash your colors at Wilmington's Crimson Moon bar. Brush up on your gay history to understand why: When it was illegal to be gay, LGBTQ people put a colored handkerchief in their back pocket to signal their queerness to other community members. Community leaders periodically changed that color so they would not reveal their sexuality to undercover cops. Over time, it evolved into what it is today – a way to show who you are and what you're looking for. 9 p.m. at 1909 W. 6th St. in Wilmington. No cover.
SUNDAY, JUNE 11
RUN FOR FUN AT THE FUN RUN: Fun for run, no, run for fun in Rehoboth, organized by a Delaware shoe store, Charm City Run. 8-9 a.m. at 200 Rehoboth Ave. in Rehoboth. Free.
MIDDLETOWN PRIDE: Middletown is hosting its second annual Pride Walk and Festival – with vendors this time. 12-5 p.m. in Middletown. Free.
BINGO FOR A CAUSE: AIDS Delaware is hosting a spring bingo with The Rainbow Chorale in the Mill Creek Fire Company's Chambers, with all proceeds benefitting the two organizations. It's hosted by drag queens Scarlet Masters and Aura Buboyz and organizers encourage guests to dress in Pride attire or your "best ally" attire. Doors open at 5 p.m., games begin at 6 p.m. at 3900 Kirkwood Hwy in Wilmington. $15 for admission and one game board.
SUPPORT AGING LGBTQ+ PEOPLE: Learn about the challenges facing older LGBTQ adults and resources for them in a roundtable discussion hosted by Sussex Pride at the Unitarian Universalists of Southern Delaware's building in Lewes. 6-7:45 p.m. at 30486 Lewes Georgetown Hwy. Free.
THURSDAY, JUNE 15
A NIGHT OUT: Bring your friends and (queer) family to this LGBTQ social event at Constitution Yards Beer Garden. It had a record turnout of about 300 last year, and organizers are hoping to crack 400 this year. 6-9 p.m. at 308 Justison St. in Wilmington. Free.
GAME NIGHT: If going out isn't your thing and you'd prefer a more chill night, fear not: Sussex Pride is hosting a game night in the Epworth United Methodist Church. 6:30-8:15 p.m. at 19285 Holland Glade Rd. in Rehoboth. Free.
FRIDAY, JUNE 16
GET INTO THE HOMO SPIRIT: Listen to CAMP Rehoboth's Chorus singing all-time favorites like Chad & Jeremy's "A Summer Song," Chicago's "Saturday in the Park," and, of course, a Beach Boys medley at Epworth United Methodist Church. Friday and Saturday 7 p.m., and Monday 3 p.m. at 19285 Holland Glade Road in Rehoboth. $25.
GAYEST SONGS EVER: Celebrate the super gay pop hits of yesteryear (and this year) with performer Todd Alsup. 8:30-10:30 p.m. at The Pines, 56 Baltimore Ave. in Rehoboth. $25-150.
SATURDAY, JUNE 17
DRAG BRUNCH: Miss Troy, who is also performing at the Pride Festival, is hosting a drag brunch at The Queen in its Crown Room. The Queen is normally a live music venue but has a history of hosting all kinds of events. 12 p.m. at 500 N. Market St. in Wilmington. $39-61.50
POOL PARTY: If you want to take a splash in the pool while being a little tipsy this is the place to do it. Bring your own booze if desired, and bring food if you wish. 3-9 p.m. at 128 Honey Brook Lane in Felton. Free.
PLAY DUNGEONS & DRAGONS: Take a break from celebrating with a round of Dungeons & Dragons hosted by Sussex Pride at the Groome Church. 6:30-8 p.m. at 601 Savannah Rd. in Lewes. Free.
SUNDAY, JUNE 18
QUEER STORY TIME: Bring your little (or not so little) kids to the Woodlawn Library and read picture books with LGBTQ characters. You must register for the event beforehand here. Masks are strongly encouraged at the event. 11 a.m.-12 p.m. at 2020 W. 9th St. in Wilmington. Free.
BRING YOUR DADDY TO BRUNCH: Goolee's Grill encourages you to bring your dad (or daddy) to this family-friendly drag brunch because it's Father's Day. The event is hosted by the runner up for Rehoboth's Best Drag Queen in the 2019 Blade awards, Regina Cox. 12-2 p.m. at 11 South 1st St. $15.
SATURDAY, JUNE 24
ZOO VISIT: The Brandywine Zoo is holding its annual Pride Day – only the third – with educational programming, a scavenger hunt, and story time. 10 a.m.-3:30 p.m. at 1001 N. Park Dr. in Wilmington. $7 for seniors and youth, $9 for adults.
SUNDAY, JUNE 25
STONEWALL RELIVED: Listen to four actors recreate the 1969 Stonewall Uprising at CAMP Rehoboth with the words of those that were there – reporters, drag queens, trans youth, gay people, and homeless kids that confronted the police, letting out their anger. It wasn't the first LGBTQ uprising of the era, but the most consequential. 4 p.m. & 7 p.m. at 37 Baltimore Ave. in Rehoboth. $25.
FRIDAY, JUNE 30
GAY COMEDY: Standup comedian Jen Kober, an out lesbian from Louisiana, is touring the country and stopping in Rehoboth Beach at The Pines along with Jeff D. She won NPR's Snap Judgment of Comedic Performance of the Year and went viral for her standup about Girl Scout cookies. 7 p.m. at The Pines in Rehoboth.
Did we miss anything? Let the author know at [email protected]