Newest D.C. Council member longtime backer of LGBT rights
Anita Bonds wins interim appointment to at-large seat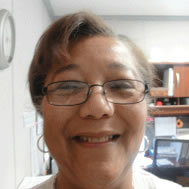 The D.C. Democratic State Committee voted Monday night to appoint its chairperson, Anita Bonds, a longtime ally of the city's LGBT community, to fill a vacant at-large seat on the City Council until a special election is held in April.
Bonds, 67, has the reputation of being a consummate political insider who has been aligned with Ward 8 D.C. Council member and former mayor Marion Barry since 1978, when Barry won election as mayor on a strong pro-gay rights platform.
"I have been supportive of the gay community for as long as I can remember," Bonds told the Blade on Tuesday.
Her comment came a few hours after she was sworn in to fill a Council seat that became vacant when Council member Phil Mendelson (D-At-Large) won election as Council Chair.
"She's the political operative extraordinaire," said political commentator Mark Plotkin on Fox Five News.
At least seven out LGBT people are members of the D.C. Democratic State Committee, including the president and vice president of governmental and political affairs of the Gertrude Stein Democratic Club, the city's largest LGBT political group.
Two LGBT members reached on Tuesday said they voted for Bonds over her two challengers, former State Committee member John Capozzi and current State Committee member Douglas Sloan.
Gay State Committee members Bill O'Field of Ward 1 and Barrie Daneker of Ward 5 told the Blade they voted for Bonds because they admire her work in city government and politics for more than 30 years and recognize her longstanding support on LGBT issues.
Former Stein Club President David Meadows, who worked for Bonds as a State Committee staffer from 2007 to 2011, called Bonds a "pioneer" straight supporter of LGBT equality going back to the 1970s.
Seventy-one of the State Committee's 80 members turned out to vote on the Council appointment at a meeting on the campus of Catholic University in Ward 5, where Bonds lives. She received 55 votes, capturing the Council appointment in a first-ballot vote.
Sloan received 7 votes and Capozzi received 5 votes. Two members attending the meeting didn't vote for any of the three candidates, and a ballot cast by another member was invalidated, according to Daneker.
Sloan and Capozzi, like Bonds, are members of the Stein Club and are strong supporters of LGBT rights.
Bonds said she plans to run in the special election scheduled for April 23, where as many as eight ore more candidates are expected to enter the race, possibly including gay activist Nick McCoy.
Bonds' association with Barry began at a time when Barry was considered the nation's most LGBT supportive big city mayor. Although Barry continues to express support for LGBT equality in general, he lost support from most of the city's LGBT political activists in 2009, when he and his Council colleague, Yvette Alexander (D-Ward 7), became the only two of the 13 Council members to vote against the city's same-sex marriage law.
"I am a proponent of marriage equality," Bonds told the Blade on Tuesday. "I watched him give his explanation," she said, referring to Barry's assertion that he was acting on behalf of his Ward 8 constituents, whom he said opposed same-sex marriage.
"But I would have voted for it," Bonds said.
Daneker, who serves as the Stein Club's treasurer, said he's certain that Bonds doesn't share Barry's opposition to same-sex marriage.
"She's been a strong supporter of LGBT equality for years and years," said Daneker.
Meadows said Bonds came out in favor of the D.C. same-sex marriage bill at the time it came before the Council for consideration in 2009. The Council passed the bill in December 2009 by a vote of 11-2, and then Mayor Adrian Fenty signed it that same month.
Although observers said most of the LGBT members of the State Committee appeared to have joined their straight allies in backing Bonds, Ward 8 gay Democratic activist Phil Pannell spoke out against Bonds' interim appointment to the Council. Pannell, a former State Committee member, has been at odds with Bonds over the years over various non-LGBT issues and State Committee actions.
Among other complaints, Pannell said he questioned Bonds' commitment to LGBT rights after he learned that she appointed Council member Alexander earlier this year as one of D.C.'s three presidential electors pledged to President Obama in the Electoral College vote scheduled for Dec. 15.
Pannell, noting that Alexander joined Barry in voting against the city's same-sex marriage law, characterized her appointment as an Obama elector as a "slap in the face" to the president, who emerged as a same-sex marriage supporter during his re-election campaign.
Bonds said she appointed Alexander at the recommendation of local and national party leaders and noted that similar to the appointment of all Democratic Party electors, it was cleared by the Obama campaign.
"We have to remember that we are the party of all of the Democrats," Bonds said. "All who hold to the principles of the community of America – we're not going to agree on everything."
Gay Democratic activist Peter Rosenstein disputed Pannell's assertion that Bonds' appointment of Alexander as an elector raised questions about Bonds' support for LGBT rights.
"I know Anita Bonds has been a strong supporter of our community," Rosenstein said.
The other LGBT State Committee members who couldn't be reached to determine how they voted on the Council appointment are Tobias Quaranta, president of the D.C. Young Democrats; Lateefah Williams, outgoing president of the Stein Club; Julius Agers, vice president for government and political affairs of the Stein Club; Ron Collins, former director of the Mayor's Office of Boards and Commissions; and Gregory Cendana, member of the D.C. Asian Pacific Islanders Democratic Caucus.
Prince George's County library system launches banned book club
First discussion to take place in Hyattsville on June 14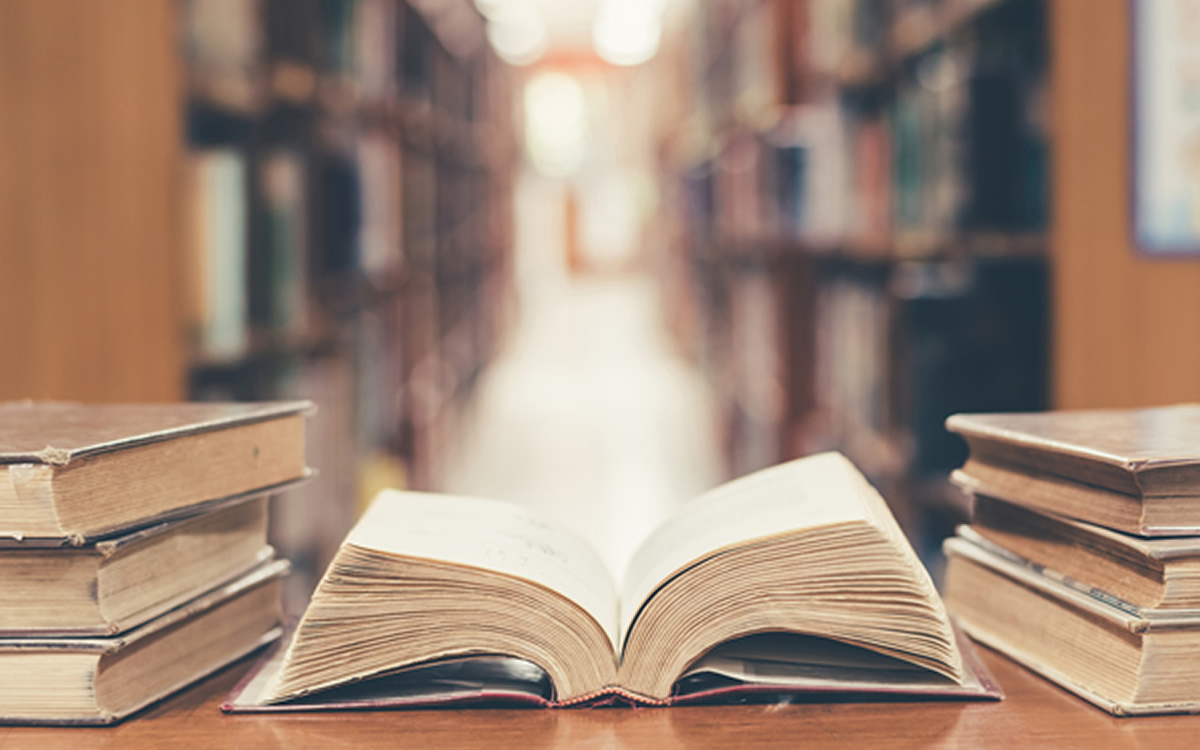 The Prince George's County Memorial Library System has launched its Rock Banned Book Club.
The club will feature monthly discussions of the 13 top banned books from 2022, most of which focus on LGBTQ-specific themes.
The club's first discussion, which will take place at the Hyattsville Branch Library on June 14, will be on "Gender Queer: A Memoir" by Maia Kobabe.
Kobabe's memoir won the 2020 American Library Association Alex Award and recounts Kobabe's exploration of gender identity and sexuality through adolescence and adulthood. According to the American Library Association, the book faced the most censorship challenges of any novel at 151.
"We're seeing nationally the highest rate of challenges to books in libraries since the data has been collected by the American Library Association," Nicholas Brown, acting co-chief executive officer of the library, said. "I think what happens with all of the discourse around book banning is that, oftentimes, not everyone participating in that discourse is actually taking the time to read the full works and discuss them and understand where the author might be coming from and whose stories are being reflected in these books."
Along with the book club, the library system is hosting a Pride celebration at the Hyattsville branch on Saturday from 12 – 4 p.m. It will feature a panel discussion, vogue and runway workshops, free HIV testing and more.
The library system will host its second annual Rainbow Festival on June 24 from 11 a.m. to 2 p.m. at the Bowie Branch Library with family-friendly events like craft stations, story time and a live DJ. In April, the library system won a Top Innovator Award from the Urban Libraries Council for its banned books campaign.
"I think a lot of folks don't always realize that your local public library is kind of the front line of democracy and we always have been," Brown said. "Public libraries across the country are very united on this and if the right to read continues to be under threat like it's been, it is not a good time for the state of our democracy."
Bowser: No credible threats to D.C. Pride events
Mayor spoke with the Blade after flag-raising ceremony at the Wilson Building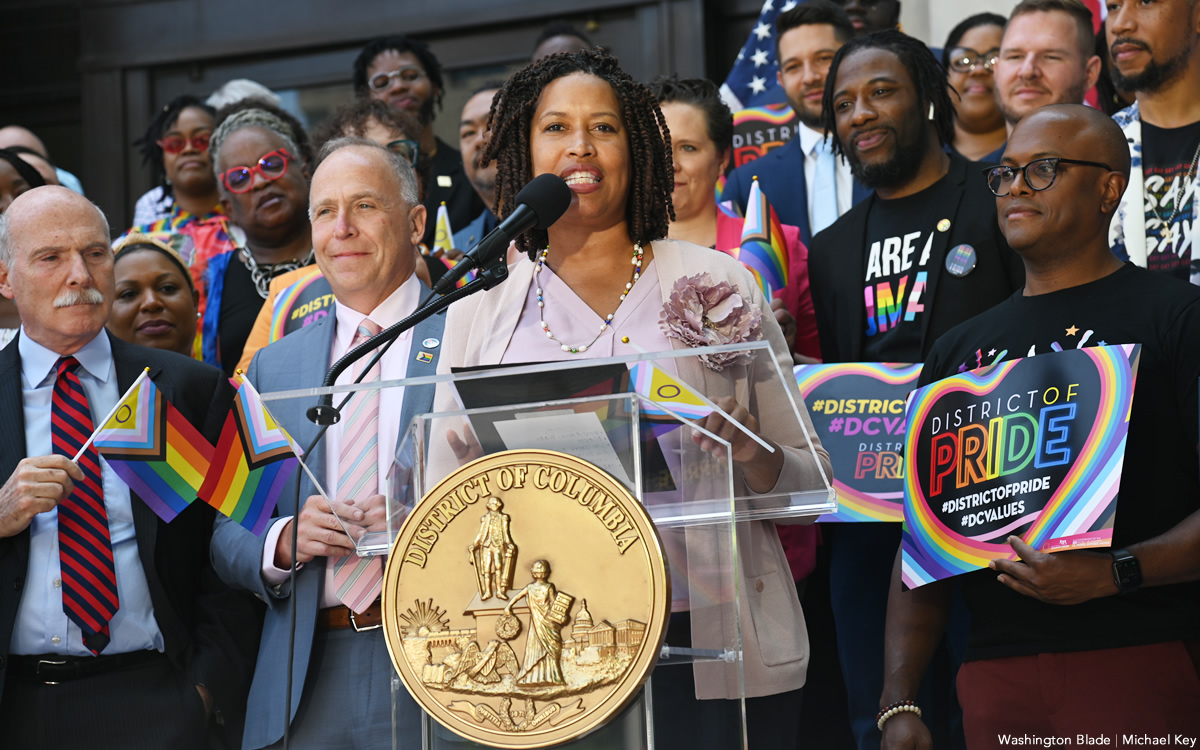 D.C. Mayor Muriel Bowser on Thursday said authorities have not received any credible threats to upcoming Pride events.
"We don't have any to report," she told the Washington Blade.
"MPD is constantly working with all of our agencies to make sure we have safe special events and we're going to keep going with our planning, like we do every year," added Bowser. "There's always a scan for any threats to the District."
Bowser spoke with the Blade after she joined D.C. Council Chair Phil Mendelson, Council members Anita Bonds, Charles Allen, Kenyon McDuffie and Zachary Parker, D.C. Attorney General Brian Schwalb, D.C. Mayor's LGBTQ Affairs Office Director Japer Bowles and other officials and activists in raising the Progress Pride flag in front of the Wilson Building.
The Blade last month reported D.C. police are investigating a bomb threat a Twitter user made against the annual District Pride concert that will take place at the Lincoln Theater on June 29. Bowles in a May 19 statement said his office reported the tweet, but further stressed that "no credible threat at this time has been made."
Moore issues Pride month proclamation
Governor on May 3 signed Trans Health Equity Act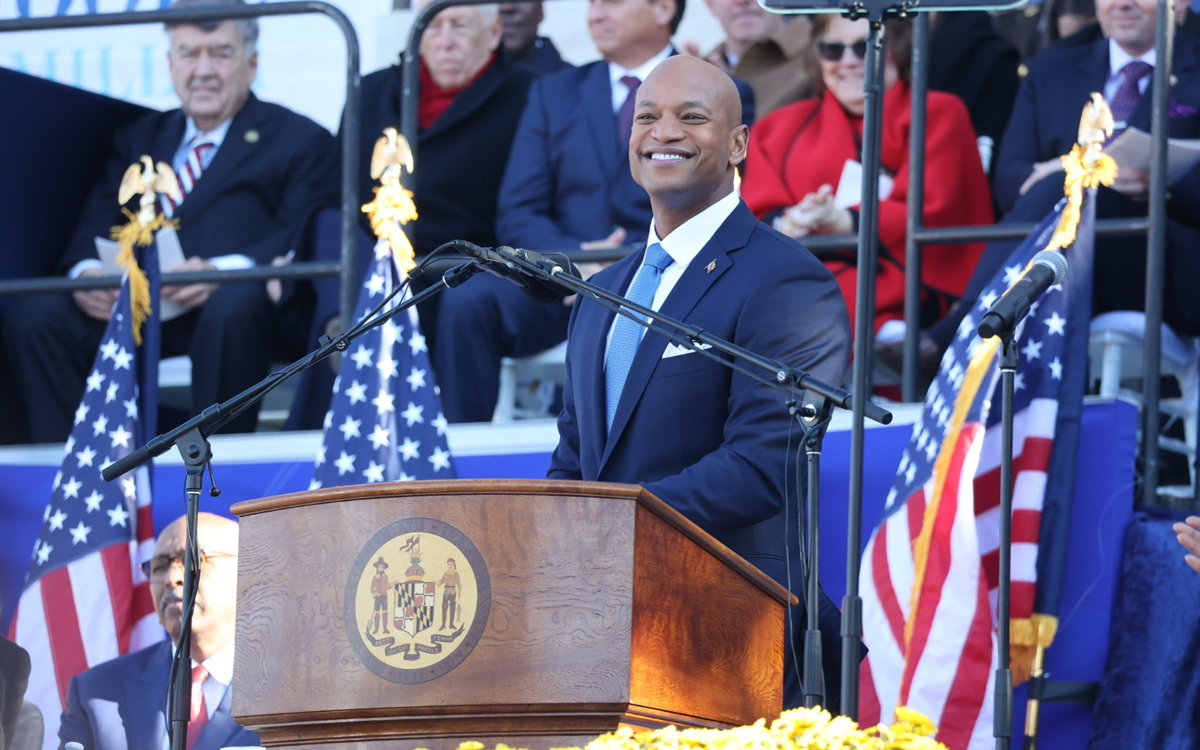 Maryland Gov. Wes Moore on Thursday proclaimed June as Pride month in recognition of "the contributions, resilience, courage and joy of LGBTQIA+ Marylanders," according to a press release.
"In Maryland, we lead with love and inclusion. I want everyone in our LGBTQIA+ community to know that they deserve to be seen for who they are, and our administration will stand with them in the fight for equality and equity," Moore said. "We need to elevate the stories, embrace the courage, and celebrate the humanity of our LGBTQIA+ community — and as long as I am governor, we will take the steps forward to protect and celebrate all Marylanders."
Moore on March 31 became the first governor in Maryland history to recognize the Transgender Day of Visibility and last month he signed into law the Trans Health Equity Act into law, which requires Maryland Medicaid to provide coverage for gender-affirming care beginning next year.
"This month is a celebration of the beauty and uniqueness of the queer community, but it's also a time to reaffirm our commitment to uplifting LGBTQIA+ Marylanders and continuing to fight against hatred, discrimination, and bigotry," Lt. Gov. Aruna Miller said in the same press release that Moore's office released. "LGBTQIA+ Marylanders deserve to be who they are, to live their pride — without fear or having to hide. This administration will always stand alongside and protect the rights of all Marylanders."