Mayor names new GLBT Affairs director
Sterling Washington lands the job; D.C. Center finds new home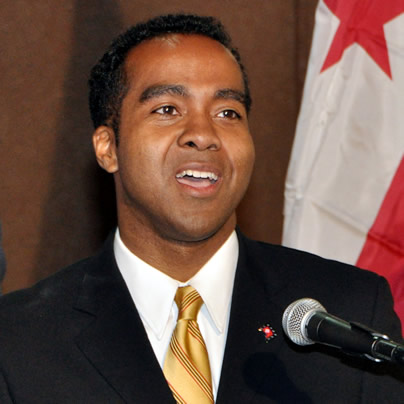 D.C. Mayor Vincent Gray announced at a news conference Tuesday night that he has appointed longtime gay activist Sterling Washington as the new director of the Mayor's Office of Gay, Lesbian, Bisexual and Transgender Affairs.
At the same news conference Gray announced the city has accepted a bid by the D.C. LGBT Community Center to rent store front space in the city's Reeves Center, an eight-story office and retail building located in the heart of the 14th and U Streets, N.W., entertainment district.
The mayor's dual announcement drew applause from more than 50 LGBT activists who assembled in the Reeves Center's first floor atrium, steps away from the interior entrance to the Center's soon-to-be-opened offices.
"What a great time of the year to be able to make the announcement," Gray told the gathering. "We are at the day when there will be a permanent home for the D.C. Center."
Gray was referring to the D.C. Center's years-long search for a permanent location that has brought it to at least three temporary locations over the past several years.
Its current home at 1318 U St., N.W., less than a block away from the Reeves Center, is about to be razed to make way for a new high-rise office and residential building similar to numerous other buildings popping up in the booming neighborhood.
In announcing Washington's appointment to head the Office of GLBT Affairs, Gray said he is certain Washington will continue the office's high standards set by his predecessor, Jeffrey Richardson.
Richardson left the GLBT Affairs post last month after Gray appointed him as executive director of the Mayor's Office of Volunteerism, which is also known as Serve D.C.
Washington, 39, is a D.C. native with a political science degree from George Washington University and a music degree from Howard University. Among his numerous LGBT community activities, he was co-founder of the Bisexual, Lesbian and Gay Organization of Students at Howard known then as BLAGOSAH.
He worked as a presidential appointee in the Clinton administration in the 1990s and later worked for the D.C. HIV/AIDS services and prevention organization Us Helping Us. Washington currently serves as resources and grant development manager at the Center for Black Equity, which was formerly called the International Federation of Black Prides.
"Sterling Washington is well acquainted with a broad swath of the District's LGBT community, and I expect him to be a natural fit for this important role," Gray said.
"I'm proud that D.C. is a national and international leader in protecting our residents' rights regardless of their sexual orientation or gender identity, and Sterling is eminently qualified to continue the excellent work that Jeffrey Richardson has done in ensuring we continue to be a city that values safety and equality for all," the mayor said.
"I'm honored to serve under Mayor Gray, who has a very clear outline of what he wants the LGBT community to be," Washington told the Blade. "All of his priorities are integrating every member of the LGBT community into the city as part of his One City Action Plan."
Washington said he will remain in his current job for the next few weeks and is scheduled to begin as director of the GLBT Affairs Office on Jan. 7.
D.C. Center President Michael Sessa said the developer that owns the building where the Center is currently housed had offered the Center a $15,000 rent rebate if it vacates the premises by Dec. 31.
Sessa said that as recently as Monday, with the Center still searching for a new home, it appeared that it would have to stay in its current building a while longer and miss out on the rebate offer.
But to his and Center Executive Director David Mariner's amazement and delight, an official with the D.C. Department of General Services informed the Center late Monday afternoon that the city had accepted the Center's bid for the Reeves Center space.
"We'll be calling on volunteers and lining up help to move into the new space as best we can by the 31st," Sessa said.
The D.C. Center's new location at the Reeves Center consists of 2,468 square feet of space and it includes a street entrance on 14th Street as well as an interior entrance, according to Darrell Pressley, a spokesperson for the Department of General Services.
Sessa said the new space is about double that of the current space. He said the rent will be $4,000 per month, a figure between 50 percent and 60 percent below market value for rent in the area.
Sessa and Mariner said the below market rent is part of a city program that seeks to bring in community services to the bustling business and residential area as a means of enhancing the neighborhood and the community.
The rental agreement allows the Center to remain in the space for up to 15 years.
"The D.C. Center participated in a competitive bidding process for the space that included both non-profits and local businesses, submitting their original proposal in April 2012," the Center said in a statement posted on its website Tuesday night.
"In June of 2012 the D.C. Center was notified they were not selected for the space," the statement says. "The business that won the initial bid, however, decided not to move forward with the project, and the D.C. Center had the opportunity to resubmit their proposal in October 2012."
Mariner said nine members of the D.C. City Council wrote letters in support of the Center's bid for the Reeves Center space. He said gay Council member Jim Graham (D-Ward 1), who spoke at Monday's news conference, was especially helpful in advocating for the Center to obtain the Reeves Center space, which is located in Ward 1.
In his remarks at the news conference, Graham thanked Gray for taking the lead in creating an atmosphere in the city supportive of LGBT equality.
"It's just an enormous sigh of relief to see that the District of Columbia, which cares so much about the lesbian, gay, bisexual, transgender and questioning community and to say, 'We want you at the Reeves Center at 14th and U," Graham said.
"And we want you there for 15 years and we want you there for a reasonable rent, and we want you to feel secure," he said. "I think the first person to thank for this and the attitude and fortitude that he brings to all of this is the Mayor of the District of Columbia, Vincent C. Gray. Thank you."
Mariner said the rental agreement at the Reeves Center requires the Center to pay for renovations needed to convert what had been a restaurant into office and meeting space for the numerous LGBT groups that use the center for meetings and office space.
"As we move forward we are counting on our supporters to help with the renovation, both financially and with 'sweat equity'" Mariner said. "We have a unique opportunity to create a space that we can be proud to call our own for the next 15 years, and a big job ahead of us."
One trans woman shot, another had legs run over by car in Northeast
November incidents occurred near D.C.-P.G. County border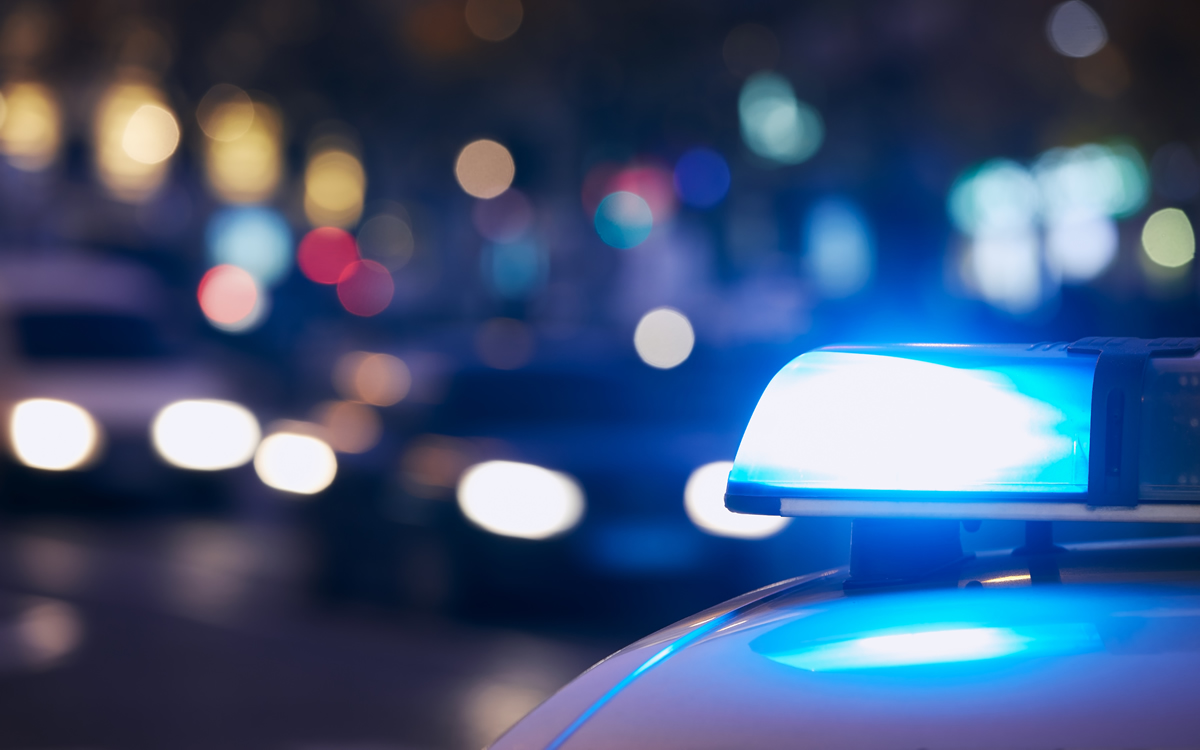 D.C. police say they are investigating a Nov. 1 incident in which a transgender woman was knocked down on a street by a man who backed his car into her and then drove over both of her legs after he was shot in the arm in an unrelated dispute with another person outside an apartment building at 5920 Foote St., N.E.
The woman, Latisa Moorman, said she spent a month at Washington Hospital Center recovering from her injuries before being transferred to a rehabilitation center for continued treatment of her injured legs.
Police are also investigating a second incident in which another transgender woman was shot in her "pelvic region" by an unidentified male suspect causing a nonfatal injury on Nov. 29 inside the same apartment building. The shooting followed an "argument about a sexual act that was performed and payment of money," according to a D.C. police report.
The victim of the second incident couldn't immediately be reached to determine if she would like her name to be disclosed.
Moorman, the victim in the first incident, told the Washington Blade a police detective informed her that the man who hit her with his car and drove away has been arrested. She said the detective gave her the name of the arrested man. But the man's name could not be found in court records and police have not responded to a Blade request to confirm the arrest.
A police report says police were investigating what they listed as separate cases of the shooting that injured the man who drove over Moorman's legs as well as the incident in which the man who was shot hit Moorman with his car and drove away.
"Both cases remain under investigation and detectives are actively following up on leads, collecting evidence, and interviewing potential witnesses," D.C. police spokesperson Paris Lewbel told the Blade in an email. "Due to the ongoing nature of the investigation, we cannot discuss specific investigative steps that have been taken by detectives," Lewbel said.
The case of the Nov. 29 shooting of the trans woman inside 5920 Foote St., N.E. and the incident in which Moorman was hit by the car outside that same building took place in a location that trans and LGBTQ activists say is known as an area where female trans sex workers as well as trans women who are not engaged in sex work congregate along Eastern Avenue and nearby side streets.
The Foote Street apartment building where the two incidents took place is located at the intersection of Foote Street, 60th Street, and Eastern Avenue.
Less than a mile away one block off the Prince George's County side of Eastern Avenue transgender woman Ashanti Carmon, 27, was shot to death on March 30, 2019. That case remains unsolved, with no arrest made. About 100 people led by transgender activist Earline Budd held a candlelight vigil one month later in honor of Carmon at the site of where the shooting took place.
Gay D.C. Advisory Neighborhood Commissioner Anthony Lorenzo Green, whose district is located near the Eastern Avenue area where trans women hang out, expressed concern that D.C. officials are not adequately addressing the issues related to why trans women are engaging in sex work in that area.
"The angle we come from is the city needs to provide services for Black trans women along this corridor as opposed to constantly trying to arrest them and hoping that will keep them away from Eastern Avenue or away from where they work out of desperation, out of necessity," Green told the Blade.
"But that has never worked. And we tell them that over and over," Green said. "These ladies have not been given an opportunity to advance in this city. They've been forced to the edges of this city," he said, adding that the D.C. government "should be bringing social services to that corridor."
Bomb threat shuts down Takoma Park holiday drag show
MotorKat evacuated when Tara Hoot was performing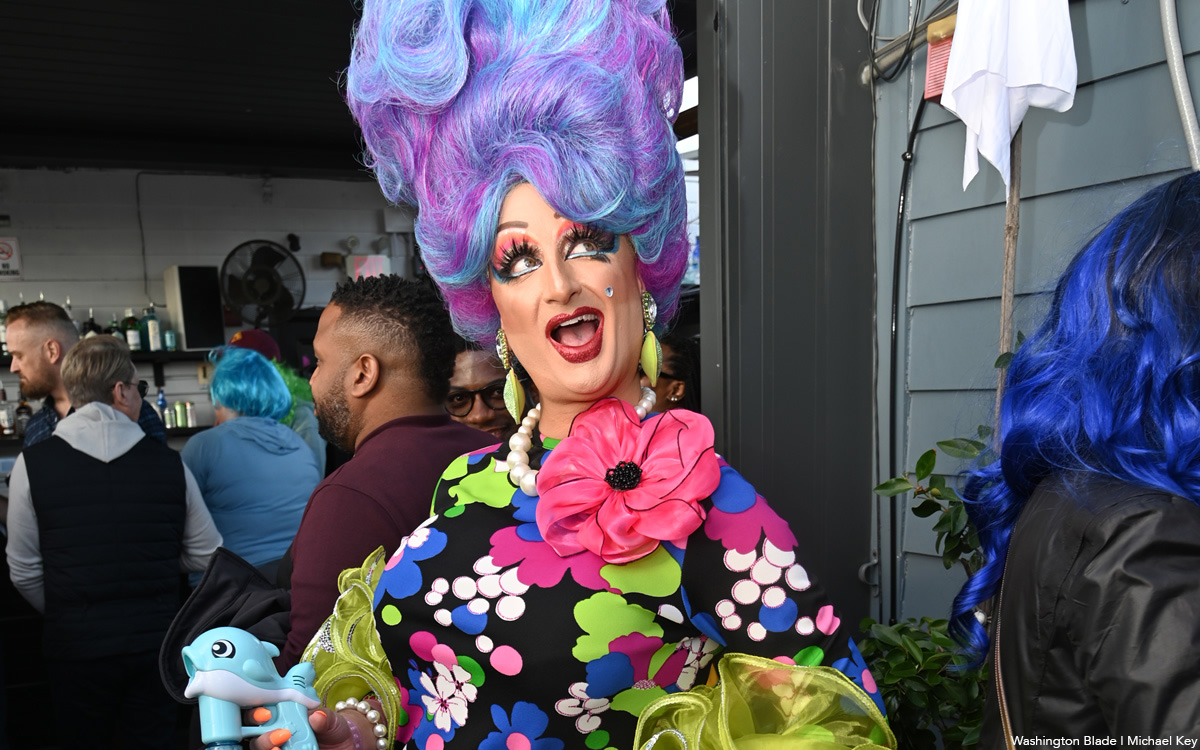 Police cordoned off a popular strip in Takoma Park on Saturday after a bomb threat shut down businesses, including a holiday performance by drag artist Tara Hoot.
MotorKat General Manager Mike Rothman told the Washington Blade that Takoma Park police notified them of a bomb threat to their business around noon.
Tara Hoot was delivering a holiday brunch performance at the MotorKat when the evacuation order came in.
Rothman said they were notified "five minutes into her final performance." Tara Hoot herself told the audience to leave for their safety.
Police proceeded to tape off the area and evacuated all businesses between Eastern and South Carroll Avenues, including TakomaBevCo, which is co-owned by MotorKat Wine Director Seth Cook.
Cook told the Blade that police brought in "bomb-sniffing dogs" to clear the area before allowing businesses to reopen around 2 p.m.
"The timing is unfortunate as this is one of the busiest weekends before the holidays," Cook said.
Rothman was also disappointed by the lost revenue due to what ultimately was a false threat, but he was firm that the Takoma Park LGBTQ community is resilient and would continue to thrive despite this setback.
"Takoma Park is a pretty proud and resilient community," he said. "I don't expect people to lay down and be scared by this."
MotorKat and TakomaBevCo reopened for business around 3 p.m.
Comings & Goings
Jimmy Alexander joins WTOP News as a feature reporter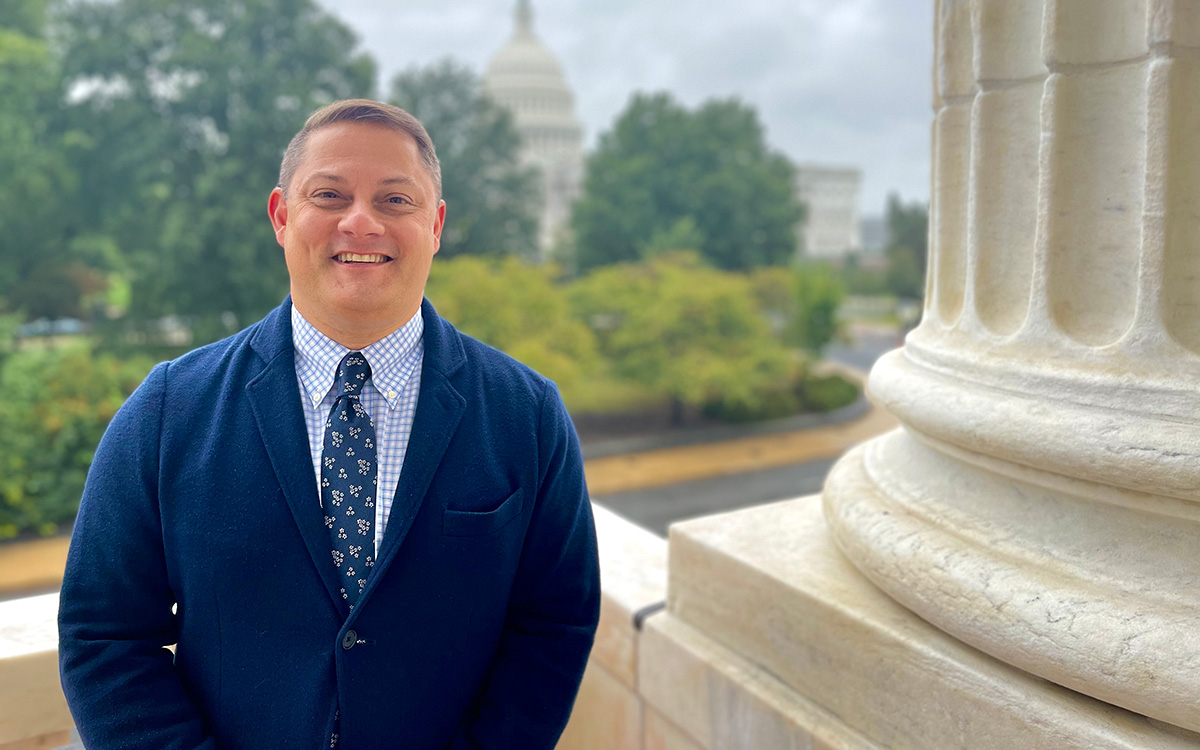 The Comings & Goings column is about sharing the professional successes of our community. We want to recognize those landing new jobs, new clients for their business, joining boards of organizations, and other achievements. Please share your successes with us at: [email protected]. 
Congratulations to Jimmy Alexander who has been hired at WTOP News as a feature reporter. Over the last four years Alexander has been covering stories as varied as the Jan. 6 insurrection to the 17th Street High Heel Race. He has been working as a co-host on the Jack Diamond Morning show on Cumulus Media, Manning Media. On his acceptance of the new position Alexander said, "I'm thrilled that at WTOP News, I will be able to focus on events and people that bring hope to your heart and a smile to your face."
Alexander is a versatile multimedia broadcaster with more than two decades of experience covering both major news events in Washington D.C., and important human-interest stories outside the Beltway. He is an engaging interviewer with a track record of having compelling conversations with the biggest names in government and show business, from presidents to Paul McCartney. Prior to this he worked as a freelance feature reporter with WDCW50-DC News Now. He is also with Writer-20, Twenty Country Countdown, United Stations Radio Networks. There he developed a concept for a countdown show featuring country music's weekly top songs on-air and online and prepared weekly scripts for a three-hour show.
Alexander conducted the only Jan. 6, 2021 interview with "The QAnon Shaman" Jacob Chansley. Since 2016, he has served by request of the D.C. mayor as official host of the 17th Street High Heel Race, the city's second largest LGBTQ event of the year. He is featured in the documentary "Joan Rivers: A Piece of Work," and is a frequent guest on CNN's Morning Show "New Day." He covered White House visits by Queen Elizabeth, the Pope, and the yearly Easter Egg Roll. He also won $10,000 on the game show "Pyramid."