December 20, 2012 at 8:58 am EST | by Erin Durkin
Luck at the last minute
This is it! Christmas is less than two weeks away and you've been procrastinating while the rest of America has been buying all the most popular gifts off the shelves. Do you feel the pressure yet? Lucky for you, we have a list of gifts and places that not only will solve your shopping problems, it will also provide you with distinctive gifts you can't find anywhere else.
Let's start with some small yet fancy stocking stuffers. Redeem (1734 14th St. NW) carries the brand Mutiny that has many such unusual gifts, including Brummell Shave Crème for $18 and D.S. & Durga Colgne for $98 (redeemus.com).
Pulp (1803 14th St.) has several was to dress up a gift. Their cards are $2.50 to $6.50 and the have amusing cigar boxes with phrases such as "Yummy Pharmaceuticals that will Please You" for $20. As a small gift they also have liquid soaps with names like, "Maybe You Touched Your Genitals" for $12.99 (pulpdc.com). Gay-owned Pulp also has some of the best gift wrap paper you'll find anywhere in Washington.
Want to give a gift but also send a message in a cute and subtle way? Get your loved ones Cesare-fragrance in the shape of little men for your car and wardrobe for $10 at HomeRule (1807 14th St. NW, homerule.com).
If you want your loved ones to relax this year, get them Blithe and Bonny Grapefruit Bath Salts for $19, their brand of Eucalyptus Hand Cream for $21 and their Goats Milk Soap and Hand Soap for $10 and $17 respectively at GoodWood (1428 U St. NW, goodwooddc.com).
To decorate any home get "Marine"- or "Fresh Cut Gardenia"-scented candles for $55 at Mitchell Gold + Bob Williams (1526 14th St. NW, mgbwhome.com). Definitely more on the high end side of things, this classy gay-owned furniture store also has plenty of accent items that make ideal gifts.
For stylish and necessary gifts for her, visit Zina Boutique (1526 U St. NW) to see their scarves for $19 and purses for $60 (zinaboutique.com).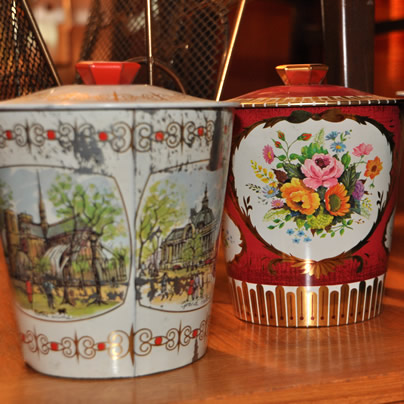 In order to ship your cookies in Christmas fashion, go to Millennium Decorative Arts (1528 U St. NW) to check out their Christmas tins for $12 (millenniumdecorativearts.com).
You can never go wrong with flowers, especially from Flowers on Fourteenth (1712 14th St. NW). This gay-owned business offers special holiday bouquets from $40 to $120 (flowerson14th.com).
In a town like Washington, it's never hard to find quality gifts even at the 11th hour. Check out the decent-sized collection of books at Kramerbooks & Afterwords Café in Dupont Circle (1517 Connecticut Ave., NW) for just about any current best seller. It's not an exclusively LGBT shop, but it's definitely stocked with gay sensibility. And the food's great (kramers.com).
Studio Theatre (1501 14th Street, NW) always has an interesting production in the pipeline. Three-play package deals start at $99 and make great gifts for the theater lover (or anyone!) on your list (Studiotheatre.org).
Pleasure Place (1063 Wisconsin Ave. NW) is also a sure-fire bet. We won't go into details other than to say it's worth a visit (pleasureplace.com).
And local artist Margret Kroyer has many one-of-a-kind art pieces for sale. Check her stuff out at m-kroyer.com.
Nearby historic Ellicott City in Howard County is home to a large selection of gift shops and antique stores. One of our favorites can be found in the basement level of the Antique Depot at 3720 Maryland Ave. Booth 004 is home to Salvage for the Soul, which offers a unique blend of furniture and accessories that will cover your gift-giving needs this season — from mid-century modern to shabby chic. Looking for a statement piece? Salvage for the Soul offers custom paint or upholstery or you can choose from an in-stock selection. Accessories range from mid-century coffee carafes to vintage upcycled cake stands to framed chalkboards.