October 31, 2019 at 2:19 am EDT | by Joey DiGuglielmo
Long-time Adams Morgan antique shop Brass Knob readies farewell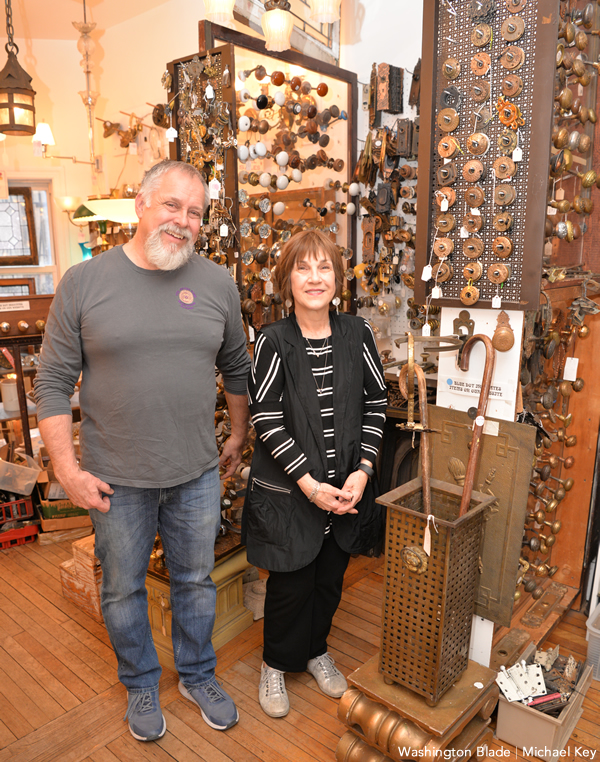 One casualty of the retail apocalypse that hasn't received quite as much ink is the long, slow death of the antique shop, which has suffered because of both online shopping and the fact that industry vets say Millennials just aren't as interested in elaborate decor as much as previous generations.
The Brass Knob (2311 18th St., N.W.), a long-time Blade advertiser and Adams Morgan staple, closes its doors Friday at 6 p.m. after 38 years in business. But owner Donetta George isn't sad.
"It's something I've been considering for a very long time," George, who's straight, says. "I was just kind of waiting for the universe to let me know when was the right time. … It's a good change."
George and a small staff of three or four variously ran the 1,500-sq.-ft. space that stocked vintage home fixtures and other antiques. It was located next door its first five years. A second warehouse location existed variously in Adams Morgan and Shaw but closed about eight years ago. The business had stability because George owns the building.
Although she points out there are exceptions — she even occasionally has had high school students as customers in recent years — overall, she says Millennials seem "more interested in experience and not into buying and accumulating many things." George also says the business never fully recovered from the 2008 recession.
Gay men were a heavy contingent among her clientele from the beginning, George says, although that waned a bit in recent years. She said it rebounded a bit when Pitchers, a gay bar, opened last year.
Kirk Palmatier, a Brass Knob employee for 30 years, says the years-long trend of gays buying and refurbishing houses in Dupont and Logan circles for years helped the business.
"If you bought an old Victorian row house, there was a trend of putting things back that had been removed in the '50s and '60s," Palmatier, who's gay, says. "It was part of the coming-back-to-the-city thing and as more gay people came, they sort of went hand in hand. Now gay people can live in Burke or wherever and not be quite as fearful."
George recalls "six or eight" antique shops in Adams Morgan when she opened. Hers is now the last. Miss Pixie's on 14th and GoodWood on U Street are two of the few that remain in the vicinity.
Inventory remaining after today will be divided among other antique dealers George knows. Palmatier will stay on for several weeks helping her wind things down. Both plan to stay in the region but have no post-Brass Knob plans.
"I've always just kind of let my life happen as it happens," George says.