October 9, 2019 at 9:35 am EDT | by Staff reports
Meet Pepco's Melissa Lavinson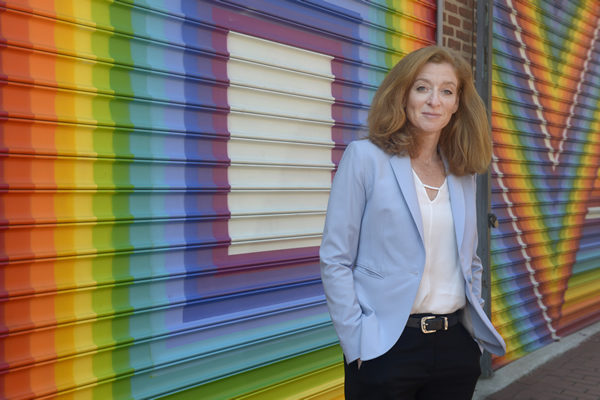 (Editor's note: Pepco is powering an important example of diversity and inclusion. In this three-part series, we'll hear from a senior vice president, an employee with a 30-year tenure, and the company's own CEO about their unique encounters with diversity and inclusion, how they've seen the workplace evolve, and their hopes for the future.)
Melissa Lavinson is an energy industry executive, New Jersey-born, hockey-playing mom of a 16-year-old, who has been married to her spouse Robin Kane for nearly 25 years. Lavinson is also a trailblazer in the LGBTQ rights movement, without really trying. The Senior Vice President of Governmental and External Affairs at Pepco Holdings began our conversation by remembering her wedding. "We got married before it was legal to get married," she says. "No one could stop us." As longtime friends of the Blade, Lavinson and Kane were featured in the publication as a lead up to their wedding.
Diversity and inclusion were not topics of discussion in the workplace when Lavinson was a new professional some 30 years ago. "When I started my career, we didn't really talk about it," she says. "We never heard leaders talking about this. It wasn't something that was front and center. It was something that some organizations valued, but it wasn't a priority."
But, during her career, she saw things begin to change. "Companies began to understand that they had to have a diverse workforce," she says. "You have to reflect the communities that you serve. This is something we subscribe to and embrace at Pepco Holdings. And that's fantastic, but you also need to focus on the 'inclusion' part of diversity and inclusion."
"You can have a diverse workforce, but if these voices are not included in the decision-making, if this is not reflected around every table, you're not taking the power that you get from diversity and actually making your business better or making yourself better," she emphasized. "They have to go together, and I am pleased to be a part of those efforts in my workplace."
Lavinson shares an example of the time a former employer mistakenly scheduled a major employee event during a Jewish holiday. "Had we had people with a range of backgrounds and experiences 'at the table,' that could have been avoided. You need people who will ask questions."
During her career, as Lavinson watches the energy industry get better at racial, cultural, and gender diversity, she is also advocating for more diversity at the head table. "We have the people, but we need to get better as an industry at moving them up the leadership ladder."
She credits champions as playing an important role in her personal career advancement.
"I worked in great places and I've had great bosses. I've had supportive colleagues and co-workers. I got married at 25 and my partner was always embraced. They were always thrilled to see her at functions. When we got pregnant, it was a whole company affair."
She was extremely happy to see Pepco's sponsorship of the Capital Pride parade for the first time in 2018. The company became even more involved this year.
"It gave people the opportunity to celebrate who they are," she says. "I knew it would have an impact, but to see just how much of an impact it had on people within the company was really awesome. It created an even greater sense of pride."
Lavinson is aware that people look to her as a role model, and she's fine with that. "As I've progressed in my career, this has provided an opportunity for others to see you can be who you are and get promoted. When you bring your whole self, your authentic self, to work, you can relate to people on many different levels."
"We're all humans," Lavinson says. "And at the end of the day, there is some level of comfort in being able to talk with someone who you know has some sort of shared experience, no matter what it is. The more you have that at your workplace, and the more that companies embrace that, the more likely they are to have that dialogue and connection with the communities and the customers they serve."