October 9, 2019 at 10:37 am EDT | by Michael K. Lavers
Ruling that granted asylum to Blade contributor from Cuba appealed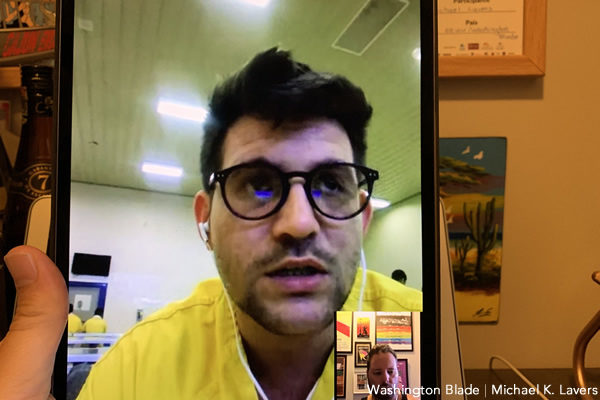 Editor's note: This article has been updated.
An immigration judge's ruling that granted asylum to a Washington Blade contributor from Cuba has been appealed.
Judge Timothy Cole on Sept. 18 granted asylum to Yariel Valdés González, who suffered persecution in his homeland because he is a journalist.
ICE reserved the right to appeal Cole's ruling within 30 days. Lara Nochomovitz, Valdés' lawyer, on Tuesday told the Blade that ICE appealed the decision.
Valdés, 29, entered the U.S. on March 27 through the Calexico West Port of Entry between California's Imperial Valley and Mexicali, Mexico. ICE on May 3 transferred Valdés to the Bossier Parish Medium Security Facility in Plain Dealing, La., from the Tallahatchee County Correctional Facility in Tutwiler, Miss.
The Associated Press on Wednesday reported roughly 8,000 of the 51,000 people who are currently in ICE custody are in Louisiana.
Valdés throughout his detention has documented the conditions in which he and his fellow detainees are being held. The Miami Herald and Diario las Américas, a Miami-based Spanish-language newspaper, are among the other media outlets that have covered Valdés' case.
"It was a big blow to receive this news, because I thought the end to this more than 6 month long battle was coming to an end," Valdés told the Blade on Thursday in a statement.
Cuban government ramps up persecution of journalists
The Cuban government since the beginning of this year has increased its persecution of independent journalists.
Roberto Quiñones, a reporter for CubaNet, a Miami-based website that covers Cuba, on Sept. 11 began to serve a year-long jail sentence after authorities in April arrested him while covering a trial in the city of Guantánamo in eastern Cuba. Authorities on May 8 arrested Luz Escobar, a reporter for 14ymedio, an independent website founded by Yoani Sánchez, a prominent critic of the Cuban government, as she tried to interview survivors of a freak tornado that tore through parts of Havana in January.
The Cuban government on the eve of the Feb. 24 referendum on the country's new constitution blocked access to the website of Tremenda Nota, the Blade's media partner on the island to which Valdés contributes. Cuban authorities on May 8, the same day when Escobar was arrested, did not allow this reporter into the country after his flight from Miami landed at Havana's José Martí International Airport.
Valdés told the Blade after Cole granted him asylum in the U.S. that he hopes he "can start my life over in this country." Valdés on Thursday reiterated this point, while noting the Cuban government will continue to persecute him if he returns to Cuba.
"My fear of being returned to Cuba, where the only thing waiting for me is more repression because of my work as an independent journalist, has returned," said Valdés. "I came to this country looking for the freedom that I never had and for an end to the Cuban dictatorship's abuses against me, and it is because of this that I intend to remain strong and keep fighting."
"I am confident that justice will be done soon, because I am in the most democratic country in the world," he added. "I only ask those who have this decision in their hands for their most profound understanding and help. What I want the most now is to hug my family and friends who have supported me so much during this process. I hope that this great country will give me a definitive welcome soon."
ICE and the Department of Homeland Security, which oversees the agency, have not returned the Blade's request for comment.