Mizeur raises more than $248,000 in 2012
Lesbian Md. delegate considering run for governor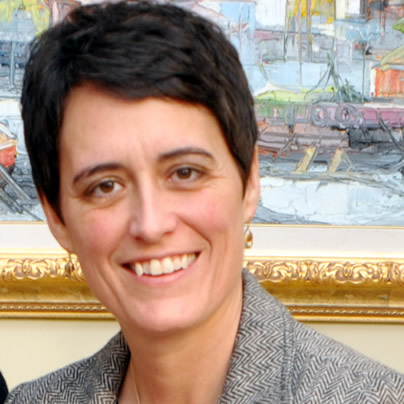 Maryland campaign finance reports indicate lesbian state Del. Heather Mizeur (D-Montgomery County) last year raised more than $248,000 for her potential gubernatorial campaign.
Mizeur said in a press release before filing her campaign finance report with the Maryland State Board of Elections that she raised $155,671 between Nov. 1 and Jan. 9, compared to the $93,976 that Gov. Martin O'Malley took in during the equivalent period before he officially announced his re-election campaign. She also reported $381,249.81 in cash on hand.
Lesbian Democratic political strategist Hilary Rosen, former Equality Maryland Executive Director Dan Furmansky, gay Democratic lobbyist Steve Elmendorf and College Park City Council member Patrick Wojahn are among those who contributed to Mizeur's political action committee. LPAC Chair Sarah Schmidt and Chicago Cubs co-owner Laura Ricketts also made contributions.
"In every corner of the state, voters tell me they want a governor with clear ideas for the future and a track record of results," Mizeur said. "I'm honored that so many are encouraging me to run, and I will never stop working to strengthen our economy, protect our natural resources, and ensure that every Marylander receives equal protections and rights under the law."
Mizeur told the Washington Blade in an exclusive interview in November she is seriously considering a run to succeed O'Malley in 2014. She would likely face Lt. Gov. Anthony Brown, Attorney General Douglas Gansler and Howard County Executive Ken Ulman.
Brown reported he raised $1,247,811.80 in cash and in-kind contributions between Jan. 12, 2012, and Jan. 9, while Gansler netted $1,236,284.96. Ulman raised $1,139,945.82 during the same period.
The three men reported $1,633,397, $5,204,692.03 and $1,139,945.82 in cash on hand respectively.
Republican Frederick County Commission President Blaine Young raised $446,951.86 between May 4, 2012, and Jan. 9. He also reported $341,936.58 in cash on hand.
A campaign finance report for Harford County Executive David R. Craig, who is Young's likely GOP challenger, was not immediately available.
Rehoboth Beach theater announces new managing director
Clear Space hires Joe Gfaller after national search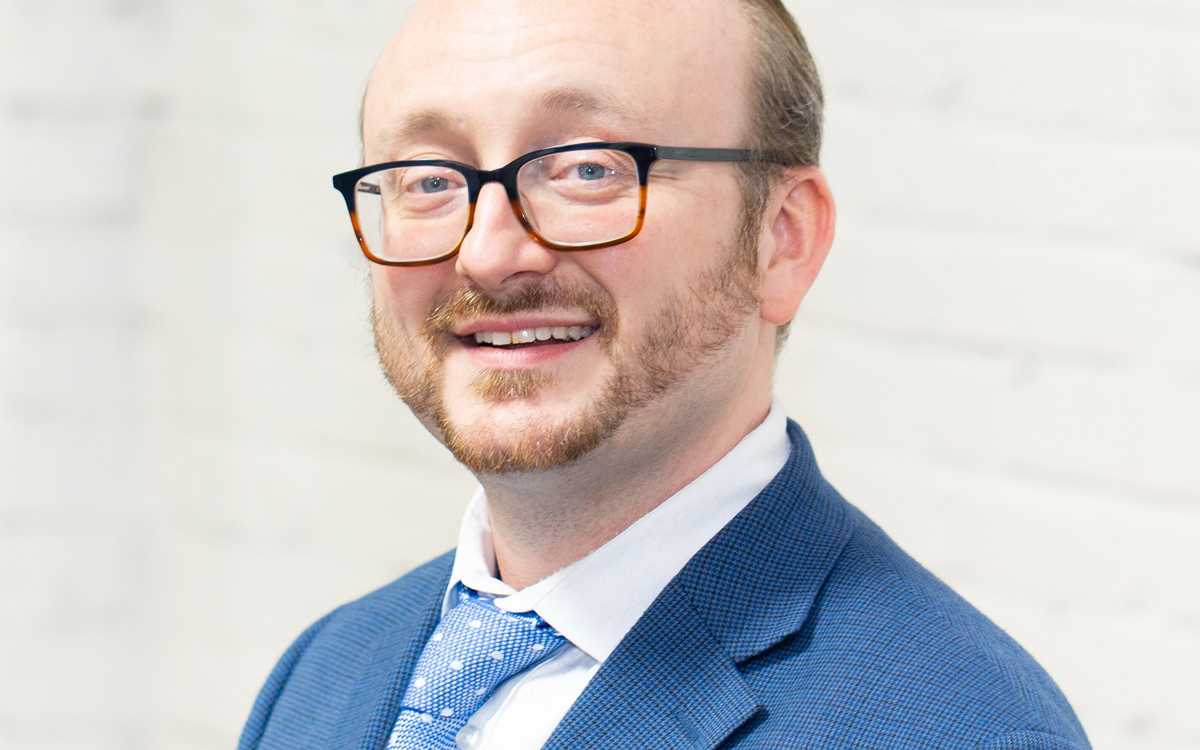 Rehoboth Beach's Clear Space Theatre Company announced Tuesday that its board of directors has unanimously selected Joe Gfaller to join the company as managing director after a national search.
Gfaller, who currently serves as managing director for Metro Theater Company in St. Louis, will join Artistic Director David Button as co-leader at CSTC, which marks its 20th anniversary in 2024.
"I am thrilled at the opportunity to help Clear Space Theatre Company grow its civic and philanthropic footprint as it begins a third decade of serving the community in coastal Delaware," Gfaller said.
"Rehoboth is a special place to all who call it home, both year-round and seasonally. It is an extraordinary honor to work with such a creative and dynamic team as the CSTC staff and board to help the company grow to represent and reflect the fullness of this community."
At Metro Theater Company, which is St. Louis's primary professional theater for youth and families, Gfaller guided campaigns that helped grow the company's revenues by 40% over four years, according to a release from Clear Space.
"Joe brings a wide range of theater experiences to the position and is sure to make an immediate impact on the company," said Clear Space Board chair Laura Lee Mason. "His impressive track record and visionary leadership will undoubtedly elevate Clear Space to new heights. Joe shares our dedication to providing the community with outstanding education and theatrical experiences, and we look forward to collaborating with him to achieve those artistic aspirations."
CSTC Artistic Director David Button added, "I look forward to Clear Space Theatre Company's growth alongside Joe Gfaller. Not only will Clear Space benefit from his talent, but so will the community and state arts industry as a whole."
Gfaller will begin full time in Rehoboth Beach in mid-November. During an October visit for the opening of "Young Frankenstein" at CSTC on Oct. 13, there will be opportunities for the public to meet him during the CAMP Rehoboth Street Festival on Oct. 15. He will be joined by his husband Kraig and their two dogs, Sprout and Emmit.
29 local LGBTQ supportive groups awarded gov't grants
Bowser says recipients 'tirelessly advance D.C. values'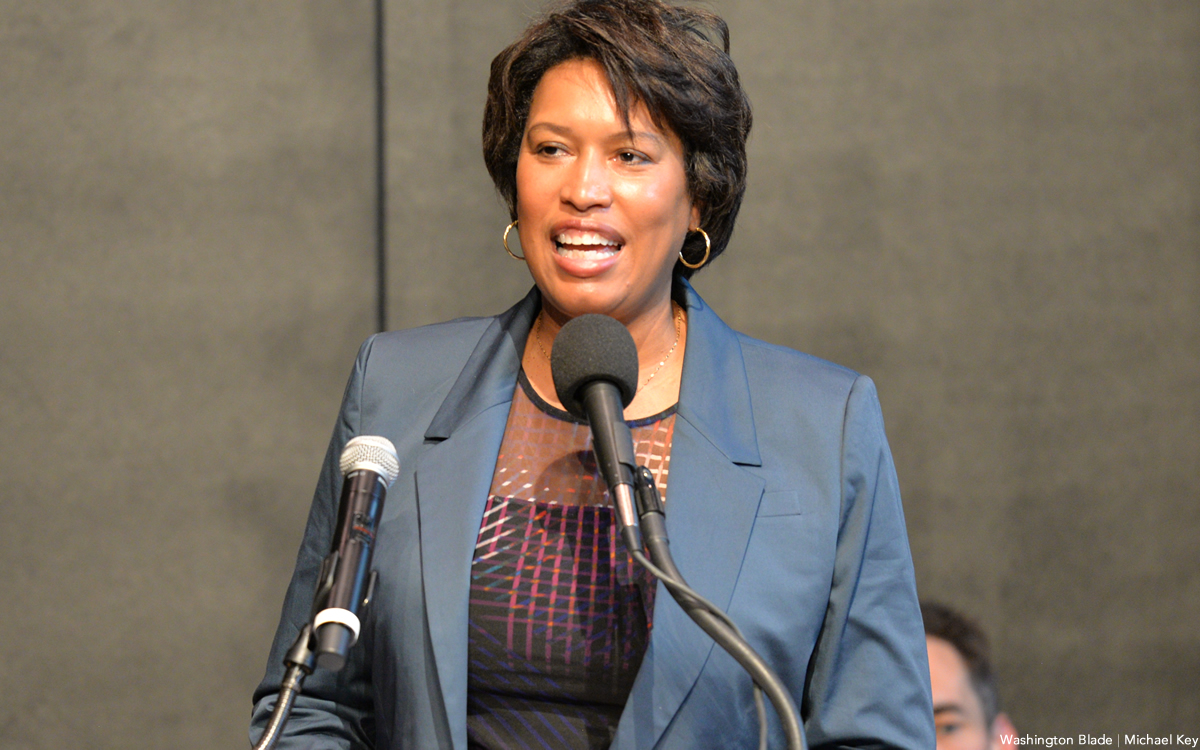 Mayor Muriel Bowser has awarded community grants to 29 D.C. organizations that provide direct services to the LGBTQ community, according to a Sept. 22 announcement by the mayor's office. Nine of the 29 groups identify as LGBTQ specific organizations.
Information released in the announcement says the 29 LGBTQ supportive organizations receiving the grants for Fiscal Year 2024 are among a total of 137 D.C.-based community organizations that will receive a total of more than $2.2 million in funding through these grants.
"With these awards, recipient organizations will continue to offer programs that provide direct resources to communities across Washington, D.C., in areas including health and human services, education, public safety, civic engagement, the arts, and more," a statement released by the mayor's office says.
The statement announcing the grants says the 29 organizations receiving the grants to provide LGBTQ-related services were selected by the Mayor's Office of LGBTQ Affairs.
Japer Bowles, the longtime LGBTQ rights advocate who serves as director of the Mayor's LGBTQ Affairs Office, said the grants awarded to the nine LGBTQ specific groups and the remaining 20 LGBTQ supportive groups are earmarked for LGBTQ specific programs or projects dedicated to LGBTQ people.
A spokesperson for the D.C. Department of Human Services, which oversees the community grants program, said the office was in the process of preparing a list of the dollar amount for each of the 137 grant recipients, which the office hopes to release soon.
Abby Fenton, an official with Whitman-Walker Health, which is one of the 29 grant recipients, said its grant was $20,000 for continued work on addressing the Monkeypox outbreak impacting LGBTQ people.
The nine LGBTQ specific groups named as grant recipients include:
• Capital Pride Alliance
• Equality Chamber Foundation
• Equality Chamber of Commerce
• Supporting and Mentoring Youth Advocates and Leaders (SMYAL)
• The DC Center for the LGBT Community
• Us Helping Us-People Into Living, Inc.
• Whitman-Walker Health
• Baltimore Safe Haven doing business as DC Safe Haven
• Washington Blade Foundation
The 20 LGBTQ supportive groups named as grant recipients include:
• Asylum Works
• Black Leaves Project dance company
• Casa for Children of DC
• Foster and Adoptive Parent Advocacy [FAPAC]
• Greater Hispanic Chamber of Commerce
• Harm Reduction at Westminster DC
• Hepatitis B Initiative of Washington, DC
• Joseph's House
• Latin American Youth Center
• MOSAIC Theater Company
• Project Briggs
• Sasha Bruce Youthwork
• Seabury Resources for Aging
• The Dance Institute of Washington
• The Giveland Foundation
• The Nicholson Project
• Totally Family Coalition
• Unity Health Care
• Washington Improvisational Theater
• Young Playwrights Theater, Inc.
New campaign challenges Va. guidelines for transgender, nonbinary students
Students4Trans planning rallies, walkouts across the state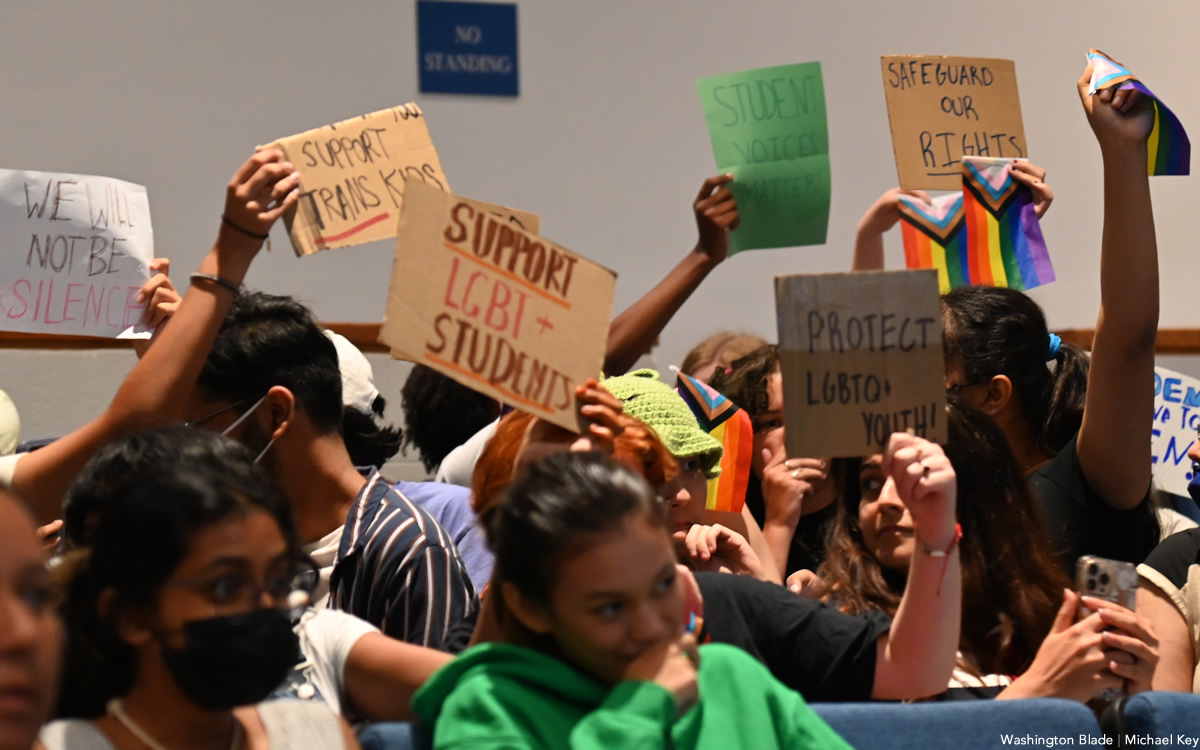 A group of Virginia students have launched a campaign that challenges the state's new guidelines for transgender and nonbinary students.
The Pride Liberation Project on Sept. 20 announced the formation of Students4Trans.
Students4Trans held a rally outside the Virginia Department of Education in Richmond on Sept. 22. Another rally will take place during the Virginia Beach School Board meeting on Tuesday.
The Virginia Department of Education in July announced the new guidelines for which Republican Gov. Glenn Youngkin asked. The regulations, among other things, require parents to be informed of a student's name and pronoun change, with the exception of "imminent risk of suicide related to parental abuse or neglect."
Arlington County Public Schools, Fairfax County Public Schools and Prince William County Schools are among the school districts that have refused to implement the guidelines.
The Spotsylvania County School Board announced last month that students are required to use the bathroom that aligs with their assigned sex, and parents could choose the names and pronouns their children use at school. Two parents in Virginia Beach have filed a lawsuit that seeks to force the city's school district to implement the new guidelines for transgender and nonbinary students.
Students4Trans has organized a student walkout on Friday to protest the Spotsylvania County School Board's new policies.
Michael K. Lavers contributed to this story.