Chilean LGBT rights advocates honor murdered gay man
Daniel Zamudio died after a group of men beat him in a Santiago park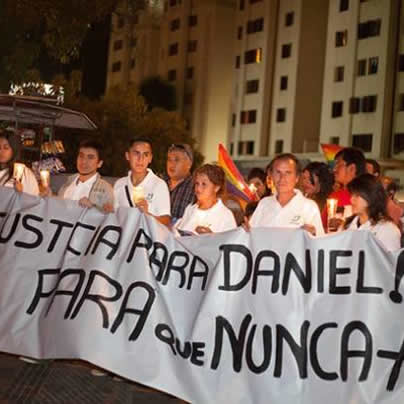 Roughly 300 people took part in a candlelight vigil in the Chilean capital on Saturday to honor a gay man who was brutally attacked last March.
Daniel Zamudio's friends and family members joined LGBT rights advocates and others who marched to the park in downtown Santiago in which four self-described neo-Nazis allegedly attacked the 24-year-old with bottles, rocks and other objects on March 3, 2012. Zamudio succumbed to his injuries several weeks later.
The attack sparked widespread outrage across Chile.
President Sebastián Piñera last July signed an LGBT-inclusive hate crimes and anti-discrimination bill that had languished in the South American country's Congress for seven years. Jaime Parada Hoyl, spokesperson for the Movement for Homosexual Integration and Liberation who last October became the first openly gay political candidate elected in Chile, told the Washington Blade last fall while in D.C. on a State Department-sponsored trip he feels Zamudio's death highlighted efforts to combat anti-LGBT discrimination and violence in the country.
"On the first anniversary of the attack against Daniel Zamudio, his legacy is more alive than ever," Parada told the Blade from Santiago on Monday. "The Zamudio case revealed that there had been a profound disconnect and incomprehension with respect to our value as citizens and people."
He added Chileans are now "more sensitive" to the needs of their LGBT countrymen.
Movil said prosecutor Ernesto Vásquez assured Zamudio's parents during a Feb. 25 meeting the trial of the four men who allegedly attacked their son will begin in May.
Patricio Ahumada Garay, whom prosecutors maintain masterminded the attack, could face life in prison if found guilty. The three other men charged in Zamudio's death could face up to 20 years in prison if convicted.
Harsh anti-LGBTQ bill introduced in Ghana
Measure would criminalize LGBTQ identity, allyship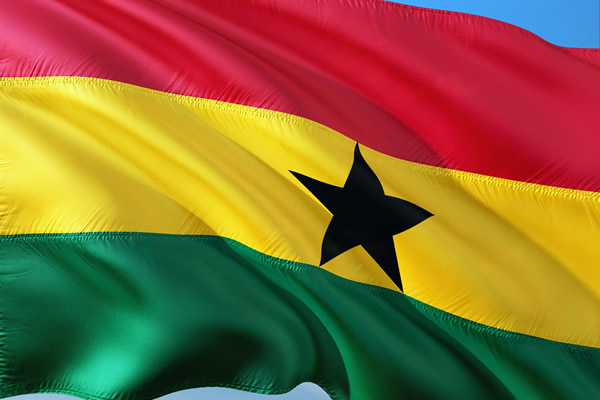 A bill that would criminalize LGBTQ identity and allyship in Ghana was officially introduced in the country's Parliament on Monday.
The "Proper Human Sexual Rights and Ghanaian Family Values Bill" went to the Constitution and Legal Affairs Committee after its first reading.
Eight conservative lawmakers who are from the opposition and ruling parties sponsored the bill. Thomson Reuters Foundation News reports Samuel Nartey George, a member of the National Democratic Congress party, is the lead sponsor.
The bill, if passed, would outlaw LGBTQ identity and subject anyone who identifies as part of the LGBTQ community or as an ally with up to 10 years in prison.
A draft of the bill that was leaked online last week listed some of the punishable offenses that include "gross indecency," which is defined as "the public show of amorous relations between or among persons of the same sex." This act, labeled a misdemeanor, can result in "a term of imprisonment no less than six months and not more than one year."
Activists in Ghana and across the world have sought to raise awareness of the bill on social media with the hashtags #KillTheBill and #GhanaIsEnoughForUsAll. A Change.org petition that urges Ghanaian lawmakers to oppose the measure has been created.
Critics say the measure would violate human rights and would make LGBTQ people more vulnerable to persecution and violence. The Coalition of Muslim Groups in Ghana and other religious organizations have welcomed the bill, with Thomson Reuters reporting they say it is needed to "prevent the dilution of cultural values and beliefs in Ghanaian society."
Naa Seidu Fuseini Pelpuo, the overlord of the Waala Traditional Area, and other traditional leaders have condemned the LGBTQ+ community as "unnatural and [perverted]." Pelpuo has also banned activities between LGBTQ individuals in the Waala Traditional Area and warned of "firm and swift" punishment if found engaging in "such acts," according to the Ghana Broadcasting Corporation.
The bill's introduction comes after the May arrest of 21 activists and paralegals who attended a conference on how to advocate for LGBTQ rights.
Hundreds participate in first-ever Cayman Islands Pride parade
Territory's governor, premier among marchers
Upwards of 600 people participated in the first-ever Pride parade in the Cayman Islands that took place on Saturday.
Caymanian Gov. Martyn Roper, Premier Wayne Panton and opposition MP Barbara Conolly are among those who participated in the parade that the Cayman LGBTQ Foundation, a local advocacy group, organized.
Caymanian authorities required that all participants were vaccinated against COVID-19. Noel Cayasso-Smith, founder and president of the Cayman LGBTQ Foundation, on Monday told the Washington Blade on Monday during a WhatsApp interview that his group did not allow alcohol in the parade and "discouraged" public displays of affections "in order to maintain a respectful event."
"This is the first time in history the Cayman Islands has ever been able to put on a Pride," said Cayasso-Smith. "I'm excited because we had no protesters. We had no negativity throughout the entire parade."
Cayasso-Smith said he and members of the Cayman LGBTQ Foundation decided to organize the parade, in part, because the pandemic has drastically reduced travel to and from the Cayman Islands. Cayasso-Smith noted hotels, condominium associations, restaurants, bars and local businesses all supported the event.
"Pride month came in and you know for every year I got really tired of seeing our Cayman people leaving to go to Atlanta, New York, San Francisco, Canada to enjoy themselves for Pride," he said, while noting the travel restrictions that remain in place because of the pandemic. "We thought it would be great to have our Pride here since we're in our own little bubble."
The Cayman Islands is a British territory that is located in the western Caribbean Sea between Jamaica and Cuba.
The Caymanian government in 1998 refused to allow a gay cruise ship with 900 passengers to dock. Religious officials in the British territories pressured authorities to prohibit an Atlantic Events vessel from visiting the territory.
Cayasso-Smith, who was born in the Cayman Islands, told the Blade that "growing up here has been very difficult for me as a gay person." Cayasso-Smith lived in the U.K. for 13 years until he returned to the Cayman Islands to help his family rebuild their home after Hurricane Ivan devastated the British territory in 2004.
"I decided to stay because I thought, you know, I should be able to live in my country as a free gay man where there's no laws restricting me from being who I am," said Cayasso-Smith. "I feel that as a gay man contributing to the island I should have the right to live free."
Caymanian Grand Court Chief Justice Anthony Smellie in 2019 struck down the territory's same-sex marriage ban. The Caymanian Court of Appeal a few months later overturned the ruling.
The territory's Civil Partnership Law took effect last September.
Gay man who live-streamed anti-government protests in Cuba detained
Yoan de la Cruz taken into custody on July 23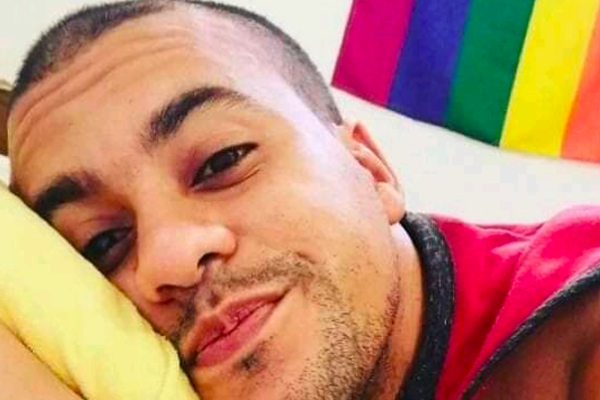 A gay man who live-streamed the first anti-government protest that took place in Cuba on July 11 has been detained.
Luis Ángel Adán Roble, a gay man who was once a member of Cuba's National Assembly, in a July 28 tweet wrote Yoan de la Cruz used Facebook Live to livestream a protest in San Antonio de los Baños, a municipality in Artemisa province that is just outside of Havana.
The San Antonio de los Baños protest was the first of dozens of anti-government demonstrations against mounting food shortages, the government's response to the pandemic, a worsening economic crisis and human rights that took place across Cuba on July 11. Many of those who participated in the protests chanted "libertad" or "freedom."
Cubalex, a U.S.-based Cuban human rights organization, confirms authorities detained De La Cruz on July 23. The Blade has not been able to confirm De La Cruz's current whereabouts.
"Yoan is the man who live-streamed the July 11 protests from San Antonio, nothing else," tweeted Adán. "They took him from his house a few days ago and he is being accused of 'incitement of the masses.' Free Yoan, he did not commit any crime!"
Yoan es un chico que transmitió en vivo las protestas del día #11J de San Antonio, solo eso. Hace unos días se lo llevaron de su casa y esta siendo acusado de "incitación de las masas". Liberen a Yoan, no cometió delito alguno!!!#LGBT #Cuba pic.twitter.com/sWyH5iAM8f

— Luis Angel Adán Roble (@angelDr_adan) July 29, 2021
The Washington Blade has confirmed De La Cruz is gay.
Vida Bohemia, a drag queen who is De La Cruz's friend, also demanded de la Cruz's release.
"If he didn't throw a stone, (if) he didn't break glass, (if) he didn't hit anyone, (if) nobody yelled down with the government, please let him go," Bohemia told 14ymedio, a website founded by Yoani Sánchez, a journalist who is a vocal critic of the Cuban government. "He has a mother, a grandmother, a family and thousands of friends suffering."
Maykel González Vivero, editor of Tremenda Nota, the Blade's media partner in Cuba, is among the hundreds of people who were arrested during the July 11 protests. The New York Times reports that De La Cruz is among the estimated 700 people who remain in custody.
Thousands Cuban Americans gathered in front of the White House on July 26 to demand the Biden administration do more to support the protesters on the island. They later marched to the Cuban Embassy.
The White House under the Global Magnitsky Act has sanctioned Cuba's National Revolutionary Police (PNR), the Interior Ministry Special Brigade, Defense Minister Álvaro López Miera, PNR Director Oscar Callejas Valcarce and PNR Deputy Director Eddie Sierra Arias for their role in the government's crackdown on the July 11 protests. Yotuel Romero, a Cuban singer who co-wrote "Patria y vida!", a song that has become an anthem for anti-government protesters, is among those who met with President Biden at the White House on July 30.