High notes for 'Show Boat'
Opera singer Cambridge returns for fourth appearance with WNO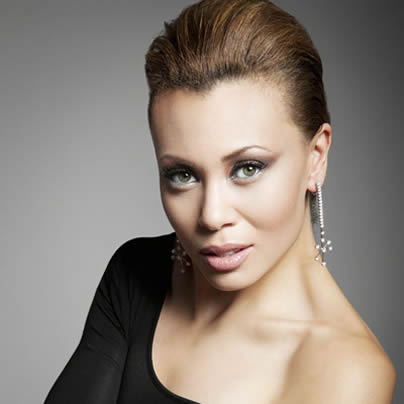 'Show Boat'
Opens Saturday, runs through May 26
Washington National Opera
Kennedy Center Opera House
(2700 F Street, NW)
$25-$270
kennedy-center.org
D.C.-area native Alyson Cambridge starts a triumphant homecoming this weekend.
The former Arlington, Va., resident — she grew up here — has made a splash in the opera world with debuts at the Metropolitan Opera and other top-level houses in major productions. She opens Saturday in the classic musical "Show Boat," the Kern/Hammerstein masterpiece that will feature more than 100 singers, actors and dancers on the Kennedy Center Opera House Stage to tell the story of a troupe of riverboat performers as they make their way through the decades. It features classic songs such as "Ol' Man River" and "Can't Help Lovin' Dat Man."
Cambridge stars as Julie. It will be a busy month for the performer. She'll also sing the National Anthem at the Washington Nationals game on May 11. And on May 18, the production will be broadcast live to Nationals Park for WNO's annual "Opera in the Outfield" event. Cambridge opened the show in Chicago last year and says during a lengthy phone chat from her home in Manhattan, she's excited about bringing it to D.C. (Cambridge's comments have been edited for length.)
BLADE: You still have family here?
CAMBRIDGE: Yes, my parents still live in the same house I grew up in and my brother and sister-in-law live in Falls Church with my niece who's 1 so yeah, it's been great spending time with my niece.
BLADE: How is the art/theater/music vibe different in New York versus Washington?
CAMBRIDGE: New York is a completely different world. I've been there almost 11 years so it feels like home now and I'm used to a fast-paced life where I'm constantly being surrounded by artists, singers, actors and dancers all the time. The person behind the counter at Starbucks is an aspiring acturess. It's just in the culture that there's this assumption that you have some ties to the arts. You just feel that vibe all the time here.
BLADE: How was the Chicago run?
CAMBRIDGE: Really wonderful. It was the first time for many of us coming to this show .. and my first time doing a musical like this on such a grand scale. About half the cast is new for D.C. and it's been wonderful welcoming so many newcomers to this production. I can truly say, there's not a weak link in the cast, everybody is just so strong. … I hope D.C. embraces the show as much as Chicago did. We were completely sold out there and it was the toughest ticket in town to get.
BLADE: Most of your professional work has been in opera. Are the lines blurring between the opera world and musical theater and if so, is that a good thing?
CAMBRIDGE: I've seen a lot of change just within the last four years or so. I did "Porgy & Bess" in Washington in 2005 and came back in 2010 and the reception was very different. It's considered a show in the more operatic vein and was really written for classically trained voices. Even just a few years ago, people warned me, 'Oh, be careful — if you start with that, people won't see you as a truly legit opera singer,' but I think what we're doing is really opening up these musical worlds to different audiences and I think it's the perfect blend.
BLADE: Whatever raw talent you were blest with, as you discovered it and what your strengths were, did that line up pretty naturally with your musical interests as a teen or did you have to learn to appreciate opera, which can be an acquired taste?
CAMBRIDGE: Oh, back in the '90s I listened to pop singers and wanted to be a pop singer. I'd be blasting Christina Aguilera out of my car on campus but I discovered I could imitate any voice I heard and had a really finely tuned ear. My mom would have classical music on and I could imitate the opera singers and we had a neighbor say once, 'You know, that's not half bad.' … This led to voice lessons … where I was eventually told I had natural ability in this genre. But yes, it took awhile for me to really embrace what my voice was meant to do. But yeah, Madonna, Whitney Houston, Tiffany, I loved all that too and even went through a rap phase.
BLADE: Does it feel really competitive and cut throat as your career unfolds or is there a level you get to where you don't feel like the next soprano is just waiting in the wings snapping at your heels?
CAMBRIDGE: I think everybody has their own unique path. Mine was pretty fast. I literally went from Curtis to the Metropolitan Opera's young artist program by the time I was 23 and had my Met debut at 24, but I have certainly leanred you're always a work in progress and I think it's a misconception that you don't have to keep learning. … It's very much about always coming out and bringing your A game.
BLADE: What is your tessitura?
CAMBRIDGE: I'm a full lyric soprano.
BLADE: Is that the highest one? I can never remember.
CAMBRIDGE: No, a coloratura is the highest and the lightest … It's a fuller sound with more meat to it. … The role of Julie, is really a mezzo role. It's quite low but it suits me quite well.
BLADE: Do you have a gay best friend in New York? Your world must be teeming with gay energy.
CAMBRIDGE: It's all over the map. I'm surrounded by gay people, trans people, bi — everything. It's really all across the map. But yeah, I'm going to the wedding of one of my college best friends this summer in New York. She was straight all through college but she's marrying a woman and she's never been happier.
10 LGBTQ events this week
A Gaga afterparty and a cardboard boat regatta among attractions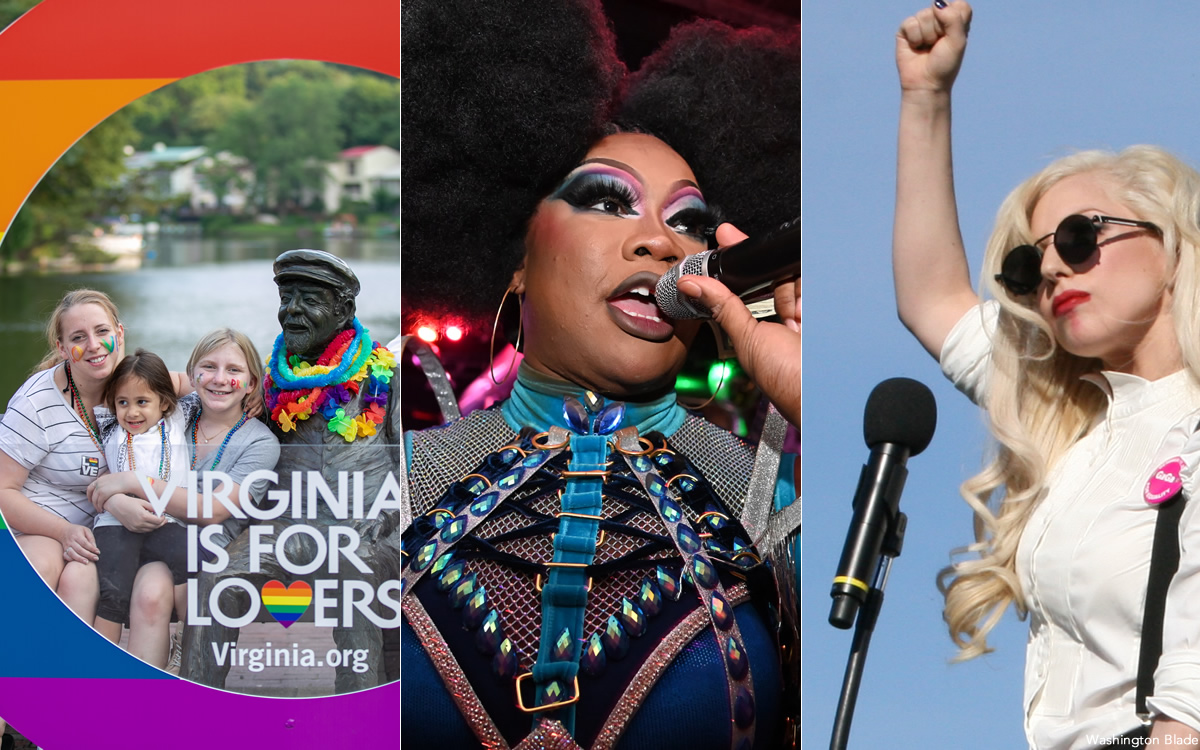 Below are our picks for some of the most fun and creative things to do this week in the DMV that are of special interest to the LGBTQ community.
---
Reign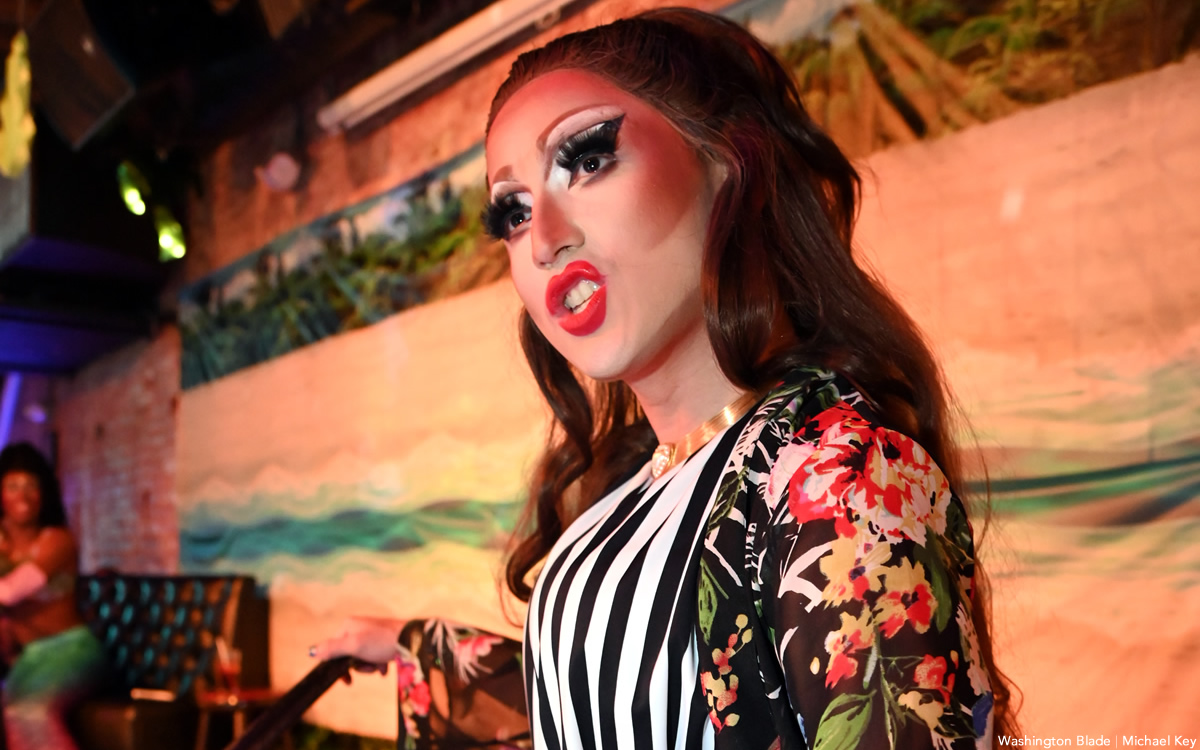 Monday, August 8
8-11 p.m.
DIK Bar
1637 17th Street, N.W. (second floor)
Facebook
Join Logan Stone, Dabatha Christie and Hennessey for a fun-filled drag show at Dupont Italian Kitchen Bar tonight at 8.
---
OMGaga Afterparty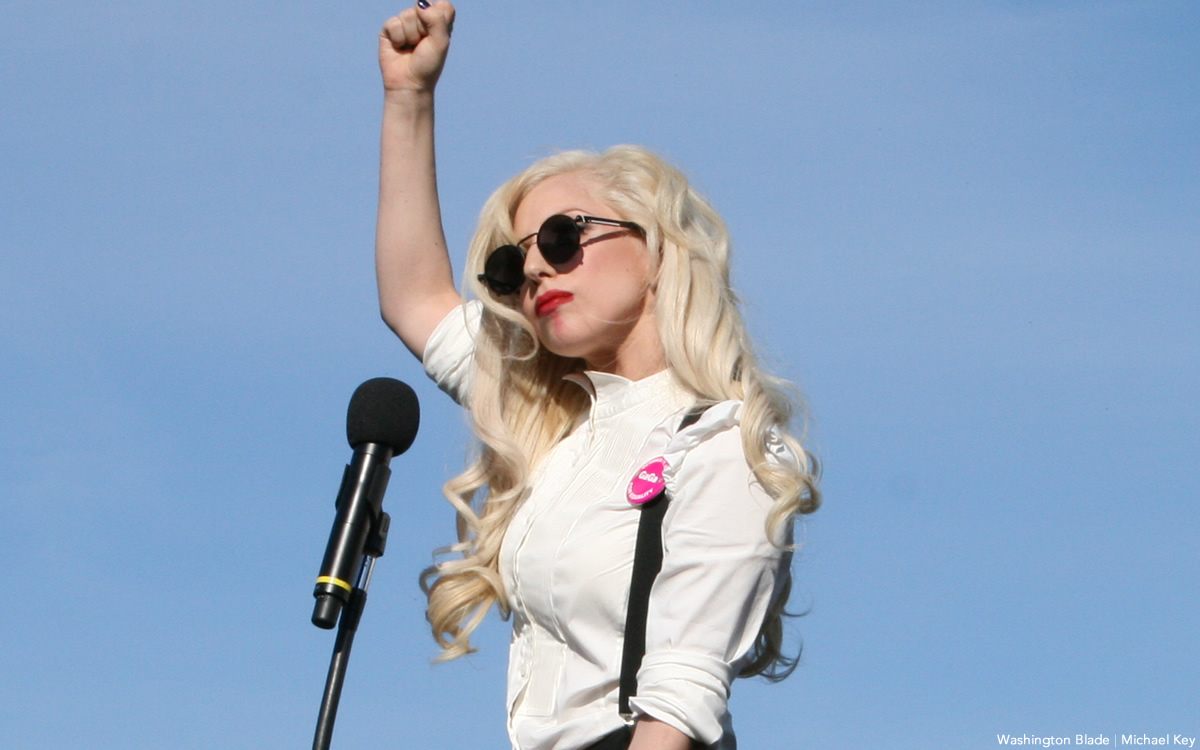 Monday, August 8
10 p.m.
Green Lantern
1335 Green Court, N.W.
Facebook
Did you catch the Gaga concert tonight? Whether you did or not, join the afterparty at Green Lantern. Show your ticket stub from the concert for a free drink on the dance floor.
---
Drag Bingo with Desiree Dik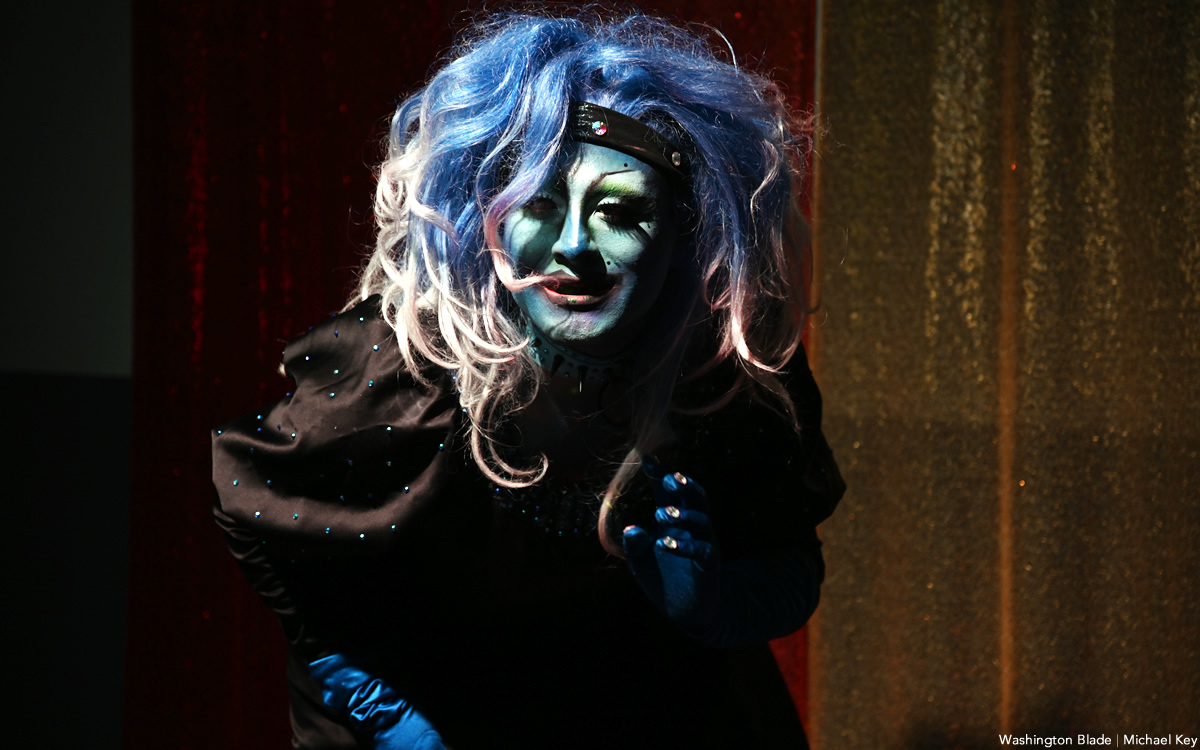 Tuesday, August 9
7-9 p.m.
Red Bear Brewing Co.
209 M Street, N.E.
Facebook
Join Desiree Dik for a game of bingo at Red Bear Brewing Co. on Tuesday. Free to play.
---
Queer Trivia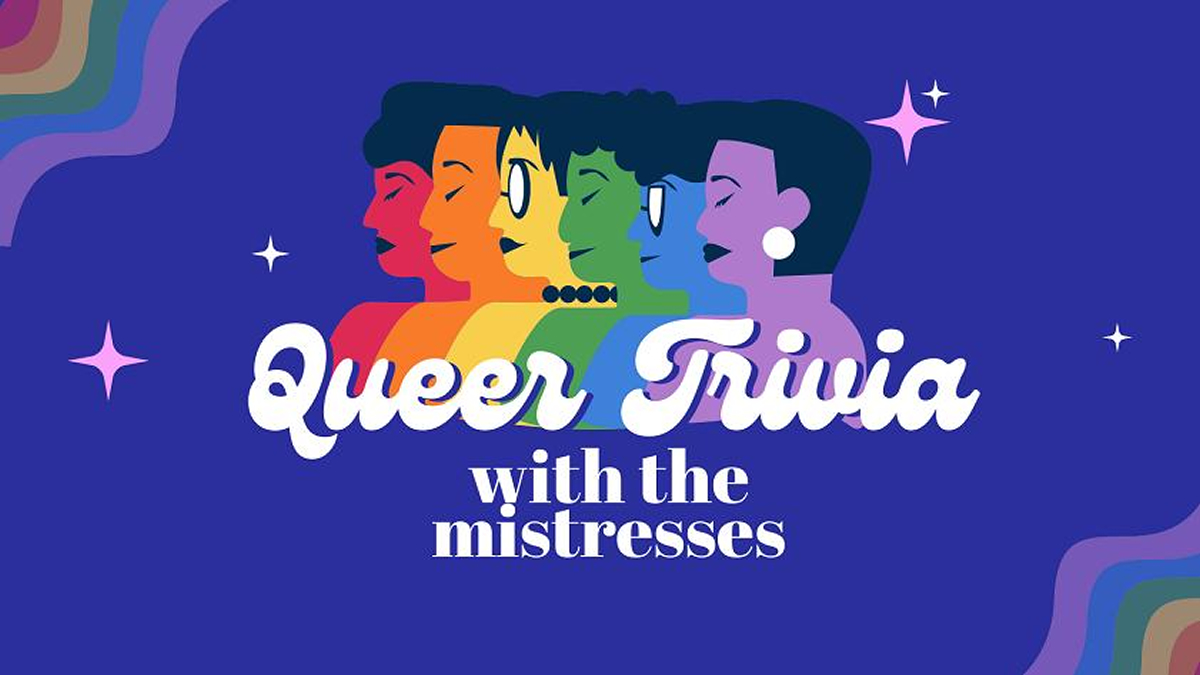 Wednesday, August 10
7-9 p.m.
Dew Drop Inn
2801 8th Street, N.E.
Facebook
The Mistresses lead a night of Queer Trivia on all things gay at the Dew Drop Inn on Wednesday.
---
Thirst Trap Thursdays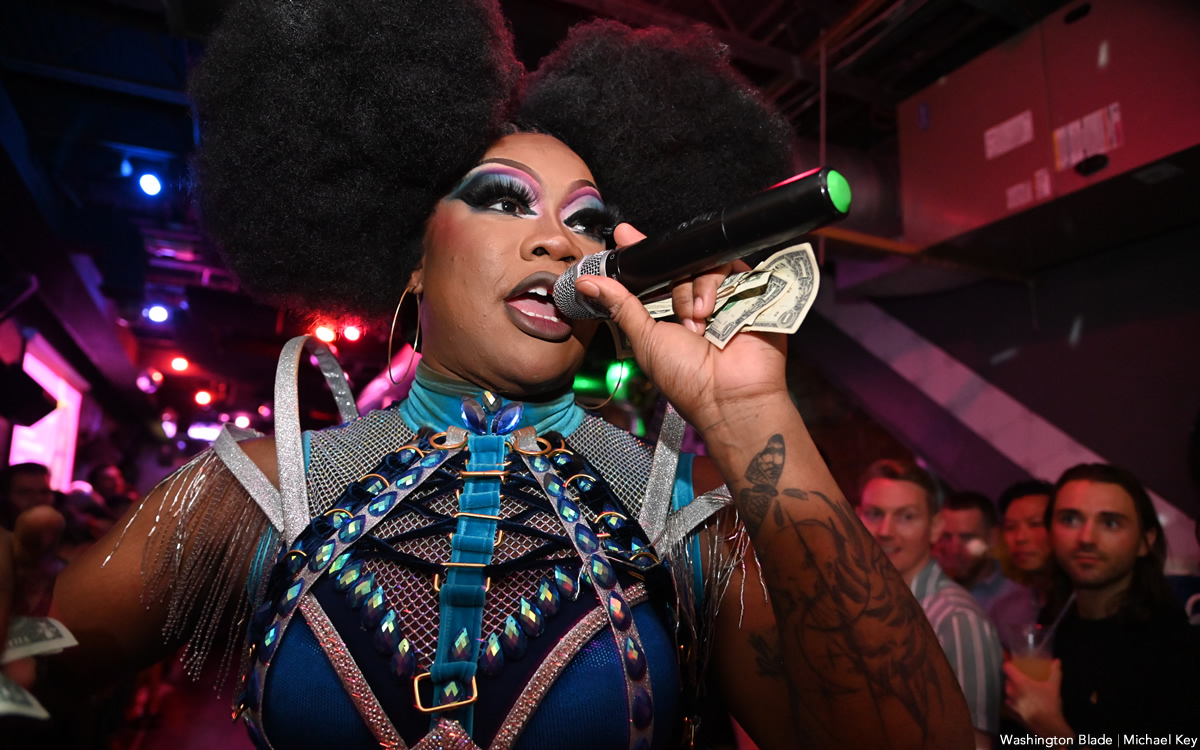 Thursday, August 11
10 p.m.
Pitchers DC/A League of Her Own
2317 18th Street, N.W.
Facebook
Venus Valhalla and Cake host the Thirsty Thursdays drag show at Pitchers/ALOHO on Aug. 11.
---
LGBTQ Social at Wild Days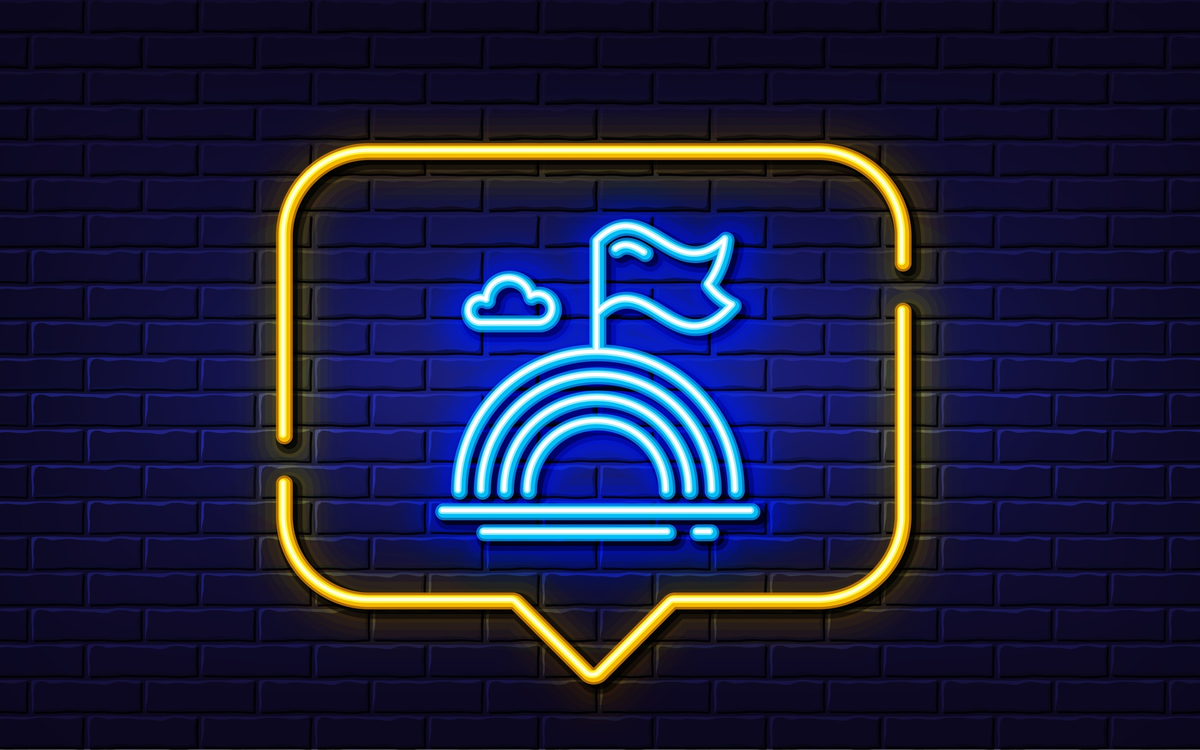 Friday, August 12
7-9 p.m.
Wild Days Rooftop Bar at the Eaton Hotel
1201 K Street, N.W.
21+
Eventbrite
Have some casual conversations with new friends in the LGBTQ community over drinks in a relaxed atmosphere. Hosted by Go Gay DC.
---
A Love Letter to RENT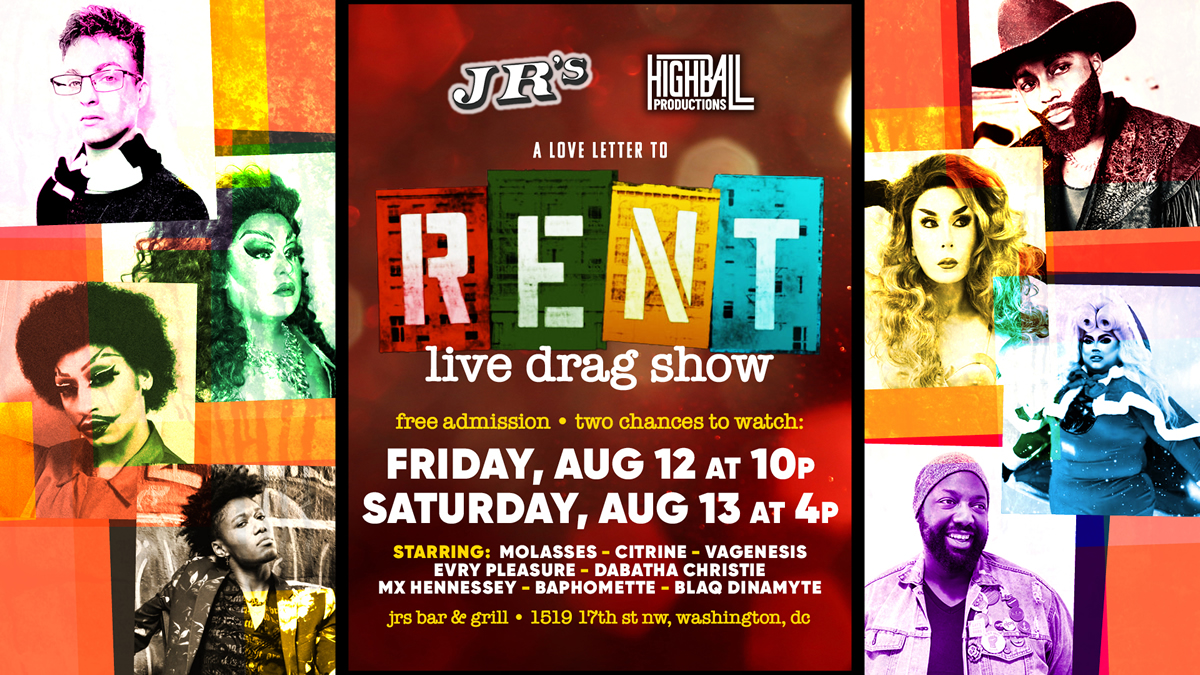 Friday, August 12
10 p.m.
JR.'s Bar
1519 17th Street, N.W.
Free admission
Facebook
Watch a drag show dedicated to the hit musical RENT. If you miss the first show on Friday, come by on Saturday at 4 p.m. for an encore performance.
---
Lights On, Barks Out! Disco Heat Drag Brunch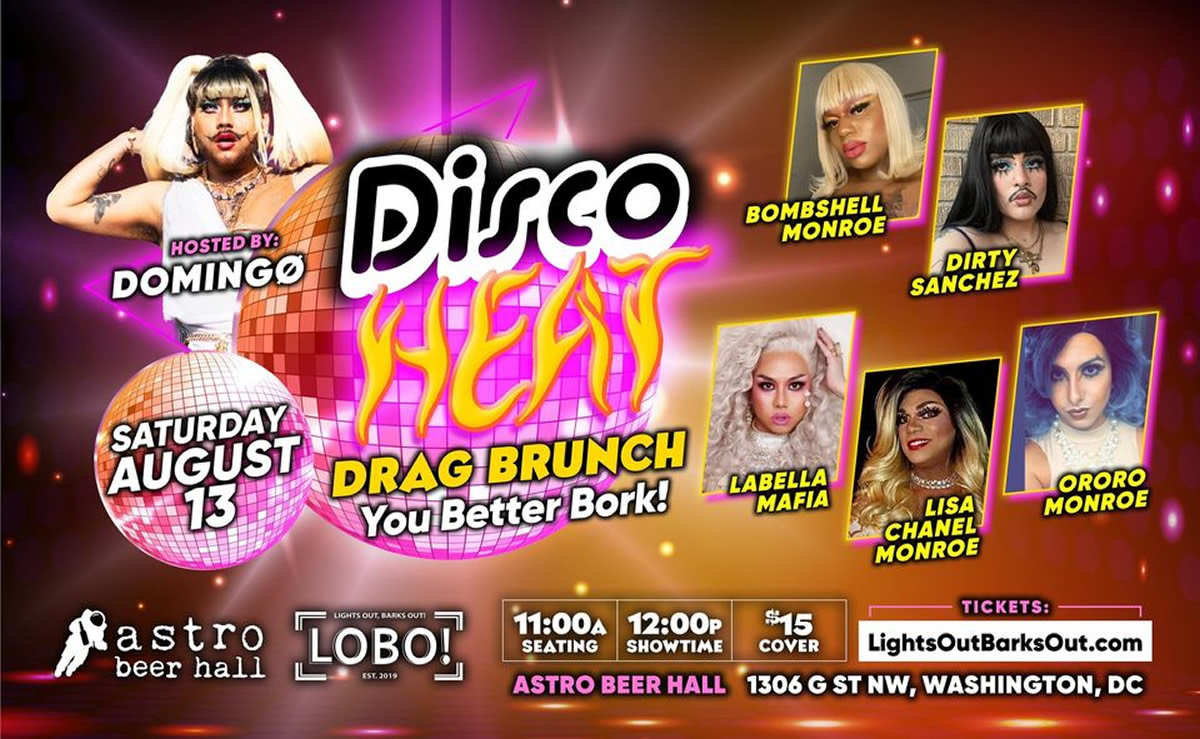 Saturday, August 13
Seating 11 a.m./show 12 p.m.
Astro Beer Hall
1306 G Street, N.W.
$15 cover
Facebook
Join host Doming0 for the Disco Heat Drag Brunch on Saturday at Astro Beer Hall.
---
Lake Anne Cardboard Boat Regatta
Saturday, August 13
2 p.m.
Lake Anne Plaza
1609 Washington Plaza
Reston, Va.
Facebook | Website
Watch a cardboard regatta race along Lake Anne in Reston, Va. Or, you could even participate (rules here)!
---
Mister & Miss AGLA Scholarship Fundraiser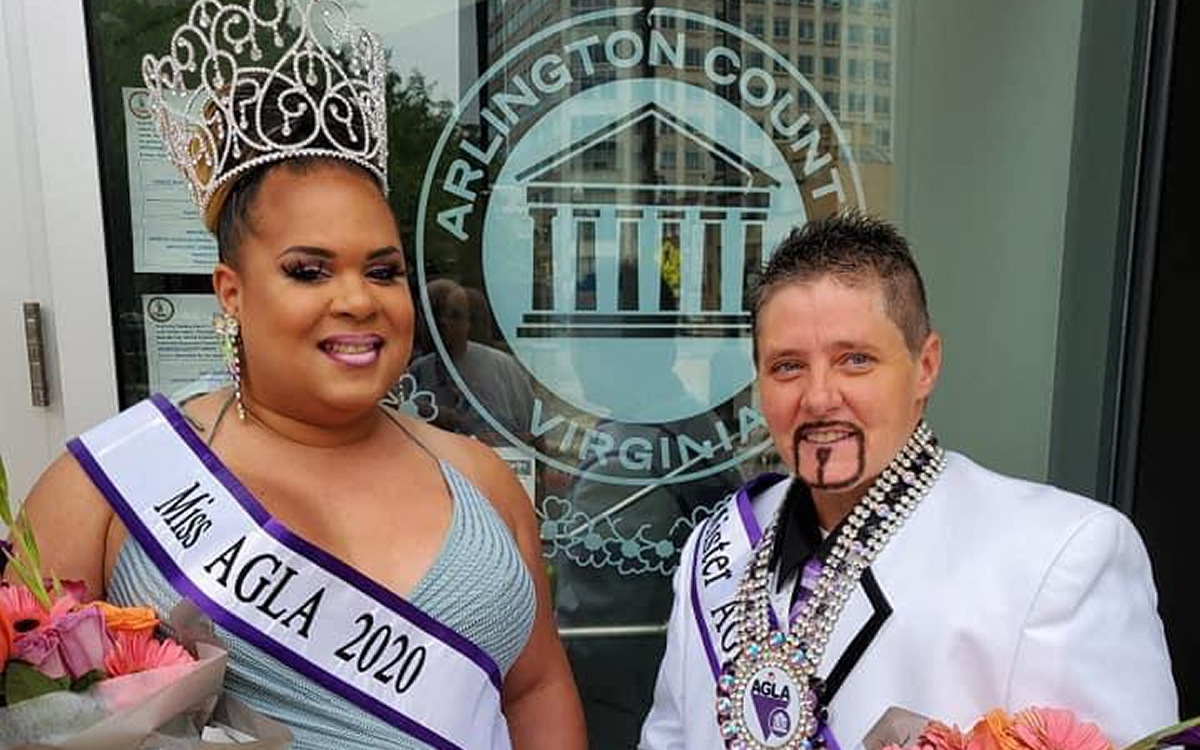 Sunday, August 14
7-9 p.m.
Freddie's Beach Bar & Grill
555 23rd Street S
Arlington, Va.
$10 donation requested
Facebook
Join a fundraiser for a good cause: a college scholarship for an outstanding Arlington County Public High School senior. Also, the 2022 Mr. and Miss AGLA will be crowned.
---
PHOTOS: United Night OUT
Team DC and Federal Triangles honored at halftime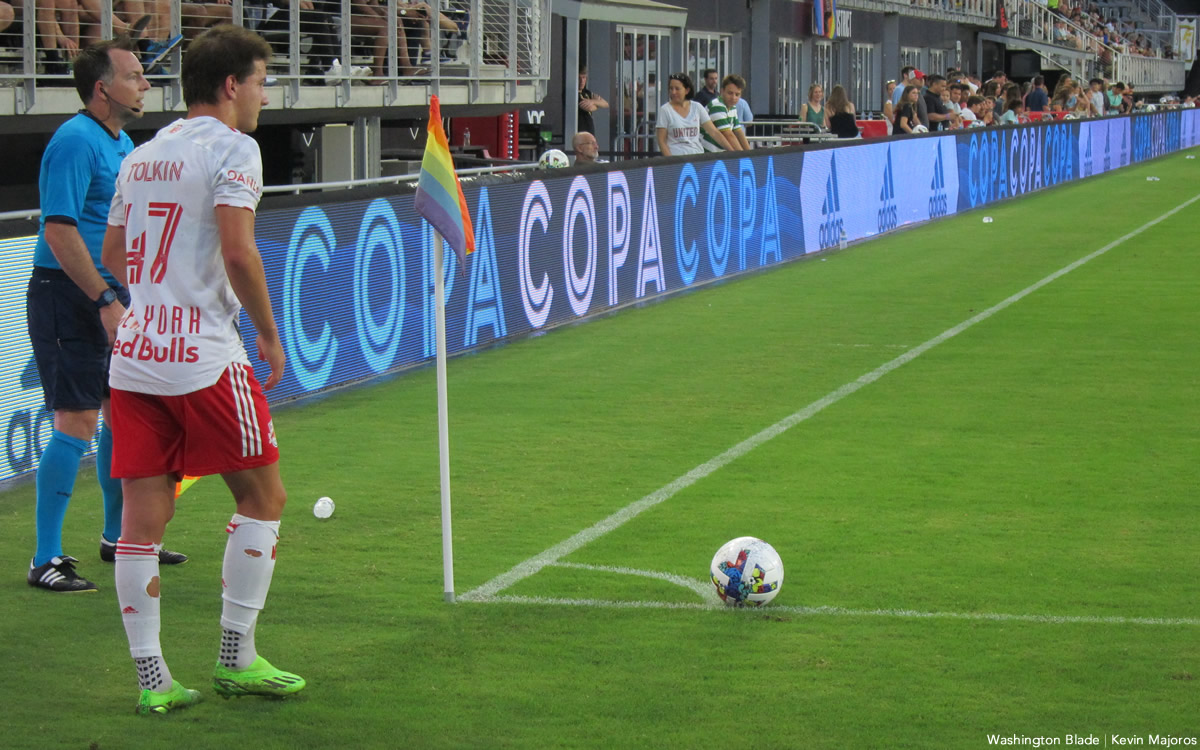 United Night OUT 2022 was held on August 6 at Audi Field with DC United taking on their Atlantic Cup rivals, the New York Red Bulls. The two teams battled to a 0-0 scoreless draw in their 99th meeting. The LGBTQ community event was co-hosted by Team DC and the Federal Triangles Soccer club who were both honored at halftime.
(Washington Blade photos by Kevin Majoros)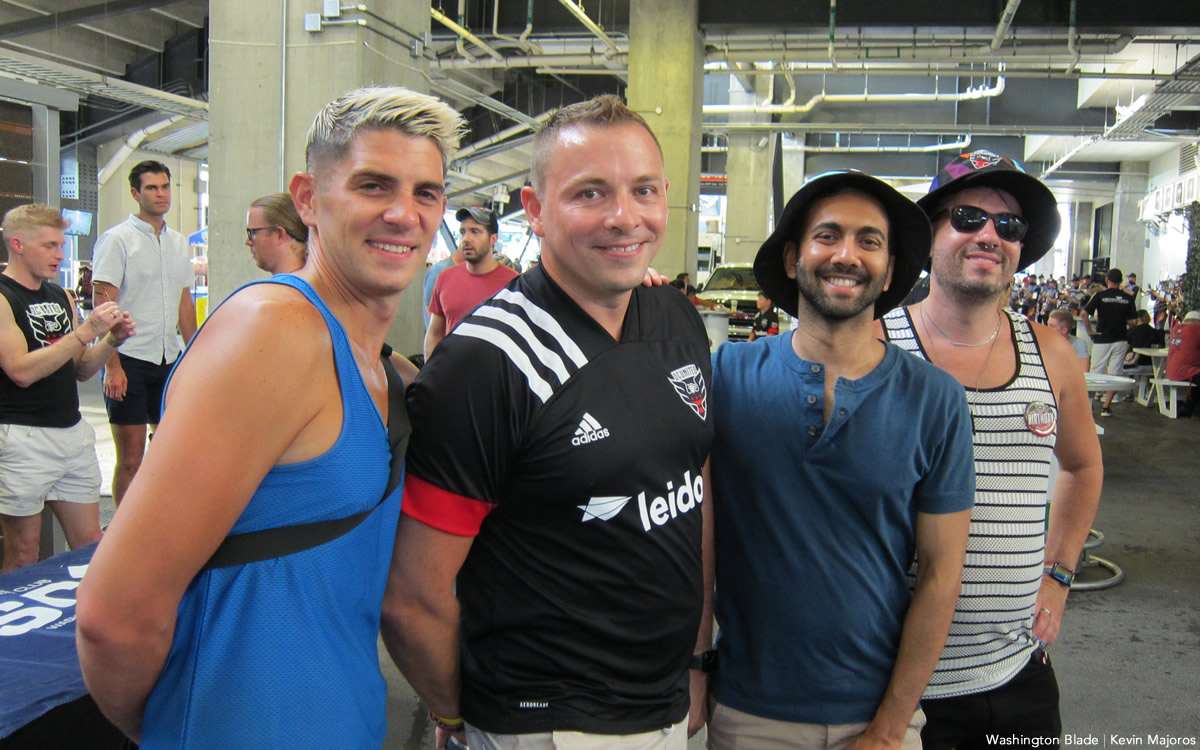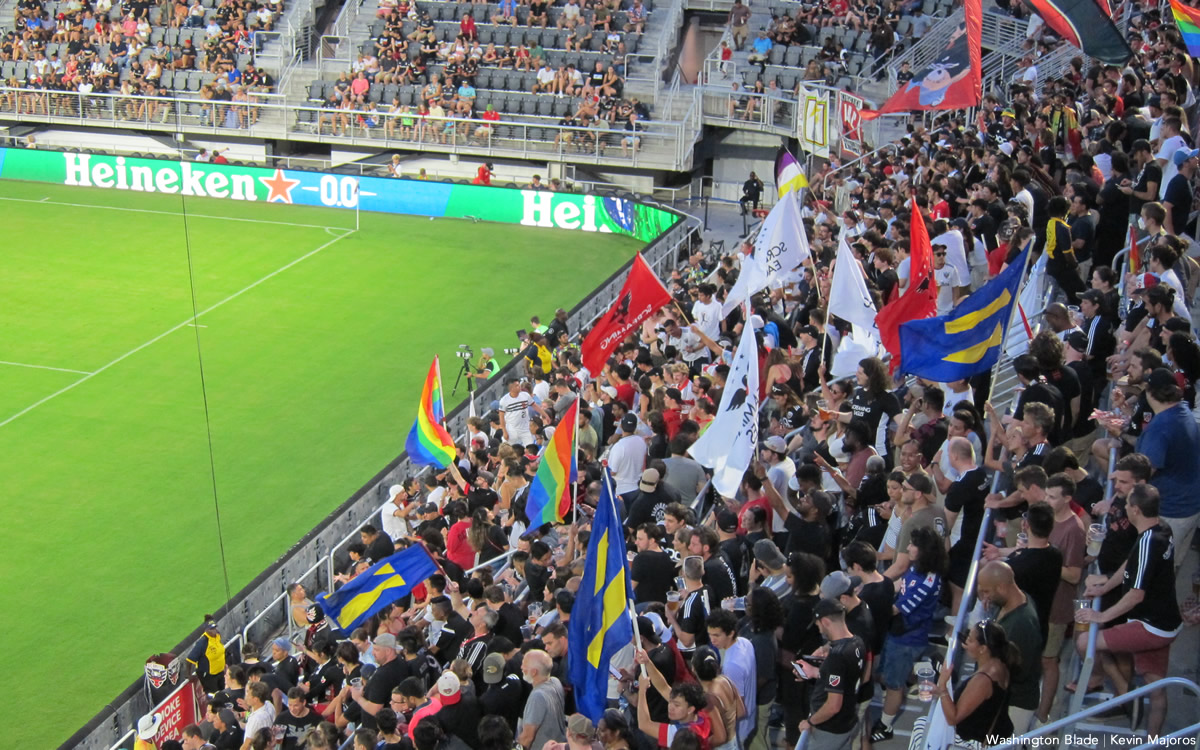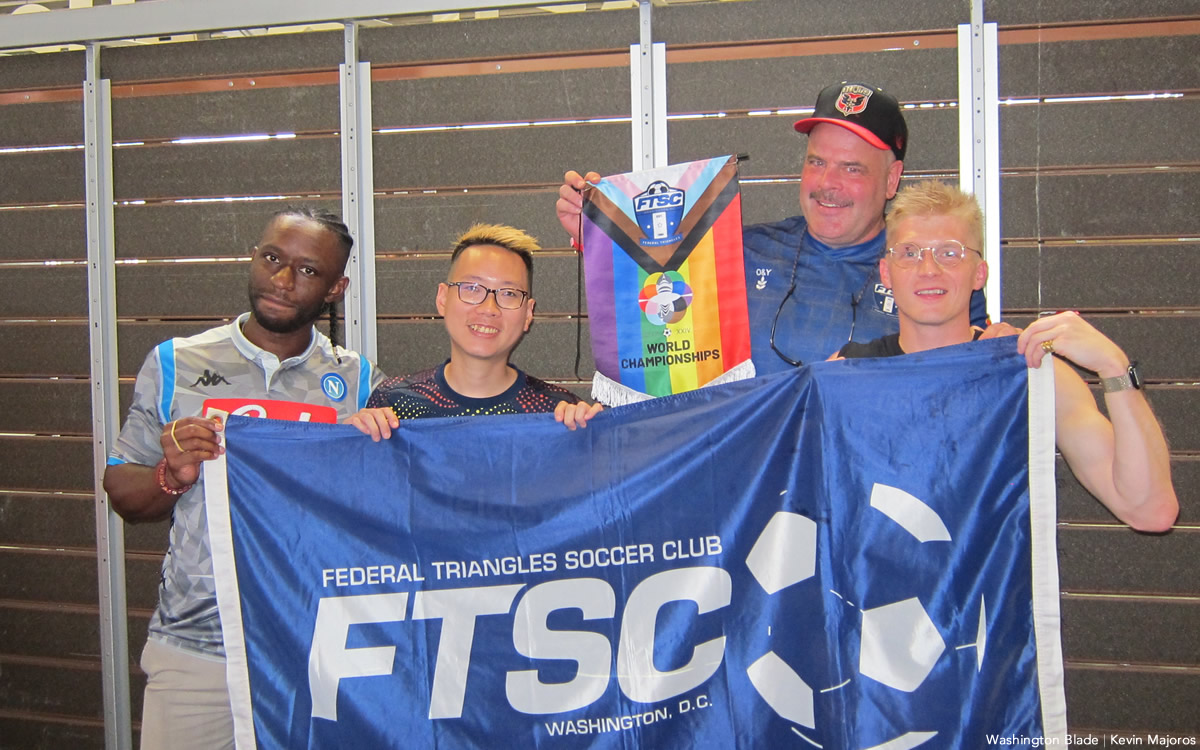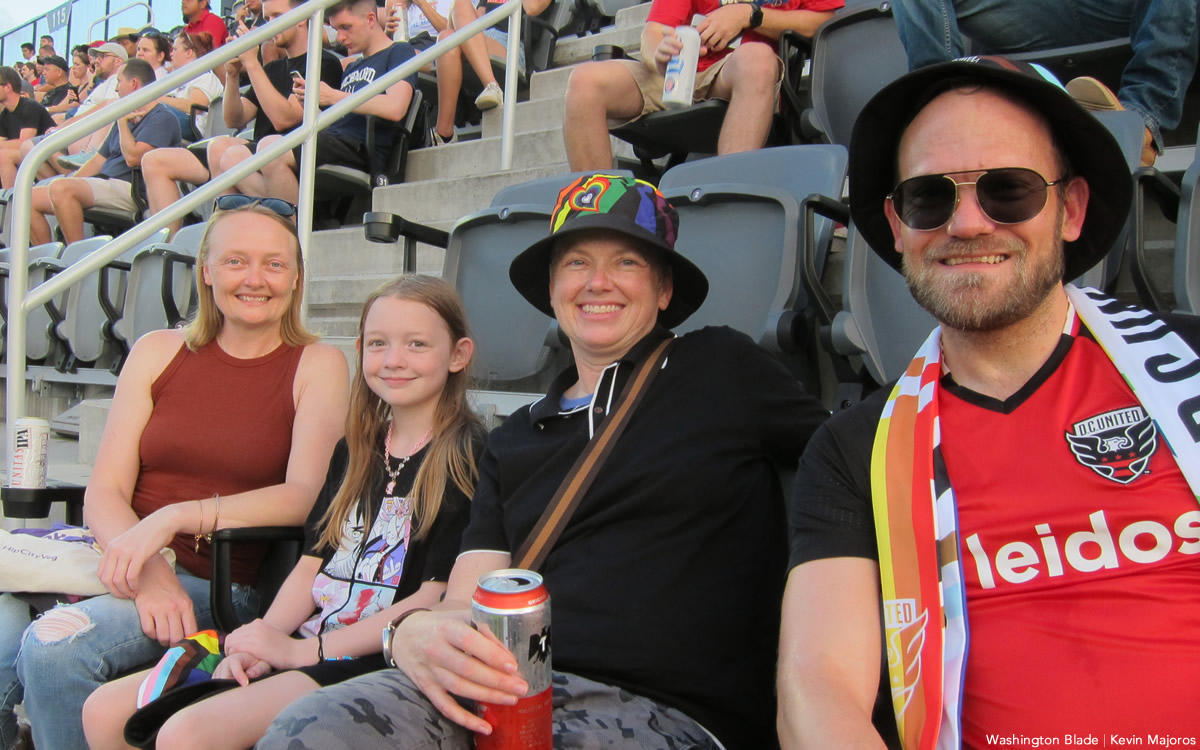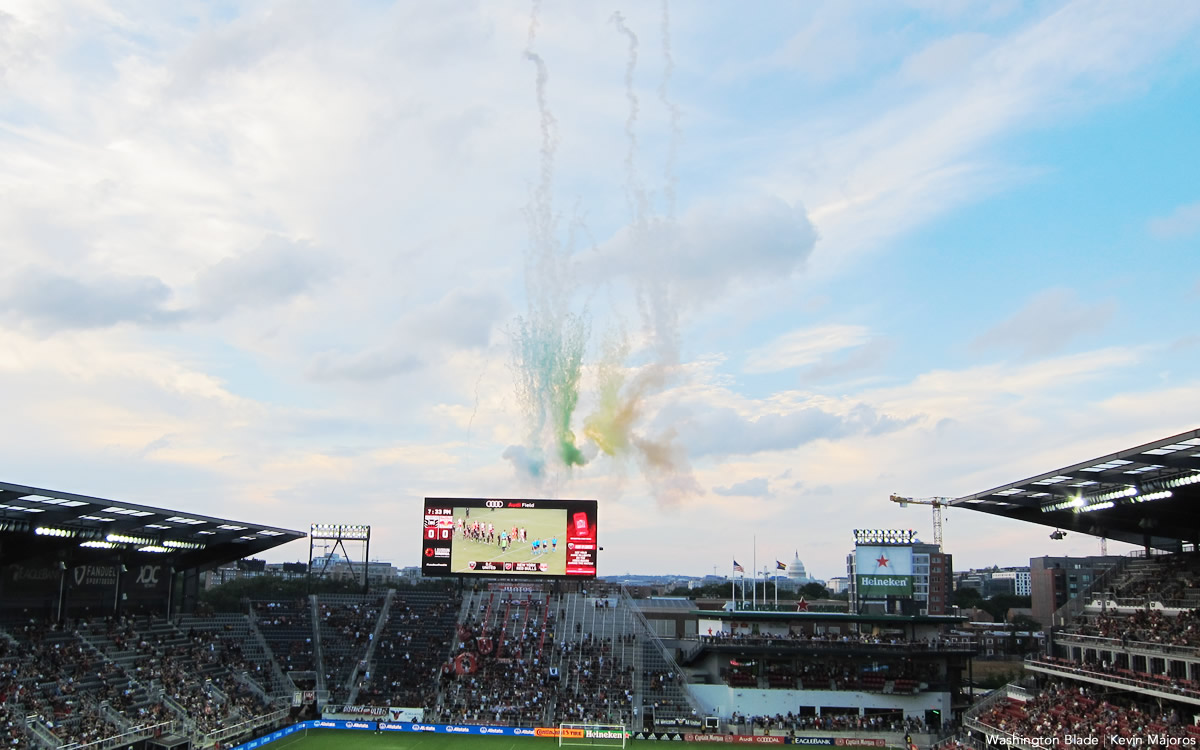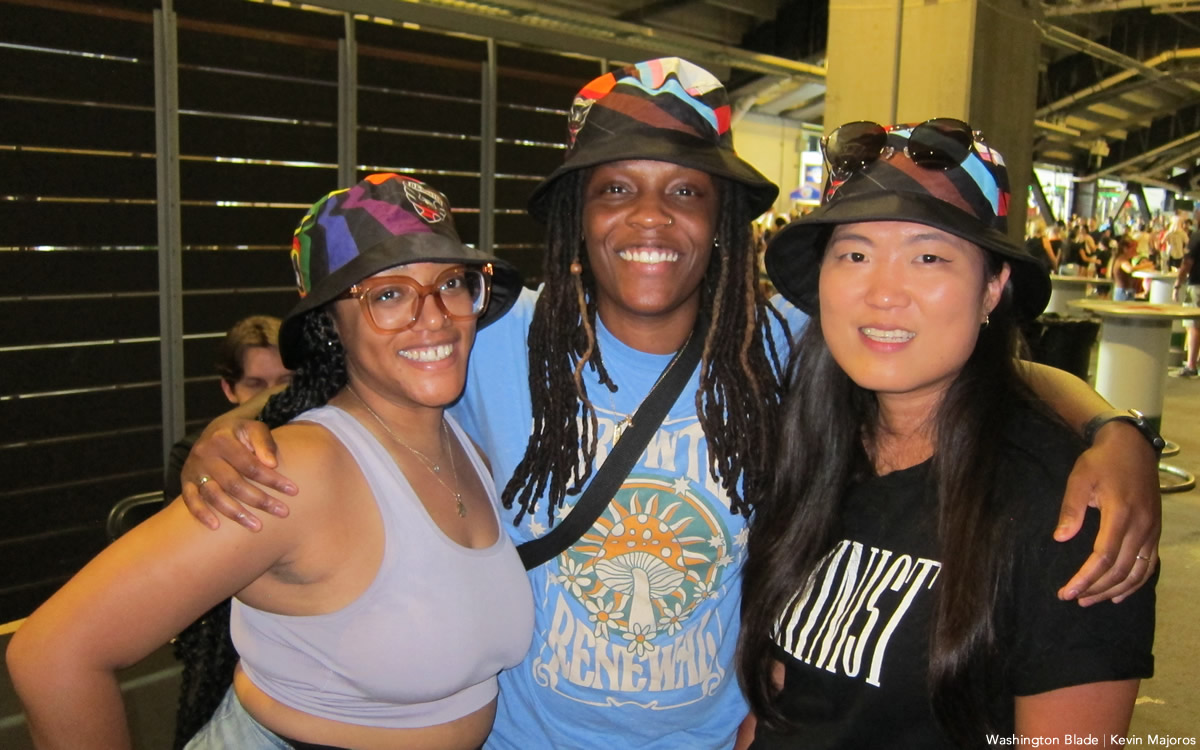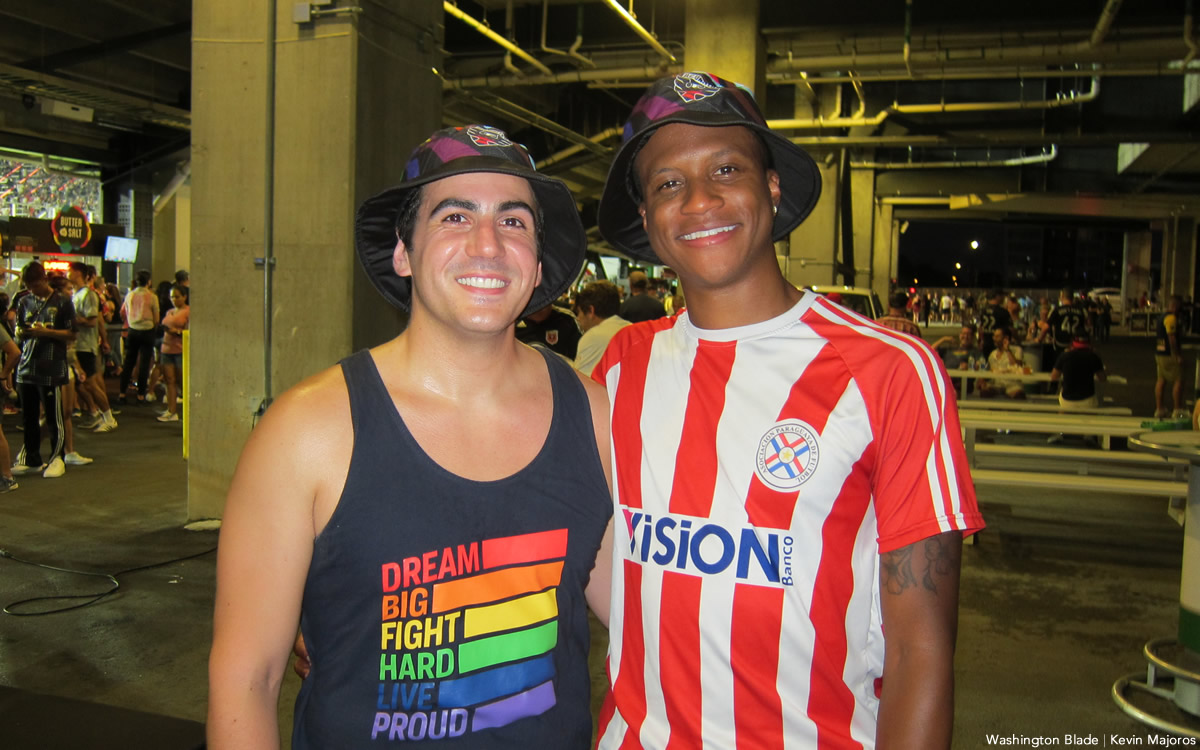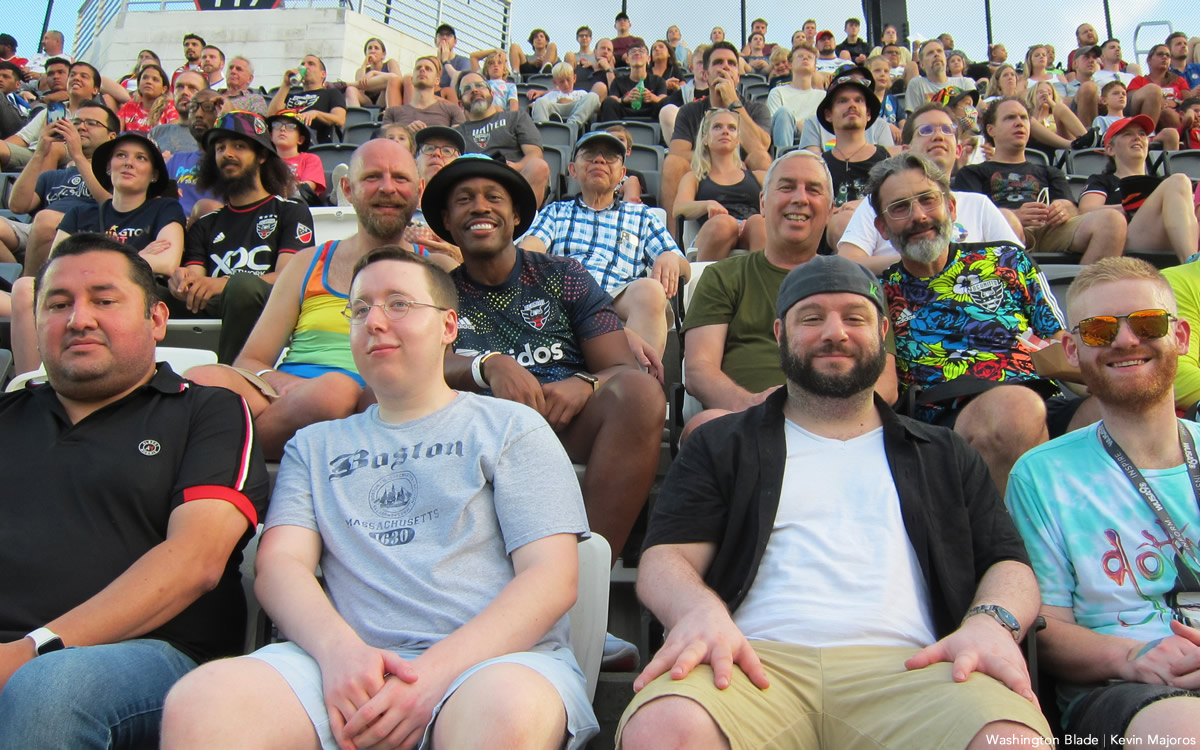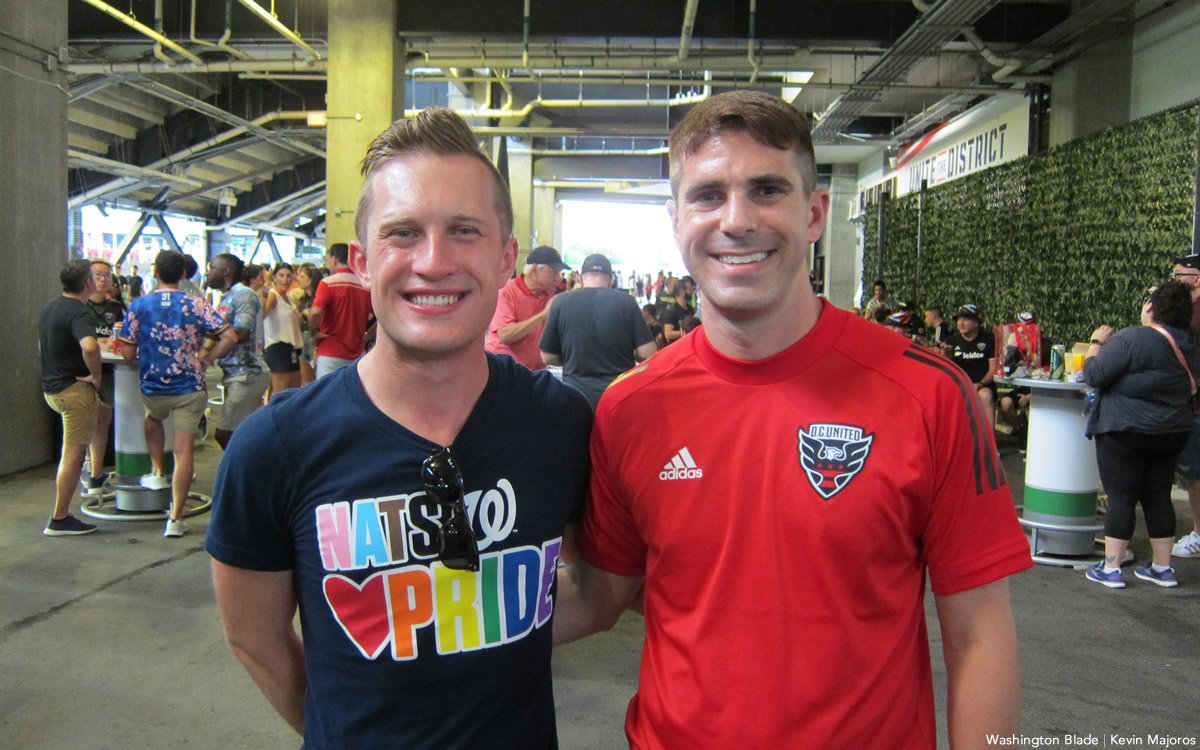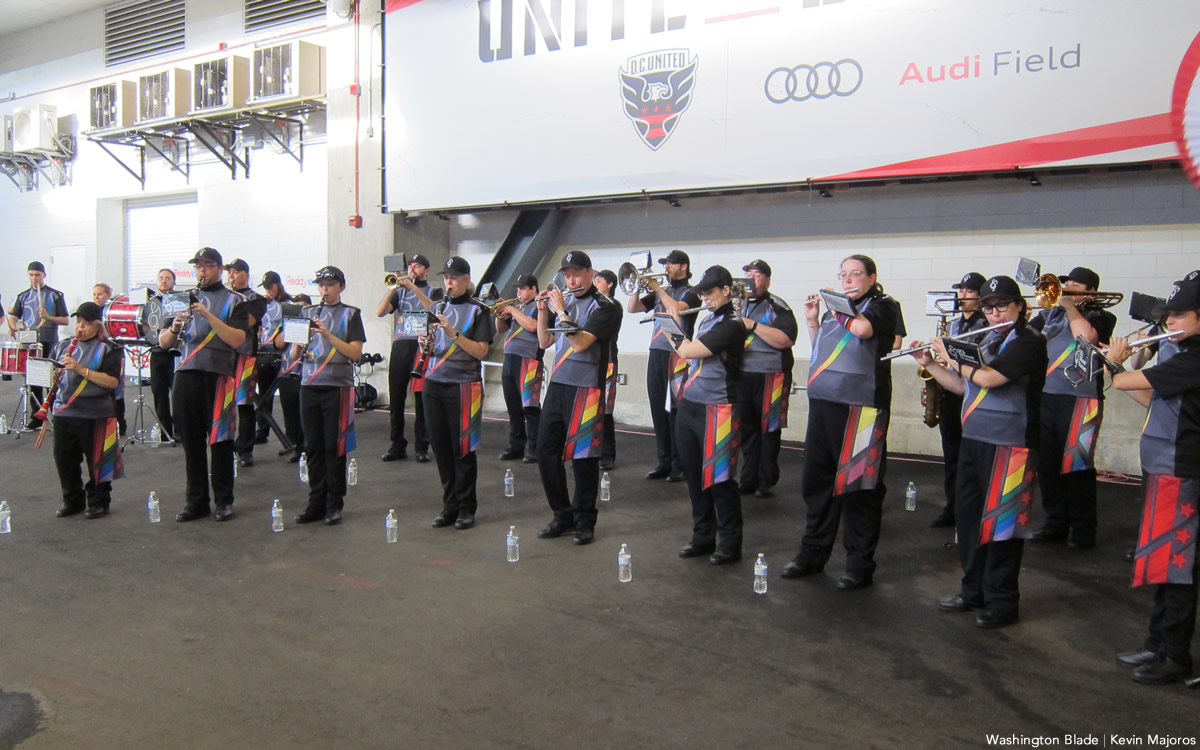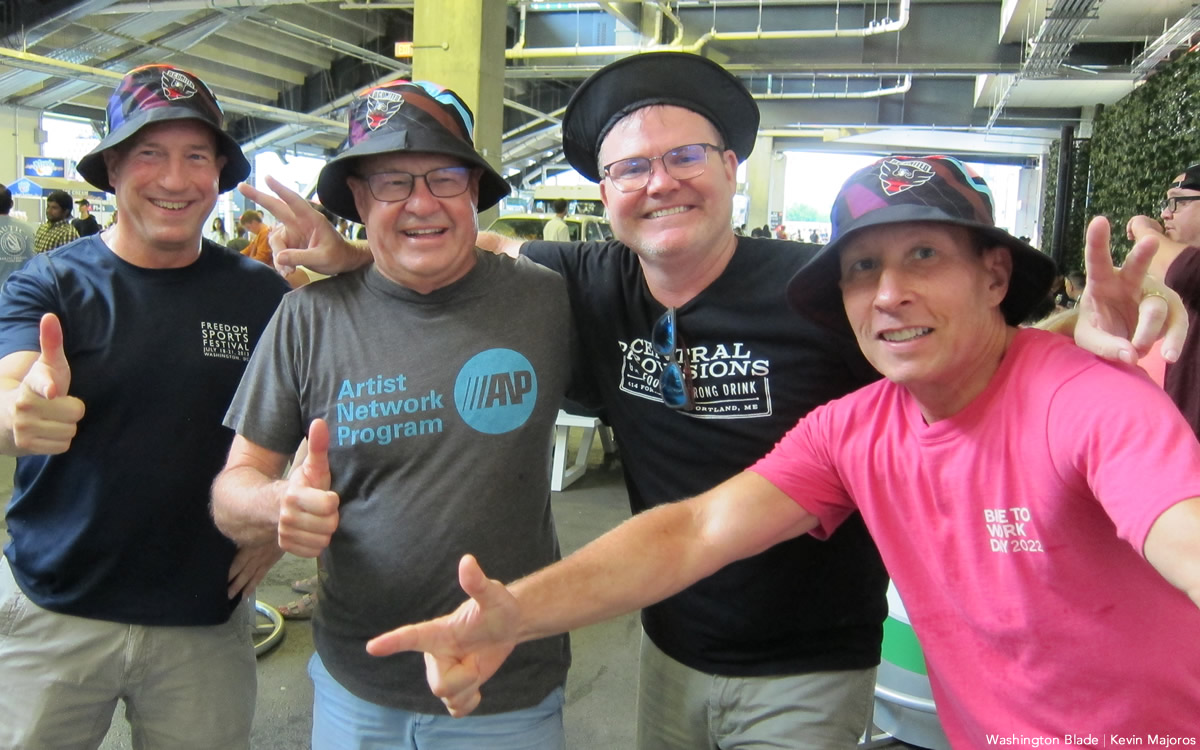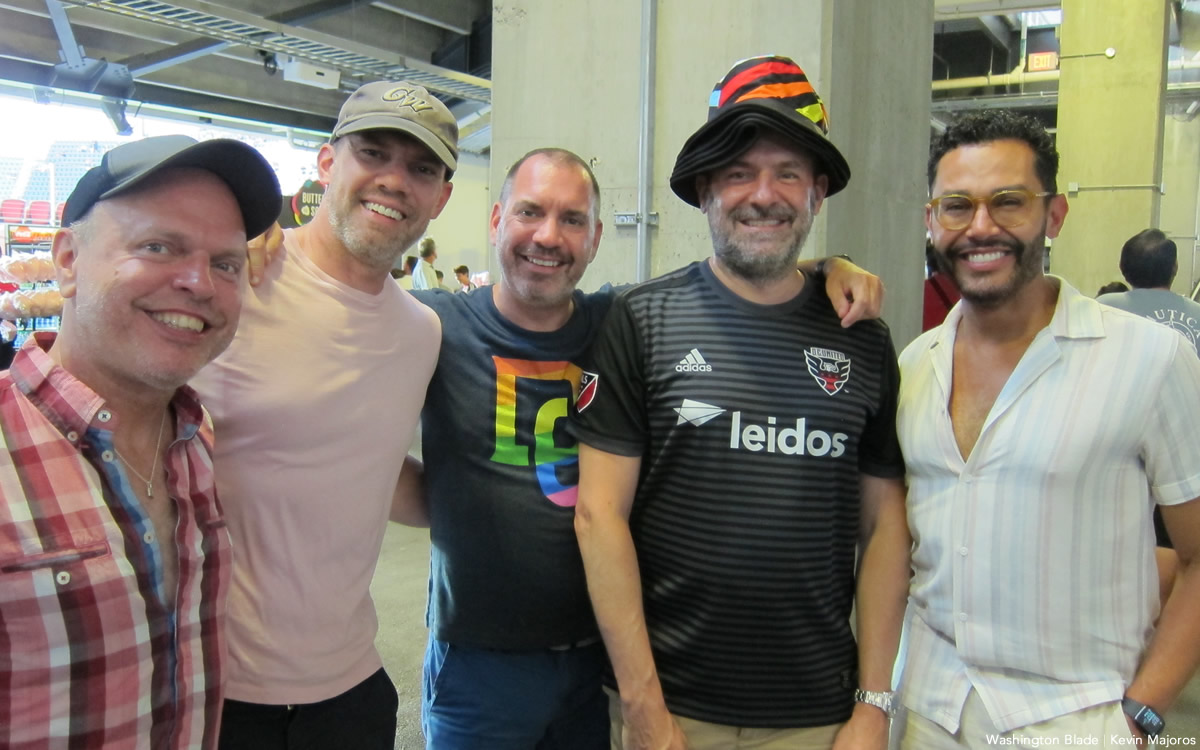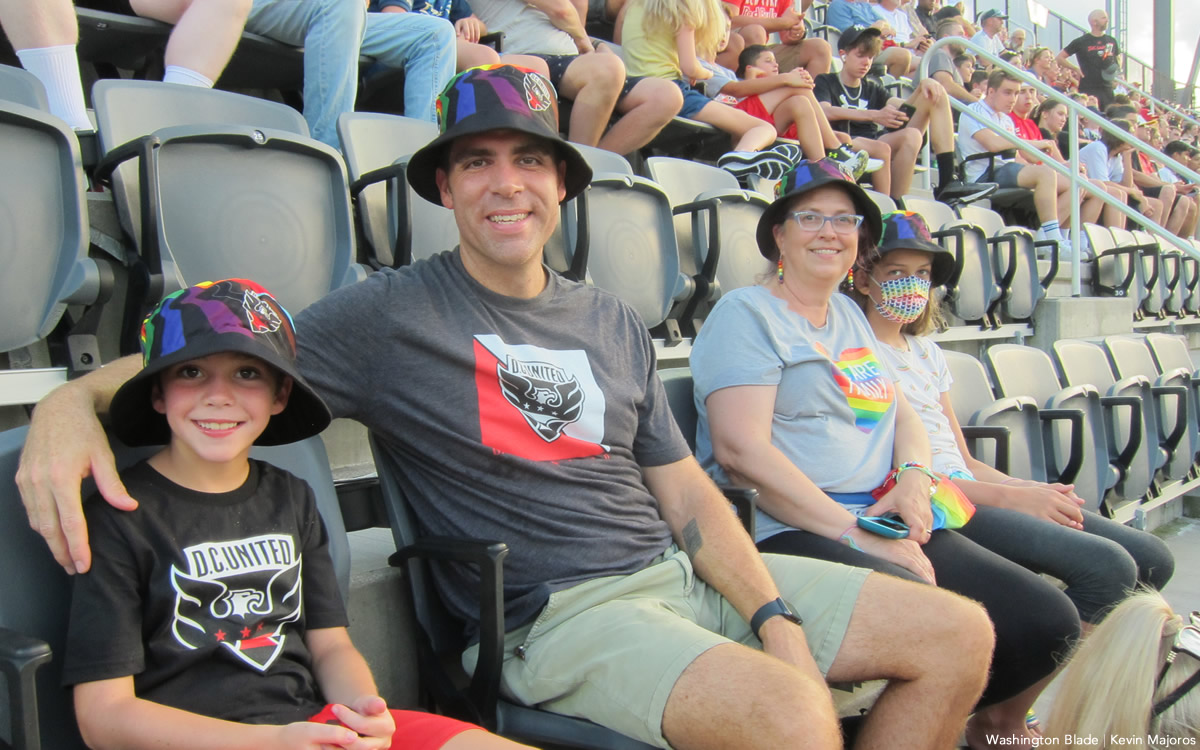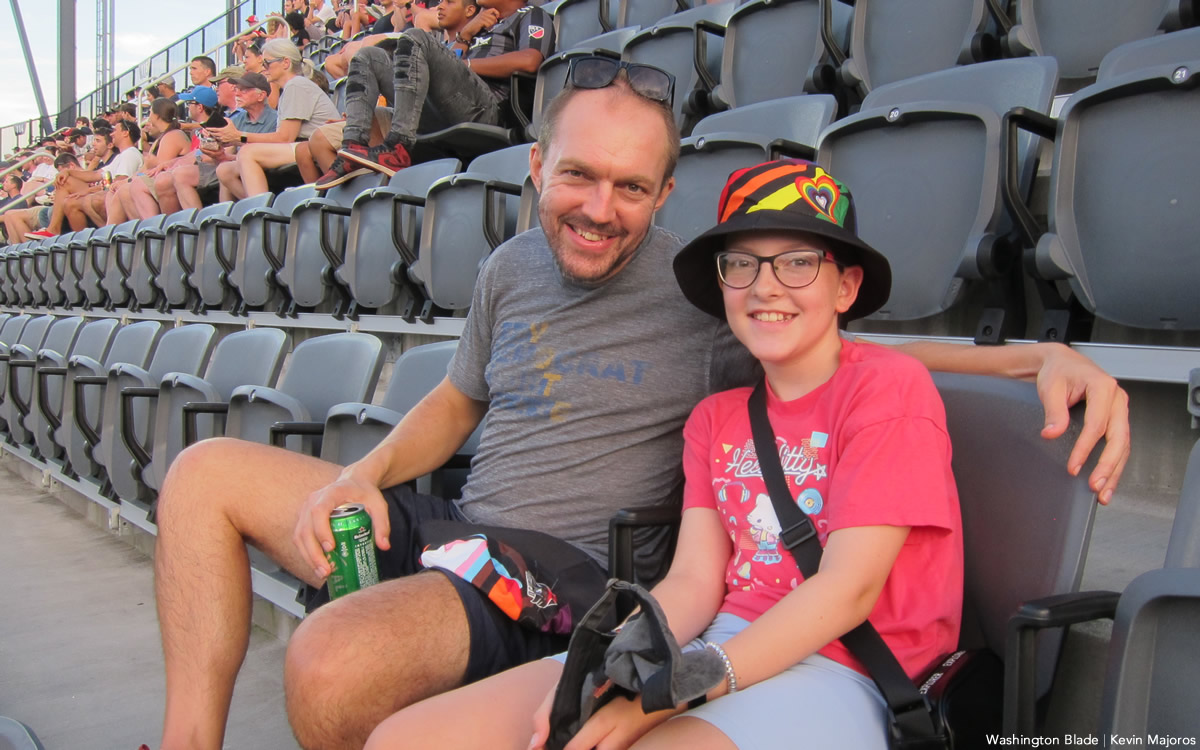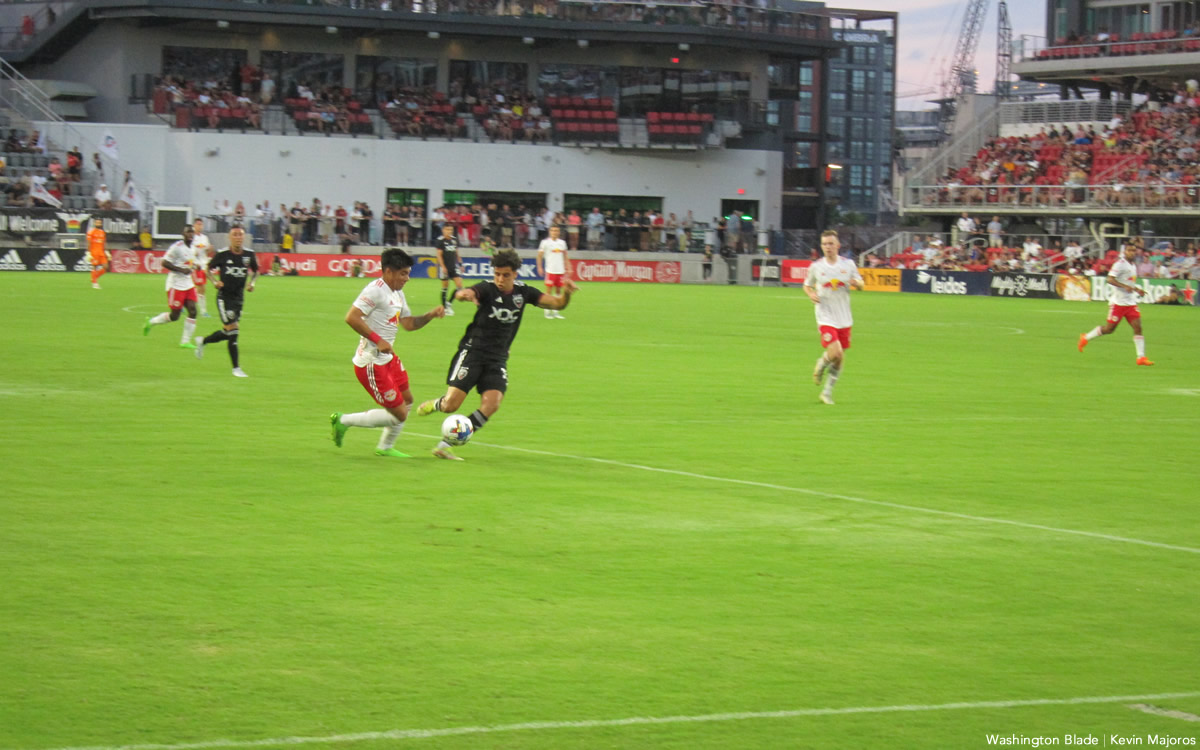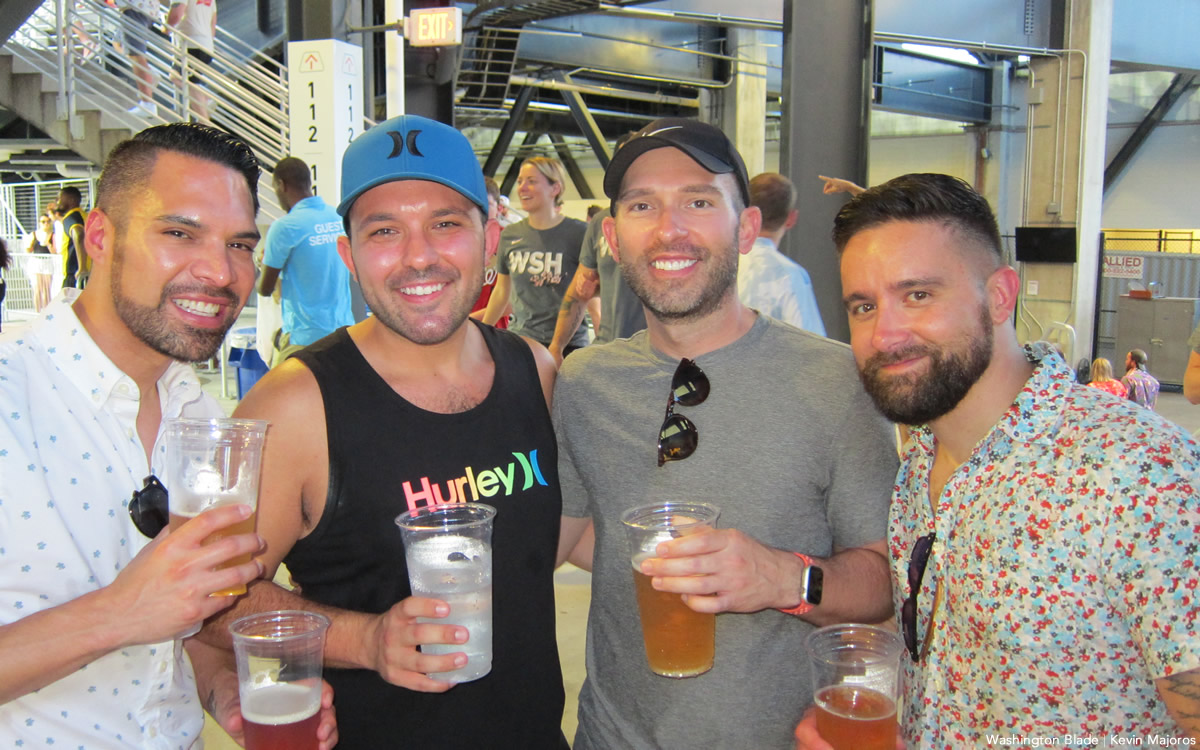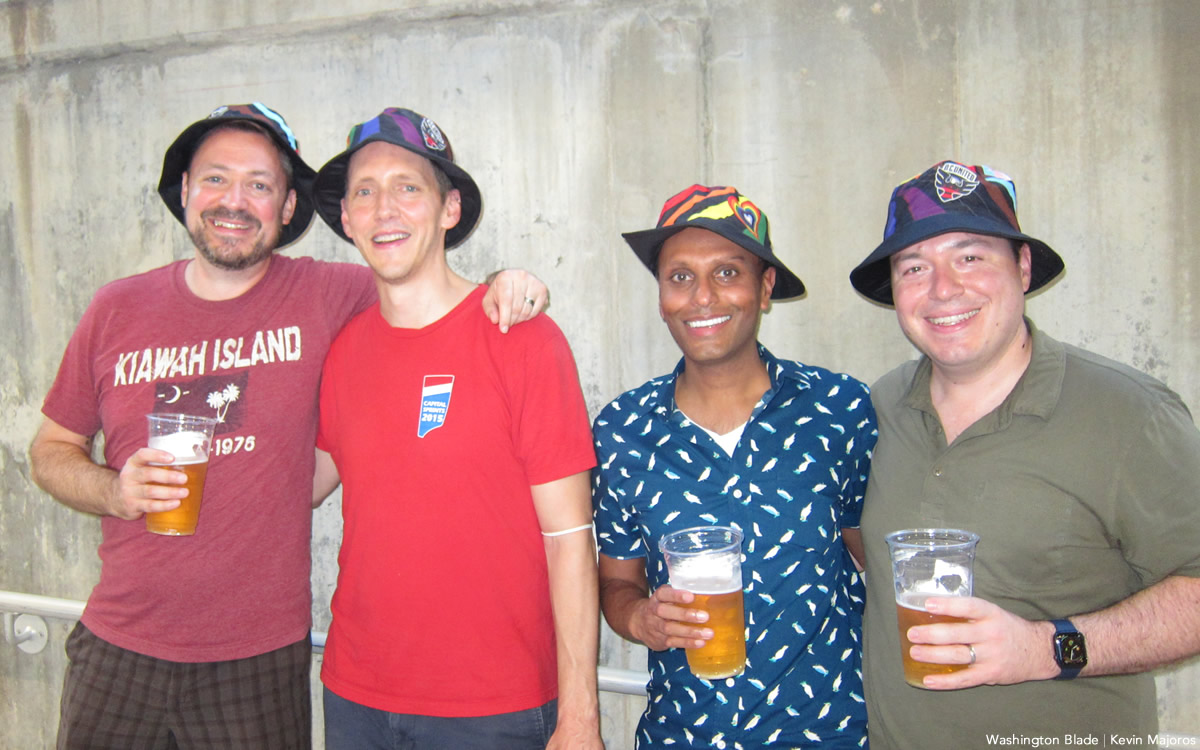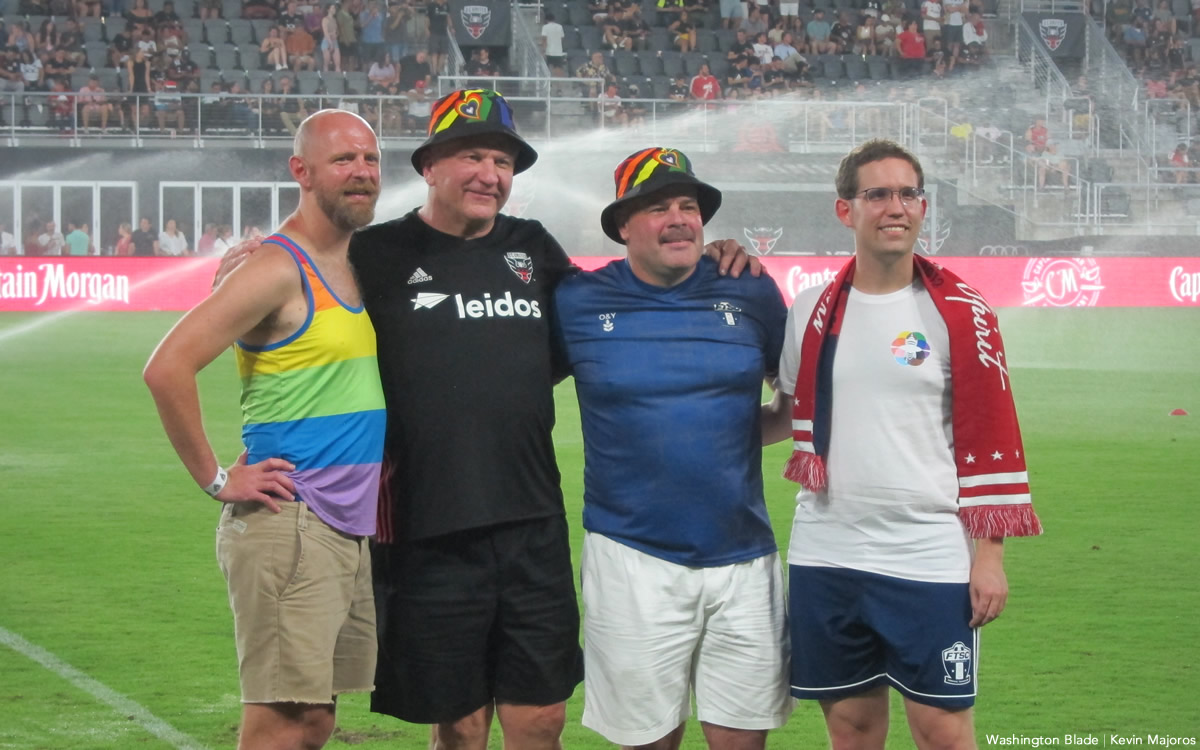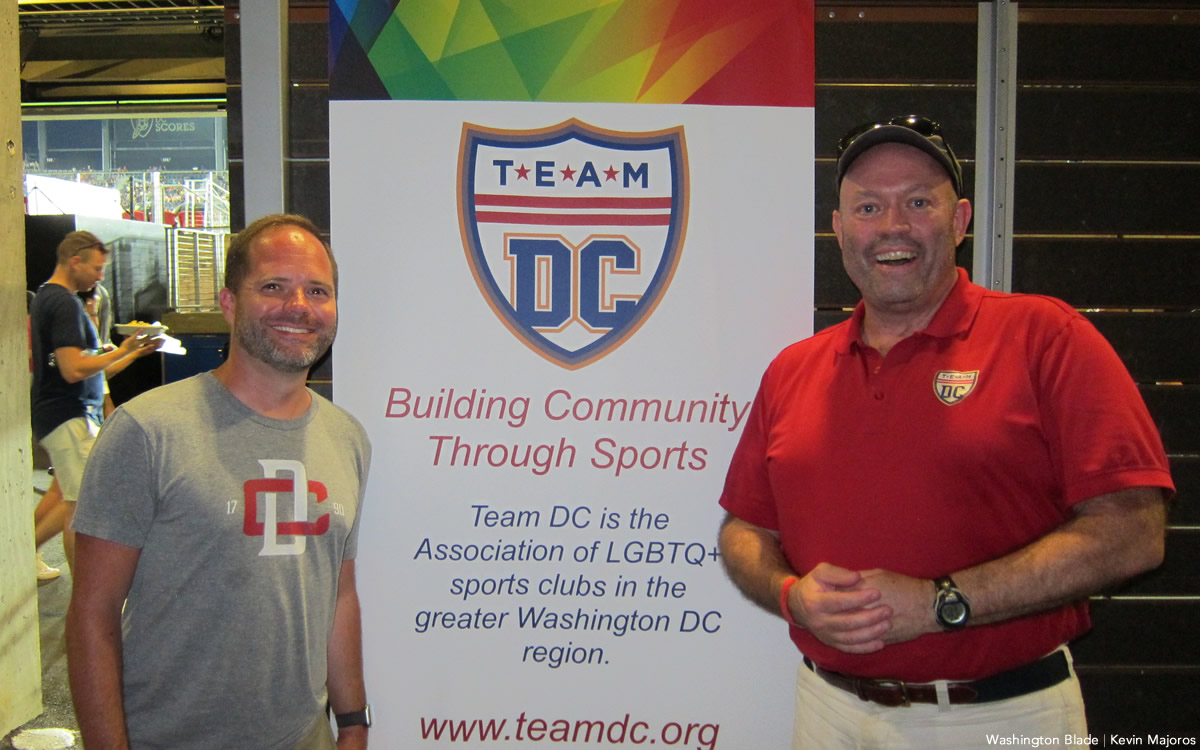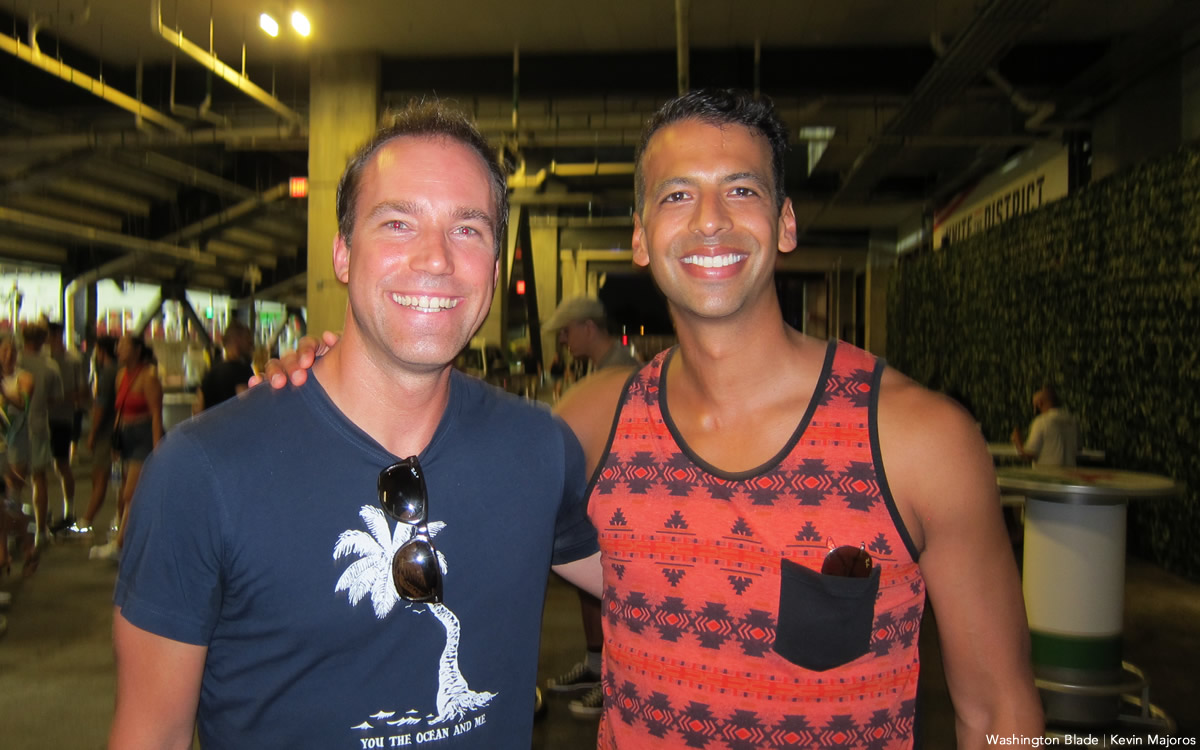 Abbi Jacobson engaged to her girlfriend Jodi Balfour
Last week, Jacobson and Balfour made their first red carpet debut at the Los Angeles premiere of A League of Their Own.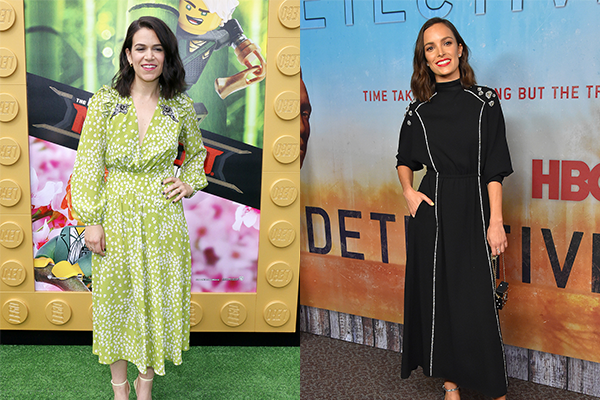 Abbi Jacobson, the Emmy Award nominee, is engaged to her girlfriend Jodi Balfour. She confirmed the news to People as she celebrated with her costars in the upcoming Amazon Video series A League of Their Own.
D'Arcy Carden, the costar and Jacobson's friend of 15 years, said, "It's out. It's great. We're so happy. We love [Jodi]."
"Abbi's engaged! Abbi's engaged! Abbi's engaged!" Chanté Adams, also a costar in the upcoming series, followed, "We've had to hide it for … No, I'm kidding."
"No, you have not. You have not had to hide it." Jacobson responded, blushing, "That was not a thing. It was not a secret."
Last week, Jacobson and Balfour made their first red carpet debut at the Los Angeles premiere of A League of Their Own.
The couple started dating in 2020 and celebrated their first anniversary last October. Jacobson shared some selfies of them on instagram: "One year with this incredible human. Don't know how I got so lucky ❤️."
Likewise, Balfour wrote in the caption: "365 days of the best surprise of my life 💚."
Jacobson officially came out as a bisexual in the interview with Vanity Fair. "I date men and women," she said, adding as long as the person is "funny" and is "doing something they love."
Balfour, a South African actress, is known for her performances on For All Mankind, Supernatural, The Crown and True Detective.
Jacobson is both cast and co-creator of A League of Their Own, in which she would tell the stories of these LGBTQ women in the 1940s. She also talked about Maybelle Blair, a consultant of the show as well as a former All-American Girls Professional Baseball League player who came out at 95.
"But Maybelle's point of view, specifically on the All-American Girls Professional Baseball League experience, what that was like to play baseball at the time, what it was like to be a queer woman in the league, was pretty important for some of the stories we were telling. But at Tribeca, she had not come out publicly and that was so incredible. And don't you feel like it's like, '95!' I'm like, 'This show needs to come out.' She came out because we made this show."
The first episode of A League of Their Own will be released on August 12.