From Russia with love
Dance diva Sasha Gradiva on fame, gays and guns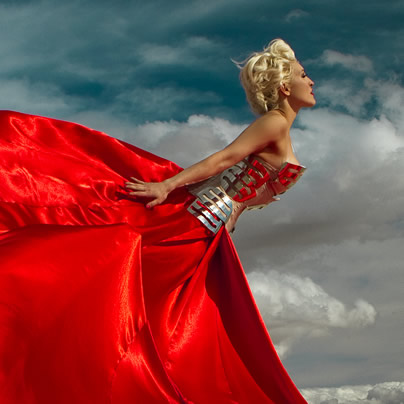 The main stage at Capital Pride is always an eclectic setting for all kinds of talent — from local legends to up-and-comers to household names. Although not technically considered one of the headliners — that honor is being shared jointly by Icona Pop, Cher Lloyd and Emeli Sande — Russian-born diva Sasha Gradiva, slated to go on at 6:51 p.m., has one of the envious culminating slots (for a full list of scheduled performance times, visit capitalpride.org).
Gradiva is starting to make a name for herself in the world of electronic dance music with songs like "I'm on Fire," "Wanted" (No. 3 on Billboard's Hot Dance Singles chart) and "Say My Name with Love, working often with producer Tricky Stewart (Rihanna's "Umbrella" and Beyonce's "Single Ladies").
Sasha Gradiva, "I'm on Fire"

In near-perfect English yet with a noticeable Russian accent, Gradiva, 28, took a half hour with us by phone on Memorial Day from her home in Los Angeles in which she discussed everything from her career, her reasons for leaving a successful music career in her homeland and why she got kicked out of the Grammys for attaching rifles to her dress last year. Her comments have been slightly edited for length.
Washington Blade: How are you spending the holiday?
Sasha Gradiva: I'm with some friends here in L.A. trying to figure out how we're going to spend the day.
Blade: You live in L.A., right?
Gradiva: Yes, but I travel madly so I don't get to spend much time here.
Blade: On average, how much are you home vs. on the road?
Gradiva: I'm probably gone about 70 percent of the time. I'll be out for three weeks, then back a week, then maybe out another four.
Blade: What are you doing musically these days?
Gradiva: I am working most often on new music. Writing and recording and getting a new show together, which I'm very involved in personally. Every single stage of the show. I pay a lot of attention to costume and sets and the videos that play on the screen behind me. My shows are very important and I'm making sure everything is exactly the way I want it.
Blade: Do you record mostly in L.A. or elsewhere?
Gradiva: Mostly in L.A. My single "Come With Us" is coming out very, very soon. We're literally putting the finishing touches on the campaign right now and working on the final mix. It's a very detailed process. I was performing a remixed version of it on my tour last year and got really amazing responses. People really love the track.
Blade: Will this be on an album, an EP or just a single release?
Gradiva: It's part of an EP, which we're hoping to release closer to August. I have maybe like 20 songs ready to record and that's what I'm focusing on while I'm here in L.A. There are a lot of producers in Tricky's camp I'm very lucky to get introduced to so we're trying to find something new. I'm working really hard to create something new that hasn't been done before.
Blade: So often in electronic dance music, the producers get much of the credit while some pop stars — not all certainly — are seen as the outlet but not really the visionary, more so than in other genres perhaps. Does that dynamic bother you?
Gradiva: No, because I'm very involved. My songs are really born out of guitar or I'll go to the studio and produce something basic on guitar myself or play my songs on the piano. I'm very involved, though. I pay attention to every lyric. I want something deep, meaningful and universal. I love the process — creating and perfecting.
Blade: Creating an image as a dance artist is so essential but is there ever a clash between being perhaps aloof or mysterious for a photo shoot or in a video or even on stage, but then in interviews or with social media presenting yourself to fans as a real person who eats, sleeps, shops, etc. like everyone else? Does one diminish the other?
Gradiva: I don't find it hard at all to be down to earth or to talk to fans. I totally say no because I think perception of art and show business has changed tremendously since maybe like 10 years ago and I literally feel that there's (in embracing) all the new things with social media and the internet, it broadens your reach in a lot of ways but at the same time, there's some anxiety because there's no curtain anymore. Even when you have nothing left to give. People can see through it all now and they'll know exactly who you are. They see your Tweets and your pictures and this wall is dissolved. It's good but it's challenging at the same time. The solution for this is just to relax and be available and be yourself and this will be the best protection from anxiety that you could have. We've chosen this path to be in front of many people and we commit to sharing our life and vision with them. It's an important gift, not a curse.
Blade: But did the old system allow celebrities to have more mystique?
Gradiva: The entire machine was working differently back then. Now that's just impossible. If you're going to be behind the curtain, you're going to stay behind the curtain. You need to be accessible and available and share everything with fans. That's why you'll be a successful artist, not because you hide something. It might be more difficult for the artists to deal with, but it's more honest. If an artist is dumb, fans will know right away. Of if you're not genuine, they'll pick up on that. It's a little bit brutal but it's honest and I prefer honesty.
Blade: You got a lot of press buzz for the guns you wore to the Grammys last year. When the dust settled, do you feel the message you wanted to convey came across or was there some sense you'd become simply "the girl in the gun dress."
Gradiva: I definitely got a lot of attention, which I didn't expect from the peace movement and the anti-violence movement. I meant it as a political statement if you will for people to pay attention to how much energy and money and sources the world spends on useless things. The most horrible things in the world are wars and producing weapons and drugs and when you think about how many things people could use this money for that would be so much better, people aren't even curious to hear the research that's been done on this which is very much available by the way. Our society just seems not to be there spiritually yet to address that. That was my attempt and we got good results. I want to do more socially to make the world a better place because I think that's exactly what we're supposed to do, not just sing and have fun.
Blade: Are you straight?
Gradiva: At the present time, yes.
Blade: How did you end up playing Pride events? Is it just a logical fit considering the kind of music you make or do you have some personal investment in the community?
Gradiva: I feel very connected to my gay audience. I guess it's a destiny. The gay audience has been the first ones to support my music. And it saddens me that in my native country, in Russia, they don't allow gay Pride. I will be fighting as much as I can for gay rights. It's definitely something that touches me a lot.
Blade: You had released a few albums in Russia and seemed to be on your way with a music career there. Why did you uproot and move to the U.S.?
Gradiva: All the music that inspired me growing up was from America and Europe — people like Michael Jackson, Cyndi Lauper, Depeche Mode — and I always wanted bigger stages, to travel the world. I'd had two albums that were very successful but at some point while I was still young I just thought, "Well, I want to move and do this — it will either be in this lifetime or in the next, so I decided to do it in this lifetime." My friends and colleagues thought I was completely out of my mind because it was not logical at all, but this is what I've done and the reaction in America so far has been so rewarding. It actually makes me cry, it's really touching.
Maximizing your homebuying strategy amid changing interest rates
Consult an expert when navigating unpredictable market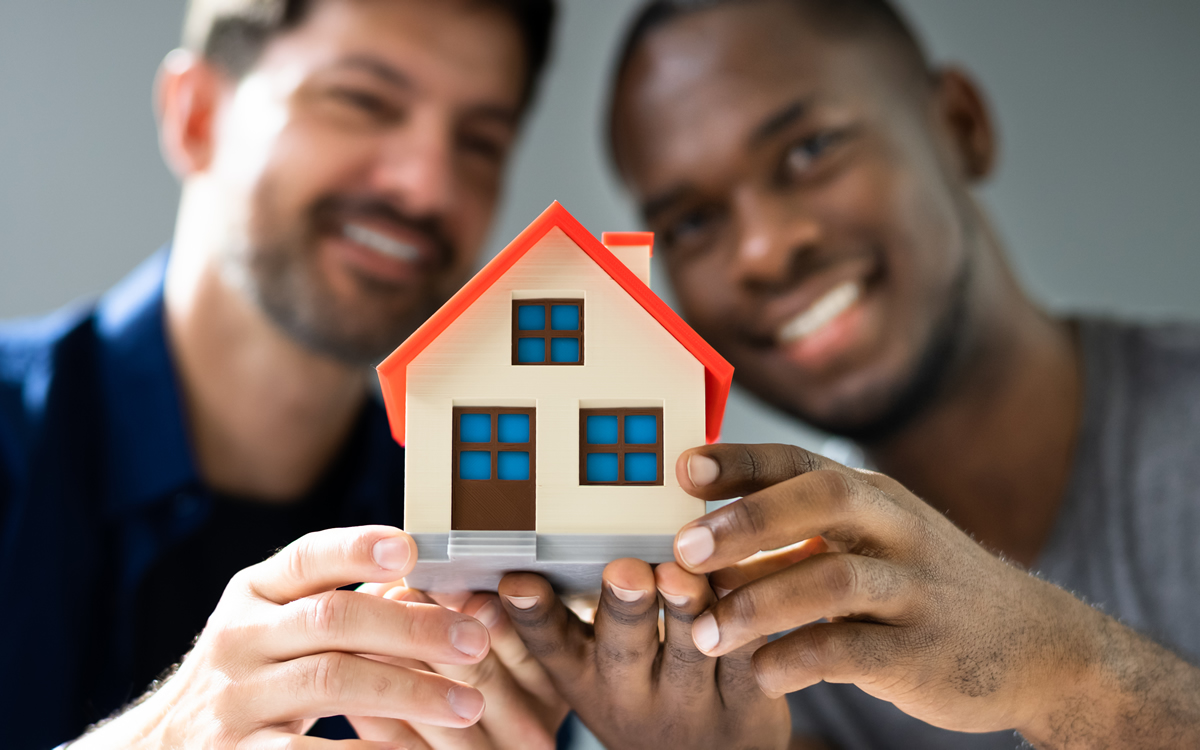 The Federal Reserve's recent decision to pause its rate hikes and signal potential reductions in 2024 has sparked a wave of interest among prospective homebuyers. As the housing market remains dynamic, many are wondering if now is the right time to connect with a LGBTQ Realtor and embark on the house hunting journey.
In today's real estate landscape, where factors like interest rates, market conditions, and personal financial readiness intersect, making informed decisions is key. Let's explore the considerations involved in maximizing your homebuying strategy, even in the face of potential interest rate reductions down the road.
Assessing the Current Market
Before diving into the homebuying process, it's crucial to understand the present real estate market conditions. Key factors include housing prices, inventory levels, and local real estate trends. These factors vary widely by location, and what may hold true in one area may not in another. The availability of homes, their affordability, and the demand for properties all play a role in shaping your homebuying experience.
Interest Rates and the Fed's Actions
While the Federal Reserve's influence on interest rates is substantial, it's essential to remember that mortgage rates are influenced by various factors, including market forces, economic conditions, and global events. Predicting the exact timing and extent of rate reductions can be challenging. It's wise to stay informed about financial news and seek guidance from experts when making rate-related decisions.
Your Financial Preparedness
Homeownership requires a solid financial foundation. Assess your readiness by considering factors such as your credit score, down payment savings, and debt-to-income ratio. Lenders scrutinize these aspects to determine your eligibility for a mortgage. It's vital to have a stable income and job security, as this will impact your ability to handle homeownership costs.
If you'd like to get pre-qualified for a mortgage, ask your real estate agent for a referral.
Long-Term Plans
Think about your long-term plans and how they align with homeownership. Are you planning to settle in the area for an extended period, or is this a short-term investment? Evaluate your financial flexibility and whether you can comfortably manage homeownership expenses like maintenance, property taxes, and insurance.
Consulting with a Realtor
Connecting with a Realtor who understands your goals and the local market is invaluable. Realtors from platforms like GayRealEstate.com can provide insights into market conditions, housing options, and potential investment opportunities. They can help you assess whether now is the right time to start the house-hunting process based on your unique circumstances.
Refinancing as a Future Option
While securing a lower interest rate in the future is a possibility, it's not guaranteed. Refinancing depends on your creditworthiness at that time and market conditions. Additionally, there are costs associated with refinancing, so it's essential to calculate whether the potential savings outweigh the expenses.
The decision to buy a home should be a well-thought-out process that considers multiple factors, including interest rates. While the prospect of rate reductions is enticing, it should be evaluated alongside other crucial elements that shape your homeownership journey. Consulting with real estate professionals at GayReaEstate.com will empower you to make informed decisions, ensuring your homebuying strategy is optimized to your advantage.
Jeff Hammerberg is founding CEO of Hammerberg & Associates, Inc. Reach him at 303-378-5526 or [email protected]. You can also visit GayRealEstate.com.
Gay clone wonders if he's part of an ant colony
Why do we cede control of our social lives to others?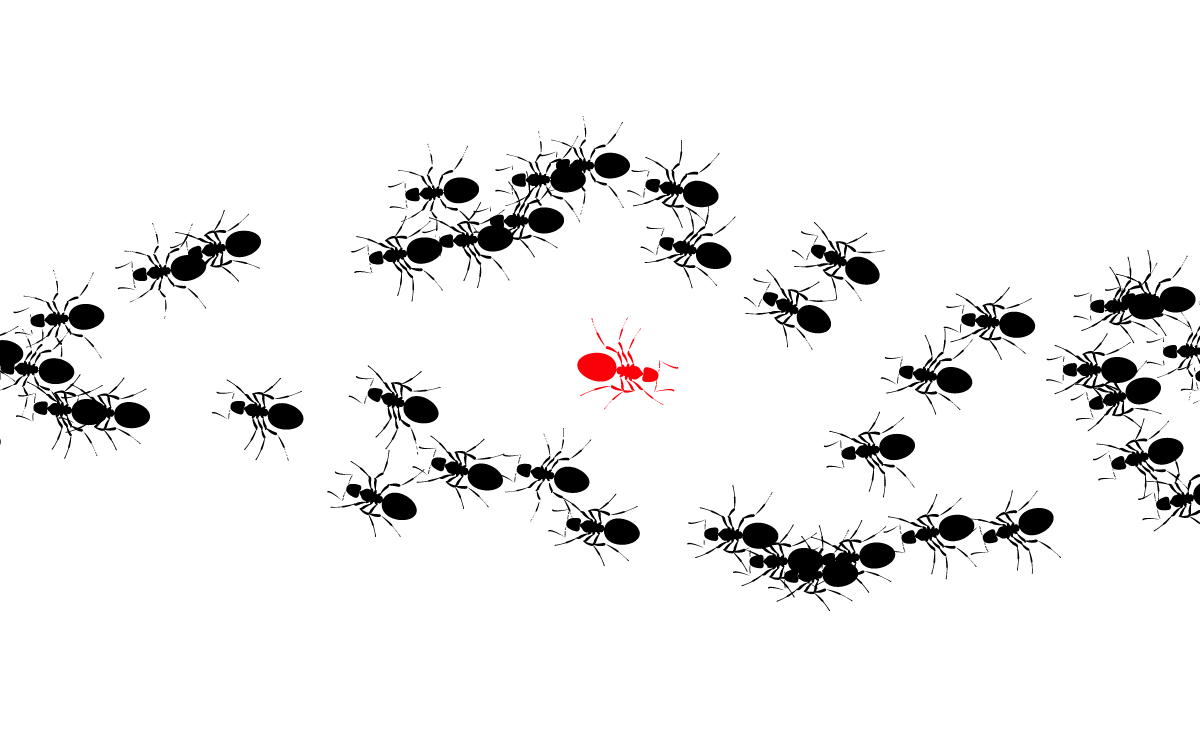 Michael,
Looking at some photos from my weekends at the beach this summer, it struck me that me and my friends (gay men in our 30s-40s) all pretty much look alike. Practically the same haircut, gym body, swimwear, smile. I almost couldn't tell who was who.
This got me thinking. I live in the same apartment building as a lot of my friends. We all have similar furniture and watch the same shows and eat at the same restaurants and go to the same clubs and dance to the same music and drink the same drinks and vacation in the same places and work out at the same gym and belong to the same sports leagues and go to the same concerts and have the same routines.
I'm not even sure who makes the decisions about what to do. Something is popular, or becomes popular, and it seems like fun and we're all doing it. Then it's on to the next thing. But who is deciding what all of us are doing, not doing, or no longer doing?
I think I'm happy, generally, having fun, but I have this strange feeling like I'm part of an ant colony instead of being an individual.
Is this just the way it is? We find our tribe and then we're all going through life together like this?
Michael replies:
I think you are facing an unavoidable dilemma that comes with being human. How much do you give up your own individuality to fit in? Put differently, what price are you willing to pay, to live an honest life and be known as the person you really are?
Did you come out—which takes great effort and brings some risks—to live a life that is right for you? Or to live pretty much the same life that your friends are living?
If you are happy doing all the same things as your friends, without even knowing for sure why you're spending your time (that is, your life) doing these things, no problem.
But you feel like you're part of an ant colony. So clearly, this way of living doesn't sit all that well with you.
What would you be doing if you weren't following the group agenda? How would you cut your hair? Would you go to the gym as much? What shows would you like (or not like) to watch? Where would you vacation? Do you like the drinks you're ordering?
And some more important questions: What do you deeply care about? What are your values? What are the sorts of things you want to dedicate your life to? Are you living in a way that reflects any of this?
This may be the only life you get. Using it well (in my view, at least) means deciding for yourself who you want to be and how you want to live.
Sometimes people are afraid to be different out of fear that they won't fit in with their friend group. People often tell me they're worried they will be criticized or viewed negatively for wanting to do things that are different from what "everyone" likes to do. No one wants to be left out of parties or dinners or vacation plans.
Do you think your friends would still want to spend time with you if you weren't always on board with "the plan," or suggested some new ideas for activities that you were genuinely interested in?
It's possible that if you start developing more of an individual identity, you might fit in less with some (or even all) of your friends. Feeling lonely or unpopular is not fun. You may have to decide if that's better or worse than putting on a persona to fit in and be accepted.
It's also possible that you can be more thoughtful about what you do, sometimes say "no" and still be part of your friend group.
Even if your friends aren't always on the same page, I'm hopeful you can continue to have close relationships with at least some of them. A real friendship should be able to tolerate different views and different interests. How could it be otherwise, when all of us are different in some big ways, even from our closest friends?
Thinking about your dilemma through this lens, you could view sharing more of yourself with your friends and letting them know you better as an invitation for greater closeness.
If you make any moves along these lines, perhaps you will find that some of your friends have similar feelings. You might be less alone than you think.
In any case, you will be choosing a more honest life and the opportunity to be known for whom you really are.
(Michael Radkowsky, Psy.D. is a licensed psychologist who works with couples and individuals in D.C. He can be found online at michaelradkowsky.com. All identifying information has been changed for reasons of confidentiality. Have a question? Send it to [email protected].)
New Workforce Program Aims to Help Expand Economic Opportunity for the Trans Community
Finding inclusion while pursuing sustainable careers.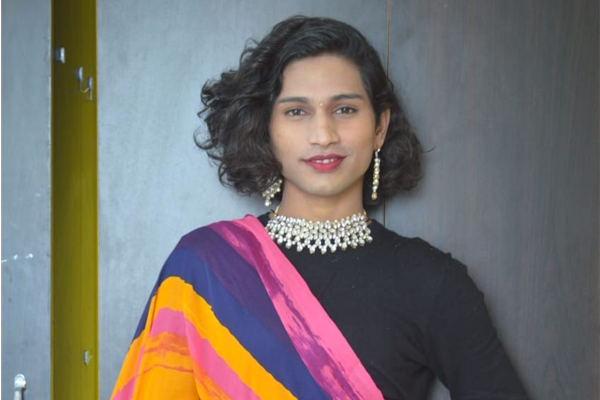 It was only a few years ago that Sudhesna Kusulia would travel 10 kilometers (about 6.21 mi) from her rural village in India to be able to connect to the internet.
The community she grew up in, Dangaria Kondh, had no network, electricity or constructed houses. When Kusulia got a smartphone in 2020, she gained a window to another world—one where she was able to explore the aspects of her identity she had suppressed since childhood.
"I realized I'm not alone," says Sudeshna, who identifies as a trans woman. "I belong in the LGBTQ+ community, there are millions of people like me living life authentically."
Growing up, Sudeshna had a love for fashion and Bollywood dancing, and recalls carefully selecting dresses and accessories for her sisters, while secretly wishing she could wear them herself. "The disconnect between my soul and the body I was in was very painful to experience," she explains. Facing these challenges, Sudeshna struggled with depression throughout her journey to self-acceptance. "From a young age, people started bullying me. I isolated myself. I would just cry in my bedroom, beating the wall with no one to hear my pain."
Social stigma, barriers to opportunities, and lack of family support often push transgender people to the fringes of the society. Though recent policy changes in India have reduced barriers and provided rights to the broader LGBTQ+ community— India's Supreme Court decriminalized consensual same-sex sexual relations in 2018 — there's still a long way to go, especially when it comes to advancing equity and inclusion for the country's gender expansive (transgender and non-binary) population.
India is the JPMorgan Chase's second largest market worldwide in terms of number of employees, where is has been providing services to clients since 1945. Today, the bank has expanded its presence in India, growing its corporate centers across the country, which act as strategic hubs for JPMorgan Chase. Here, employees are working at the forefront of cloud computing, machine learning, artificial intelligence, data science, operations and so much more that is used around the world.
At JPMorgan Chase, the Office of LGBTQ+ Affairs is committed to advancing equity and inclusion for the LGBTQ+ community globally. One of the ways the office works to do this is by ensuring all employees and potential employees have an equal opportunity to pursue their full potential and enjoy a fulfilling career. Recognizing both the unique struggles of the trans community in India as well as the immense talent pool that is leading the way for new business and innovation in the region, JPMorgan Chase worked with PeriFerry to create a transgender internship program in 2022. PeriFerry is a first-of-its-kind social enterprise in India that creates upskilling and employment opportunities for the gender expansive community.
"Across industry, we see that transgender and nonbinary people do not experience equal opportunities to thrive in their careers and achieve sustainable livelihoods," says Brad Baumoel, global head of JPMorgan Chase's Office of LGBTQ+ Affairs. "At JPMorgan Chase, we're committed to creating pathways for the next generation of trans and nonbinary leaders to develop and thrive in their careers."
Advancing careers in an inclusive workplace
When Sudeshna went to college in 2016 and came out to her parents in 2020, it was a turning point. She finally felt comfortable in her skin and felt ready to pursue her dreams. But while she was ready to enter the workforce, she was worried her identity would hold her back. A friend suggested she connect with PeriFerry.
Sudeshna landed a spot in PeriFerry's REVIVE program, a residential corporate training program designed for transgender individuals to venture into the workforce with confidence and acceptance, providing training opportunities in professional English communication, digital literacy, financial literacy, aptitude enhancement, resume building, and interview preparation. That's how she found JPMorgan Chase.
Through PeriFerry's REVIVE program, JPMorgan Chase creates dedicated internship roles to gender expansive people across the company's three corporate centers in India. The 20-week program, inclusive of on-the-job training, is made up of eight weeks of classroom training by PeriFerry, followed by a 12-week internship with JPMorgan Chase. The first and the second cohort had 13 and 11 transgender candidates respectively, who interned across different parts of the business and in operations teams. Interns also were able to participate with the bank's internal Gender Expansive Council, which organized sessions where employees shared their personal experiences as trans leaders at the bank.
Since the internship program launched in June 2022, it has resulted in the hire of over twenty full-time employees.
Connecting with the community for support
While her personal journey has been challenging, and despite rising anti-LGBTQ+ laws and sentiment across the globe, Sudeshna wants to inspire other transgender youth to recognize the beauty in themselves. "It's a struggle for us. It will take decades before we feel complete acceptance, but it needs to be done. It has to be done," she says.
According to Sudeshna, the two critical areas that the trans community needs support on are finding steady, respectful employment and a good, safe place to live. Across the globe, JPMorgan Chase supports nonprofits dedicated to advancing economic inclusion for the most vulnerable members of the LGBTQ+ community, including transgender youth and elder communities.
Learn more about how JPMorgan Chase is helping expand economic opportunity for the LGBTQ+ community, and advance equality and inclusion for employees globally.
Visit our careers page for opportunities.
© 2023 JPMorgan Chase & Co. All rights reserved. JPMorgan Chase is an Equal Opportunity Employer, including Disability/Veterans.