July 11, 2013 at 1:03 pm EDT | by Valerie Blake
Common sense becomes common law
Ding-dong! The wicked witch DOMA is dead!
As new brides and grooms exchange wedding vows in D.C., Maryland, California, and in 11 other states across the country, the Supreme Court in its ruling on the Defense of Marriage Act may have let Pandora Boxx out of, well, Pandora's Box.
After a round of congratulations and a toast or two, I stepped back to focus on what this may mean in the world of real estate. Interestingly, the demise of DOMA brings with it more questions than answers at this point.
In our area, there are up to three ways that two or more people can take title to a property as outlined in general below. When purchasing a home, however, be sure to consult with your title attorney to determine the best situation for you and your loved ones.
Tenants in Common: Tenants in common have undivided interests in the property but the amount of each person's interest (share) need not be equal. There is no right of survivorship and each person's ownership may be passed upon death in accordance with his or her will or trust.
Joint Tenants with Right of Survivorship: More commonly, two or more people may purchase property as joint tenants, where their shares are equal. Upon the death of one, the property passes automatically to the other(s).
Tenants by the Entirety: This type of ownership is reserved for married couples and provides the best protection from creditors for real property assets.
According to Stan Goldstein, president, Capitol Title Insurance Agency, Inc., "the effect of the DOMA case on real estate transactions in the District of Columbia and Maryland will be minimal, if any, since both jurisdictions already recognize same-sex marriage and a same-sex married couple can take title as Tenants by the Entirety just like an opposite-sex couple may. Virginia does not have a same-sex marriage law and a same-sex couple may not take title as Tenants by the Entirety."
Goldstein goes on to say that further regulations, acts of Congress and future lawsuits may be needed to fully clarify and implement the court's decision, since there are more than 1,000 statutes affected and each one has different language concerning eligibility.
"For example," he asks, "is it the 'state of celebration' (where the couple was married) which determines eligibility or the 'state of domicile' (where the couple lives) which determines eligibility?" Only time, and maybe some litigation, will tell.
With a great many issues still to be resolved, those that could have the greatest impact on the ability to purchase sell, or rent real property seem to be the ruling's effect on federal financial benefits such as Social Security and Medicare, federal taxes, bankruptcy and estate planning, military and veterans' benefits, and of course, federal lending and housing laws.
Think for a moment about your spending patterns and how the ruling may affect your disposable income.
Do you currently spend more for federal taxes, family health insurance, or other federally sponsored or mandated programs than your different-sex married friends?
Will you soon be applying for a federal retirement plan or Medicare where your spouse may also be entitled to benefits? Have you declared bankruptcy and been unable to wipe out the debts of your spouse?
Now add to that potential changes affecting mortgage loans.
Are you a veteran who wants to use your housing benefits and have your same-sex spouse on the deed without going through a lengthy and often frustrating review process at the Veteran's Administration? Will there now be other government loans you may qualify for? Have you been considering a reverse mortgage where benefits may be available to a surviving spouse?
Finally, consider where you may want to live. With your spouse on a military base? In a state where same-sex marriage is not yet legal? As an expatriate in a foreign country while still collecting benefits from federal sources in the U.S.?
Yes, there is still a smorgasbord of questions to be answered, but isn't it nice that more guests are finally invited to the banquet?
Valerie M. Blake can be reached at 202-246-8602 or at Valerie@DCHomeQuest.com. Prudential PenFed Realty is an independently owned and operated broker member of BRER Affiliates, Inc. Prudential, the Prudential logo and the Rock symbol are registered service marks of Prudential Financial, Inc. and its related entities, registered in many jurisdictions worldwide.  Used under license with no other affiliation with Prudential. Equal Housing Opportunity.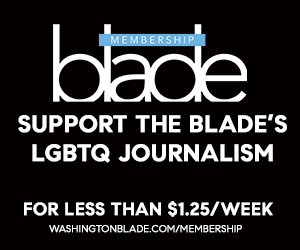 Sign Up for Blade eBlasts