EXCLUSIVE: Fla. congresswoman meets with Cuban LGBT rights activists
Ileana Ros-Lehtinen met with Wendy Iriepa Díaz and Ignacio Estrada Cepero.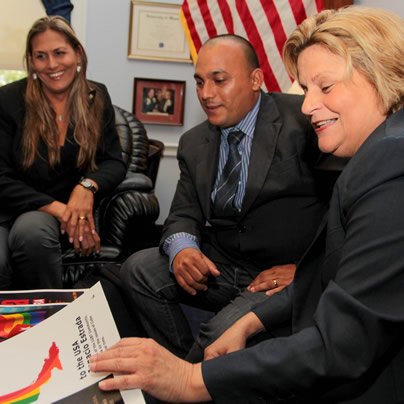 Florida Congresswoman Ileana Ros-Lehtinen on Wednesday met with two Cuban LGBT rights activists in her Capitol Hill office.
The Washington Blade had exclusive access to the majority of the meeting between the Cuban-born Republican who represents portions of Miami-Dade County and Wendy Iriepa Díaz and Ignacio Estrada Cepero that lasted more than half an hour.
Estrada, who founded the Cuban League Against AIDS in 2005, dismissed the Cuban government's claims that people with HIV/AIDS receive free anti-retroviral drugs and other treatment under the island's health care system. He and Iriepa, a transgender woman whom he married in a high-profile wedding in the Cuban capital of Havana in 2011, also criticized Mariela Castro, the daughter of President Raúl Castro who is the director of Cuba's National Center for Sexual Education (CENESEX) that has publicly backed LGBT rights in the country.
Cuba has offered free sex-reassignment surgeries to trans Cubans under the country's health care system in 2008.
Iriepa, who worked for CENESEX for seven years until she married Estrada, underwent the procedure herself in 2007. She told the Blade during an interview earlier this week that only 20 trans Cubans have received SRS since the law changed – and CENESEX determines those who will actually receive it.
Estrada and Iriepa arrived in D.C. on Monday and are scheduled to return to Miami tomorrow.
They are in the nation's capital less than three months after Mariela Castro traveled to Philadelphia to receive an award from Equality Forum, an LGBT advocacy group.
Mariela Castro in May 2012 appeared on a New York City panel with Rea Carey, executive director of the National Gay and Lesbian Task Force. Mariela Castro also met with LGBT rights advocates in San Francisco while she was in the U.S.
"With these international trips, with this amount of recognition she has undermined the work of the (Cuban) LGBT community," Estrada told Ros-Lehtinen as he showed her posters of Pride walks and other events that he and other Cuban LGBT rights advocates organized independent of CENESEX. "You are seeing a broken policy."
Ros-Lehtinen applauded Estrada and Iriepa at the end of the meeting.
"I feel very honored to be able to meet you," she said. "I am grateful to you for filling this tremendous role inside of Cuba that is certainly not easy."
"It's very important for the U.S. community to understand what is the status of LGBT rights and the denial of rights in Cuba," Ros-Lehtinen told the Blade after the meeting. "Mariela Castro, as part of the regime, has been on a propaganda tour internationally and here in the U.S. especially trying to sell this facade that is really non-existent in Cuba."
A Cuban government representative did not immediately return the Blade's request for comments about Estrada and Iriepa's meeting with Ros-Lehtinen.
Va. Senate subcommittee tables anti-transgender student athlete bill
Virginia Beach Republican introduced SB 766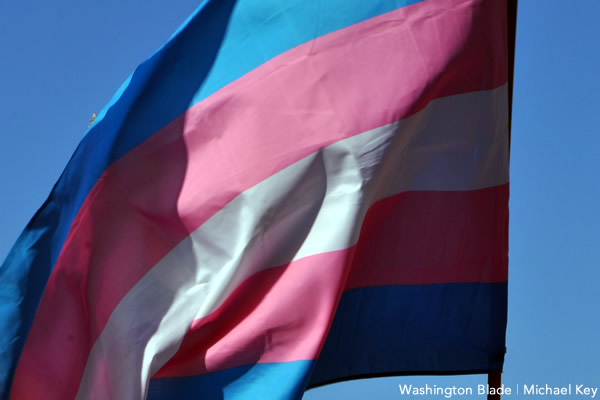 A Virginia Senate subcommittee on Thursday tabled a bill that would have banned transgender students from joining school sports teams that are consistent with their gender identity.
Senate Bill 766, which state Sen. Jennifer Kiggans (R-Virginia Beach) introduced on earlier this month, would have required "each elementary or secondary school or a private school that competes in sponsored athletic events against such public schools to designate athletic teams, whether a school athletic team or an intramural team sponsored by such school, based on biological sex as follows: (i) 'males,' 'men,' or 'boys'; (ii) 'females,' 'women,' or 'girls'; or (iii) 'coed' or 'mixed.'"
"SB 766 (trans sports ban) was passed by indefinitely (it died!) after a long line of speakers testified against it, affirming trans students' rights to participate in sports just like their cisgender peers," tweeted the American Civil Liberties Union of Virginia after the vote. "Trans students belong in sports. Period."
Republican Gov. Glenn Youngkin during his campaign said he does not support allowing trans children to play on sports teams that are consistent with their gender identity.
The General Assembly's 2022 legislative session began on Jan. 12 with Republicans in control of the House of Delegates. Democrats still control the Senate by a 21-19 margin.
A bill that would have eliminated the requirement that school districts implement the Virginia Department of Education's trans and non-binary student guidelines died in a Senate subcommittee on Thursday. The Senate General Laws and Technology on Thursday also tabled a religious freedom measure that would have undermined Virginia's LGBTQ-inclusive nondiscrimination law.
Two anti-LGBTQ bills die in Va. Senate
Democrats maintain 21-19 majority in chamber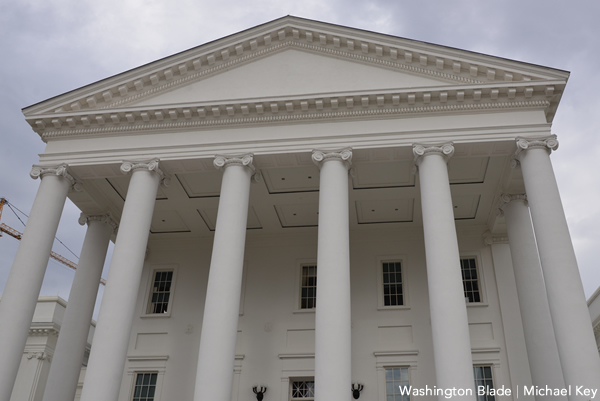 Two anti-LGBTQ bills died in the Virginia Senate on Thursday.
A Senate Education subcommittee voted against state Sen. Travis Hackworth (R-Tazewell County)'s Senate Bill 20, which would have eliminated the requirement that school districts must implement the Virginia Department of Education's transgender and non-binary student guidelines.
The Senate General Laws and Technology Committee in an 8-7 vote tabled state Sen. Mark Peake (R-Lynchburg)'s Senate Bill 177, a religious freedom measure that critics contend would have allowed anti-LGBTQ discrimination in housing.
Virginia's statewide nondiscrimination law includes sexual orientation and gender identity. Peake's bill would have removed "the provision of the exemption for religious organizations under the Virginia Fair Housing Law that denies such exemption where the membership in such religion is restricted on account of race, color, national origin, sex, elderliness, familial status, sexual orientation, gender identity, military status, or disability."
The General Assembly's 2022 legislative session began on Jan. 12 with Republicans in control of the House of Delegates. Republican Gov. Glenn Youngkin took office three days later.
Democrats, who maintain a 21-19 majority in the state Senate, have vowed to block any anti-LGBTQ bill.
State Department reiterates concerns over Chechnya human rights record
Anti-LGBTQ crackdown continues to spark outrage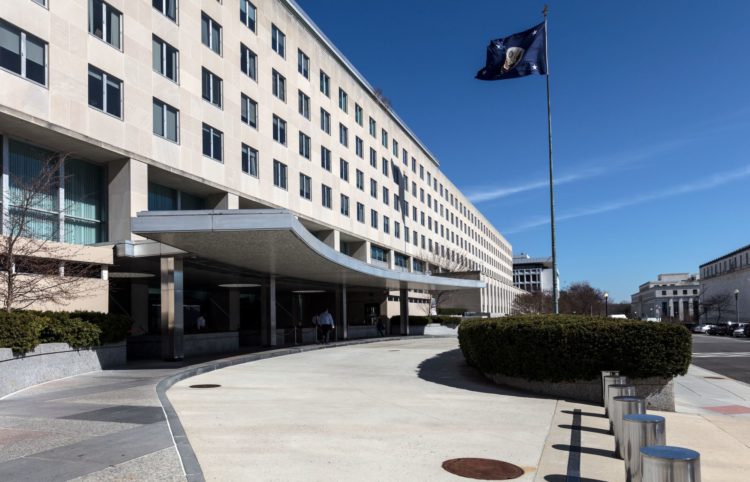 The State Department on Thursday reiterated its concerns over Chechnya's human rights record that includes an ongoing anti-LGBTQ crackdown.
"We reject Chechnya Head Ramzan Kadyrov's baseless attempts to malign human rights defenders and independent journalists and we urge him to end authorities' targeting of those who dissent, LGBTQI+ persons, members of religious and ethnic minority groups, and others, including through reprisals against their family members," said spokesperson Ned Price in a statement. "We call on Russian federal authorities to refrain from enabling repressive acts, including acts of transnational repression, originating in Chechnya and to bring those responsible for continuing egregious human rights violations in Chechnya to justice consistent with the law of the Russian Federation and Russia's international human rights obligations."
Price in his statement also said the U.S. "is troubled by continuing reports of abductions and arbitrary detentions carried out by authorities in Russia's Republic of Chechnya, including dozens of reported abductions and arbitrary detentions in recent weeks targeting the relatives of Chechen human rights defenders and dissidents."
"In addition to cases within Chechnya, there have been numerous instances of individuals being detained in other parts of the Russian Federation and forcibly transferred to Chechnya, such as Zarema Musayeva, the mother of human rights lawyer Abubakar Yangulbayev. Musayeva was taken from Nizhny Novgorod last week," said Price. "We call for the immediate release of all who have been unjustly detained. We are also concerned by reports that Chechen authorities are using such pressure tactics against the relatives in Chechnya of dissidents living outside the Russian Federation. Such acts, which harm entire families, is an especially pernicious form of repression."
The anti-LGBTQ crackdown in Chechnya continues to spark worldwide outrage.
Chechen authorities in April 2020 arrested two brothers, Salekh Magamadov and Ismail Isaev, after they made a series of posts on Osal Nakh 95, a Telegram channel that Kadyrov's opponents use. Magamadov and Isaev were reportedly forced to make "apology videos" after they were tortured.
The Russian LGBT Network helped the brothers flee Chechnya, but Russian police last February arrested them in Nizhny Novgorod. Chechen authorities brought them back to Chechnya.
Magamadov and Isaev last month reportedly began a hunger strike after a judge denied their request to have another court hear their case. The Crisis Group "North Caucasus SOS" that represents the brothers said the Supreme Court of Chechnya on Wednesday denied their request for a different venue.