September 11, 2013 at 3:00 pm EDT | by Staff reports
Pink Tuesday?
By RYAN ROSADO
Get ready for some major diva action this fall — from legends like Cher and Elton to red-hot-at-the-moment Icona Pop, this fall's album releases should pack some major aural wallop.
Gloria Estefan returns with her latest offering "The Standards," which dropped this week. Estefan takes on The Great American Songbook this time around, experimenting with jazz and soulful classics such as "What a Wonderful World" and "The Way You Look Tonight."  The lead single for the album is "How Long Has This Been Going On." Listen for guest work from gay sax man Dave Koz.
Gay staple Goldfrapp also has an album out this week, "Tales of Us," which finds the group returning to its ambient down-tempo sound featured on their debut album, "Felt Mountain." Their most conceptual LP to date, "Tales of Us" leads off with the melodic ballad single "Drew."
Sheryl Crow released "Feels Like Home" this week. It's being billed as her most country-influenced album to date.
Gay singer, activist and feminist Sonia Rutstein and Disappear Fear release their 17th album "Broken Film" on Sept. 17. Fun/peppy "Be Like You" is the first single.
Cher's "Closer to the Truth" is out Sept. 24, her first studio album since 2001's "Living Proof." Lead single "A Woman's World" hit No. 1 on the Billboard Dance/Club Play Chart. The album also features production from Pink co-writing two tracks and Timbaland producing one. Scissor Sisters front man Jake Shears joins her for duet "Take It Like a man."
It doesn't get much gayer than Pink Martini, the gay-helmed band set to release "Get Happy" on Sept. 24. Guests include everyone from the late Phyllis Diller (on a cover of Charlie Chaplin's "Smile" of all things) to the Von Trapps to regular collaborator Are Shapiro to gay singer/songwriter Rufus Wainwright.
Capital Pride vets Icona Pop also have a Sept. 24 project planned — debut album "This is … Icona Pop," which will feature double platinum hit "I Love It," second single "All Night" and nine other cuts from the EDM duo.
The 24th is shaping up to be perhaps the gayest musical release day in history. Besides those already mentioned, Elton John's "The Diving Board" is also set to drop that day. Written and recorded in 10 days, expect 12 new songs and three piano interludes from John who worked with usual suspects Bernie Taupin and T Bone Burnett for this first solo album in seven years.
Sweeping the MTV Video Music Awards recently by winning the Michael Jackson Video Vanguard Award and Video of the Year, Justin Timberlake is back with "The 20/20 Experience Pt. 2."  Set for release on Sept. 30. Timberlake's fourth full-length LP will feature collaborations with Jay-Z, Drake and trademark sounds by Timbaland.
Also making quite the impression at the VMAs earlier this year was diva in the making, Miley Cyrus. Her latest offering "Bangerz" is scheduled to drop on Oct. 8. Along with the summertime top five smash "We Can't Stop," Cyrus' fourth disc will feature collaborations with Britney Spears and Ludacris. Hannah Montana is all grown up folks.
TLC plans another retrospective, this time with four new songs, slated to drop Oct. 15.
Katy Perry returns with her third studio album "Prism" set for an Oct. 22 release. The lead-off single "Roar" has already reached No. 1 on the Billboard Hot 100.  Perry's latest set will also include a song co-written by 2013 Capital Pride performer Emeli Sandé. The ferocious diva has revealed her latest record is "more stripped down" and won't contain "any darkness," despite a recent divorce.
Gay pop legend Boy George is set to release his first studio album in 18 years on Oct. 28.  His new disc "This Is What I Do" includes 12 new tracks produced by longtime collaborators such as Richie Stevens and John Themis.  George revealed his new album is a "baggy" record and "not overproduced."
After two years of recording, Lady Gaga remerges also with her third studio album "Artpop" dropping Nov. 11.  "Artpop's" first single "Applause" has reached the top 5 on the Billboard Hot 100 already. The pro-LGBT diva's latest offering will feature production by several DJs including DJ White Shadow, Madeon and Zedd.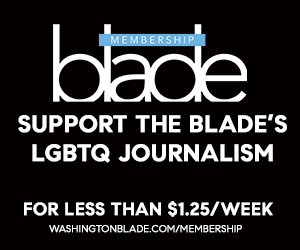 Sign Up for Blade eBlasts