Calendar through October 3
Events through Oct. 3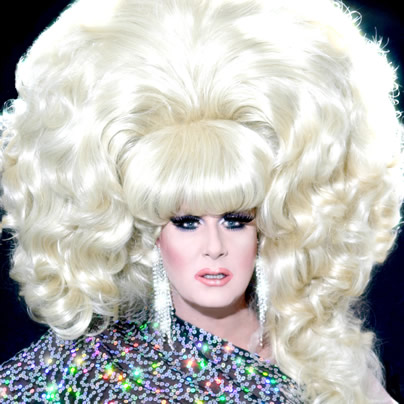 Friday, Sept. 27
The Arlington Gay and Lesbian Alliance (AGLA) and Imperial Court host their USO-themed Show at Freddie's Beach Bar (555 23rd St., Arlington, Va.,) tonight at 8 p.m. The show is a tribute to the United States military and a celebration of the second anniversary of the repeal of "Don't Ask Don't Tell." There is a suggested door donation of $10. For details, visit their Facebook events page.
Whitman-Walker hosts free HIV testing at Town (20009 8th St., N.W.) tonight from 8 p.m.-midnight for National Gay Men's HIV/AIDS Awareness Day. For more details, visit towndc.com.
SMYAL hosts "The Body Party" at Foundry Methodist Church (16th and P streets N.W.) tonight from 7-10 p.m. The party celebrates the end of #SafeSextember and is open to LGBT and allies. The winner of tickets and transportation to Six Flags Fright Fest will be announced. For more information, visit smyal.org.
Saturday, Sept. 28
The Gertrude Stein Democratic Club hosts its 37th Annual Leaderships Awards Reception at Sonoma Restaurant and Wine Bar (223 Pennsylvania Ave., S.E.) today from 2-4 p.m. D.C. leaders who have contributed to policies protecting transgender people, young queer people of color and older LGBT Americans will be honored. Light food and drink will be served. Tickets are $75 and can be purchased online and at the door. For more details, visit steindemocrats.org.
The American Foundation for Suicide Prevention hosts its Out of the Darkness Community Walk at Constitution Gardens (17th St. and Constitution Ave.) today at 5 p.m. Registration is from 3-5 p.m. Proceeds benefit local and national suicide prevention and awareness programs. For more information, email [email protected] or visit afsp.donordrive.com.
Cobalt (1639 R St., N.W.) hosts its "CTRL" dance party tonight from 10 p.m-3 a.m. Cover is $5. There will be $3 PBR Tallboys, $5 rail drinks and $4 Jameson shots. For details, visit cobaltdc.com.
Legendary drag entertainer Lady Bunny performs at Town (2009 8th St., N.W.) tonight. Doors open at 10 p.m. Drag show begins at 10:30 p.m. Cover is $8 from 10-11 p.m. and $12 after 11 p.m. $3 drinks before 11 p.m. Admission is limited to guests 21 and over. For more information, visit towndc.com.
Sunday, Sept. 29
Special Agent Galactica begins her four-week run with guitarist Peter Fields at L'Enfant Cafe (2000 18th St., N.W.) tonight at 7 p.m. A mix of jazz, blues and today's hits will be performed. Admission is free. For details, visit lenfantcafe.com.
Perry's (1811 Columbia Rd., N.W.) hosts its weekly "Sunday Drag Brunch" today from 10 a.m.-3 p.m. The cost is $24.95 for an all-you-can-eat buffet. For more details, visit perrysadamsmorgan.com.
Adventuring, an LGBT outdoors group, host a bike ride along Mt. Vernon Trail meeting at Columbia Island Marina (George Washington Memorial Pkwy., Arlington, Va.,) near the snack bar today at 11 a.m. All levels of experience welcome. Bring your own lunch or buy it during the planned stop at Firehook Bakery (430 S Washington St., Alexandria, Va.,) or at the Mount Vernon concessions. Helmet is required but any type of clothing may be worn. For more information, visit adventuring.org.
Monday, Sept. 30
PEN/Faulkner, Folger and Library of Congress host "District of Literature" today at Library of Congress (101 Independence Ave., S.E.) in the Thomas Jefferson building and The Church of the Reformation (212 East Capitol St., S.E.) from 9:30 a.m.-10 p.m. There will be readings from writers Dolores Kendrick, George Pelecanos and Elizabeth Alexander among others. A public reception at Folger Shakespeare Library (201 East Capitol St., S.E.) in the Exhibition Hall will be from 9-10 p.m.  Admission for all events is free. For more details, visit folger.edu.
Frank Bruni , The New York Times first openly gay op-ed columnist, speaks at Goucher College's Kraushaar Auditorium (1021 Dulaney Valley Rd., Baltimore) tonight at 8 p.m. Tickets are $10 and must be purchased in advance. For more information or to purchase tickets, visit goucher.edu/tickets or call 410-337-6333.
The D.C. Center (1318 U St., N.W.) hosts coffee drop-in hours this morning from 10 a.m.-noon for the senior LGBT community. Older LGBT adults can come and enjoy complimentary coffee and conversation with other community members. For more information, visit thedccenter.org.
Men's Circle for gay, bi, trans and questioning men is tonight from 7-9:30 p.m. at a location near the Convention Center. The men meet to discuss thoughts, feelings and life in general. To RSVP and find out location, e-mail Randy Marks at [email protected].
Tuesday, Oct. 1
Parents, Families, and Friends of Lesbians and Gays (PFLAG) hosts "A Fall Party" for its 30th anniversary at former Councilmember of D.C. Carol Schwartz's home (2029 Connecticut Ave., N.W.) from 6-8 p.m. tonight. Tickets are $30. For more details or to purchase tickets, visit pflagdc.org or call 202-638-3852.
D.C. Strokes, a LGBT rowing club, hosts a meet and greet happy hour at Nellie's Sports Bar (900 U St., N.W.) tonight from 7-9 p.m. Meet current teammates and those curious about rowing. For details, visit dcstrokes.org.
Green Lantern (1335 Green Ct., N.W.) hosts its weekly FUK!T Packing Party tonight from 7-9 p.m. tonight. For more details, visit thedccenter.org or greenlanterndc.com.
Wednesday, Oct. 2
Bookmen D.C., an informal gay men's literature group, discusses Tom Spanbauer's novel "The Man Who Fell in Love With the Moon" tonight at 7:30 p.m. at Tenleytown Library (4450 Wisconsin Ave., N.W.). All are welcome. Visit bookmendc.blogspot.com for details.
Town (2009 8th St., N.W.) hosts the "Semi-Annual D.C. Gay Flag Football League and Stonewall Sports Mixer" tonight from 7:30-10:30 p.m. Wearing your league T-Shirt/jersey is encouraged. There is a $10 suggested donation that will benefit the Team D.C. Scholarship Fund and the D.C. Center. For more information, visit towndc.com.
The Bachelor's Mill (1104 8th St., S.E.) hosts happy hour from 5-7:30 p.m. today. All drinks are half price. Enjoy pool, video games and cards. Admission is free. For more details, visit bachelorsmill.com.
Us Helping Us (3636 Georgia Ave., N.W.) hosts a support group for black men living with HIV/AIDS tonight from 7-9 p.m. For more details, visit uhupil.org or call 202-446-1100.
Thursday, Oct. 3
Author Juan Ahonen-Jover reads from his book "The Gay Agenda 2013: All In" at the D.C. Center (1318 U St., N.W.) tonight at 7 p.m. He will discuss both LGBT equality in D.C. and in New York City. For more information, visit thedccenter.org.
NOVA Dynamic Lesbians host its monthly happy hour at the Pinzimini  Lounge at the Westin Hotel (801 N. Glebe Rd., Arlington, Va.,) at 7 p.m. tonight. Valet parking is free with a validated ticket. For more details, visit meetup.com/dynamic2595.
Taste of Pride celebrates LGBTQ and allied restaurants
Weeklong event will feature local eateries and bars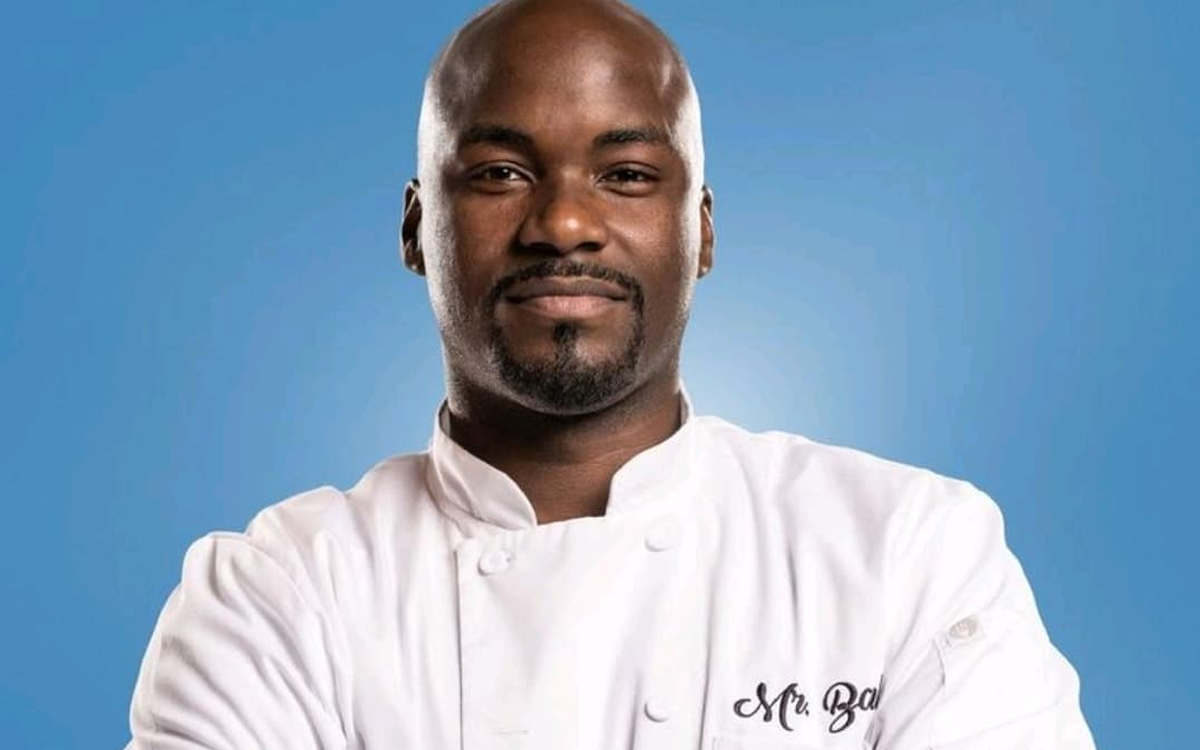 Get ready to celebrate LGBTQ-owned, managed, and allied restaurants at Taste of Pride from Oct. 2-8.
The weeklong event is a new initiative by Capital Pride Alliance. In 2021, the organization put on a single-day brunch event in June at LGBTQ and allied restaurants, but this is the first weeklong iteration.
About 15 local restaurants and bars are set to participate, including As You Are, Shaw's Tavern, Jane Jane, and Code Red. There's also an opening party on Monday, Oct. 2 featuring food and drink vendors without a traditional brick-and-mortar space, like Suga Chef and Vegan Junk Food.
Taste of Pride will raise funds for the Pride365 fund, which supports local LGBTQ organizations. There will be a three-course prix fixe menu at several of the participating locations, with lunch and brunch menus offered at $30, and dinner menus offered at $40 or $55.
Kareem Queeman, known as Mr. Bake, will be headlining the opening event on the evening of Oct. 2 at Lost Generation Brewery. Queeman, the founder and owner of the renowned bakery Mr. Bake Sweets and a James Beard Award semi-finalist, said he's excited to spotlight LGBTQ chefs and mixologists.
Queeman said he's proud to be a part of bringing queer culinary experts together to celebrate the work they've all done and discuss what changes need to come to the industry — there will be a panel discussion on Oct. 2 covering those topics. LGBTQ chefs have long gone unnoticed, he said, despite the innovative work they've done.
"Queers have been in the industry doing the work for a very long time and we just haven't really gotten that acknowledgment," Queeman said.
Providing this space for LGBTQ people in the restaurant industry is paramount to giving a sense of power and ownership in the work they do, Queeman said. He wishes there was this kind of space for him when he was coming up as a chef when he was younger.
Taste of Pride is also a great opportunity for LGBTQ people looking to get into the industry to find safe spaces to work that are run by queer people, Queeman said.
Rob Heim, the general manager at Shaw's Tavern, said he's looking forward to being a part of the event. And new fall menu items at Shaw's Tavern will be available during Taste of Pride, which he's thrilled to showcase.
"I was really excited to help out and participate," he said. "It's a great idea."
The smaller number of participating restaurants in Taste of Pride is intentional, said Brandon Bayton, a volunteer executive producer organizing Taste of Pride. It's so each restaurant can be well-represented during the week, and different restaurants will be highlighted on social media on separate days. Capital Pride Alliance is also partnering with influencers to get the word out.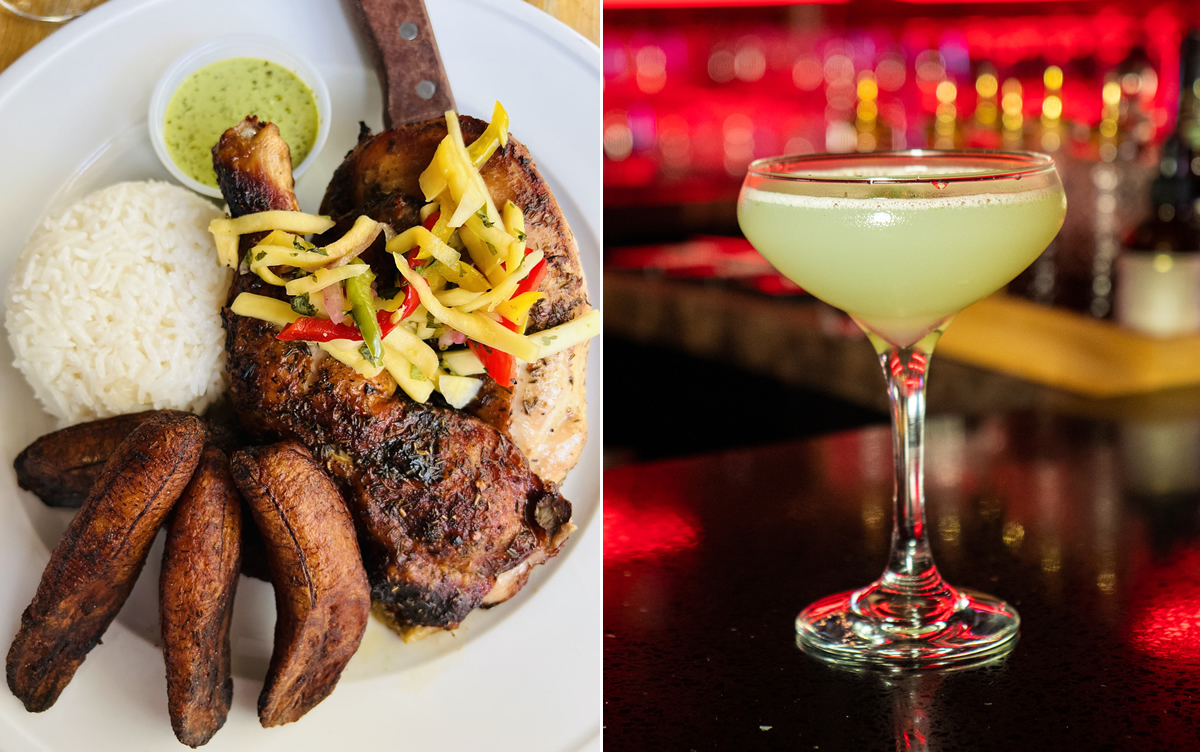 Visibility — all year long
It's important to have events like Taste of Pride outside of June, Bayton said.
"We exist 365 days," Bayton said. "So we need to make sure that we continue the celebration and invite others to celebrate with us and just be authentically ourselves. We enjoy and do a lot of things other people do. There's no reason why we should just be constrained to one month."
Queeman agrees. His identity as a queer Black man doesn't stop or start at any given month.
"I'm not just a queer or gay man in June or I'm not just a Black man in February," he said.
And food is a major intersection that all people of all identities enjoy, Bayton said. It's a simple way to bring people together.
"We do the exact same things that everyone else does," Bayton said. "We all eat. We all love to eat."
Taste of Pride will run from Oct. 2-8. For more information and to make reservations, visit capitalpride.org/event/taste-of-pride.
PHOTOS: DCGFFL 25th Anniversary Party
Gay flag football league marks milestone at Penn Social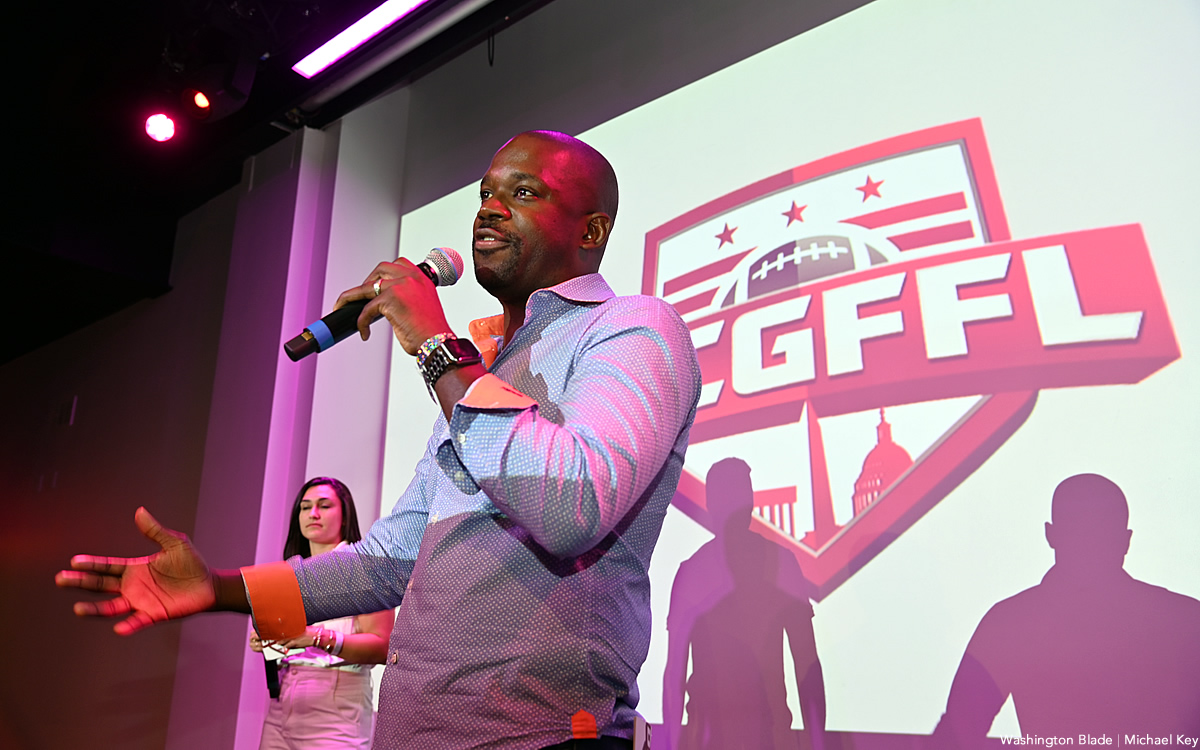 The D.C. Gay Flag Football League (DCGFFL) held a 25th season anniversary party at Penn Social on Saturday, Sept. 23. Proceeds from the event benefited the LGBTQ youth services organization SMYAL as well as the D.C. Center for the LGBTQ Community.
(Washington Blade photos by Michael Key)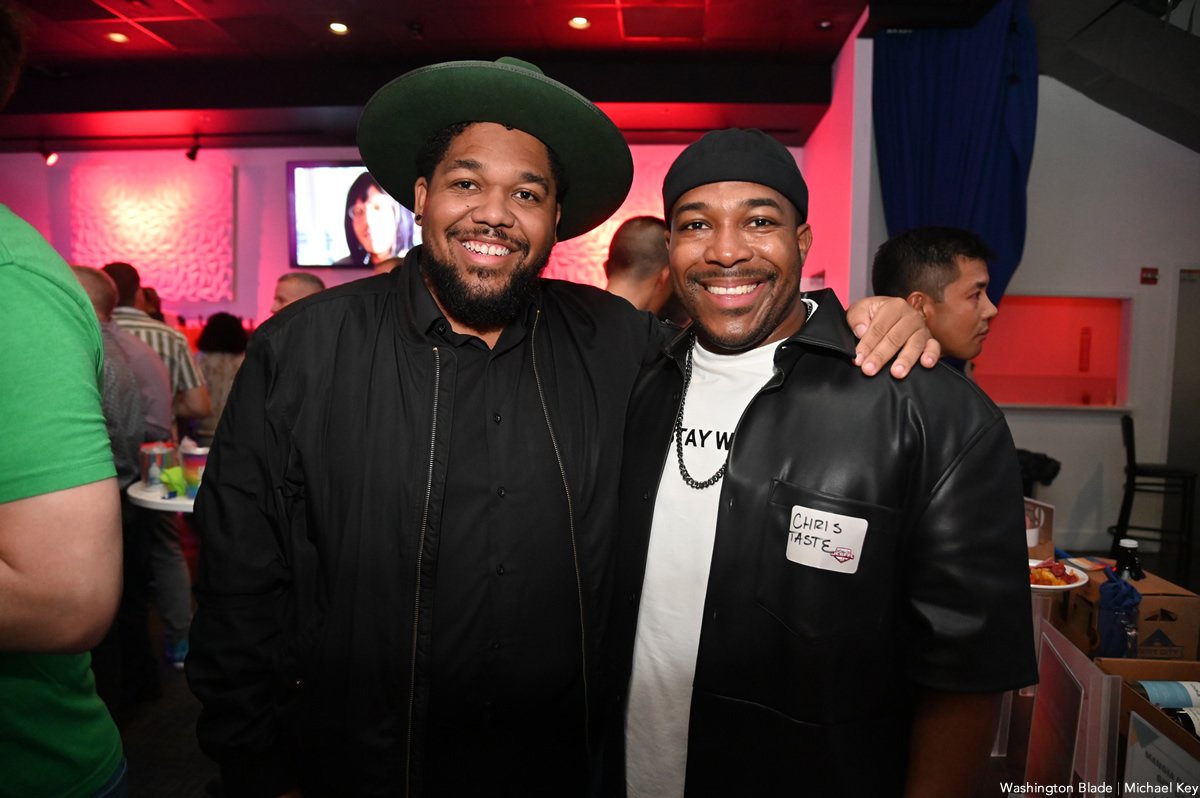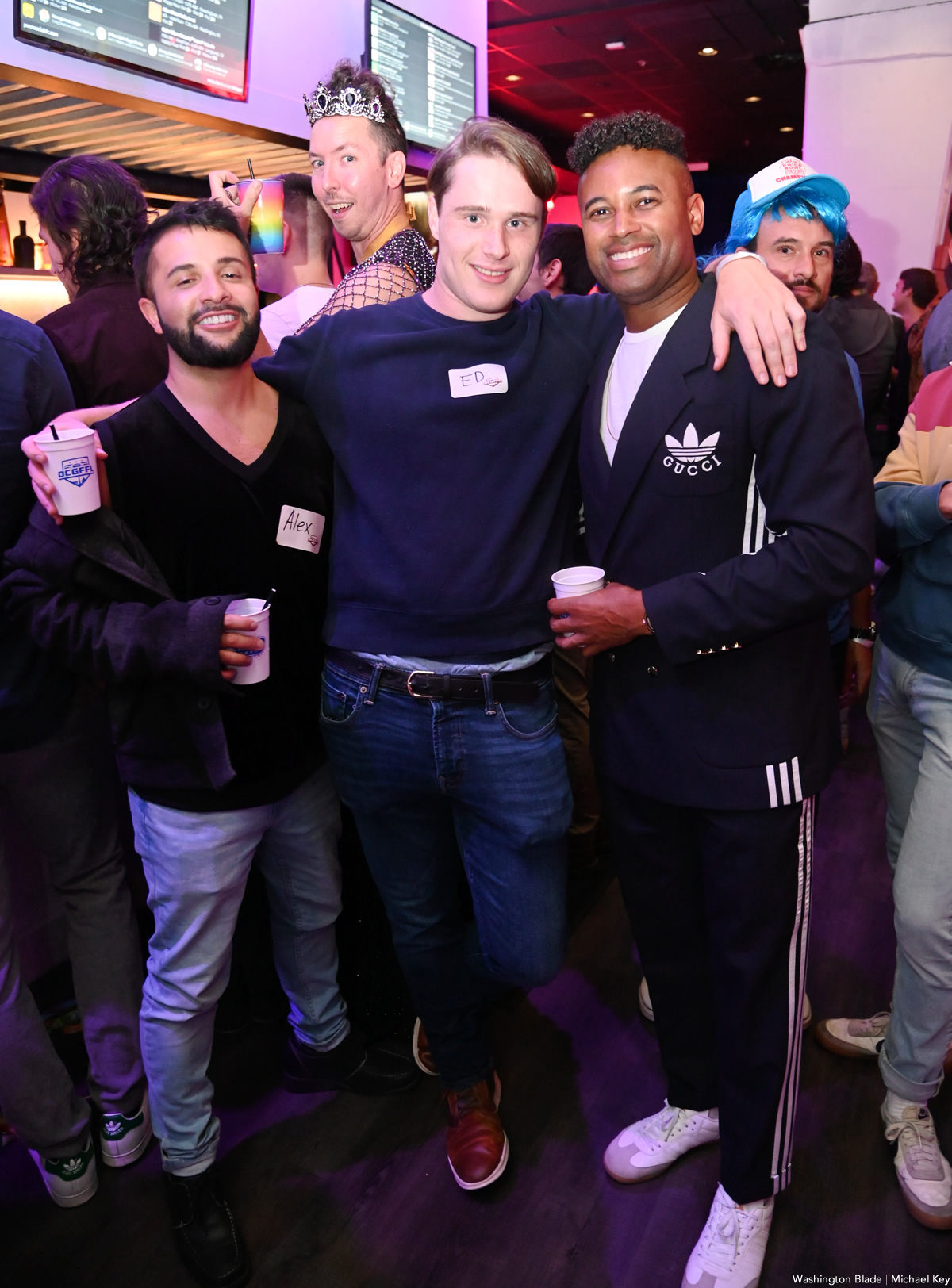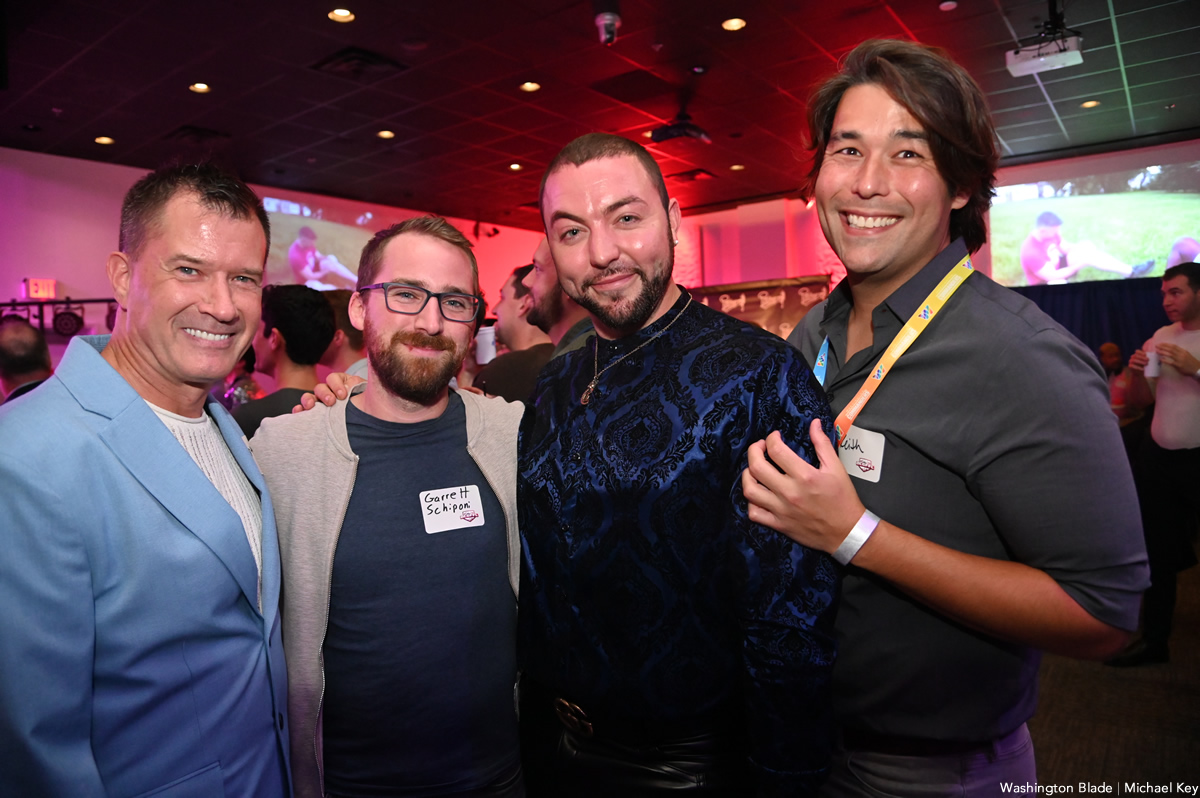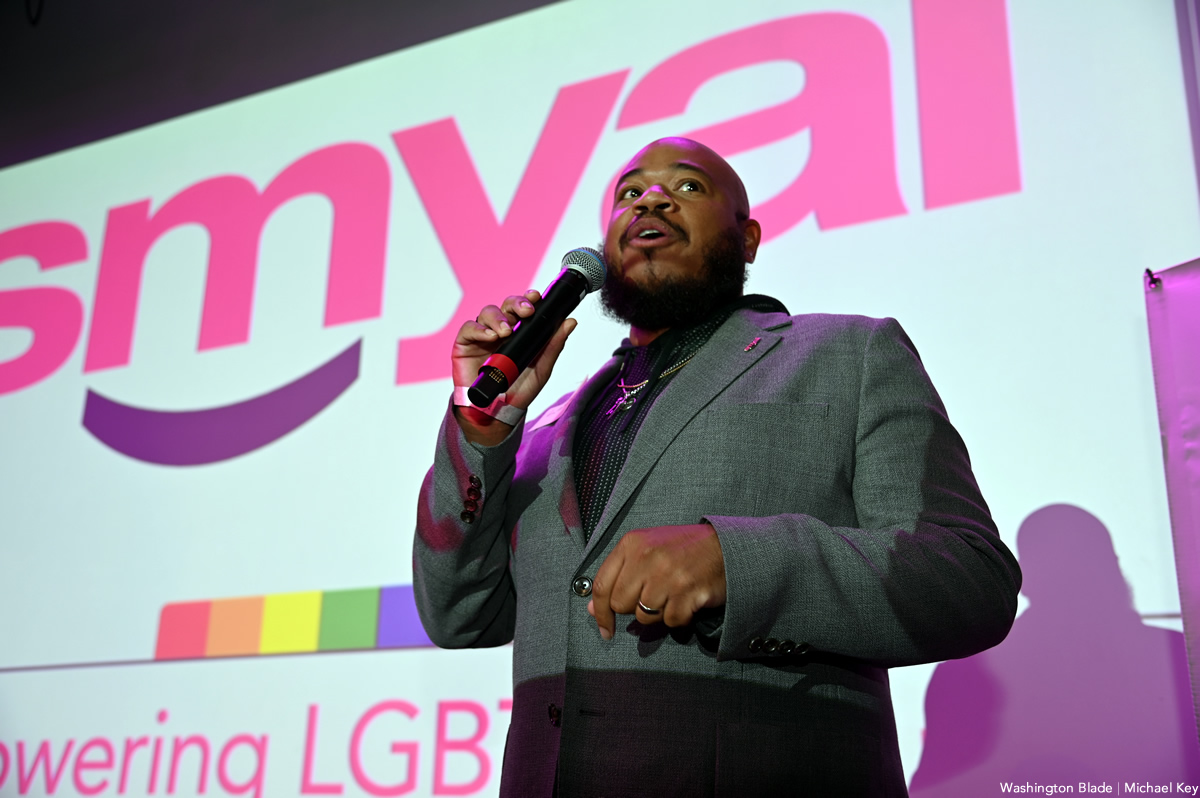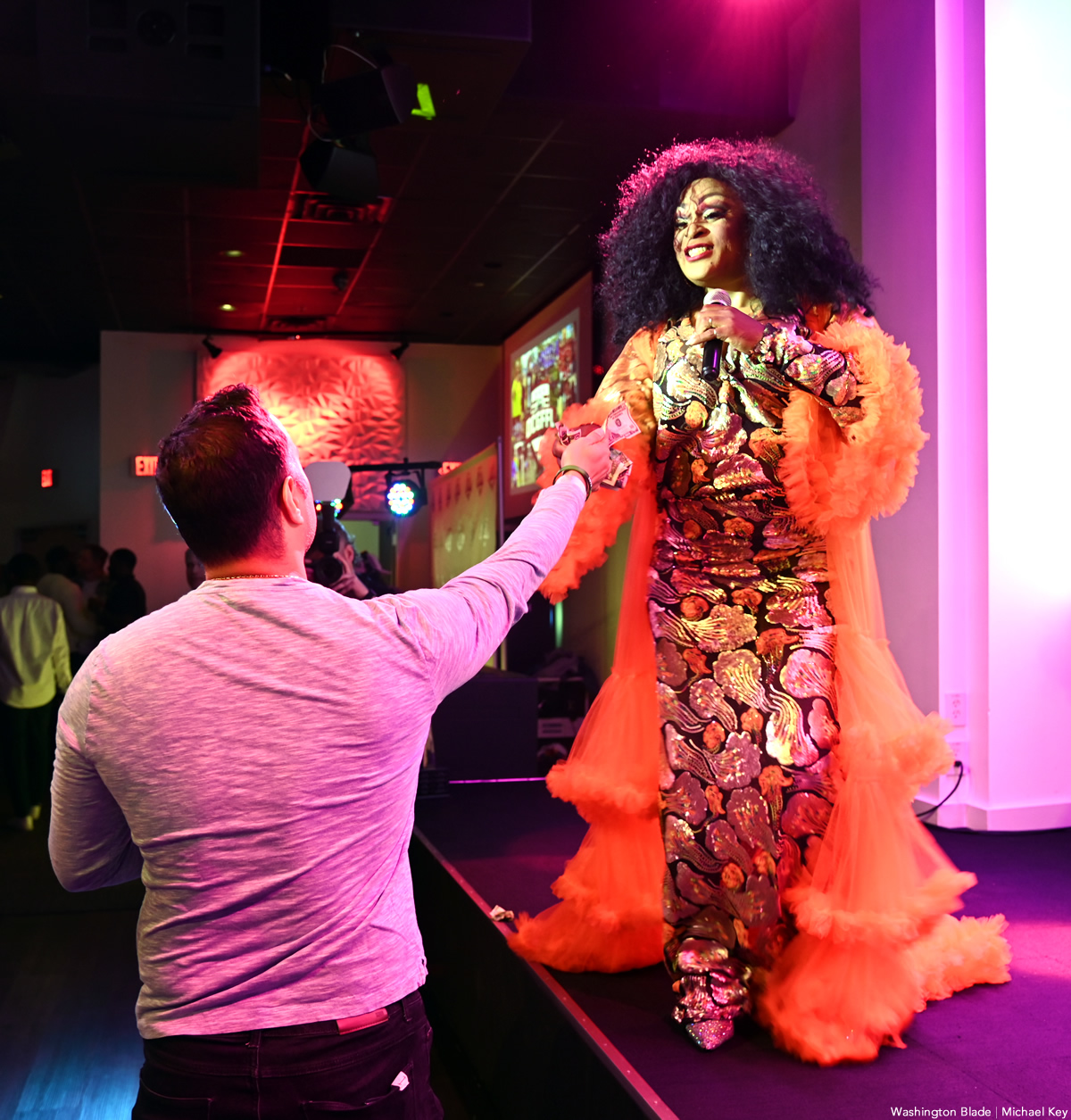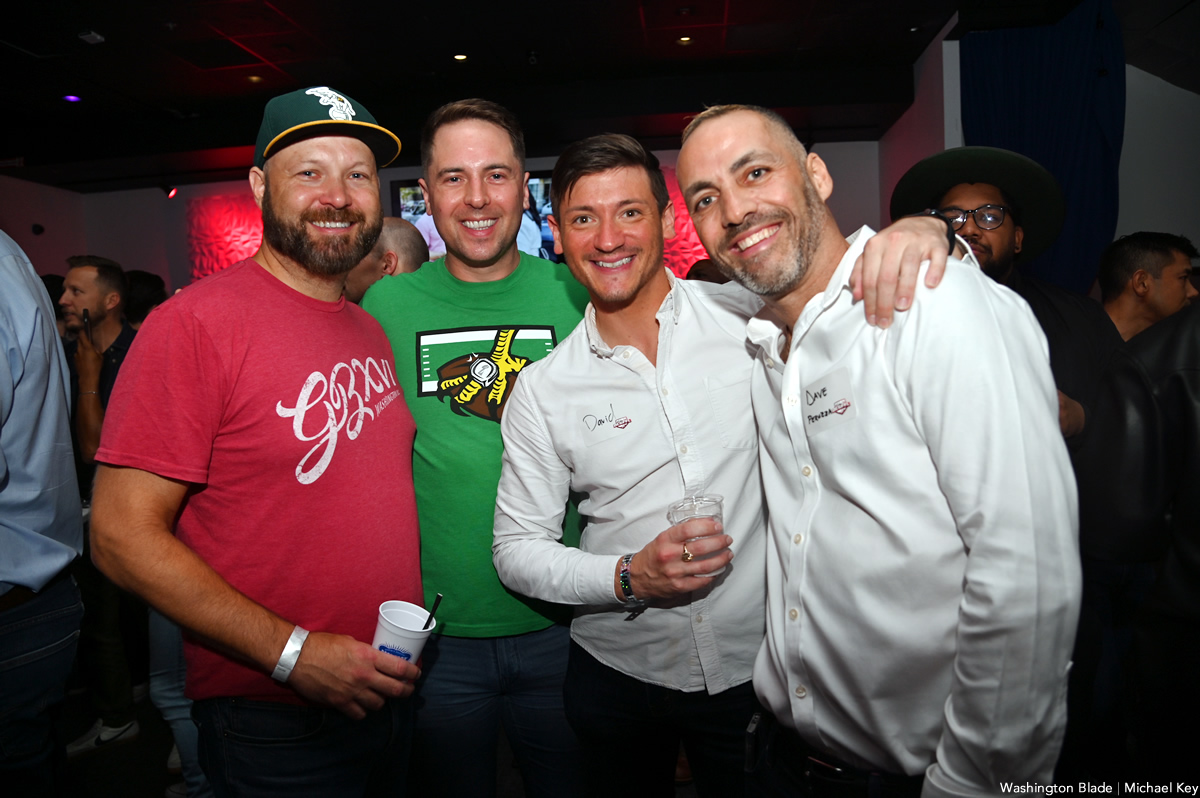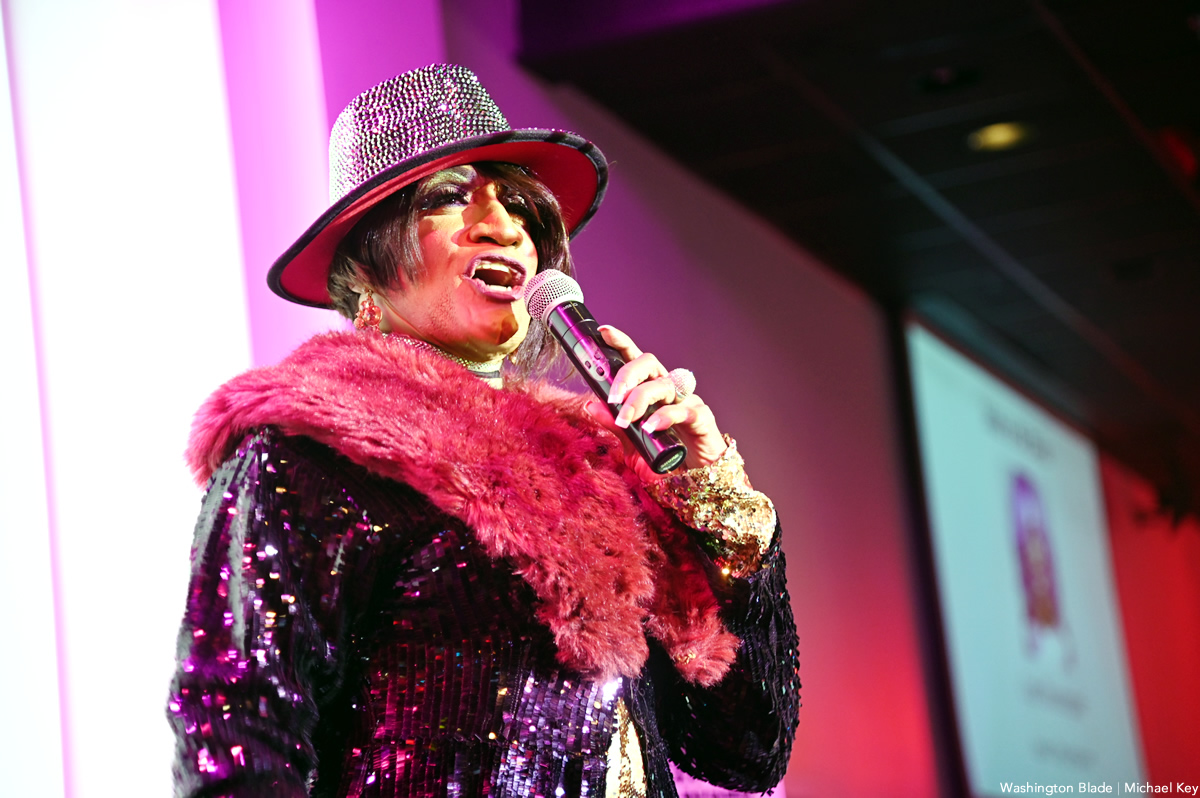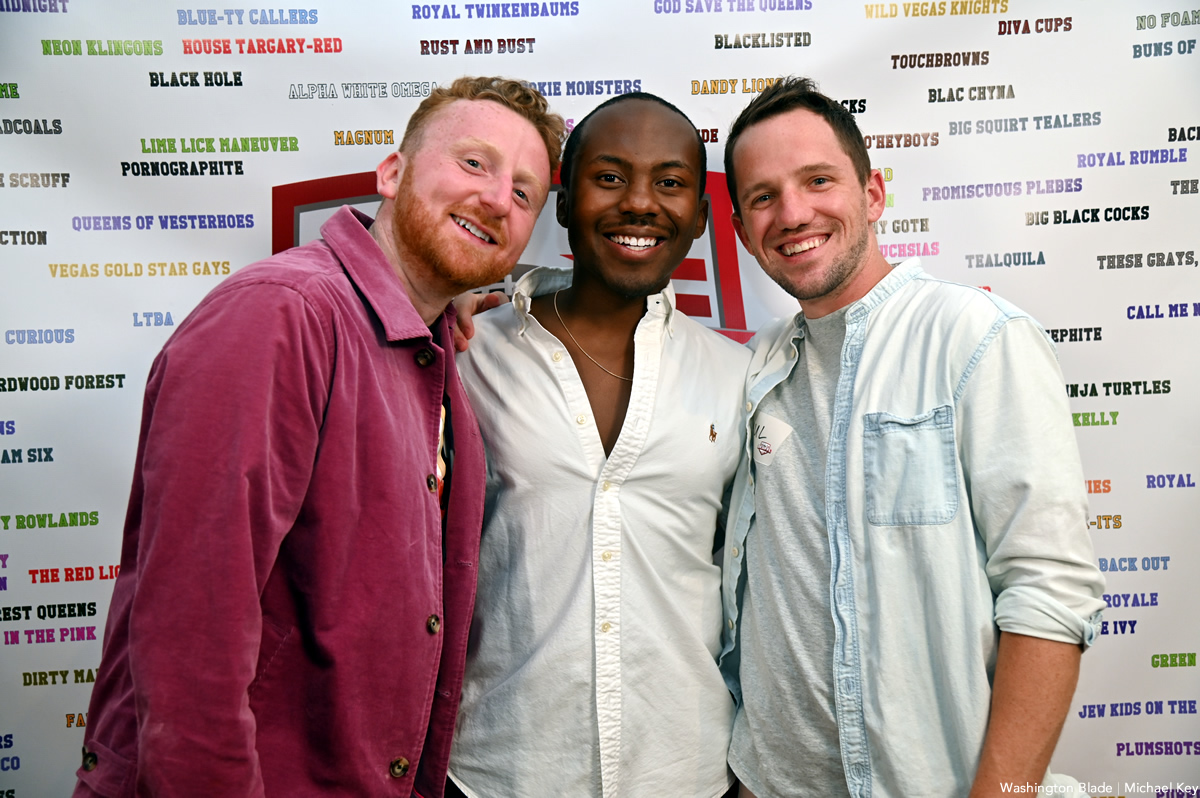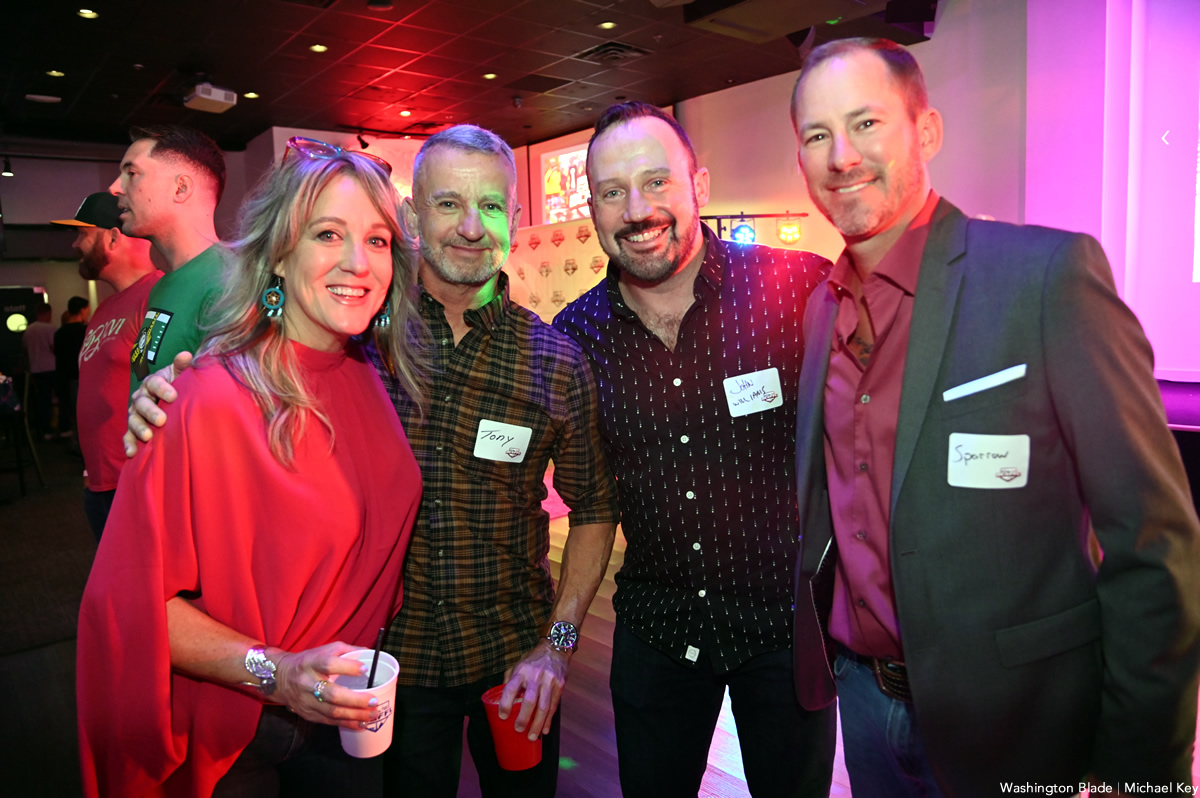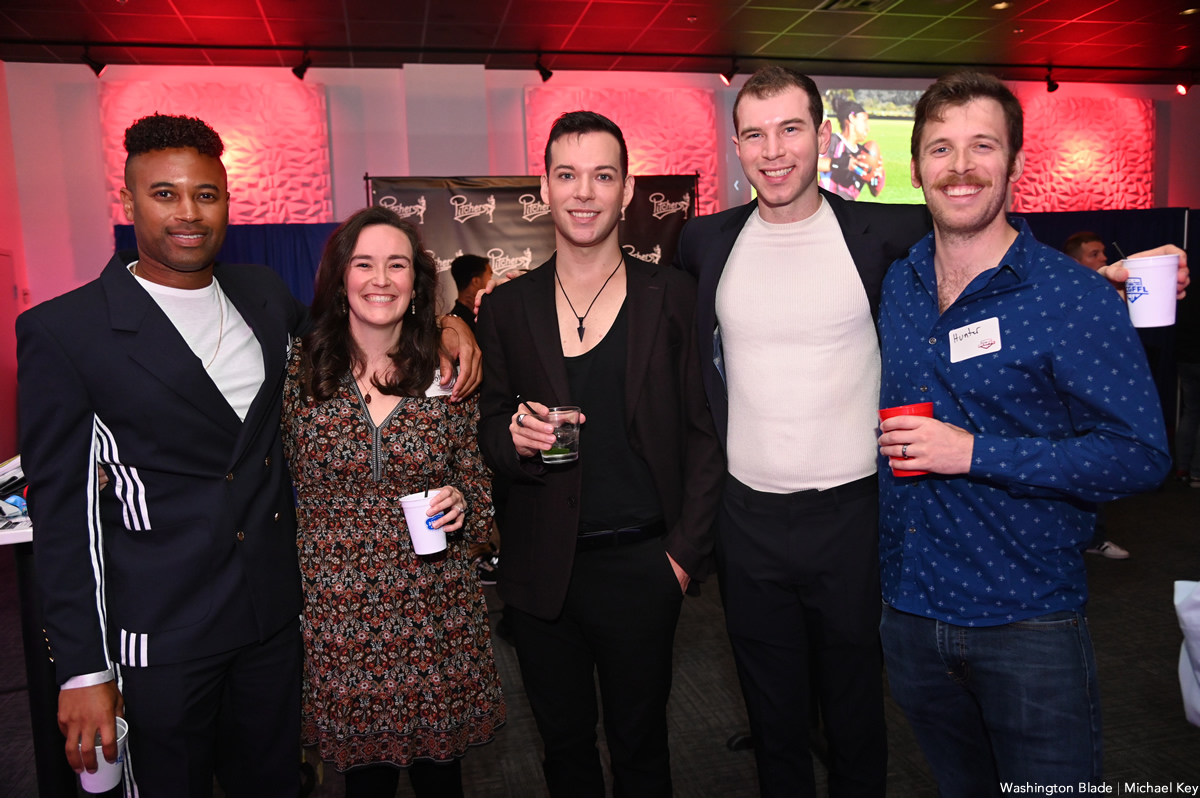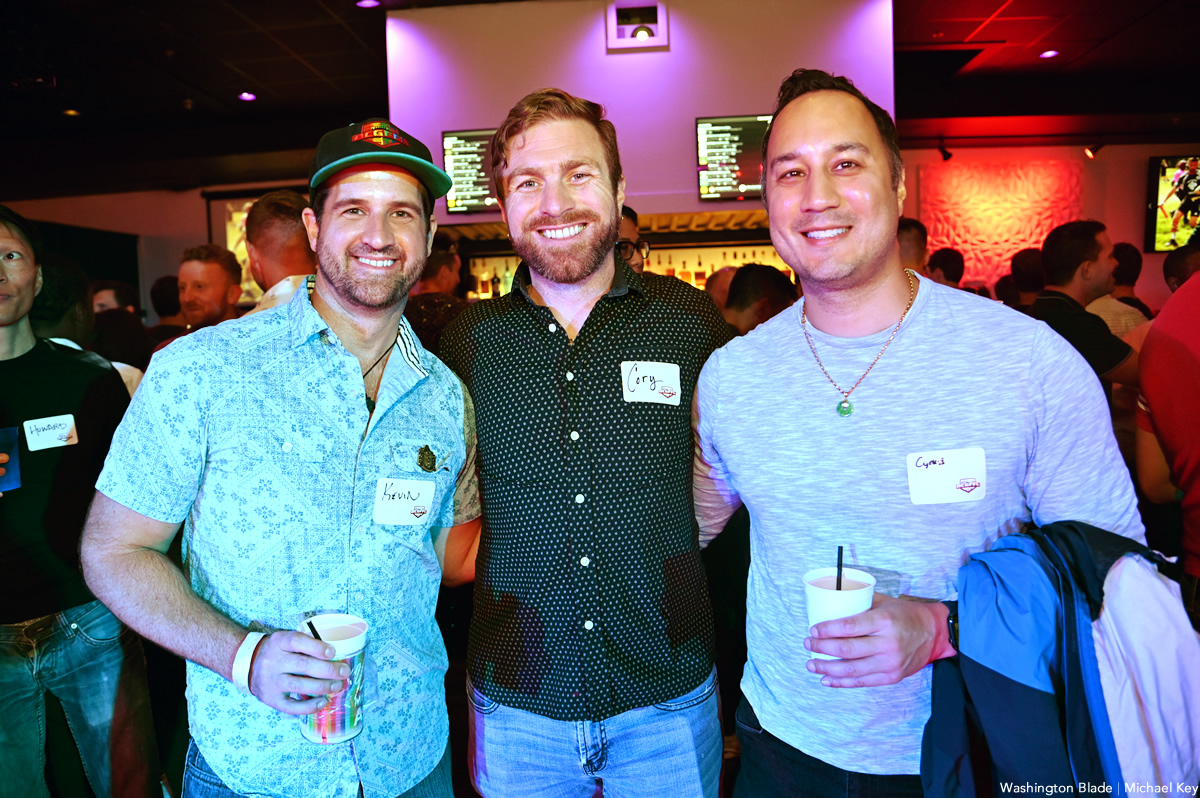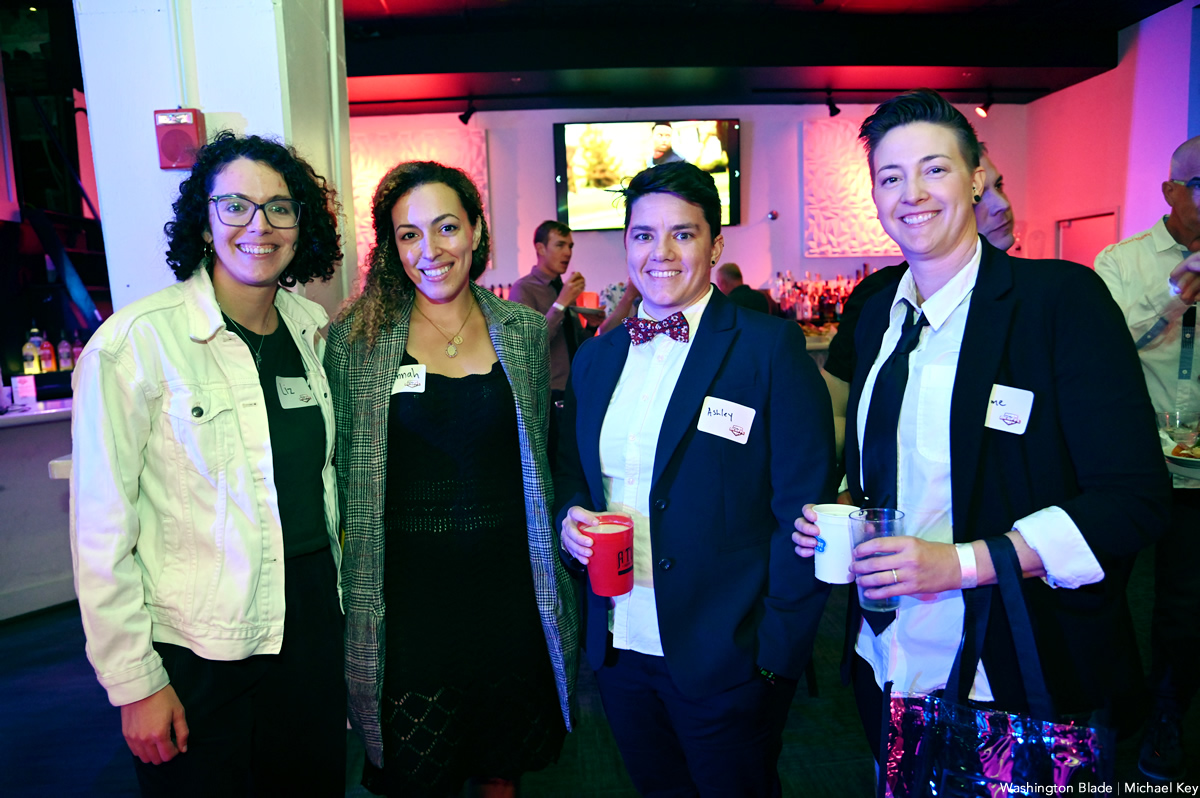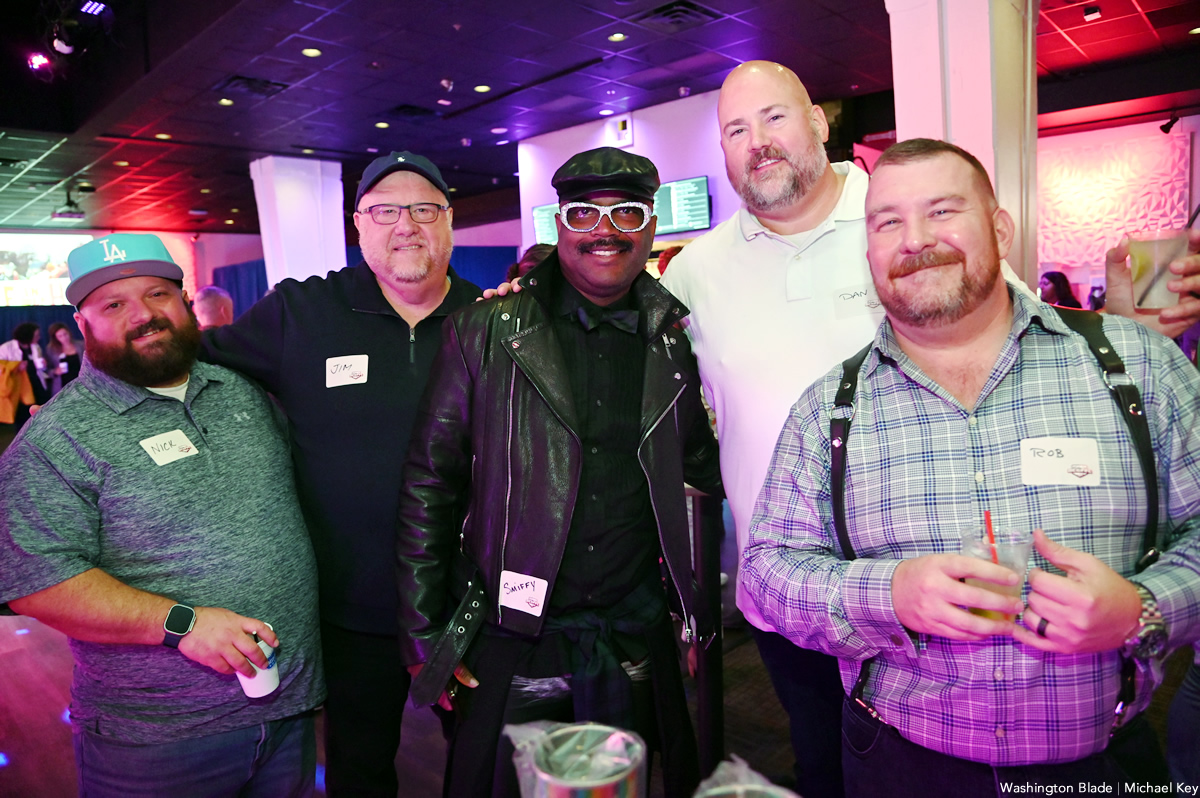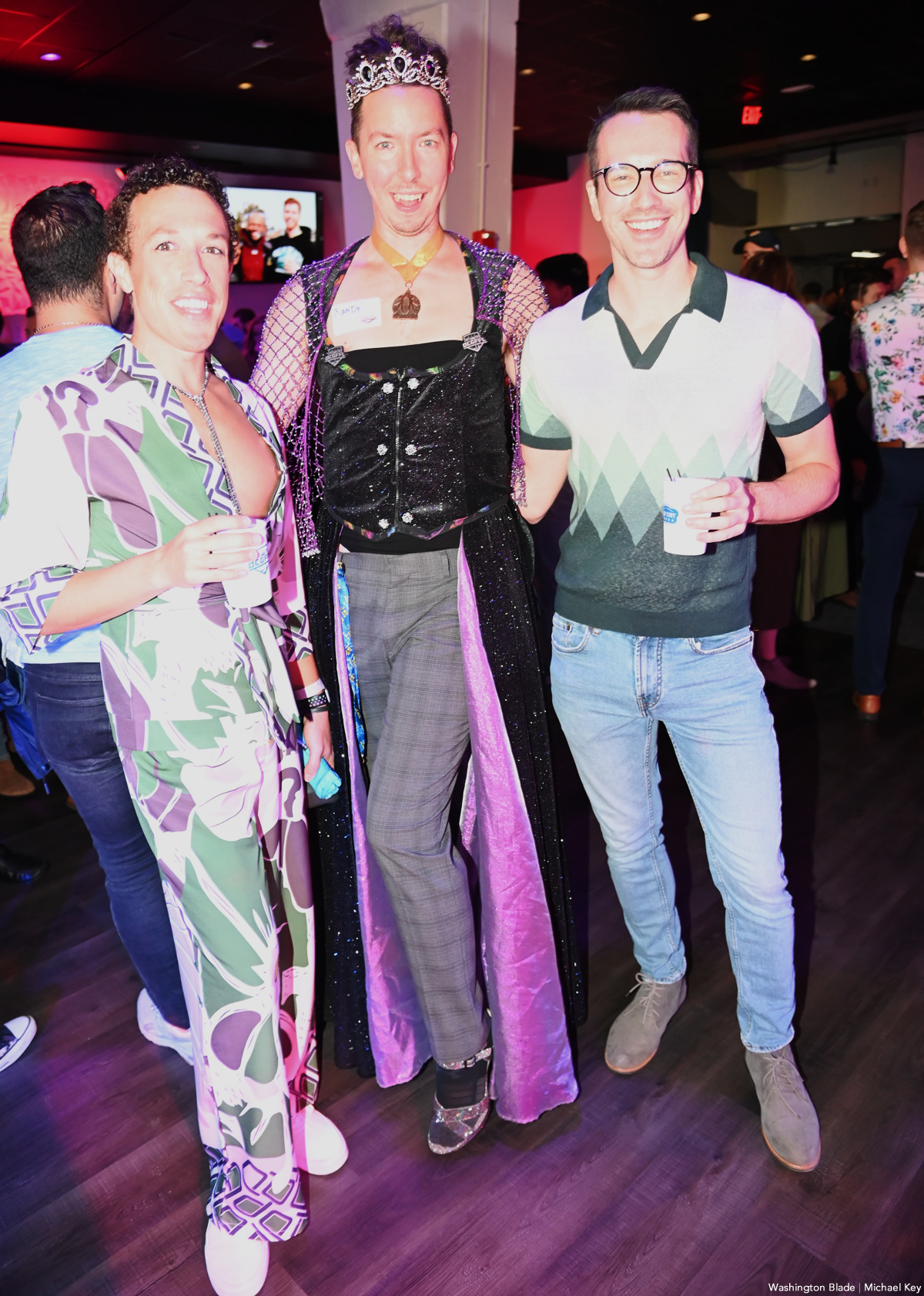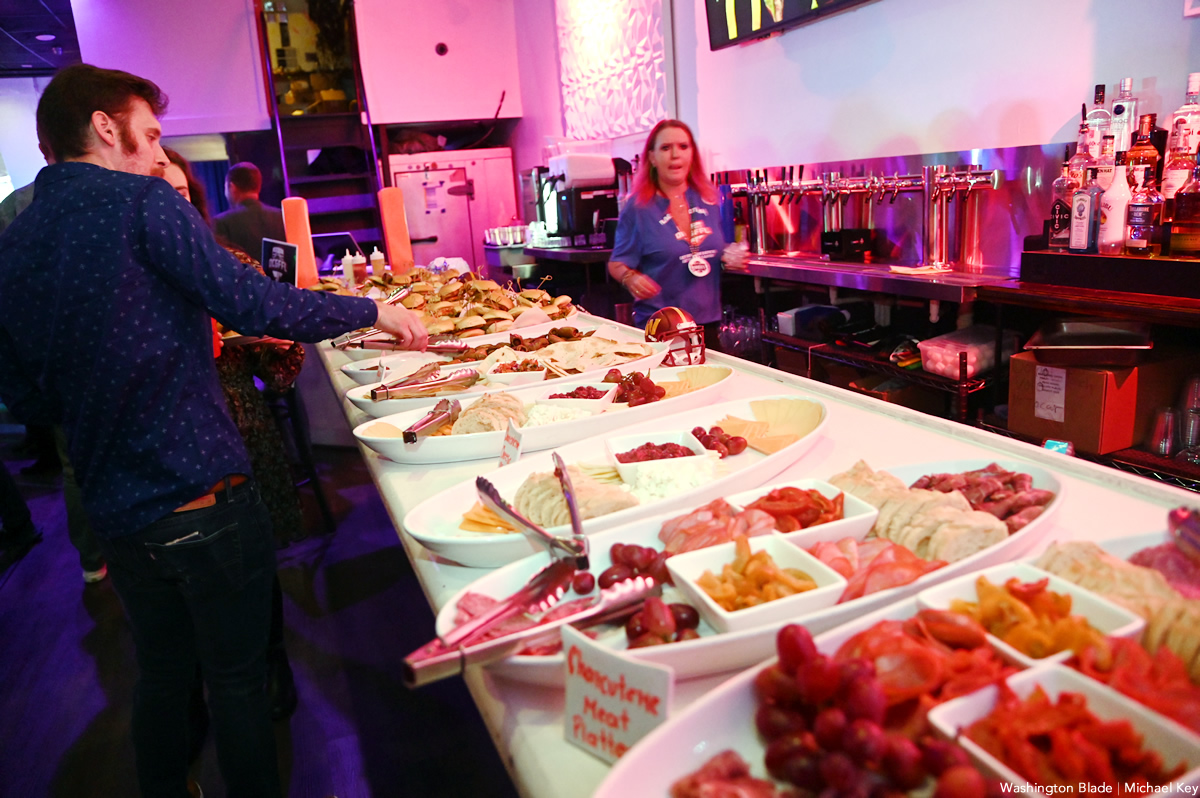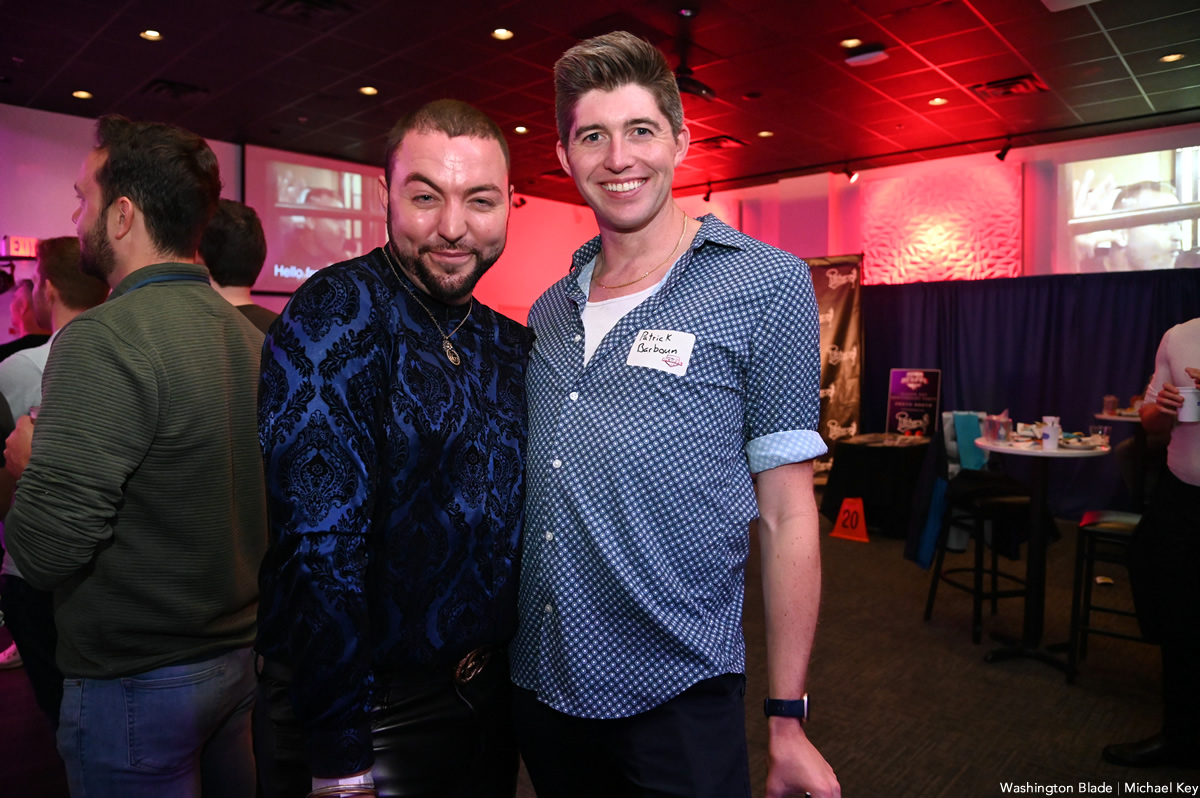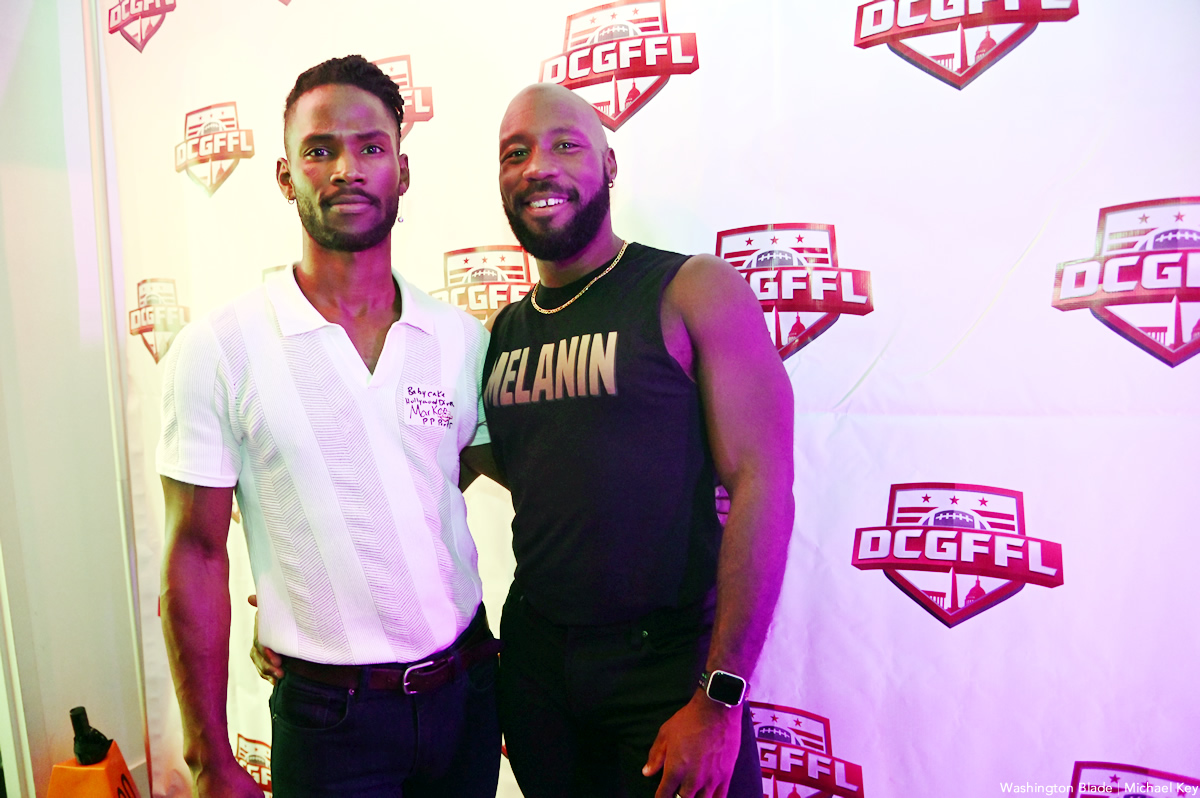 New book goes behind the scenes of 'A League of Their Own'
'No Crying in Baseball' offers tears, laughs, and more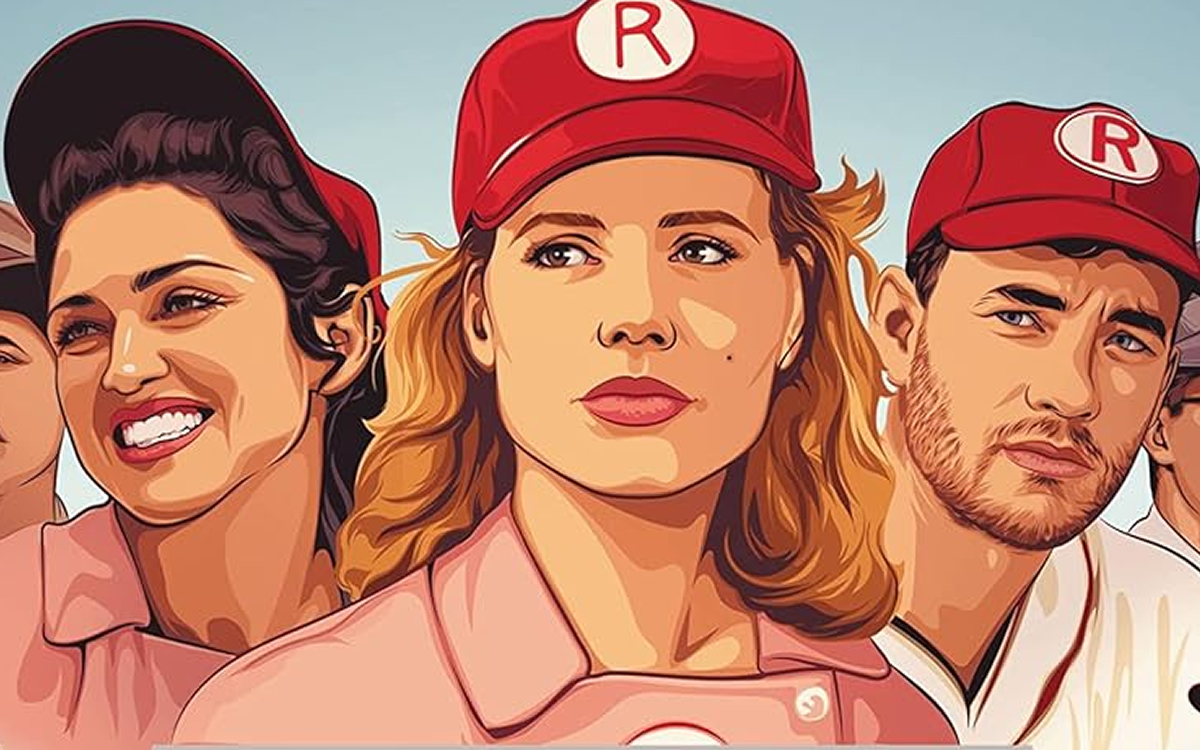 'No Crying in Baseball: The Inside Story of 'A League of Their Own'
By Erin Carlson
c.2023, Hachette Books
$29/320 pages
You don't usually think of Madonna as complaining of being "dirty all day" from playing baseball. But that's what the legendary diva did during the shooting of "A League of Their Own," the 1992 movie, beloved by queers.
"No Crying in Baseball," the fascinating story behind "A League of Their Own," has arrived in time for the World Series. Nothing could be more welcome after Amazon has cancelled season 2 of its reboot (with the same name) of this classic film.

In this era, people don't agree on much. Yet, "A League of Their Own" is loved by everyone from eight-year-old kids to 80-year-old grandparents.
The movie has strikes, home runs and outs for sports fans; period ambience for history buffs; and tears, laughs and a washed-up, drunk, but lovable coach for dramady fans.
The same is true for "No Crying in Baseball." This "making of" story will appeal to history, sports and Hollywood aficionados. Like "All About Eve" and "The Rocky Horror Picture Show," "A League of Their Own" is Holy queer Writ.
Carlson, a culture and entertainment journalist who lives in San Francisco, is skilled at distilling Hollywood history into an informative, compelling narrative. As with her previous books, "I'll Have What She's Having: How Nora Ephron's three Iconic Films Saved the Romantic Comedy" and "Queen Meryl: The Iconic Roles, Heroic Deeds, and Legendary Life of Meryl Streep," "No Crying in Baseball," isn't too "educational." It's filled with gossip to enliven coffee dates and cocktail parties.
"A League of Their Own" is based on the true story of the All-American Girls Professional Baseball League (AAGPBL). From 1943 to 1954, more than 600 women played in the league in the Midwest. The league's players were all white because the racism of the time prohibited Black women from playing. In the film, the characters are fictional. But the team the main characters play for – the Rockford Peaches – was real.
While many male Major and Minor League Baseball players were fighting in World War II, chewing gum magnate Philip K. Wrigley, who owned the Chicago Cubs, founded the league. He started the AAGPBL, "To keep spectators in the bleachers," Carlson reports, "and a storied American sport–more important: his business afloat."
In 1943, the Office of War Information warned that the baseball season could be "scrapped" "due to a lack of men," Carlson adds.
"A League of Their Own" was an ensemble of women's performances (including Rosie O'Donnell as Doris, Megan Cavanagh as Marla, Madonna as Mae, Lori Petty as Kit and Geena Davis as Dottie) that would become legendary.
Girls and women still dress up as Rockford Peaches on Halloween.
Tom Hanks's indelible portrayal of coach Jimmy Dugan, Gary Marshall's depiction of (fictional) league owner Walter Harvey and Jon Lovitz's portrayal of Ernie have also become part of film history.
Filming "A League of Their Own," Carlson vividly makes clear, was a gargantuan effort. There were "actresses who can't play baseball" and "baseball players who can't act," Penny Marshall said.
The stadium in Evansville, Ind., was rebuilt to look like it was in the 1940s "when the players and extras were in costume," Carlson writes, "it was easy to lose track of what year it was."
"No Crying in Baseball" isn't written for a queer audience. But, Carlson doesn't pull any punches.
Many of the real-life AAGPBL players who O'Donnell met had same-sex partners, O'Donnell told Carlson.
"When Penny, angling for a broad box-office hit chose to ignore the AAGPGL's queer history," Carlson writes, "she perpetuated a cycle of silence that muzzled athletes and actresses alike from coming out on the wider stage."
"It was, as they say, a different time," she adds.
Fortunately, Carlson's book isn't preachy. Marshall nicknames O'Donnell and Madonna (who become buddies) "Ro" and "Mo." Kodak is so grateful for the one million feet of film that Marshall shot that it brings in a high school marching band. Along with a lobster lunch. One day, an assistant director "streaked the set to lighten the mood," Carlson writes.
"No Crying in Baseball," is slow-going at first. Marshall, who died in 2018, became famous as Laverne in "Laverne & Shirley." It's interesting to read about her. But Carlson devotes so much time to Marshall's bio that you wonder when she'll get to "A League of Their Own."
Thankfully, after a couple of innings, the intriguing story of one of the best movies ever is told.
You'll turn the pages of "No Crying in Baseball" even if you don't know a center fielder from a short stop.
The Blade may receive commissions from qualifying purchases made via this post.