D.C. Office of Human Rights director steps down
Mayor Vincent Gray announced Gustavo Velasquez to become head of Latino advocacy group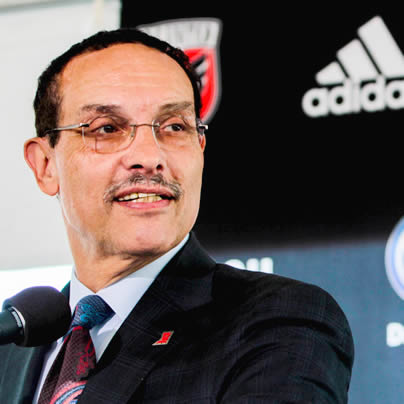 Gray said in a statement that attorney Monica Palacio, director of the OHR's Language Access Program, which helps city agencies provide translation services for people who speak languages other than English, will become interim director of the OHR beginning Nov. 3.
An OHR spokesperson told the Blade that Gray plans to submit Palacio's nomination to become permanent director of the OHR to the City Council, which must confirm the nomination.
"Monica Palacio has spent her career advocating for civil and human rights, and she will undoubtedly use that experience and her legal background to ensure that OHR continues to fulfill its mission to address and prevent discrimination in the District," Gray said in his statement.
The OHR, among other things, is charged with enforcing the city's comprehensive Human Rights Act, which bans discrimination based on a wide of categories, including sexual orientation and gender identity as well as race, religion, gender, and ethnicity.
It's portfolio expanded last year to include enforcement of an anti-bullying law passed by the D.C. Council and signed by Gray that LGBT rights advocates had long called on the Council to pass. Gray assigned Velasquez to take the lead in working with a special commission the mayor appointed to draft regulations to implement the law.
"The District has been extremely fortunate to have Director Velasquez at the helm of OHR for nearly seven years," Gray said. "Under his leadership, the agency has dramatically reduced the length of time it takes to investigate complaints of discrimination, and he has pushed OHR toward a more proactive role in preventing discrimination before it occurs. Because of his work, we are a more just and welcoming District."
Prior to her two-and-a-half year tenure at OHR, Palacio served as a member of the Commission on Human Rights, which adjudicates discrimination cases it receives from the OHR. Before that, she worked as senior consultant for the Management Assistance Group, which provides assistance to social justice organizations, and served as director of training and technical assistance for the National Crime Prevention Council, according to information released by the mayor's office.
Elliot Imse, an OHR spokesperson who's gay, called Palacio a strong and committed LGBT community ally who has worked on LGBT related issues in the past.
According to Imse, she was "instrumental" in the formation of a gay-straight alliance group at a local high school and has conducted several youth leadership development training sessions for the local LGBT youth services and advocacy group SMYAL.
The announcement from the mayor's office says Velasquez will become executive director of the Latino Economic Development Center. The center's website says the organization's mission is to "drive the economic and social advancement of low to moderate income Latinos and other D.C. area residents by equipping them with the skills and tool to achieve financial independence and become leaders in their communities."
D.C. Mayor Vincent Gray on Thursday announced Office of Human Rights Director Gustavo Velasquez, who worked with LGBT activists to implement the city's comprehensive anti-bullying law, was stepping down and would be replaced by one of his high level assistants.
Man accused of assaulting lesbian activist surrenders to D.C. police
Aiyi'nah Ford attacked at Congress Heights bar earlier this month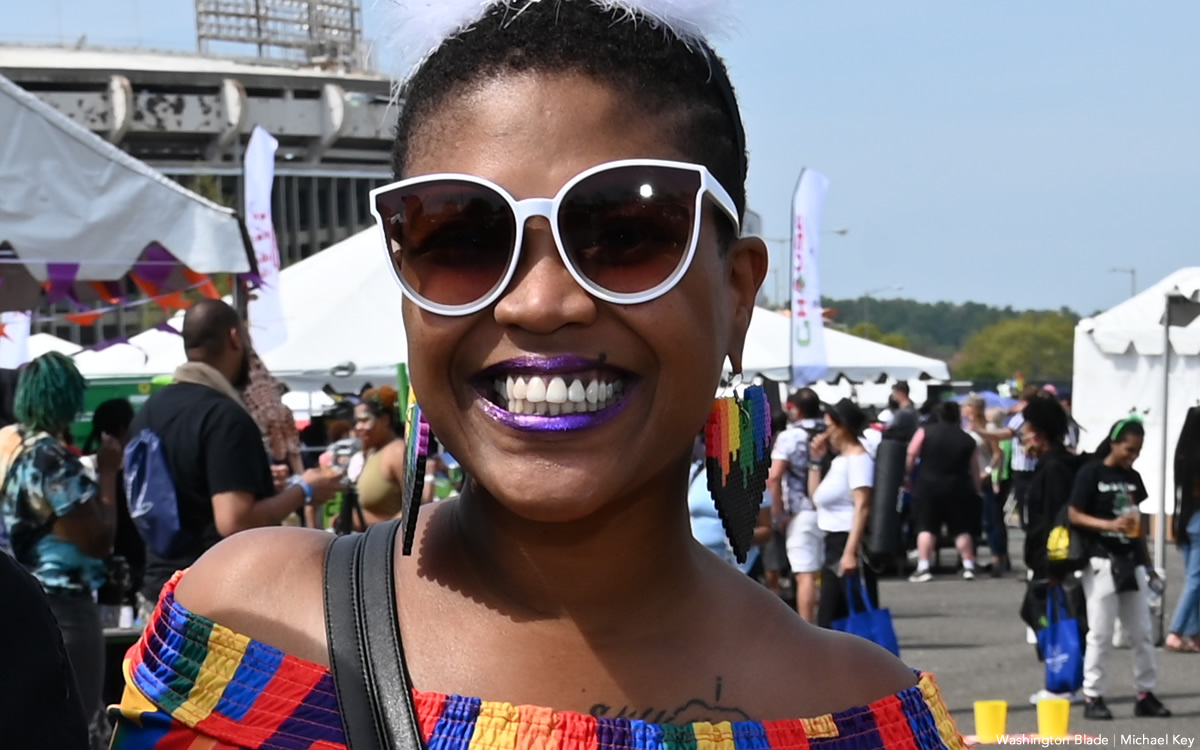 D.C. police on Aug. 11 charged a 46-year-old D.C. man with assault with a dangerous weapon in connection with incident earlier this month in which lesbian activist Aiyi'nah Ford said she was hit in the head three times with the metal legs of a barstool wielded by a man yelling anti-gay names at her.
A police report says the incident took place at the Player's Lounge, a restaurant and bar at 2737 Martin Luther King Jr. Ave., S.E., in the city's Congress Heights neighborhood shortly before and after midnight on Aug. 3 and Aug. 4.
Police identified the man charged in the case as Donnell Anthony Peterson, who police say is a resident of 1200 block of Southern Avenue in Southeast D.C.
Ford told the Washington Blade that Peterson, who is a regular customer at Player's Lounge as is she, assaulted her after the two got into a verbal argument over, among other things, the city's violence interruption program. Ford said she told Peterson and others who were having a discussion that she considered the program to be ineffective and a "joke."
It was around that time, Ford said, that Peterson began repeatedly calling her a "dyke bitch" and threatened to shoot her.
The arrest affidavit says witnesses reported seeing Ford covered in blood from a serious head injury before an ambulance arrived on the scene and took her to George Washington University Hospital, where she was treated for a head and scalp wound that required multiple stitches.
The affidavit, which was filed in D.C. Superior Court, says Peterson on Aug. 11 "turned himself into the Seventh District Police Station," saying he did so after someone told him police issued a Twitter posting announcing he was wanted on an assault allegation.
Court records show that at the time of his arrest, D.C. police also charged Peterson with Possession with Intent to Distribute a Controlled Substance (Cocaine) based on an unrelated Aug. 26, 2021, outstanding warrant for his arrest on the drug charge obtained by U.S. Park Police.
The affidavit for his arrest on the assault charge says police learned about the outstanding U.S. Park Police arrest warrant when they conducted a criminal record background check after learning through a tip that Peterson was the person who allegedly assaulted Ford at Player's Lounge.
Court records also show that Peterson appeared before Superior Court Judge Renee Raymond on Aug. 12, one day after his arrest, for a presentment hearing in which Raymond ordered him held in the D.C. Jail until a scheduled preliminary hearing on Monday.
At the Monday hearing, through his attorney, Peterson waived his right to a full preliminary hearing and agreed that Judge Neal E. Kravitz, who presided over the hearing, would rule that prosecutors with the U.S. Attorney's office established probable cause that Peterson committed the assault. The probable cause finding means that the case can proceed to a trial.
While ruling in favor of probable cause, Kravitz denied a request by Assistant U.S. Attorney Alec Levy that Peterson continue to be held in jail pending trial. Levy argued that Peterson "viciously" hit Ford over the head with a barstool at least two times as shown on a video recording of the incident obtained from a camera from Player's Lounge video security system.
Levy also said that at the time Peterson assaulted Ford he used "derogatory" language referring to her sexual orientation.
But court records show that as of the time of the Monday hearing, the U.S. Attorney's office did not list the assault against Ford as a bias related crime.
In response to an inquiry by the Blade, a spokesperson for the U.S. Attorney's office said he would look into whether prosecutors were considering adding a bias or hate related enhancement to the assault charge.
As part of his argument for Peterson to be held while awaiting trial, Levy requested and received permission from the judge to show a segment of the video on a large projection screen in the courtroom. Peterson, who is seen in the video wearing a red shirt, is shown knocking Ford to the floor, and picking up a bar stool and twice hitting her in the head with the metal legs of the stool.
Levy concluded his argument by noting that Peterson has three prior convictions on drug related charges. The prosecutor said Peterson fled the scene when he was stopped in his car by U.S. Park Police who found cocaine in the vehicle in August 2021, which resulted in the warrant for his arrest being issued and which Levy called a fourth prior criminal offense.
Combined with the Assault with a Dangerous Weapon charge, Levy argued that Peterson should be held pending trial on grounds that he is a danger to the community.
Brandon Burrell, Peterson's court appointed attorney, argued that the current assault case was the only case in which Peterson is accused of a crime of violence. Burrell said that Peterson has never failed to appear at a court hearing in any of his prior arrest cases and is gainfully employed at a facility providing services to senior citizens in Ward 8.
Burrell also said he plans to point to evidence shown in the video of the assault at Player's Lounge that Ford acted in an aggressive and hostile way toward Peterson and that Peterson has grounds for making a case of self-defense. Levy disputed Burrell's claim that there may be grounds for self-defense. Levy said that, among other things, the video footage shows Peterson acting as the aggressor by violently wielding a bar stool as a weapon.
After listening to the arguments by the defense and prosecutor and after reading the arrest affidavit, which describes in detail the segments of the video that were not shown in the courtroom, Kravitz ruled that Peterson was eligible to be released into the court's high intensity supervision program. Kravitz ordered Peterson into "home confinement" at his residence in Southeast D.C. except for the time during the week when he goes to work at his job. The judge also ordered that Peterson must wear a GPS device that keeps track of his whereabouts.
Kravitz scheduled a felony status conference for which Peterson must return to court on Sept. 16.
The four-page arrest affidavit prepared by a D.C. police detective describes in detail the video obtained from the security camera at Player's Lounge that captured the incident as it occurred and in which Peterson is seen striking Ford in the head at least two times with what it describes as a chair.
"The suspect grabs one of the chairs that's at the bar (red with black frame) at 23: 11:06," the affidavit says. "The suspect then slams the chair into the complainant's head," it says.
"The suspect then pushes the complainant into the bar at 23:11:09. The suspect pulls a chair from underneath the complainant and slams it into the complainant's upper body again at 23:11:15," the affidavit states.
According to the affidavit, "The suspect attempts to grab a chair for the third time, but patrons are able to separate the suspect and push him into another room."
Wanda Alston Foundation chosen as Casa Ruby receiver
Judge approves move at recommendation of D.C. Attorney General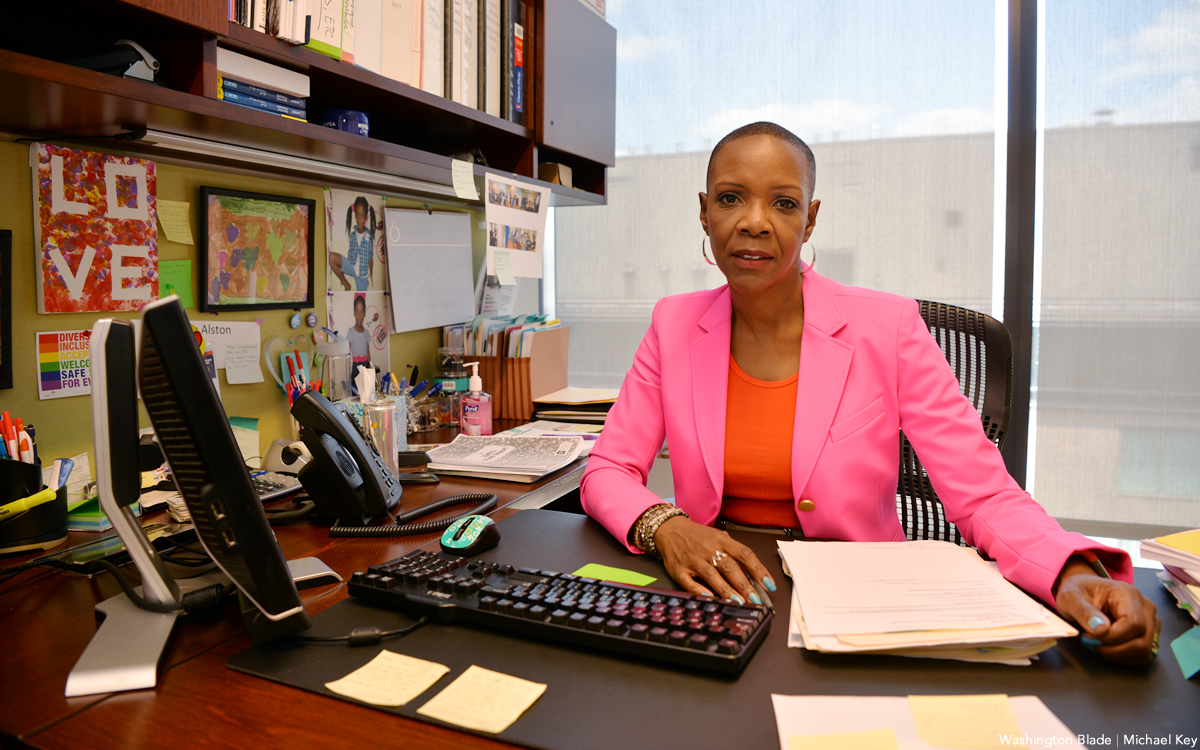 A D.C. Superior Court judge on Friday, Aug. 12, appointed the Wanda Alston Foundation as the city's receiver for the LGBTQ community services center Casa Ruby in a role in which the Alston Foundation will assume full control over Casa Ruby's operations and finances.
Judge Danya A. Dayson stated in an order she issued at 2:27 p.m. on Friday that she appointed the Alston Foundation for the receivership role at the recommendation of the Office of the D.C. Attorney General, which asked the judge to place Casa Ruby in receivership in a court motion filed on Aug. 3.
Founded in 2008, the Wanda Alston Foundation provides housing and support services for D.C. homeless and at-risk LGBTQ youth ages 18 to 24 and advocates for expanded city services for LGBTQ youth, according to a statement on its website.
During a virtual court hearing on Thursday, Aug. 11, Dayson approved the AG office's request to place Casa Ruby under receivership. During the hearing, Adam Gitlin, chief of the AG office's Public Integrity Section, announced that the AG office had two organizations under consideration for the Casa Ruby receiver – the Alston Foundation of D.C. and the Baltimore-based LGBTQ services organization Safe Haven, which has announced it planned to open a facility in D.C.
Gitlin asked the judge if the AG's office could have one more day to make a final decision on which of the two groups should be named as the Casa Ruby receiver, and Dayson granted his request.
Among those who spoke at the Aug. 11 hearing was June Crenshaw, the Wanda Alston Foundation's executive director. Crenshaw told the judge her organization has long supported the mission of Casa Ruby and it was prepared to do all it could to continue that mission in its role as receiver.
In a seven-page order issued on Aug. 12 approving the AG's recommendation that the Alston Foundation be appointed as receiver, Dayson restated her earlier findings that the AG's office provided sufficient evidence that a receivership was needed. Among other things, she pointed to the AG office's allegations that Casa Ruby and its founder and former executive director Ruby Corado violated the District's Nonprofit Corporations Act.
"The District alleges in its petition that Defendant violated the Act by failing to maintain a lawfully constituted Board of Directors, failing to maintain control and oversight of the Corporation; permitting Ruby Corado, the executive director, to have exclusive access to bank and PayPal accounts held in the name of, or created to benefit, Casa Ruby; and permitting Corado to expend hundreds of thousands of dollars of nonprofit funds without Board oversight and for unknown reason," Dayson stated in her order.
"Accordingly, it is on this 12th day of August 2022 hereby ORDERED that the District's motion for appointment of a receiver is GRANTED, and it is FURTHER ORDERED that until further order of this court, the Wanda Alston Foundation, Inc., 1701 Rhode Island Avenue, N.W., 2nd Floor, Washington, D.C. 20036 (the "Receiver"), is hereby appointed as Receiver," Dayson declared.
Dayson stated in her Aug. 12 order that she has "hereby lifted" her Aug. 3 order granting the AG office's request that Casa Ruby's bank accounts and all financial assets be frozen. The Aug. 12 order states that the receiver will now have full control over the bank accounts and Casa Ruby assets.
But the judge adds in her latest order, "Notwithstanding the lifting of the August 3, 2022, freezing Order, Ruby Corado shall not regain access to the affected accounts."
In addition, Dayson "further" states in her Aug. 12 order that Casa Ruby's "trustees, directors, officers, managers, or other agents are hereby suspended and the power of any directors or managers are hereby suspended. Such persons and entities shall have no authority with respect to Casa Ruby's operations or assets, except to the extent as may hereafter be granted by the Receiver."
The order concludes by directing the receiver to prepare a written report to the court by Sept. 13, 2022, on these issues:
• Assessment of the state of Casa Ruby's assets and liabilities
• Identification of potential D.C. grant funds that could still be accessed if Casa Ruby met the grant requirements and how Casa Ruby could meet those requirements
• Determine whether Casa Ruby can pay outstanding financial obligations, including but not limited to employees, landlords, and vendors
• A recommendation regarding whether Casa Ruby's Board should be reconstituted, and it should resume providing services, or instead whether Casa Ruby should be dissolved in an orderly manner pursuant to D.C. Code.
Corado also spoke at the Aug. 11 virtual hearing through a telephone hookup. Among other things, she said she does not oppose the appointment of a receiver.
But Corado disputed the AG office's allegations against her and Casa Ruby, claiming the group's financial problems that resulted in its shutdown of most Casa Ruby programs were caused by the D.C. government's decision to discontinue many but not all city grants providing funding for Casa Ruby.
In its court filings, the AG's office has disputed Corado's claims, saying the city grant funds for many of Casa Ruby's programs were suspended or discontinued because Casa Ruby failed to comply with the grant requirements that all city grantees are obligated to comply with.
"The mission of the Wanda Alston Foundation is to eradicate homelessness and poverty for LGBTQ youth between ages 18 and 24, the group states on its website. The statement adds that the Alston Foundation seeks to accomplish that mission by advocating for LGBTQ youth by "providing programs including housing, life skills training, case management services, linkages to medical care and mental health care and other support services, support in staying and returning to school, and employment support."
Another gay couple assaulted in D.C. in suspected hate crime
Two men holding hands when hit from behind by group of attackers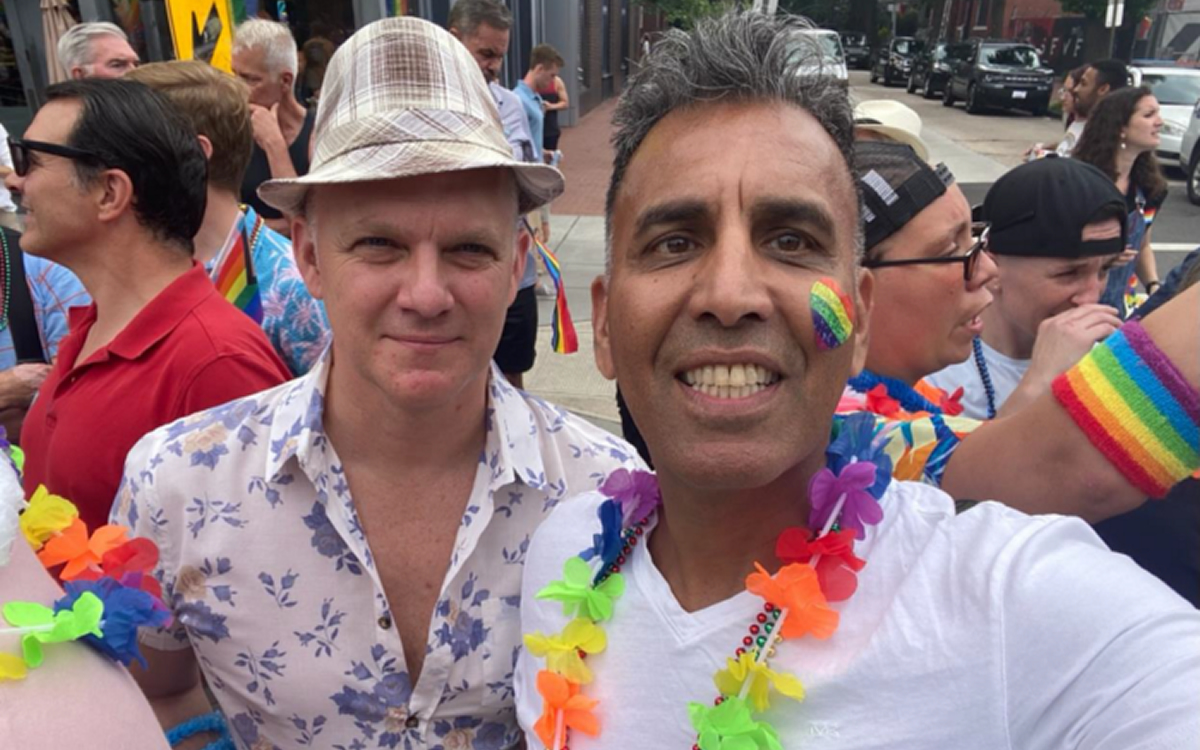 A gay male couple informed the Washington Blade this week that they were assaulted by a group of young men on June 17, at least of one of whom shouted the word "faggots," while the couple was holding hands walking home on the 1500 block of T Street, N.W. a few doors away from their house.
One of the two men suffered a broken jaw and fractured thumb when two or three of the attackers punched and kicked him in the head and face after knocking him to the ground, according to a D.C. police report that lists the incident as a suspected anti-gay hate crime.
The incident took place about six weeks before another gay male couple was attacked and punched in the head and face by a group of young males appearing in their late teens as at least one of them shouted "monkeypox faggots." The incident occurred on Aug. 7 along the 1700 block of 7th Street, N.W. in the Shaw neighborhood as the men were walking to a nearby bus stop.
D.C. police, who have released photos of two suspects in the Aug. 7 incident and a photo of one suspect in the June 17 case, say no arrests have been made in either of the cases but both cases remain under active investigation.
The two victims in the June 17 case identified themselves as J.P. Singh, Professor of Global Commerce and Policy at George Mason University, and Charles D. "Chuck" Johnson Jr., CEO and President of the Aluminum Association industry trade organization. They initially identified themselves in a little-noticed article about the incident that they wrote and published on June 23 in the blog Medium in which they also posted a photo of themselves.
"We, JP and Chuck, are a middle-age interracial gay couple," the two wrote in the article. "We have been together for nearly 27 years, and live in a gay neighborhood in Washington, DC. On Friday, June 17, while walking back from the gym at 10 p.m. and holding hands, a group of young African American men assaulted us on our street," the two wrote.
Their article goes on to explore issues surrounding racial justice and crime, and the possible impact of the Black Lives Matter movement on police response to crime, including anti-LGBTQ hate crimes, among other related issues.
"Assaults like ours open wounds in our society around race and LGBTQ issues," they state in the article. "Through writing this article, we want to emphasize context and healing, and not encourage racialized ways of thinking that we associate with divisive tactics."
Singh told the Blade the incident began on T Street, N.W., steps away from their house and in front of the house of gay D.C. Advisory Neighborhood Commissioner Kyle Mulhull. He said a group of the attackers approached him and Johnson from behind and the couple didn't see the attackers until they were struck with punches.
"Before we knew it, I heard Chuck yell," Singh said. "And when I turned to him, I felt a punch on my ear."
According to Singh's account, the attackers ran toward 15th Street and Johnson ran after them presumably to be able to inform police of their location, with the intent that the attackers could be apprehended.
But Singh said that another group of attackers emerged from an alley and appeared to have joined the first group and began assaulting Johnson again. The D.C. police report says officers responding to a 911 call from Johnson arrived on the scene when Victim 1, who was Johnson, was observed at the intersection of 15th and U Streets, N.W.
"The officers observed that Victim 1 was bleeding from his mouth as a result of the assault," the report says. The report says the officers call the D.C. Fire and Emergency Medical Services Department for assistance.
"Victim 1 stated that he and Victim 2 were walking eastbound in the 1500 block of T St., N.W. when 4 to 8 suspects approached from behind and assaulted them with punches," the report continues. "Victim 1 stated that at least one of the suspects yelled homophobic slurs at him as the assault was perpetrated.
Singh said he accompanied Johnson to the emergency room where he was treated and underwent surgery two days later to treat his jaw, which was broken in two places. Singh said Johnson was also treated for a fractured thumb.