McAuliffe defeats Cuccinelli in Virginia governor's race
Republican attorney general faced criticism from LGBT advocates during campaign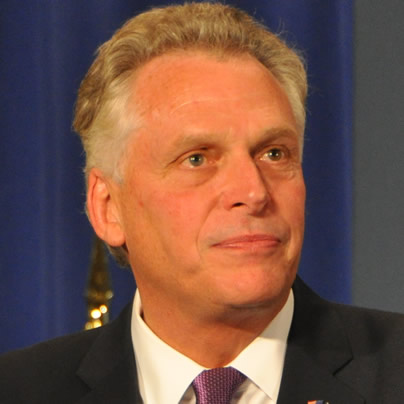 TYSONS CORNER, Va.—Former Democratic National Committee Chair Terry McAuliffe on Tuesday defeated Virginia Attorney General Ken Cuccinelli in the commonwealth's hotly contested gubernatorial race.
With more than 99 percent of precincts reporting, McAuliffe narrowly defeated Cuccinelli by a 48-45 percent margin. Libertarian gubernatorial candidate Robert Sarvis came in third with nearly seven percent of the vote.
"Over the next four years, most Democrats and Republicans want to make Virginia a model for pragmatic leadership that is friendly to job creation; a model for strong schools that prepare students for jobs of tomorrow; a model for welcoming the best and the brightest scientists and innovators no matter your race, gender, religion or whom you love," McAuliffe told supporters at the Sheraton Premiere at Tysons Corner who included Florida Congresswoman Debbie Wasserman Schultz and Virginia Sens. Mark Warner and Tim Kaine after CNN and other news outlets declared him the winner.
Cuccinelli again stressed during his concession speech that he feels the election was a referendum on the Affordable Care Act that President Obama signed in 2010.
"Despite being outspent by an unprecedented $15 million, this race came down to the wire because of Obamacare," Cuccinelli told supporters in Richmond. "That message will go out across America tonight."
McAuliffe defeated Cuccinelli by double-digit margins in Alexandria, Fairfax City and Falls Church and Arlington and Fairfax Counties. The former DNC chair beat his Republican opponent in Loudoun County by a 50-45 percent margin.
Sarvis told reporters after he and his wife voted at Thomas Jefferson High School for Science and Technology in Alexandria on Tuesday that his campaign was "pleased with the motivation of our supporters."
"I'm probably the only person who can say I'm very proud of the campaign we ran," he said.
Gov. Bob McDonnell is among those who congratulated McAuliffe.
"There is no higher honor than serving in the same office once held by Patrick Henry and Thomas Jefferson," McDonnell said in a statement. "Virginia is a commonwealth of tremendous history and opportunity; this is the place where America began. The privilege of serving as governor carries with it immense responsibility. And I know Terry McAuliffe will act in the best interests of the more than eight million people who call Virginia home."
GOP statewide ticket faced criticism over LGBT rights record
Cuccinelli faced persistent criticism from gay advocates and Democrats over his opposition to marriage rights for same-sex couples and other LGBT-specific issues during the campaign. These include his unsuccessful effort to appeal a court ruling earlier this year that found Virginia's sodomy law unconstitutional.
Cuccinelli told reporters outside Eagle View Elementary School in Fairfax earlier on Tuesday that taxes, the economy and the Affordable Care Act were the top three issues about which voters had asked him. The GOP gubernatorial candidate also said he received questions about his television ads.
"That's where peoples' focus is," Cuccinelli said. "On a day like this — much like the rest of the campaign — we try to talk to voters about what they care about."
Advocates were quick to point out after the Republican Party of Virginia nominated E.W. Jackson as their lieutenant gubernatorial candidate that he had previously compared gay men to pedophiles. The Chesapeake minister has also described gays and lesbians as "very sick people."
State Sen. Ralph Northam (D-Norfolk) easily defeated Jackson by a 55-45 percent margin.
"Marriage equality and equality's for all people," Northam told the Washington Blade during a Nov. 1 interview. "It's just the sensible way to go in my view."
State Sen. Mark Herring (D-Loudoun County) leads state Sen. Mark Obenshain (R-Harrisonburg) to succeed Cuccinelli as attorney general by a 541 vote margin.
Republican Party of Virginia Chair Pat Mullins on Tuesday initially congratulated Obenshain for his "win" when the GOP candidate was ahead of Herring by roughly 7,500 votes, but the race remains too close to call.
"Election Day is over and I am honored to have a majority of Virginians cast their ballots for me for attorney general," Herring said in a statement his campaign released early on Wednesday.
LGBT rights advocates welcome Va. election results
Gay state Sen. Adam Ebbin (D-Alexandria) described McAuliffe and Northam's wins as a "clear victory for equality" that brings "the promise of a new day for Virginia."
"Without exception, the Democratic candidates for statewide office offered unflinching support for marriage equality, a welcoming business climate and respect for a woman's right to choose," Ebbin said. "The people of Virginia aligned themselves with McAuliffe's and Northam's vision of an inclusive, forward moving commonwealth."
Ashley Smith of the Human Rights Campaign is among those with the organization who canvassed on behalf of McAuliffe in Northern Virginia, Richmond and the Hampton Roads area in the final weeks of the campaign. Many of them held signs and wore t-shirts that read "Virginia is for lovers of equality" as they awaited the election results in Tysons Corner.
"It was a great feeling," Smith told the Blade after McAuliffe and Northam spoke to their supporters. "It's time to change Virginia."
Poll worker Dennis McNaughton told the Blade outside Christ Lutheran Church in Fairfax on Tuesday that GOP voters with whom he had spoken saw social issues as important going into the election.
"If you don't have a moral upbringing and moral standard you're kind of lost," he said, referring to marriage rights for same-sex couples and abortion. "All those things, they lead to extinction."
Catherine Read, a member of Equality Virginia's Board of Directors who worked outside the same Fairfax polling place as McNaughton on Tuesday, noted to the Blade that Democrats who cast their ballots expressed concern over the Republican candidates' opposition to nuptials for gays and lesbians and their positions on women's reproductive health.
"There's a lot of people focused on social issues," Read said.
Fisette re-elected to Arlington County Board
Gay Arlington County Board Vice Chair Jay Fisette on Tuesday easily defeated Green Party challenger Audrey Clement.
Pro-LGBT state Dels. Rob Krupicka (D-Alexandria) and Scott Surovell (D-Fairfax County) easily won re-election. Atif Qarni lost to state Del. Bob Marshall (R-Prince William County), co-sponsor of the state constitutional amendment banning same-sex marriage that Virginia voters approved in 2006, by a 48-52 percent margin.
State Del. Tim Hugo (R-Fairfax County) defeated challenger Jerry Foltz.
Va. Senate subcommittee tables anti-transgender student athlete bill
Virginia Beach Republican introduced SB 766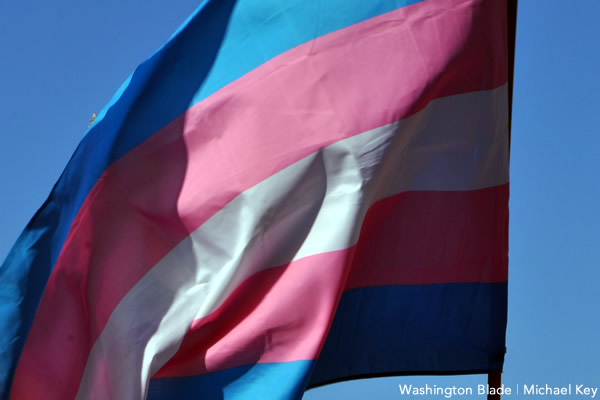 A Virginia Senate subcommittee on Thursday tabled a bill that would have banned transgender students from joining school sports teams that are consistent with their gender identity.
Senate Bill 766, which state Sen. Jennifer Kiggans (R-Virginia Beach) introduced on earlier this month, would have required "each elementary or secondary school or a private school that competes in sponsored athletic events against such public schools to designate athletic teams, whether a school athletic team or an intramural team sponsored by such school, based on biological sex as follows: (i) 'males,' 'men,' or 'boys'; (ii) 'females,' 'women,' or 'girls'; or (iii) 'coed' or 'mixed.'"
"SB 766 (trans sports ban) was passed by indefinitely (it died!) after a long line of speakers testified against it, affirming trans students' rights to participate in sports just like their cisgender peers," tweeted the American Civil Liberties Union of Virginia after the vote. "Trans students belong in sports. Period."
Republican Gov. Glenn Youngkin during his campaign said he does not support allowing trans children to play on sports teams that are consistent with their gender identity.
The General Assembly's 2022 legislative session began on Jan. 12 with Republicans in control of the House of Delegates. Democrats still control the Senate by a 21-19 margin.
A bill that would have eliminated the requirement that school districts implement the Virginia Department of Education's trans and non-binary student guidelines died in a Senate subcommittee on Thursday. The Senate General Laws and Technology on Thursday also tabled a religious freedom measure that would have undermined Virginia's LGBTQ-inclusive nondiscrimination law.
Hyattsville mayor dies by suicide
Kevin Ward and husband adopted son in D.C. in 2012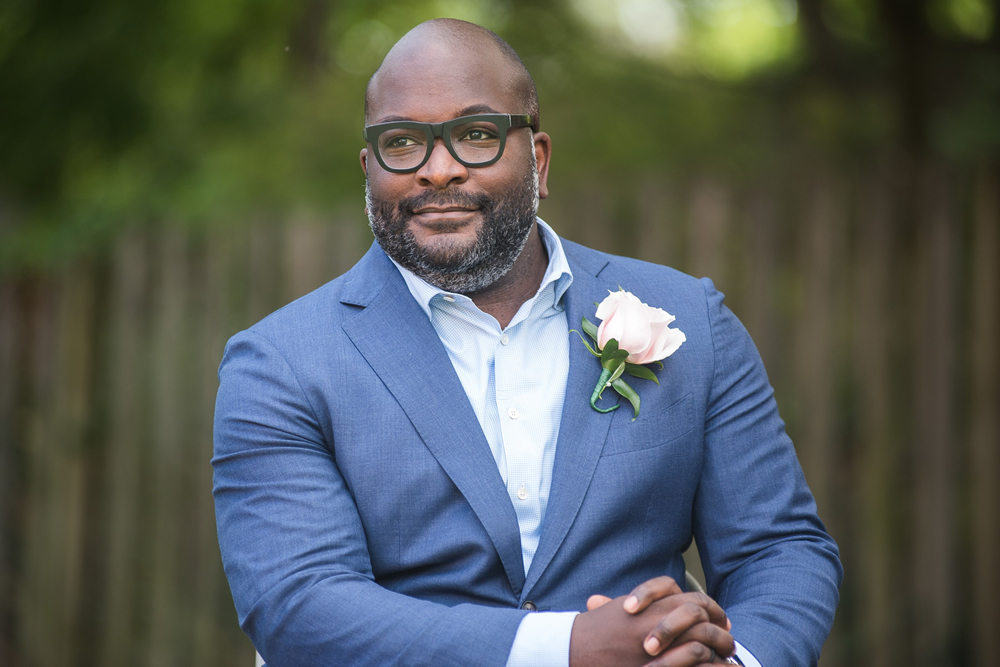 The city of Hyattsville released a statement on Wednesday afternoon announcing that their city's openly gay Mayor Kevin Ward had died one day earlier by an apparent suicide.
"The city of Hyattsville reports with great sadness that our beloved Mayor Kevin Ward passed away yesterday, Jan. 25, from an apparent self-inflicted gunshot wound," the statement says.
"Mayor Ward was a valued and trusted leader and a fierce advocate for all the people of Hyattsville," the statement continues. "We are heartbroken at this loss and extend our deepest sympathy to the mayor's family," it says.
"No further information is available at this time," the statement adds. "Details about services and remembrances will be shared when they are available."
The Washington Post reported that U.S. Park Police disclosed that Ward was found deceased in Fort Marcy Park in McLean, Va., with a "self-inflicted gunshot wound."
Ward, 44, became acting mayor of Hyattsville on Jan. 1, 2021, following the resignation of former Mayor Candace Hollingsworth. He was next in line to become mayor under the city's political system in his then-position as president of the Hyattsville City Council.
He won election to complete the remainder of Hollingsworth's term through 2023 in a May 11, 2021, special election, receiving 57.8 percent of the vote in a three candidate race, according to the Hyattsville election board. His closest opponent, Joseph Solomon, received 31.7 percent of the vote.
Nearby fellow gay mayors — Patrick Wojahn of College Park and Jeffrey Slavin of Somerset — said they got to know Ward through Maryland political circles and thought very highly of him.
"He was insightful, smart and dedicated," Wojahn said. "He always seemed very confident and together as a person. And he had a great sense of humor."
Slavin said he shared that remembrance of Ward, adding that he found Ward to be a "very nice person" dedicated to the people he served both as mayor and during his two terms on the Hyattsville City Council.
"There was noting in his public life that would have predicted this," said Slavin in referring to Ward's sudden passing.
The Washington Blade first reported on Ward in 2012 in a feature story on Ward and his then-domestic partner Chad Copeland when the two attended a ceremony at the D.C. Superior Court to complete the process of adopting their then-5-year-old son Norman. Ward and Copeland were among several gay couples who had their adoption papers signed by a judge at the ceremony.
On the website for his mayoral election campaign last year Ward said he and his family made Hyattsville their home in 2014 after he and his husband adopted their two sons.
"I am a pretty straightforward person," he said in message to voters on his campaign website. "I believe in listening more than talking. But when I talk, I am not one to mince words or tell people what they want to hear," he said. "I believe in doing the work. I believe that if I can help someone, then I can change her or his life," he continued.
"This is why I dedicated my career to providing the best technology to education and to human services, to help as many people as I can," he said.  
Ward was referring to his career in the field of educational and human services technology.
ANC supports license for Capitol Hill LGBTQ bar
Lesbian owners back 'settlement agreement' with restrictions on hours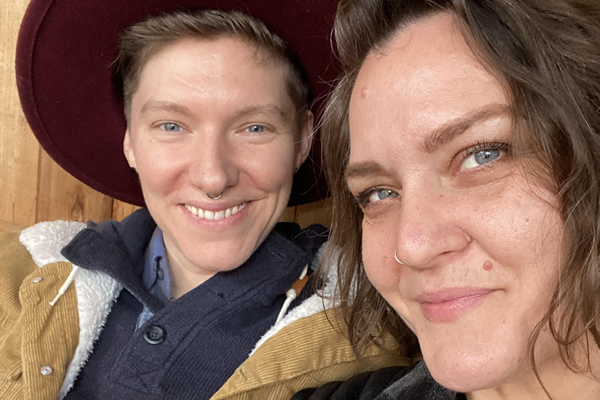 The Capitol Hill Advisory Neighborhood Commission 6B voted unanimously on Tuesday night to support a liquor license for the LGBTQ-owned As You Are Bar, which plans to open in a two-story building at 500 8th St., S.E. in a commercial section of Capitol Hill known as Barracks Row.
The ANC's decision to support the license took place at a virtual meeting attended by nearby residents and supporters of the bar after its owners, lesbian activists Jo McDaniel and Rachel Pike, agreed to the terms of an ANC settlement agreement that calls for restrictions in the hours the bar can offer dancing, entertainment, and music from a DJ.
The agreement means the ANC will not file a protest against the license before the city's Alcoholic Beverage Control Board, a development that would have delayed a decision on the license by the ABC Board by as much as seven months. A protest by the ANC could have cost the bar thousands of dollars in legal fees to contest the protest by providing legal arguments seeking the approval of the license.
The ABC Board makes the final decision on whether to approve all liquor licenses in the city.
McDaniel and Pike have said they plan to operate an upstairs dance bar during evening hours and a café on the first floor during the day as well as in the evenings that will be an inclusive space that "welcomes anyone of any walk of life that will support, love, and celebrate the mission of queer culture."
The two, who are business and life partners, say As You Are Bar will welcome people of all ages, genders, sexual orientations and gender identities as well as drinkers and non-drinkers as customers.
They have also told the ANC and nearby residents they have taken steps to soundproof the building, which they are renting, to ensure their plans to operate a dance bar with music from a DJ on the second floor will not disturb nearby residents.
Under terms of the settlement agreement, which was posted on the ANC's website prior to the start of the meeting, the bar's operating hours will be from 12 p.m. to 12 a.m. Sunday through Thursday and 12 p.m. to 3 a.m. on Friday and Saturday. Under D.C. law, bars are allowed to remain open for the sale of alcoholic beverages until 2 a.m. during weekdays and 3 a.m. on Fridays and Saturdays.
The Settlement Agreement further calls for As You Are Bar to restrict the hours of consumption of alcohol from 12 p.m. to 11:30 p.m. Sunday through Thursday and 12 p.m. to 2:30 a.m. on Friday and Saturday. It calls for allowing live entertainment and dancing (indoors only) from 12 p.m. to 12 a.m. Sunday through Thursday and from 12 p.m. to 1:30 a.m. on Friday and Saturday.
However, the agreement says DJ and amplified music will not be permitted after 8 p.m. on weekdays.
McDaniel told the Blade that at the request of As You Are Bar's attorney Richard Bianco, the ANC agreed to modify that restriction at the Tuesday night meeting to allow the bar to play "conversational" background music after 8 p.m. until closing time on weekdays.
Among other things, the agreement requires the bar comply with a noise mitigation provision to "ensure that sound, noise, and vibrations are not audible or felt beyond the curb or any other premises at any time." It also calls on the bar to provide an "appropriate number of staff" to monitor patrons as they leave the bar through the 8th Street entrance to "prevent loud voices and littering."
Under rules established by the ABC Board and the city's Alcoholic Beverage Regulation Administration or ABRA, if a settlement agreement is reached between an applicant for a liquor license and the ANC, a protest against the license by groups of five or more citizens is not allowed. Protests could still be filed by community-based civic groups and residents of an "abutting" house or residential facility.
In the case of As You Are Bar, no citizens group has emerged to oppose the license. There is just one abutting townhouse on E Street whose owner has expressed general support for the settlement agreement, according to McDaniel. But the resident has indicated she will not rule out a possible protest until Feb. 7, which is the deadline for filing a protest under ABRA's rules.