Obama nominates black lesbian to serve on federal judiciary
Yandle a known supporter of greater diversity in legal profession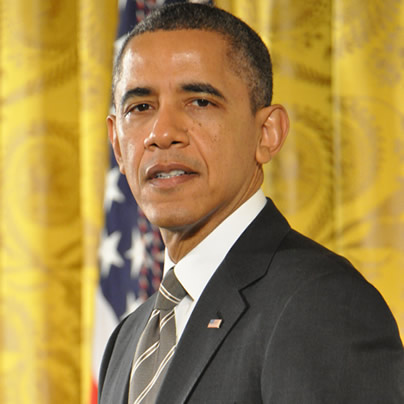 President Obama added to his list of openly gay judicial appointments on Thursday by naming a black lesbian to serve on the federal court.
Obama nominated Staci Michelle Yandle for a seat on the U.S. District Court for the Southern District of Illinois on Thursday as part of a group of four nominees.
"I am pleased to nominate these distinguished individuals to serve on the United States District Court bench," Obama said in a statement. "I am confident they will serve the American people with integrity and a steadfast commitment to justice."
Yandle, who was recommended by Sen. Richard Durbin (D-Ill.), will need confirmation from the U.S. Senate before she's seated on the bench.
In a statement, Durbin called Yandle an "excellent candidate" to serve on the federal judiciary in Illinois.
"She will bring a wealth of knowledge and litigation experience to the position," Durbin said. "I am pleased that President Obama has nominated her today. I will be working with Senator Kirk to see her nomination approved by the Senate."
The U.S. Senate has already confirmed a total of eight openly gay judges to the federal bench, and Obama named seven of the them. If confirmed, Yandle would be the first openly gay person to serve Illinois on the federal judiciary.
In an interview with Trial Associate in July, Yandle said she thinks the plaintiff bar can be more diverse "whether you are talking about ethnic, gender, or sexual orientation diversity" — a rule she said could apply to any profession.
"The plaintiff bar needs to be more embracing of the lesbian, gay, bisexual, and transgender (LGBT) community," Yandle said. "When I first started practicing, for a while I did not feel comfortable acknowledging my sexual orientation because I didn't want it to cost me my job. I wanted to be judged on my merit and my merit alone. Many members of the LGBT community still have that fear. We are a traditional profession that is conservative in many ways."
According to a bio provided by the White House, Yandle has served as a solo practitioner in southern Illinois since 2007, where she focused her practice on civil litigation in federal and state court. She received her law degree in 1987 from the Vanderbilt University and her bachelor's degree from the University of Illinois in 1983.
Yandle has also engaged in public service, serving by appointment on the Illinois Gaming Board from 1999 to 2001 and on the Illinois Advisory Committee to the U.S. Commission on Civil Rights in the 1990s.
LGBT advocates praised the Yandle nomination for its potential to add diversity to the federal judiciary.
Michael Cole-Schwartz, a spokesperson for the Human Rights Campaign, was among those praising Obama for his choice.
"The nomination of Staci Michelle Yandle is further evidence that the administration is committed to building a judiciary that reflects the diversity of our country," Cole-Schwartz said. "She is a highly qualified nominee who will serve with distinction."
Denis Dison, spokesperson for the Gay & Lesbian Victory Fund, said the confirmation of Yandle to the federal judiciary would enhance the diversity of the courts.
"Our government, including the judiciary, works best when it benefits from the perspectives and experiences of all Americans, so we applaud the president's effort to increase diversity on the federal bench," Dison said. "Staci Yandle's nomination is also a reminder of the enormous talent, professionalism and diversity that exists within the American LGBT community, and we congratulate her on this achievement."
But Yandle wasn't the only openly LGBT nominee that Obama named on Thursday. Shamina Singh, executive director for the MasterCard Center for Inclusive Growth, was nominated for a seat on the Board of Directors of the Corporation for National & Community Service
Yandle wouldn't be the first openly lesbian African American to serve on the federal judiciary. That distinction belongs to Deborah Batts, whom the Senate confirmed during the Clinton administration in 1994 for a seat on the U.S. District Court of the Southern District of New York.
It's also not the first time that Obama has nominated an openly LGBT black person to serve on the federal judiciary. In November 2012, Obama nominated William Thomas for a seat on the U.S. District Court for the Southern District of Florida.
However, after initially recommending the nominee, Sen. Marco Rubio (R-Fla.) objected to Thomas and held up the nomination. After no action was taken on the nomination over more than a year, Obama didn't renew his recommendation of Thomas at the start of the year.
In related news, another openly LGBT judicial nominee advanced in the Senate on the same day that Obama named Yandle for a seat on the federal courts.
The Senate Judiciary Committee reported out Judith Levy, whom Obama nominated in July for a seat on the U.S. District Court for the Eastern District of Michigan, by voice vote as part of a group of 32 nominees. She currently serves as an assistant U.S. attorney in Michigan.
D'Arcy Kemnitz, executive director of the LGBT Bar Association, praised the committee for moving forward with the Levy nomination and urged the full Senate to confirm her.
"Just as women, African Americans, Latinos and others have made our judicial system stronger through their expertise and experiences, openly lesbian, gay, bisexual and transgender judges and attorneys also ensure our courts reflect our country," Kemnitz said. "We now call on the full Senate to vote on Levy's nomination without delay."
Activists demand ICE release transgender, HIV-positive detainees
Protest took place outside agency's D.C. headquarters on Wednesday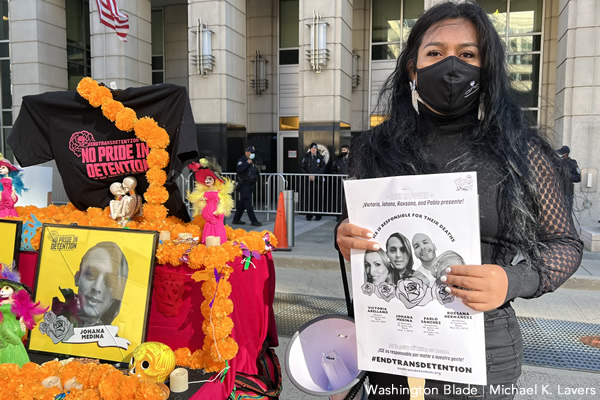 Jessycka Ckatallea Letona is an indigenous transgender woman from Guatemala who fled persecution in her homeland because of her gender identity.
She asked for asylum in the U.S. in 2016 when she entered the country in Eagle Pass, Texas.
Ckatallea on Wednesday told the Washington Blade that U.S. Immigration and Customs Enforcement officials placed her in a pod with 70 men at a privately-run detention center in Florence, Ariz. She also said personnel at another ICE detention center in Santa Ana, Calif., ridiculed her because of her gender identity and forced her to strip naked before she attended hearings in her asylum case.
Ckatallea spent a year and eight months in ICE custody before her release. She won her asylum case and now lives in the San Francisco Bay Area.
"It was a very traumatic experience," said Ckatallea as she spoke with the Blade in front of ICE's headquarters in Southwest D.C. "I came to a country thinking that it would take care of me, that it would protect me because of my gender identity."
Ckatallea is one of the more than a dozen immigrant rights activists who participated in a protest in front of ICE's headquarters that Familia: Trans Queer Liberation Movement, Immigration Equality and the End Trans Detention campaign organized. Ckatallea, Immigration Equality Executive Director Aaron Morris and other protest participants demanded ICE immediately release trans people and people with HIV/AIDS from their custody.
The groups placed on the sidewalk in front of the building a Day of the Dead "ofrenda" to honor three trans women—Victoria Orellano, Roxsana Hernández and Johana "Joa" Medina León—who died in ICE custody or immediately after their release. The "ofrenda" also paid tribute to Pablo Sánchez Gotopo, a Venezuelan man with AIDS who died in ICE custody on Oct. 1.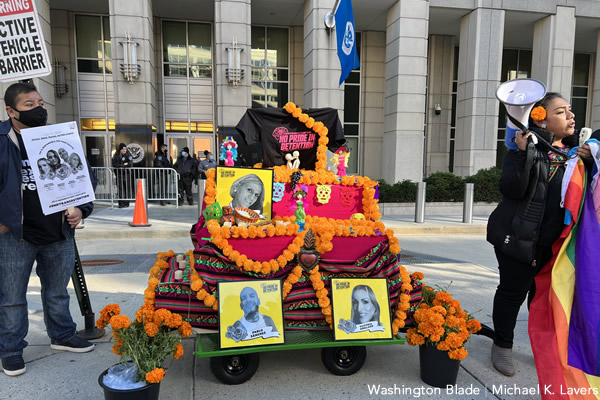 Ckatallea, Morris and the other protesters approached the building's entrance and presented security personnel with a petition that calls upon President Biden and Homeland Security Secretary Alejandro Mayorkas to "immediately release all transgender people, people living with HIV, and people with medical conditions from ICE custody."
ICE has repeatedly defended its treatment of trans people and people with HIV/AIDS who are in their custody.
The Blade in July 2020 interviewed a person with HIV who was in ICE custody at the Adams County Detention Center, the same privately-run facility in which Gotopo was held until his hospitalization. The person with whom the Blade spoke described conditions inside the detention center as "not safe" because personnel were not doing enough to protect them and other detainees from COVID-19.
Congressman Mike Quigley (D-Ill.) is among the dozens of lawmakers who have called for the release of all trans people and people with HIV/AIDS from ICE custody. The Illinois Democrat on Tuesday reiterated this call during a virtual briefing that Familia: Trans Queer Liberation Movement, Immigration Equality and the End Trans Detention Campaign organized.
"ICE's clear inability to do better leads me to seek to end of ICE's detention of all trans migrants," said Quigley. "During both the Trump and Biden administration I led dozens of my colleagues to demand that ICE release transgender detainees and end its practice of holding trans migrants in custody. We had hoped that things would change with the new administration, so far I'm disappointed."
Congresswoman Pramila Jayapal (D-Wash.) also participated in the briefing alongside Immigration Equality Legal Director Bridget Crawford and Sharita Gruberg of the Center for American Progress and others.
17th Street High Heel Race draws large crowd
D.C. Mayor, three Council members, police chief mingle with drag queens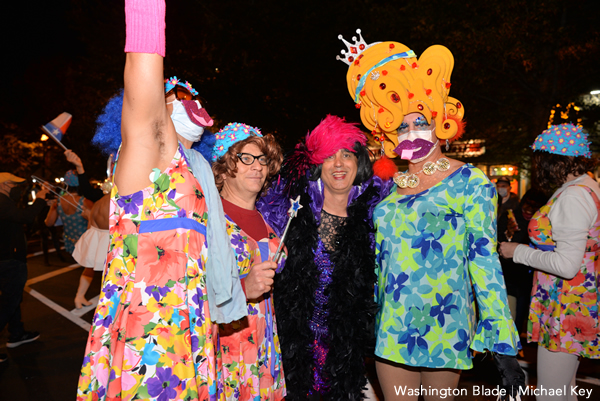 Close to 1,000 spectators turned out Tuesday night to watch D.C.'s 34th Annual 17th Street High Heel Race in which several dozen men dressed in drag and wearing colorful high heel shoes raced along a three-block stretch of 17th Street near Dupont Circle.
As she has in past years, D.C. Mayor Muriel Bowser, whose office organizes the annual event, gave the official signal for the runners to start the race from a stage at the intersection of 17th and R streets, N.W.
Joining the mayor on the stage was Japer Bowles, who Bowser recently named as director of the Mayor's Office of LGBTQ Affairs, which plays the lead role in organizing the High Heel Race.
Also appearing on stage after being introduced by Bowser were D.C. Council Chair Phil Mendelson (D-At-Large) and Council members Robert White (D-At-Large) and Brooke Pinto (D-Ward 2).
Bowser, who along with the three Council members delivered brief remarks before the start of the race, said the event highlights the city's diversity and resilience coming after over a year of coping with the COVID-19 pandemic.
"What we want the world to know – that even in a pandemic, even when we had to trim the budget, we stayed focused on how we can make life better for our LGBTQ community," Bowser told the crowd. "And we're going to keep on doing it," she said. "We're investing in making sure everybody in our community is accepted and safe."
D.C. Police Chief Robert Contee, who walked along the three-block section of 17th Street before the race began, was greeted warmly by bystanders, some of whom called out his name to welcome him to what has become the city's largest Halloween celebration.
"This is a great event," Contee told the Washington Blade. "I enjoy coming out to be among D.C. residents and all who find our D.C. culture," he said. "It's just a great evening, so we're happy to be out here supporting our community."
Members of the D.C. police LGBT Liaison Unit were among the police contingent on duty at the event and overseeing the closing of the streets surrounding 17th Street.
Like past years, many of the race participants and dozens of others dressed in Halloween costumes paraded up and down 17th Street beginning at 6:30 p.m., more than two hours before the start of the race, which was scheduled to begin at 9 p.m.
However, the mayor this year gave the signal to start the race at about 8:35 p.m. Although a large number of drag runners participated in the race, some who planned to join the race didn't make it to the starting line in time because they expected the race to begin at 9 p.m. as advertised, according to people in the crowd who knew those who missed the race.
To ensure that everyone had an opportunity to participate, Bowles and others from the mayor's office agreed to hold a second race about a half hour after the first one. The number of participants in the second race appeared to be about the same as those who joined the first race, indicating many of the drag participants ran twice.
"This is a special treat," said one bystander. "We got to see two races instead of one."
The High Heel Race was cancelled last year due to restrictions related to the COVID pandemic. Many in the crowd watching the race on Tuesday night said they were delighted the city decided to go ahead with the event this year at a time when other large events continue to be canceled or postponed.
Also similar to past years when the High Heel Race took place, the restaurants and bars that line 17th Street were filled on Tuesday night, including the gay bars JR.'s and Windows as well as the longtime LGBTQ-friendly Annie's Paramount Steakhouse.
Prior to the mayor's arrival, gay local radio and TV personality Jimmy Alexander of DCW 50 TV served as host to a drag show and costume contest on the stage. DCW 50 also set up and hosted a separate stage on the sidewalk next to JR.'s bar in which race participants and others dressed in costumes were invited to have their pictures taken and provided with copies of the photos of themselves.
"I think it's amazing," Bowser told the Blade after the completion of the first race. "It's good to be back. It was tough missing a year of activities," she said referring to the business shutdowns brought about by the pandemic. "We had a lot of great, beautiful racers. And so, I'm really excited about it."
To see more photos from this event, click here.
Meet the new LGBTQ liaison for the Democratic National Committee
Sam Alleman joins DNC after work in abortion rights movement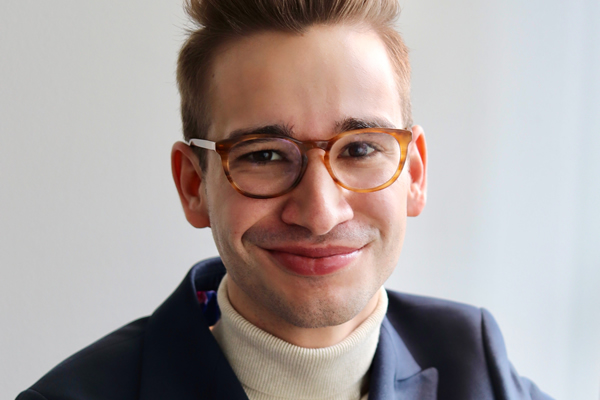 The new LGBTQ liaison for the Democratic National Committee comes from a background not in LGBTQ advocacy, but in the abortion rights movement, and sees the two as working "hand in hand" for a common cause.
Sam Alleman, who started Monday as LGBTQ coalitions director for the DNC, said in an interview with the Washington Blade that his previous job as political outreach manager for five years at the Planned Parenthood Action Fund will inform his LGBTQ work going forward.
"The reproductive rights movement goes hand in hand with what we've been fighting for in the LGBTQ equality and equity movement as well," Alleman said. "There is no being LGBTQ without your ability to have bodily autonomy and to make those same choices."
The relationship between the LGBTQ movement and abortion rights may be more pronounced in the coming months: A national battle is taking place over a Texas law banning abortion in the state for any woman pregnant for more than six weeks as the U.S. Supreme Court will consider litigation with the potential to overturn Roe v. Wade. LGBTQ legal advocates, faced with a term at the Supreme Court with no major cases specific to LGBTQ rights, are already turning their focus to the abortion cases.
"I think that the gender equity lens here, as we move toward building out that permanent infrastructure that really brings all of those things together through more of a social justice lens, will be absolutely critical to being successful, particularly speaking to our younger demographics, to making sure trans and queer people feel included in a way that's actually equitable and just," Alleman said.
Alleman identified two key priorities for him in his new role at the DNC — turning out LGBTQ voters for Democratic candidates and building an internal infrastructure for the LGBTQ community — and said his previous work at Planned Parenthood Action Fund working with candidates and coalition groups will help him reach that goal.
"I really plan to use a lot of the lessons that I learned there in building out to making an inclusive campaign, both in programs and in voter contact infrastructure, within the party itself as well," Alleman said.
Alleman, reiterating he was still in the first days of his job, said the process for building out the LGBTQ community infrastructure at the DNC is still in its initial phases. Alleman said his vision would be not only turning out LGBTQ voters, but finding a way that "allows them to plug in as volunteers and leaders within the party to do the voter contact to hold the events on the ground, to work with our state party partners, and making sure that their voices are represented."
Key to building out that infrastructure, Alleman said, would be making sure all voices within the LGBTQ community are heard. Alleman made a special point to say queer and transgender people "who have been our partners for so long and deserve a seat at the table" will be an essential part of the infrastructure.
The voice of LGBTQ people, Alleman said, will be increasingly important in elections as the numbers of voters who identify as LGBTQ increase. Pointing to 2020 exit polls showing 7 percent of the electorate identified as LGBTQ, Alleman said more LGBTQ people than ever turned out in the presidential election and overwhelmingly backed Biden by 61 percent. (Republicans were also able to claim a small victory, having doubled their share of LGBTQ voters from 14 percent to 28 percent who voted for Donald Trump after the previous election.)
"We know that that demographic is only growing," Alleman said. "Within under 18 year olds, approximately 16 percent of folks identify as LGBTQ in this country. So really my priorities are building out an infrastructure here at the DNC, that will turn out LGBTQ voters for Democratic candidates as they become a larger and larger subsection of our voting population."
Alleman joins the Democratic National Committee days before a Virginia gubernatorial election observers see as a national bellwether for upcoming congressional midterm elections. Terry McAuliffe, a Democratic former governor who said in a interview with the Blade his opponent is the "most homophobic, anti-choice" candidate in Virginia history, is running against Glenn Youngkin, who said recently he continues to oppose same-sex marriage but "will support" the law.
Polls show an exceedingly close race in a state President Biden won handily in the presidential election. An Emerson College/Nexstar Media poll found the race is a dead heat and McAuliffe and Youngkin are tied with 48-48 percent each. The election is Tuesday.
Asked what he sees as his role in the closing days of the Virginia election, Alleman reiterated he was still on Day One of his role at the DNC, but believes Democrats are "doing everything possible to turn out different constituency groups for Terry McAuliffe and Democrats, up and down the ballot in Virginia."
"My role as I start to step in here is really working to make sure that our national partner organizations are doing everything possible to turn out that book as we head into GOTV, and be a partner to them as they drive their supporters out to make sure that we're not leaving anything on the table come next Tuesday when we elect Terry McAuliffe governor of Virginia again," Alleman said.
Lucas Acosta, a spokesperson for the DNC who joined in on the interview with Alleman, said the DNC is working with groups such as the Human Rights Campaign (his former employer) to highlight the records of both Virginia candidates.
"I think what happened last week — Youngkin's comments on same-sex marriage — are concerning," Acosta said. "That's definitely something that we are going to continue to highlight in the closing days of the campaign. That obviously is just a further example why Youngkin is not the moderate he purports to be, but rather a Trump acolyte, who is going to turn back time on rights for a litany of Virginians, including LGBTQ folks."
Democrats have enjoyed an advantage as a result of the sea change in support in favor of LGBTQ rights. But things may be beginning to shift as LGBTQ issues change and move away from same-sex marriage to other battlegrounds, such as transgender people participating in school sports consistent with their gender identity.
Washington Post columnist James Hohmann reported this week on new data from the National Republican Senatorial Committee finding gender and race issues play out in favor of Republicans among suburban voters, if they're on terms like critical race theory or concepts like "genderism." According to the data, 65 percent said "allowing biological males to compete against women in high school and college sports is hugely unfair and will erase many of the gains women have made in athletics over the last 50 years."
Just this week, Texas Gov. Greg Abbott signed into law House Bill 25, which effectively bars transgender girls from participating in school sports consistent with their gender identity, making the Lone Star State the latest state to enact such a measure in defiance of federal laws against discrimination based on sex.
Alleman, asked whether the DNC would change the way it approaches these issues, said he wasn't aware of the data and questioned whether the conclusion of the data "really makes much sense."
"I think we'll at least continue to push forward the message of what we've done as Democrats which is fight for these individuals to be treated just the same as everyone else," Alleman said.