Obama nominates black lesbian to serve on federal judiciary
Yandle a known supporter of greater diversity in legal profession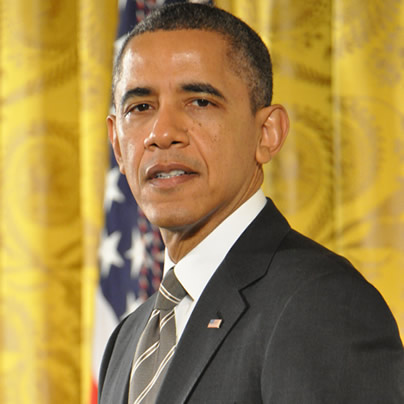 President Obama added to his list of openly gay judicial appointments on Thursday by naming a black lesbian to serve on the federal court.
Obama nominated Staci Michelle Yandle for a seat on the U.S. District Court for the Southern District of Illinois on Thursday as part of a group of four nominees.
"I am pleased to nominate these distinguished individuals to serve on the United States District Court bench," Obama said in a statement. "I am confident they will serve the American people with integrity and a steadfast commitment to justice."
Yandle, who was recommended by Sen. Richard Durbin (D-Ill.), will need confirmation from the U.S. Senate before she's seated on the bench.
In a statement, Durbin called Yandle an "excellent candidate" to serve on the federal judiciary in Illinois.
"She will bring a wealth of knowledge and litigation experience to the position," Durbin said. "I am pleased that President Obama has nominated her today. I will be working with Senator Kirk to see her nomination approved by the Senate."
The U.S. Senate has already confirmed a total of eight openly gay judges to the federal bench, and Obama named seven of the them. If confirmed, Yandle would be the first openly gay person to serve Illinois on the federal judiciary.
In an interview with Trial Associate in July, Yandle said she thinks the plaintiff bar can be more diverse "whether you are talking about ethnic, gender, or sexual orientation diversity" — a rule she said could apply to any profession.
"The plaintiff bar needs to be more embracing of the lesbian, gay, bisexual, and transgender (LGBT) community," Yandle said. "When I first started practicing, for a while I did not feel comfortable acknowledging my sexual orientation because I didn't want it to cost me my job. I wanted to be judged on my merit and my merit alone. Many members of the LGBT community still have that fear. We are a traditional profession that is conservative in many ways."
According to a bio provided by the White House, Yandle has served as a solo practitioner in southern Illinois since 2007, where she focused her practice on civil litigation in federal and state court. She received her law degree in 1987 from the Vanderbilt University and her bachelor's degree from the University of Illinois in 1983.
Yandle has also engaged in public service, serving by appointment on the Illinois Gaming Board from 1999 to 2001 and on the Illinois Advisory Committee to the U.S. Commission on Civil Rights in the 1990s.
LGBT advocates praised the Yandle nomination for its potential to add diversity to the federal judiciary.
Michael Cole-Schwartz, a spokesperson for the Human Rights Campaign, was among those praising Obama for his choice.
"The nomination of Staci Michelle Yandle is further evidence that the administration is committed to building a judiciary that reflects the diversity of our country," Cole-Schwartz said. "She is a highly qualified nominee who will serve with distinction."
Denis Dison, spokesperson for the Gay & Lesbian Victory Fund, said the confirmation of Yandle to the federal judiciary would enhance the diversity of the courts.
"Our government, including the judiciary, works best when it benefits from the perspectives and experiences of all Americans, so we applaud the president's effort to increase diversity on the federal bench," Dison said. "Staci Yandle's nomination is also a reminder of the enormous talent, professionalism and diversity that exists within the American LGBT community, and we congratulate her on this achievement."
But Yandle wasn't the only openly LGBT nominee that Obama named on Thursday. Shamina Singh, executive director for the MasterCard Center for Inclusive Growth, was nominated for a seat on the Board of Directors of the Corporation for National & Community Service
Yandle wouldn't be the first openly lesbian African American to serve on the federal judiciary. That distinction belongs to Deborah Batts, whom the Senate confirmed during the Clinton administration in 1994 for a seat on the U.S. District Court of the Southern District of New York.
It's also not the first time that Obama has nominated an openly LGBT black person to serve on the federal judiciary. In November 2012, Obama nominated William Thomas for a seat on the U.S. District Court for the Southern District of Florida.
However, after initially recommending the nominee, Sen. Marco Rubio (R-Fla.) objected to Thomas and held up the nomination. After no action was taken on the nomination over more than a year, Obama didn't renew his recommendation of Thomas at the start of the year.
In related news, another openly LGBT judicial nominee advanced in the Senate on the same day that Obama named Yandle for a seat on the federal courts.
The Senate Judiciary Committee reported out Judith Levy, whom Obama nominated in July for a seat on the U.S. District Court for the Eastern District of Michigan, by voice vote as part of a group of 32 nominees. She currently serves as an assistant U.S. attorney in Michigan.
D'Arcy Kemnitz, executive director of the LGBT Bar Association, praised the committee for moving forward with the Levy nomination and urged the full Senate to confirm her.
"Just as women, African Americans, Latinos and others have made our judicial system stronger through their expertise and experiences, openly lesbian, gay, bisexual and transgender judges and attorneys also ensure our courts reflect our country," Kemnitz said. "We now call on the full Senate to vote on Levy's nomination without delay."
LGBTQ contingent to join National Vigil for gun violence victims in D.C.
Gays Against Guns plans Capitol Hill procession to honor those lost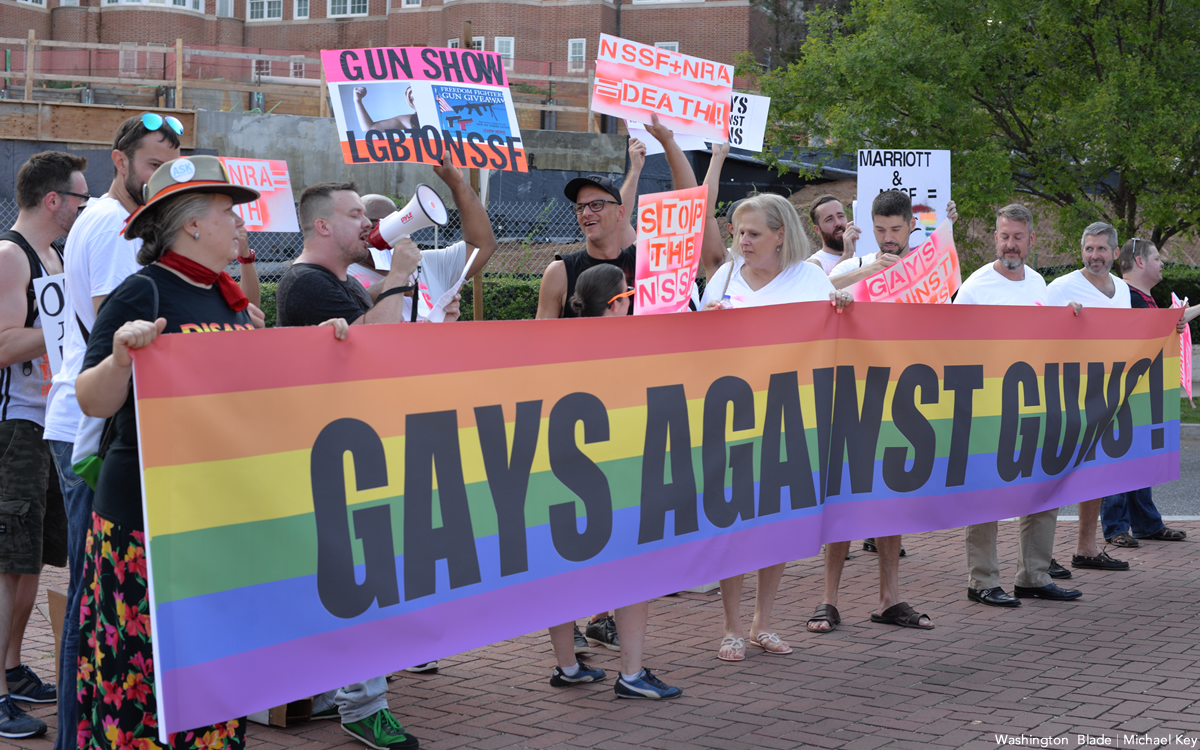 As many as several dozen LGBTQ activists wearing white robes and carrying photos of victims of gun violence were planning a procession along city streets from the As You Are LGBTQ bar on Capitol Hill on Wednesday afternoon, Dec. 7, to the nearby St. Mark's Episcopal Church.
The church, located at 301 A St., S.E., was scheduled to host the 10th annual National Vigil for All Victims of Gun Violence beginning at 7 p.m. on Wednesday.
The New York City-based group Gays Against Guns, which is organizing the LGBTQ contingent, released a statement saying its members would be meeting at As You Are at 500 8th St., S.E. with LGBTQ "political, community based, nightlife, and gun violence prevention allies" to finalize plans for the procession a few hours before the start of the vigil.
Jay Walker, one of the Gays Against Guns leaders, told the Washington Blade the group and its supporters have scheduled a press conference at As You Are on Wednesday at 3 p.m. to draw attention, among other things, to threats and anti-LGBTQ protests against drag shows over the past two weeks in cities across the country.
Walker pointed to news reports of hostile protesters, some armed with guns, assembling outside bars or clubs holding drag shows in Columbus, Ohio; Lakeland and Ft. Lauderdale, Fla.; Aurora, Ill.; and Manhattan, Staten Island, and Oceanside, N.Y. within the past two weeks.
Most of these reported attempts to intimidate people patronizing or participating in drag performances took place after the Nov. 19 shooting at the Club Q gay bar in Colorado Springs, Colo., in which a gunman shot and killed five people and injured at least 17 more.
That shooting took place shortly before a drag show was scheduled to take place at the Club Q.
The National Vigil for All Victims of Gun Violence, set for 7 p.m. Wednesday at St. Mark's Episcopal Church, was to take place shortly after speculation has surfaced that opposition to a drag show was the motive that prompted one or more as yet unidentified suspects to fire multiple gunshots at electrical power substations in Moore County, N.C., causing a blackout affecting 45,000 residents.  
Law enforcement officials investigating what they have said was a targeted attack aimed at knocking out the electric power substations also said they have no evidence yet as to what the motive was for the crime.
But in its statement released this week, Gays Against Guns said the attack on the power substations took place shortly after a drag event was held in the town of Southern Pines in Moore County that drew opposition and protests from far-right activists and anti-LGBTQ community members.
"Enough is enough!" the Gays Against Guns statement says. "Our communities must take a stand and issue demands of our elected leaders, law enforcement, and the greater polity to take action on this threat to all Americans."
The latest incidents targeting drag shows have taken place after D.C. police announced shortly after the Club Q shooting in Colorado Springs that they were stepping up police patrols around D.C. LGBTQ establishments, including gay bars.
"At this time, there are no known threats to any events or locations in the District," a Nov. 23 police statement says. "MPD will continue to monitor the developments in Colorado Springs and share information with our local, regional and federal law enforcement partners," the statement says.
But a short time later, on Nov. 30, the U.S. Department of Homeland Security issued a terrorism threat bulletin warning that domestic extremists have posted online praise for the Club Q shooting suspect and have called for copycat attacks.
"Targets of potential violence include public gatherings, faith-based institutions, the LGBTQI+ community, schools, racial and religious minorities, government facilities and personnel, U.S. critical infrastructure, the media, and perceived ideological opponents," the bulletin states.
"Some domestic violent extremists who have conducted attacks have cited previous attacks and attackers as inspiration," the DHS bulletin continues. "Following the late November shooting at an LGBTQI+ bar in Colorado Springs, Colorado — which remains under investigation — we have observed actors on forums known to post racially or ethnically motivated violent extremist content praising the alleged attacker," the bulletin says.
Mark Lee, coordinator of the D.C. Nightlife Council, a group representing bars, restaurants, nightclubs, and entertainment establishments, said the community nightlife businesses welcome the increased police patrols of these establishments.
"The local nightlife association has offered periodic security and active shooter training sessions for venue operators, managers, and staff for a number of years, most recently on Nov. 1 in conjunction with the restaurant association," Lee said. "These specialized trainings feature presentations by both a nationally recognized training firm and DCNC affiliate member nightlife security consultants and the D.C. Metropolitan Police Department," Lee told the Blade.
"Nightlife hospitality establishments understand the importance of being constantly vigilant about, and prepared for, any and all incidents that could occur whenever people are gathered," he said.
Walker of Gays Against Guns said participants in the planned LGBTQ procession from As You Are bar to St. Mark's Church would be carrying photos or signs commemorating the LGBTQ victims of gun violence, including victims of the Pulse LGBTQ nightclub shooting in Orlando, Fla. in June 2016 in which 49 mostly LGBTQ patrons of the club were shot to death by lone gunman.
The Wednesday night vigil at St. Mark's Episcopal Church, among other things, will commemorate the 10th anniversary of the Sandy Hook, Conn., school shooting incident in which 26 people were shot to death, 20 of whom were children, according to a statement released by organizers.
"By this December, over one million Americans will be killed or injured by guns since the Sandy Hook shooting tragedy," the statement says. "We urge you to join the gun violence prevention community in our collective effort to continue to shine a light on the devastating epidemic of gun violence in our nation until these gun deaths and injuries are reduced."
Raphael Warnock wins Ga. runoff
Democrats now control U.S. Senate by 51-49 margin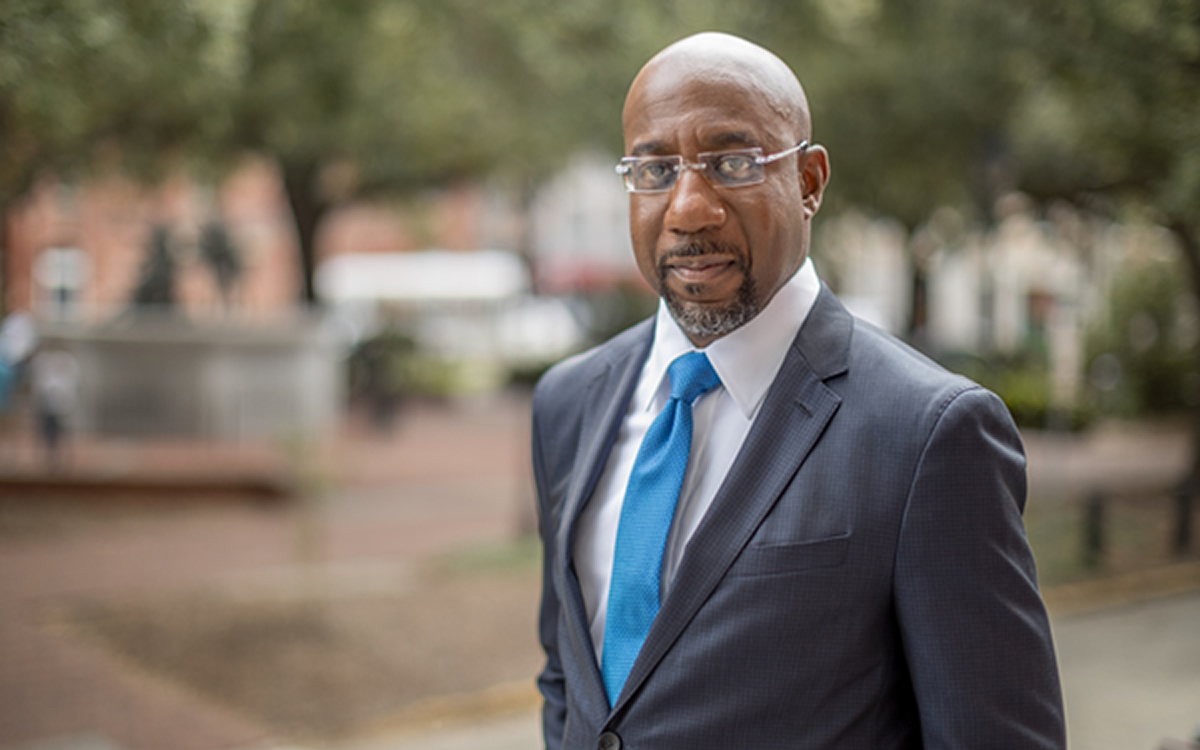 U.S. Sen. Rev. Raphael Warnock (D-Ga.) defeated Republican challenger Herschel Walker Tuesday night in a run-off election.
In last month's election, Warnock led Walker by 37,000 votes out of almost 4 million cast, but fell short of the 50 percent threshold needed to avoid the runoff.
Warnock's victory means Democrats gain the outright majority in the Senate, with 51 seats to the Republicans' 49, freeing them from a power-sharing agreement for committee assignments and diminishing the power of moderate Democratic Sens. Joe Manchin of West Virginia and Kyrsten Sinema of Arizona.
Political commentator and journalist Jacob Rubashkin, reflecting on Warnock's victory noted on Twitter; "In 1934, no Democratic senators lost re-election. But since 1934, every president, Democrat and Republican, has seen at least one senator from their party lose re-election in every single midterm cycle. Biden becomes the first president since FDR not to lose a single senator."
In 1934, no Democratic senators lost re-election. But since 1934, every president, Democrat and Republican, has seen at least one senator from their party lose re-election in every single midterm cycle. Biden becomes the first president since FDR not to lose a single senator.

— Jacob Rubashkin (@JacobRubashkin) December 7, 2022
Thank you, Georgia. We did it again. pic.twitter.com/jikuO5Kt8S

— Reverend Raphael Warnock (@ReverendWarnock) December 7, 2022
Court orders Aruba, Curaçao to extend marriage rights to same-sex couples
'The right to same-sex marriage has been established'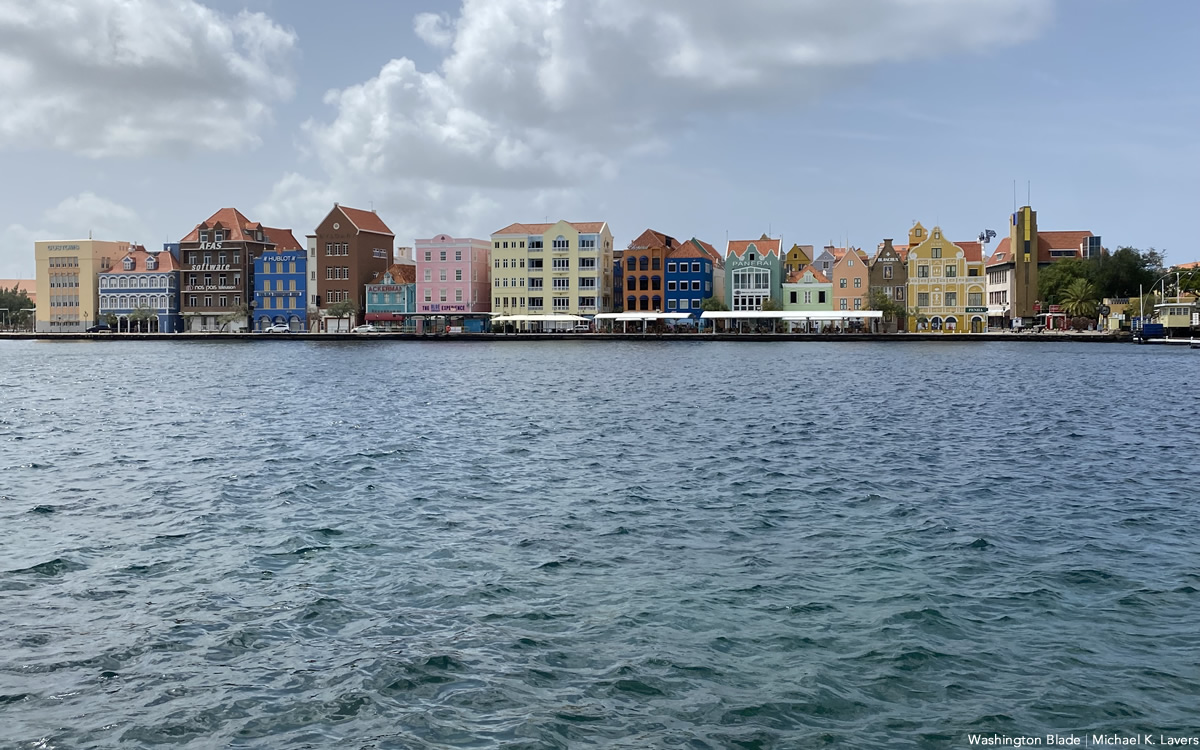 A court on Tuesday ruled Aruba and Curaçao must allow same-sex couples to marry.
The Joint Court of Justice of Aruba, Curaçao, Sint Maarten and of Bonaire, Sint Eustatius and Saba that has jurisdiction over three constituent countries (Aruba, Curaçao and Sint Maarten) and three special municipalities (Bonaire, Sint Eustatius and Saba) within the Netherlands issued the ruling in two marriage equality cases that Fundacion Orguyo Aruba and Human Rights Caribbean in Curaçao filed on behalf of two women who want marriage rights in Aruba and Curaçao.
"The court has come to the conclusion that excluding same-sex marriage is in violation of the prohibition of discrimination and incompatible with state regulations," reads the ruling, according to the Curaçao Chronicle, an English newspaper in Curaçao.
Same-sex couples have been able to legally marry and adopt children in Bonaire, Sint Eustatius and Saba since 2012.
Same-sex couples cannot legally marry in Aruba, Curaçao and Sint Maarten. The countries, however, must recognize same-sex marriages from the Netherlands, Bonaire, Sint Eustatius and Saba.
The Court of First Instance in Curaçao on Sept. 13, 2021, ruled the lack of marriage rights for same-sex couples violated the country's constitution. Prime Minister Gilmar Pisas' government appealed the decision in the Human Rights Caribbean case.
Aruba's registered partnership law took effect in September 2021. Accion 21, a centrist party that openly gay Sen. Miguel Mansur chairs, in June introduced a marriage equality bill.
Janice Tjon Sien Kie of Human Rights Caribbean on Tuesday told the Washington Blade during a telephone interview the ruling could take effect as early as March 7 if the Curaçaoan government does not appeal it to the Dutch Supreme Court in The Hague.
"As of March 7, Curaçao has marriage equality," she said. "If they (the government) go into appeal, it would only cause a delay of approximately 18 months."
Mansur and Melissa Gumbs, an openly lesbian member of the Sint Maarten Parliament, attended the LGBTQ Victory Fund's International LGBTQ Leaders Conference that took place in D.C. this past weekend.
"Essentially the right to same-sex marriage has been established by the appeals court in both Curaçao and Aruba," Mansur told the Blade on Tuesday.
Mansur noted the ruling does not address adoption rights for same-sex couples. He told the Blade on Wednesday he does not expect the Aruban government to appeal it, and the Advisory Council will receive the marriage equality bill on Dec. 16.
Gumbs, who founded the center left Party for Progress in Sint Maarten in 2019, on Tuesday told the Blade there "is precedent now within the Caribbean part of the kingdom (of the Netherlands) that it's not right to withhold same-sex marriage rights from people." Gumbs added her party plans to introduce a marriage equality bill in Parliament.
"That's something that we will be using," said Gumbs, referring to the ruling.
Cuba, Puerto Rico, the U.S. Virgin Islands, St. Martin, St. Barthélemy are the other jurisdictions in the Caribbean in which same-sex couples can legally marry.