Gay-themed 'Satan' play gets reading
Author is gay D.C. native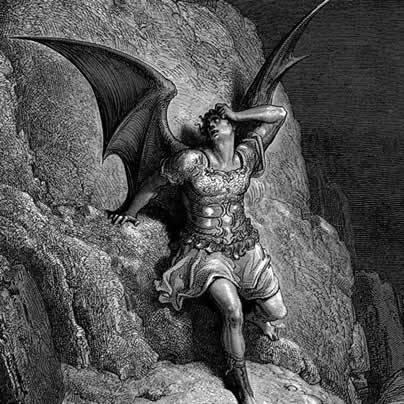 Rainbow Theatre Project presents a reading of the play "Say You Love Satan" at Source (1835 14th St., N.W.) Monday at 7:30 p.m.
"Say You Love Satan," written by D.C. native Roberto Aguirre-Sacasa, is a romantic comedy that tells the story of graduate student Andrew who falls for the devil's son, Jack. Aguiree-Sacasa is gay and has written for hit television shows "Glee" and "Big Love." Before "Say You Love Satan" is a 10-minute reading of the play "White Room w/ Red Door."
Admission is free. Doors open at 7 p.m. For details, visit rainbowtheatreproject.com.
Frenchie Davis wows as Sofia in 'The Color Purple'
D.C. native on healing power of playing the iconic role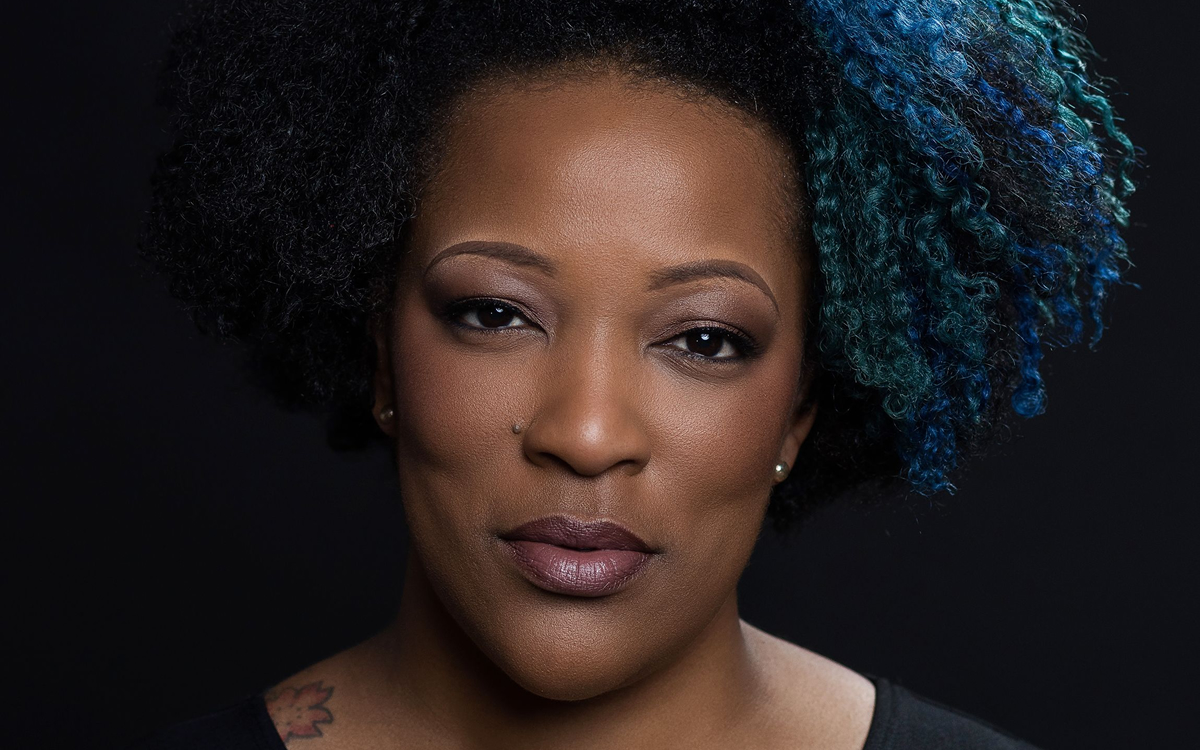 'The Color Purple'
Through Oct. 9
Signature Theatre
4200 Campbell Ave., Arlington, VA
$70-$108
Sigtheatre.org
D.C. likes to claim singer Frenchie Davis as its own. And now we can, again.
Davis has returned to the DMV to head the theater arts program at a new charter school as well as wow audiences in Signature Theatre's production of "The Color Purple" directed by Timothy Douglas. Adapted from Alice Walker's Pulitzer Prize-winning, coming-of-age novel about Celie (Nova Y. Payton), a victimized teen in deep Jim Crow South who through grit and courage grows up to find redemption.
Davis plays Celie's sometime champion, ballsy Sofia, a Black woman loath to buckle under (a part memorably portrayed by Oprah Winfrey on the screen).
"I grew up in California but was born in D.C. when my parents were students as Howard University. And years later I came back to attend Howard, so artistically speaking I started my career here," explains Davis, 43. "I began singing in old school gay clubs like Edge and Wet – that's how I made extra money when I was in college. I owe a lot of who I am to D.C."
She made national headlines when — despite a big voice and vivacious personality — she was booted off the second season of "American Idol" in 2003 after some topless photos surfaced online, a "scandal" that reads quaint today. But that's old news. Since then, Davis has performed on Broadway in "Rent," done national tours of "Dreamgirls" and "Ain't Misbehavin'," and played Henri in "The View Upstairs," an off-Broadway musical about the UpStairs Lounge arson attack that killed 32 patrons of a gay bar in New Orleans. Additionally, she performed at the Blade's 50th anniversary gala in 2019 and numerous other LGBTQ events.
"'The Color Purple' is a show I've long wanted to do, and performing with my old friend Nova, a beautiful soul and a real talent, makes it that much better," she says.
WASHINGTON BLADE: Sofia is incredibly strong. Do you relate?
FRENCHIE DAVIS: There's a beauty and vulnerability that the other characters miss at first glance because Sofia is so very strong. And I think that's mirrored in my own life [she laughs]. Recently, I've had to stop being 'the strong friend' offstage – sometimes it's too much to be just one thing.
But strength is important. I like how Alice Walker created with this book — and it continues in the musical version — a beautiful story of sisterhood and the power women have to change their lives and world around them when they come together in support and love.
BLADE: Walker is also an activist — civil rights, women's rights, Palestinian self-determination to name but a few. Your coming out as bisexual could be described as political. Are you an activist?
DAVIS: I am an activist. Not a lot of Black women performers were out of the closet when I came out. I think it was just me, Tracy Chapman, and Meshell Ndegeocello.
Now, people are kicking the door open. I have a lot of pride. I was young. I was in love with my "ex-hersband" and wanted to honor that love and not be afraid about holding hands in public.
My dad, a human rights activist, was terrified for my safety. I told him that if I have to lie then I'm not safe. Ultimately, he really surprised me. He treated my ex as another daughter. They went on hiking trips and all kinds of stuff without me. It kind of got on my nerves. [Laughs.]
BLADE: Walker portrays so many relationships between women: sister, friend, lover.
DAVIS: It's very inclusive. For me, reading the book as a young person before it was dramatized was my first time seeing two black women in love. It was very impactful, especially because I identify as bi.
Also, Walker draws a beautiful contrast between shy, plain Celie and glamorous blues singer Shug Avery [played here by Danielle J. Summons], showing both ends of the spectrum of women who survive sexual trauma. In their love for each other, both Celie and Shug find a healing middle ground. As a rape survivor, I didn't miss that part of the story.
BLADE: Is doing the show all that you'd hoped for?
DAVIS: That and more. I'm dreaming lyrics at night. I love singing composer Brenda Russell's music. Sofia's song, "Hell No," morphs from anger to a plea for Celie to leave an abusive marriage with Mister.
It's intense in different ways. After rehearsing the scene where Sofia gets beat up, I needed a session with my therapist. Signature is taking such good care of us, supplying intimacy coaches and advocating for selfcare. It's a special production.
There are parts of me as Frenchie that are healing by playing Sofia.
BLADE: Is there a happy ending for Sofia?
DAVIS: In a way, but not necessarily the one I'd choose. In my mind the happy ending would be that she ends up with Harpo [played by out actor Solomon Parker III] and his girlfriend Squeak [played by nonbinary actor Tẹmídayọ Amay]. That's my own personal bisexual happy ending.
New musical highlights Frederick Douglass but falls short
'American Prophet' needs more energy and spark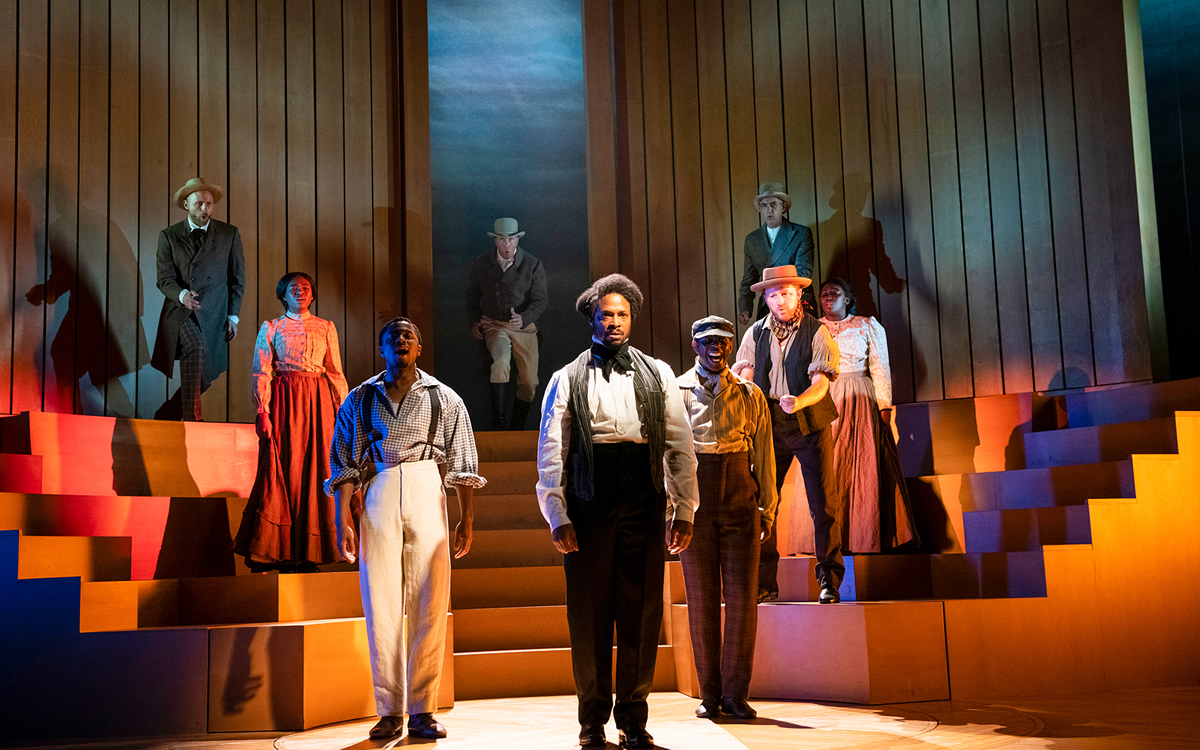 'American Prophet'
Through Aug. 28
Arena Stage
1101 Sixth St., S.W.
$66 – $115
Arenastage.org
Frederick Douglass's brilliance didn't blossom in a walled garden. 
Born into slavery around 1819, the renowned abolitionist worked the fields of Maryland's Eastern Shore, and docks of Baltimore before escaping to freedom in New York where he emerged as a famed orator, writer, and publisher. Along his exceptional journey, Douglass was supported by family, and like-minded folks including prominent progressives of different temperaments whom he both learned from and heavily influenced.
In "American Prophet," a biographical musical now premiering at Arena Stage, co-creators Marcus Hummon and Charles Randolph-Wright have intentionally relied heavily on Douglass's written words with mixed results. In both dialogue and lyrics, the great orator's fearless opines are present, sometimes they spark and crackle, soar and inspire, and other times they're not enough. 
The action takes place on a tiered set resembling the choir space in an unadorned church. It's here the players congregate to tell Douglass's remarkable story that doubles as a compelling slice of mid-19th century American history.
Standing centerstage is Douglass with a serious but handsome countenance, that distinctive side part, dark coat and vest. The actor (Curtis Wiley stepping in for Cornelius Smith, Jr., on a recent Sunday evening) is every inch the activist whose photograph is copiously featured in history books.
(Having slipped into Arena's Kreeger Theatre just as the lights went down, I didn't realize until intermission when a strip of paper announcing the substitution fell out of my program, that I was watching an understudy. Wiley didn't miss a line or lyric. His voice is gorgeous.)
Staged by Randolph-Wright, the musical unfolds chronologically as a straightforwardly told story. Douglass is born Frederick Bailey, purportedly the son of a slave and her white owner. After his mother's death, he's nurtured by a loving maternal grandmother (Cicily Daniels) and taught to read by his owner's sympathetic wife who recognizes the boy's quick mind and ability. Soon after he's sent off to Baltimore to serve as companion to a family relation about his same age. When that doesn't work, he's sent back to the farm where an overseer unsuccessfully tries to break young Bailey's spirit.
Back in Baltimore, still a slave, he works long hours as a stevedore with his pay going to his owners. Exuberant and inexhaustible, he finds time to take in some pleasures of the city. At a dance he meets his wife, a free black woman named Anna Murray (Kristolyn Lloyd). Together, they successfully flee to the free North. Once there – after changing his name to Douglass from a narrative poem by Sir Walter Scott, "The Lady of the Lake," – his career booms. 
Grammy-winning composer Hummon's score, a mix of gospel and country sounds, moves the story lucidly along while leaving room for some strong stand-alone melodies, particularly Kristolyn Lloyd's pleasing rendition of Anna's "I Love a Man." In the supporting role of supporting wife, Lloyd is a standout.
Going forward, Douglass finds friendship and opportunity with William Lloyd Garrison (Thomas Adrian Simpson) an abolitionist who demands absolute fealty from his colleague. He forms a true comradeship with fiery abolitionist John Brown (Chris Roberts), but when their tactics become too dissimilar, the pair part company.
The second act finds us on the precipice of the Civil War, and it's here we meet Abraham Lincoln (Simpson again). It's not the usual hagiographic portrayal we're used to seeing, far from it. The great savior of the Union is written as a real politician – gladhanding and strategic. Still, Lincoln evolves and benefits from his association with Douglass, even borrowing his thoughts from time to time.
Douglass was a force. Insanely ahead of his time, he called slaveowners to the carpet and expressed the hypocrisy of America at home and on tours abroad. And while the musical does lovingly put his humanness on display, I wanted more. When that jolt of energy and spirit finally comes with the show's stirring final number "American Prophet," it's too little too late.
Douglass spent his final years in Washington. He died at his home Cedar Hill in Anacostia. He was 77.
'Six' an empowering musical remix of English history
Wives of Henry VIII tell their own stories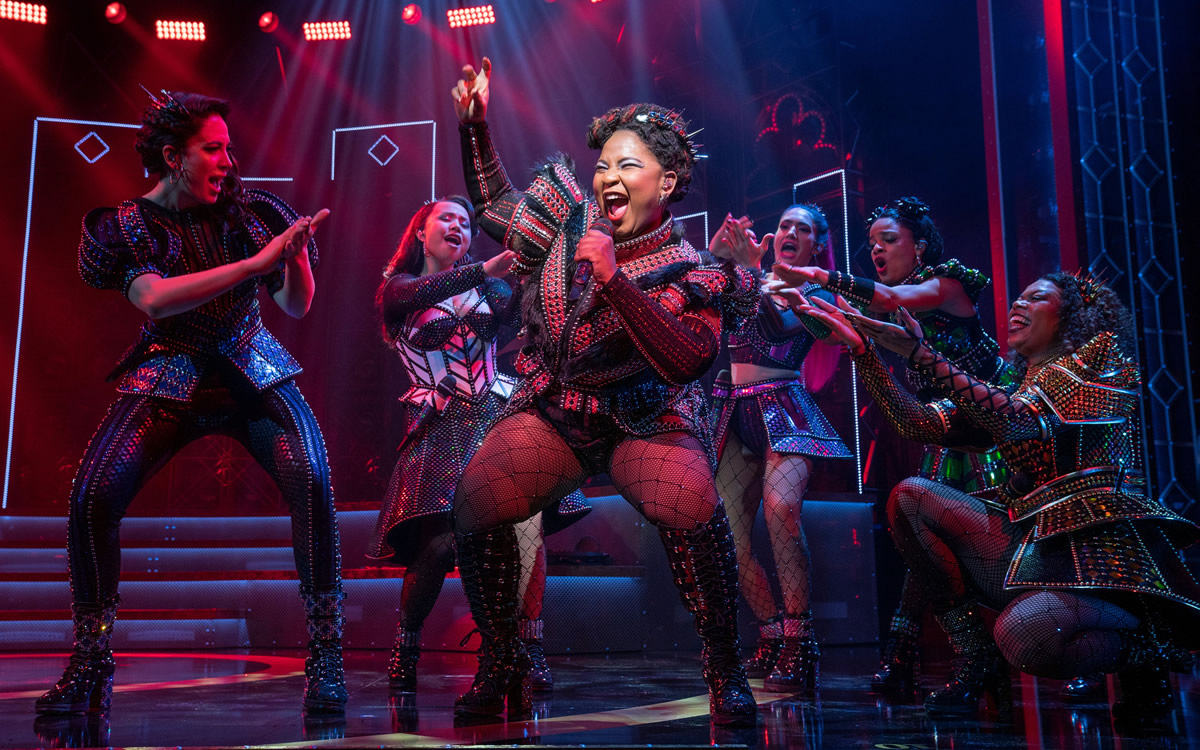 'Six'
Through Sept. 4
National Theatre
1321 Pennsylvania Ave., N.W.
$65-$150
BroadwayAtTheNational.com
Typically, the wives of Henry VIII are cast aside as headless footnotes. But in "Six," an empowering and fun musical remix of English history (now playing at National Theatre), they tell their own stories.
Conceived by Brits Toby Marlow and Lucy Moss, the Broadway hit is a fast-paced 85-minute pop rock musical presented as a contest in which Henry's wives compete for diva status by proving who's been treated the worst by the monarch, and considering Henry's vile track record, the competition is unsurprisingly stiff.
History and music unfold chronologically as the royal consorts, backed by "The Ladies in Waiting," (four musicians led by Jo Ann Daugherty), briefly but trenchantly share their experiences in a madly entertaining way.
After collectively introducing themselves and their respective fates with "Ex-Wives" ("Divorced, beheaded, died! Divorced, beheaded, survived!"), Henry's first queen, Catherine of Aragon (Khaila Wilcoxon), a devout Catholic and a true Spanish princess who despite many tries was unable to provide her philandering husband with a surviving male heir, steps out of the line and states her case with a power-pop song titled "No Way."
Then one-by-one the remaining five — fabulously costumed in glittery short-skirted concert gear with Tudor flourishes by Gabriella Slade — get their turn in the spotlight. Storm Lever, as Anne Boleyn, Henry's beguiling six-fingered second bride, wittily reminds the other women that she suffered far more than simply divorce and humiliation in "Don't Lose Ur Head."
The evening's liveliest number "Get Down," replete with a saucy costume reveal, belongs to Anna of Cleves played Olivia Donalson. Thrown over by Henry because her looks didn't live up to a Holbein portrait sent in advance (a still all-too-common problem), the German princess managed to keep her head and her money, proving you can be Henry's ex and still have a good time. Her situation was unpleasant, yes, but certainly not the worst.
In a clever move, the composers have sought "queenspiration" from contemporary artists. For instance, Jane Seymour (Jasmine Forsberg), best remembered as "the only one he ever loved" is drawn from Adele and Sia. Forsberg conveys the story's sadness with the sorrowful ballad "Heart of Stone."
Henry's victimized teenage wife Katherine Howard (Didi Romero) who was beheaded on Tower Green is drawn from Ariana Grande and Britney Spears; for Catherine Parr (Gabriela Carrillo), an independent thinker and the wife who survived Henry, inspiration comes from Alicia Keyes and Emili Sandé.
Sounds like big stilettos to fill? Don't worry, the cast is more than up for it — its six talented young women possess pipes, timing, and presence to spare.
Staged by Lucy Moss and Jamie Armitage with choreography by Carrie-Anne Ingrouille, the production is intriguing. At first look, it's everything some theatergoers might not like: really loud and very Vegas residency, but as the show opens up it proves delightfully smart, substantive, impeccably researched, and succeeds at cleverly melding the past and present.
The show has a strong following – the kind that feel it's OK to sing along with the actors onstage. But it's also appealing to history buffs and old-fashioned musical theater fans alike. "Six" is a crowd pleaser and deservedly so.
Back to the queen contest. The obvious choice for Henry's most consequential spouse is either Catherine of Aragon, the true queen, or maybe Anne Boleyn, the second wife for whom he parted with Rome and the mother England's greatest monarch, Elizabeth I. But the show gives each woman her due, and they bare their souls. Whether they were dragged into Henry's orbit because of beauty, ambitious family, or simple accidents of time and place, no one escaped unscathed. Who suffered the most? That's something you'll have to decide for yourself.