October 31, 2019 at 3:29 am EDT | by Patrick Folliard
Gay soldiers languish, tell stories in new play 'Blue Camp'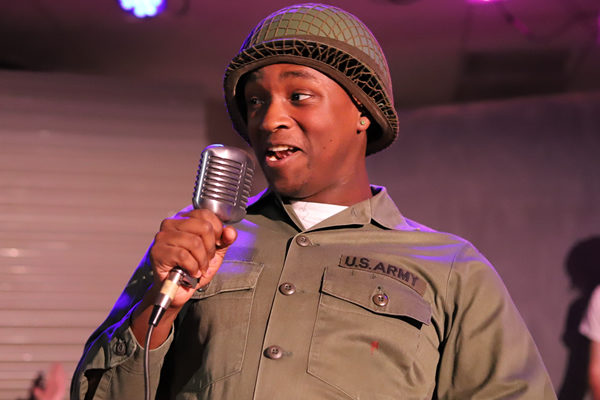 'Blue Camp'
Through Nov. 24
Rainbow Theatre Project
St. Augustine's Episcopal Church
555 Water St., S.W.
(Across from Arena Stage)
$20-35
rainbowtheatreproject.org
A lot happened in 1964. The Beatles spearheaded the British invasion, and a Motown crossover group called the Supremes topped the charts. On screen, Disney's "Mary Poppins" charmed audiences, and Elizabeth Taylor married Richard Burton for the first time. But beyond all the pop culture and tabloid froth, there was much more: The Civil Rights Act of 1964 was signed into law, prohibiting discrimination based on race, color, religion, sex or national origin; and in Southeast Asia, the Gulf of Tonkin incident prompted the United States to engage more directly in the divisive Vietnam War.
The Rainbow Theatre Project, a local company committed to presenting plays and musicals that reflect the experiences, interests and history of LGBT people, is opening its season with "Blue Camp," a story about gay soldiers that takes place in 1964 at the beginning of the Vietnam War, and in keeping with the company's mission, it gives an intriguing glimpse into queer history.
Set at a U.S. Army base where both gay soldiers and law-breaking soldiers are being held in adjoining barracks while they await dishonorable discharges, "Blue Camp" compellingly shares the soldiers' personal stories. It also boasts a drag performance and baseball game.
Not surprisingly, tensions rise as the disparate groups nervously anticipate their fates. But similar to many buildups to battle, the threat of oncoming war creates the need for increased military personnel and the reclamation of many otherwise undesirable soldiers back into service.
Out director Christopher Janson, who first received the script from co-playwrights Tim Caggiano and Jack Calvin Hanna about two years ago, has helmed the new work through early readings, a staged reading at the Kennedy Center's Page-to-Stage New Play Festival in late summer and now Rainbow Theatre Project's full production at St. Augustine's Episcopal Church on the Waterfront near Arena Stage.
"This story hasn't really been told," Janson says. "The gay rights movement didn't start with Stonewall. There were queer soldiers in Vietnam who were drafted to fight and the government knew they were queer but didn't care. And later when they didn't need them, they took away their benefits knowing who they were from the start. It's an important piece of queer history that's often been overlooked."
Over time, "Blue Camp's" out playwrights have changed the structure of the play and interjected the work with more racial tension. And while the play deals significantly with injustice, Janson adds, its writers employ a humorous tone, a sense of humor that's often found among people who are marginalized. That includes both queer soldiers and the soldiers charged with crimes.
"In a broad sense, it's about marginalized people and the way they're treated by institutions of power. The play holds universal appeal," he says.
"Blue Camp" was inspired by the real-life experiences of a gay solder who served in the early 1960s. A longtime writer, Caggiano had been kicking around the idea of a play based on this friend's military stories. Initially he envisioned the show as a sort of comedy/cabaret/musical. But when Caggiano and Hanna joined forces, they reshaped the material into something entirely different, "a tragedy with comic overtones." Rather than focusing on a historically military angle, the playwrights focused on telling the men's stories. It was those difficult stories surrounding coming out, infused with relatable pathos and information, that they felt duty-bound to explore.
"There's lots of interaction between the groups while waiting to be discharged — taunting, and all kinds of back and forth," Hanna says. "And through the course of the play, they're forced to work together. There's a grudge match baseball game. All the characters — gay guys and criminals alike — are given a chance to tell their stories, what brought them to the place where they are."
Caggiano adds, "Our culture takes people that are demonizes and dehumanized and has them do the heavy lifting for very little pay. People are serving with a sword of Damocles hanging over them, fearing that they'll get kicked out an lose their benefits. For me, it's about that."
"Blue Camp" features a diverse, 10-person cast — large for any play by today's standards.
Non-binary actor Moses Bossenbroek says, "What's most interesting about my character Billy Wheeler is that he is openly queer from the beginning. In the second scene he's being interrogated and he just sits there and says you know that I'm queer. I've never told you anything otherwise. Nothing has changed."
Billy is based on Perry Watkins, an African-American gay man who was one of the first servicemembers to successfully challenge the ban against gays in the United States military. Watkins was also a decorated soldier and drag artist who performed as "Simone" in military shows at clubs across Europe.
Bossenbroek, 20, who's majoring in musical theater at Howard University, admires Billy's courage, noting that to be yourself at a time when very few people are likely to admit to being anything other than heterosexual takes a lot of strength.
The actor also relates to Billy's talents and survivor skills. Like Billy, they excelled at sports but also experienced struggle and survived.
"I was adopted by parents who were a different race and I had to learn how to navigate the mid-West and the people there," Bossenbroek says. "I had to code switch often, and learn about being black as well as queer. Anytime I'm able to play a queer character, it's awesome. It's important to get those stories out. Also, Billy is so much fun. He's such a character from his Southern twang (which the actor modeled on Blanche from TV's "The Golden Girls") to his sense of humor and the way he moves through life. Nothing is off topic. And I get to do some drag which I haven't done for a while. I've been too busy with school."
Rainbow Theatre Project's artistic director H. Lee Gable liked "Blue Camp" from the start.
"It gets a lot of laughs but the serious stuff has real impact too; it's told in a dramatic and funny way," he says. "Also, it's a subject I'm attracted to. I was in the military before don't ask don't tell, a time when you were asked point blank if you'd ever engaged in homosexual experience or are you a homosexual. It's very wearying and you had to lie."
Gable endured three grueling gay witch hunts in the Air Force before he engaged a lawyer and agreed to a general discharge with honor and left. Once in the civilian world, he noticed that a lot of people had a hard time reconciling his interest in theater with his military background, frequently discounting his military experience entirely. Fortunately, that's changed over the years, he says.
"Blue Camp" is part of a season lineup that includes two world premieres and a musical. "Blue Camp" is the fall production and in February it's composer/playwright Stephen Dolginoff's musical "Thrill Me: The Leopold & Loeb Story" the off-Broadway hit about the notorious gay murderers (dramatized in the 1948 Hitchcock movie "Rope") who tried and failed to commit the perfect crime.
In April, Gable will be co-directing "A Shonda" by Wendy Graf. The new play takes place in the South where two men — a married Hasidic Jew and a local barkeep — form an unlike love relationship at a barbecue joint off a highway outside of Memphis, Tenn. Like "Blue Camp," says Gable, "A Shonda" tells an LGBT story that you're not typically going to hear.